(a

9

minute read)
---
Have you ever wanted to visit Anza-Borrego Desert State Park, explore Joshua Tree National Park, or hike Tahquitz Canyon? A camper van and RV resort combination makes all three possible on a California desert hub-and-spoke road trip.
---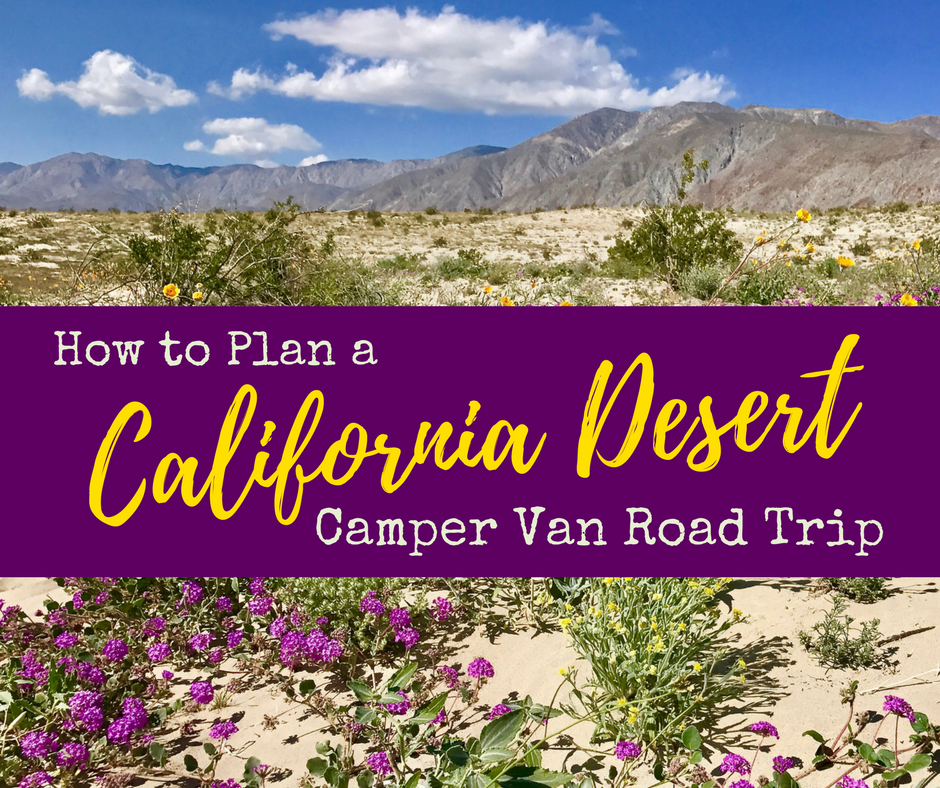 I was a guest of JUCY RV Rentals USA and Sunland RV Resorts, but all thoughts and opinions are my own.
---
A California Desert Camper Van Road Trip
---
" . . . and the desert shall rejoice, and blossom as the rose." Isaiah 35: 1 (KJV)
As a travel writer, I regularly get invited to visit unique destinations or take cruises to exotic locales, and those invitations are difficult to turn down.
But sometimes I plan trips on my own simply because I want to go.
Such was the case when I heard about last year's wildflower super bloom in the California desert. As I recall, I first saw stunning video on television news reports, and then I began searching online to learn more about this phenomenon.
---
"Super Bloom" Defined
---
According to National Geographic, "a super bloom is a colloquial term used to define an explosion of wildflowers that exceeds typical spring blooms."  Desert wildflower seeds and bulbs that have remained dormant for years suddenly germinate and bloom after unusually high winter rainfall.
It didn't take long for me to realize I did not want to miss this rare natural event. The last week of March was free of commitments, so I splurged on a direct flight from TPA to LAX, and then set to work deciding how I would get around and where I would stay once I arrived.
Jerry's day job would not allow him to join me, but that didn't deter Mr. Independent!
---
A Spontaneous Plan
---
Rather than rent a car and book hotel rooms like I normally do, I devised a plan to try something I had never done before. I would hire a camper van, reserve a spot at a centrally-located RV resort, and do hub-and-spoke day trips to the California desert super bloom sites I had researched.
My itinerary took me to Anza-Borrego Desert State Park, Joshua Tree National Park, and Tahquitz Canyon. Be sure to check out the California Desert Wildflower Super Bloom Sites section below for additional information.
My "Camping" Philosophy
---
People frequently ask me whether I like to camp, and I always answer with a resounding, "Yes!"
But let me qualify that response.
It is true I do enjoy camping, even primitive camping, as long as I don't have to set up and tear down. My blogger friend Lauren says that makes me an Outdoorsy Diva like her.
Perhaps.
You could call me lazy, and I wouldn't deny it, but this is how I see it: The time it takes to set up and tear down camp is far better spent driving scenic byways, hiking trails, and chasing waterfalls, all of which I would do on this spontaneous California desert road trip.
In tune with myself as I am, I knew my camping issues would follow me to California.
I figured I would love camper van travel, but I would not enjoy setting up and tearing down.
Hence my plan:
• The camper van would provide transportation and a bed.
• The RV resort would provide a safe site to overnight, with full-service facilities, to boot.
---
JUCY Camper Van Rental
---
If you have traveled the US West Coast, chances are you have encountered one of those trademark green and purple JUCY camper vans along the way. Originally founded in New Zealand, JUCY expanded next to Australia, and by 2015 had opened three US offices, in Los Angeles, San Francisco, and Las Vegas.
It was a quick 4-mile UBER drive from LAX to the JUCY branch office.
One of the most convenient features of booking a JUCY camper van is the after hours pick-up and drop-off. Even though my flight arrived on a Sunday morning, I was able to get on the road without assistance from an agent.
It did take me a while, however, to figure out the key/fob connection.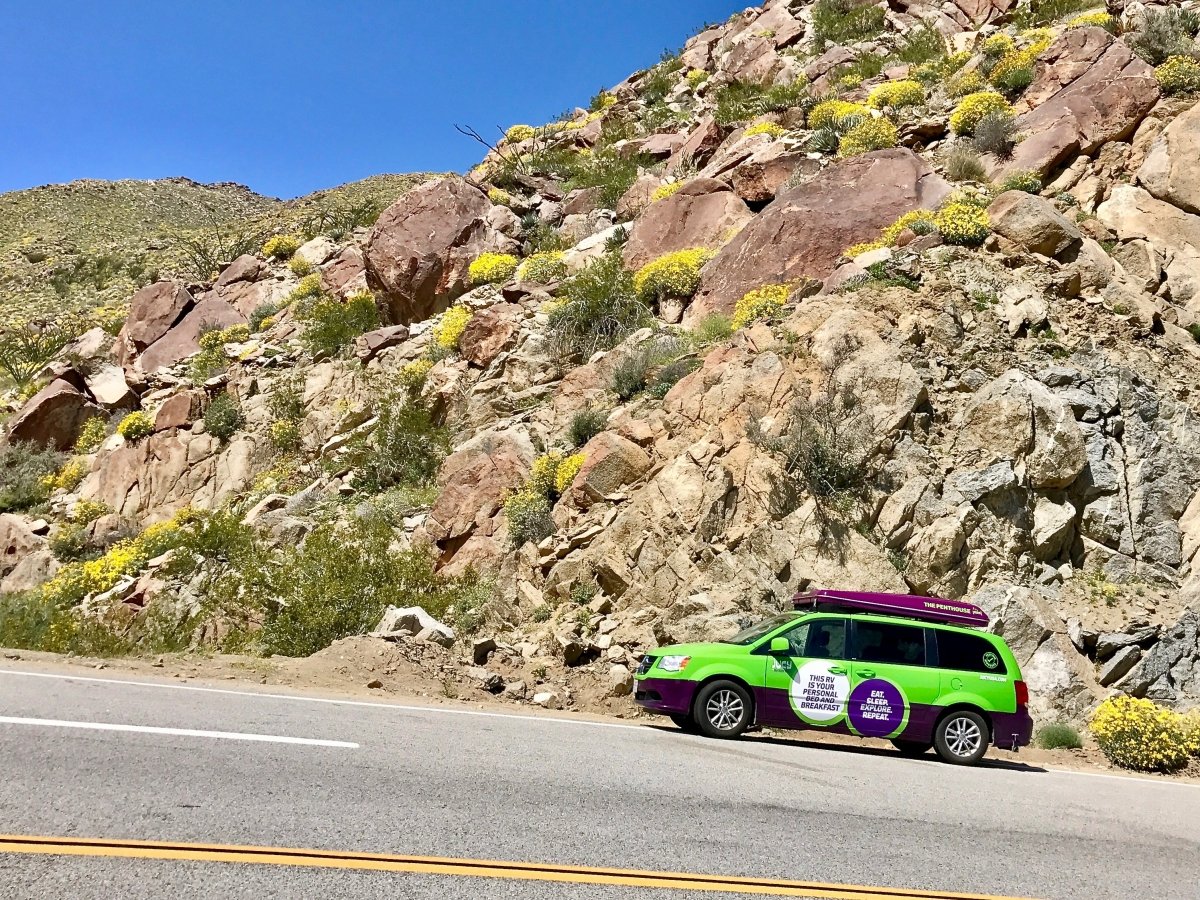 A JUCY camper van would be my constant companion during my California desert road trip. I never once worried whether I had left something at the "hotel," because my suitcase and backpack were with me at all times.
Meet the JUCY Champ (AKA Trailblazer)
---
The best way to get acquainted with the JUCY camper van experience is to watch a quick video about its many features. I did not cook nor use the penthouse, but I am sure those features could come in handy on different trip .
You can check out the JUCY Trailblazer and Wavefarer links for complete descriptions of the vehicles.
There are a multitude of available add-ons, including insurance, mileage options, coolers, cooking equipment, child car seats, and even Frisbees.
The one extra I could not do without was the personal kit containing bedding and towels for two people for $50.
The JUCY RV Rentals website contains a wealth of information for potential customers, and the 24/7 toll free numbers are listed on the Contact page.
I think you will find that transportation, accommodations, and freedom, are a bargain for a $45 average nightly rate.
---
Emerald Desert RV Resort
---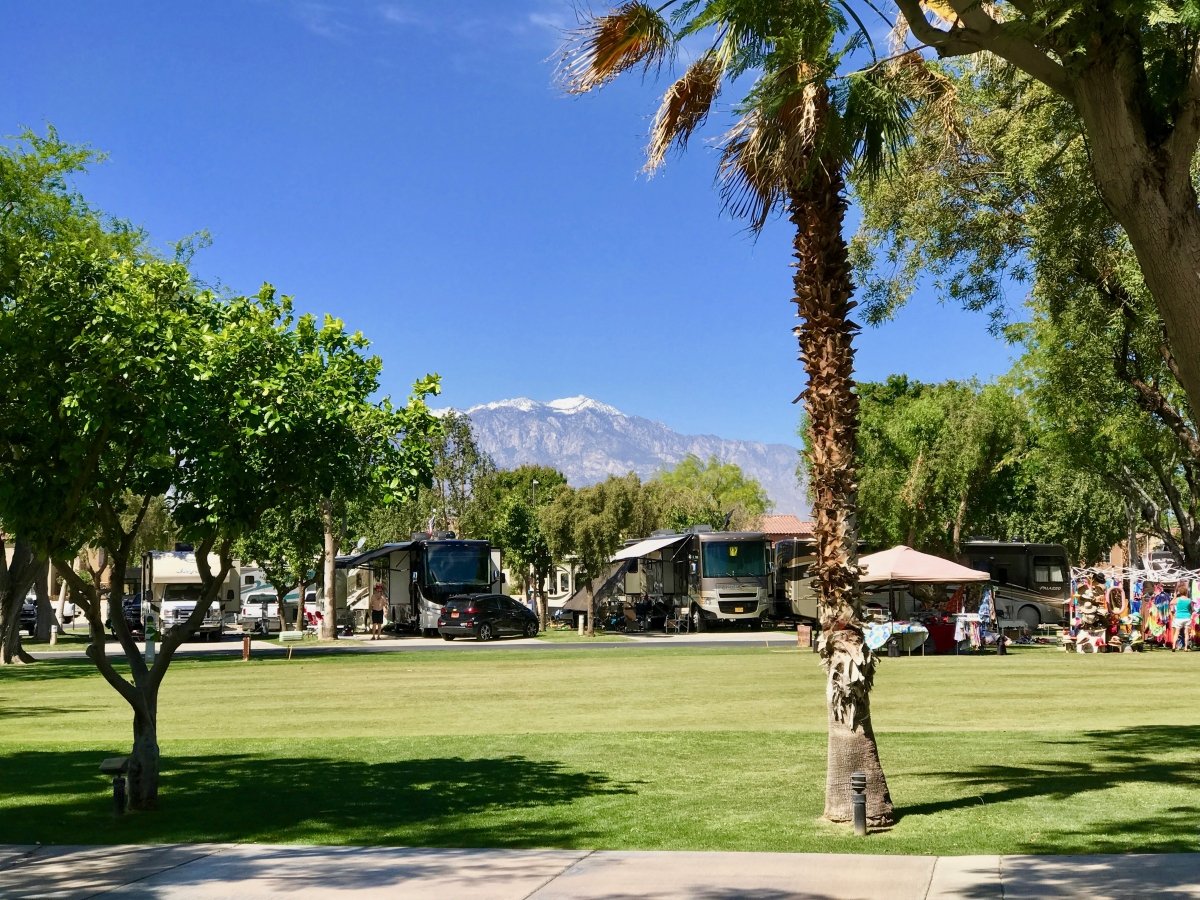 With my camper van booked, all I needed for my California desert road trip was a restroom, shower facilities, and a place to park my camper van at night.
My research led me to Sunland RV Resorts, a company with ten properties, seven in California and two in Florida, and one in Michigan. Of the two California desert locations, the resort in Palm Desert was the most centrally located to the super bloom sites I hoped to visit.
The drive from Los Angeles would have been a 130-mile straight shot to Palm Desert, but I took a slight detour to visit the final resting place of a special lady whose footsteps I had followed since I was in my teens. I recount my personal pilgrimage to honor this watchmaker's daughter who rescued hundreds of Dutch Jews from death during the European Holocaust in the article Corrie ten Boom: Searching the World.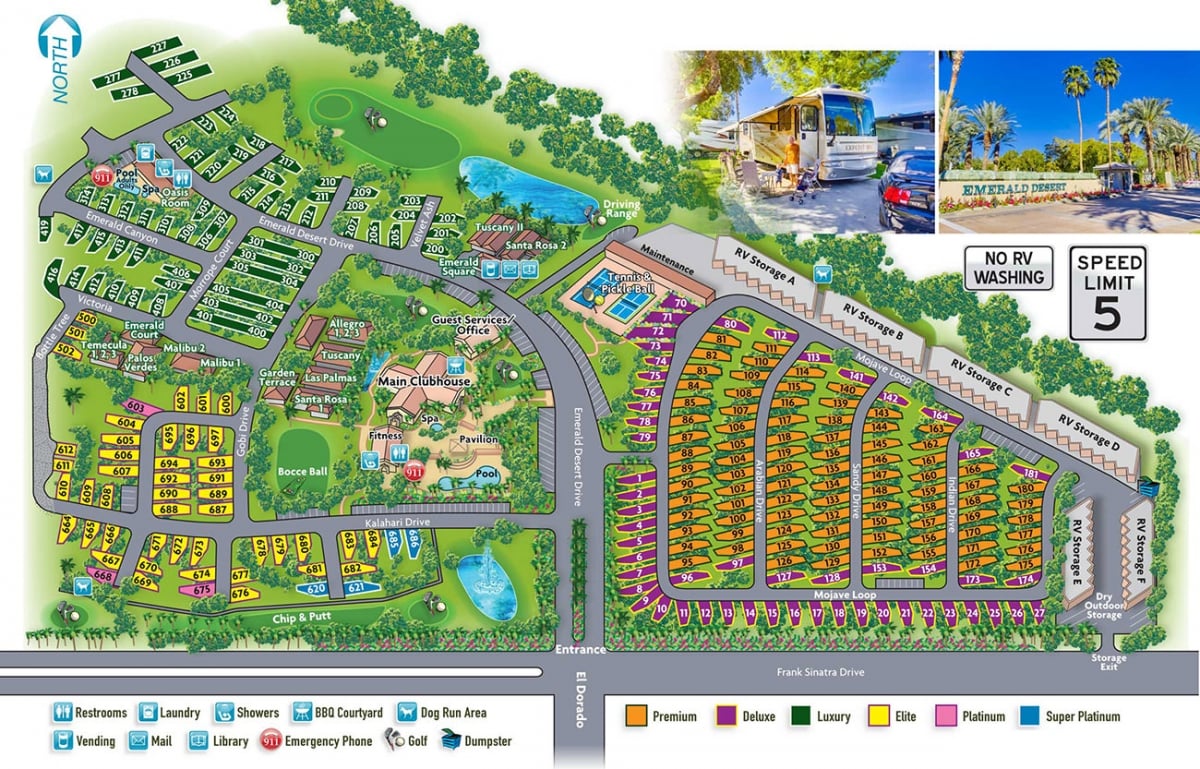 Map Credit: Emerald Desert RV Resort
Emerald Desert RV Resort is a gated community situated on 33 acres with a killer view of the Santa Rosa Mountains. The property features 255 full hook-up RV sites with concrete pads, electricity, water, sewer, cable TV, and free WiFi.
As a novice with RV resorts, any site in the campground would have been fine with me. After the first night, however, with no water and sewer hookups in the camper van, I realized it was more convenient to have a site near one of the bathhouses, and I requested a site change.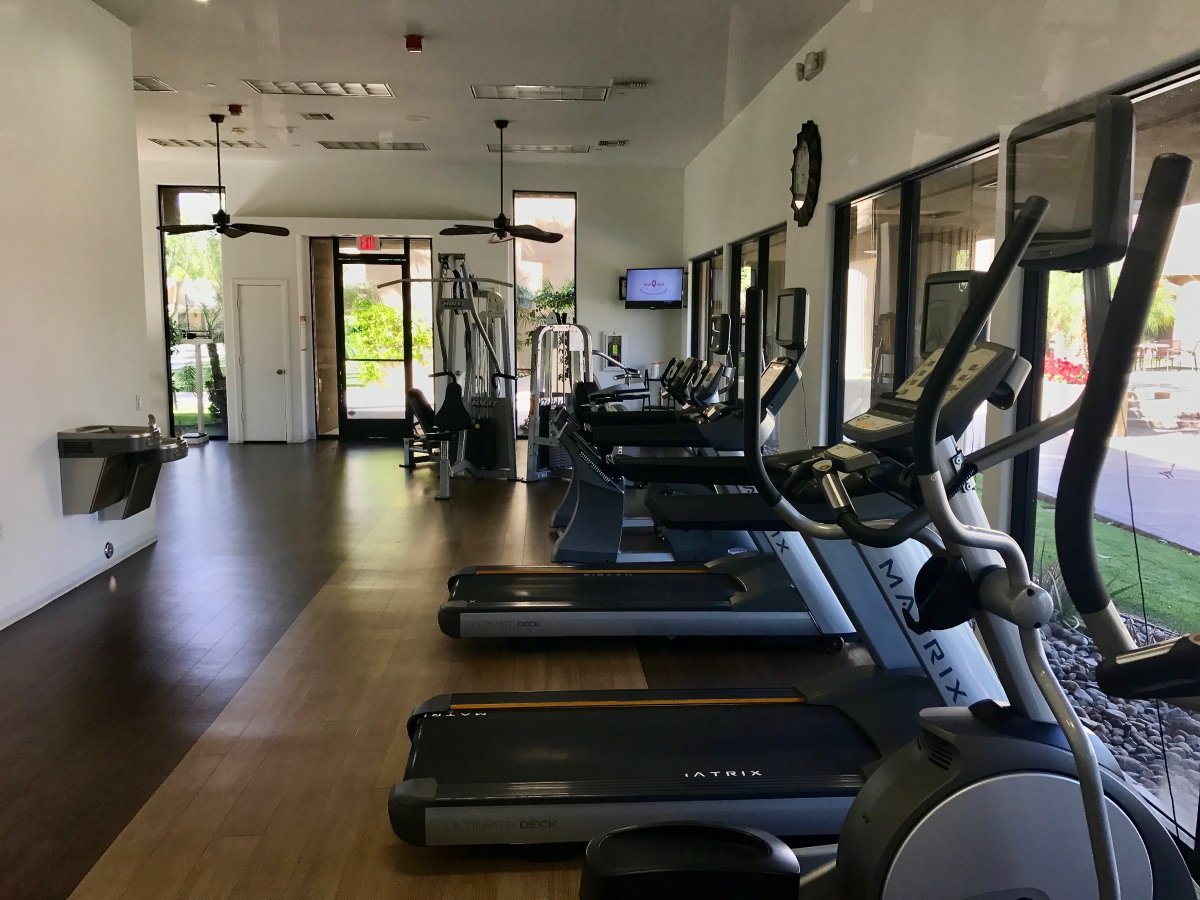 A fitness center, including large shower and restroom facilities, is located near the main clubhouse. A smaller, yet adequate shower and restroom facility is located adjacent to the adults-only pool.
I am no sun worshiper, but the temperature-controlled pool at Emerald Desert is a popular resort amenity. Conveniently situated near the main clubhouse and restroom/shower facilities, the pool area also features a spa, pavilion, and plenty of lounge chairs and umbrella tables.
The resort grounds are beautifully landscaped with manicured lawns and flowering borders. In fact, the entire property is well-maintained with orderly RV sites, immaculate streets, and sparkling facilities.
Check the Emerald Desert website for a complete overview of everything the RV resort has to offer and to make reservations online.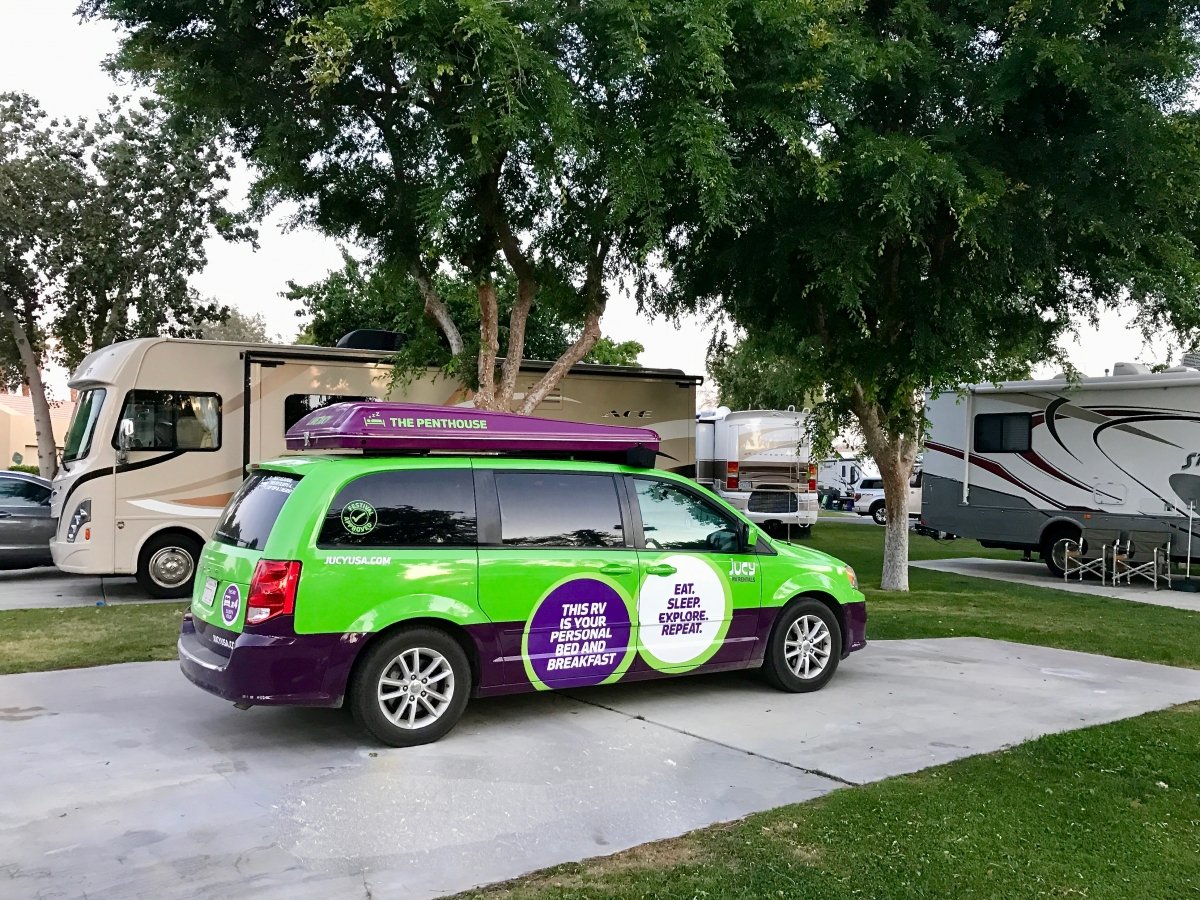 Although my journey was ignited and driven by a spring wildflower super bloom, this method is a great way to travel during any season. On a California desert hub-and-spoke road trip, a camper van plus an RV resort was a winning combination for me!
But if camping is not your thing, then . . . .
Click here to book your California Deserts hotel stay on TripAdvisor!
---
California Desert Wildflower Super Bloom Sites
---
Wildflower blooms are often difficult to predict, and super blooms are rare. The Southern California Wildflower Reports web page is a great place to check for updates when planning desert wildflower road trips.
I visited three wildflower super bloom sites during my California desert hub-and-spoke road trip: Anza-Borrego Desert State Park, Joshua Tree National Park, and Tahquitz Canyon.
Anza-Borrego Desert State Park
---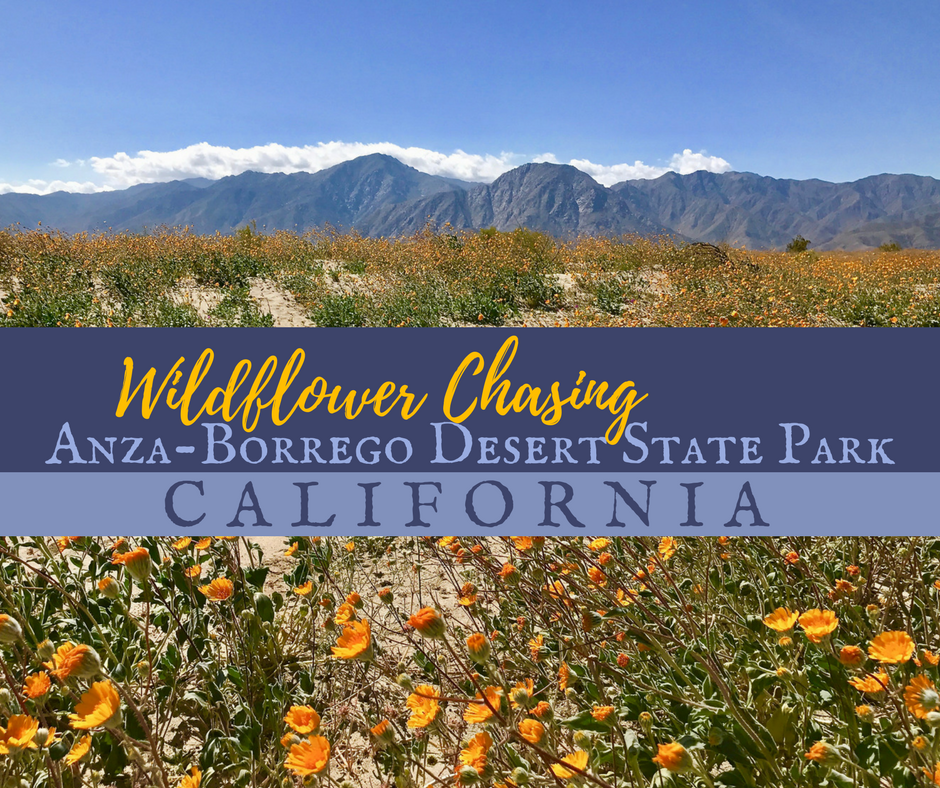 Anza-Borrego is the largest state park in California. It was ground zero for the 2017 wildflower super bloom and the first destination on my desert road trip. I drove along the Borrego Badlands, walked stunning desert landscapes, stopped at roadside flower fields, and scouted Ricardo Breceda sculptures on the outskirts of Borrego Springs.
Joshua Tree National Park
---
Joshua Tree National Park is a stunning otherworldly destination any time of year, and the added layer of spring wildflowers takes it over the top! Don't miss the best short hikes in Joshua Tree National Park! Explore Hidden Valley, discover Barker Dam, trek Wall Street Mill, climb Skull Rock, and so much more along these nature trails and walks.
Tahquitz Canyon
---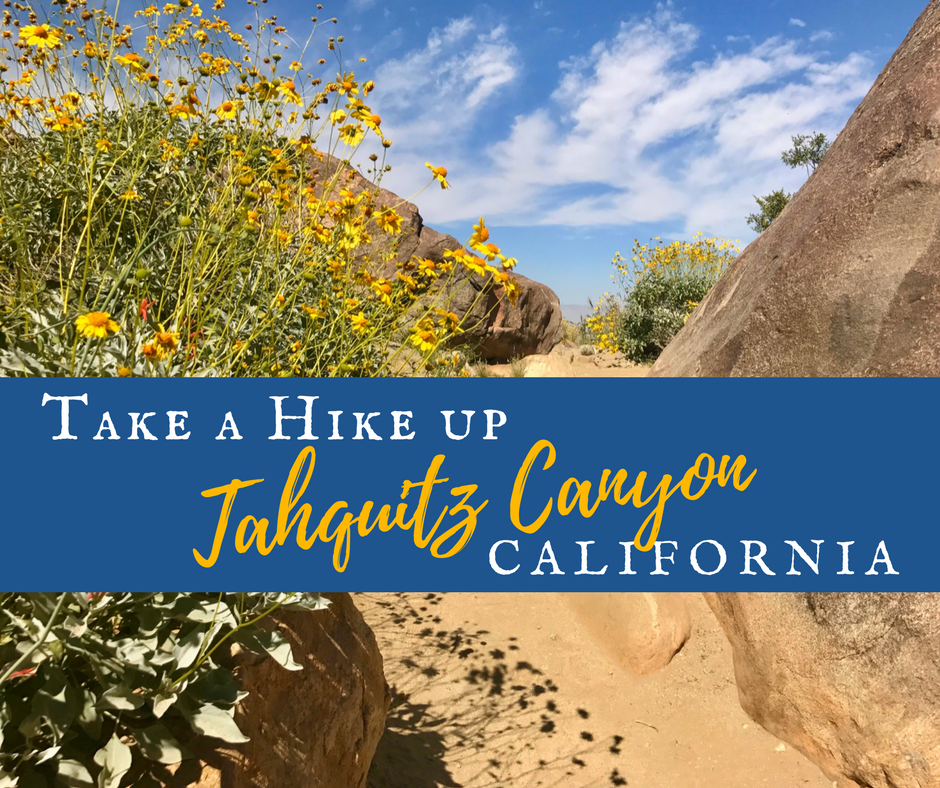 Tahquitz Canyon is located in the San Jacinto Mountains above Palm Springs. On a spring wildflower hike I paused to visit ancient Native American sites, enjoyed stunning views of Palm Springs, and recharged in the cool oasis at Tahquitz Falls, a movie location for Frank Capra's Lost Horizon (1937).
---
Map It!
---
---
We Would Love to Hear From You
---
We enjoy dialogue with our readers, especially when they share off-the-beaten-path destinations and useful travel tips. Have you ever taken a camper van road trip or visited the California desert? If so, we would love to hear about your experience. We invite you to leave your comments and questions below, and we always respond!
---
Pin this Post!
---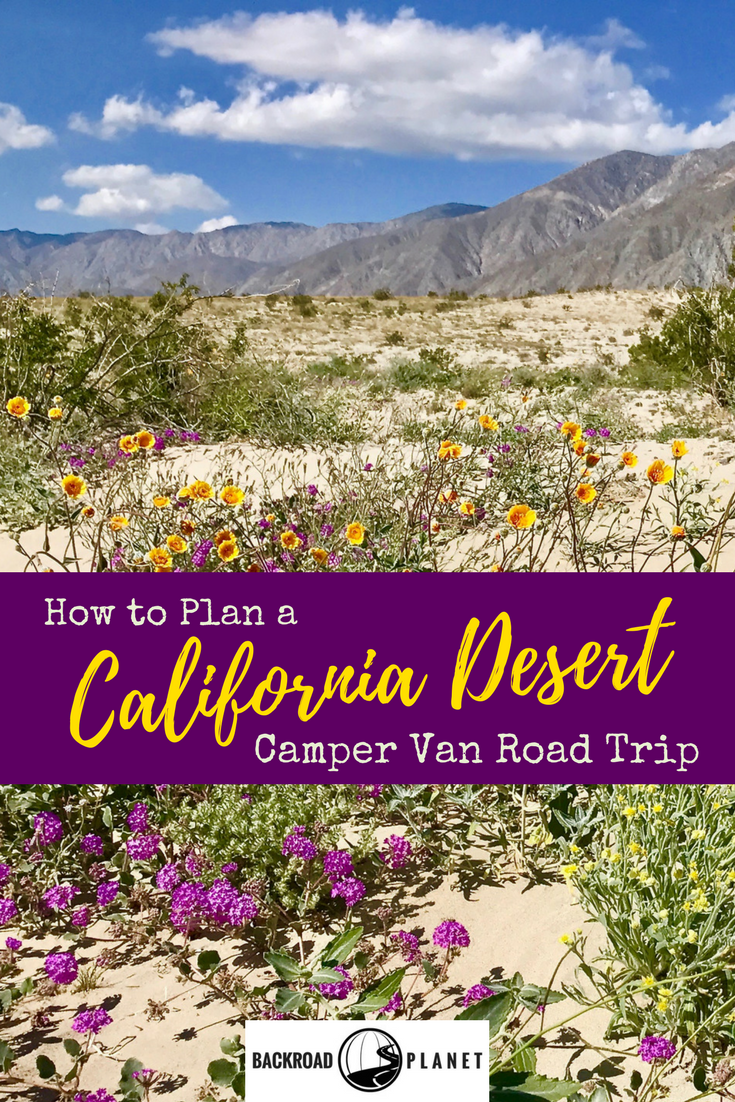 ---
Helpful Links
---
Southern California Wildflower Reports
Wildflower Chasing at Anza-Borrego Desert State Park
Best Short Hikes in Joshua Tree National Park