(a

12

minute read)
---
On a drive through Loudon County, Tennessee, you can scout Civil War Trails, sample cheese at Sweetwater Valley Farm, tour historic towns, hike to National Campground, detour to Sam Houston's Schoolhouse, and discover the Million Dollar View.
---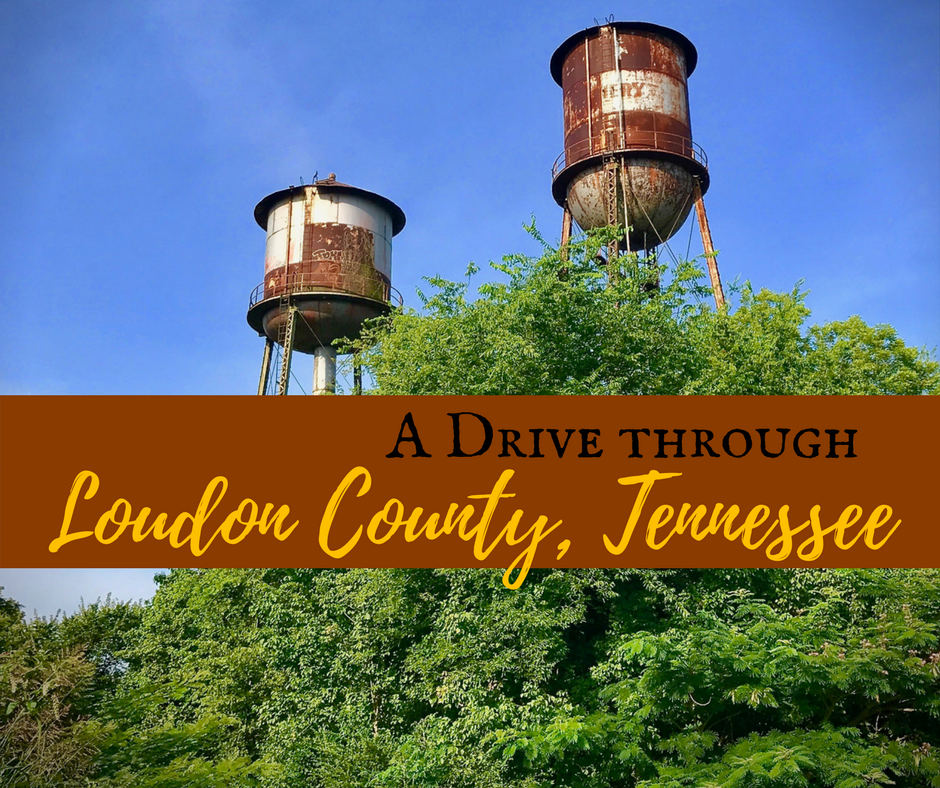 I was a guest of Loudon County Visitors Bureau, but all thoughts and opinions are my own.
---
Loudon County Tennessee
---
I was nearing the end of my Tennessee road trip as I crossed the Loudon County line.
My journey had started in Anderson County where I visited Norris Dam State Park, the Museum of Appalachia, the Secret City of Oak Ridge, Civil Rights-era Clinton, and Rocky Top.
Then I headed east to Jefferson County, dubbed the "Lakeside of the Smokies" and home to historical Dandridge, Lake Douglas, and the Bush's Beans Visitor Center.
On my drive through Loudon County, I would stop to tour a cheese dairy in Philadelphia, and explore the town of Loudon with a local historian, but I would also have a bit of time to explore the backroads and other small towns of East Tennessee while making my way back to Knoxville for an evening flight out.
My disjointed route would include ruins of a cotton mill, the 19th century National Campground, and a detour through Blount County, named after a very distant relative of mine.
---
Lenoir Cotton Mill Ruins
---
My drive through Loudon County, Tennessee, took me first through Lenoir City. I didn't have much time to explore this historic town, but I did take time to check out the ruins of the Lenoir Cotton Mill.
Lenoir City was an outgrowth of a plantation established in 1810 by William Ballard Lenoir on a 5,000 acre tract of land awarded to his father General William Lenoir for service during the Revolutionary War. The younger Lenoir would eventually build multiple industrial structures along Town Creek, including a flour mill, sawmill, brick mill, cotton mill, warehouse, and general store.
Lenoir and his sons also built Lenoir Inn, a building that would serve as the family home, stagecoach stop, and hotel.
In 1855, when the railroad arrived at the estate, a depot was constructed and the community was named Lenoir Station.
At first glance, the ruins of the c. 1821 Lenoir Cotton Mill give the impression that the structure was probably destroyed during the Civil War. Actually, Union troops did burn the sawmill, flour mill, and depot, but the cotton mill was lost to arson in 1991. Rather than rebuild the historic structure, the city opted to create a park around the ruins.
The cotton mill is just one of multiple sites in Lenoir City associated with the Tennessee Civil War Trails. I would not be able to visit them this trip, but I would find another Civil War site just by following signs en route to my destination the next morning.
Click here to book your Lenoir City stay on TripAdvisor!
---
The Affair at Philadelphia
---
Philadelphia, Tennessee, is a small town founded in the Sweetwater Valley of Loudon County in 1822. Following roadside Civil War Trails signs, I detoured there to see what I might find.
The Affair at Philadelphia was the first Union defeat during the occupation of East Tennessee. Confederate forces captured 700 soldiers, 50 supply wagons, and other Union property.
Experience has taught me that when chasing historical markers I may find nothing at the location other than a sign. Such was the case at Philadelphia, but even so I enjoyed my unplanned mini-adventure, and got a great shot of vintage twin water towers.
My detour was over, and the next stop on my itinerary was just up the road.
---
Sweetwater Valley Farm
---
John Harrison's family has been farming in Sweetwater Valley for generations. In the early 1990s, John and his wife Celia decided to enter a new facet of dairy farming, so John traveled to Washington state to study cheesemaking.
Today, the Harrison family practices the the art of farmstead cheesemaking, meaning the entire process from "cow to consumer" occurs on site at Sweetwater Valley Farm.
John and Celia's oldest daughter Mary met me at the farm store and gave me a tour of the cheesemaking process. Having grown up on the farm, Mary answered all my questions handily, and left me with no doubt that Sweetwater Valley Farm will be in good hands when it is time for the next generation to take over the family business.
The highlight of the tour for me was getting to sample the gourmet varieties of cheddar, colby, and gouda. It was hard for me to pick a favorite because I am a major cheese freak and loved them all. That said, I have not been able to forget the Italian Pesto white cheddar.
Sweetwater Valley Farm cheese may be purchased at the farm store, in supermarkets, and online.
Shortly, John showed up to give me a tour of the rest of the operation. We headed first to the barn that houses an event center for meetings, banquets, and weddings. The center also includes The Udder Story, an exhibit that explores dairy farming, past, present, and future.
Next, John gave me the grand tour of the milk production facilities, a truly educational experience. Visitors who take the tour will learn all the aspects of dairy farming from breeding to calving, feeding, milking, and even how cows become beef at the end of their productive years.
Guided tours of Sweetwater Valley Farm are available at specific times for a nominal fee.
---
Historic Loudon
---
My next stop was the town of Loudon, the seat of Loudon County, Tennessee, where I met up with local historian Bo Carey for a guided walking and driving tour of historical sites around town.
Loudon, originally a community called Blair's Ferry, grew around a ferry crossing on the Tennessee River that began operation in 1817.
Blair's Ferry Storehouse
---
For several years, a land dispute between ferry owner James Blair and Pathkiller, leader of the Cherokee Nation, hindered economical progress in the area. Eventually the Blair family prevailed, and with increasing trade along the river, the location became a steamboat landing. The Federal-style Blair's Ferry Storehouse, a warehouse that also housed a general store, was built at this location circa 1835.
Carmichael Inn
---
Blair's brother-in-law John Hudson Carmichael had previously established the Carmichael Inn in 1810 at a site across the river. It was a stopover for stagecoaches traveling between Nashville and Washington, DC. In the late 1980s, the two-story log structure was moved to its present location, adjacent to the 1852 Orme Wilson Storehouse, for preservation by the Loudon County Heritage Association.
Historic Loudon Depot
---
Loudon became the northern terminus of a railroad connecting to Dalton, Georgia, in 1848. A railroad bridge across the Tennessee River was completed in 1855, connecting the line to Knoxville. Loudon became an ideal location for transferring goods between rail and river transports.
Loudon County Courthouse
---
Loudon County was formed in 1870, and the Italianate courthouse was constructed in 1872. Convicted felon Andy Taylor was hanged on the courthouse lawn in 1883 for the murder of Hamilton County Sheriff W. T. Cale and Deputy J. J. Conway. It was the first and last public hanging in Loudon County.
A time capsule buried on the courthouse lawn in 1970 is set to be opened in 2020.
Steekee Cemetery
---
Our tour of historical Loudon took us to the Steekee Cemetery where James Blair and other early settlers are buried.
Get Low
---
I also visited the grave of Frank Quinn, undertaker of the former Quinn Funeral Home (today McGill-Karnes Funeral Home) whose character was played by Bill Murray in the feature film "Get Low." The movie is based on the true story of Felix "Uncle Bush" Breazeale, who approached Quinn to stage his mock funeral in 1938. The 2010 motion picture stars Robert Duvall as Uncle Bush and a cast that includes Sissy Spacek and Lucas Black.
The true story is also recounted in the 2015 book "Uncle Bush's Live Funeral" by screenwriter Scott Seeke.
The Mason Place
---
The story behind construction of the home built by riverboat captain and Union sympathizer Thomas Jefferson Mason cracked me up. Mason's son-in-law William Cassada, also his contractor, was a Confederate sympathizer. In 1865, to get revenge for a quarter million slave-made bricks confiscated by Union forces to construct a gun replacement at Fort Hill, Cassada designed the upstairs porch balustrade after the Confederate flag.
Dunbar Public School
---
I immediately recognized the c. 1923 Dunbar Public School as a Rosenwald School, similar to one I had visited in Donaldsonville, Louisiana. Built to provide education for African American children across the south, Rosenwald Schools were a project jointly sponsored by Sears, Roebuck & Company president Julius Rosenwald and African American educational leader Booker T Washington.
Other Historic Structures
---
I could have continued touring Loudon's historic home sites for the rest of the day, but it was time to break for lunch at Bill's Courtyard Deli followed by a delicious Peanut Butter Sensation sundae at Tic-Toc Ice Cream Parlor.
Click here for Loudon lodging options on TripAdvisor!
---
Fort Loudon Lake
---
Leaving Loudon, I began a meandering itinerary that would end with my outbound flight. My first stop carried me back through Lenoir City to take in what locals call "The Million Dollar View." The overlook above Fort Loudoun Dam gives a spectacular view of Fort Loudoun Lake.
Dubbed the "Lakeway to the Smokies," Loudon County is a mecca for water enthusiasts with an abundance of Tennessee Valley Authority lakes including Tellico, Watts Bar, and Melton Hill Lakes, and also the Tennessee and Clinch Rivers.
---
National Campground
---
I headed south toward the small town of Greenback, in search of the National Campground, an historic site with a rustic open air tabernacle, left relatively unchanged since it was constructed in 1874.
Road signs were helpful in finding the historical campground. The main entrance gate was closed to vehicles, but I was able to park at the entrance and walk in.
National Campground was established as a place of reconciliation in the years following the Civil War.
Tennessee had been the last state to secede, but East Tennessee was heavily populated with Union sympathizers, and abolitionists in Blount and Loudon Counties were networked on the Underground Railroad.
Having suffered the pain of divided loyalties and ravages of war, former Confederates and Unionists came together to "unite the different denominations in Christian fellowship, and to allay the feuds engendered by the late national difficulties."
Believers from Presbyterian, Baptist, Methodist Episcopal, and Quaker congregations flocked by the thousands to the campground for "two weeks of round-the-clock services."
Religious gatherings continue to this day with an annual 5-night revival each September, featuring music and sermons by ministers from participating denominations.
---
Blount County Courthouse
---
With a few hours to kill before flying out, I headed over to Maryville, the seat of Blount County. I simply could not resist exploring a bit of the county that shares my surname.
Blount County was named for Governor of the Southwest Territory and Signer of the Constitution, William Blount, and Maryville was named for his wife Mary Grainger Blount. Governor Blount was also the founder of Jefferson County, a destination I had visited previously on my Tennessee road trip.
I parked and began scouting the courthouse and grounds. Inside the building I discovered a sculpture dedicated to the memory of Polly Toole, an emancipated slave who risked flames and gunfire to carry country records to safety during a Confederate attack on August 21, 1864.
I also found a monument honoring Texas liberator Sam Houston, whose family moved to Maryville from Virginia in 1808, when he was fifteen. Unhappy with work in his brothers' store, Houston fled to Hiwassee Island where he lived with the Cherokee, became fluent in their language, and married a Cherokee wife named Talahina.
Houston returned to Maryville in 1812, and at age 18 became the schoolmaster of a one-room schoolhouse. I drove by the Sam Houston Schoolhouse State Historic Site on my way to the airport, but unfortunately it was closed.
Seeing Sam Houston's monument on the courthouse lawn and doing a bit of research for this article opened my eyes to a historical figure who led an incredible life on his own terms. It left me wanting to learn more about this singular man and hoping some Hollywood director will document his story in an epic motion picture.
---
Map It!
---
---
We Would Love to Hear From You
---
We enjoy dialogue with our readers, especially when they share off-the-beaten-path destinations and useful travel tips. Have you ever taken a drive through Loudon County, Tennessee? If so, we would love to hear about your experience. We invite you to leave your comments and questions below, and we always respond!
---
Pin this Post!
---