(a

17

minute read)
---
Anderson County Tennessee, is home to Norris Dam State Park, the Museum of Appalachia, the Secret City of Oak Ridge, Civil Rights era Clinton, Rocky Top, and much more!
---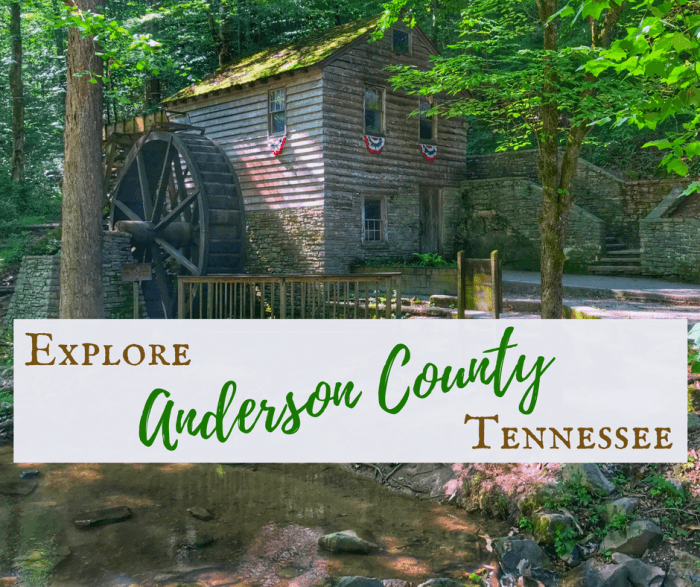 I was a guest of Adventure Anderson County, but all thoughts and opinions are my own.
---
Explore Anderson County Tennessee
---
The driving force behind my journey to Anderson County Tennessee, was a desire to learn the true story behind an all-but-forgotten event during the Civil Rights Movement.
On a visit to the Green McAdoo Cultural Center, I learned the relatively unknown story of The Clinton 12, a group of African American students who desegregated their local high school in 1956, one year before the more commonly known Little Rock Nine.
This moving experience alone would have been enough to justify my visit, but I would discover that Anderson County Tennessee, with its historical, cultural, and outdoor opportunities, had much to offer travelers of other persuasions, as well.
Situated northwest of the greater Knoxville area, Anderson County Tennessee is conveniently located for travelers along the I-40 and I-75 corridors.
It was mid-summer, and nature was in full bloom, adding stunning scenic beauty to the first region I would visit on my Tennessee road trip.
---
Norris Dam State Park
---
I started my first day in Anderson County Tennessee exploring the many facets of Norris Dam State Park. The 4,038 acre recreational area became a Tennessee state park in 1953, but its creation began several years earlier.
Norris Dam
---
Completed in 1936, Norris Dam was the first project constructed by the Tennessee Valley Authority (TVA). As with the construction of most dams, the project displaced thousands of families, required relocation of graves, and inundated historic communities.
But the trade-off was considerable. Building the dam at this site on the Clinch River would create jobs, ensure flood control, provide a lake for recreation, and produce hydroelectric power not just for residents, but eventually for a top secret government project. It also spurred construction of a planned community to house workers that would become the town of Norris, Tennessee.
Visitors to the park should stop by the Norris Dam Visitor Center and take a scenic drive along US 441 S across the top of the dam.
Lenoir Museum
---
The Lenoir Museum located along US 441 S at the southern entrance to the state park provides an ideal orientation to this region of East Tennessee.
Regional collector Will G. Lenoir donated most of the artifacts in the museum's collection to the State of Tennessee in order to create a permanent public display. A passionate collector for more than 60 years, Lenoir wanted to ensure that the Appalachian way of life and stories behind the many historical pieces not be forgotten.
The museum also displays vintage panoramic photos of the of the Norris Dam in various stages of construction. As I recall, the rare photos had been discarded and were rescued from an outbound pile of refuse.
The most prized possession of the collection, however, is a German barrel organ Mr. Lenoir acquired in 1982. Although the rare piece has not received a complete restoration, craftsmen repaired the organ to working order so that it plays ten tunes and 45 moving figures move as designed. According to newspaper fragments found inside the organ, it originated in Germany prior to 1826 and has been in the United States since 1865. I think its history qualifies it as an Appalachian treasure!
Rice Grist Mill
---

Perhaps the most picturesque structure in the park is the Rice Grist Mill situated adjacent to the Lenoir Museum, built by James Rice and his sons in 1798. The two-story log building was originally located in an area destined to be flooded by construction of the Norris Dam. In 1935, the Civilian Conservation Corps and National Park Service jointly dismantled the mill and reassembled it at its current location along Clear Creek.
Caleb Crosby Threshing Barn
---

The Caleb Crosby Threshing Barn, now situated just west of the mill, is historical structure rescued from an area destined to be flooded by the Cherokee Dam. The timber frame structure, dating to the 1830s, was not reassembled immediately, however. It remained sheltered in pieces for 34 years until the Tennessee State Park system reconstructed it here in 1978.
One of the items displayed in the barn is a slice of the Trigonia Elm, a giant tree that once grew in its namesake community, about 60 miles south of the state park. With a girth of 24 feet and 7 inches, it was at one time believed to be the largest American Elm in the United States.
Camp Sam/Kinchen Trail
---
My itinerary did not allow me time to do an extended hike, but when I learned that ruins of an abandoned CCC camp were located in the park, I knew that was something I would want to see. The parking area for the Camp Sam/Kinchen Trailhead is located along US 441 S, approximately one-half mile beyond the Lenoir Museum.
Camp Dewitt Kinchen, named after one of its enlisted men who drowned in a boating accident on Norris Lake, was home to CCC Company 494. The camp also went by the name of TVA 45. Today this location along the trail is known as Camp Sam, in honor of a Boy Scout leader who popularized the area as a camping spot.
The camp originally boasted dormitories, officer's barracks, a kitchen, recreation hall, infirmary, blacksmith shop, and other buildings. Today, the natural amphitheater area with its muster point and flagpole appears much like it did back in the day. Only remnants remain of the other structures.
My favorite part of the stone and concrete ruins were the grease pits that allowed camp mechanics to service vehicles from below.
The camp area of the trail is populated with a series of interpretive signs that display vintage images from the period and give historical information relating to the site.
Rustic CCC Cabins
---
In addition to primitive and RV camping, Norris Dam State Park has ten modern cabins available for booking. There are also nineteen historic cabins constructed by the CCC in the 1930s. These rustic cabins, listed on the National Register of Historic Places, have been retrofitted with basic modern utilities. These accommodations are perfect for family vacations or weekend getaways and can be reserved online.
---
Museum of Appalachia
---
The Museum of Appalachia is the love child of founder John Rice Irwin who established the museum in 1969 with one log cabin. Much like Will G. Lenoir, Irwin's passion was the preservation of Appalachian artifacts, but on a much grander scale.
Today the museum is a non-profit Smithsonian affiliate. Redesigned with 35 historical structures set on 65 acres, this living history village gives visitors an immersive experience of authentic pioneer mountain life.
Farm animals and gardens add a realistic touch to the cabins, barns, schoolhouse, chapel, moonshine still, jail, and other elements of the community.
Some structures, such as the Mark Twain family cabin, have an added historical meaning. Twain's parents and siblings left Tennessee in 1835, five months before the famed writer was born. The ancient log cabin was moved to this location from its original site in Possum Trot, Tennessee.
Appalachian Hall of Fame
---
The Appalachian Hall of Fame honors mountain people themselves. Exhibits in this building portray the talent and tenacity of mountain people through their crafts, music, professions, and way of life.
Display Barn
---
The Display Barn houses even more of the museum's 250,000 Appalachian artifacts.
Harrison Mayes Exhibit
---
One of the most unique collections of the museum, displayed in the People's Building, are works created by Henry Harrison Mayes, a Kentucky coal miner turned evangelist. After a close call in a 1917 mining accident, Mayes dedicated his life to God, spreading his brand of the gospel by erecting concrete signs along the roadways of 44 states.
Mayes passed away in 1986, and although many of his signs have fallen victim to highway expansion and the passage of time, his work still populates backroads across the South. I couldn't give you exact locations, but I am certain I have encountered Mayes' roadside signs on more than one occasion over the years
A close reading of collected signs reveal Mayes had a limited understanding of astronomy and ascribed to narrow doctrinal tenets. His work also gives evidence of an inclusive, ecumenical theology and broad political position. Right or wrong, I can't help but believe Mayes' motives were pure.
Christy Exhibit
---
Another exhibit in the People's Building portrays set pieces from the CBS television series "Christy." The 1990s series, based on Catherine Marshall's bestselling novel, tells the story of a 19-year old who left the comforts of home "to teach school in the impoverished Appalachian community of Cutter Gap, Tennessee, in 1912." Scenes from the series were shot on location at the museum.
The Museum of Appalachia is open daily, and admission fees apply.
---
Appalachian Arts Craft Center
---
I stopped by the Appalachian Arts Craft Center located diagonally across Andersonville Highway from the Museum of Appalachia.
This non-profit center is carrying on the legacy of Appalachian arts and crafts through education and sales. Pottery, weaving, quilt-making, and many other classes are offered year round. Handcrafted pieces by more than 60 local artists are available for purchase and viewing in the center's gift shop and gallery.
Appalachian Arts is open daily at varying hours.
---
Coal Creek
---
No doubt you are familiar with the bluegrass standard "Rocky Top," and you may have wondered whether such a place exists. Well, it does. But you will be surprised to learn that the city of Rocky Top, Tennessee, has only borne this name officially since 2014, prompted by a yet-to-be-realized commercial venture. Rocky Top incorporated in 1936 as Lake City, due to its proximity to Lake Norris. Prior to that, the community founded in 1856 was known as Coal Creek.
Rocky Top, to date, has little history. But Coal Creek has a rich, storied, and tragic past.
Coal Creek Miners Museum and Motor Discovery Trail
---
The Coal Creek Miners Museum is situated adjacent to City Hall, and it is the recommended first stop for travelers who seek to learn the region's history.
The story of Coal Creek is told through three historical events:
• The Coal Creek War (1891-92) was a violent labor uprising in response to coal mine owners who replaced company employees with cheap labor through the state prison system's convict-leasing program.
• The Fraterville Mine Disaster (1902) was the worst mining disaster in Tennessee's history. The explosion claimed the lives of 216 miners. The town of Fraterville lost all but three of its adult males, leaving scores of widows and hundreds of orphaned children. Several miners not killed in the initial blast wrote heart-rending goodbye letters to their families.
• The Cross Mountain Mine Disaster (1911) was the second mining tragedy to hit the area, this time near the town of Briceville. Of the 89 men who entered the mine that morning, only five survived the explosion.
The Coal Creek Miners Museum is open daily, except Sundays. Donations are accepted.
As a huge fan of scenic and historical byways, I was excited to learn there is a Coal Creek Motor Discovery Trail. So after touring the museum, I hit the backroads with my host to visit several of the 22 waypoints from Coal Creek's dramatic past.
Fort Anderson on Militia Hill
---
Fort Anderson on Militia Hill is the site of numerous violent conflicts between state militia and local miners during the Coal Creek War. Although there are no visible remains of the historic fort, the area contains multiple historical markers that interpret the site.
Fraterville Miners' Circle
---
The Fraterville Miners' Circle, located in the Leach Cemetery behind Clear Branch Baptist Church, is the final resting place for 89 of the 216 miners who perished in the mining disaster. The headstones are arranged in concentric circles around a monument that bears the names of 184 identified miners.
Briceville Community Church
---
The Briceville Community Church is a beautifully restored structure built in a rural Gothic Revival style by Welsh coal miners in 1887. The church was used as a temporary jail during the Coal Creek War. Memorial services following both the Fraterville and Cross Mountain mining disasters were were held here, and victims of both events are buried in the church cemetery.
Cross Mountain Miners' Circle
---
The Cross Mountain Miners' Circle is located at the Circle Cemetery in Briceville. Thirty-one of the 84 victims are buried at this location, encircling a central monument bearing their names.
Both circle monuments are worth seeing from above in the Google map below. Switch the base map to satellite and zoom in for an aerial view.
---
Manhattan Project National Historical Park
---
Established in 2015, the Manhattan Project National Historical Park is one of the newer NPS sites, managed jointly by the National Park Service and Department of Energy. The park is unique in that it has units in three different locations: Los Alamos, New Mexico; Hanford, Washington, and Oak Ridge, Tennessee.
These three key sites played unique and critical roles in the design, production, and testing during the development of the atomic bomb, better known as the Manhattan Project.
As a relatively new designation, the MPNHP is still in a period of transition. It currently has no visitor center, but it has a full-time staff working an information desk inside the American Museum of Science & Energy.
Note: National Parks Passport fans will be interested to learn that the three MPNHP units have stamps shaped like pie slices to collect when you visit each location. The three stamps fit together to complete the whole "pie." As of this writing, I have only collected the Oak Ridge stamp.
The Secret City
---
Oak Ridge, Tennessee, is no longer a secret, but at one time it was.
This 17-mile valley in Anderson and Roane Counties was selected as the future site of the Secret City for its affordability, accessibility by rail and highway, and water and electricity supplied by Norris Dam. Parallel mountain ridges would provide natural protection between the four scheduled industrial facilities.
The population of the Oak Ridge swelled from 3,000 in 1942 to 75,000 in 1945. In addition to construction of its production facilities, the town surrounded by a fence and guard towers would soon have supermarkets, restaurants, theaters, churches, a library, a symphony orchestra, and most modern conveniences of the day.
Secret City employees were sworn to secrecy regarding their specific jobs and given information on a need-to-know basis. They were even instructed not to discuss their lines of work with their spouses. Even though they knew their work was important, most workers did not know they had been developing nuclear weapons until Hiroshima was bombed.
Although Oak Ridge is no longer a secret city, it is still home to the Oak Ridge National Laboratory, the Spallation Neutron Source, and other government and private technological entities.
American Museum of Science & Energy
---
The American Museum of Science & Energy has been an Oak Ridge fixture since 1949. Like other science museums across the country, AMSE is a field trip magnet with a variety of interactive physical and earth science exhibits that appeal to school-age children. AMSE is also a Smithsonian affiliate.
The museum has appeal for adult visitors, as well, with its permanent Oak Ridge: World War II Secret City exhibit.
Panoramic displays present the history of the Secret City through interpretive panels, documents, and artifacts.
Models of atomic bombs and other authentic realia bring the historical development of nuclear warfare to life for visitors.
Pre-Fab Model Home
---
Because the demand for housing in Oak Ridge was so great, various models of pre-fabricated homes were put up quickly all over town. Reportedly, one house could be assembled in 30 minutes.
A Type B-1 flat-top home with original style furnishings was relocated and reassembled on the AMSE property and is open to museum guests.
DOE Oak Ridge Public Bus Tour
---
A rare offering available to Manhattan Project NHP visitors is the DOE Public Bus Tour of the Oak Ridge facilities. The 3-hour guided tour runs once daily on select days between March and November, and carries guests to areas of the former Secret City not currently open to the public. The tour is included in the price of admission to AMSE, but it is available on a first come-first served basis for U.S citizens over the age of 10 with a photo ID. Online registration is available, and other restrictions may apply.
Note: Like the Manhattan NHP, AMSE is also in a period of transition. At this writing, the museum is scheduled for relocation, and its association with the National Park Service is uncertain.
---
Lodging & Dining
---
Host accommodations during my visit to Anderson County Tennessee, were at the Hampton Inn Knoxville/Clinton I-75.
Click here for more Clinton lodging options on TripAdvisor!
Click here for more Oak Ridge lodging options on TripAdvisor!
Anderson County is not dry, but visitors to Clinton may be interested to know that Harrison's Grill and Bar located next door to the Hampton Inn is the only food service in town that serves adult beverages.
Museum of Appalachia Restaurant
---
The Museum Restaurant at the Museum of Appalachia is a lunch-only local favorite.
I can vouch that their homestyle "meat and two" daily specials and desserts are worth the wait in line.
Hoskins Drug Store Restaurant
---
I ate lunch at the Hoskins Drug Store restaurant the day I learned the story of the Clinton 12 at the Green McAdoo Cultural Center. You can learn the story and read more about that meal here.
---
Map It!
---
---
We Would Love to Hear From You
---
We enjoy dialogue with our readers, especially when they share off-the-beaten-path destinations and useful travel tips. Have you ever visited Anderson County Tennessee? If so, we would love to hear about your experience. We invite you to leave your comments and questions below, and we always respond!
---
Pin this Post!
---