(a

15

minute read)
---
A photo-intensive guide for Tennessee travelers and Civil War buffs planning a Battle of Franklin tour. Includes visits to the Carter House, "The Widow of the South's" Carnton Plantation, the Eastern Flank Battlefield Park, and the village of Leiper's Fork.
---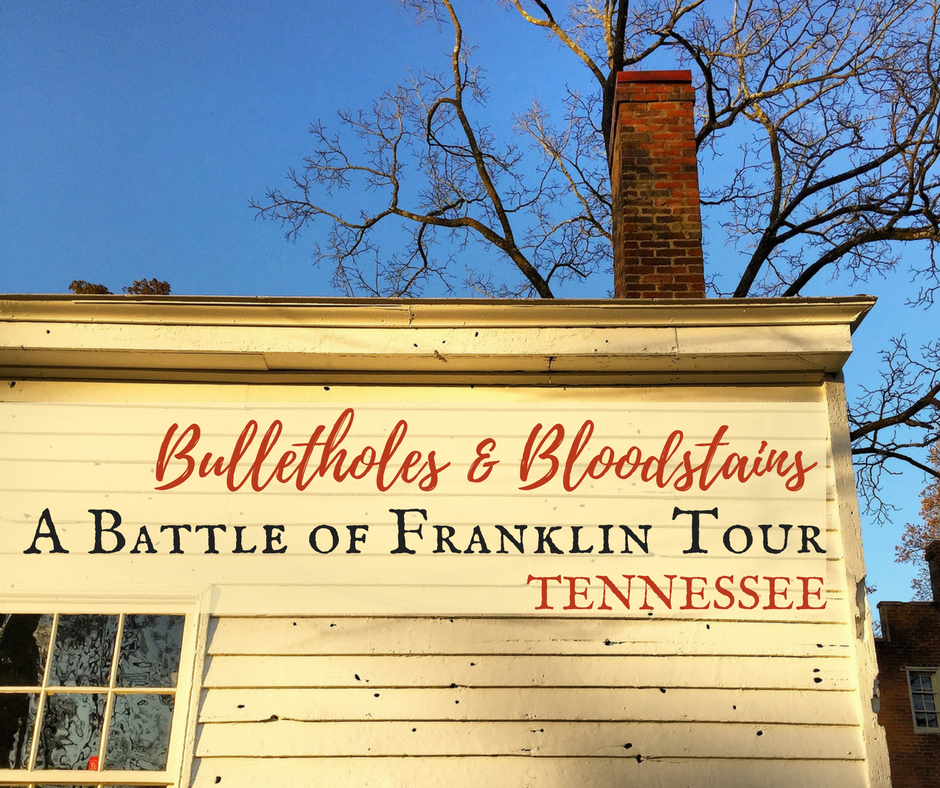 I was a guest of Williamson County CVB, but all thoughts and opinions are my own.
---
A Battle of Franklin Tour
---
Franklin was the first destination on a Civil War and Civil Rights themed road trip through Mississippi and Tennessee. Jerry and I flew into Nashville and hired a car to begin our week-long journey. We would travel the Natchez Trace Parkway from its northern terminus near Franklin south to Tupelo and Jackson before looping north through the Mississippi Delta to Memphis and returning to our origin.
We had less than 24 hours to spend in Franklin, but we were able to tour multiple key sites connected to the last major battle of the Civil War.
This post is a guide for travelers planning a Battle of Franklin tour, but also a virtual overview for Civil War buffs interested in learning more about the tragic engagement that transpired on these hallowed grounds.
---
The Battle of Franklin, Tennessee
---
On November 30, 1864, Confederate Lt. Gen. John Bell Hood led the Army of Tennessee on an assault of Union Maj. Gen. John M. Schofield's fortified field positions at Franklin. His mission was to retake the capital at Nashville, twenty miles north.
Both Nashville and Franklin had been under Union occupation since February of 1862.
In an offensive that was "larger, longer, and deadlier" than Pickett's Charge at Gettysburg, 20,000 of Hood's men advanced against Schofield's 27,000 troops. Thousands of men were mowed down as brutal fighting continued into the night.
Estimates conclude that 2,300 men died, 7,000 were wounded, and 1,000 were captured. Of the 10,000 casualties, roughly three-fourths were Confederate losses. There were also major casualties within Confederate officer ranks. Among them, six generals were killed, seven were wounded, and one was captured.
The Battle of Franklin lasted only five hours, but it would deal a decisive, devastating blow to the Confederacy.
The best way to fully visualize the action is with an animated Battle of Franklin map by the Civil War Trust.
Pvt. Israel Garner, Alabama 38th Infantry, Army of Tennessee
---
Genealogical and historical research indicates that my great-great grandfather Pvt. Israel Garner, age 25, was present at the Battle of Franklin. His regiment, the Alabama 38th Infantry, as part of the Army of Tennessee drew rear guard duty during the fateful conflict, and lucky for me, he survived.
In the sepia tone portrait to the right, Israel is sporting a Civll War era uniform that was undoubtedly a studio photographer's costume. The photo to the left shows Israel with his family post-1872, when they migrated from Monroeville, Alabama, to Central Florida in a caravan of oxen-pulled wagons. Israel kept a daily log during this journey, but no written records from his Civil War experience have ever surfaced.
Israel's wife, Artemisia Hendrix, is in my family line related to novelist Truman Capote.
---
The Battle of Franklin Trust
---
The Battle of Franklin Trust is a non-profit local organization whose mission "is to preserve, understand, and interpret the story of a people forever impacted by the American Civil War." They have been entrusted with managing the Carter House and Carnton, the two most prominent historical sites associated with the battle.
If you have limited time to spend exploring the sites like we did, I suggest that you begin your visit at the Carter House Visitor Center located at 129 West Fowlkes St. The Carter House fronts 1140 Columbia Ave., but there is no entrance nor parking access at that address.
Several tours and ticket packages designed to accommodate your time and interests may be purchased at the visitor center. I recommend that you select a combination ticket package for tours of both the Carter House and Carnton, or a value package that includes the Lotz House. If you have surplus time, you could add a battlefield tour or another supplementary tour.
The same tours are available at the Carnton Visitor Center, but the battle narrative seems to flow better sequentially when beginning at the Carter House.
Tours are available for the Harvey McLemore House on Fridays and Saturdays or by special appointments for groups. This site is also a destination on Franklin's self-guided African American Heritage Driving Tour.
---
The Carter House
---
Fountain Branch Carter and his wife "Polly" built their brick home at the top of the hill in 1830. To accommodate their twelve children, they later attached a frame ell with two additional bedrooms. The Carter farm eventually grew to include 288 acres, various outbuildings, a cotton gin, and 28 slaves.
At the outbreak of war in 1861, the three surviving Carter sons enlisted in the Confederate army.
In the pre-dawn hours of November 30, 1864, Federal Brigadier General Jacob D. Cox took possession of the Carter home as headquarters for the Twenty-Third Army Corps, due to it position just inside the center of the Union breastworks.
As fighting broke out, the Carter family, the neighboring Lotz family, and several slaves took refuge in the basement of the family home. Moscow Carter, who had been captured and paroled from a Federal prison, and his four children were among the group. Brothers Francis and Tod had also been captured by Union forces and taken as prisoners of war.
The first structure you will encounter on your guided tour is an 1840s slave cabin moved here from another location in Williamson County. The 1860 census listed seven slave houses were situated on Carter land. It is believed that most, if not all, of those log cabins were dismantled to strengthen Union earthworks before the battle.
Due to their location closest to the battlefield, the Carter brick smokehouse and frame farm office are the most bullet-damaged structures on the property.
As they huddled in the basement during the battle, the Carter family did not know that brother Tod had escaped from a transport train in Pennsylvania and was making his way home for the first time in three years. Fatefully, he arrived in Franklin on the day of the battle.
There are several versions of the story, but while leading a charge, Tod was struck by bullets eight times in his body and once above his left eye. When the family emerged from the basement, Tod's commanding general notified them of his wounding. They searched their corpse-strewn backyard by lantern light and found Tod about five hundred feet away. They carried him inside the house. where he died two days later, in a room across from the room where he had been born.
At battle's end 57 soldiers lay dead on the ground between the Carter house back porch and the brick kitchen outbuilding.
The Lotz House is located across Columbia Ave. and a short walk from the Carter House. The home was built in 1858 by German immigrant and master carpenter Johann Lotz. Fearing his frame home might be destroyed during the battle, Lotz, his wife Margaretha, and three of their surviving children sought refuge in the Carter House basement. The couple has lost twins Julius and Julia earlier in the occupation when the toddlers played in a creek poisoned by Federal troops. Like many homes in the area, the Lotz House served as a field hospital following the Franklin battle.
---
Battlefield Reclamation
---
Over the years, sections of the Franklin battlefield south of the Carter House were consumed by urban sprawl. Houses, pizza joints, and strip centers were built on key battle sites and locations where countless soldiers gave their lives. The Battle of Franklin Trust, in a joint effort with other non-profit organizations and government grants, has successfully reclaimed well over 100 acres of battlefield for preservation. They continue to recover additional plots as they become available.
The Carter Hill Battlefield Park is currently in development on reclaimed land. One of the preservation partners, Franklin's Charge, has  led the initiative to purchase and authentically position four federal cannons on battlefield park property.
Civil War preservation in Franklin, Tennessee, is a testament to what can be achieved by local effort, as a major Civil War site that was overlooked for NPS designation and funding as a national battlefield or national military park like the one I visited at Vicksburg, Mississippi.
---
Carnton Plantation
---
Nashville mayor Randal McGavock built a red brick Federal residence in 1826 with slave labor, and named it Carnton, after the ancestral McGavock home in Ireland. His son John inherited the property and added a two-story Greek Revival portico to the front of the house in 1847.
The following year, he married Carrie Winder from Terrebonne Parish, Louisiana.
A two-story Greek Revival gallery that extends beyond the original brick structure was also added to the rear of the house.
Carnton is situated roughly 1.5 miles southeast of the Carter House, and in the aftermath of the fighting, bodies of the dead and dying were scattered across the battlefield between them.
Carnton was closest to the fighting on the Union Eastern Flank during the battle, and of the more than 40 buildings converted to temporary field hospitals, Carnton was the largest. Estimates say as many as 300 soldiers were transported into the house, and hundreds more occupied the outbuildings and yard. John and Carrie McGavock, along with their two young children Hattie and Winder, tended to the wounded and assisted physicians.
At the time, amputations were the most common surgical procedure for wounded limbs, and I will spare you most of the gory details. That said, bloodstains remain on the plank flooring, especially in two upper bedrooms. Some of the stains are circular, like the bottoms of buckets, and others are curved where blood dripped for hours from the aprons of surgeons.
On the morning of December 1, 1864, the bodies of Confederate Generals Cleburne, Granbury, Adams, and Strahl were laid out on the back porch of the mansion, as surviving soldiers of the Army of Tennessee filed past to pay their last respects.
According to the 1860 Federal census, the McGavocks owned 44 slaves, 11 slave dwellings, and 900 acres. Visitors to Carnton are free to do self-guided tours of the property and outbuildings, including the garden, springhouse, smokehouse, and the remaining two-story slave house.
Carnton Plantation and Carrie McGavock gained notoriety in 2005 with the publication of Robert Hicks' New York Times Bestseller The Widow of the South. Hicks, a driving force behind the preservation of Carnton, and the founding chairman emeritus of Franklin's Charge, has also authored two related historical novels The Orphan Mother and A Separate Country.
---
McGavock Confederate Cemetery
---
Following the Battle of Franklin, most of the dead were buried on the battlefield in crudely marked graves. In 1866, the McGavocks donated a two-acre plot as a final resting place for the Confederate dead, and a "broad exhumation" led by George W. Cuppett was initiated.
Nearly 1,500 soldiers were reburied in sections by state, their graves were marked, and known names were listed in a Book of the Dead. Carrie McGavock managed the cemetery until her death in 1905, when the United Daughters of the Confederacy assumed care of the grounds.
The efforts at the McGavock Confederate Cemetery reminded me of the dedicated work by Clara Barton and Dorence Atwater at the Andersonville National Cemetery in Georgia.
---
Eastern Flank Battlefield Park
---
Access to Carnton and the McGavock Confederate Cemetery is through the city-owned Eastern Flank Battlefield Park. The 110-acre property features a walking trail with twenty interpretive markers.
---
Leiper's Fork
---
Leiper's Fork is an historical village located about nine miles west of Franklin and just off the Natchez Trace Parkway.
Visitors driving into town are greeted by roadside replicas of Barney Fife's patrol car from the Andy Griffith Show and "The General Lee" from the Dukes of Hazard. I have not been able to determine who these classic cars belong to, but apparently they have been at this location since at least 2003.
Jerry and I walked a couple of laps up and down the main drag lined with antique shops, art galleries, and historic homes.
It was lunchtime, so we headed into Puckett's Grocery & Restaurant to grab a bite to eat. Puckett's has been serving the community since 1953.
Puckett's Restaurant serves up country cooking and fast food in a rustic environment, with live music most evenings and at noon on weekends. In addition to local talent, Nashville stars occasionally take the stage.
When you visit the water closet, you can learn how to build your very own outhouse to county code.
Headed back to Franklin, we passed Leiper's Fork Distillery. It was a Sunday, and they were closed, so we didn't sample any spirits. We did, however, bid farewell to another vintage roadside vehicle.
---
Downtown Franklin
---
As night fell, we headed to downtown Franklin where we would meet up with our host and a dear friend for dinner.
Like many Southern towns, the centerpiece of Franklin Square is a Confederate monument. This marble infantryman, affectionately called "Chip" due to a transportation accident, was sponsored by the local chapter of the Daughters of the Confederacy, and dedicated in 1899.
In recent years, perhaps to bring a sense of balance, four Federal cannons have been installed around the base. Even so, in the wake of events in Charlottesville, Virginia, a new Battle of Franklin has ensued, with protests and petitions from both sides of the issue.
The marquee of the historic 1937 Franklin Theatre illuminated the night with a neon glow. This former movie theater closed in 2007, but another local nonprofit, the Heritage Foundation of Franklin and Williamson County launched an initiative to save it. In 2010, After an $8 million renovation, the venue reopened with a full slate of movies, concerts, comedy, musicals, and other events.
A screening of the Emmy Award-winning documentary "The Battle of Franklin " was advertised the night we were in town.
---
Dining and Lodging
---
Franklin offers many fine dining options, but with only one night in town, we patronized a local favorite.
GRAY'S on Main
---
GRAY'S on Main opened as a restaurant in 2013, inhabiting an 1876 Victorian building previously home to the Gray Drug Co. for nearly one hundred years.
The menu at GRAY'S puts a "modern flourish on Southern culinary traditions," and features a menu of "handcrafted epicurean cocktails that celebrate the brandy culture of the late 19th century."
For starters, we shared brussel sprouts roasted with burnt orange, sorghum, pecans, and cranberry, as well as fried pimento cheeseballs (my favorite) served with moonshine pepper jelly. Entrees included shrimp and grits and ginger braised short ribs. Our shared dessert was a dark chocolate Belgian brownie.
Of course the best part of the evening was catching up with my forever friend Sherron Bunting, who has lived all over the country, but now makes Franklin her home.
Merridee's Breadbasket
---
Merridee's Breadbasket is a bakery and restaurant with a vintage flair where everything is made from scratch. Breakfast, lunch, and dinner are served at this historic downtown Franklin location.
Aloft Cool Springs
---
Photo Credit: Aloft Nashville Franklin
Our host accommodations at Aloft Nashville Franklin were conveniently located of I-65 between Franklin and Nashville. The Aloft brand features urban-influenced loft-style rooms, free WiFi, an indoor pool and fitness center, and a dog-friendly environment.
Click here to book your stay at Aloft Nashville Franklin on TripAdvisor!
Click here for more Franklin lodging options on TripAdvisor!
---
The Natchez Trace Parkway
---
It was time to get back on the road, and Tupelo, Mississippi, would be our next destination. There we would tour two more Civil War battlefields and Elvis Presley's Birthplace.
The northern terminus for the Natchez Trace Parkway is in the community of Pasquo, thirteen miles northwest of Franklin. This scenic route through Tennessee, Alabama, and Mississippi winds 444 miles south to its southern terminus in Natchez.
The 1951 Loveless Cafe, world famous for its secret-recipe biscuits, country ham, and red-eye gravy, is situated a few hundred feet east of the terminus on TN-100. The former motel has been converted into a suite of specialty shops including Hams & Jams, Outfitters, Shipping Shoppe, and more.
Four miles south of the northern terminus is an architectural landmark, a double-arched bridge spanning Birdsong Hollow and TN-96. Completed in 1994, the bridge has won multiple awards including the Presidential Award for Design Excellence.
Just north of the bridge is a parking area that offers the view above. South of the bridge is an exit that will take you to a parking area for a full-length view from below.
---
Map It!
---
---
We Would Love to Hear From You
---
We enjoy dialogue with our readers, especially when they share off-the-beaten-path destinations and useful travel tips. Have you ever visited Franklin, Tennessee? If so, we would love to hear about your experience. We invite you to leave your comments and questions below, and we always respond!
---
Pin this Post!
---