(a

12

minute read)
---
Jefferson County, Tennessee, is the "Lakeside of the Smokies" and home to historical Dandridge, Lake Douglas, and the Bush's Beans Visitor Center.
---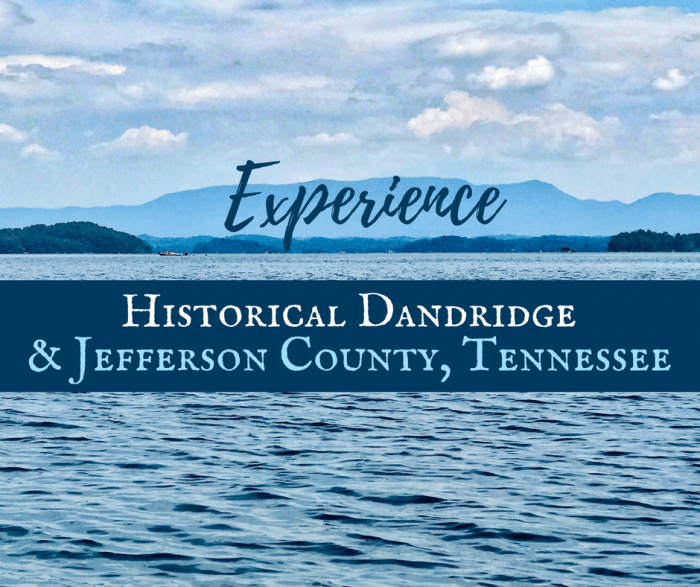 I was a guest of Jefferson County Tourism, but all thoughts and opinions are my own.
---
Jefferson County Tennessee
---
Jefferson County Tennessee, was the second destination on my East Tennessee road trip. I began my journey in Anderson County where I explored Civil Rights-era Clinton, the "Secret City of Oak Ridge, and historical sites associated with Norris Dam and Rocky Top.
History runs deep in Jefferson County, and I was pumped to explore this region of Tennessee. At the time of my visit I was completely unaware, but I would later learn that William Blount, my distant relative and signer of the Constitution, had established Jefferson County in 1792 while he was Governor of the Southwest Territory.
Sandwiched between two Tennessee Valley Authority (TVA) lakes, Jefferson County is also a scenic and recreational setting, rightfully dubbed the "Lakeside of the Smokies." And conveniently located less than an hour's drive from Gatlinburg, Pigeon Forge, and Knoxville, Lakes Cherokee and Douglas are perfect destinations for water enthusiasts and other visitors to East Tennessee.
My whirlwind visit would allow me to experience Jefferson County, both present and past.
---
Historical Dandridge
---
The first stop on my itinerary was historical Dandridge, the county seat of Jefferson, and it was not what I had expected. The Federal style architecture along Main Street gave the impression I had landed somewhere in New England, not East Tennessee.
But I shouldn't have been surprised.
Dandridge was founded in 1783 and named for the very first First Lady of our nation, Martha "Dandridge" Washington.
A Walk around Town
---
Historical walks in small town America rank high on my list of favorite things to do, especially when accompanied by a local guide. Such was the case in Dandridge, when I joined Jefferson County historian Bob Jarnagin for a morning tour around town.
Revolutionary War Graveyard
---
Our walking tour began at the Revolutionary War Graveyard. This hallowed plot of land began as the graveyard for Hopewell Presbyterian Church, organized in 1785.
Although no casualties of the Revolutionary War are buried here, the graveyard is the final resting place for five local veterans of the war.
Ancient tombstones throughout the graveyard mark the locations of additional 18th and 19th century burials. Other unmarked plots are visible through sunken indentations on the surface of the ground.
Having experienced grave dowsing for the first time while visiting Franklin, North Carolina, earlier in the year, I was curious whether any dowsing had been done at this cemetery. I learned that it had been conducted, by a professional dowser who could not only locate unmarked graves, but also identify whether corpses were male or female.
Hickman Tavern (c. 1820)
---
Dandridge was once an overnight stop along an historic stage route between Knoxville, Tennessee, and Abingdon, Virginia. It was also a port for steamships on the French Broad River. As necessity demanded, this stretch of Main Street was once populated with many inns and taverns. Four of these historic structures have survived to this day.
The former Hickman Tavern today houses the Dandridge Town Hall.
A unique feature of this Federal style building is its circular stairwell that winds to the third floor.
Hickman Tavern Coach House (c. 1820)
---
The two-story Hickman Tavern coach house provided quarters for stagecoach operators.
The adjacent yellow and blue frame structure built in 1882 has housed various business through the years, and once served as the post office.
Roper Tavern (1817)
---
Colonel John Roper built this Federal style tavern in 1817. The porch was a later addition.
Roper Mansion (1821)
---
Four years later, Colonel Roper built a brick mansion directly across the street from the tavern. It too has undergone architectural modification through the years.
Jefferson County Jail (1845)
---
The former Jefferson County Jail was built in 1845. Ninety years later, a main entrance was added to the existing structure.
Iron bars on second floor jail cell windows are visible from the rear of the old section.
Vance Building (c. 1823)
---
The Vance Building, situated on the southwest corner of Hwy. 92 and Main Street, has experienced many incarnations over the years. It was the location of Dandridge's first telephone exchange and today is home to the Jefferson County Post.
Jefferson County Courthouse (1845)
---
Greek Revival architectural influences are evident on the Jefferson County Courthouse building located at the northwest corner of Hwy. 92 and Main Street. The Hickman brothers used locally-fired bricks in its construction.
The courthouse archive contains public records dating to 1792.
Also stored in the courthouse archives are survey maps of Jefferson County lands destined to be inundated by the construction of Douglas Dam. Maps record the existence of displaced communities such as Shady Grove.
One of the most prized documents in the courthouse archive is the 1806 marriage bond of Davy Crockett and Polly Finley. The courthouse museum displays an eclectic collection of artifacts from East Tennessee history, as well.
Thomas Tavern / Hill House (1843)
---
The modern siding on this former tavern and boarding house belies the original single-pen log house located within the rear section of the structure.
The Town Spring
---
The town spring was central to Dandridge's earliest settlers. The water source still flows today.
Bradford-Hynds House (1845)
---
During the 1864 Battle of Dandridge, the Bradford-Hynds House served as a hospital and officers headquarters for both Union and Confederate forces.
City Barber Shop (1885)
---
The two-story brick building that houses the City Barber Shop is a snapshot of classic hometown America.
Dandridge Dike
---
Dandridge's business district, including its historical buildings, would be flooded were it not for a 1,000 foot dike that holds back the waters of Douglas Lake.
The demand for more electricity to power the Manhattan Project in the "Secret City" of Oak Ridge, called for a TVA dam to be built on the French Broad River. Construction of Douglas Dam began in 1942, and spurred by community pressure, TVA spent an additional one million dollars to build "the Dike that Saved Dandridge."
First Baptist Church (1914)
---
A guided morning walk was the perfect way to experience historical Dandridge, but it was time to get back on the road.
Visitors can download the Dandridge Walking Tour (PDF) brochure to do self-guided walks through town. The publication also includes an extended driving tour to 17 historical sites in the immediate area.
One of the historical sites listed on the Dandridge extended driving tour is the former First Baptist Church. The historic building replaced an 1845 structure that burned in 1914. The current First Baptist Church has archived records dating to 1796.
---
Bush's Beans Visitor Center
---
If you are a bean lover like me, you will want to stop by the Bush's Beans Visitor Center, located just ten miles from Dandridge.
The family-owned corporation is still headquartered in the community of Chestnut Hill where it began. The 1897 A.J. Bush & Company general store houses the visitor center museum, gift shop, and café. The cannery itself is not open to the public, but it is situated directly across Hwy. 92. The 1909 A.J. and Sallie Bush homeplace can be seen from the visitor parking area, but is only open for tours on special occasions.
The visitor center museum tells the story of the brand's humble beginnings and continues the narrative through its massive popularity today.
Antique canning machinery and tools show how food preservation technology has developed through the years.
I was especially intrigued by the artwork of vintage labels from a range of early micro-brands. Bush's no longer cans a full range of vegetables, having narrowed its production to beans, peas, and hominy.
A cotton string bedspread made by Sallie Bush and a vintage cannery worker's uniform bring authenticity to the company's historical narrative.
Jay & Duke
---
No visit to the Bush's Beans Visitor Center would be complete without becoming better acquainted with Jay and Duke. The popular advertising campaign featuring Jay Bush and the ever-mischievous Golden Retriever Duke is credited with growing the company's share of the national baked beans market from 48% in the 1990s to 80% today.
The secret family recipe Duke is always trying to sell is stored in a laser-protected case.
All guests are treated to a free custom photo shoot with Duke. I realize my picture should be cropped, but I wanted to show how there is room on set for group shots, as well.
Gift Shop
---
Guests exiting the museum can purchase souvenirs, memorabilia, and other home goods in the visitor center gift shop.
The Bush's Beans Visitor Center is open daily year-round, except Sundays and holidays. Admission is free.
---
Douglas Lake
---
Douglas Lake, the reservoir formed by TVA's Douglas Dam on the French Broad River is a scenic and recreational destination for water enthusiasts of every kind.
To get better acquainted with Lake Douglas, I headed to Point Marina where I met up with local fisherman J.C. Loveday, who gave me a whirlwind tour of the lake.
I literally had to hold on to my hat as Mr. Loveday's bass boat fairly flew across the surface of the water. We slowed occasionally to tour peaceful coves, and the views of the Great Smoky Mountains were stunning.
If you enjoy lake life, Douglas Lake is the ideal location for kayaking, canoeing, swimming, jet-skiing, and world-class bass fishing!
---
Shepard Inn (c. 1820)
---
Shepard Inn, host accommodations during my visit, is also a stop on the Dandridge walking tour. Situated at the corner of Main Street and Graveyard Alley, the historical structure was built as a residence and general store for local businessman Shadrach Inman. By 1850, the property was sold to James Mitchell who converted the business to a tavern and roadside inn.
The inn's hardwood floors show incredible character and testify to various expansions and additions through the years. As a rule, when studying original flooring, the wider the plank, the older the floor.
In the 1920s, Mitchell House became Shepard Inn and set a high standard with its diner menu and hotel services for the next thirty years. The inn then became a private residence until the year 2000, when it was purchased by its current owners, who lovingly renovated the property and opened it once again as Shepard Inn.
Operating as a B&B, Shepherd Inn serves up a delicious breakfast with a flexible schedule to accommodate guests. The evening I arrived, I spied a fragrant basket of summer peaches in the kitchen. The next morning one of those fresh peaches made its way to a fruit cup on my breakfast table.
---
Additional Lodging and Dining
---
Dandridge offers a variety of lodging and dining options to suit the needs of its visitors.
Anchor Down RV Resort
---
The Anchor Down RV Resort is an upscale property located on a bluff overlooking Lake Douglas. It is a popular destination for RV clubs and RVers who enjoy extended lakefront stays.
Mountain Harbor Inn Resort
---
Mountain Harbor Inn is a lakefront resort with the look and feel of a turn-of-the-century hotel. This award-winning property is perfect for romantic escapes and weekend getaways.
Click here for more Dandridge lodging options on TripAdvisor!
Angelo's at the Point
---
Angelo's at the Point offers dining with a great view of Lake Douglas. For dinner, I ordered a wedge salad and chicken pasta. It did not disappoint!
Bush's Best Family Café
---
Don't expect typical theme park fare for lunch at the Bush's Best Family Café. Their hand-breaded chicken tenders came highly recommended, so that is what I ordered. Incredibly delicious!
For dessert, I sampled a slice of pinto bean pie. It was surprisingly tasty. As the story goes, pinto bean pie originated during the Great Depression when frugal home cooks were forced to experiment with substitute ingredients. Without question, the Family Cafe serves up the best homemade food I have ever had at a commercial destination.
Tinsley-Bible Drugstore
---
Tinsley – Bible Drugstore is a working pharmacy, but it is best known for its soda shoppe and lunch counter. Since 1911, they have been serving up cheeseburgers, malts, sundaes, and hand-dipped ice cream to Dandridge locals and visitors alike.
---
Map It!
---
---
We Would Love to Hear From You
---
We enjoy dialogue with our readers, especially when they share off-the-beaten-path destinations and useful travel tips. Have you ever visited Jefferson County, Tennessee? If so, we would love to hear about your experience. We invite you to leave your comments and questions below, and we always respond!
---
Pin this Post!
---