(a

12

minute read)
---
My search across 4 continents for Corrie ten Boom, a watchmaker's daughter who rescued hundreds of Dutch Jews from death during the Holocaust.
---
This post may contain affiliate links. Please refer to our our Disclosure/Disclaimer page for more information.
---
Corrie ten Boom
---
Corrie ten Boom was a watchmaker's daughter, who herself became the first female licensed watchmaker in Holland. The Ten Booms were devout Christians who out of deep conviction joined the Dutch Resistance during World War II and risked their lives to rescue hundreds of Dutch Jews.
The "Beje," the Ten Boom home in Haarlem, was dubbed "God's Underground" because of their reputation of never turning away anyone who knocked at their door for help. Most Jews who sought shelter in the Ten Boom home stayed there temporarily until they could be relocated to safer locations. In order to protect the Jews in the Ten Boom home should there be a raid by the Gestapo, they built a fake wall with a secret closet entry in Corrie's third floor bedroom.
As fate would have it, the Beje was raided, and the Ten Booms were arrested on ration card violations. Corrie's father, Papa ten Boom died shortly after the arrest, and Corrie along with her sister Betsie were ultimately ordered to the Ravensbrück concentration camp in Northern Germany. Betsie died in the camp, but Corrie was eventually released on a clerical error just days before all women prisoners her age were put to death.
In the years following World War II, Corrie ten Boom traveled the world sharing her message of faith and hope. In 1967, Israel's official Holocaust memorial, Yad Vashem, recognized Corrie as one of the Righteous Among the Nations, an honor bestowed upon Gentiles who rescued Jews during the European Holocaust.
In 1971, Corrie published her best-selling book The Hiding Place.
---
Corrie in Paraguay
---
I first heard of Corrie ten Boom when I read The Hiding Place in 1973 or 1974. I was a sophomore in high school and living at the time in Asunción, Paraguay, where my parents were serving as Christian missionaries.
The book I read as a teen and the current cover.
I do not recall whether this was the first time I learned about the European Holocaust, but I do remember hearing frequent rumors about fugitive Nazis who had fled Europe to Argentina, Brazil, and Paraguay, to escape war crime prosecution, the most infamous being Josef Mengele, Auschwitz's "Angel of Death."
Note: The rumors from my youth proved to be accurate in 1992 when DNA testing confirmed that a body exhumed from a Brazilian grave was indeed Mengele.
Meeting Corrie ten Boom through the pages of The Hiding Place affected me so profoundly at age 15 that it sparked a lifelong desire to learn more about this amazing woman.
---
The Hiding Place (1975) Motion Picture
---
The Hiding Place was adapted as a major motion picture in 1975 by World Wide Pictures, a subsidiary of the Billy Graham Evangelistic Association. The original movie poster and DVD cover art are pictured above.
In addition to the trailer above, a high-definition presentation of the full motion picture is available on YouTube.
---
Corrie in Auschwitz
---
Many years passed, and my admiration for Corrie ten Boom never wavered. After earning a degree in education I became a public school teacher. I practiced whole language methodology and typically designed units of study around literary works or historical periods. Corrie and The Hiding Place were a part of my culminating unit on World War II and the Holocaust every year.
When I learned that I had been accepted into the Holocaust and Jewish Resistance Teachers' Program and that we would be studying at Yad Vashem in Jerusalem, I knew the first thing I wanted to find was Corrie ten Boom's tree in the Garden of the Righteous. As a Holocaust educator I had read and studied the unselfish acts of many rescuers over the years, and I wanted to scout out their trees as well. But there was something about finding Corrie's tree that felt more like a station along a pilgrim's path to me.
Before heading to Israel we would be spending a week in Poland listening to testimonies of Holocaust survivors, touring the former locations of the Warsaw and Krakow ghettoes, and visiting the sites of concentration camps, including the infamous Auschwitz death camp.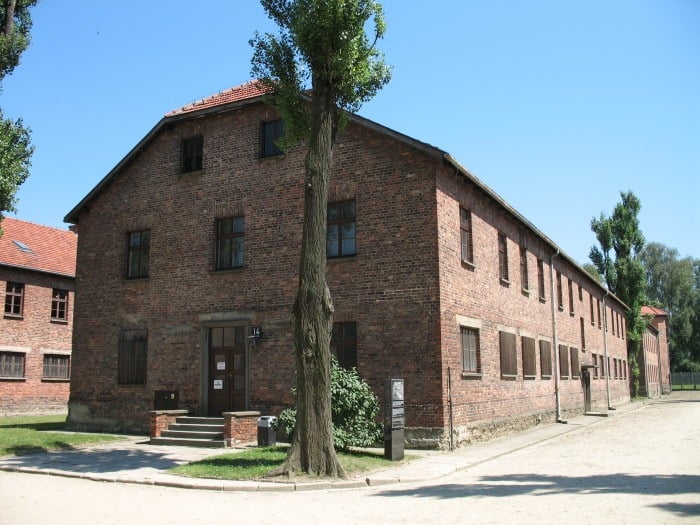 Our first stop was at Auschwitz I. Although it was not the systematic death factory of its successor Auschwitz-Birkenau, it too had been the site of many unspeakable atrocities. I was intrigued by with how much these benign brick buildings resembled a college campus.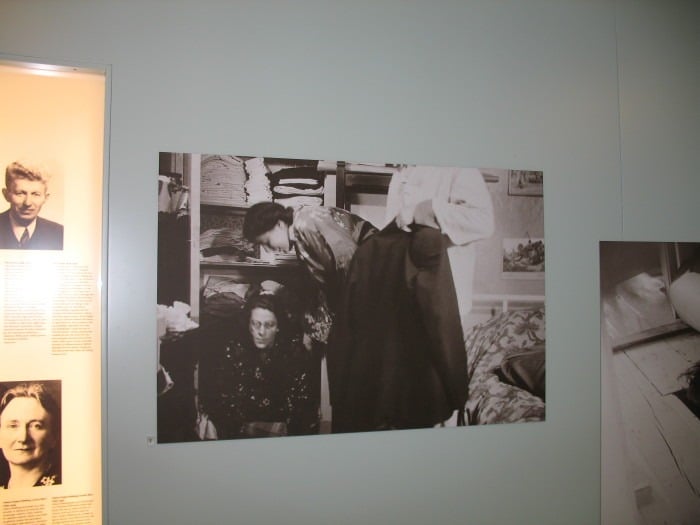 I was not looking for Corrie ten Boom as I ambled through one of the buildings that had been converted into a museum, when suddenly there she was. Not Corrie herself, but a photo from July 1943 of a hiding place exercise in her bedroom, featured in a display about the Dutch Resistance.
I would soon learn that my search for Corrie ten Boom at Yad Vashem would be put on hold. While still in Poland, news reached us that the conflict between Israel and Lebanon had intensified. Because missiles had struck near our host hotel in Nahariya, our program directors decided in the interest of safety it would be best for our group to return to the United States. In spite of our disappointment, we departed with hope, speaking the words from the Passover Seder, "Next year in Jerusalem . . . ."
---
Corrie in Jerusalem
---
Entrance to Yad Vashem, Israel's memorial to the victims of the Holocaust.
Our hopes turned to reality the following summer when the HAJRTP directors arranged for us to meet the new group of teachers in Israel. My search for Corrie ten Boom in Jerusalem would move ahead.
Arriving at Yad Vashem, it did not take long to find Corrie's tree, but I immediately noticed that her tree was smaller than many of the other trees along the Avenue of the Righteous. Later, I learned that the original tree planted in Corrie's honor had died within a few months of her birthday and that a new tree had been planted in its place.
---
Yad Vashem Gallery
---
Note: In 2008, Corrie's father Casper ten Boom and her sister Elisabeth (Betsie) ten Boom were recognized as Righteous Among the Nations at Yad Vashem. Their names have been added to the nameplate beside Corrie's tree, as well they should.
---
Corrie in Holland
---
A few summers back, while designing the pre- and post-travel itinerary activities for a Viking Rhine River cruise we had booked, my dormant search for Corrie ten Boom bloomed once again. We planned to spend a couple of days in Amsterdam before embarking on the cruise, so when my research revealed that Haarlem was a mere 15-minute train ride from Amsterdam's Central Station, I knew that yet another monumental destination in my search for Corrie ten Boom had become a potential reality.
Upon arrival in Amsterdam, Jerry and I checked into our hotel and set off to find Corrie's beloved Beje and the hiding place itself. Stepping off the train in Haarlem, I envisioned the masses of Dutch Jews sent to Central Station in Amsterdam and then on to "relocation" in Germany or Poland. Was I really walking in their footsteps?
We headed toward the center of Haarlem, meandering through angled city streets. Somehow "the overplanner" had failed to research walking directions from the train station to the Ten Boom House. No matter. Although we later learned that there was a direct 9-minute walking route between the two points, perhaps we would have missed the Haarlem experience and the thrill of the hunt.
---
Haarlem Gallery
---
---
St. Bavo's Church
---
As it turned out, the English tour of the Beje was later in the day, so we decided to explore St. Bavo's Church located on Haarlem's Grote Markt, or town square.
The Ten Boom Family were members of the Dutch Reformed Church and often attended services at St. Bavo's, a mere 3-minute walk from their home. With characteristics not unlike so many of Europe's great cathedrals, it was easy to get lost in the majestic architecture replete with pillars, vaulted ceilings, a majestic pipe organ, and stained glass windows.
---
St. Bavo's Gallery
---
---
The Beje
---
We returned later in the day for the English guided tour of the Beje. Touring the home of the Ten Boom family and seeing the actual hiding place in person was a monumental moment not just in my search for Corrie ten Boom, but in my life.
Although it was my first time visiting, everything seemed strangely familiar. I am sure The Hiding Place motion picture had a lot to do with it. I have seen the movie dozens of times. While the movie was not shot in the Beje, the filming location was a nearby home with similar architecture, enough perhaps that it made my experience a déjà vu of sorts.
---
The Beje & Hiding Place Gallery
---
Note: The Corrie ten Boom House Foundation has produced an interactive multi-media virtual tour of the museum with available narration in twenty languages. I highly recommend it, especially if you are not able to visit the Beje in person. The link to the virtual tour is at the bottom of this webpage.
---
Corrie in California
---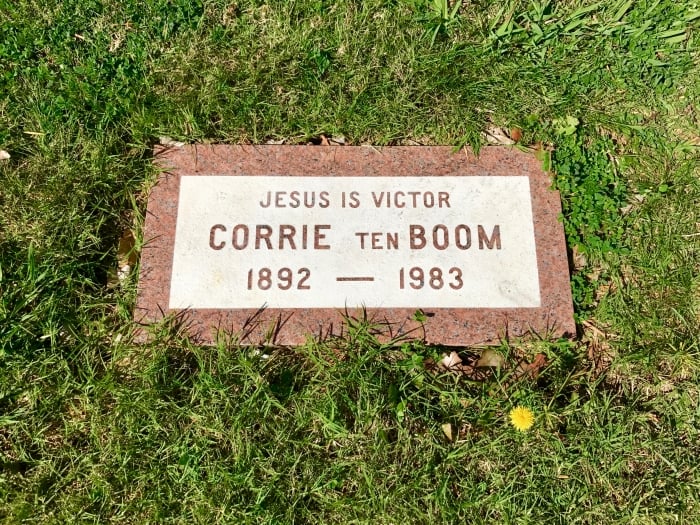 In the post-war years Corrie Ten Boom traveled the world sharing her story, as detailed in her book Tramp For the Lord.
Ultimately, Corrie suffered a series of strokes and died in Placentia, California, on April 15, 1983, her 91st birthday. In Jewish tradition, only the very blessed die on their birthdays. In Corrie's case, that would be an accurate assumption.
On a trip to Southern California, I was able to complete yet another station on my Corrie ten Boom pilgrimage, with a visit to her gravesite.
It was an honor to be a guest at the final resting place of this amazing woman. As you would expect, it was a deeply moving experience for me. So moving, in fact, that it touches me even now as I reflect on that day.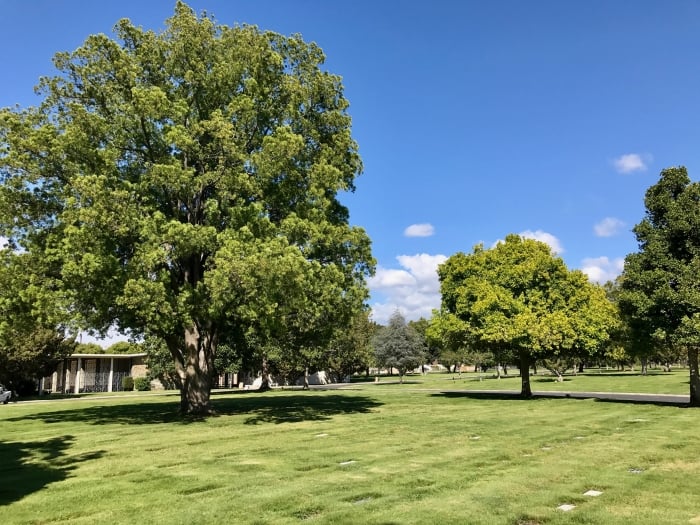 Although I had seen photos previously, the most striking observation during my visit was the simplicity of Corrie's headstone. Where was the granite mausoleum? Where was the towering monument to her life and accomplishments? Did no one realize who she was? Had no one recognized that this woman risked her very life as a rescuer of hundreds, if not thousands of Jews during the European Holocaust?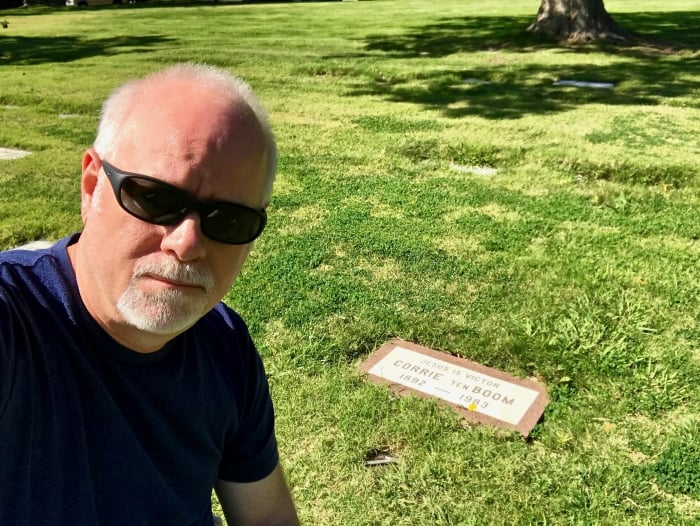 Then it occurred to me. Corrie wouldn't have it any other way. Anyone who values the lives of others above their own would not care less about recognition, accolades, nor monument dimensions.
Corrie ten Boom's modest grave marker does, however, boldly state her most deeply held belief, the same Dutch quote from a plaque that hangs in the Beje dining room, "Jezus is Overwinnaar."
"Jesus is Victor"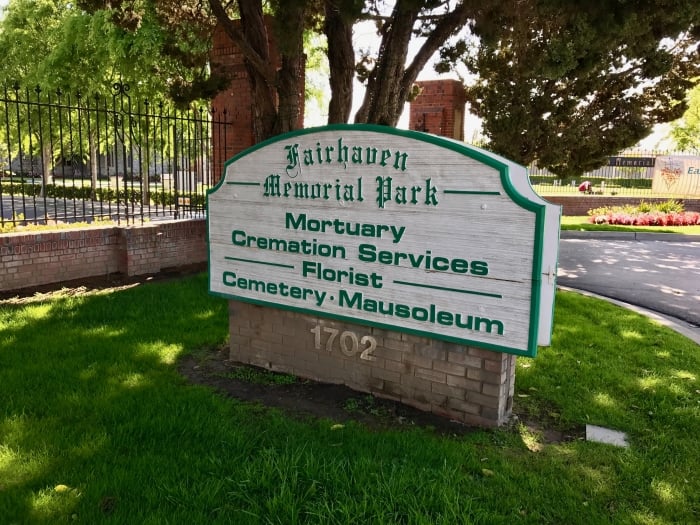 Corrie ten Boom's gravesite is located at Fairhaven Memorial Park, 1702 East Fairhaven Avenue, Santa Ana, California, 92705, Lawn A , Plot 501-A.
---
Reflections
---
Although I never met her in person, my search for Corrie ten Boom makes me feel like I know her well. I am sure my pilgrimage will continue to other key sites along the way.
After their arrest, Corrie and Betsie were imprisoned at Scheveningen Prison near the Hague, Camp Vught in southern Netherlands, and Ravensbrück women's concentration camp in northern Germany, where Betsie died on December 16, 1944. Doing research for this story has ignited in me a passion to search for Corrie in those locations, as well.
There are many quotes attributed to Corrie from her books and public speaking. My favorite is actually a word of encouragement Betsie gave Corrie before she died in Ravensbrück. Corrie relays these comforting words to the viewing audience at the conclusion of The Hiding Place motion picture: "There is no pit so deep, that He is not deeper still."
I don't often allude to my own spiritual journey on Backroad Planet, but I will say that these words have encouraged me and strengthened my faith in a loving God because they were spoken by two courageous women who would know.
---
We Would Love to Hear From You
---
We enjoy dialogue with our readers. If you are a follower of Corrie ten Boom, we would love to hear your recollections from her life's work. Have you been on a pilgrimage or searched the world for a hero of your own? We invite you to leave your comments and questions below, and we always respond!
---
Map It!
---
---
Helpful Links
---
The Hiding Place Book
The Hiding Place DVD
The Ten Boom Family Profile at Yad Vashem
Corrie ten Boom's Profile on Find A Grave
---
Pin this Post!
---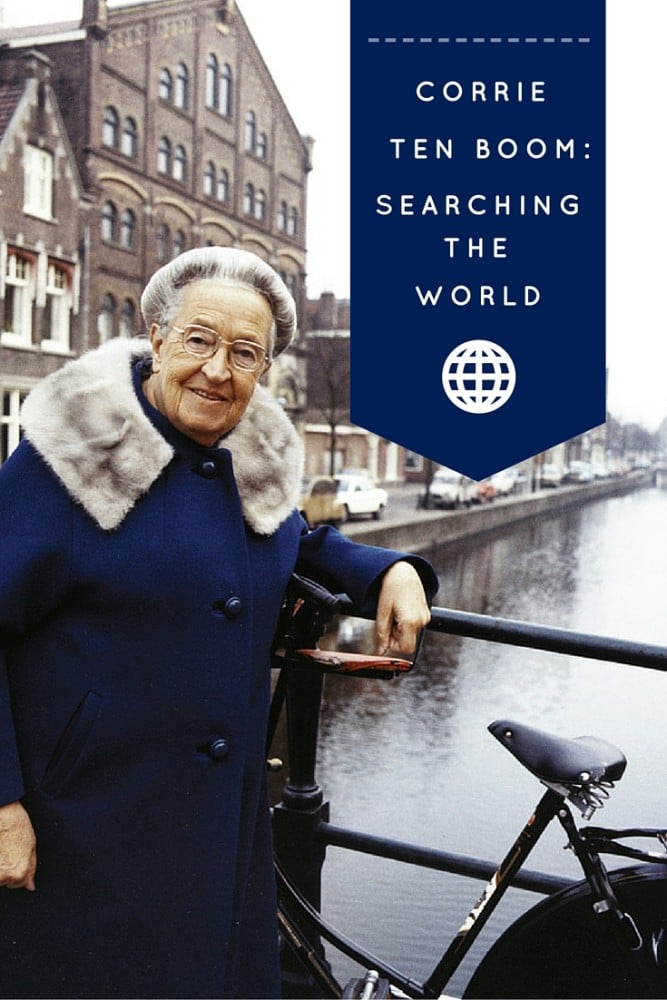 Photo Credits: Corrie ten Boomhuis; Guideposts; Chosen Books; World Wide Pictures