(a

9

minute read)
---
On a spring wildflower hike up Southern California's Tahquitz Canyon, pause to visit ancient Native American sites, take in stunning views of Palm Springs, and refresh yourself in the cool oasis at Tahquitz Falls, a movie location for Frank Capra's Lost Horizon (1937).
---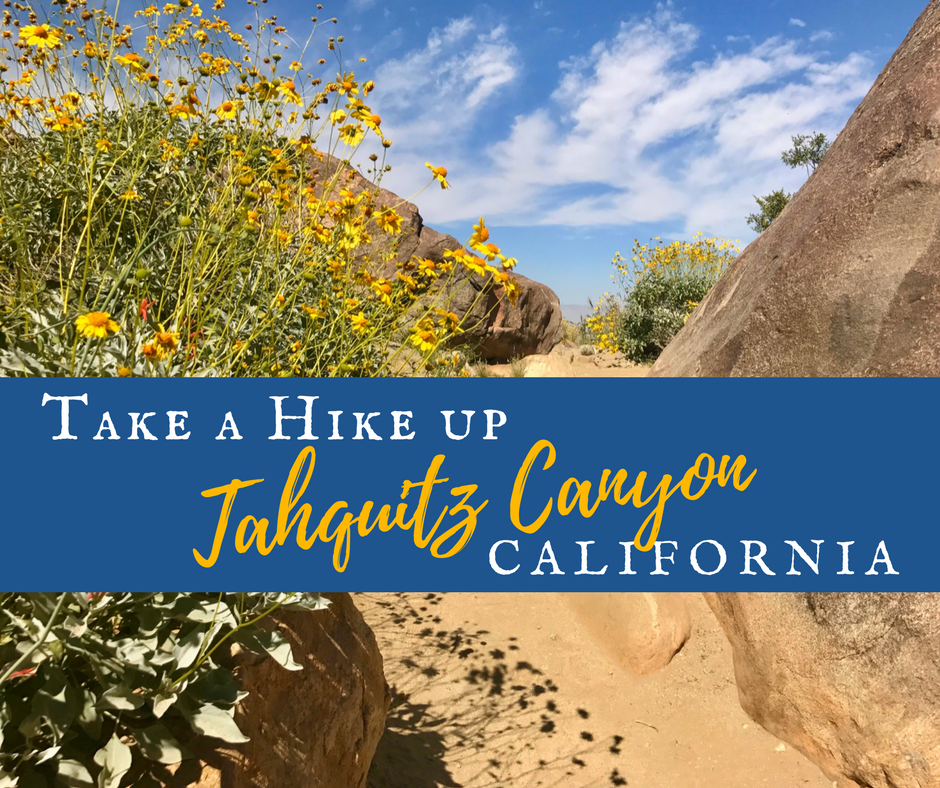 ---
Take a Hike Up Tahquitz Canyon
---
While throwing together a rough itinerary for my spontaneous Southern California super bloom road trip, I was fairly certain I would visit Anza-Borrego Desert State Park and Joshua Tree National Park.
I wasn't sure where my journey would take me on the third and final day, but I knew I wanted to do another hike.
In addition to my peculiarity as a wildflower chaser, I am also a confirmed waterfall chaser. So I was ecstatic when my online searches for local hikes led me to Tahquitz Canyon, a trail with a waterfall, located in the San Jacinto Mountains above Palm Springs, just a few miles from my base in Palm Desert.
---
Tahquitz Canyon Visitor Center
---
Tahquitz Canyon and the nearby Indian Canyons are located on a reservation belonging to the Agua Caliente Band of Cahuilla Indians. These lands have been continuously inhabited by their ancestors for more than 2,000 years.
The Tahquitz Canyon visitor center and trail are maintained by the Agua Caliente Band. The center is open daily from 7:30 AM to 5:00 PM, but the trail entrance closes at 3:30 PM. Admission is $12.50 for adults and $6.00 for children ages 12 and under.
First-timers would be wise to read Tahquitz Canyon's Safety and Rules before planning a visit. Hikers are required to carry water and wear appropriate shoes, and if my memory serves me correctly, the volunteer on duty did check my shoes and water bottle before I was allowed to begin my hike.
The trail has "little shade, no restroom facilities, and no water fountains," so hikers should bring sun protection and take care of personal needs at the visitor center before hitting the trail.
---
Tahquitz Canyon Trail Map
---
Map Credit: Tahquitz Canyon: Agua Caliente Band of Cahuilla Indians
The trail through Tahquitz Canyon is a 2-mile figure-8 loop, and it takes about one hour to complete without stopping. I hiked up the canyon taking the trail to the right and returned by the trail on the left, but as I recall, there are no rules regarding the route hikers should take.
The above map rates the trail as easy, and the website rates it as strenuous. Although the gain in elevation is 351 feet, and some areas of the trail are steep and rocky, I would rate the hike moderate.
Click the map above or the following link to download a PDF of the Tahquitz Canyon Trail Map.
---
The Hike Up Tahquitz Canyon
---
Having never hiked Tahquitz Canyon, I decided to search for the nine trail features marked with native symbols on the map in the visitor brochure. I missed one or two of these sites, but who's counting?
Kak Wa Wit
---
First up was Kak wa wit (mouth of the canyon), named by Chief Evonganet more than 3,000 years ago.
A panoramic view of the canyon opened up, inviting me in, and I caught my first glimpse of Tahquitz Creek paralleling the trail.
Sacred Rock
---
Without question, yellow was the dominant color of canyon wildflowers in bloom, such as the patch of desert sunflowers encircling Sacred Rock. This ancient landmark marks one of the oldest native dwelling sites, as evidenced by found artifacts dating back more than 1,500 years.
Yellow brittlebush and creosote bush flowers blanketed the canyon floor and mountainsides.
As elevation increased, the flow of the rocky creek became more dramatic.
Cow Is Ic Ela
---
Shortly after crossing the creek on a low bridge, I came upon Cow is ic ela, a large rock that rests on an even larger boulder. The landmark takes its name from a legendary maiden who could turn herself into stone.
Moving up the trail, I took a brief detour across the second bridge.
Lookout Rock of Kak Wa Wit
---
On the opposite bank, Lookout Rock of Kak wa wit overlooks the former village of Sec he (sound of boiling water), a location I would pass again on the return loop.
Tong Wen Neval
---
Back on my original route, I soon reached Tong wen neval (place of wasted mescal), an 1830 irrigation ditch engineered to route water from the creek to the village.
Remnants of modern irrigation were also evident as the trail began a steeper ascent.
USGS Water Gauging Station
---
A water gauging station built by the United States Geological Survey in 1947 is situated along the creek above a small waterfall.
The canyon gorge began to narrow, providing a stellar view of the brittlebush and desert grasses growing from precarious nooks and crannies in the mountain walls.
A banded rock lizard cautiously greeted me from his place in the sun.
A curve in the trail and the sound of falling water signaled the end of the canyon and my arrival at Tahquitz Canyon Falls.
---
Tahquitz Canyon Falls
---
I have chased countless waterfalls over the years, but there is something singular about waterfalls in the desert. As I write, I recall stopping for a swim in the waterfall at Ein Gedi Oasis after floating in the Dead Sea on a trip to Israel years ago.
Canyon regulations state no swimming allowed, but I imagine there are many hikers who do.
The oasis surrounding Tahquitz Falls is a perfect mid-hike escape from the sun, and a great place to cool your heels in the water and enjoy a picnic lunch or snack.
Frank Capra's Lost Horizon (1937)
---
I love visiting movie locations, but I did not learn until researching this article that Tahquitz Falls was a site used in Frank Capra's 1937 film, Lost Horizon. I purchased the newly remastered Blu-ray a few weeks ago and look forward to finding the falls in the film.
---
The Hike Down Tahquitz Canyon
---
Heading out of the oasis and up the embankment, I entered a profusion of color.
Wildflowers blooming in the vicinity of Tahquitz Falls included lavender notch-leaf scorpion weed, scarlet chuparosa, and pink caterpillar phacelia.
Perspective is everything, and heading back down the canyon in the opposite direction and on the opposite side of Tahquitz Creek, the views were not only different, they were stunning!
Noteworthy Natural Features
---
On the return hike I discovered many natural features not listed as part of the nine marked locations along the trail. This table rock would be a perfect for place for sun-worshippers to catch some rays while taking in a stellar view.
Perhaps the most unique rock formation along the trail. I see a reptile emerging from its burrow.
Sometimes views defy description.
Occasional spur trails along the figure-8 route invite further exploration in the panorama that is Tahquitz Canyon.
Desert sunflowers and desert globemallow bring a splash of color along the dusty path.
Cock Wo Wit
---
Cock wo wit (piled boulders) is the last designated feature on the return loop. Artifacts dating back more than 2,000 years have been found beneath this ancient shelter.
Desert grasses rival spring wildflowers with an ethereal beauty all their own.
Trail's End
---
All's well that ends well, and the final segment of trail, where the earth meets the sky, did not disappoint.
To witness the rare beauty of Tahquitz Canyon is a memory I will treasure, and I hope to return someday soon.
Click here to book your Palm Springs stay on TripAdvisor!
---
Map It!
---
---
How to Plan A California Desert Camper Van Road Trip
---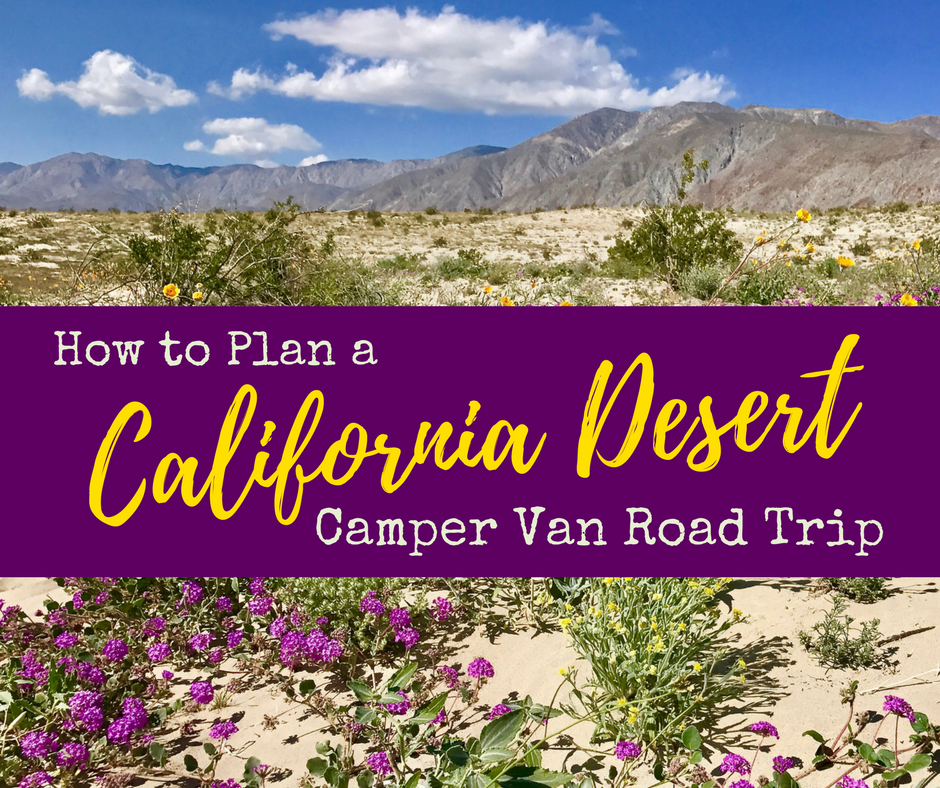 The first article in the California desert wildflower series, How to Plan a California Desert Camper Van Road Trip, details how I put together this spontaneous trip in record time.
Tahquitz Canyon was the third and final destination on my California desert hub-and-spoke road trip. Earlier in the week I visited two additional wildflower super bloom sites: Anza-Borrego Desert State Park and Joshua Tree National Park.
Anza-Borrego Desert State Park
---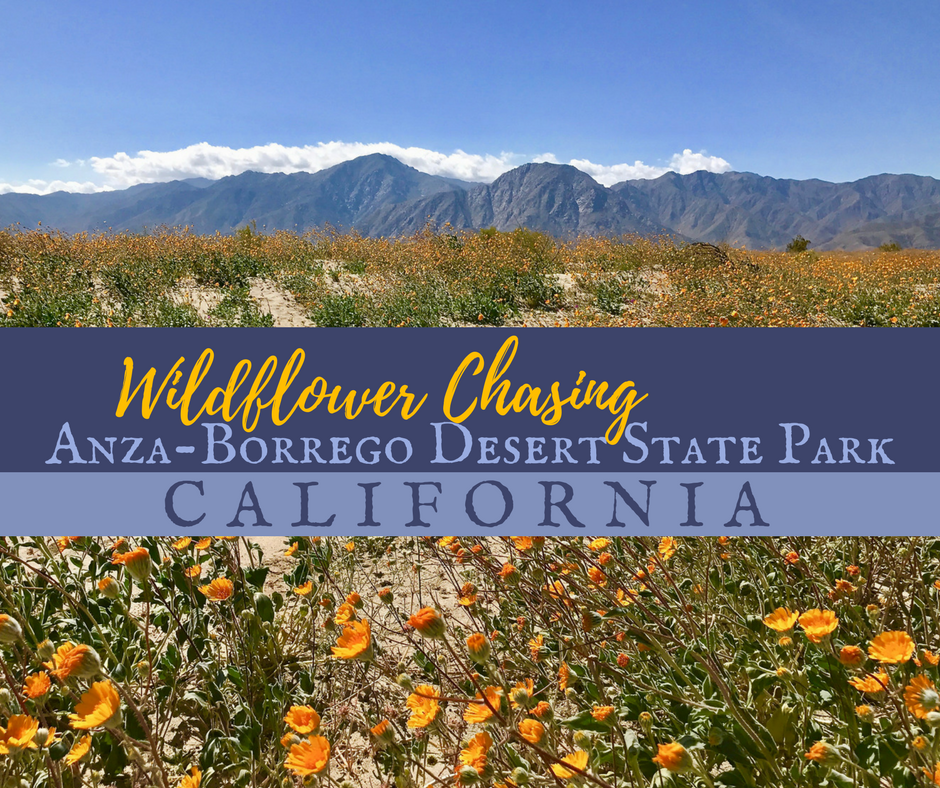 Anza-Borrego Desert State Park is an ideal destination for wildflower chasing, especially during a spring super bloom. On a day trip, visitors can hike desert trails, drive the Borrego Badlands, and scout 130 Ricardo Breceda sculptures along the outskirts of Borrego Springs.
Joshua Tree National Park
---
Joshua Tree National Park is a stunning otherworldly destination any time of year, and the added layer of spring wildflowers takes it over the top! Don't miss the best short hikes in Joshua Tree National Park! Explore Hidden Valley, discover Barker Dam, trek Wall Street Mill, climb Skull Rock, and so much more along these nature trails and walks.
---
We Would Love to Hear From You
---
We enjoy dialogue with our readers, especially when they share off-the-beaten-path destinations and useful travel tips. Have you ever hiked up Tahquitz Canyon? If so, we would love to hear about your experience. We invite you to leave your comments and questions below, and we always respond!
---
Pin this Post!
---
---
Helpful Links
---
Tahquitz Canyon Visitor Center
Tahquitz Canyon Trail Map (PDF)
Frank Capra's Lost Horizon (1937)
How to Plan a California Desert Camper Van Road Trip
Wildflower Chasing at Anza-Borrego Desert State Park
Best Short Hikes in Joshua Tree National Park