(a

8

minute read)
---
Anza-Borrego Desert State Park in Southern California is a perfect destination for wildflower chasing, especially during a spring super bloom. On a day trip, you can hike desert trails, drive the Borrego Badlands, and scout 130 Ricardo Breceda sculptures, as well.
---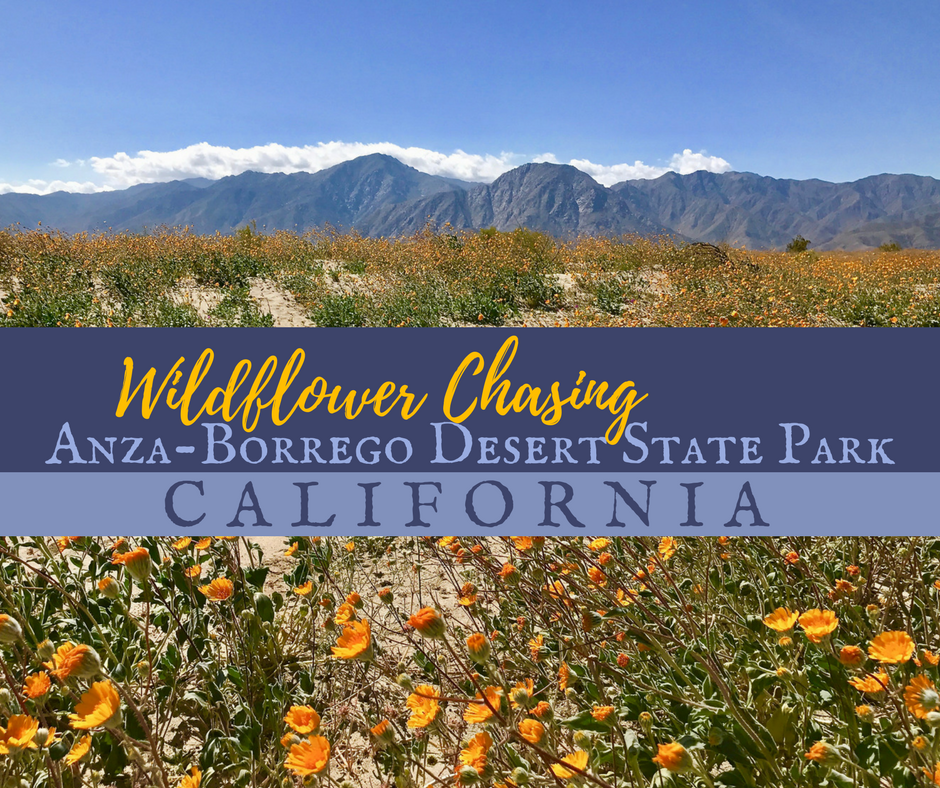 ---
Wildflower Chasing at Anza-Borrego Desert State Park
---
Anza-Borrego Desert State Park was the first destination on my California wildflower chase. I would also explore Joshua Tree National Park and hike Tahquitz Canyon on this 3-day spring itinerary.
The first post in this series, How to Plan a California Desert Camper Van Road Trip, tells the backstory of California's wildflower "super bloom" and how I planned an immediate spontaneous journey to the West Coast. In fact, if you want to read the story sequentially, you might want to click over and read that post before this one.
I had read the California desert wildflower bloom would extend into mid-April, and arriving the last week of March put me just past the peak. With only three days to spend exploring California desert super bloom sites, I didn't waste any time.
---
Anza-Borrego Desert State Park
---
In 2016, Death Valley in the northern Mojave Desert had been a central super bloom site. But according to nine reports in the spring of 2017, the most massive displays of wildflowers were centered around Anza-Borrego Desert State Park.
Situated about 85 miles south of Palm Desert, the location I had chosen as the hub for my spoke day trips, Anza-Borrego is the largest state park in California and the second largest in the United States.
I got an early start, and after a 1.5 hour drive I arrived at the Anza-Borrego Visitor Center parking lot, already filling quickly with other wildflower chasers, even though it was a Monday.
Anza-Borrego Map
---
Map Credit: California State Parks
The 600,000 acre park envelops the town of Borrego Springs. The town's proximity to the park headquarters is a convenience for visitors seeking gas, food, lodging, and other small town amenities.
Click the link above to download a PDF map of Anza-Borrego Desert State Park.
Anza-Borrego Visitor Center
---
There was a wait at the Anza-Borrego Visitor Center information desk, but the personal attention I received was best thing I could have done to plan my day.
A park volunteer highlighted and annotated a park map showing me where to find the best blooms, all of them located in the immediate vicinity of Borrego Springs.
I explored the visitor center trails first, enjoying the native plant landscape before heading out into the park.
Wildflowers, trees, shrubs, and cactus were all in bloom. Pictured varieties include desert dandelion, indigo bush, ocotillo, desert pincushion, palo verde, and cholla cactus.
My exploration of Anza-Borrego had only just begun, and already I could not stop taking pictures.
Montezuma Valley Road
---
Leaving the visitor center, I headed up the winding Montezuma Valley Road (S22) into the mountains.
The dominant wildflower in bloom along the roadway was brittlebush, a low shrub that grew from every nook and cranny on the mountain walls.
Roadside pullovers gave expansive views of the valley below, the town of Borrego Springs, and mountains in the distance.
After a few miles, I doubled back and headed down the mountain to scout more blooms on the outskirts of Borrego Springs.
Ricardo Breceda Sculptures
---
Driving along the south side of town, I was suddenly distracted from wildflower chasing when gigantic sculptures appeared along the roadway. I had to pull over and explore further.
The contrast of oxidized metal creatures against the clear desert sky was a beauty to behold.
The 130+ metal sculptures in this public art display around town were designed by sculptor Ricardo Breceda. The sculptures began when local philanthropist Dennis Avery commissioned Breceda to create sculptures for Galleta Meadows, his desert estate property.
The sculptures depict both prehistoric and modern regional animals, historical figures, scenes from daily life, and creatures of fantasy.
The most ambitious sculpture is a 350 ft. long serpent that stretches across Borrego Springs Road.
Visitors can acquire printed maps of sculpture locations at the Anza-Borrego Desert State Park Visitor Center Store, the Anza-Borrego Desert Natural History Association Nature Center Store, and the Borrego Springs Branch Library.
Updated sculpture maps can be found on this DesertUSA web page.
Citrus Groves
---
On the north side of town, where Henderson Canyon Road meets Di Giorgio Road, I came upon an all too familiar sight.
Citrus groves. And a roadside fruit stand, to boot.
As a native Floridian, scenes like these, enhanced by the intoxicating fragrance of orange blossoms in spring, are all too familiar. Only the distant mountains contradicted my true location.
Wildflower Fields
---
My explorations within Anza-Borrego State Park carried me around the perimeter of Borrego Springs and beyond. I visited vast fields of desert sunflowers on Henderson Canyon Road.
Desert dandelion and sand verbena populated roadside fields outside of town along the Borrego Salton Seaway.
Hornworms were hard at work consuming desert vegetation, but soon they would tunnel underground, build hard pupal shells, and emerge as sphinx moths, ready to sip nectar and pollinate flowers of the plants they fed on in their former lives.
Inspiration Wash
---
As I headed out of the park, I turned into one of several wash trails named Inspiration Wash.
One side of the wash was a vast expanse of sand dunes, and the other was a crumbling wall of sand, as if created by a flash flood.
The wash was an otherworldly landscape, but I didn't want to risk getting the camper van stuck in sand. After driving a ways in, I turned around and headed back to the main road.
Borrego Badlands
---
I passed the point along the Borrego Salton Seaway where I had stopped to take in a stunning view of the Borrego Badlands earlier that morning.
Salton Sea
---
Northbound on Hwy. 86, I detoured for a closer look at the Salton Sea, a saline inland lake created by accident in 1905 by engineers digging irrigation canals into the valley from the Colorado River.
I wanted to learn more about the phenomenon, but it had been a full day, and it was time to head back to Palm Desert.
Note: When planning desert wildflower-chasing trips, be sure to consult the Southern California Wildflower Reports web page for bloom updates.
Click here to book lodging in Borrego Springs on TripAdvisor!
---
Map It!
---
---
How to Plan A California Desert Camper Van Road Trip
---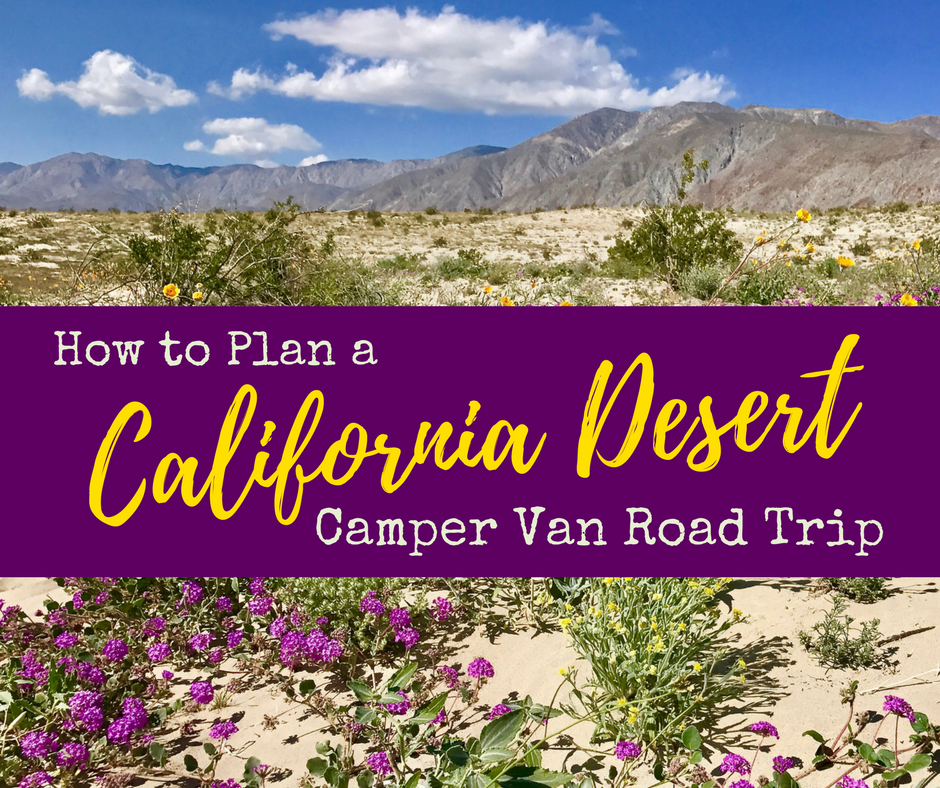 How to Plan a California Desert Camper Van Road Trip, the first article in the California desert wildflower series, details how I put together this spontaneous trip in record time.
During my California desert hub-and-spoke road trip, I visited three wildflower super bloom sites: Anza-Borrego Desert State Park, Joshua Tree National Park, and Tahquitz Canyon.
Joshua Tree National Park
---
Joshua Tree National Park is a stunning otherworldly destination any time of year. The added layer of spring wildflowers took it over the top for me. If you only have one day to visit, don't miss the best short hikes in the park! Explore Hidden Valley, discover Barker Dam, trek Wall Street Mill, climb Skull Rock, and so much more along these nature trails and walks.
Tahquitz Canyon
---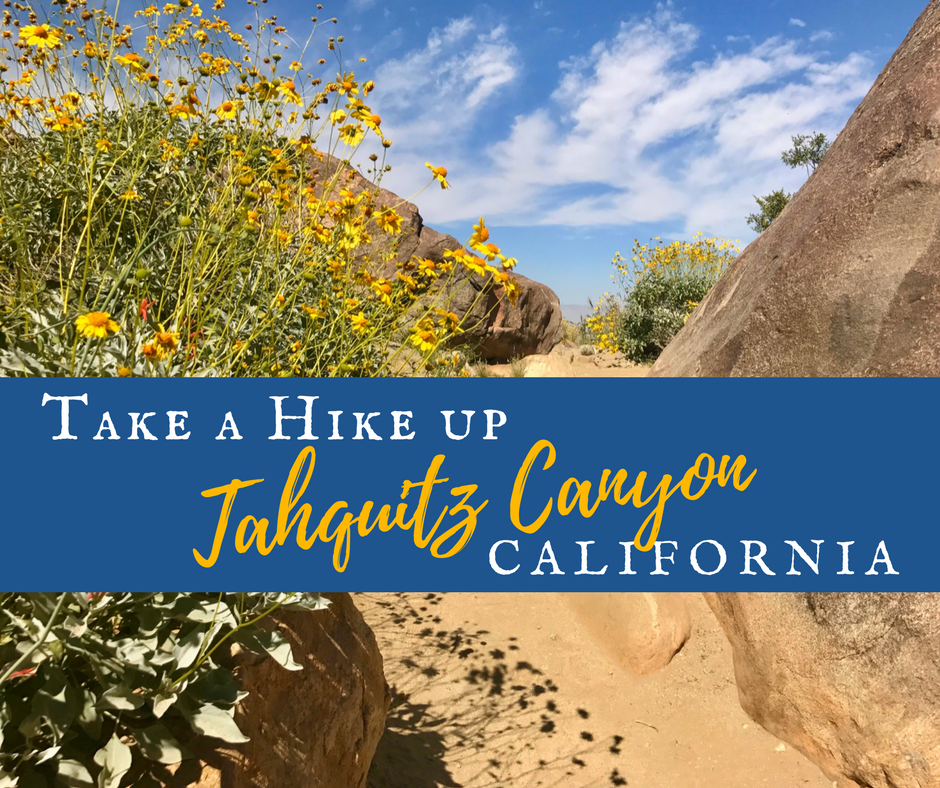 On a wildflower hike up Southern California's Tahquitz Canyon, pause to visit ancient Native American sites, take in stunning views of Palm Springs, and refresh yourself in the cool oasis at Tahquitz Falls, a movie location for Frank Capra's Lost Horizon (1937).
---
We Would Love to Hear From You
---
We enjoy dialogue with our readers, especially when they share off-the-beaten-path destinations and useful travel tips. Have you ever visited Anza-Borrego Desert State Park? If so, we would love to hear about your experience. We invite you to leave your comments and questions below, and we always respond!
---
Pin this Post!
---

---
Helpful Links
---
Anza-Borrego Desert State Park
Anza-Borrego Desert Natural History Association Nature Center Store
Borrego Springs Branch Library
Southern California Wildflower Reports
How to Plan a California Desert Camper Van Road Trip
Best Short Hikes in Joshua Tree National Park