(a

12

minute read)
---
The Xcaret Day of the Dead festival is a not-to-be-missed event, making Oct. 30 – Nov. 2, the best time of year to visit Mexico's most popular eco-park.
---
I was a guest of Experiencias Xcaret, but all thoughts and opinions are my own.
The aquamarine waters of the Caribbean Sea were especially stunning from our birds-eye view as we began our descent into the Cancún International Airport. Jerry and I had been invited to cover the annual Festival of Life and Death Traditions, more commonly known as the Day of the Dead Festival, at Xcaret Park on Mexico's Riviera Maya.
---
Xcaret
---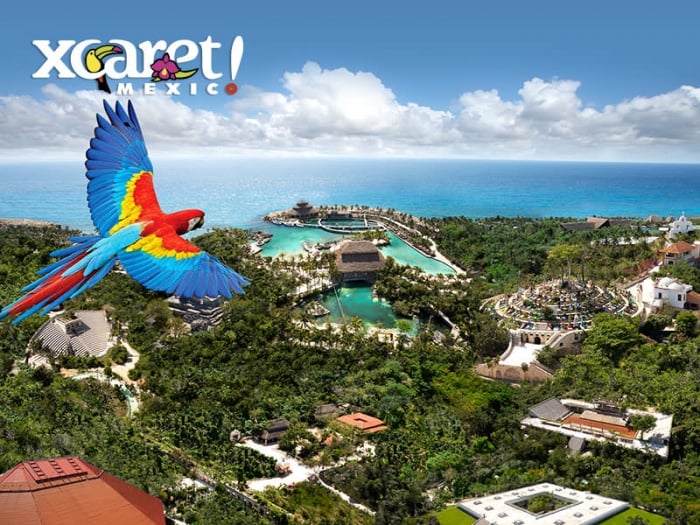 Photo Credit: Experiencias Xcaret
Experiencias Xcaret (pronounced shcah-ret) is a massive Mexican theme park and guided tour conglomerate based in the state of Quintana Roo on the Yucatán Peninsula, just south of Playa del Carmen.
The parks are situated on a 200-acre property that preserves the Mayan Xcaret archaeological site, the historical location from which the brand takes its name.
In addition to beachfront access, the property is populated with a wealth of natural water features including cenotes (collapsed sinkholes), and a network of subterranean rivers.
The Xcaret ecological park opened in 1990, with a focus on outdoor experiences, wildlife appreciation, and cultural heritage. Attracting more than 1.2 million domestic and international visitors to the Riviera Maya each year, Xcaret has grown into a hugely-popular tourist destination.
Unlike most commercial theme parks, I found the Xcaret ecological park to be an authentic representation of Mexican nature, history, and culture.
---
My Return
---
This trip was Jerry's first visit to Mexico, but it was a homecoming of sorts for me. I had lived in Guadalajara during my eighth-grade year in 1971-72, while my missionary parents attended Spanish language school. As an adolescent, making my home in the first of what would eventually be three Latin American countries, this was a formative and defining time in my life, clearly influential in shaping the traveler I am today.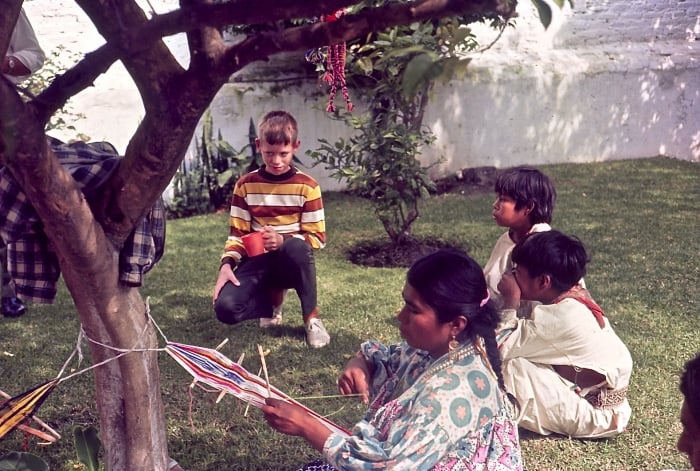 I know I was strongly affected by immersion in Mexican culture during my youth. On family day trips we observed glass-blowing in Tlaquepaque, pottery in Tonalá, and everything under the sun at Mercado de Abastos. I remember when Huichol Indians visited the language school campus and gave live demonstrations of their traditional arts and handcrafts.
We learned to love pozole and tamales sold through the front door of a nearby home, and I will never forget the heavenly fragrance from the tortillería where we carried a dish towel to buy tortillas by the half-kilo and wrap them warm.
My sister Carla and I acquired a second language, not just in Spanish class, but also by playing in the streets with neighborhood kids.
I remember seeing Day of the Dead symbols in the form of calaveras (skulls), dancing calaca skeletons, and other art during that period, but I never fully came to understand and appreciate this holiday until I attended the grand-scale celebration at Xcaret.
---
Xcaret Day of the Dead
---
What is the meaning of the Day of the Dead holiday?
Simply put, the Day of the Dead is a time to remember and honor loved ones who have passed into the afterlife. Adherents believe the dead awaken from their eternal sleep during this time and return to celebrate with their family and loved ones.
Over the years, the holiday's beginnings in Aztec and Mayan culture have assimilated with customs of the Catholic All Saints Day.
This blending of orthodox Catholic doctrine with native pagan beliefs is called syncretism. These religious and cultural assimilations are a direct reflection of the mestizo people of Mexico, who themselves are a blend of both European and indigenous descent.
---
Day of the Dead Symbols and Customs
---
The Day of the Dead holiday incorporates countless overt and covert symbols that came to life for me during the festival at Xcaret.
Mexican Marigolds
---
The Day of the Dead symbol most immediately evident as we entered the Xcaret park was the Mexican marigold. Garlands and bouquets of the golden flowers festooned the entry walkways and were liberally displayed throughout the park.
The cempazúchitl was a sacred flower to the Aztec god Mictlantecuhtli, and the belief remains that the fragrance of the flower guides departed loved ones back to earth.
Calavera Face Paint, Costumes, and Characters
---
There was no shortage of visitors embracing the calavera face paint custom, and many were in full costume. Although the majority of visitors with painted faces wore modern street clothes, virtually everyone in full costume wore either historical or typical Mexican dress.
To accommodate visitors who arrived at the park without face paint and suddenly found themselves caught up in the spirit of the holiday, Xcaret provided makeup stations at strategic locations around the park.
The most iconic Day of the Dead figure is La Calavera Catrina, a character originally depicted in a 1910 etching by Mexican lithographer José Guadalupe Posada. The skeleton is dressed in a broad-brimmed feathery hat and tailored dress, and pokes fun at pretentious Mexican natives who at the time attempted to adopt the fashions and customs of European aristocracy.
Many visitors wore half-painted faces, a tradition intended to portray both life and death. There are deeper meanings and interpretations of this practice, with one practical reason being the difficulty of painting a perfectly symmetrical face.
There were quite a few female attendees dressed as historic nuns regaled with ornate crowns and breastplates. I have intensely researched these characters and have found very little information as to their popularity and position in the holiday. I have, however, learned that these crowned nun characters are distinct from the cultish folk saint Santa Muerte (Our Lady of the Holy Death). I will update this topic as more information becomes available.
Candles
---
There was no shortage of lighted candles throughout the park, including one particularly memorable candlelit walkway.
Day of the Dead candles have dual meanings: they are lit in memory of a passed loved one and serve as lights to guide souls of the dead back home.
Papel Picado
---

When I captured this photo, I did not yet know papel picado was a Day of the Dead symbol. I just liked the way the sun was illuminating the perforated paper bearing the words vida y muerte, meaning life and death.
Although these delicate die-cut tissue paper banners are used for other celebrations, they take on special meaning during the Day of the Dead holiday, symbolizing the fragility of life.
Altars
---
Day of the Dead altars or ofrendas are ritual displays dedicated to the memory of a deceased loved one and designed to welcome them to the home or other location.
Altars may include photos, candles, marigolds, sugar skulls, religious icons and statuary, as well as the deceased loved one's favorite items or foods. Although most traditional altars are elaborate with many levels and components, I learned that basically there are few rules, allowing the designers creative control over their memorial masterpieces.
Scary or Not?
---
Day of the Dead falls around the same time as Halloween, but it is not the Mexican version of this holiday. And even though skeletons and skulls are key symbols, there is no intention to celebrate or incite fear like Halloween.
Even so, some characters like our nun friend above enjoy taking advantage of the scenario to have a little fun.
"Me asusta, pero me gusta," is a popular Spanish saying that may fit the occasion. Translated, it means, "It scares me, but I like it."
Traditional Cuisine
---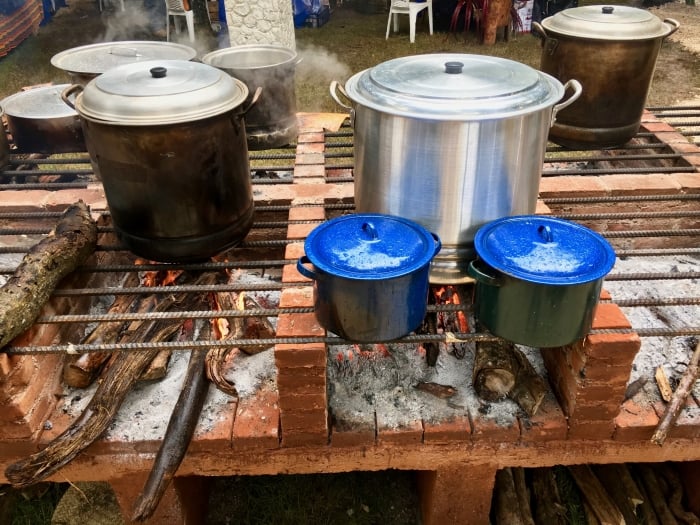 Each year during the Xcaret Day of the Dead Festival, the park showcases the cuisine and traditions of a different Mexican state. The year we attended the state of Puebla was recognized.
An imposing wood-burning brick stove was the centerpiece of the active cooking area, encircled by individual booths of purveyors presenting their local delicacies.
It was a visual and gastronomic delight!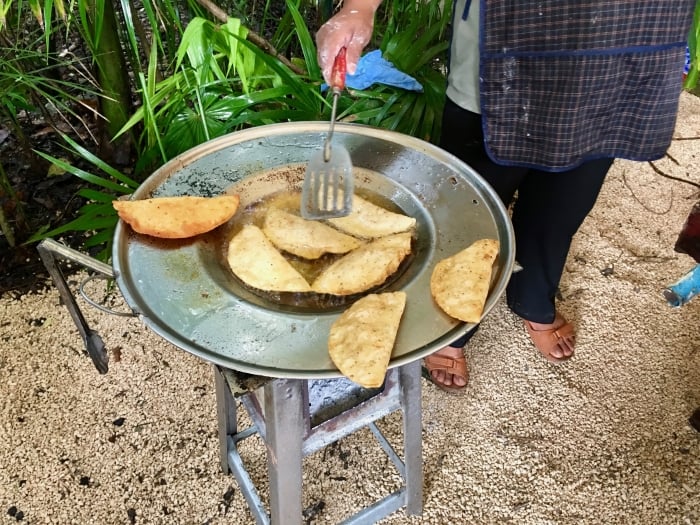 We sampled plates and beverages from various vendors, some dishes with names I had never heard before.
Xcaret has several fine restaurants of its own where you can also feast on delicious Mexican standards such as street tacos.
---
The Cemetery
---

The park has its own cemetery, and although no one is actually entombed there, this burial place occupies a large hill that has been transformed into a work of art. The cemetery is a permanent part of the park, but it takes on special significance during the Xcaret Day of the Dead festival.
Prior to construction, designers traveled across the Yucatán Peninsula researching and documenting the distinctive styles of tombs throughout the region. Like the aforementioned altars, these tombs have almost no rules.
The 365 tombs are built with common household and found items, display humorous and irreverent epitaphs, and reflect upon the life of the fictional persons they memorialize.
The cemetery also features a symbolic Mayan underworld beneath the cemetery. A great stone cross situated within the chamber is yet another example of syncretism.
---
Sendero De Selva
---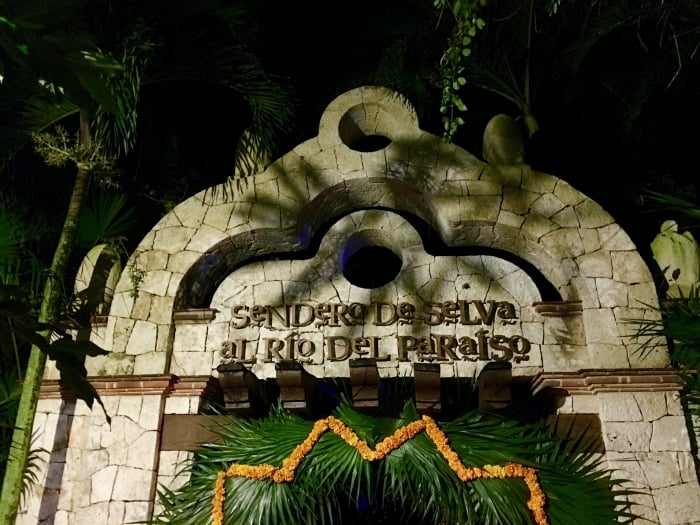 The Sendero de Selva al Río del Paraíso, another permanent park feature, is a Tropical Jungle Trail to the River of Paradise. Visitors to the park can enjoy a relaxing, yet educational self-guided walk through a a forest of native trees and plants.
At nightfall, during the Xcaret Day of the Dead Festival, the trail is transformed into a mythological otherworld. Trail guides lead groups through the darkness, stopping at stations along the trail while storytellers dramatize selections from Mexico's legends and folklore.
I thought the production quality was spectacular, and some of the stories may or may not have been slightly scary . . . .
---
Chocolate Workshop
---
Visitors to Xcaret can sign up for a workshop and learn how to make chocolate from scratch.
Instructors give a presentation about native chocolate and demonstrate the basic chocolate-making process. Then participants try their hand at grinding cacao beans using a traditional stone metate and add the typical flavorings of pepper, coffee, chile, and/or sugar introduced by the Europeans.
---
Xcaret México Espetácular
---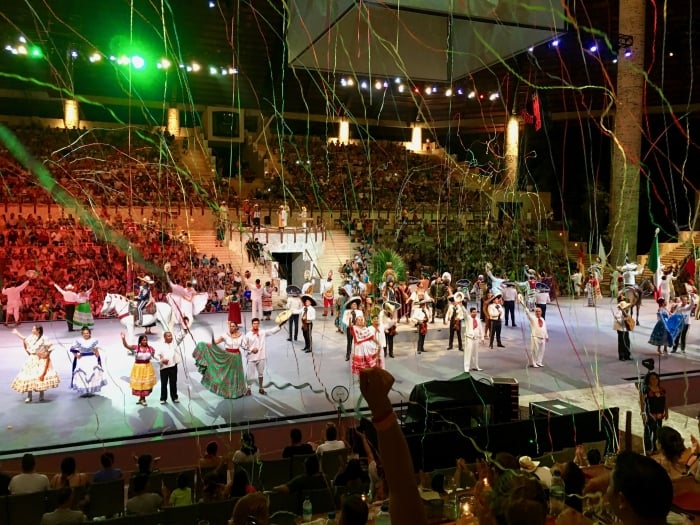 The Xcaret México Espetácular is a Broadway-quality dinner theatre performed at the Gran Tiachco Theatre.
I have to say, I was not expecting a performance of this caliber and a venue this grand, and it totally blew me away!
While a 7-course gourmet dinner is served, a cast of more than 300 costumed actors, dancers, athletes, and singers carry spectators on a moving journey through Mexico's history.
An early segment of the show features a real Mesoamerican ball game, a sport with influences in modern soccer and basketball.
I was captivated by the full-throated harmonies of the mariachis and other powerful vocal groups.
The arrival of the Spaniards was especially heart-rending, effectively illustrating the clash of European and native cultures.
I confess my eyes may have welled up several times throughout the show.
You do not want to miss the grand finale of the Xcaret México Espetácular.
You will be on your feet shouting, "¡Viva México!"
---
The Best Part
---
By far, the best element of the Xcaret Day of the Dead Festival is the people, many dressed in native costumes or typical white embroidered huipiles, performing dances, playing music, relaxing with friends, and cooking over open fires.
It is the warmth and personalities of the Mexican people who bring authenticity to Xcaret.
---
Hacienda Tres Ríos
---
Our accommodations were hosted by Hacienda Tres Ríos, an all-inclusive beachfront resort situated in a 326-acre nature park.
In addition to standard resort facilities, activities, and dining options, Hacienda Tres Ríos offers exclusive kayak, snorkel, bicycle, and Segway tours. Guests may also visit nine unique cenotes in the resort nature park and take a tour of the onsite plant nursery.
Due to our packed schedule, we did not get to enjoy every aspect of Hacienda Tres Ríos, but I think the photos from our walk around the resort accurately reflect the high quality of this property.
Click here to book your stay at Hacienda Tres Rios on TripAdvisor!
Click here for more Riviera Maya lodging options on TripAdvisor!
---
Map It!
---
---
We Would Love to Hear From You
---
We enjoy dialogue with our readers, especially when they share off-the-beaten-path destinations and useful travel tips. Have you ever experienced an authentic Day of the Dead festival or visited an Xcaret park? If so, we would love to hear about your experience. We invite you to leave your comments and questions below, and we always respond!
---
Pin this Post!
---