(a

11

minute read)
---
Find fun and laughter in upstate New York at the Lucy Desi Museum, the National Comedy Center, and The Strong National Museum of Play.
---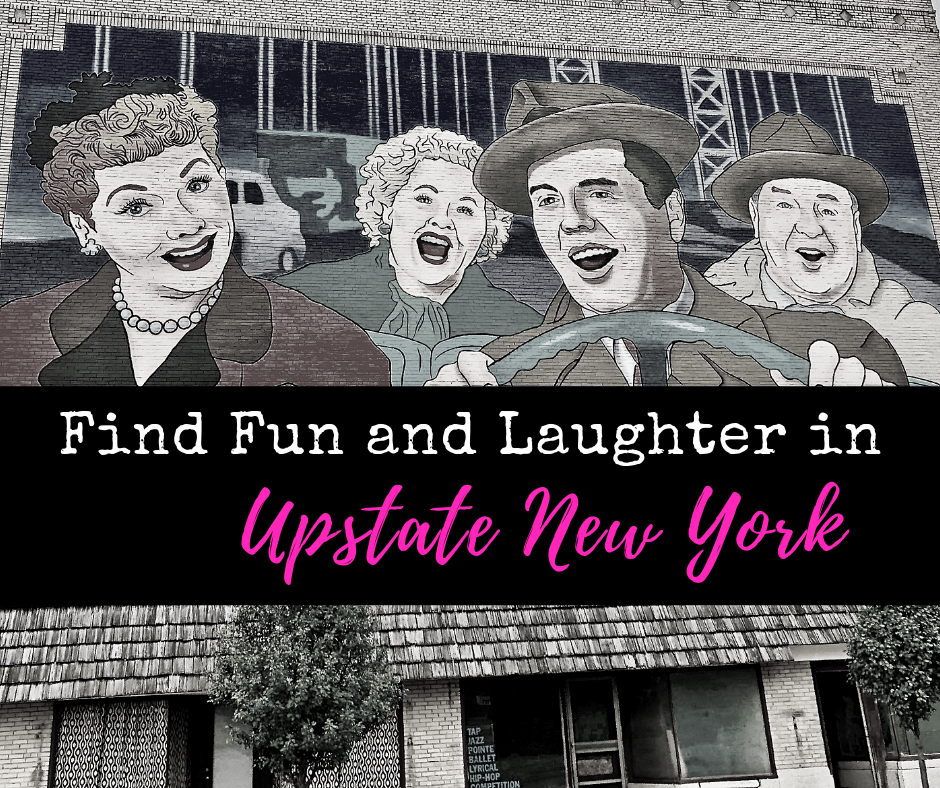 I was a guest of Chautauqua County Visitors Bureau and Visit Rochester, but all thoughts and opinions are my own.
---
Find Fun and Laughter in Upstate New York
---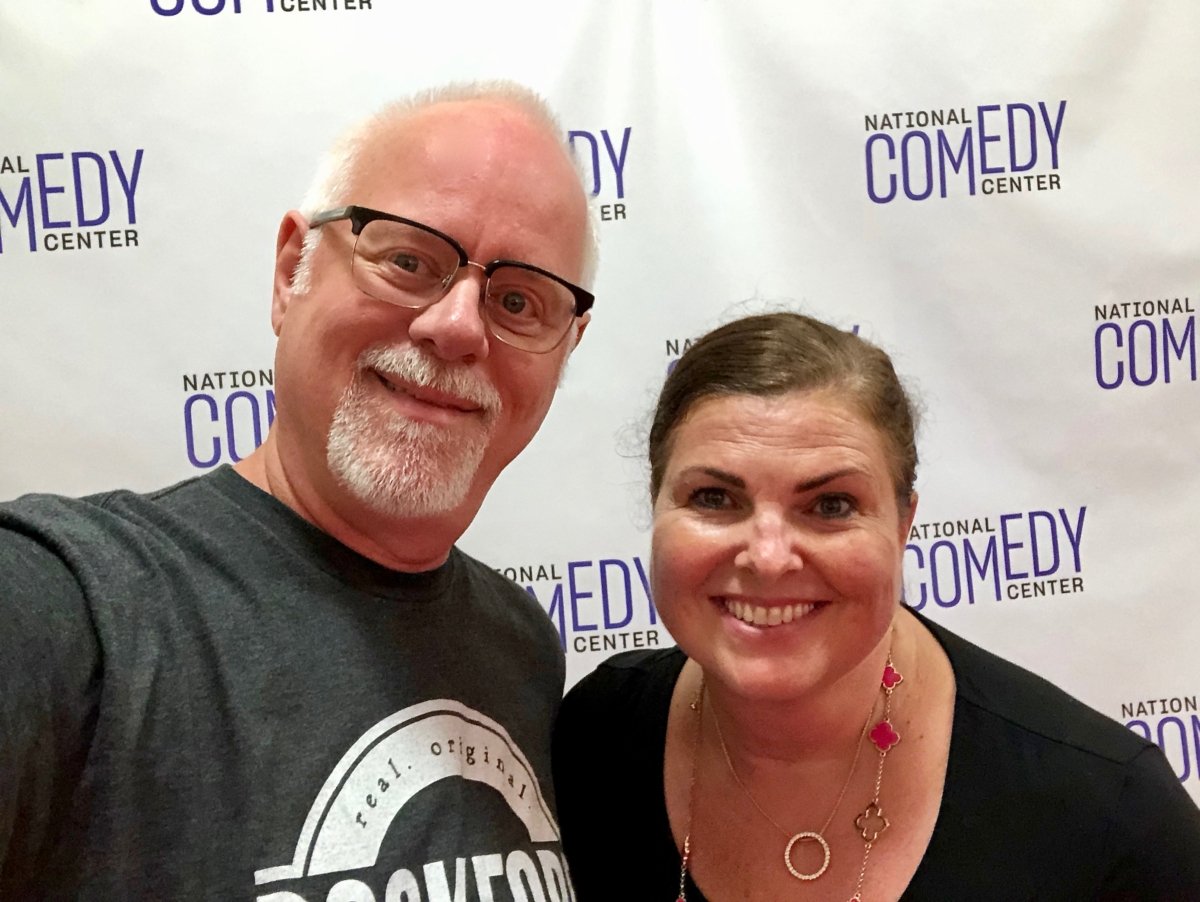 On a two-week upstate New York road trip, Melody and I drove scenic byways, toured historical sites, chased waterfalls, sampled wine country, and cavorted with spirits along the way.
Aside from our own twisted senses of humor, we also discovered loads of fun and laughter at three world-class locations on our itinerary.
Our first stop, Jamestown, New York, is the hometown and final resting place of comedic actress and studio executive Lucille Ball.
So it was only fitting that Jamestown would become the home for the Lucy Desi Museum and the recently-opened National Comedy Center.
In keeping with their claim to fame, the city also hosts the annual Lucille Ball Comedy Festival each August, and local artist Gary Peters has completed five Lucy murals around town.
---
The Lucille Ball Desi Arnaz Museum
---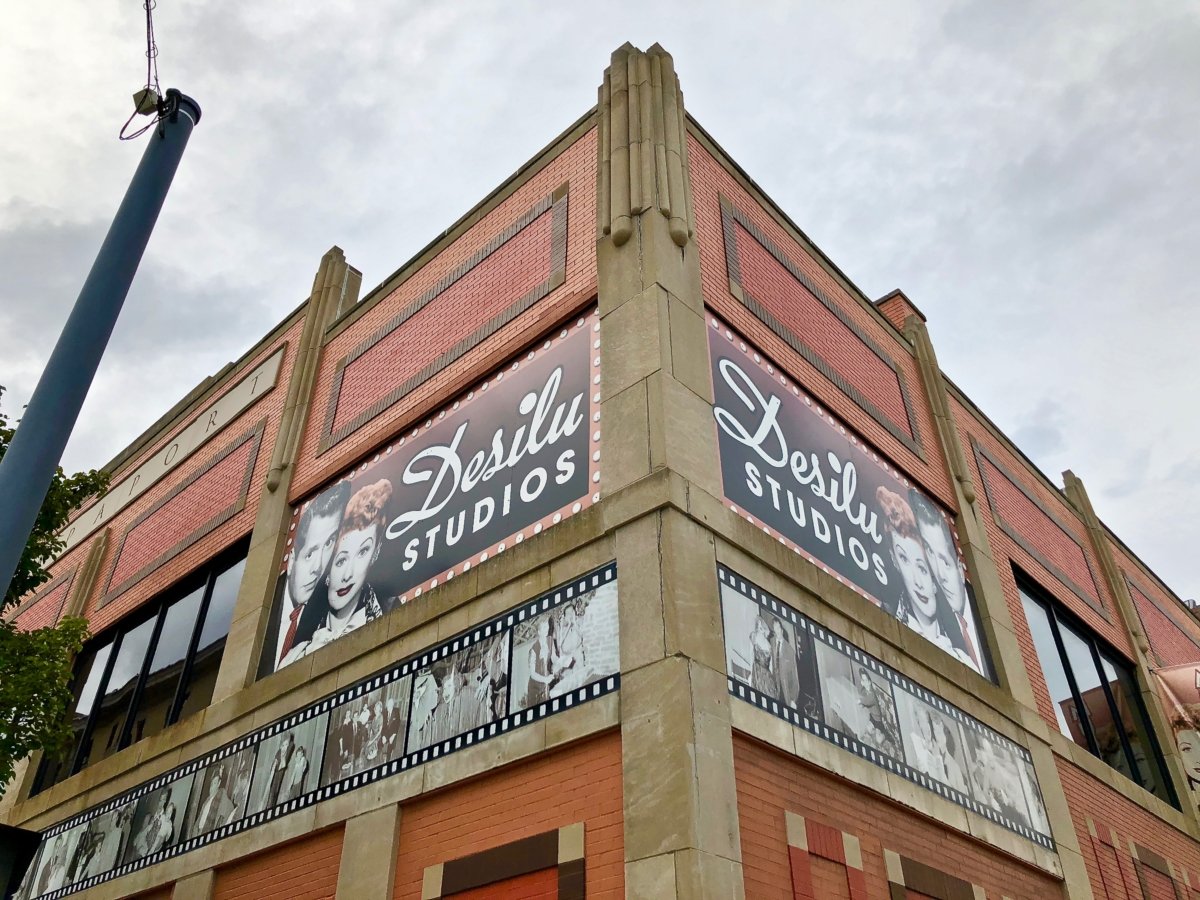 The Lucy Desi Museum opened to the public in 1996 to memorialize the First Couple of Comedy and celebrate the fun and laughter they have brought to our lives for more than seventy years.
In 2008 the facility tripled in size with the acquisition of exhibits from the I Love Lucy 50th Anniversary Set Tour.
Desilu Studios, the production-focused section of the museum, now houses recreated sets from the I Love Lucy television show, including the New York apartment, kitchen, and Hollywood hotel suite.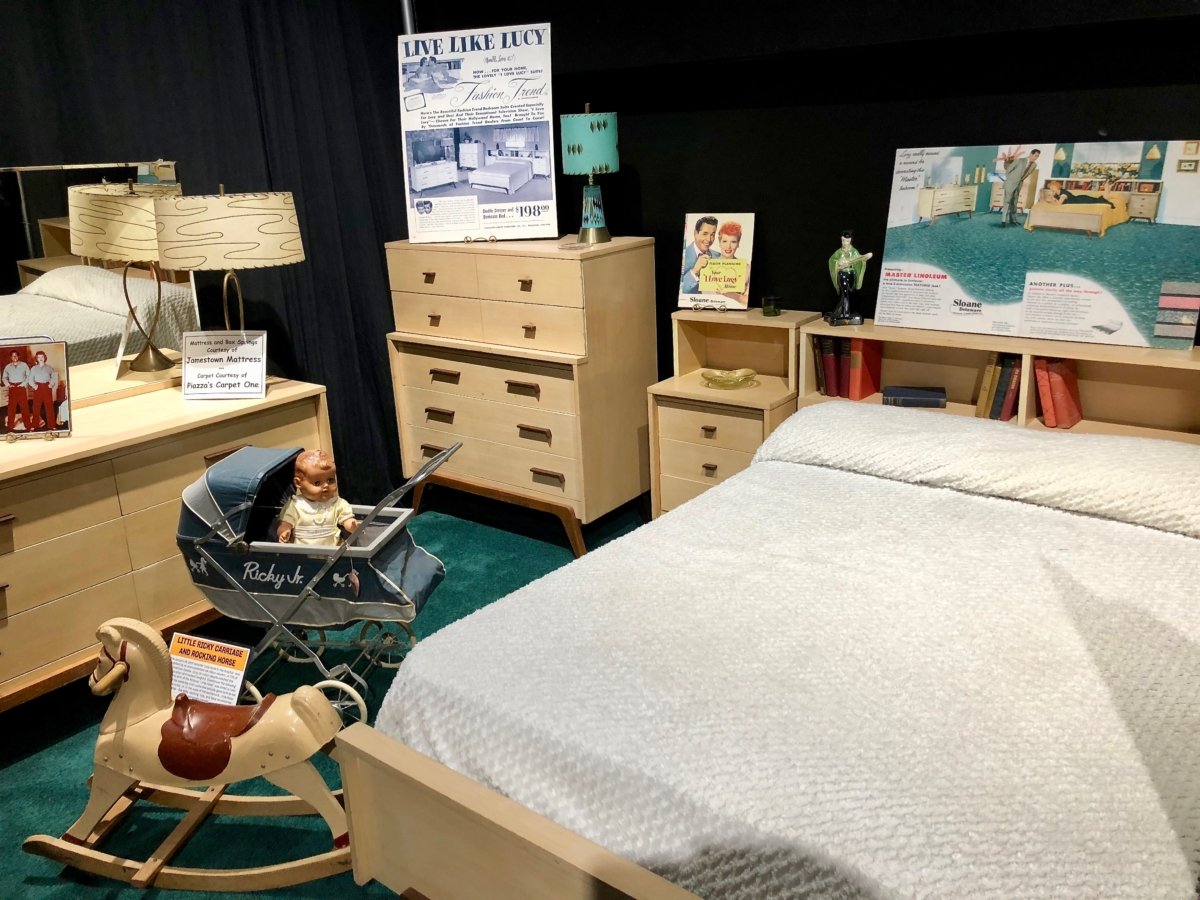 An authentic Live Like Lucy bedroom set purchased for $198 in 1953 is also on display.
Countless costumes, props, scripts, photographs, awards, and other memorabilia from the I Love Lucy show round out the studio portion of the museum.
Self-guided tours with interpretive signs or an exclusive audio tour narrated by Lucie Arnaz are two options for experiencing the museum.
Visitors can reenact the the Vitameatavegamin scene from I Love Lucy Episode #30, "Lucy Does a TV Commercial."
Go for it Melody!
Interpretive placards recall the I Love Lucy spin-off comics and popular television programs such as Star Trek and The Andy Griffith Show, filmed at Desilu between 1951 and 1975.
Even after they found success in television, Lucy and Desi continued their careers as movie stars with other directors and studios.
I was excited to view museum artifacts from The Long, Long Trailer, one of my favorite road comedies.
Desilu Productions dabbled in film, as well, but with mixed results. The company finally found success in 1968 with the family comedy Yours, Mine, and Ours, starring Lucille Ball and Henry Fonda.
Glass cases display outfits and gowns Lucille Ball wore on the The Tonight Show, The Lucy Show, The Carol Burnett Show, Donny & Marie, and costumes from her lead role in the 1974 musical Mame.
The museum portrays the personal lives of Lucille Ball and Desi Arnaz, as well.
A 1950s family portrait in oil, on permanent loan from the Arnaz family, once hung in their Beverly Hills mansion.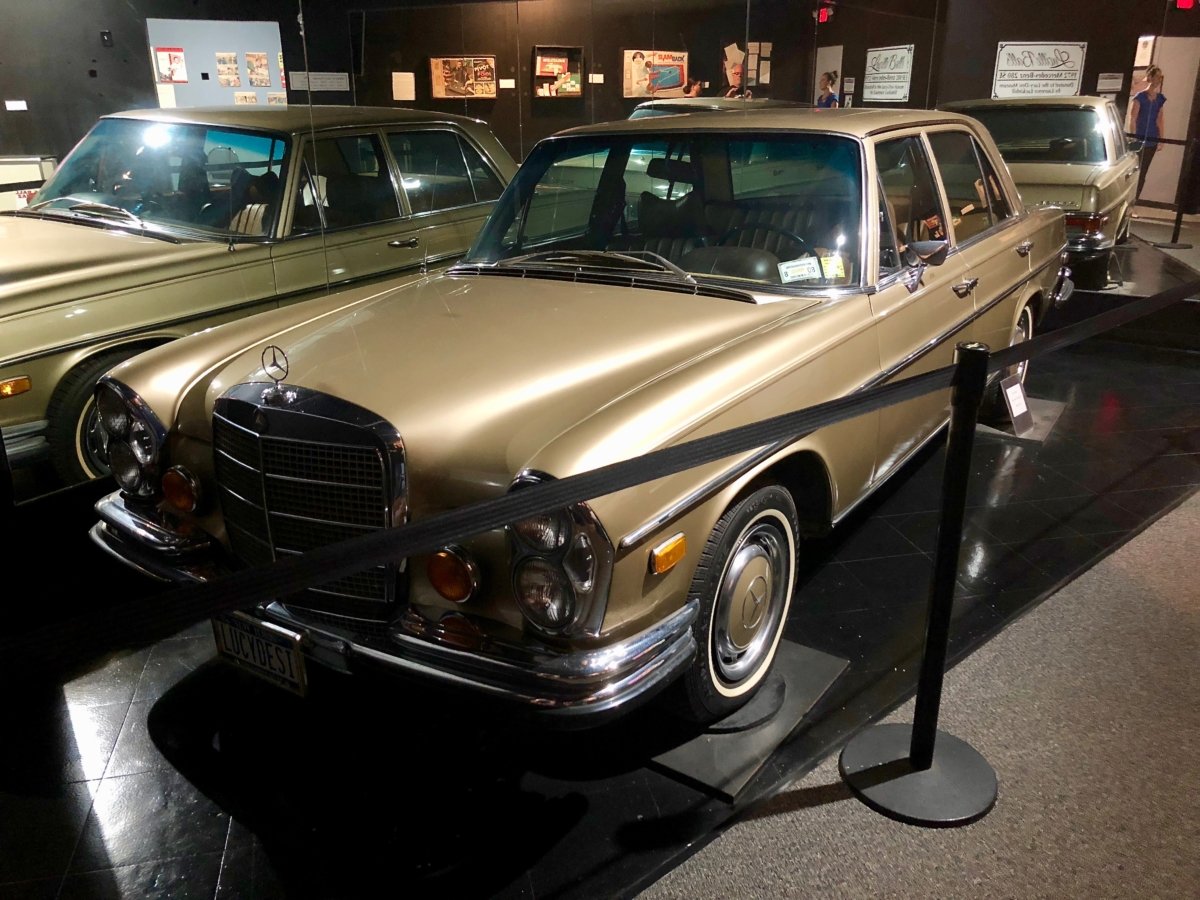 Lucille Ball's gold 1972 Mecedes-Benz 280SE, monogrammed on the driver's side door, occupies a mirrored room so guests can view the vehicle from every angle.
The Lucy Desi Museum is a fitting tribute to the First Couple of Comedy and is open daily except on major holidays.
Admission is best combined with the National Comedy Center detailed below.
---
The National Comedy Center
---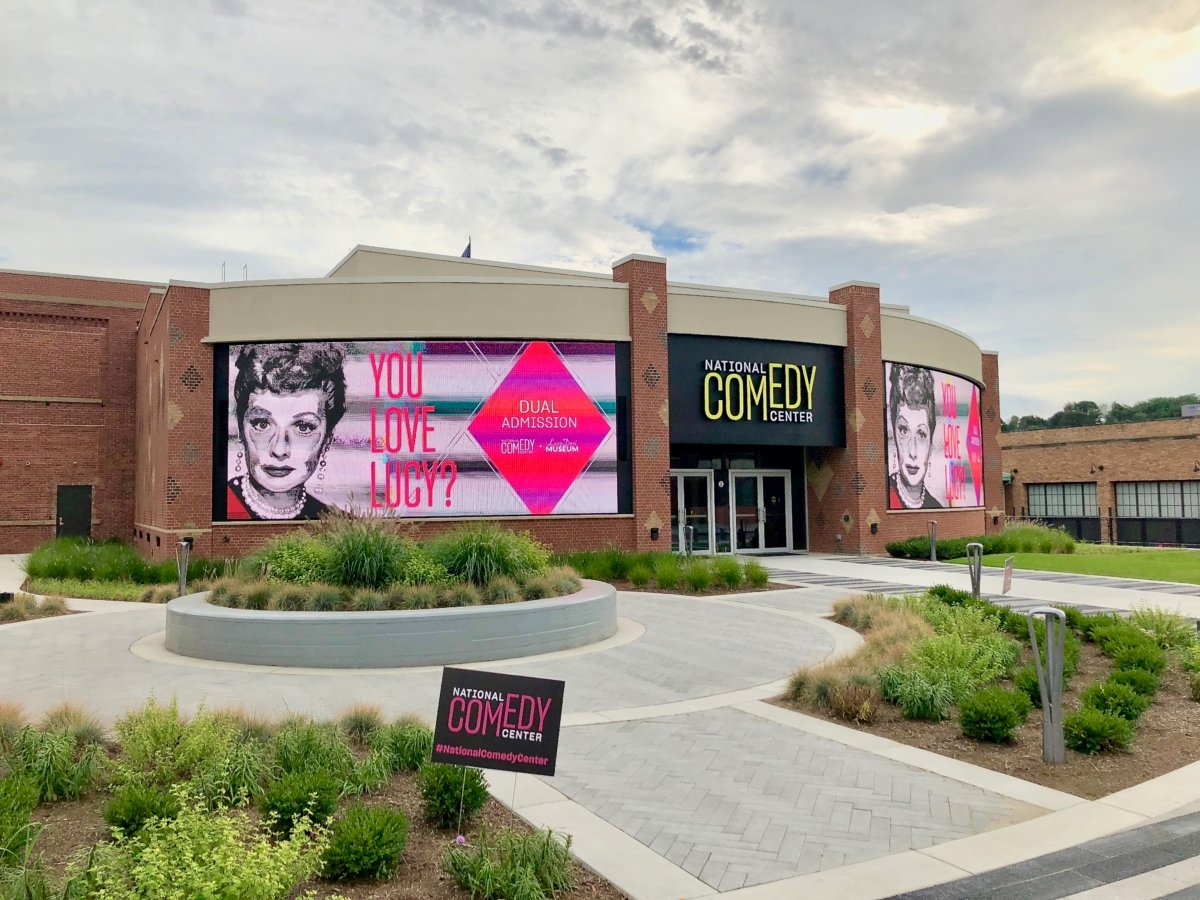 The National Comedy Center, just a two-minute walk from the Lucy Desi Museum, had only been open a month when we visited.
Lucille Ball's enduring influence of fun and laughter was evident there, as well.
Although she had lived away from her hometown for most of her life, Lucille Ball envisioned Jamestown as "a destination for a celebration of the art of comedy."
In 2018 her dream became a reality.
The comedy center is equipped with state-of-the-art technology, and featuring more than 50 immersive exhibits, it the most interactive attraction I have ever visited.
The first stop for guests is a touchscreen lobby kiosk to enter personal tastes in comedians, sitcoms, film, and cartoons.
An electronic LaughBand designs a personalized experience for each visitor and gathers data at exhibits to create a "sense of humor" profile revealed at the end of the tour.
The wall-to-wall Comedy Continuum touchscreen guides visitors in uncovering a network of hidden histories, trajectories, and other connections between their favorite comedians and media.
Laugh Battle is an interactive challenge where competitors deliver jokes to make their opponents laugh.
Melody and I tied because neither of us dared crack a smile.
The history of late night television is explored early in the self-guided tour.
Leave it to Melody to get tangled up in The Tonight Show curtains.
I have been a fan of Saturday Night Live, another late night institution, since college days in the 1970s. In fact, Jerry and I snagged SNL tickets with host Will Ferrell and musical guest Chris Stapleton on a 2018 NYC trip.
In an Act the Part booth, Melody and I joined Ana Gasteyer, assuming roles played by Molly Shannon and Alec Baldwin, to reenact the NPR Schweddy Balls parody.
This one did crack us up!
The comedy center features a fine collection of iconic sitcom props and costumes, such as the garden gnome from Will & Grace, snake juice from Parks and Recreation, and Seinfeld's puffy shirt.
Original framed comics and cartoon production sketches are displayed in a themed exhibit hall.
The history of adult humor is not overlooked at the National Comedy Center, but it is relegated to the basement Blue Room, accessed only by elevator.
Comedic art considered controversial, edgy, uncensored, even taboo, is examined in this subterranean hideaway.
Near the end of the museum tour, guests can tap their LaughBands at the My Sense of Humor kiosk for a personalized humor profile.
By entering your email address, you can receive a copy of your profile and photos from interactive exhibits. Be sure to download your photos immediately, before they expire!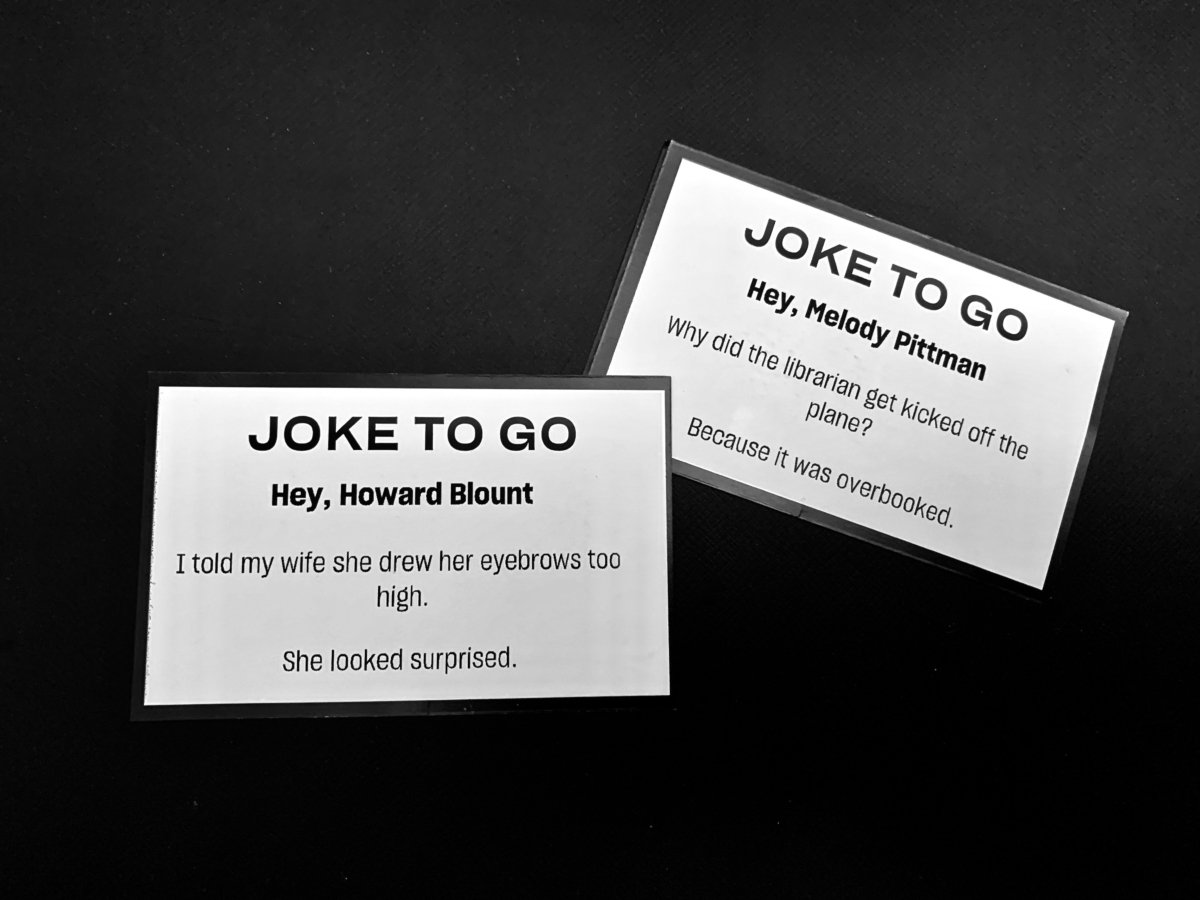 You could easily spend four to five hours touring the 37,000-square-foot facility. Fortunately, the comedy center remains open until 9:00 PM on Fridays and Saturdays.
The most cost-effective way to experience the Lucy Desi Museum and the National Comedy Center is by purchasing dual admission. Currently, the savings is more than $10.
While in town, avid fans may also want to visit Lucille Ball's birth home, childhood home, and gravesite. Addresses for the privately-owned homes and cemetery can be found at this link.
Note: Lily Dale Assembly, the world's largest concentration of spiritual mediums, is located 20 miles north of Jamestown. It is open to the public and definitely worth a visit for inquisitive travelers.
---
The Strong National Museum of Play
---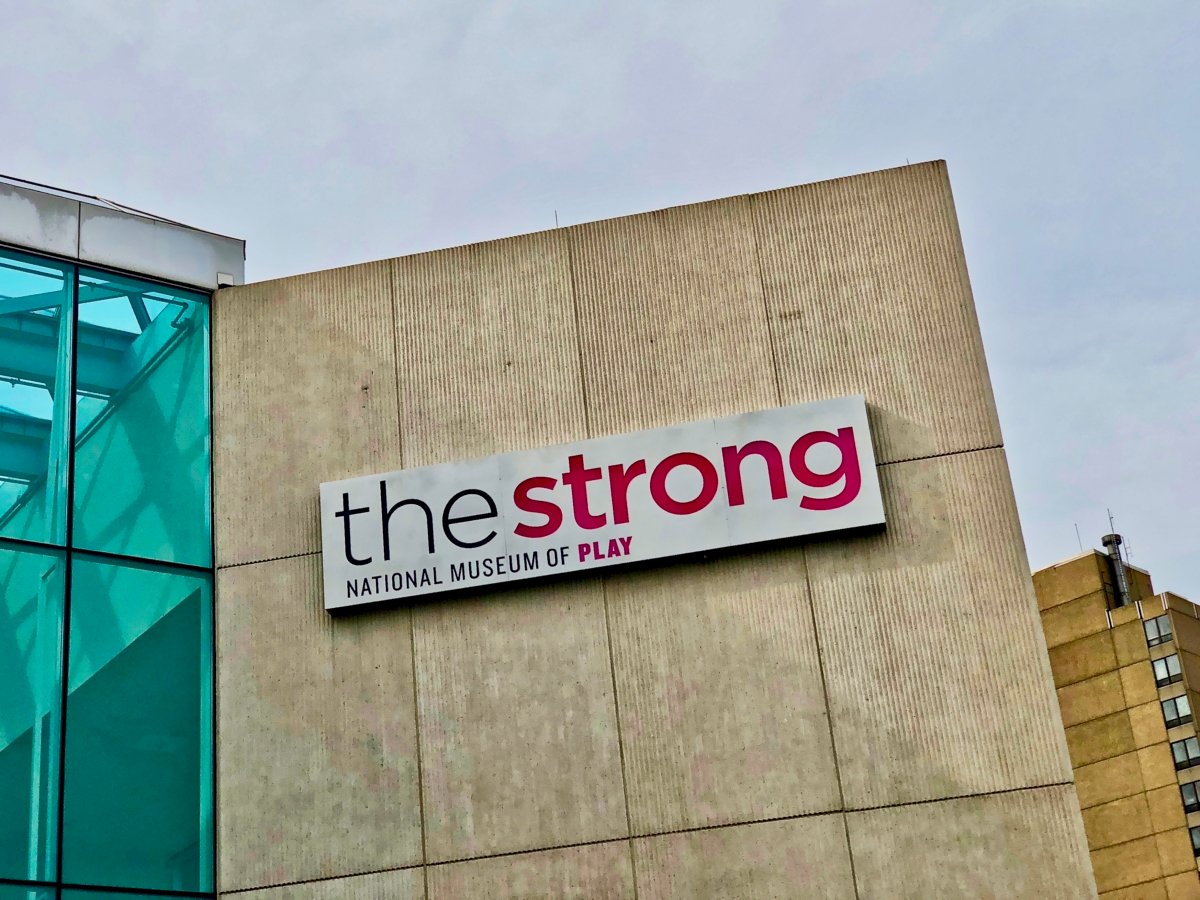 The next day, our upstate New York road trip carried us on a 2.5 hour drive to Rochester and a visit to the The Strong National Museum of Play for even more fun and laughter.
In many ways, "The Strong" reminded me of the National Museum of Toys and Miniatures in Kansas City.
The museum was founded in 1968 by Margaret Woodbury Strong, a Rochester native who excelled at sports and accumulated an unsurpassed collection of toys during her lifetime. It opened to the public in 1982.
The Strong is not only a collections-based museum, but also an institution dedicated to the study of play and "the ways in which it encourages learning, creativity, and discovery and illuminates cultural history."
The museum's vast collections contain many rare and unique toys, some of which are part of a "12 Must See Artifacts" self-guided tour. The first commercially-produced jigsaw puzzle from 1766, a round handmade Monopoly game, and G.I. Joe prototype made from a Ken doll, all made the list of iconic toys.
And who can forget the classic Atari 2600 that brought the arcade into our living rooms?
The doll collection alone contains more than 16,000 items, including the first Barbie introduced in 1959.
Other displayed dolls of note include Madame Alexander's Dionne Quintuplets, Hasbro's creepy Little Miss No Name, and the anatomically correct Joey Stivic doll inspired by a character on the 1970s All in the Family sitcom.
The Toy Halls of Fame recognize toys that have "inspired creative play and enjoyed popularity over a sustained period," such as Raggedy Ann & Andy and Mr. Potato Head. Toy creators like Milton Bradley, are honored as well.
Interactive exhibits including the Wegmans Super Kids Market and Reading Adventureland immerse both the young and young at heart in play.
The Dancing Wings Butterfly Garden® is a lush indoor tropical environment with button quail, orchids, Spanish moss, purple porterweed, and other such plants that also grow in my Central Florida back yard.
Winged lepidoptera flutter freely throughout the habitat.
The chrysalis case, resembling something from a sci-fi flick, is a nursery of sorts for caterpillars metamorphosing into adult butterflies
The American Comic Book Heroes exhibit came near the end of our tour.
Even old codgers like Melody and me couldn't resist playing around, scaling a skyscraper in downtown Rochester.
Can you figure out how we defied gravity?
The Strong is open daily with varied levels of admission fees and discounts.
Let there be no doubt. The Lucy Desi Museum, the National Comedy Center, and The Strong National Museum of Play are first-rate attractions, guaranteed to bring lots of fun and laughter to your upstate New York road trip itinerary.
---
Lodging and Dining
---
We overnighted at the highly-rated Comfort Inn Jamestown-Falconer, conveniently located near I-86 and two miles north of downtown Jamestown.
Click here to book your stay at the Comfort Inn Jamestown-Falconer on TripAdvisor!
Click here for additional Jamestown lodging options on TripAdvisor!
After leaving the National Comedy Center, we walked a few blocks east and pulled up to the bar at Forte, a dimly-lit bistro that features an eclectic menu of American and global favorites. The atmosphere was warm, the bartender and staff were congenial, and my order of ramen was comfort in a bowl. Highly recommended!
Other Jamestown dining options include the Landmark Restaurant for "fine dining in the old school tradition," Shawbuck's, for dinner and a late night menu, and The Pub, serving homemade favorites since 1965.
Dining and lodging options for Rochester are included in our Taste of the Finger Lakes post.
---
Design Your Own Upstate New York Road Trip
---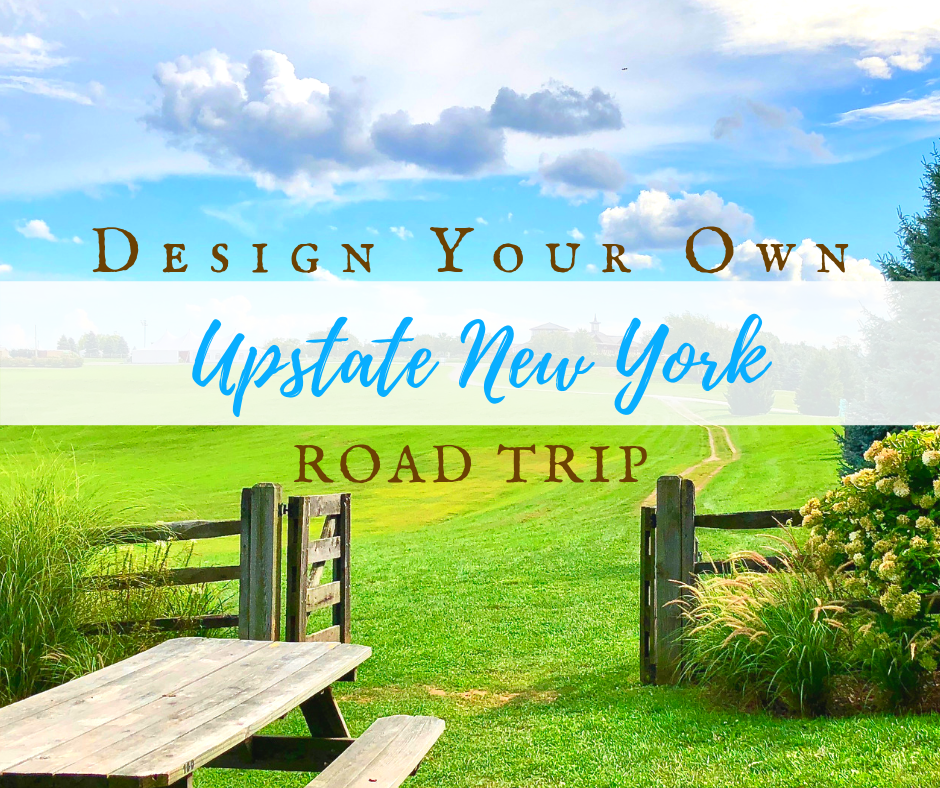 Design an upstate New York road trip of your own with Backroad Planet's suggested destinations and activities, plus our exclusive itinerary planning resources.
---
Map It!
---
---
We Would Love to Hear From You
---
We enjoy dialogue with our readers, especially when they share off-the-beaten-path destinations and useful travel tips. Have you found fun and laughter in upstate New York? If so, we would love to hear about your experience. We invite you to leave your comments and questions below, and we always respond!
---
Pin this Post!
---