(a

15

minute read)
---
Witness the supernatural on a guided ghost tour, conduct paranormal investigations, and sleep with the spirits at the most haunted places in New York.
---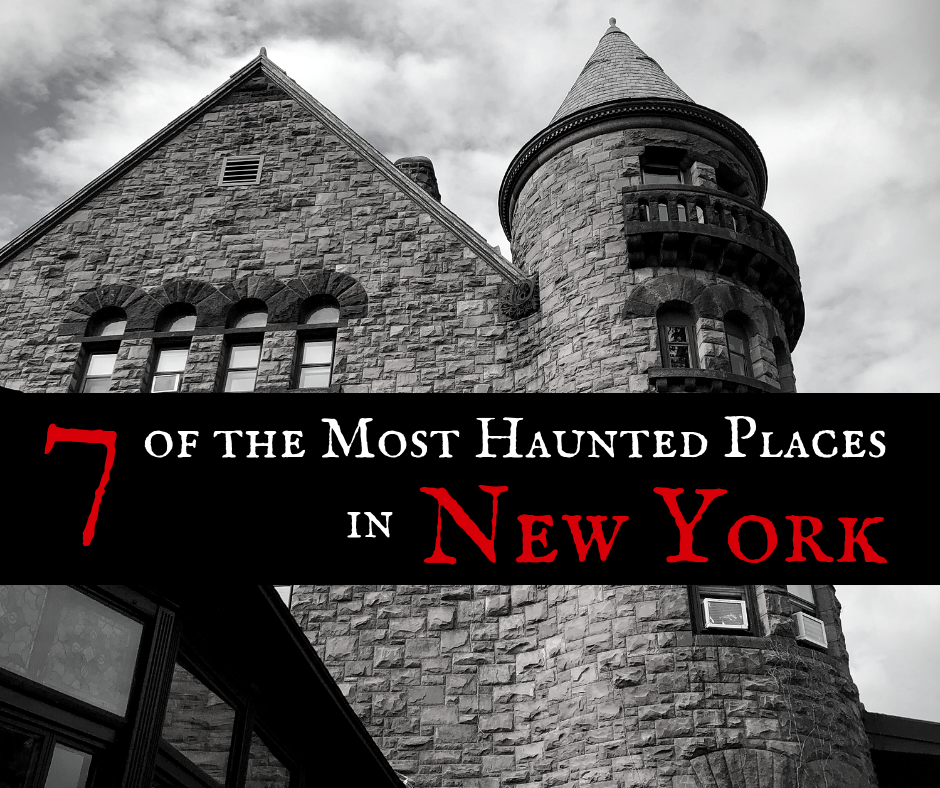 I was hosted by the Haunted History Trail of New York State, but all thoughts and opinions are my own.
---
Haunted Places in New York
---
While on a weeklong road trip with Mazda USA across upstate New York, Melody and I visited the site of the 1969 Woodstock music festival, drove the Upper Delaware Scenic Byway, sampled food and wine in the Finger Lakes region, and toured historical Civil Rights locations.
But our journey also included stops at some of the most haunted places in New York state.
Supernatural encounters while traveling are nothing new for me. In fact, in a brainstorm I came up with quite a list of previous experiences:
• a ghost tour of the Don Cesar hotel in St. Pete Beach, Florida
• a candlelight walk through the Garrison Graveyard at Fort Anne NHS in Annapolis Royal, Nova Scotia
• a Ghost Story Tour of Lafayette Square, adjacent to the White House in Washington, DC
• a tour of the McRaven Home in Vicksburg, known as Mississippi's most haunted house
• a Where Shadows Walk ghost tour of Franklin, North Carolina, where we learned about grave dowsing
• an immersive experience with more than one kind of spirit in haunted St. Augustine, Florida
• a Ghosts and Legends walking tour of Granbury, Texas
When it comes to the supernatural world, Melody is much more intuitive than I am. And even though I am totally open-minded about such things, I am drawn more to the history of a location than its hauntings.
Whether you are a history buff or intrigued by the paranormal, you are guaranteed to love some of the sites we visited on the Haunted History Trail of New York State.
---
Erie Canal Museum | Syracuse
---
Most Americans are more familiar with the folk song "Fifteen Years on the Erie Canal" than they are with the canal itself. Constructed between 1817 and 1825, this manmade waterway ran 363 miles between Albany and Buffalo, New York. It would become North America's most successful public works project by creating a commercial waterway between the Atlantic Seaboard and the Great Lakes.
The Erie Canal Museum in Syracuse is a key site on the Erie Canalway National Heritage Corridor.
History: The museum is located inside the only remaining weighlock building on the canal. In use between 1850 and 1883, the weigh chamber isolated canalboats between two locks and drained the water to calculate the weight of cargo for exacting tolls.
Although the original weighlock building remains, this section of the canalway through Syracuse was backfilled years ago to create Erie Boulevard.
A full-sized replica of a canalboat named the Frank Buchanan Thomson occupies the weigh chamber. Museum visitors can board the boat for an authentic look at daily life for passengers and crew.
Hauntings: Reported ghost sightings at the museum include children in the courtyard, a woman who was killed in the weigh chamber, the voices of perpetually arguing men, and heavy footsteps in the hallway.
A museum painting "Madonna of the Canal" by Elizabeth Leader recalls the tragic story of fugitive slave Caroline Harris who was so tormented by a canalboat crew that she jumped overboard with her young daughter. Harris was rescued, but her daughter drowned. No connection between this event and hauntings at the weighlock building have been made, but the art and account vividly illustrate the unvarnished truth of canal life in the 1850s.
For an immersive Erie Canal experience, consider renting a self-skippered canalboat from Erie Canal Adventures in Macedon, New York.
Fully-equipped canalboats are available for 3-night, 4-night, and 7-night charters. Who knows what spirits may appear when night falls on the Erie Canal?
---
Belhurst Castle | Geneva
---
History: Belhurst Castle was built on the shores of Lake Seneca between 1885 and 1889 by wealthy landowner Carrie Harron Collins. But the location, originally home to the Council of the Six nations of Iroquois, has a checkered history of accidental deaths, insanity, fugitives from the law, illegal gambling, and operation as a speakeasy during Prohibition.
Upon completion, the castle was furnished with European imports. Today, Belhurst is a resort destination offering lodging, dining, a spa & salon, a winery, and event venues.
Of the three haunted Belhurst hotels, the Chambers of the Castle features eleven historic guest suites and rooms, each featuring unique design and decor. The Tower Suite has a winding staircase that leads up into the tower where a worker fell and was killed during construction.
Hauntings: The sheer number of ghost sightings and paranormal phenomena qualify Belhurst as one of the most haunted places in New York. Hotel staff members have witnessed showers turning off and on by themselves, glasses and bottles flying around the bar, and even tablecloths tied to chandeliers. Witnesses have seen former caretaker Dick O'Brien climbing the stairs and sitting in his favorite chair, even though he passed in 1972.
The most recognized ghost, however, is the legendary Isabella Robinson, a British actress believed to have perished in a tunnel collapse or drowned in Lake Seneca, based on varying accounts. For generations, Isabella has been sighted dressed in white walking the Belhurst front lawn or flying through windows.
Click here to book your stay at Belhurst Castle on TripAdvisor!
---
Naples Hotel | Naples
---
History: Built in 1818, the two-story wood frame Lyon Tavern was a popular stagecoach station on the route between the towns of Geneva, Dansville, and Bath. The business changed hands through the years and later became the Jaqua House. In the late 1800s, Dan Brown purchased the property, sold the original structure, and removed it to another site. The current brick federal building was built at the same location in 1895 and became the Naples Hotel.
The hotel features seven guest suites, a restaurant, a bar, a basement lounge, and paranormal activity has been witnessed on every floor.
Hauntings: Doors open and close, picture frames tilt, clothes hangers move, and lights turn on. Although there has been evidence of six friendly spirits, much of the activity is attributed to the spirit of a man nicknamed "Topper" who hanged himself in a third story room in the 1920s.
Common areas of the hotel are under constant surveillance, and the building was thoroughly investigated for an episode of Ghost Hunters, like other properties across the state.
Two-hour guided spirit tours are available by appointment.
---
Allegiance Bed & Breakfast | Mt. Morris
---
Unlike some haunted lodging locations we toured on our upstate New York road trip, Melody and I actually overnighted at the Allegiance Bed & Breakfast. When we pulled in the drive, the grand Greek Revival mansion seemed somehow misplaced. I had to remind myself that we were in New York and not the Deep South.
The B&B takes its name from Mt. Morris native son Francis Bellamy who wrote the U.S. Pledge of Allegiance.
History: The home was originally constructed in the Federalist Revival style by local attorney, Union colonel, and Baptist deacon Reuben Wisner. When ownership transferred to the Prophet family in the late 1860s, the balcony and pillars were added so the mansion would resemble the White House.
The interior of the home is furnished with classic Victorian decor, and when it comes to amenities, the proprietors have covered all the bases in anticipation of their guests' needs. I was impressed with the small ice machine on the second floor near my room, and the breakfast was quite hearty and tasty.
Hauntings: The Allegiance B&B is home to Karen and Raymond, two spirited, good-natured characters. Raymond, who does not want to be called Ray, is quite the conversationalist, and Karen can be seen ascending the stairs in a long dress. Guests have even given accounts of a "paranormal partner" getting in bed with them, and according to our host, the Dansville room where I stayed was a favorite hangout for the "permanent residents."
I did not experience any paranormal activity during my stay, perhaps because I slept soundly in a four-poster king bed from heaven.
I did not learn until later that the home was a station on the Underground Railroad, and the opening to a tunnel is still visible in the basement. I would love to have seen it. I did, however, take a walk through the secret garden before departing the following morning. Guests may be interested in learning that access to the 90-mile Genesee Valley Greenway State Park is just a short walk from the Allegiance B&B.
---
Big Tree Inn | Geneseo
---
We stopped for dinner at the Big Tree Inn in Geneseo, a lovely property with a historical reputation for hospitality.
History: The Seneca Indians named this area for a huge white oak on the east bank of the Genesee River. In 1833, local banker Alvin Ayrault built a family residence at the former site of Chief Goondahgowah's log home and named it Big Tree Lodge. Mr. Ayrault and his wife Bethia were civic-minded people who always opened their home to the community. In 1866, the mansion was renovated, enlarged as a hotel, and given the name it bears to this day.
The Big Tree Inn restaurant menu features comforting dishes with healthy portions, including farmhouse chicken pot pie, shrimp mac & cheese, and tempting desserts.
Hauntings: Spirits that inhabit the property give evidence that they are either former residents or guests at the inn. Sightings include Mrs. Ayrault sitting in a chair in her former bedroom, a groundskeeper carrying a lantern, a young man wearing a tophat, and a girl in a green Victorian dress.
Click here to book your stay at the Big Tree Inn on TripAdvisor!
---
Dunkirk Historical Lighthouse | Dunkirk
---
Touring the Dunkirk Historical Lighthouse overlooking Lake Erie was like a déjà vu for Melody and me. A year earlier we had visited Presque Isle State Park along the same Great Lake, located 57 miles southwest in Erie, Pennsylvania.
History: The first light at this location was established in 1826. The original third order Fresnel lens, imported from France and installed in 1857, is still in use, making it one of only 70 such operational lenses in the United States. The current 61-foot tower and High Victorian Gothic residence was completed in 1875.
Tours of the lighthouse and museum run daily, except Sundays, from May through October. Hours and fees vary, so it is wise to check the lighthouse website before planning a visit. Ghost hunts, hosted at various times throughout the season, include a lighthouse tour and paranormal investigation.
Hauntings: Experts have not been able to attribute the origins of ongoing supernatural phenomena at the lighthouse to any specific historical characters or events. The first shot fired in the War of 1812 was near the west bank of the lighthouse, and multiple shipwrecks with loss of life occurred not far from shore. Some witnesses attribute unexplained sounds and moving objects to the large collection of war artifacts housed at the museum or to former keepers of the light.
Orbs have appeared in some photos from my travels, most notably at a Canadian cemetery and a Nazi death camp. However, a framed photo at the Dunkirk museum not only shows an orb, but when enlarged the outline of a human face is clearly visible. During our lighthouse tour, our guide mentioned that he frequently discovers a ball displayed in a bowl on the large high chair has moved to the floor nearby.
On our previous visit to Lake Erie, we drove a segment of the Great Lakes Seaway Trail. The Dunkirk lighthouse is one of more than twenty historic lights located along the route, and roadtrippers may want to consider adding the scenic byway to their itineraries.
The horror thriller Widow's Point (unreleased at the time of publication) was filmed on location at Dunkirk Lighthouse.
---
Phelps General Store & Home Museum | Palmyra
---
The Phelps General Store was not originally on our itinerary. But due to rainy weather, an outdoor event on our schedule was canceled, and our host made a spur-of-the-moment detour to this haunted location.
History: Prior to its acquisition by William Phelps in 1868, the building had served Palmyra as a tavern, bakery, and boarding house. Phelps operated the first floor as a general store, and the family residence was located on the second floor.
William's son Julius assumed the family business in 1900, and ran it until he permanently closed its doors in 1940. The general store was left untouched for decades, creating a "retail time capsule" filled with artifacts from its history.
And in case you are wondering, even the eggs on display were laid in 1940.
Although the general store was closed, Julius' daughter Sibyl lived in the home where she was born until her death in 1976 at age 81.
The upstairs living quarters were furnished with fine Victorian decor, but they were never retrofitted with electricity nor plumbing. Sibyl lived out the remainder of her life with primitive cooking, bathing, and laundry methods.
Hauntings: Visitors to the Phelps store and home have witnessed various forms of sensory manifestations, including human apparitions, a phantom cat, the smell of tobacco smoke, whispers, and even touches. Guides believe an abused girl named Holly who died outside the store resides in the upstairs parlor. She only trusts women and will occasionally hold hands with them from under a small table.
I regret that we did not have more time on our itinerary to explore Palmyra. Centrally positioned in the "burned-over district," greater Palmyra has a fascinating spiritual and religious history with connections to the founding of Mormonism, Spiritualism, the Second Great Awakening, Shakers, Utopian experiments, and much more.
Nothing confirms the Palmyra spiritual vortex more than the intersection of Church and Main Streets where four churches (Presbyterian, Methodist, Baptist, and Episcopal) face each other, the only such arrangement in the United States.
Located on the Erie Canal and with strong ties to the Underground Railroad, it should come as no surprise that Palmyra has also been named the most haunted place in the Finger Lakes region. Historic Palmyra has multiple haunted locations and regularly hosts ghostly events between May and October.
---
Haunted History Trail of New York State
---
The seven sites featured in this post are a mere sampling of the most haunted places from New York's 400-year history. Melody and I also visited other haunted locations while on our upstate New York road trip that are detailed in other Backroad Planet stories:
• Burn Brae Mansion off the Upper Delaware Scenic Byway in Glen Spey
• Springside Inn in Auburn
• The Seneca Falls Historical Society at the former Becker Mansion
• Lily Dale Assembly, a historical hamlet, home to the world's largest concentration of spiritual mediums
• Fort Hill Cemetery in Auburn, the gravesites of Harriet Tubman and William Seward
• Mount Hope Cemetery in Rochester, the gravesites of Frederick Douglass and Susan B. Anthony
Map Credit: Haunted History Trail of New York State
The Haunted History Trail of New York State boasts nearly 100 "creepy, spooky, and downright haunted" sites in nine regions across the state. Visitors can take advantage of eerie museums, spooky dining, haunted inns, guided ghost tours, paranormal investigations, and much more. Some locations are open daily while others are by appointment only. It is always best to contact a destination in advance to ensure the best experience.
Visit the Haunted History Trail website for a wealth of resources to start planning your road trip to the most haunted places in New York.
---
Design Your Own Upstate New York Road Trip
---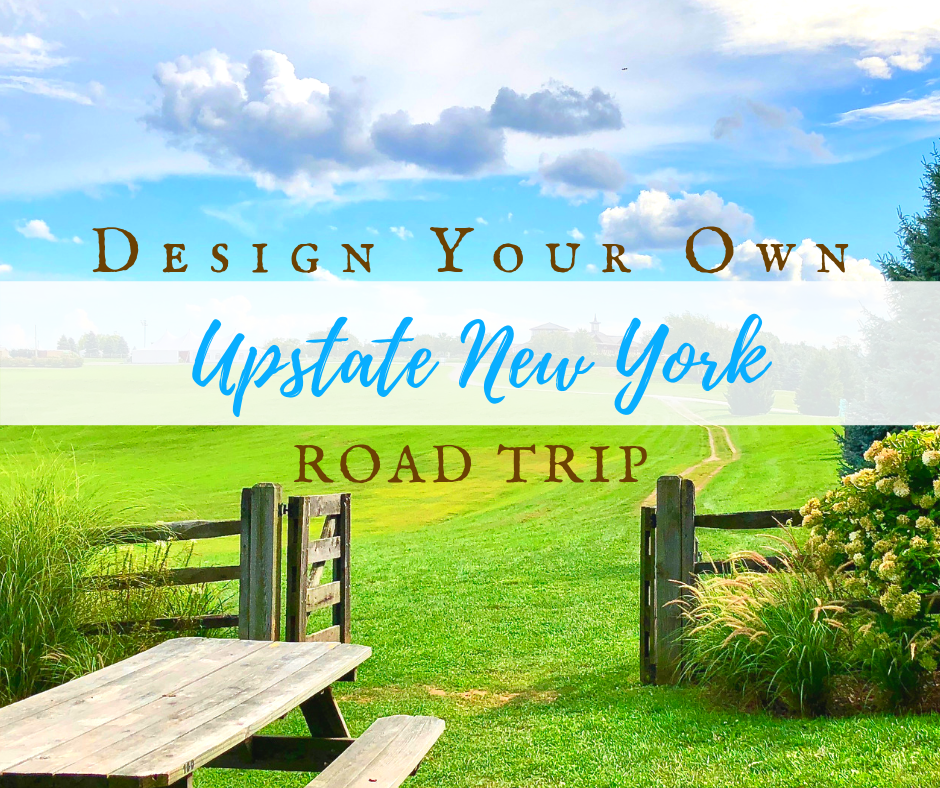 Design an upstate New York road trip of your own with Backroad Planet's suggested destinations and activities, plus our exclusive itinerary planning resources.
---
Map It!
---
---
We Would Love to Hear From You
---
We enjoy dialogue with our readers, especially when they share off-the-beaten-path destinations and useful travel tips. Have you visited any of the most haunted places in New York? If so, we would love to hear about your experience. We invite you to leave your comments and questions below, and we always respond!
---
Pin this Post!
---