(a

12

minute read)
---
Enjoy a taste of New York's Finger Lakes Wine Country at regional wineries, breweries, a cidery, and a distillery, served up with a side of locally-sourced cuisine.
---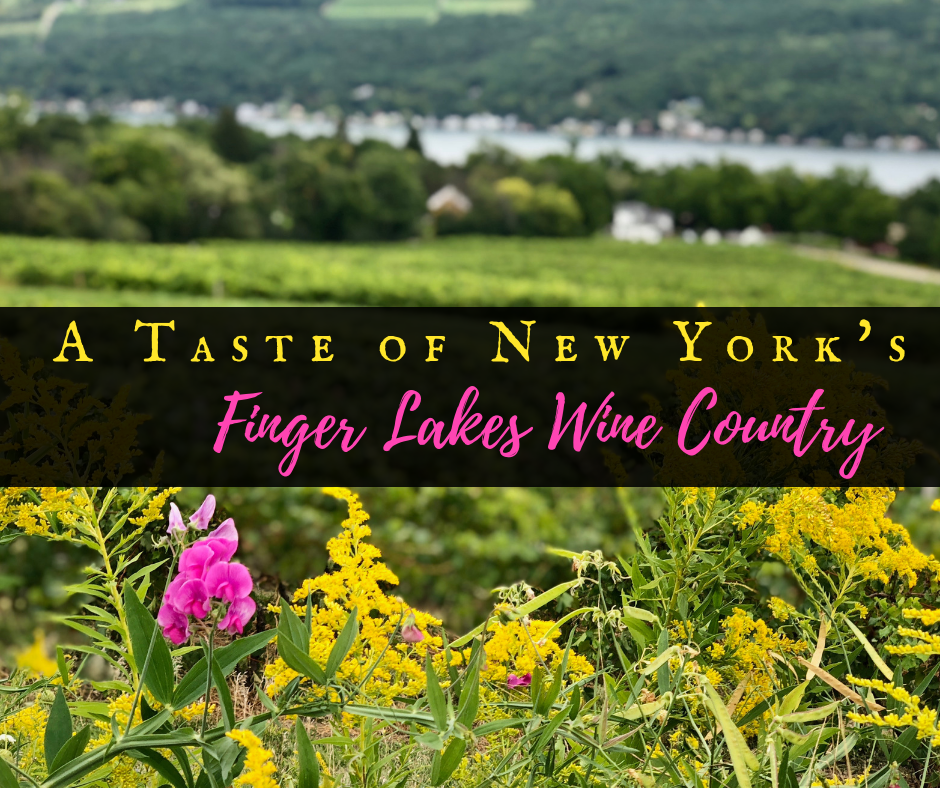 I was a guest of the Finger Lakes Regional Tourism Council, but all thoughts and opinions are my own.
---
Finger Lakes Wine Country
---
Source: Finger Lakes Regional Tourism Council
The Finger Lakes region of New York State stretches from Rochester in the west to Syracuse in the east, and from Lake Ontario in the north to the state line in the south. Named for its eleven finger-shaped lakes, this region of upstate New York is known worldwide for its history, scenic beauty, outdoor recreation, and perhaps most notably . . . its wine.
The climate of the Finger Lakes region is ideal for growing grapes due to the "lake effect" that retains residual warmth in the winter and cool temperatures into the spring, thereby protecting vines from early and late frosts. With such perfect growing conditions, more than 100 vineyards and wineries now operate throughout the region.

Fresh from a visit to the site of the historic Woodstock Music Festival in Bethel, a drive on the Upper Delaware Scenic Byway, and an upstate Civil Rights road trip, my frequent sidekick Melody Pittman and I met up with our colleagues Vanessa Orr and Elaine Turner for a tour of Finger Lakes wine country. Our itinerary would carry us to various Finger Lakes locales, including Hammondsport, Corning, Naples, Canandaigua, Williamson, Pittsford, and Rochester.
We would soon learn that wine was just the beginning of countless food and drink experiences to be enjoyed across the region. And we would discover that virtually all of the producers and outlets we visited were committed to sustainable production methods and locally-sourced ingredients.
---
Bully Hill Vineyards | Hammondsport
---
Visitors to Bully Hill Vineyards will undoubtedly pause for pictures when they see the stunning view of Lake Keuka from the parking area. The day we visited, blooming goldenrod and wild sweet peas created a lovely frame for the vineyards below.
Manicured gardens bordered the walk up the hill to the winery, giving the panoramic lakeview a run for its money.
The history of Bully Hill Vineyards reads like a novel, with plot twists, humor, and a satisfying end. The Our Heritage section of the website recounts the story far better than any abridged version I could tell, but readers will be intrigued when they learn how Bully Hill is eternally connected through its founder to the famous Taylor Wine brand.
We arrived at the vineyards in time for lunch at The Restaurant. I enjoyed a delicious cup of corn chowder and a customized Bully Hill Salad, substituting grilled salmon for chicken.
After lunch, we took a guided tour of the estate, vineyards, and winemaking facility. A complimentary 30-minute walking tour is the best way to learn about viticulture and hear the entertaining history of Bully Hill and founder Walter S. Taylor first hand.
---
Dr. Konstantin Frank Wine Cellars | Hammondsport
---
A 4-mile drive carried us next to the Dr. Konstantin Frank Wine Cellars near the shoreline of Lake Keuka. Dr. Frank was born in the Ukraine in 1899. He earned a PhD in viticulture and managed a large state-owned vineyard in Soviet Georgia before emigrating to the United States in 1951.
In the face of local opposition, Dr. Frank set out to demonstrate that European varieties of Vitis vinifera would thrive in the cold climate of upstate New York if cultivated with the appropriate rootstock and growing techniques. Dr. Frank would eventually grow more than sixty vinifera varieties on the west bank of Lake Keuka, proving his theory correct, triggering the "Vinifera Revolution," and forever transforming the Finger Lakes wine industry.
Dr. Frank founded Vinifera Wine Cellars in 1962 with the release of his first vintage, a Trockenbeerenauslese Johannisberg Riesling.
Visitors to Chateau Frank can select from a variety of wine-tasting experiences, with or without cheese pairings, and led by knowledgeable wine educators who share the history of the selected varieties, the man behind the revolution, and New York State's most award-winning winery.
---
Market Street Brewing Company | Corning
---
Today, the Finger Lakes region is also home to more than 100 craft breweries. Beer-lovers can design their own road trips and getaways with resources posted on the Finger Lakes Beer Trail website.
The Market Street Brewing Company in Corning is listed on the beer trail, having been a landmark in the historic district for more than twenty years. As the first micro-brewery in the area, MSBC is also an award-winning property recognized for its renovation with repurposed architectural antiques.
Handcrafted brews made on site are always on tap, and the Brewpub menu features homemade favorites such as a signature cream of artichoke soup and a marinated flank steak salad.
---
Arbor Hill Grapery & Winery | Naples
---
Winemaster John Brahm III is the heart and soul of Arbor Hill Grapery & Winery, and his wine tasting experience is an entertaining event loaded with stories, history, and education. During our tasting, we learned the family-owned winery opened in 1987, specializing in both heritage grapes and experimental hybrid varieties.
Brahm's experimental cultivation paid off when Arbor Hill become the first commercial winery in the world to introduce Traminette, a multi-award winning white wine, in 1996. Twenty years later, the winery scored another international first with the introduction of Noiret, a 100% varietal red wine.
Arbor Hill produces 28 different wines and more than 57 jellies, preserves, vinegars, sauces, and other gourmet products, all sold in the winery shop and online.
Arbor Hill is located near the southern tip of Canandaigua Lake in the town of Naples, where grape pie is a local tradition. Before getting back on the road, we sampled grape tarts fresh out of the oven.
Heaven!
---
New York Kitchen | Canandaigua
---
Funded by a collaborative of corporate sponsors, the non-profit New York State Wine & Culinary Center opened in 2006 as a place to promote the state's agricultural, culinary, and craft beverage production. Remaining true to its original mission, the center rebranded in 2018 as the New York Kitchen.
The educational arm of the center features a hands-on kitchen for interactive cooking classes and a state-of-the-art theater for demonstrations and certification classes. A variety of courses are offered for master sommelier certification and individuals working in the food service and hospitality industries.
The Restaurant at New York Kitchen features a menu of dishes created with 80% locally-sourced, seasonal ingredients. Our lunch table shared a divine order of raclette chips and mozzarella-stuffed meatballs, and I opted for a grilled chicken salad croissant and side of fries.
From its location in Canandaigua, the New York Kitchen also features a tasting room, culinary shop, food truck, and several event venues, all dedicated to celebrating the food and beverage production of New York State.
---
Embark Craft Ciderworks | Williamson
---
I cannot fully appreciate an autumn stay at Pinebox, my North Georgia mountain cabin, without making at least one visit to a local apple orchard to stock up on handpicked fruit, fresh-pressed cider, glazed fritters, fried pies, and cider doughnuts.
But a visit to Embark Craft Ciderworks in the town of Williamson, New York, would be my first experience at a craft cidery. Established in 2015, the cidery is an extension of Lagoner Farms, a family-owned operation that began production in 1909.
Embark ciders are locally-sourced from Lagoner orchards and crafted from 100% fresh-pressed apple juice, with no artificial flavor, color, or sugar added. These dry, semi-dry, semi-sweet, and sweet cider varieties are available in a range of alcohol by content.
For the best Embark Craft Ciderworks experience, head to the Taproom and sample a flight of their flagship, seasonal, and limited release ciders.
The Taproom also features a fine selection of beer, wine, and spirits, as well as charcuterie, sharing plates, burgers, sandwiches, salads, and desserts.
---
Apple Country Spirits | Williamson
---
If distilled beverages are your poison, you will want to stop by Apple Country Spirits, one of my favorite spots on our itinerary. This farm distillery boasts a line-up of fruit-based vodkas, brandies, applejack, cordials, liqueurs, and ports.
Apple Country's fruit-based spirits are made from and infused with all-natural flavors sourced from apples, pears, peaches, apricots, plums, cherries, and raspberries grown at DeFisher Fruit Farms, a fifth-generation, family-owned farm not far from the shores of Lake Ontario.
During our visit, I was especially intrigued with a bar copy of the 1905 two-volume book The Apples of New York. Although it was published more than a century ago, this vintage publication is still a valuable resource containing historical and descriptive information on 800 apple varieties and nearly 200 full-color photographic plates. A digital copy of this exquisite reference is available for viewing and downloading online.
Open on weekends, the Apple Country tasting room offers samples of house-made spirits and cocktails, plus craft beer and wines from local partners.
---
Simply Crêpes | Pittsford
---
Dining at Simply Crêpes in Pittsford is an experience not to be missed, even if you have to wait for a table like we did.
This popular restaurant fronts the Erie Canal Park, so you are guaranteed a lovely view while you wait.
The Simply Crêpes menu offers a broad selection of sweet and savory crêpes for breakfast, lunch, and dinner. I inhaled the Pommes Brie Crêpe, made with hardwood smoked ham, brie cheese, caramelized onions, bacon jam, and topped with sliced apples.
Like most of our featured destinations, Simply Crêpes is dedicated to serving fresh, locally sourced Finger Lakes ingredients.
It takes talent and practice to master the art of crêpe-making. I was both intrigued and impressed!
---
Wegmans Food Markets | Pittsford
---
Can you believe that a grocery store chain is the #1 tourist attraction in greater Rochester?
Well, it is!
Wegmans Food Market is a Rochester institution, founded by John and Walter Wegman in 1916 as the Rochester Fruit and Vegetable Company. Still family-owned, Wegmans has nearly 100 stores and 50,000 employees at locations across the Mid-Atlantic and New England states.
Wegmans has earned a loyal fan base for its commitment to "quality products, first-class prepared foods and superior customer service." The popular food outlet has won multiple awards, including "grocery chain that changed the way we shop" by the Food Network, and "#1 grocery story in the United States" in a survey by Market Force Information. Wegmans has also ranked in Fortune magazine's "100 Best Companies to Work For" every year since the list began in 1998.
Many of the newer Wegmans outlets are megamarkets, like the one we visited in Pittsford. While touring Finger Lakes wine country, be sure to check out the region's most unexpected top attraction.
---
Brighton Farmers Market | Brighton
---
If you happen to be in the vicinity of Rochester on a weekend, you won't want to miss the Brighton Farmers Market, an open-air producer-only market set up each Sunday in the parking lot of Brighton High School.
All approved vendors have pre-qualified via a strict application process that inquires about their sustainable agricultural practices. Most agricultural vendors are either organic certified or grow their crops using organic methods. Meat products must be from humanely-treated animals, pasture-raised without the use of antibiotics or hormones.
Vendors sell live plants, flowers, baked goods, pasta, honey, eggs, herbal products, heirloom varieties, and other homegrown fruits and vegetables to the public. Shoppers can buy with confidence, knowing every purchase is fresh, seasonal, and produced by the seller.
---
Rohrbach Beer Hall | Rochester
---
While in Rochester, malt beverage enthusiasts will want to pop in Rohrbach's Beer Hall, the city's first craft brewery established in 1991. Taking its name from the German town that inspired its founders to bring craft beer to the area, the century-old beer hall adjoins the beverage production facility.
The Rohrbach brewery sources its ingredients from the adjacent City of Rochester Public Market. Classic and one-off brews are always on tap, and brewery tours run Saturdays, every hour on the hour from 11:00 AM to 4:00 PM.
If you're hungry, you may want to try a wood-fired pizza at the beer hall, or stroll up the block to Bitter Honey, a nouveau Mexican restaurant with an artistic flair.
---
Lodging
---
Hyatt Regency Rochester
---
The Hyatt Regency Rochester is a newly-renovated upscale property situated along the Genesee River. If you seek a luxury hotel with great city views, look no further.
Click here to book your stay at the Hyatt Regency Rochester on TripAdvisor!
Radisson Hotel Corning
---
Located steps from Market Street, the Radisson Hotel Corning is convenient to the Elmira Corning Regional Airport (ELM) and is a gateway to the Southern Finger Lakes. The hotel property features free WiFi, a fitness center, an indoor heated pool, and an outdoor hot tub.
Click here to book your stay at Radisson Hotel Corning on TripAdvisor!
Click here for additional lodging options in the Finger Lakes on TripAdvisor!
---
Design Your Own Upstate New York Road Trip
---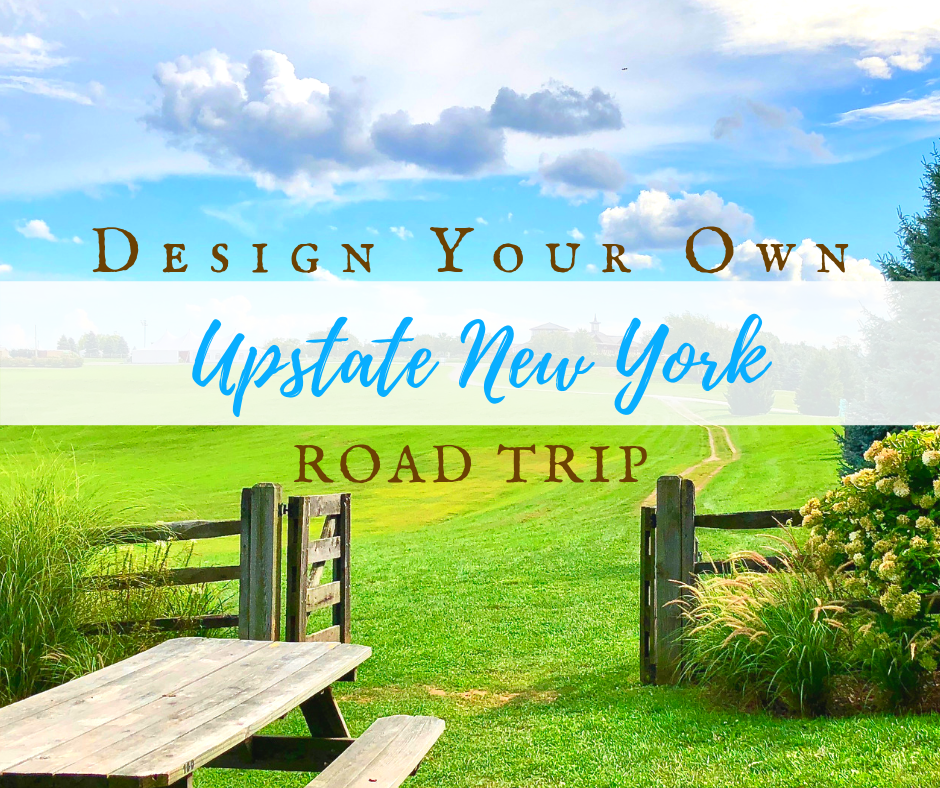 Design an upstate New York road trip of your own with Backroad Planet's suggested destinations and activities, plus our exclusive itinerary planning resources.
---
Map It!
---
---
We Would Love to Hear From You
---
We enjoy dialogue with our readers, especially when they share off-the-beaten-path destinations and useful travel tips. Have you ever toured New York's Finger Lakes Wine Country? If so, we would love to hear about your experience. We invite you to leave your comments and questions below, and we always respond!
---
Pin this Post!
---