(a

11

minute read)
---
Even when on a tight schedule, don't miss Presque Isle State Park, Escape Game, Sara's Diner, and other fun things to do in Erie, Pennsylvania.
---
I was a guest of Visit Erie, but all thoughts and opinions are my own. This post may contain affiliate links.
---
Things to Do in Erie, Pennsylvania
---
With only 36 hours to explore Pennsylvania's fourth-largest city, situated on the fourth-largest of the five Great Lakes, this would be a classic whirlwind tour of Erie.
But with my "travel wife" Melody Pittman (R) from Wherever I May Roam and our dear friends Terri Marshall-Holder and Vanessa Orr (L) from Every Road a Story in tow, I knew it was going to be fun!
Erie, Pennsylvania, had been on my radar for a couple of years, and I was looking forward to visiting its best-known attraction as the first location on our itinerary.
---
Presque Isle State Park
---
Presque Isle State Park is a National Natural Landmark and Pennsylvania's most visited state park, attracting more than 4 million visitors each year.
The park is not really located on an island, as its name would suggest, but rather on a 3,200 acre peninsula that arches out into Lake Erie, creating Presque Isle Bay. Several times throughout its history, however, storms have flooded the peninsula's narrow neck and temporarily made it an island. The literal English translation of the French "presque isle" is "almost an island."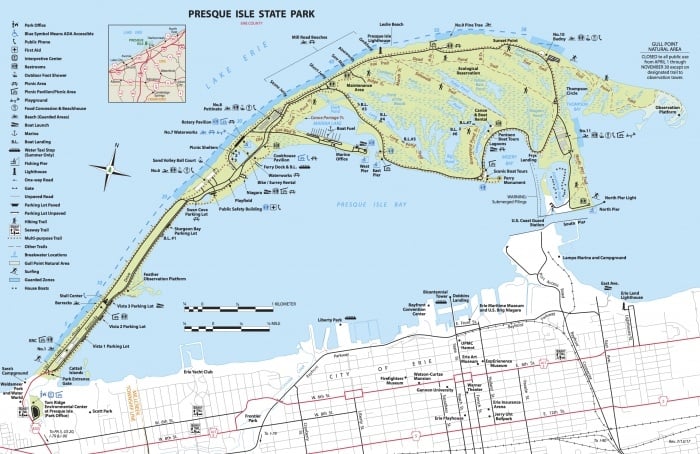 Presque Isle State Park is a treasured piece of real estate for many reasons. Open year-round, the park offers a variety of seasonal recreational opportunities including hiking, swimming, picnicking, scuba diving, boating, ice fishing, snowshoeing, and ice skating.
With seven diverse ecological zones, the peninsula is home to many species of plants and animals. Its location on the Atlantic Flyway makes it a sanctuary for more than 339 species of birds, many of them threatened or endangered.
You can download a PDF of the Presque Isle State Park Map by clicking the image above.
Tom Ridge Environmental Center
---
Any visit to Presque Isle State Park should begin with a stop at the Tom Ridge Environmental Center. Dedicated to research, education, and conservation, it is the perfect introduction not only to the ecology of the park, but its history and culture, as well.
This 65,000 sq. ft. facility has a green design and is certified with a silver LEED rating.
The center features 7,000 sq. ft. of interactive exhibits to engage park visitors.
Upon entry, you won't be able to miss the glass towers filled with active hand-carved whirligigs that depict the peninsula's nature, recreation, and history!
Other displays interpret bird life, explain how to keep a nature journal, and publicize local urban legends in the mode of vintage movie posters.
Another highlight of the environmental center is its 75 ft. glass tower. Visitors can climb the 131 steps or take the elevator to the top for panoramic views of Lake Erie, the facility's solar panels below, and an aerial view of neighboring Waldameer theme park's wooden rollercoaster.
I spotted the groundhog through a ground level window.
The Tom Ridge Environmental Center is open daily year round, except on Thanksgiving, Christmas, and New Year's Day. Admission is free.
A Driving Tour through Presque Isle State Park
---
I could have spent days exploring Presque Isle State Park, but due to our 36-hour itinerary, a scenic drive along the 13-mile one-way loop would have to suffice.
It was a cloudy, brisk spring morning, but the beauty of the bay, beaches, and wooded areas was on point.
Commodore Perry Monument
---

Our drive through the park was punctuated with lots of roadside pullovers for photo ops, but our first extended stop was at the Commodore Oliver Hazard Perry Monument on the bay side of the peninsula. The site memorializes Perry and his victory over the British in the Battle of Lake Erie on September 10, 1813.
During the War of 1812, Commodore Perry strategically used the peninsula and bay to shelter his men and as a location to construct six of the nine vessels in his fleet.
Perry's naval squadron returned to this location for the winter following the Battle of Lake Erie, near Sandusky, Ohio. The winter of 1813-14 was brutal and many sailors died from smallpox, which caused the men to give the adjoining body of water the name Misery Bay.
The hulls of the brigs Lawrence and Niagara were scuttled (intentionally sunk) in Misery Bay for preservation, and subsequently raised at later dates. Parts from the original U.S. Brig Niagara have been used in the reconstructed ship which docks at the Erie Maritime Museum when not sailing the Great Lakes. Alas, it was not in port when we visited.
Interpretive signs along the paved trails detail the stories behind this historical location.
Horseshoe Pond Houseboats
---
Horseshoe Pond, located near the eastern tip of the peninsula, is home to 24 houseboats. I have encountered houseboats during my travels, but with an allowed maximum of 2,000 sq. ft., these large floating structures are truly "house boats."
The homes are connected to electricity by underwater wiring, and human waste is either incinerated in an electric toilet or towed to shore on a small barge to be emptied.
In the early years, houseboats anchored at various spots around the park, but in the 1960s they were permanently moved to Horseshoe Pond.
Homeowners pay an annual rental fee of approximately $1000 to the State of Pennsylvania for their spot on the water, and can come and go freely year-round, even when the pond is frozen in winter.
For a cool birdseye view of the houseboats on Horseshoe Pond, scroll to the Map It! section near the bottom of this post, switch the map view to satellite, click on the Horseshoe Pond marker, and zoom in!
North Pier Light
---
The North Pier Light stands at the eastern tip of a jetty that borders the narrow inlet between Lake Erie and Presque Isle Bay.
Not to be confused with the Presque Isle Lighthouse, this square, metal light forged in France and assembled on site has been guiding ships through the passage since 1858.
Our scenic drive through Presque Isle State Park ended all too soon for me, but it was time to move on to our next adventure.
---
Escape Game Erie
---
I was the only person in our group who had never heard of the "escape room" phenomenon, had no idea what it was about, and did not know why we should do it.
At first, I thought it might be like a haunted house, but not so.
For readers who also have no clue how escape rooms work, the concept is this: Your group is locked in a room with a limited amount of time to solve a series of tangible puzzles, riddles, and mysteries to ultimately unlock the door and escape the room.
What I loved about the Escape Game Erie experience early on was its location in a historical structure listed on the National Register of Historic Places. The 1826 Nicholson House is a historic Federal-style inn and tavern that has at various times also served as a general store and post office.
The theme for our game was "Escape the Niagara," fictionally set on Commodore Perry's brig from the War of 1812. I won't give away any secrets, but the premise of our game was to escape the Captain's Quarters and warn him of impending danger.
In an amazing twist of synchronicity, an entry in an historic diary was found to have recorded, "William Nicholson boarded the Ship Niagara with Perry at age eleven . . . ." At Escape Game Erie, the two historical characters have been connected once again.
The difficulty of this particular game is medium, and the escape rate is 37%. Unfortunately, our group fell into the 63% failure rate. We did not escape the room before time was up, and even after clues were revealed by our host, we agreed there was no way we would ever have made it out if our lives depended on it. Even so, we did solve a few puzzles on the way to our escape.
Having completed an Escape Game, I better understand that it is a team-building exercise meant to be enjoyed by families, friends, corporate groups, gamers, and travelers.
The Escape Game runs $25 per person, and reservations must be made in advance.
---
Mazza Chatauqua Cellars
---
The next destination on our itinerary would carry us just across the state line into New York.
Mazza Vineyards has been an institution in Eastern Pennsylvania and Western New York for more than 45 years. In 2013, Mazza Chatauqua Cellars relocated to Westfield, New York, and with the addition of its Five & 20 brand of craft spirits, it became the state's first winery, brewery, and distillery housed under one roof.
Mazza's move to this 80 acre tract of farmland has enabled the company to begin the ultimate transition of becoming a "grain-to-glass" operation.
Mazza Chatauqua Cellars now offers year-round tours, tastings, and seasonal events at their Westfield, New York location.
Melody and I would later return to this region of western New York to tour Lily Dale, Jamestown, and other destinations on a two-week road trip. You can read all about this epic journey in our guide Design Your Own Upstate New York Road Trip.
---
The Great Lakes Seaway Trail
---
On our return to Erie, we drove a segment of the Great Lakes Seaway Trail.
The Great Lakes Seaway Trail begins at the Seaway International Bridge near Massena, New York, and roughly parallels the Saint Lawrence Seaway as it makes its way through Pennsylvania to the Ohio state line.
Regular Backroad Planet readers know I am a huge fan of America's National Scenic Byways and welcome every opportunity to drive them. As a confirmed completionist, I was a bit wistful not being able to drive this scenic route through historic villages and pastoral settings from beginning to end.
Someday, perhaps . . . .
---
Farewell
---
Later that evening, we walked down to the Port Erie Bicentennial Tower and watched the sunset over Presque Isle Bay.
Our 36 hours in Erie was about to end, but it left us with a taste of the many diverse activities the city and surrounding rural areas have to offer.
Someday we would return to explore them even more . . . .
Be sure to check out Melody Pittman's post about 9 Intriguing Things to Do in Erie, Pennsylvania for even more Erie fun!
---
Lodging & Dining
---
While in Erie, our host accommodations were at the Marriott Courtyard Bayfront, the city's newest hotel with rooms overlooking Presque Isle Bay.
Click here for more Erie, Pennsylvania, lodging options on TripAdvisor!
Sara's
---
You can't visit Presque Isle State Park during spring and summer (April 1- September 30) without stopping by Sara's, situated a mere 100 yards from the park entrance. An Erie institution since 1980, Sara's serves up foot-long hot dogs, onion rings, and real fruit milk shakes with a vintage flair.
Molly Brannigan's Irish Pub
---
Molly Brannigan's has the feel of an authentic Irish pub. Perhaps that is because so much of its decor was designed and handcrafted in Ireland, including the hearth and mantle. Molly's serves up generous portions of Irish comfort food, draughts, and spirits.
Dave's Diner
---
On our last morning in town, I enjoyed a grilled breakfast sandwich at Dave's Diner, a retro-modern eatery featuring classic diner fare in downtown Erie, adjacent to Perry Square Park.
---
Map It!
---
---
We Would Love to Hear From You
---
We enjoy dialogue with our readers, especially when they share off-the-beaten-path destinations and useful travel tips. Have you ever visited Erie, Pennsylvania? If so, we would love to hear about your experience. We invite you to leave your comments and questions below, and we always respond!
---
Pin this Post!
---