(a

11

minute read)
---
There are countless things to do in Waynesboro Virginia, the gateway to the Shenandoah Valley, including Shenandoah National Park, the Blue Ridge Parkway, the Appalachian Trail, and Interstate 64.
---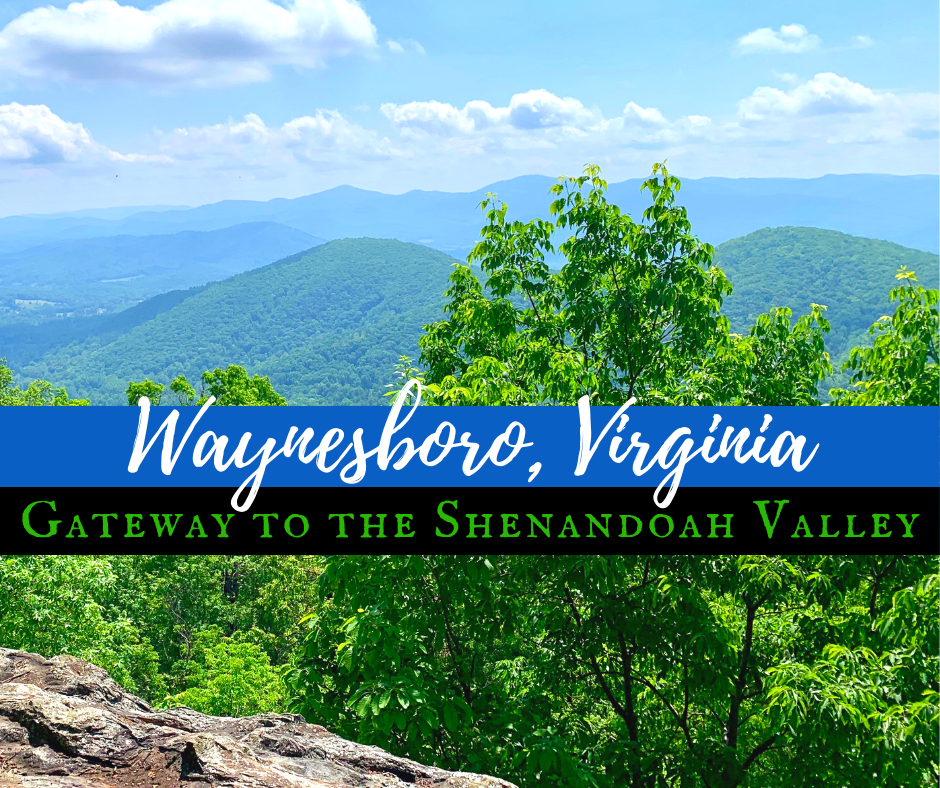 I was a guest of Visit Waynesboro, but all thoughts and opinions are my own.
---
Waynesboro Virginia: Gateway to the Shenandoah Valley
---
They say location is everything.
And when it comes to location, no town provides more convenient access to Shenandoah Valley activities and attractions than Waynesboro Virginia.
Whether by default or design, the city of Waynesboro Virginia, is situated near the southern terminus of Shenandoah National Park's Skyline Drive, the north entrance to the Blue Ridge Parkway, the Appalachian Trail, and Interstate 64.
Waynesboro is also centrally located between Charlottesville to the east, and Staunton, Virginia, to the west. Lexington is 45 miles south.
Although this intersection of roadways at Rockfish Gap (a low point in the Blue Ridge Mountains) is the ideal home base for a "hub and spoke" itinerary, to call Waynesboro a "hub" would be a gross understatement.
Waynesboro's prime crossroads location makes it the gateway to Virginia's Shenandoah Valley.
---
Things to Do in Waynesboro Virginia
---
When it comes to things to do in Waynesboro Virginia, the options are unlimited.
If you are looking to get outdoors, there are five parks and a riverwalk within city limits. And the South River that flows through town is perfect for fishing, boating, and paddling.
History and architecture enthusiasts will enjoy touring Swannanoa, an Italian Renaissance Revival villa built by Virginia businessman and civic leader James H. Dooley in 1913.
If wining and dining is your thing, Waynesboro has an excellent food and craft beverage scene.
There are plenty of things to do in Waynesboro Virginia, proper, but what makes the town a singular destination are the many doors it opens as gateway to the Shenandoah Valley.
---
Tour Shenandoah National Park
---
The easiest way to tour Shenandoah National Park is to take Skyline Drive from its southern terminus near Waynesboro to its northern terminus near Front Royal, Virginia. You could also drive the 105-mile route from north to south.
There are more than 70 overlooks along Skyline Drive, and Shenandoah NP has facilities for camping and picnicking, along with lots of hiking trails. So plan on packing a cooler and making a day of it.
For visitors who would like to drive the full length of Skyline Drive in one day, I recommend taking Interstate 81 north from nearby Staunton to the northern terminus at Front Royal, and then enjoying a leisurely drive back to Waynesboro. The route in reverse is also an option.
Park maps, as well as trail maps and the official NPS brochure are available for download at the Shenandoah National Park website.
Visit Waynesboro offers a handy downloadable 2-pager of Shenandoah National Park Trails and Waterfall Hikes, detailing mileposts, distances, and trail difficulty.
Although Skyline Drive is a quarter of the distance and far less developed than the Blue Ridge Parkway, access to Shenandoah NP requires an entrance fee.
The Skyline Drive speed limit is 35 mile per hour.
---
Drive the Blue Ridge Parkway
---
The Blue Ridge Parkway, dubbed "America's favorite drive," meanders for 469 miles from Rockfish Gap near Waynesboro, to its southern terminus near Cherokee, North Carolina.
Loaded with scenic overlooks, camping and picnicking facilities, hiking trails, waterfalls, historical sites, and ranger-led programs, the Blue Ridge Parkway offers more activities and attractions than you can count.
The best way to plan day trips from Waynesboro is to grab a copy of the Blue Ridge Parkway Directory and Travel Planner. Milepost descriptions for both Skyline Drive and the Parkway will help you identify key locations that suit your interests. You can download and print a PDF of the planner, download the mobile app, and/or request a print copy be mailed to you.
These and tons of additional planning resources are available at the Blue Ridge Parkway Association website.
Maps and brochures are also available at the Humpback Rocks Visitor Center near Mile Marker 5.8.
Visit Waynesboro offers a handy downloadable 2-pager of Blue Ridge Parkway Trails and Waterfall Hikes, detailing mileposts, distances, and trail difficulty.
The Blue Ridge Parkway speed limit is 45 miles per hour, and there is no fee to drive the parkway.
Skyline Drive and the Blue Ridge Parkway are both designated National Scenic Byways.
---
Hike a Segment of the Appalachian Trail
---
The Appalachian National Scenic Trail is the longest marked foot path in the United States, stretching 2,178 miles from Springer Mountain, Georgia (literally 25 miles south of our Pinebox), to Mount Katahdin, Maine.
As a "trail town," Waynesboro is a resupply point where thru-hikers can recharge and take care of business before resuming their hike.
Waynesboro's proximity to the trail, makes it easy for guests in town to hike a portion of the AT, such as the segment from Rockfish Gap to the Paul C. Wolfe Shelter.
This hike features an abandoned homestead and cemetery, and a swimming hole with a waterfall at the end. Day hikers can hike out and back or arrange for someone to pick them up at the shelter.
Click the above image or link to download the PDF brochure.
While I was in town, we did a day hike leaving from the Humpback Gap parking area at Milepost 6 along the Blue Ridge Parkway.
Our guide led us on a modified 2.7-mile out-and-back route connecting the Dobie Mountain Trail and the Appalachian Trail to the Glass Hollow Overlook and back along the Old Howardsville Turnpike.
The overlook offered a stunning view of the 15-mile Rockfish Valley between the Blue Ridge Mountains and the distant Rugged Mountains.
We could also see Humpback Mountain from the overlook.
In 2012, Waynesboro was designated an Appalachian Trail Community by the Appalachian Trail Conservancy. Situated within two miles of the trail, Waynesboro welcomes and assists thru-hikers with free showers, camping areas, and other basic needs. A group of volunteers called "The Trail Angels" offer hikers free rides to town from the AT at Rockfish Gap.
The Waynesboro Guide for AT Hikers is an information-packed 2-pager to facilitate a stopover in town. Not just for thru-hikers, this guide is a handy reference to assist travelers to Waynesboro with lodging options, as well
---
Shenandoah Valley Wildflowers
---
Spring wildflowers were in bloom at the Humpback Gap parking area and along the trail to Glass Hollow Overlook.
I can never resist grabbing photos of flowers, such as this patch of early yellow rocket along a split rail and stone fence.
The trail offered up wild geranium, marsh blue violet, mayapple, and fire pink, as well.
And perhaps the strangest trailside "wildflower" was the aptly-named American cancer-root.
If you are impressed by my knowledge of Shenandoah Valley wildflowers, don't be.
While writing this article, I discovered the Wildflower Search website, and within minutes I had identified every wildflower from my selected photos. I love how you can narrow searches by location, time of year, flower color, growth habit, and so on. There are also state-specific free apps for iPhone and Android. I downloaded the Florida wildflowers app and it works great.
Whatever the season, and wherever the trail, I hope you will keep an eye out for wildflowers and then try your hand at identification.
---
Shenandoah Valley Trail Safety
---
While hiking Shenandoah Valley trails, also keep an eye out for vegetation that might not be so friendly.
I grabbed the above photo of two seemingly innocuous vines growing intertwined along the trail. One is a friend, and the other a foe. Can you distinguish between Virginia creeper and poison ivy? If not, just remember the old adage, "Leaflets three, let it be."
A couple of hikers in our group had an encounter with ticks, an expected downside to outdoor adventure almost everywhere across the country. I won't preach, but I will direct you to the Center for Disease Control Ticks page, where you will find a wealth of resources for preventing and treating tick bites.
I encourage everyone to get outdoors and enjoy the beauty of nature while exploring the many things to do in Waynesboro Virginia, but be sure to protect yourself with sunscreen, insect repellent, stay hydrated, and don't hike alone.
And of course, don't feed the bears!
Click here for Waynesboro lodging options on TripAdvisor!
---
More Things to Do in Virginia's Shenandoah Valley
---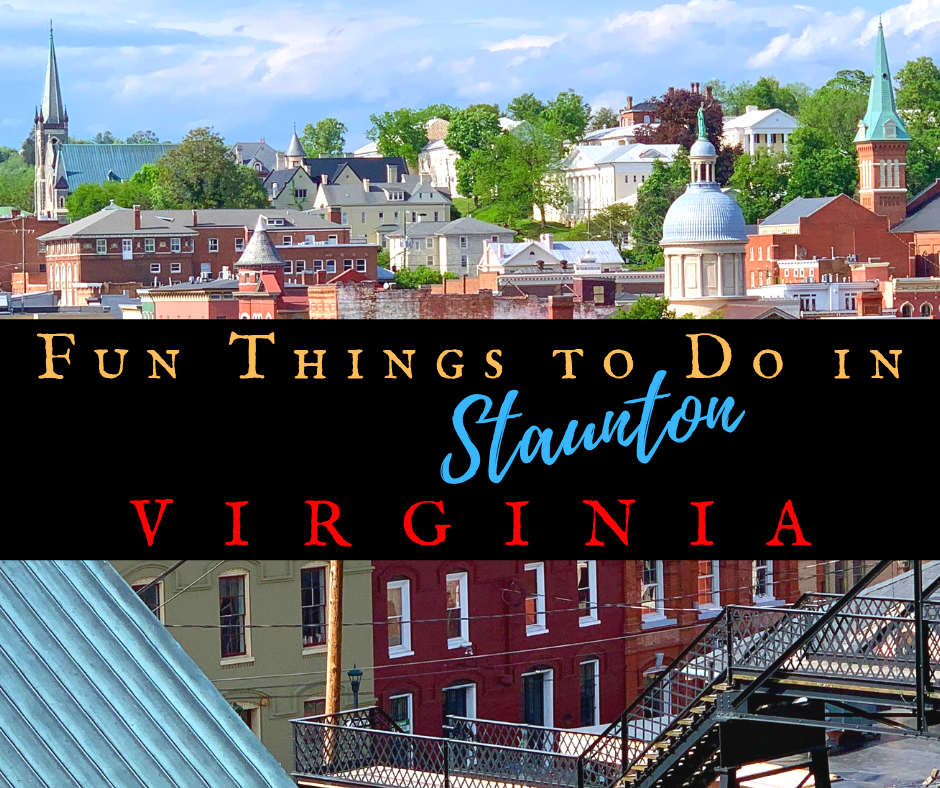 Check out our post Fun Things to Do in Staunton, Virginia, for more nearby historical attractions and outdoor activities in Augusta County.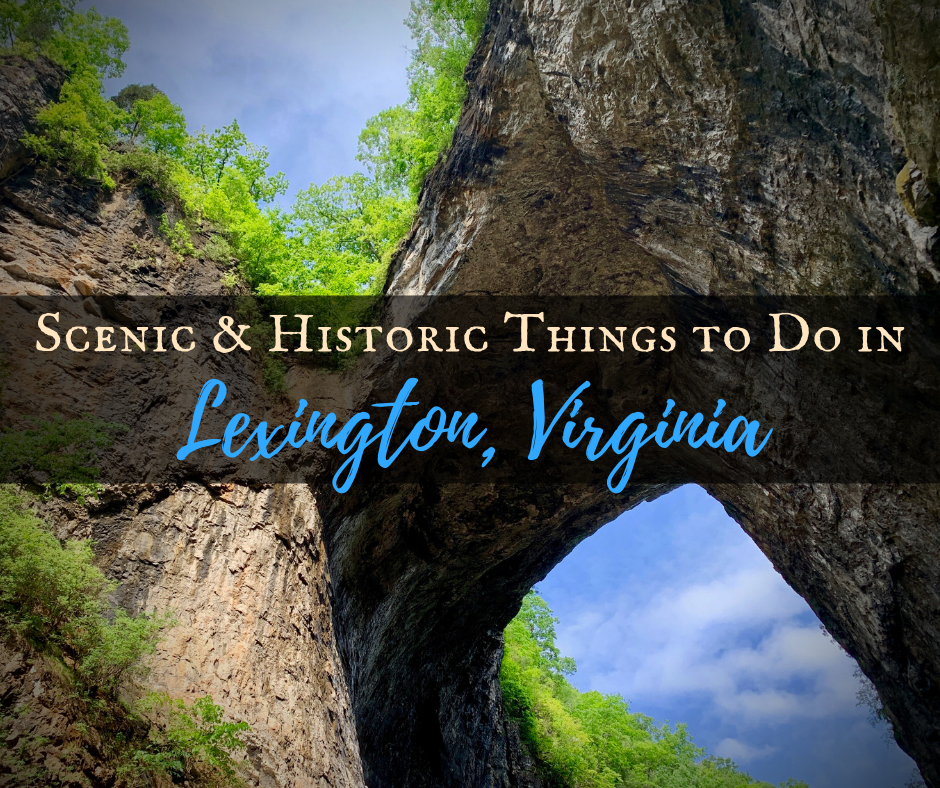 Natural Bridge, Wade's Mill, McCormick Farm, plus dozens of Robert E. Lee & Stonewall Jackson sites, are just a few of the amazing scenic and historic things to do in Lexington, Virginia.
Charlottesville, located 30 minutes to the east of Waynesboro, is home to two UNESCO World Heritage sites, Thomas Jefferson's Monticello and the University of Virginia. If you are a history buff like me, you will also want to tour the homes of two additional Founding Fathers, James Madison's Montpelier and James Monroe's Highland.
---
Waynesboro's Craft Beverage and Dining Options
---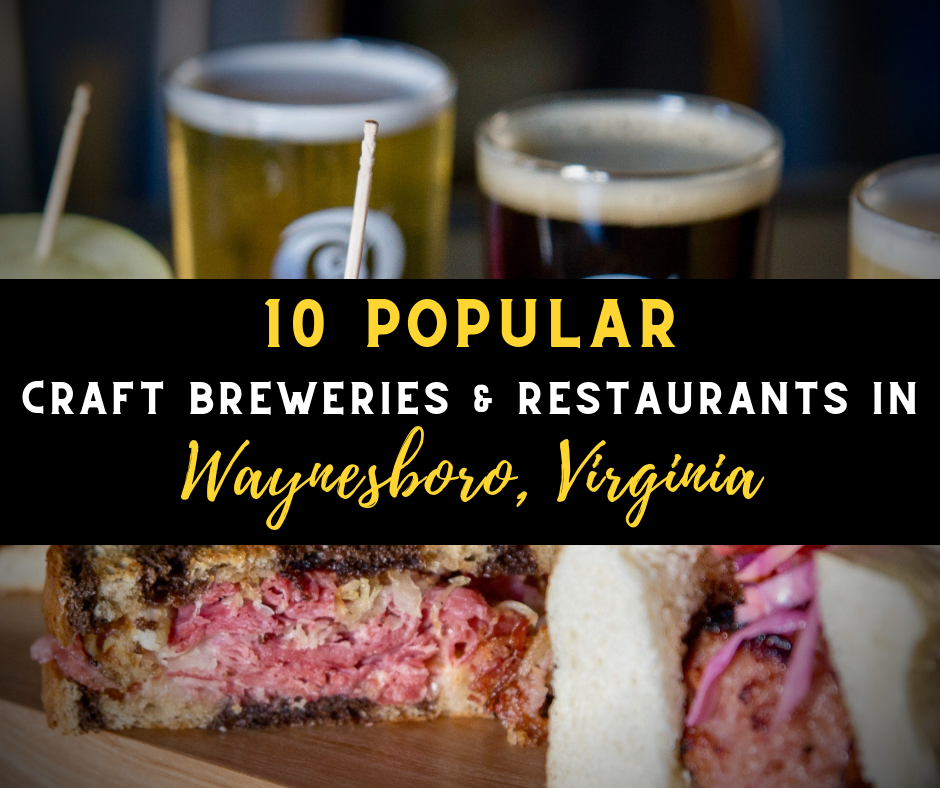 For information on Waynesboro's craft brewery and dining scene, check out our companion post, an excellent supplement listing ten great options for your travel itinerary.
---
How to Get to Waynesboro
---
Waynesboro is the perfect location for a Shenandoah Valley hub-and-spoke itinerary, meaning Waynesboro would be your home base, and you would take day trips to regional activities and attractions.
Here are a few suggestions on how to get to Waynesboro, based on where you live.
Do a Road Trip
---
If you live in the eastern United States, a road trip from home to Waynesboro may be your best bet.
Do a Fly-Drive
---
If driving to Waynesboro is not an option, you may want to do a fly-drive. That would involve booking a flight to one of the regional airports, renting a car, and driving to Waynesboro.
The airports closest to Waynesboro are:
Charlottesville-Albemarle Airport, 35 miles from Waynesboro, and served by American, Delta, and United.
Shenandoah Valley Regional Airport, 20 miles from Waynesboro, and served by United Express.
Roanoke-Blacksburg Regional Airport, 96 miles from Waynesboro, served by Allegiant, American, Delta, and United.
Because I visited several destinations on my southern Shenandoah Valley trip, I flew from Tampa to Roanoke with a connection in Charlotte.
Take the Amtrak Auto Train
---
A few years back, Jerry and I (plus the Mountaineer) took the northbound Amtrak Auto Train from Sanford, Florida, to Lorton, Virginia.
We spent a few days touring Civil War battlefields and various historical sites in Pennsylvania, Maryland, Virginia, and West Virginia.
Our plan was to take Skyline Drive and the Blue Ridge Parkway southbound on our return trip to Florida. We would stay a couple of nights at Pinebox, attend Jimmy Carter's Sunday School Class in Plains, Georgia, and then head home.
We drove the full length of Skyline Drive, and completed almost 200 miles of the Blue Ridge Parkway, but due to low visibility from a summer storm, we had to exit at Mt. Airy, North Carolina. That put us behind on our schedule, so we were not able to complete the final segment of the parkway, opting for the interstate instead.
Long story, I know. But if you live in Florida, you may want to consider taking the Amtrak Auto Train northbound, southbound, or both. Waynesboro is approximately 125 miles from the Lorton Amtrak Station, but the driving route puts you in close proximity to several Civil War battlefields and other historical sites.
Another option is to drive 64 miles from Lorton to Front Royal, Virginia, and drive through Shenandoah National Park from Skyline Drive's northern terminus to its southern terminus near Waynesboro.
However you get to Waynesboro, be sure to stop by the Waynesboro Visitor Center and the Rockfish Gap Tourist Information Center for maps, brochures, and current recommendations.
Click here for Waynesboro lodging options on TripAdvisor!
---
Map It!
---
---
We Would Love to Hear From You
---
We enjoy dialogue with our readers, especially when they share off-the-beaten-path destinations and useful travel tips. Do you know of any cool things to do in Waynesboro Virginia? If so, we would love to hear about your experience. We invite you to leave your comments and questions below, and we always respond!
---
Pin this Post!
---