(a

18

minute read)
---
Natural Bridge, Wade's Mill, McCormick Farm, and Robert E. Lee & Stonewall Jackson sites, are just a few of the amazing scenic and historic things to do in Lexington, Virginia.
---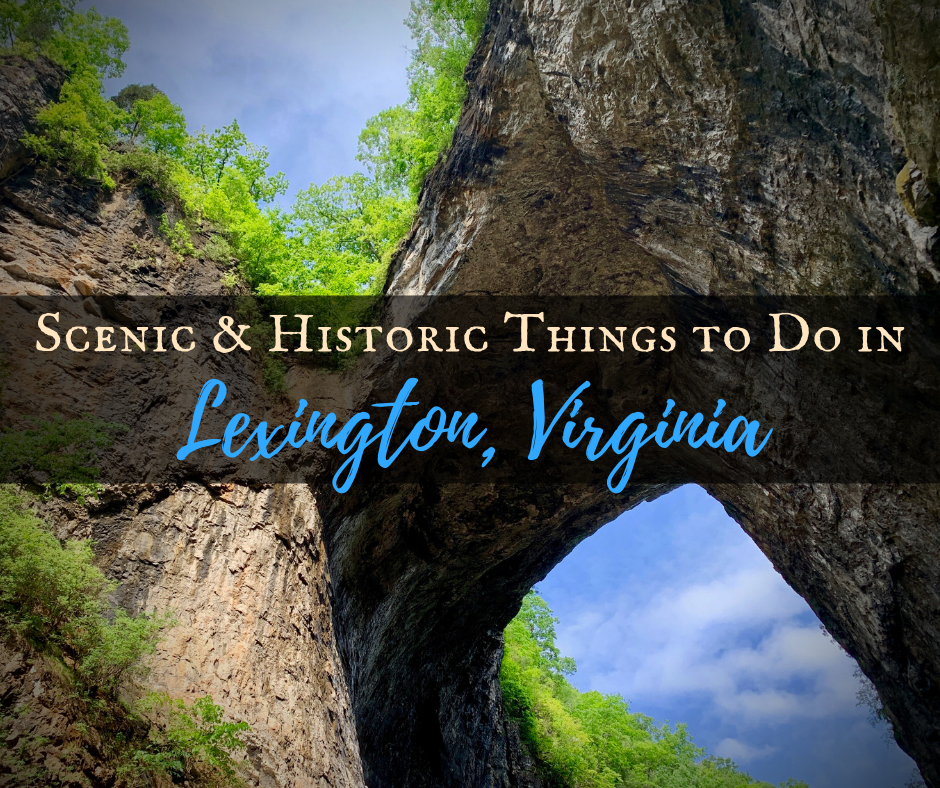 I was a guest of Lexington & the Rockbridge Area Tourism Development, but all thoughts and opinions are my own.
---
Scenic & Historic Things to Do in Lexington, Virginia
---
There are countless scenic and historic things to do in Lexington, Virginia, and throughout Rockbridge County. So, I do not exaggerate when I say Lexington is pretty close to a perfect destination in my eyes.
Lexington is located in the southern region of Virginia's Shenandoah Valley, about one hour south of Staunton and Waynesboro. With easy access to the Blue Ridge Parkway and other Rockbridge County locations, stunning drives, vistas, hikes, and other outdoor adventures are readily available to visitors.
Named for the place where the first shot was fired in the American Revolution, Lexington has a rich history and deep connections to Founding Fathers George Washington and Thomas Jefferson, Confederate Generals Robert E. Lee and Stonewall Jackson, and America's first 5-Star General George C. Marshall.
These leaders are most closely connected to Lexington's institutions of higher learning: Washington and Lee University (W&L) and Virginia Military Institute (VMI).
Two additional prominent historical figures, Cyrus McCormick and Sam Houston, were born in Rockbridge County. I learned more about Sam Houston previously during my drive through Blount County, Tennessee.
Lexington's wealth of historical buildings, has made it a film location for several period dramas, including Gods and Generals, Field of Lost Shoes, and Sommersby, starring Richard Gere and Jodie Foster. The mural depicted in the above image was painted for the filming of street scenes in Sommersby. Other movies shot in or near Lexington include Brother Rat, Mardi Gras, and the Steven Spielberg futuristic thriller War of the Worlds.
One of the first things to do in Lexington, Virginia, is to tour the historic town by a self-guided walking tour, narrated carriage ride, or both.
Lexington Walking Tours
---
If you stop by the Lexington Visitor Center at 106 East Washington Street, you can pick up a handy brochure with a map featuring four themed walks (not sure why this guide is not available for download). Themed walks include the:
Downtown Walking Tour (0.8 mile)
W&L Walking Tour (0.8 mile)
VMI Walking Tour (1.9 miles)
Residential Walking Tour (2.1 miles)
If you subtract overlaps, the combined distance of all four Lexington walks is only 3.2 miles, so most guests would be able to complete all of the routes in a single morning or afternoon, depending on how long they stay at each of the 45 locations along the way.
Some of the historic structures you will see on the Downtown Walking Tour include the African-American First Baptist Church (1894), the former Rockbridge County Courthouse (1897), and the old Rockbridge County Jail (1841).
Other self-guided Lexington tours with downloadable maps include the Historic Churches Walking Tour, the Rockbridge County Historic Churches Driving Tour, and the African-American Diamond Hill and Green Hill Community Walking Tour.
Lexington Carriage Company
---
The Lexington Carriage Company offers group and private narrated historical tours through the same districts as the walking tours. Our guide was thoroughly knowledgeable of Lexington's history, and of course our friends Woody and Weepy were downright adorable.
Carriage tours can be booked online, and same day walk-ups may be available at the hitching post located at the intersection of Varner Lane and Washington Street.
Be sure to visit the fragrant Valley of Virginia Herb Guild garden near the hitching post while waiting for your carriage tour to begin.
---
Lexington's Institutions of Higher Learning
---
No visit to Lexington would be complete without touring the W&L and VMI campuses. I walked both campuses twice, at night and during the day, and still did not get to see everything. The museums, architecture, and historical locations are not to be missed. Both campuses contain National Historic Landmarks, and VMI is a National Historic District.
Washington & Lee University
---
The private liberal arts school that would become Washington and Lee University began in 1749 and through the years operated under a succession of names. George Washington's name was added when he endowed the school with a gift of stock valued at $20,000 in 1796. The gift saved the school from imminent bankruptcy and continues to earn dividends for students to this day.
Robert E. Lee was appointed president of Washington College in 1865, less than six months after his surrender to Ulysses S. Grant. During Lee's five-year tenure the institution became a nationally recognized university, and upon his death in 1870, his name joined his predecessor to rename the school Washington and Lee University.
If you walk the W&L campus from south to north like I did, you will first pass Grace Episcopal Church. The church Robert E. Lee attended and where he served as senior warden bore his name between 1903 and 2017, when the congregation voted to restore the church's original name.
The Lee House (1869), situated at the campus entrance, is the home built for Robert E. Lee during his tenure at the college. It continues as the president's residence to this day. Mrs. Lee, who was Martha Washington's great-granddaughter, was confined to a wheelchair, so the wraparound porch was added for her convenience.
A brick stable beside the Lee house belonged to the general's war horse Traveller and his stablemates Lucy Long and Ajax. Although the structure now serves as the president's garage, the doors are typically left open so Traveller's spirit can roam freely. Food and water are always available inside the stall.
A statue of inventor and industrialist Cyrus McCormick, who was a W&L benefactor and served on the board of trustees, was erected in 1931. The Morris House (1842), originally built as a faculty home, now serves as a seminar center and guest house.
Lee Chapel (1867) is one of three museums at W&L. The museum's collection includes the C. W. Peale portrait of George Washington along with other rare paintings, Lee's office, and the Lee family crypt.
Edward Valentine's statue of a recumbent Robert E. Lee is located behind the chapel stage.
The statue is often mistaken as Lee's tomb, but the general and other family members are buried in tombs beneath the chapel. Lee's beloved horse Traveller is buried outside the south entrance to the chapel and museum.
I toured the W&L campus the week of commencement exercises for the School of Law, hence the lawn staging in front of Washington Hall.
Virginia Military Institute
---
The VMI campus adjoins the W&L campus, making it convenient to continue a walking tour. The 12-acre parade ground in the center of campus offers a stellar view of House Mountain in the distance.
The Virginia Military Institute was founded in 1839 as a state-supported military college. Often referred to as the "West Point of the South," VMI ranks nationally alongside United States military academies.
Dozens of VMI alumni have made their mark on the American landscape, the most prominent being George C. Marshall, Five Star General of the Army, Chief of Staff under Presidents Roosevelt and Truman, Secretary of State, Secretary of Defense, force behind the Marshall Plan, and Nobel Peace Prize winner. The George C. Marshall Museum and Library honors the memory of VMI's most famous graduate.
Note: One of my personal heroes, Jonathan Daniels, graduated valedictorian of the VMI Class of 1961. A seminarian and civil rights activist, Daniels was murdered in 1965 in Hayneville, Alabama, while conducting voter registration with the Selma Movement. In 1991, Daniels was designated a modern day martyr by the Episcopal Church. I first learned about Jonathan Daniels while teaching an annual unit of study on the Civil Rights Movement in my first chapter as a middle school teacher. I was honored to participate in a National Endowment for the Humanities summer institute where I walked in the steps of Jonathan Daniels and other martyrs of the movement.
The institute barracks dominate the campus landscape. A statue of Thomas "Stonewall" Jackson, who served as professor of natural philosophy and artillery instructor at VMI from 1851 to 1861 occupies a prominent location surrounded by the original red cannon he used to train cadets.
Jackson commanded a contingent of cadets sent to Charles Town to maintain order at the hanging of militant abolitionist John Brown in 1859. Brown had been convicted for leading a raid on the federal armory at Harpers Ferry, Virginia. I learned about John Brown's abolitionist activities in Kansas while on a road trip itinerary that included historical sites in Topeka and Osawatomie.
Statues erected on the VMI campus include "Virginia Mourning Her Dead," another memorial to the Battle of New Market, "The Spirit of Youth," in memory of Brigadier General William H. Cocke, and an 1856 statue of George Washington.
Jackson Memorial Hall (1915) is the VMI cadet assembly hall. A painting depicting the cadet charge at the 1864 Battle of New Market by Benjamin West Clinedinst (Class of 1880) honors the VMI fallen and wounded men.
The VMI Museum occupies the lower two levels of the hall. Among the rare artifacts in the collection are VMI alumnus General George S. Patton's helmet, the bullet-ridden raincoat General Jackson was wearing when he was mortally wounded by friendly fire at the Battle of Chancellorsville, and the mounted hide of Jackson's war horse "Little Sorrel."
A 50-minute cadet-led campus tour departs the VMI Museum daily at noon.
In addition to its museums, VMI offers a wealth of information in its online exhibits, archives, and digital collections.
Touring W&L and VMI are two of the best things to do in Lexington, Virginia.
---
Stonewall Jackson Sites
---
Lexington walking and carriage tours include several additional Stonewall Jackson sites.
The Stonewall Jackson House is an off-campus museum owned and run by VMI. Jackson lived in this house from 1858 until the outbreak of the Civil War in 1861. It was the only house he ever owned.
Jackson attended the Lexington Presbyterian Church and taught a Sunday School class for slaves and free blacks. He also taught them to read and write, an illegal act in Virginia at the time.
Stonewall Jackson's grave is the centerpiece of the Stonewall Jackson Memorial Cemetery.
General Jackson and other members of his family were originally buried at a family plot in the cemetery, but their remains were later exhumed and reburied at the monument site. The monument and statue sculpted by Edward Valentine, who also sculpted "Recumbent Lee," were erected and dedicated in 1891 with a crowd of 30,000 in attendance.
Jackson's amputated arm is buried in Chancellorsville.
During my spring cemetery visit, American yellowwood, dogwood, and Kousa dogwood were in bloom.
A self-guided walking tour through Stonewall Jackson Memorial Cemetery is available for download, and 90-minute ghost tours through the cemetery and streets of of Lexington run at select times May through October.
---
Natural Bridge State Park
---
Things to do in Lexington, Virginia, includes day trips to other scenic and historic sites throughout Rockbridge County.
So the most obvious place to visit first is the natural feature that gave the county its name.
Located 15 miles south of Lexington, Natural Bridge has been a roadside tourist attraction for more than two centuries. In 2016, it became Virginia's newest state park.
The path from the Visitor Center to the Natural Bridge trail leads park visitors down winding steps that parallel a series of lovely cascades. A shuttle is available for guests who prefer not to navigate the stairs.
There are picnic areas and shelters at several locations to accommodate park guests.
Natural Bridge is a stop on the Virginia Cave & Karst Trail, a route I first encountered at Grand Caverns near Staunton.
Rising 215 feet above Cedar Creek, Natural Bridge is undoubtedly one of Virginia's most scenic geological features. The Lee Highway (US Route 11) passes across the span.
The waters of Cedar Creek carved the limestone gorge and bridge over a period of 500 million years.
America's Founding Fathers are closely connected to Natural Bridge. Evidence exists that George Washington surveyed the area in 1750. The initials G. W. are inscribed at a spot on the bridge's inner wall and also on a large stone.
In 1774, Thomas Jefferson purchased 157 acres, including the Natural Bridge, from King George III for the sum of twenty shillings (about $2.40). Jefferson visited the bridge frequently, surveyed it, drew a map in his own hand, and built a two-room cabin on the property in 1803, two years after becoming president of the United States.
The Cedar Creek Trail leads under the bridge and to the Monacan Living History Exhibit and Lace Falls beyond.
A woven palisade encircles a 1699 recreated Monacan settlement. Reenactors and interpreters in period dress educate guests about culture and heritage of the ancient Native American nation.
Virginia waterleaf and native rhododendron were blooming during my visit to the park.
Exploring Natural Bridge State Park is one of the most essential things to do in Lexington, Virginia.
---
Virginia Safari Park
---
Virginia Safari Park, located fifteen minutes north of Natural Bridge State Park, is a 180-acre zoo with more than 1,000 free-roaming animals.
The privately-owned park is actively engaged in wildlife conservation for both domestic and international species through education, captive breeding programs, habitat preservation, and other worthy initiatives.
Guests are able to get up close and personal with the animals and feed them (purchased separately) when embarking on the Village Walk-Thru, Safari Drive-Thru, and Public Wagon Rides.
The proper way to feed the animals is to hold the bucket on the outside. If you hold the bucket with your fingers on the inside, the animals can and will snatch the container from your hands. I cannot confirm nor deny that this may have been the case with occupants of our vehicle.
Feeding the animals is a thrilling and memorable experience that kids of all ages will enjoy.
The Virginia Safari Park is a popular attraction packed bumper-to-bumper on summer weekends, so you might want to schedule your visit during the week or shoulder seasons.
---
Wade's Mill
---
Stone-grinding grain since 1750, Wade's Mill is the oldest continuously operating gristmill in the Shenandoah Valley.
Current owners, John and Karen Siegfried, left their international careers in energy and education in 2016 to assume operation of the mill on Ott's Creek. To learn the art of milling, John apprenticed with two previous millers for six months.
Although the water-powered mill is fully functional, it is more efficient to power the mill electrically these days. Visitors can witness the historic water wheel in action at select times on weekends.
Guests are invited to "mill around" three floors of the historic structure and learn the traditional method of stone-ground milling. Be sure to get some puppy love from Barley!
All natural stone-ground grits, meal, and specialty mixes are available for purchase in the mill shop, online, and at select grocers, specialty shops, and other food outlets throughout the region.
---
McCormick Farm
---
The Shenandoah Valley Agricultural Research and Extension Center, a branch of Virginia Tech, is located five miles west of Wade's Mill at McCormick Farm.
Inventor Cyrus McCormick, who patented the first mechanical grain reaper, was born at this site in 1809. Eight of nine original buildings on the property are still standing, including the family's 1822 brick manor house.
Other structures include a gristmill, blacksmith shop, and smokehouse. Visitors are invited to tour the historic structures and hike the Marl Creek Interpretive Trail.
---
Southern Virginia University
---
Southern Virginia University, another Rockbridge County institution of higher learning is located seven miles west of Lexington in the city of Buena Vista. The school was established in 1867 as an all-female junior college.
When enrollment slipped in the 1990s and the school lost its accreditation, a new board of trustees affiliated with the LDS church assumed leadership, renamed the private liberal arts institution, and regained accreditation.
The most striking architectural treasure on campus is the former Hotel Buena Vista, constructed in 1890 during a local iron ore rush.
Although campus tours are reserved for potential students and parents, the lovely campus is worth a drive through.
---
Lodging & Dining
---
Lexington, Virginia, has many fine lodging locations, but I stayed at one of the most unique chain hotel locations ever.
Hampton Inn Lexington-Historic District
---
The Hampton Inn Lexington-Historic District is no ordinary Hampton Inn, especially if you stay in one of the ten restored manor rooms of the Col Alto Mansion.
The home was built in 1827 for James McDowell, future governor of Virginia, and named "Col Alto," Italian for "with the high," for its unobstructed views of Lexington and the Blue Ridge Mountains. Stonewall Jackson, Robert E. Lee, and countless other historical figures have been hosted at the manor house.
I stayed in the Stonewall Jackson room with its pleasant blend of colonial decor and modern conveniences.
There was no shortage of Civil War reading material on the fireplace mantel.
A self-serve coffee bar may not seem like that big of a deal, but you would not believe the major hotels I have stayed in that force me to make a coffee run in the morning.
Click here to book your stay at Hampton Inn Lexington-Historic District on TripAdvisor!
Click here for more Lexington lodging options on TripAdvisor!
Southern Inn Restaurant
---
Lunch at the Southern Inn Restaurant was a feast of guilty pleasures. Our table shared appetizer plates of blue cheese chips, fried Brussels sprouts, and a Virginia cheese plate.
I devoured a lunch entree of crispy fried chicken, sauteed broccoli rabe, and mac & cheese. For dessert I ordered a slice of pecan pie and added a scoop of butter pecan ice cream.
The young man who served us lunch was one of the most professional servers I have encountered. I don't recall his name, but I will not forget his gregarious personality and calm demeanor while waiting on a large group of finicky travel writers.
Rocca Bar Ristorante
---
We stopped by the Rocca Bar Ristorante located on the second floor of the Robert E. Lee Hotel for pre-dinner drinks and appetizers.
The spinach and artichoke dip was perhaps the best I have ever had. If you don't believe me, check out the before and after photos.
Haywood's Piano Bar
---
Dinner at Haywood's Piano Bar and Grill, located at The Georges boutique inn, was an experience for the books.
Locally sourced, chef-driven cuisine served with a backdrop of piano favorites suited me well. I may or may not have "customized" my entree a bit when I realized it was impossible to choose between the filet and mushroom pasta.
Sweet Things Ice Cream Shoppe
---
There is nothing like a hometown ice cream shop for an after dinner treat. Lexington's Sweet Things Ice Cream Shoppe has been serving up homemade ice cream and hand-rolled waffle cones for more than 30 years.
Dining out is one of the best things to do in Lexington, Virginia.
---
Map It!
---
---
More Southern Shenandoah Valley Destinations
---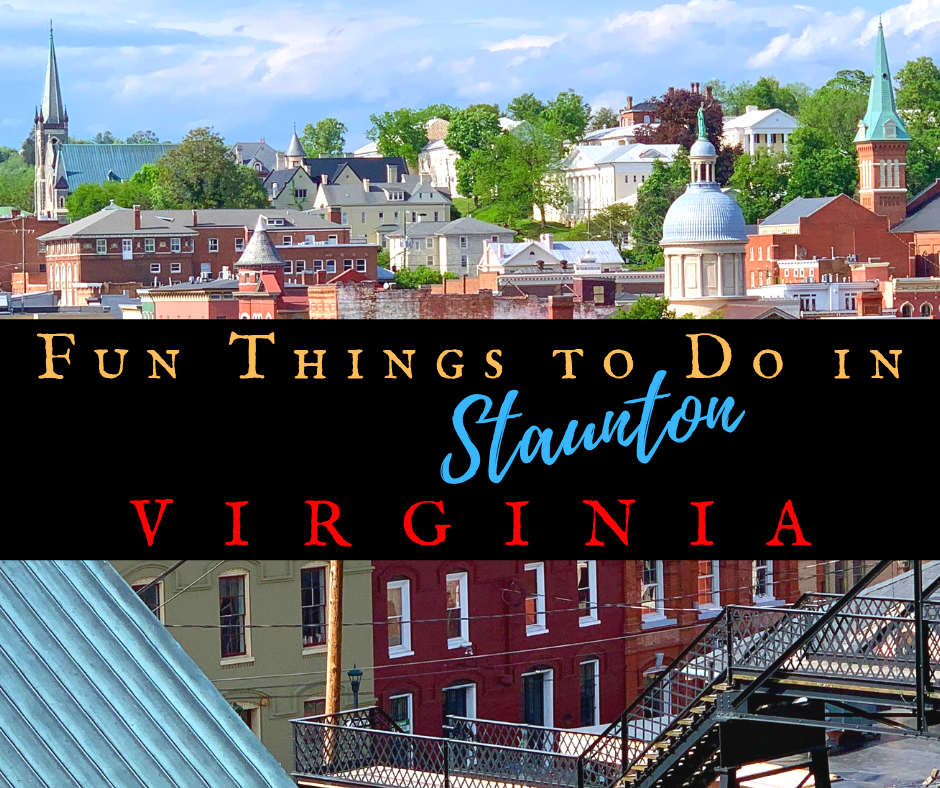 Discover history, architecture, performing arts, scenic outdoors, organic farming, and much more in Staunton, Virginia.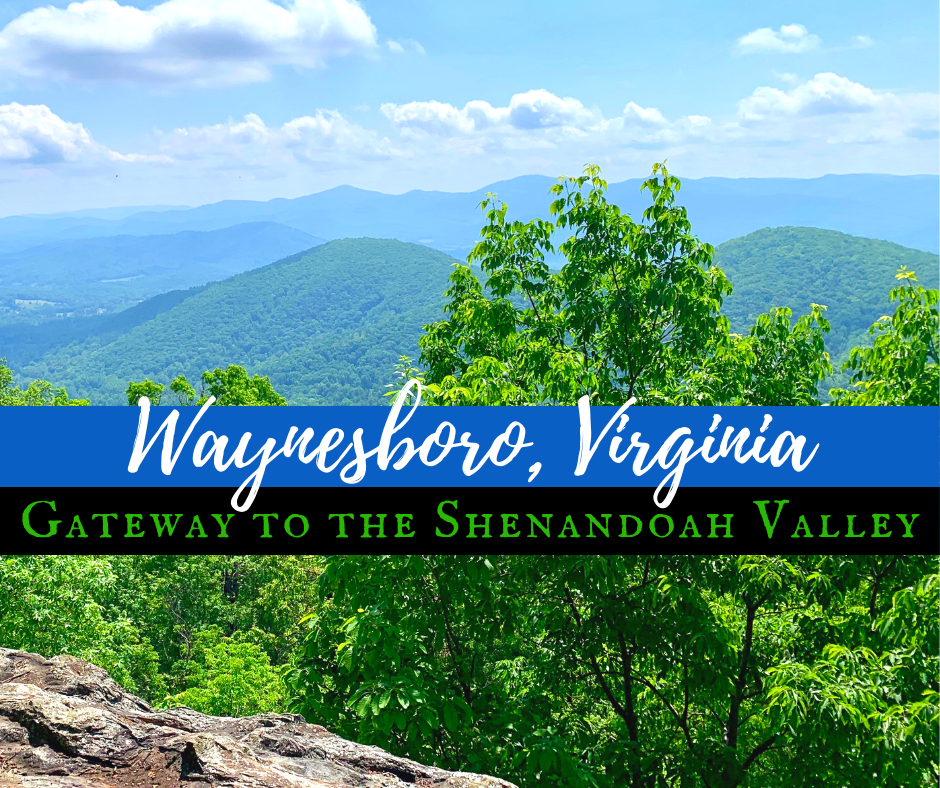 At the crossroads of Shenandoah National Park's Skyline Drive, the Blue Ridge Parkway, the Appalachian Trail, and Interstate 64, Waynesboro, Virginia, is the gateway to the Shenandoah Valley.
---
We Would Love to Hear From You
---
We enjoy dialogue with our readers, especially when they share off-the-beaten-path destinations and useful travel tips. Have you discovered even more scenic and historic things to do in Lexington, Virginia? If so, we would love to hear about your experience. We invite you to leave your comments and questions below, and we always respond!
---
Pin this Post!
---