(a

14

minute read)
---
If you are a history buff, hiker, or whitewater enthusiast, this guide will show you plenty of things to do in Harpers Ferry, West Virginia.
---
This post may contain affiliate links. Please refer to our our Disclosure/Disclaimer page for more information.
Guest post by Jacob Tuwiner
---
Harpers Ferry
---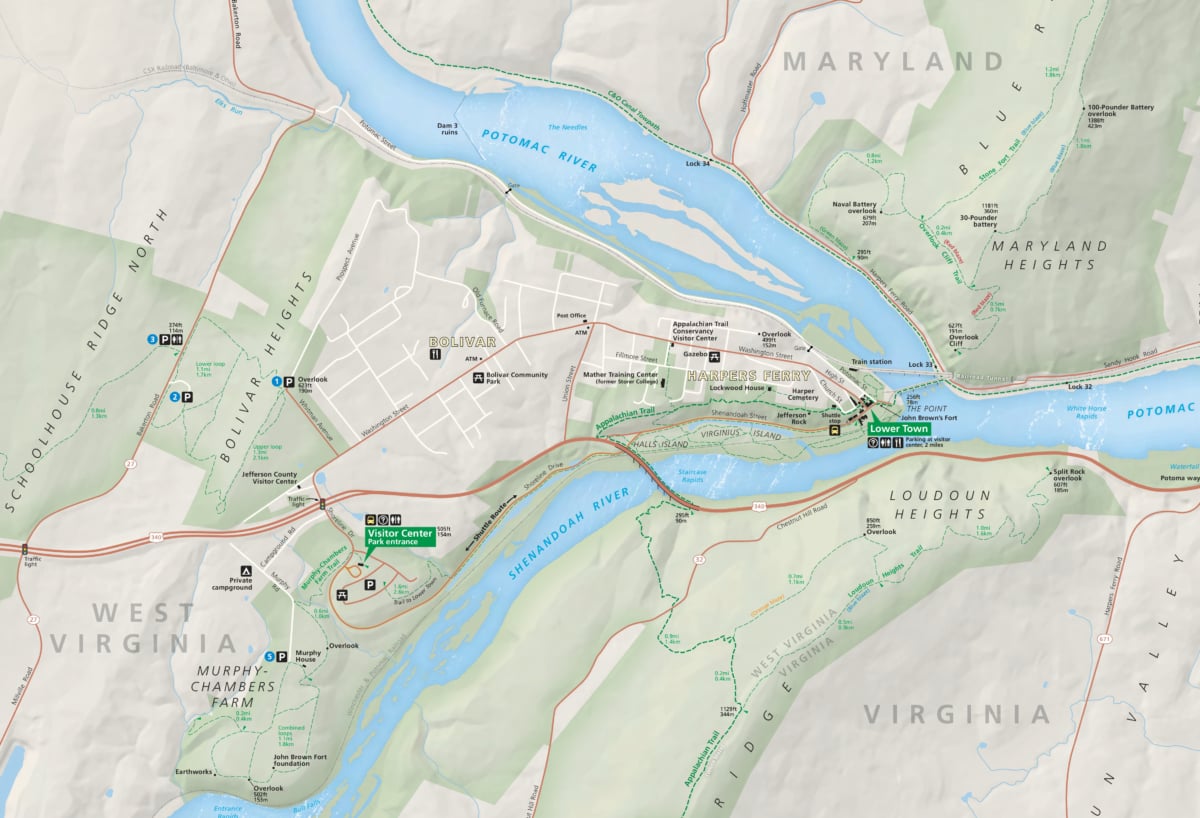 A site of American industry and bloodshed in the name of freedom, the town of Harpers Ferry has played a massive role both in US history and our lives today.
Harpers Ferry points to the meeting place of the Shenandoah and Potomac Rivers.
This confluence of rivers is bordered by three states: 
Purcellville, Virginia

Knoxville, Maryland

Harpers Ferry, West Virginia
The rivers, however, are just one aspect of this beautiful town.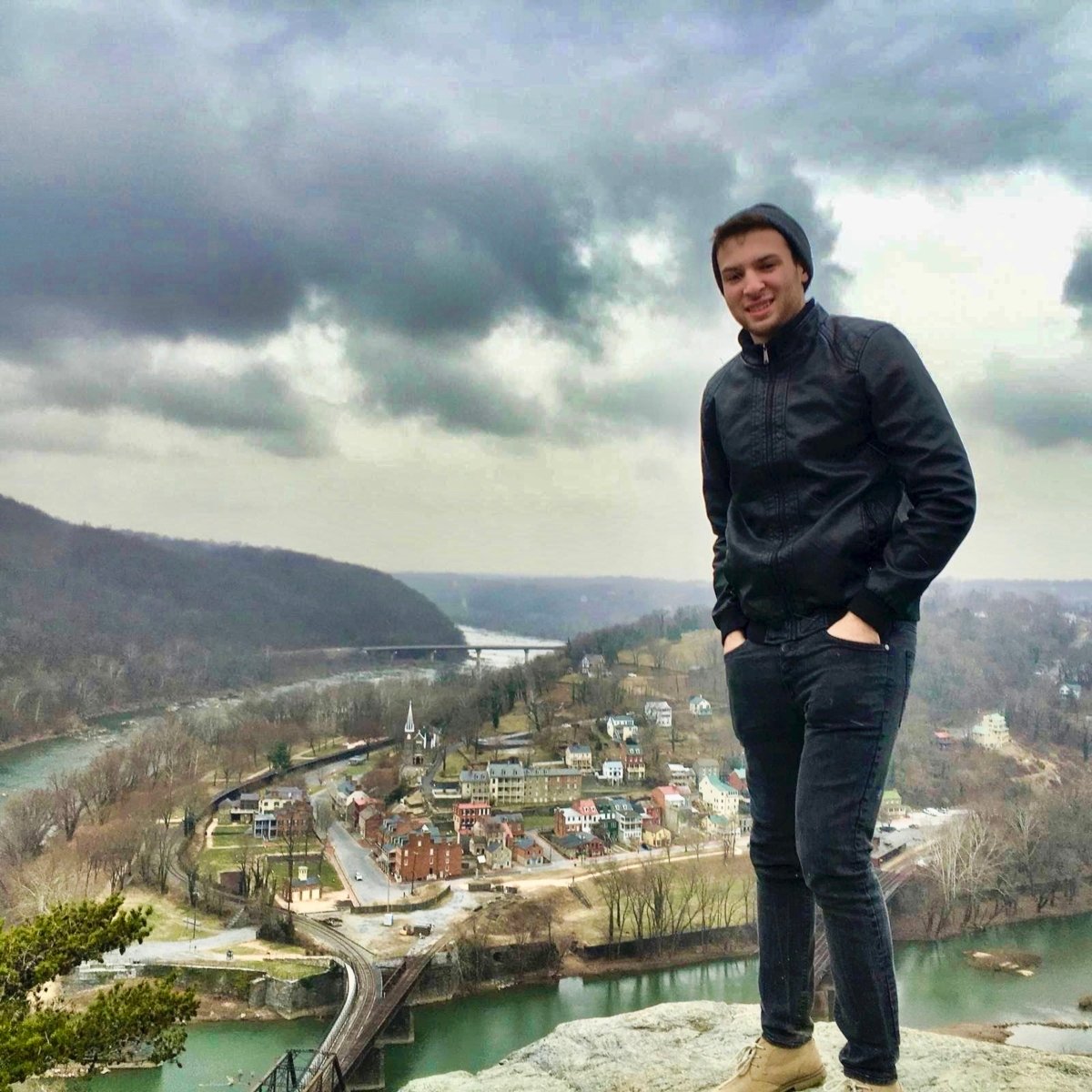 Local to the area, I grew up exploring this historical town.
I have experienced breathtaking overlooks, scenic hikes, whitewater adventure, delicious food, and come to understand the unbelievable grit and endurance of Americans during times of war.
This is my insider's take on the best things to do in Harpers Ferry, West Virginia.
---
A Brief History of Harpers Ferry
---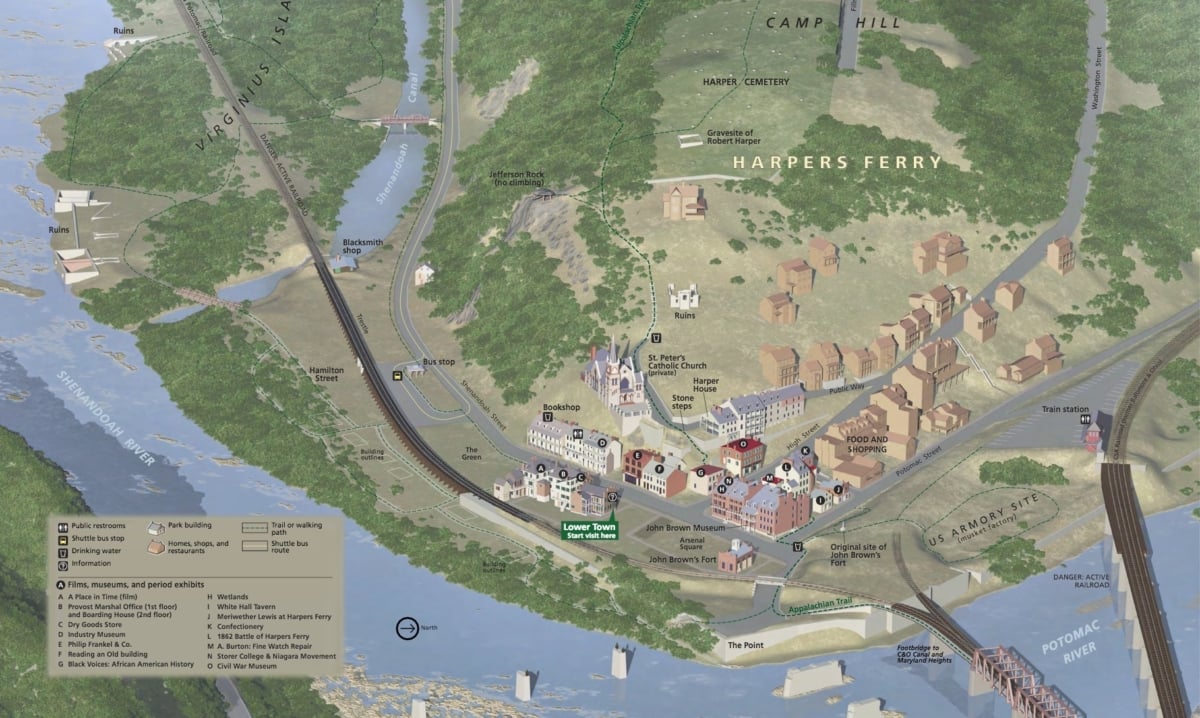 Note: Harpers Ferry NHP maps are available here.
In 1747, while traveling a route that would take him from Frederick, Maryland, through the Shenandoah Valley to Winchester, Virginia, a builder named Robert Harper came upon the confluence of rivers.
Realizing the industrial potential of the area, Harper set about acquiring acreage, constructing water mills, and assuming rights to operate a ferry across the river valley.
The Virginia Assembly established the town of "Shenandoah Falls at Mr. Harper's Ferry" in 1763, thus validating Harper's vision. Although the town's current name is derived from the literal "Harper's Ferry," the apostrophe has been permanently dropped.
Harpers Ferry is connected to several historical figures, most notably two founding fathers, a famed explorer, and one militant abolitionist.
George Washington made many visits to the area, the first while studying as a

surveyor

at age 16 in 1748. 

Washington recognized Harpers Ferry as a pivotal point and even called it the "most eligible spot on the river." 

During his tenure as President, Washington proposed Harpers Ferry as the site for a new United States

armory

and

arsenal

.
Thomas Jefferson visited Harpers Ferry in 1783, one year after Robert Harper's passing.
In 1803, Meriwether Lewis journeyed to the United States Armory at Harpers Ferry to acquire weapons and hardware before embarking on his transcontinental expedition with William Clark.
By 1859, the arsenal at Harpers Ferry had produced over 500,000 weapons, but still held 100,000 on site. 

The town's most legendary visitor, John Brown, would arrive in the fall of that year.
---
Things to Do in Harpers Ferry
---
Despite being a small town, you will find plenty of things to do in Harpers Ferry, especially if you are a history buff, hiker, or whitewater enthusiast.
Visit the Site of John Brown's Raid on Harpers Ferry
---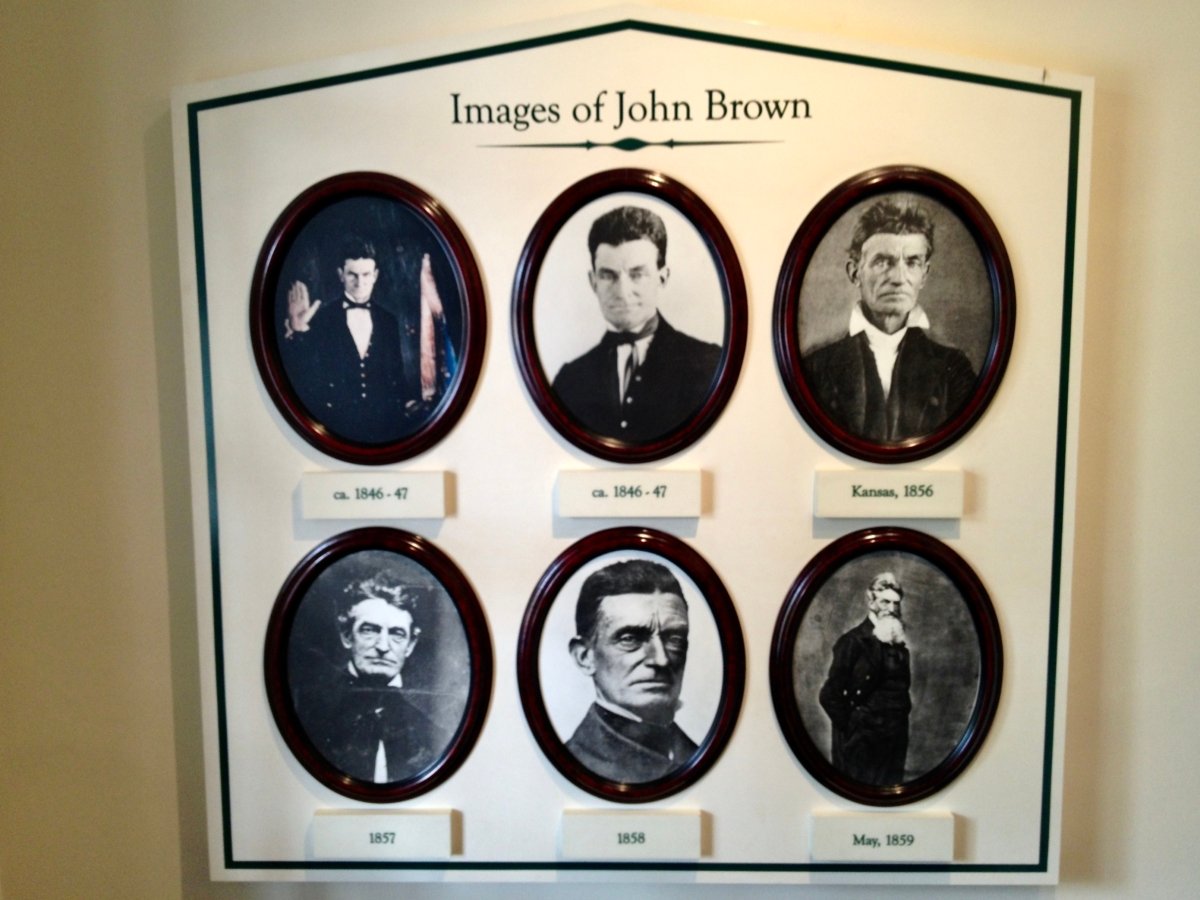 Raised in a family of abolitionists, John Brown learned from his parents that slavery was evil.
As an adult, John lived among African Americans and customarily hired free black employees. He respected blacks and referred to them as "Mr." and "Mrs.," a social anomaly in the 1800s.
As time went on, Brown became radicalized by the idea of slavery, and would eventually plan a raid on the weapons town of Harpers Ferry.
Note: Navigate to Backroad Planet's post Explore Civil Rights History in Topeka, Kansas: 5+1 Key Sites, to learn more about John Brown's role in "Bleeding Kansas."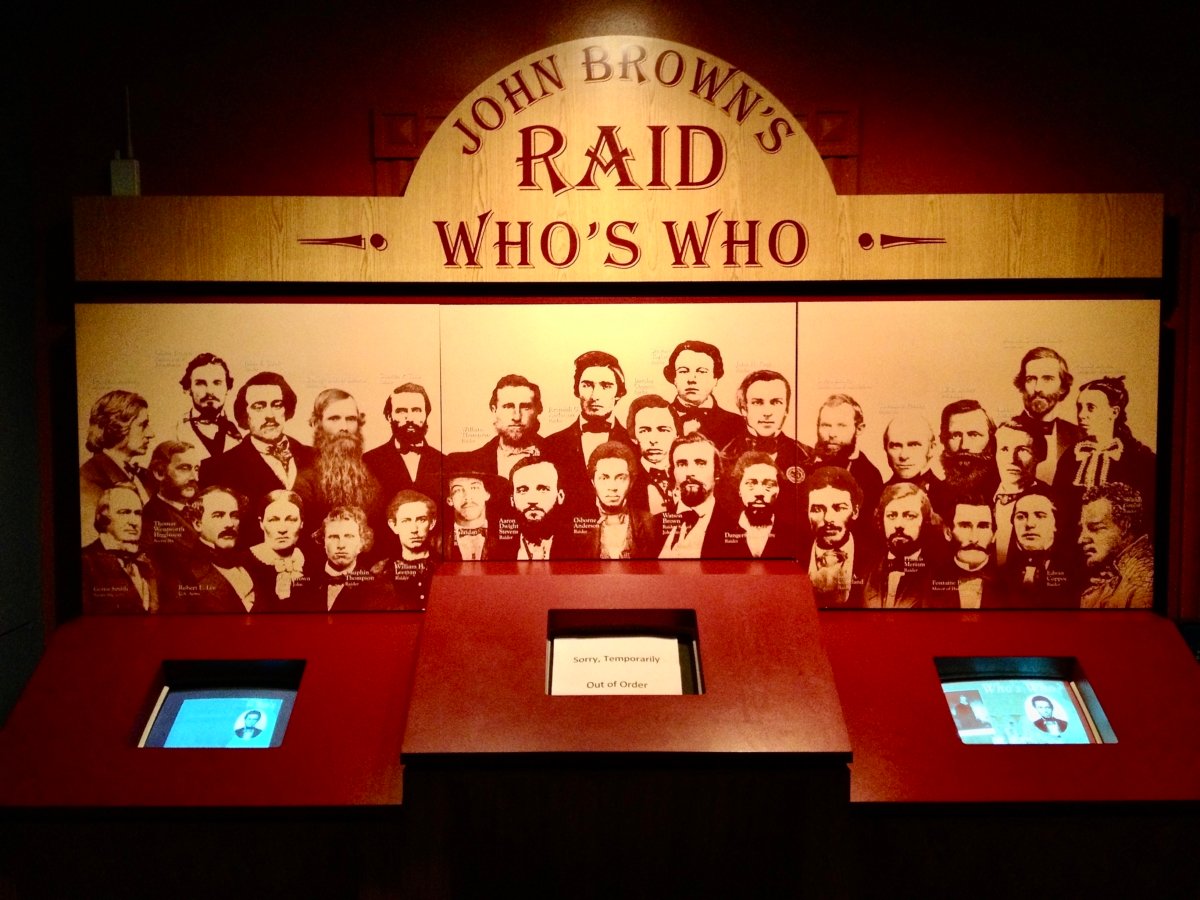 With the help of his three sons, Brown devised a plan to start a revolution against the South. He began recruiting and training volunteers to fight for this cause. By the end of summer 1859, John had 22 men hidden in his attic, ready for orders and trained to kill.
John Brown asked both Harriet Tubman and Frederick Douglass to join him in the raid. Tubman was sick at the time, and Douglass viewed Brown's raid as a suicide mission.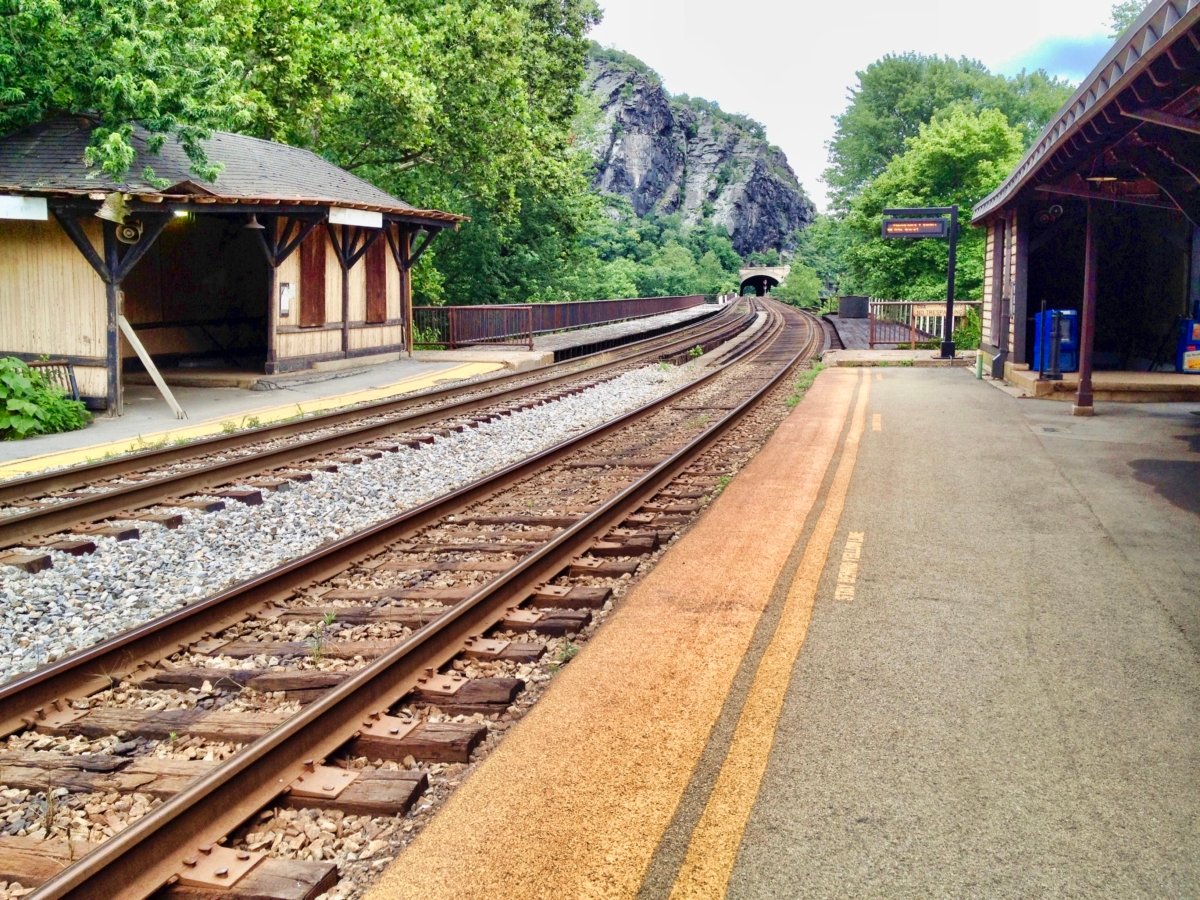 On October 16, 1859, the raid began with the cutting of telegraph lines. Then, John and his men seized the railroad and wagon bridge, the US armory compound, the arsenal, and finally the rifle factory.
A volunteer militia, however, would put a stop to the raid the following day.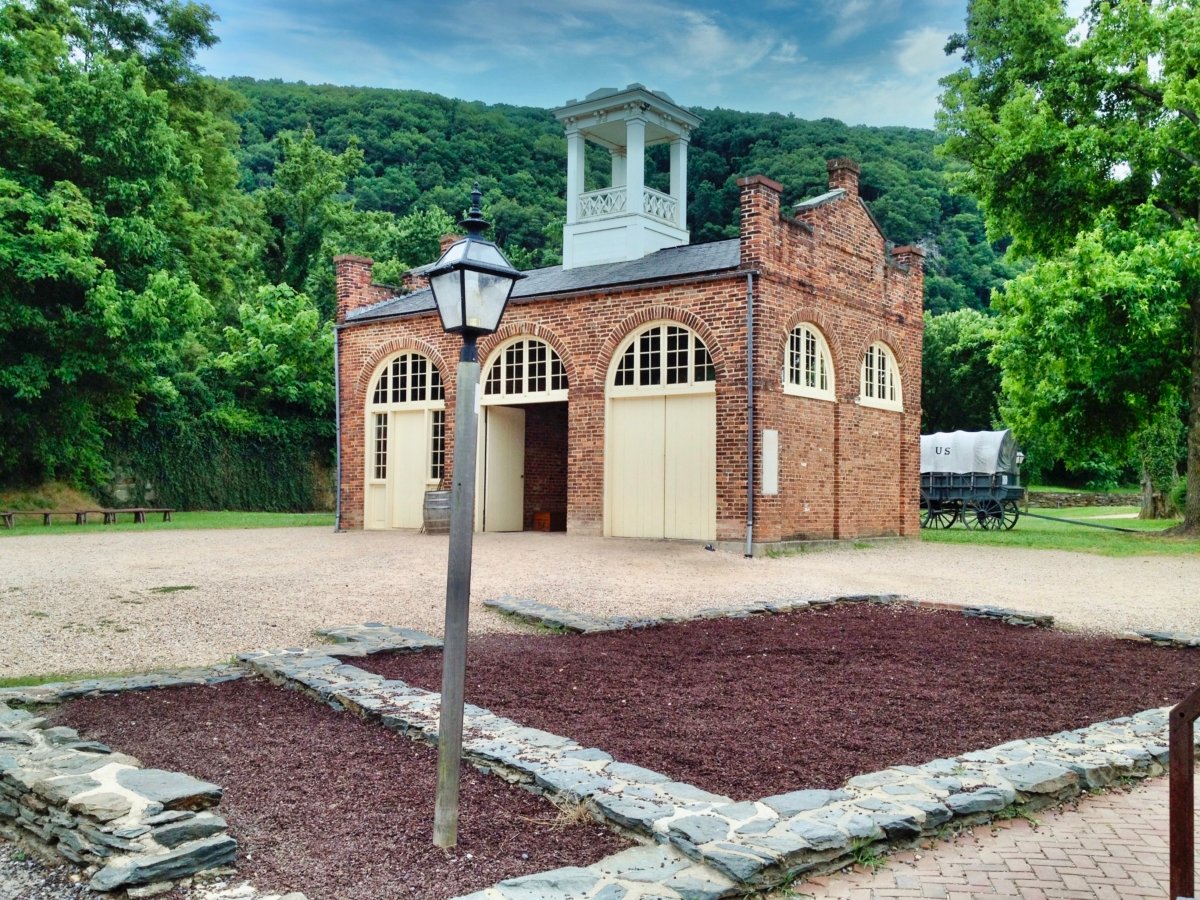 After taking cover and hostages (including George Washington's great-grandnephew, Colonel Lewis Washington) for 36 hours in the armory's fire engine house, President James Buchanan's hand-picked team of Marines arrived at the building to dispatch the raiders.
Within seconds, two of Brown's men were bayoneted and killed, while the other two, along with Brown, were captured.
All of the remaining hostages were released unharmed, and John Brown's raid came to an end.
Brown publicly condemned slavery during his last days on trial. Two weeks after the raid, Brown was convicted of murder, conspiracy, and treason. Four weeks later he was hanged publicly.
Brown's actions undoubtedly sparked tensions between the North and South leading up to the Civil War.
In Lower Town Harpers Ferry you can tour the armory John Brown and his supporters captured. The courthouse where Brown was tried and hanged for his crime is a 10-minute drive away in Charles Town.
For an extended tour of sites connected to John Brown's raid, view or download a PDF of John Brown's Trail.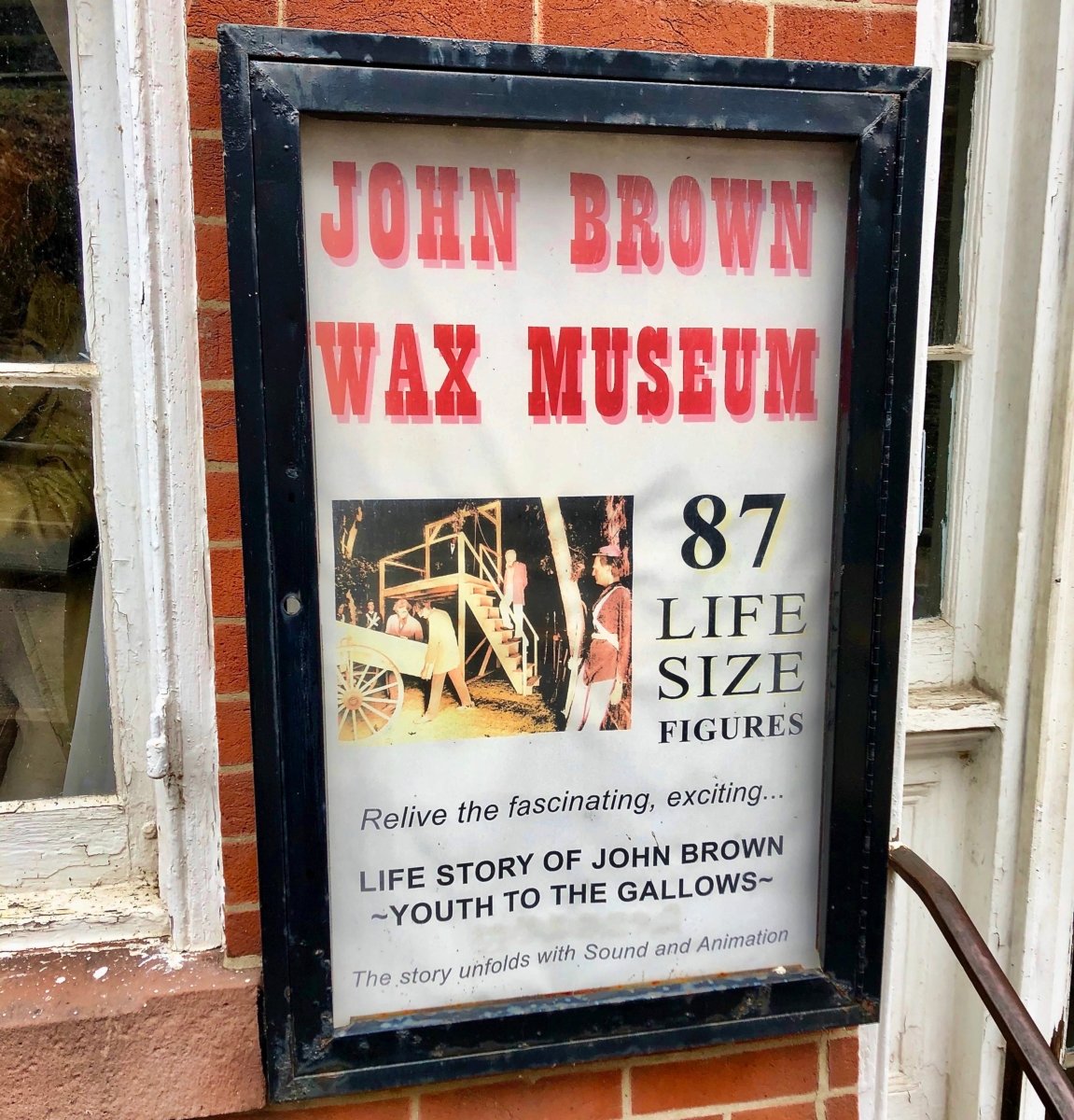 There is a John Brown Wax Museum in Lower Town for guests who enjoy this type of attraction. 
Stroll through Lower Town
---
The best way to fully experience Lower Town Harpers Ferry is on foot.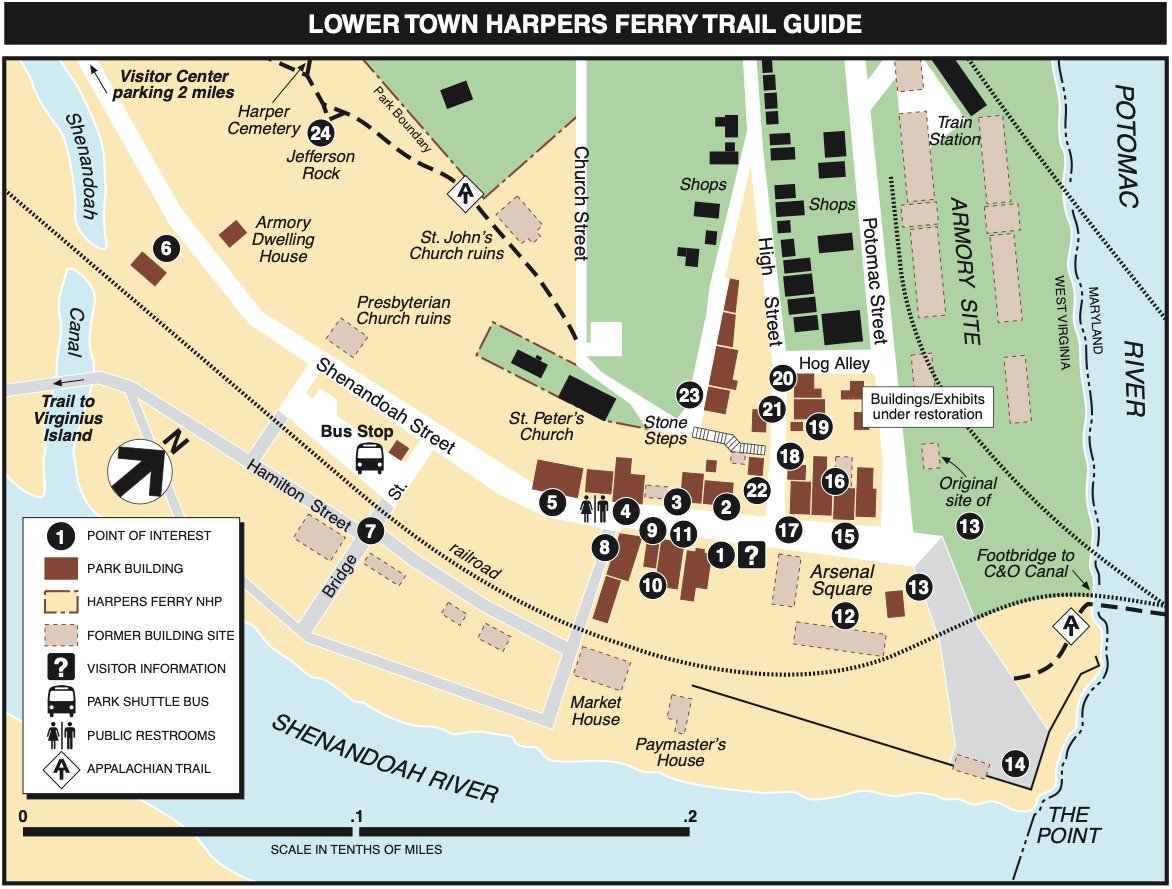 Harpers Ferry NHP offers a downloadable PDF map and guide featuring 24 points of interest for self-guided tours of Lower Town.
Inquire at the main visitor center or Lower Town information center for print maps and brochures, as well as daily ranger-led guided tours of the park.
The cobblestone streets, vintage shops, and historical buildings of Lower Town evoke the feeling of having stepped back in time.
The Harper House is the oldest surviving structure in town. Although construction of town founder Robert Harper's home was completed in 1782, he died before occupying the house.
The timber-frame land trestle (elevated railway) that runs through Lower Town is a rare and intriguing structure.
You can pack a picnic for your Harpers Ferry outing, or satisfy your cravings at a variety of restaurants, ice cream shops, and old-fashioned stores in Lower Town. 
My favorite lunch spot is Cannonball Deli, where you can grab a delicious bite to eat, as well as freshly-churned ice cream. The eatery is situated underground, making it a cool place to retreat from the hot summer sun.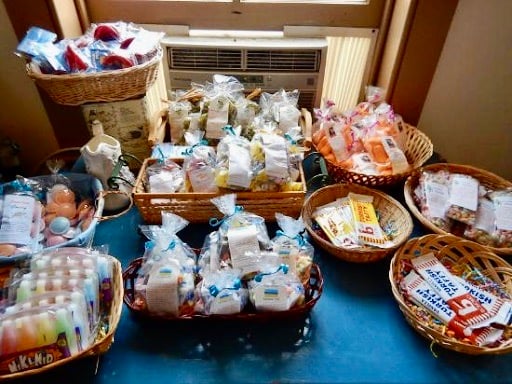 True Treats Candy—next door to Cannonball—has tons of unique candies, some made from recipes hundreds of years old.
Visit St. Peter's Roman Catholic Church
---
Built in 1833, and the only church in town to survive the Civil War, St. Peter's is a must-visit spot. Located in the hills of the old town on the way to Jefferson Rock, the church has beautiful architecture and overlooks the river.

Legend has it that the church's pastor climbed atop the church tower and waved a white flag, in an effort to preserve the beautiful structure, while Confederate troops were launching cannonballs into the town. Evidently, his efforts paid off. 
Go on a Ghost Tour
---
Harpers Ferry is considered one of the most haunted towns in America, thanks to its history during the Civil War, so spooky ghost tours are commonplace here. 
Ghost Tours of Harpers Ferry is the oldest ghost tour in America, and I've heard great things about it, despite never doing it myself. 
Walk Along the Rivers
---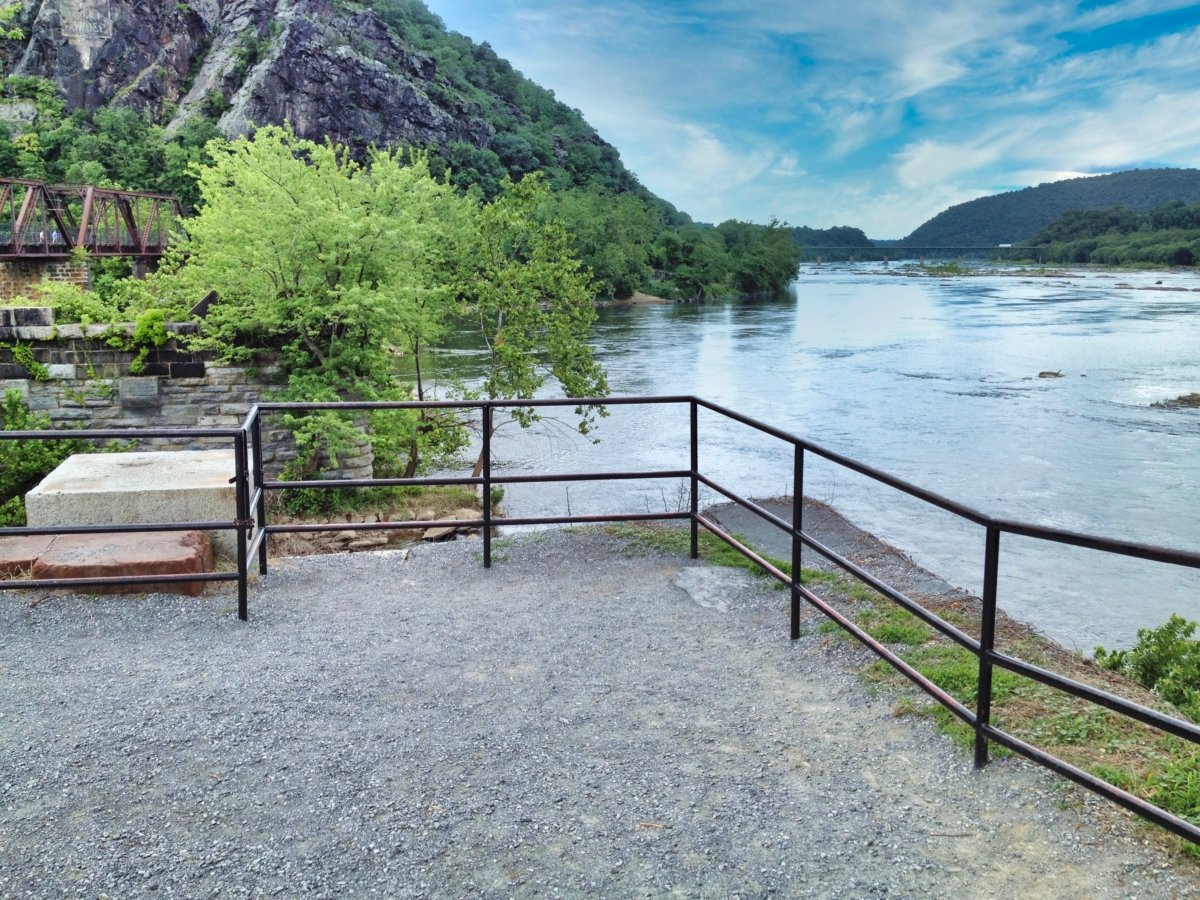 You can walk along the rivers on a dirt and gravel path that is perfect for a scenic stroll. 
The Potomac and Shenandoah Rivers are lovely and full of wildlife. If you are the kind of person who likes to relax in a peaceful environment, I highly recommend checking out the scenic parts of town.
Take a Hike
---
There are three main overlooks around Harpers Ferry, one for each state facing the conjoining rivers.
With a good plan in place, you can explore the historic town of Harpers Ferry and go for a hike, all in one day. 
Jefferson Rock and Harper Cemetery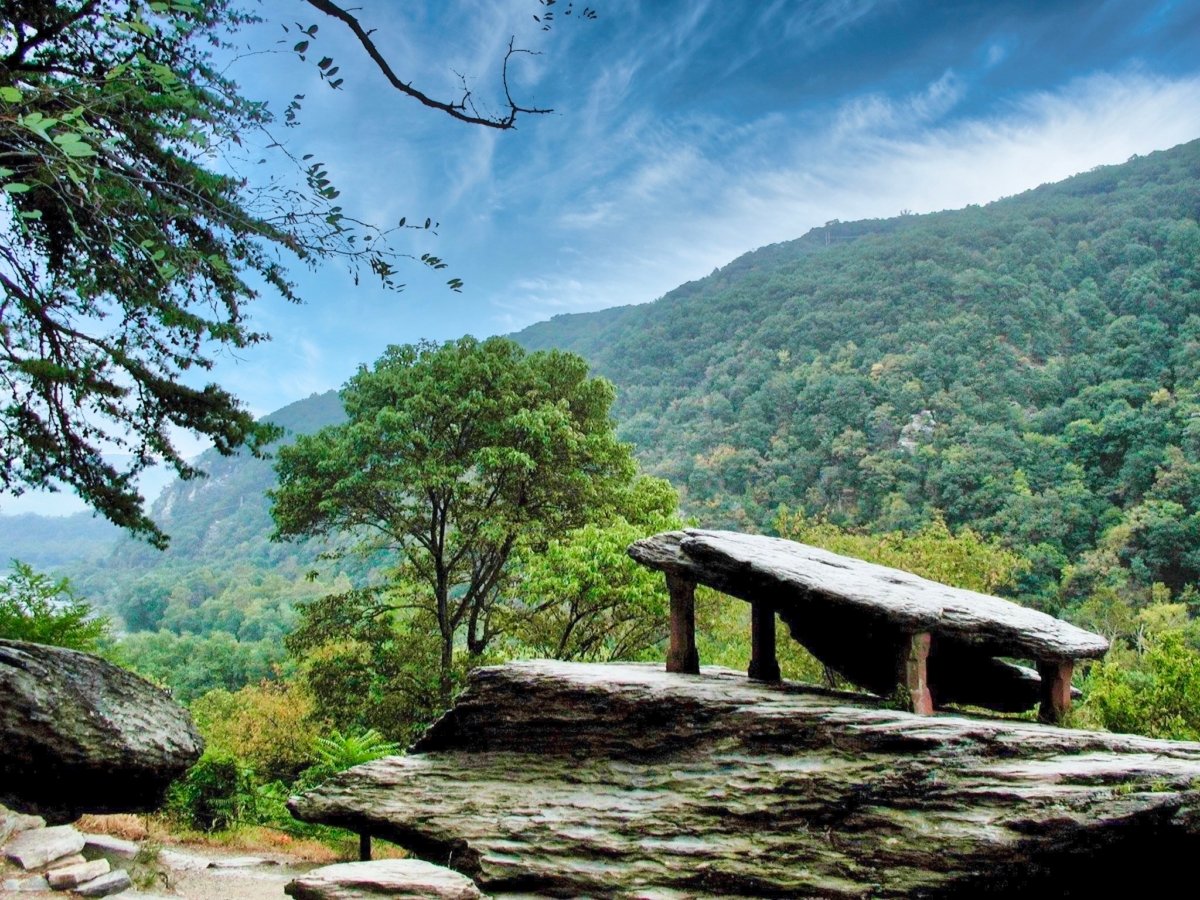 Jefferson Rock is a beautiful overlook of the Shenandoah River and sections of historic Harpers Ferry.
Although steep, the hike to the rock is roughly 15 minutes from Lower Town, making it a must-see while you're around.
In 1783, after spending the night in town, Thomas Jefferson climbed the hill and rested on the rock while writing in his journal.
Jefferson proclaimed, "This scene is worth a voyage across the Atlantic."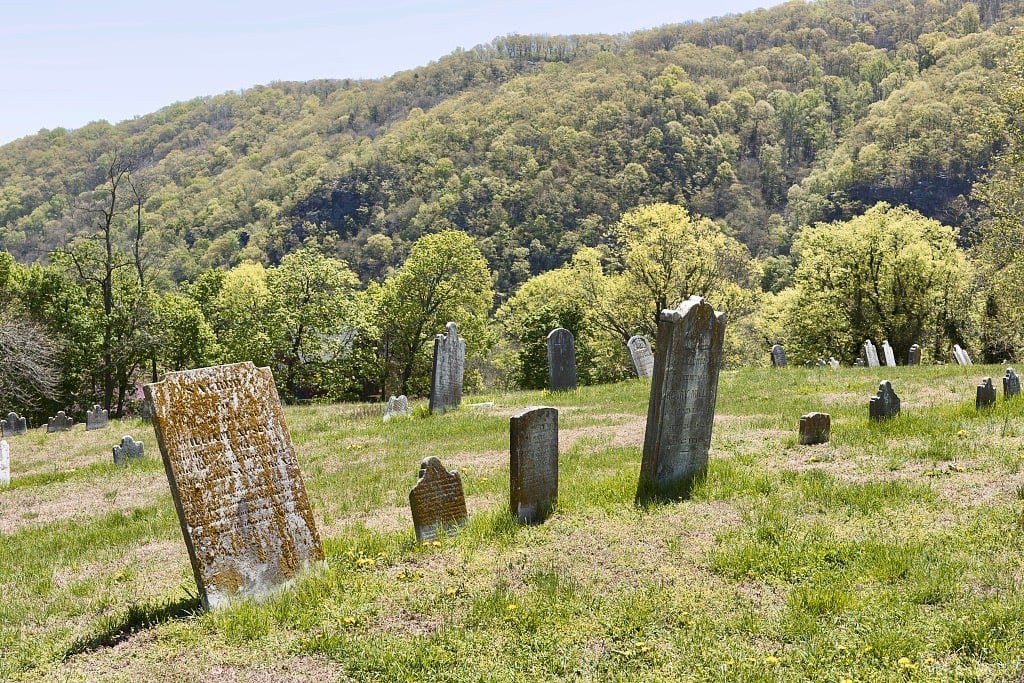 Photo Credit: West Virginia Collection within the Carol M. Highsmith Archive, Library of Congress, Prints and Photographs Division.
A minute further up the hill beyond Jefferson Rock, you will find Harpers Cemetery with headstones dating to the 1700s.
Town founder Robert Harper is buried here.
Maryland Heights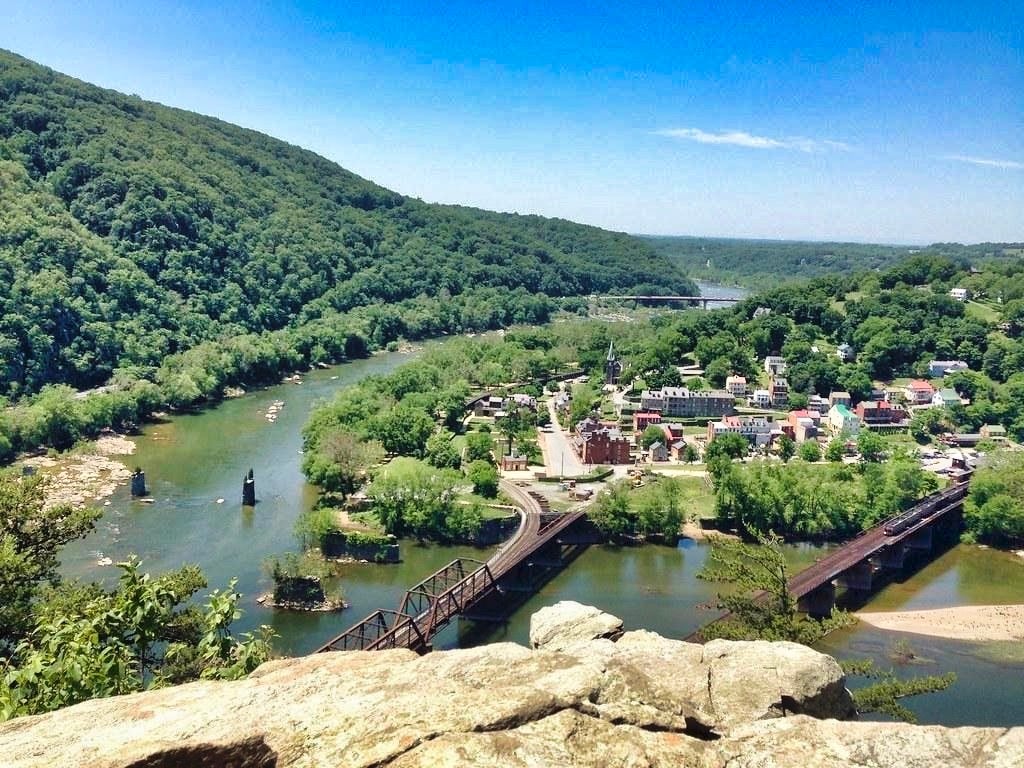 The iconic birdseye view of Harpers Ferry at the confluence of the Shenandoah and Potomac Rivers invites visitors to climb Maryland Heights and sit atop the mountain for hours.
To hike the Maryland Heights Trail, take the footbridge from "The Point" across the Potomac. This trail actually aligns with a segment of the Appalachian Trail.
The hike to the top takes 45 minutes to an hour depending on your pace. There are actually two routes that fork about halfway in. The right fork is the shorter trail that will take you straight to the overlook. The left fork takes around 4 hours to complete, and eventually reaches the overlook.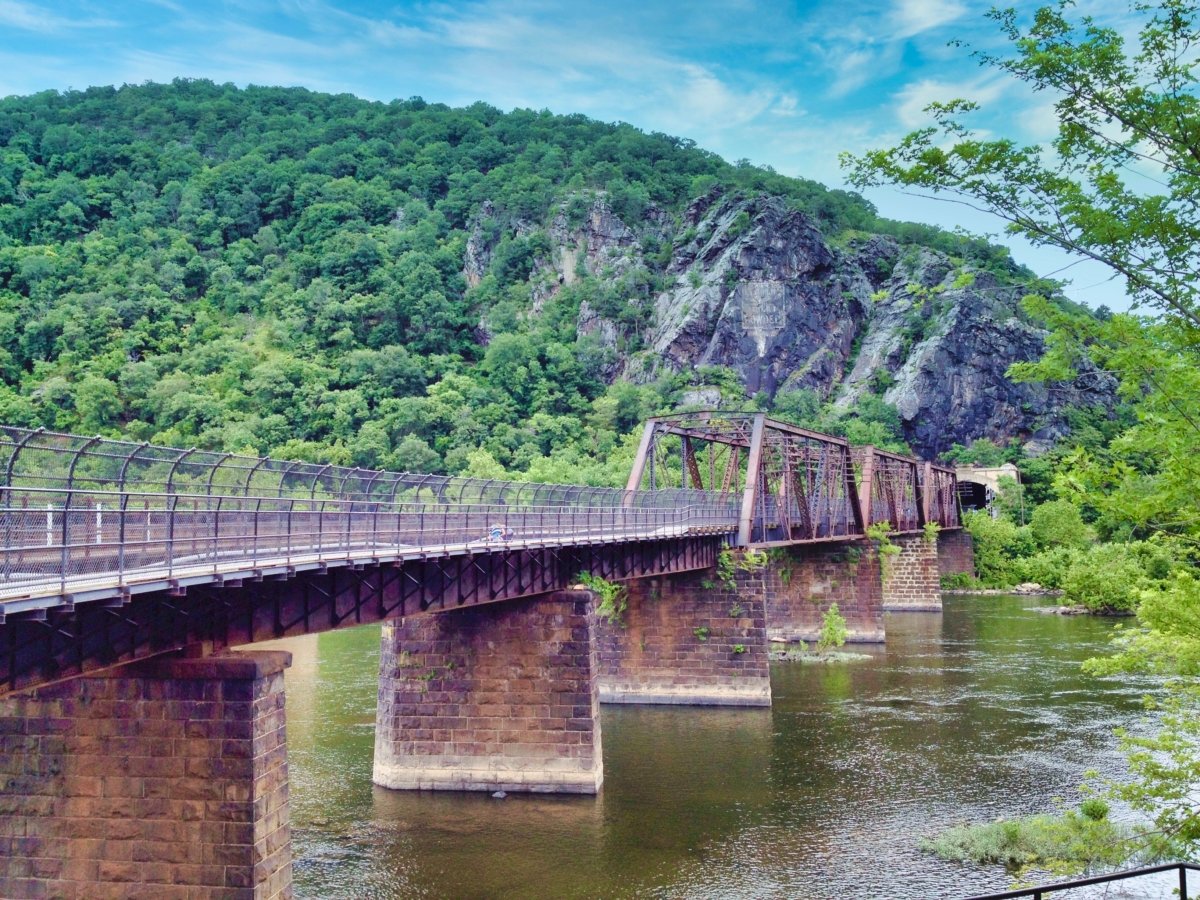 You will find a map separating the two trails, giving you a heads-up before continuing. If you end up taking the longer route, be sure to pack snacks, water, and carry the right backpack for your other gear.
I'd also recommend you take a small travel umbrella or at least a raincoat because cloudy days are common in Maryland. Sometimes the weather changes quickly, and you definitely don't want to be caught in the rain on top of a mountain. 
About a third of the way up the trail you will come upon the 1862 Naval Battery that was used as a vantage point during the Civil War. Soldiers actually pushed cannons up this mountain in the middle of July.
The face of Maryland Heights is marked with the historic billboard which originally read: "Mennen's Borated Talcum Toilet Powder."
Loudoun Heights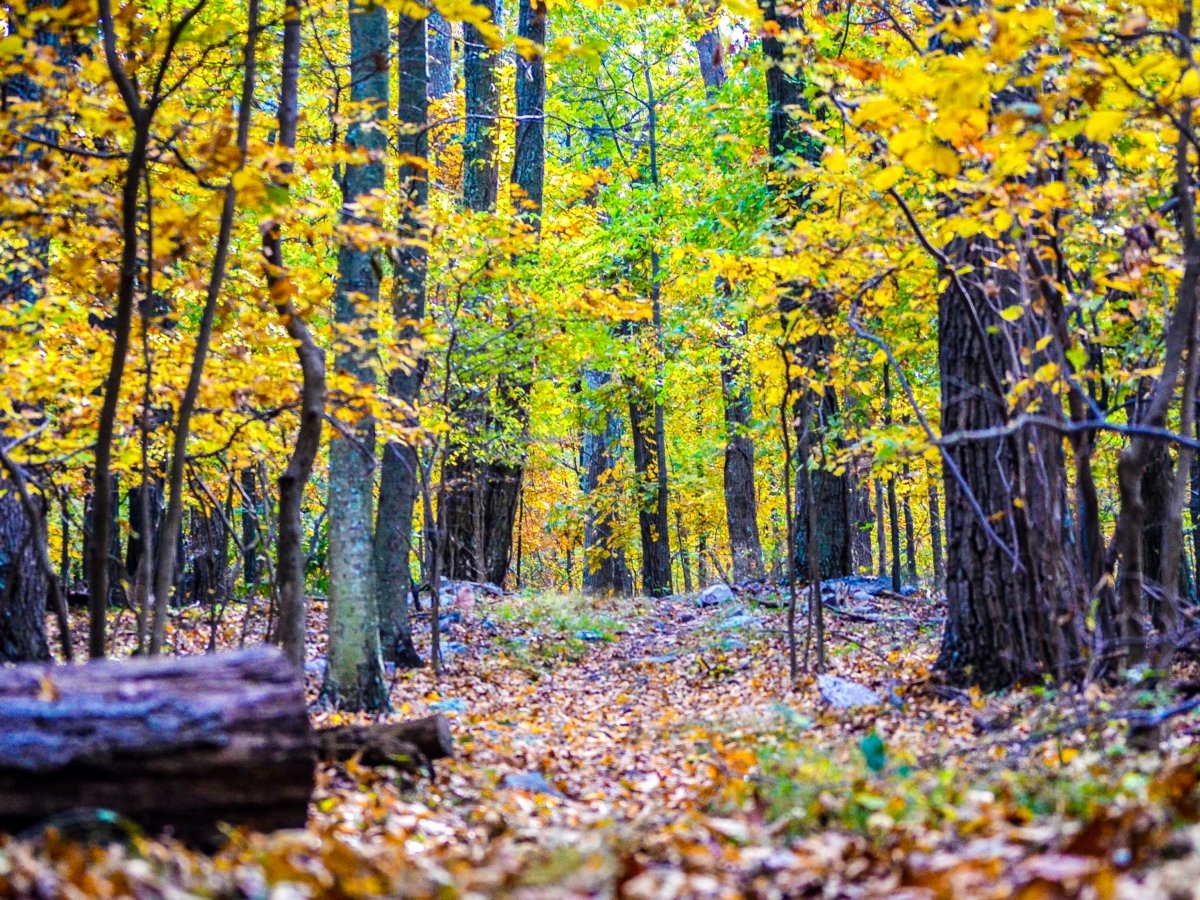 Loudoun Heights in Loudoun County, Virginia, is more challenging to hike than Maryland Heights. I would recommend you only attempt this trail if you are a seasoned hiker, or if you are going with someone who has already been there. 
Begin in West Virginia at the public parking lot beneath the 340 bridge. Cross the bridge over the Shenandoah River to reach the trailhead. 
Once in Loudoun, the steep trail begins off the Appalachian Trail.
This 6.5-mile hike will take at least two hours to finish. Be sure to follow the orange markers on the way, and note that there is a steep section that will take some energy to get through.
You won't have to use your hands to climb this section, but it will drain some energy; be sure to bring extra water for this one.
At the top of Loudoun, you will have a panoramic view of the Potomac River, Harpers Ferry, and Maryland Heights.
If you sit throughout the day, you can also catch rafters and kayakers on the Class III whitewater rapids below.
Be sure to keep track of your time. You don't want to be caught up there after dark, as your descent will be even more difficult and potentially dangerous. 
For your convenience, you can view or download a PDF Loudoun Heights Trails map.
Go Whitewater Rafting
---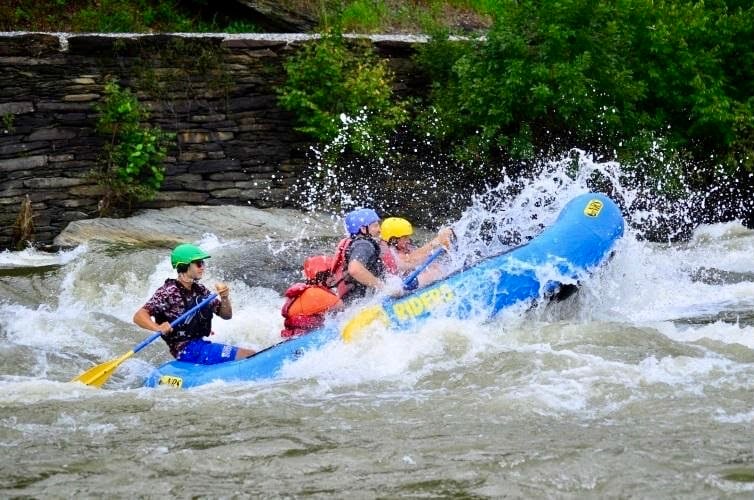 For adrenaline junkies, whitewater adventures on the Potomac and Shenandoah Rivers await.
There are a few outfitters that operate in the area, but I personally recommend River Riders.
You can float by yourself with a kayak, raft, or tube along the Potomac.
If you are looking for bigger water, guided rafting and kayaking make for a great time on the Shenandoah. Long stretches of the 7-mile river trip are flatwater, but there are also sizable rapids that are tons of fun.
Rafting around Harpers Ferry is a great place to start if you are a beginner.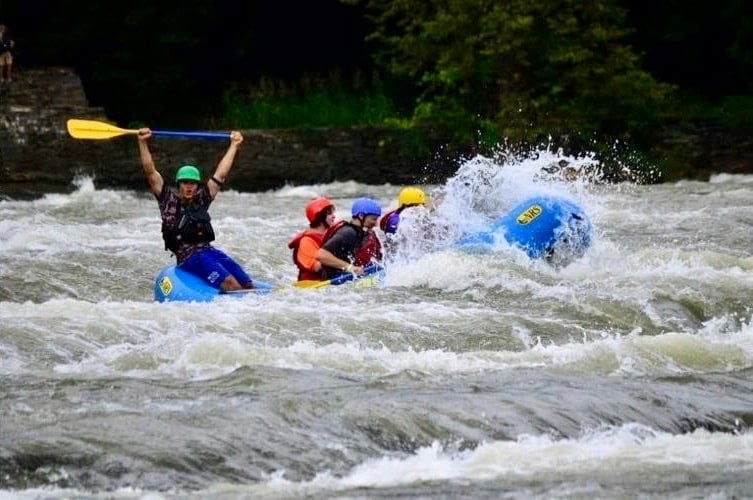 The level of octane is dependent on the water level, so I'd check the hydrograph before setting out. Water levels are generally higher in the springtime, and you can rent wetsuits if needed.
Water Levels:
2 – 3 feet: Slow and technical. A good guide will make it fun, but a less experienced one will be dragging the boat for a lot of the trip. Expect to paddle most of the time.
3 – 5 feet: A good average to shoot for. Sizable rapids, and less paddling to compensate. Expect to get wet.
5 – 8 feet: Huge adventure and adrenaline for beginners. Don't bring the kids, be ready to swim, and you will get drenched.
8 feet and above: Not for the faint of heart. The flood level for the Shenandoah is 10 feet and outfitters will usually run the Potomac at these levels. Call ahead and ask.
Keep in mind that these rivers host Class III rapids in certain sections, and exploring without the right equipment and professional guidance can be incredibly dangerous. I have guided the Shenandoah more than 250 times and still make mistakes. If you don't know the area, and especially if you aren't willing to buy the right equipment, save it for another time.
---
Harpers Ferry Admission
---
Admission to Harpers Ferry can be confusing, so I will attempt to clear things up.
The town of Harpers Ferry is free to enter and explore. I have visited the town dozens of times and never paid an admission fee.
Regular people live and work in Harpers Ferry, and even though part of the town is a national historical park, nothing is roped off, and most of the museums and exhibits are free.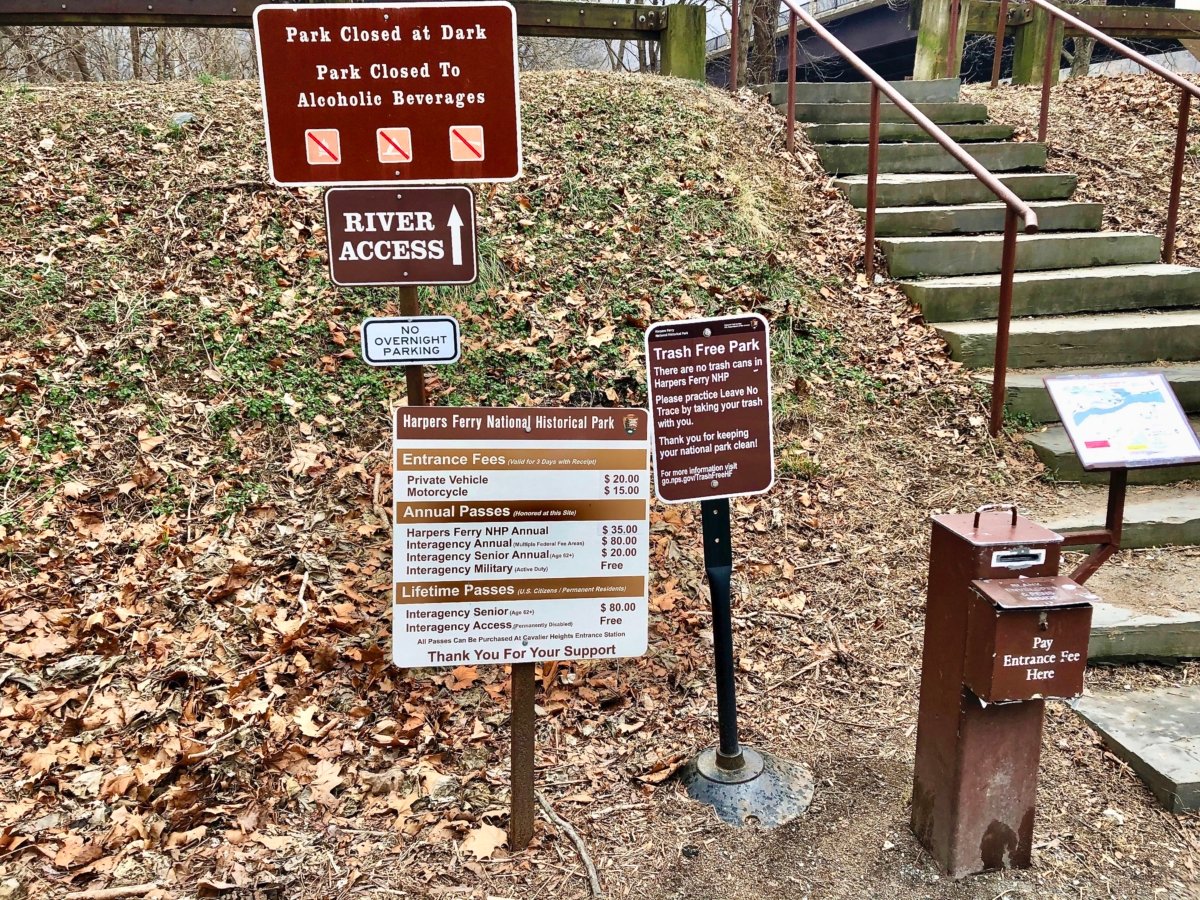 That said, a per-vehicle admission fee to visit Harpers Ferry National Historical Park is required, and of course supporting our National Parks Service is always a good thing.
The main parking lot for the park is at the visitor center, located at 171 Shoreline Drive. This location is the access point for shuttle bus service to Lower Town.
Be sure to collect your National Parks Passport stamps at the visitor center!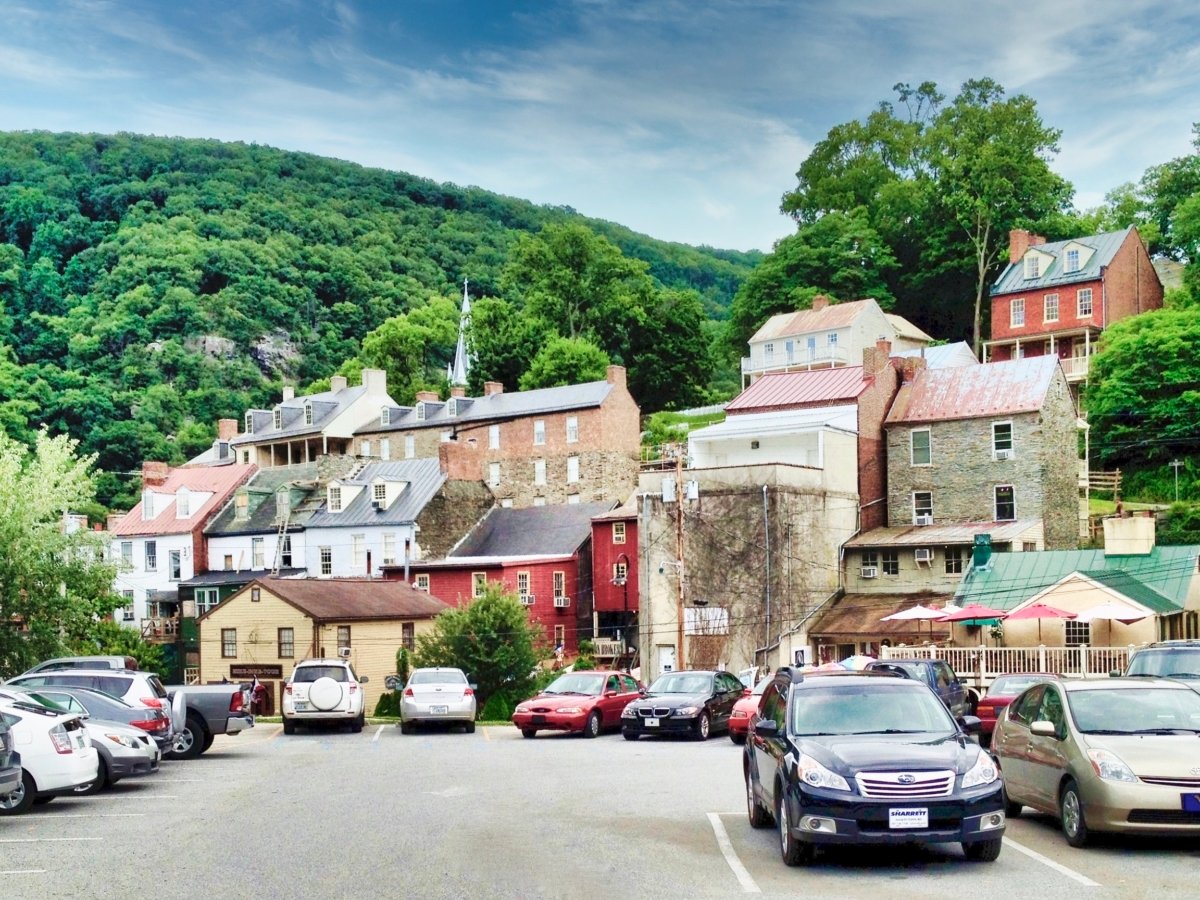 There is a small free parking lot near the Amtrak station in Lower Town, but it can fill quickly during busy season.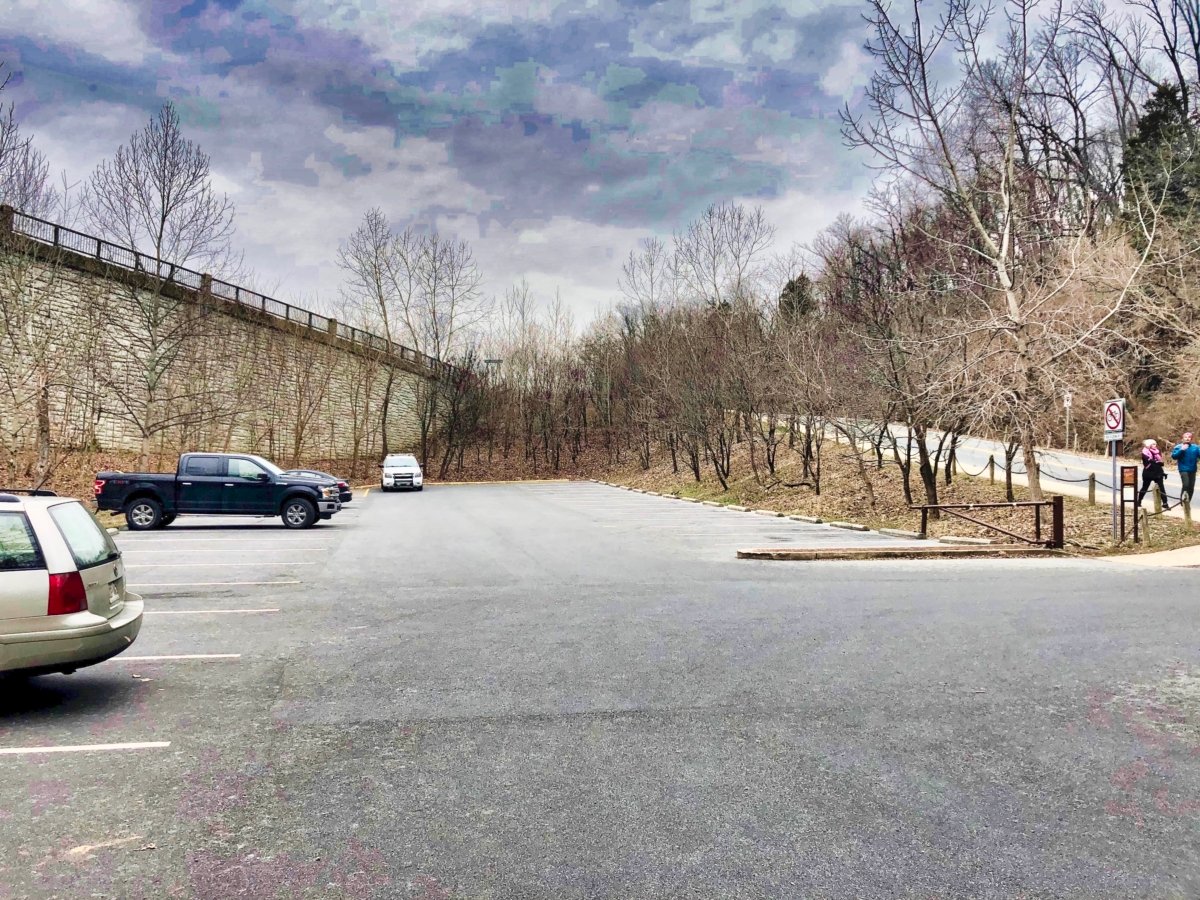 A free parking lot is located to the right after crossing the 340 bridge into West Virginia.
Another free parking lot for the Maryland Heights Trail is located across the river from Harpers Ferry by Maryland Heights. You can walk the towpath and cross the footbridge into Lower Town.
---
A Final Word
---
Be prepared to encounter a ton of friendly locals in Harpers Ferry. They will be happy to give directions, tell you about the history, or help you out in a pinch.
Once my car battery died while I was in Harpers Ferry, and one of the town residents helped me jump-start my car. I'd never met the guy before, but he saved my butt! Don't be shy to ask for directions or recommendations while in the town.
Harpers Ferry is situated along the Appalachian Trail, so you will be sure to see plenty of thru-hikers in the town resupplying before continuing their journeys.
There are several hotels in the area, but you will only need lodging for one or two nights to see and do most things in the area. 
Click here for Harpers Ferry lodging options on TripAdvisor!
If you are a digital nomad, there are a few coffee shops in town where you can use your laptop, but WiFi isn't great. If you've got a car, Charles Town, West Virginia, is only a 10-minute drive away, and there are plenty of cafes with high-speed WiFi there.
---
Map It!
---
---
We Would Love to Hear From You
---
We enjoy dialogue with our readers, especially when they share off-the-beaten-path destinations and useful travel tips. Do you have suggestions for things to do in Harpers Ferry? If so, we would love to hear them. We invite you to leave your comments and questions below, and we always respond!
---
Pin this Post!
---