(a

13

minute read)
---
The Maryland Harriet Tubman Underground Railroad Byway is a 125-mile driving route featuring 36 significant sites, including the brand new National Historical Park Visitor Center.
---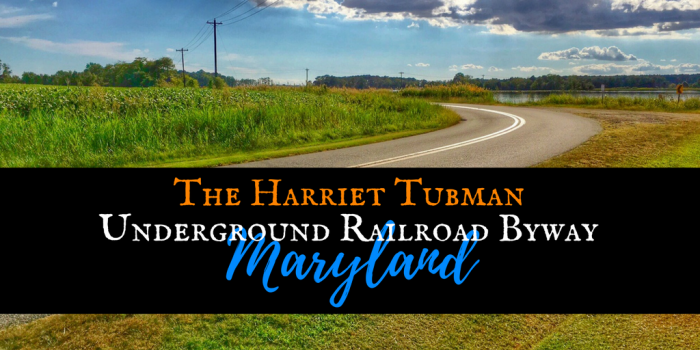 I was a guest of the Maryland Office of Tourism, Visit Dorchester, and Visit Caroline, but all thoughts and opinions are my own.
---
Minty, Moses, and Harriet
---
UPDATE: For even more information on Harriet Tubman-related sites, be sure to check out our posts A New York Civil Rights Road Trip and Explore History and Music in Macon, Georgia.
In 1822, Araminta Ross was born a slave in Dorchester County, Maryland. Later in life, "Minty" would assume her mother's given name and her husband's surname and become Harriet Tubman. Today she is known as the most celebrated conductor of the Underground Railroad, a secret network of people, routes, and safe houses designed to help slaves in the American South escape to freedom in the North during the early 19th century.
Within the past year, the woman they called "Moses," has been duly recognized by her country with three distinct honors: the Harriet Tubman National Historical Park in Auburn, New York, the Harriet Tubman Underground Railroad National Historical Park in Maryland, and the announcement of the Harriet Tubman $20 bill.
Before I traveled to Maryland, I would have believed that every American knew about Harriet Tubman and the Underground Railroad. But that naive view would be greatly influenced by my 35-year career as a public school teacher.
The greatest irony of this trip was to learn that in the past not all Maryland students learned about Harriet Tubman, even though she was born and lived in their own back yard. It was not the first time I would witness how local politics and personal opinions have influenced public education.
But that was the past.
Today, Maryland has fully embraced its history and welcomes travelers from around the world to explore the landscape that was the setting for Harriet Tubman's courageous rescues as a conductor on the Underground Railroad.
---
Maryland Harriet Tubman Underground Railroad Byway
---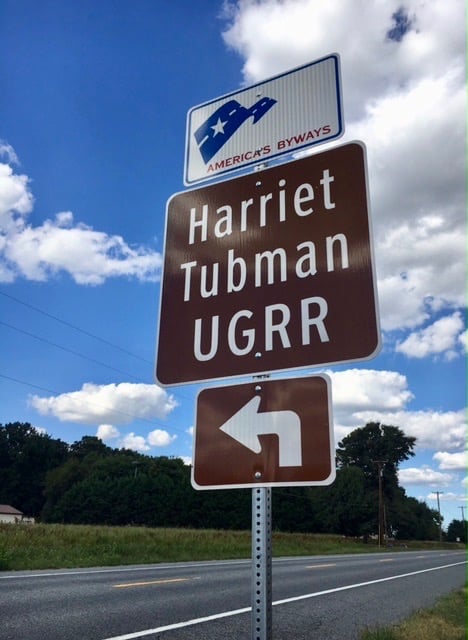 Photo Credit: Kathy Mackel
If it is historical, I'm there. If it involves driving one of America's Byways, I'm all over it. When you combine the two, I'm in heaven.
That is exactly what happened with the opportunity to visit key sites along the Maryland Harriet Tubman Underground Railroad Byway.
Few personal effects, artifacts, and photos from the life of Harriet Tubman have survived the test of time, but stories of her courage and tenacity in the face of mortal danger have made her an eternal American icon.
What does remain from this era are the landscapes and waterscapes of the Maryland Eastern Shore where Harriet Tubman was born, lived, and rescued 70 people from the bonds of slavery. The Maryland Harriet Tubman Underground Railroad Byway is a 125-mile self-guided driving route through Dorchester and Caroline Counties.  This comprehensive itinerary marks the locations of 36 historically significant sites related to the life of Harriet Tubman and the Underground Railroad.
A wealth of maps, guides, apps, and audio recordings are available from the Byway website to assist travelers with planning their visits and navigating the routes upon arrival.
Driving Tour Guide and Map
---
When planning your itinerary, download free PDF versions of the Driving Tour Guide and Driving Tour Map or order free printed copies of both publications. The updated guide contains 45 sites, including additional locations in Pennsylvania and Delaware and sites with limited public access.
Audio Guides
---
The Byway audio guide features dramatized stories and expert commentary by historians and local community members. It is available as a mobile app for iPhone and Android, an online mobile tour, downloadable MP3 files, and in a 3-CD set.
---
Key Sites on the Byway
---
As a confirmed completionist, my only regret is that I was not able to drive the entire 125-mile route and visit all 36 sites on the Maryland Harriet Tubman Underground Railroad Byway. Even so, the locations I did visit satisfied my hunger to learn more about this incredible woman.
The following locations are the sites I visited along the Byway:
Dorchester County Visitor Center
---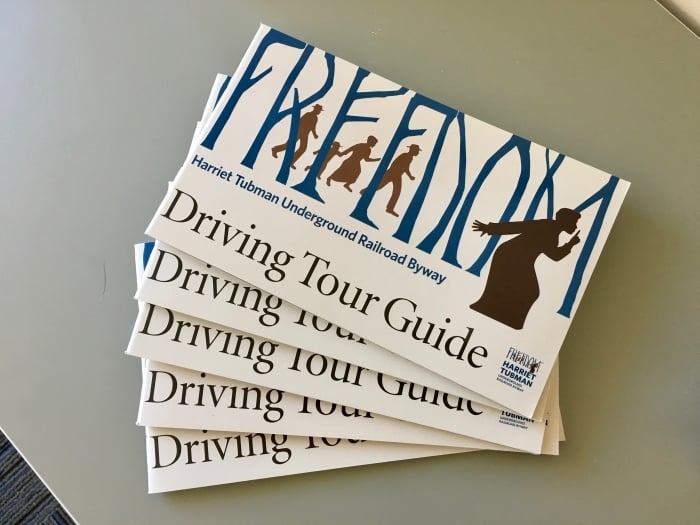 The Dorchester County Visitor Center is a great first stop on the Byway. Helpful staff members will assist you with customizing your driving tour and provide you guides, maps, and audio options. Be sure to view the Maryland Harriet Tubman and Underground Railroad exhibit before starting your drive.
Dorchester County Courthouse
---
The Dorchester County Courthouse is a historical site tied to several intriguing stories, including two renowned Underground Railroad trials held in this 1854 building.
An earlier courthouse that burned on this site in 1852 was the initial setting of an escape orchestrated by Harriet Tubman in 1850. Harriet's niece Kessiah Bowley and her two children were on the auction block at the front of the courthouse. Remarkably, the highest bidder was none other than Kessiah's husband John, a freeman. Before the official could collect payment, John fled with his family, rendezvoused with Harriet in Baltimore, and she led them to freedom in Philadelphia.
Harriet Tubman Museum
---
The Harriet Tubman Museum & Educational Center is the community's oldest organization dedicated to the preservation of their native daughter. Volunteers are available to assist visitors with exhibits, educational resources, and literature.
Maryland Harriet Tubman Underground Railroad Visitor Center 
---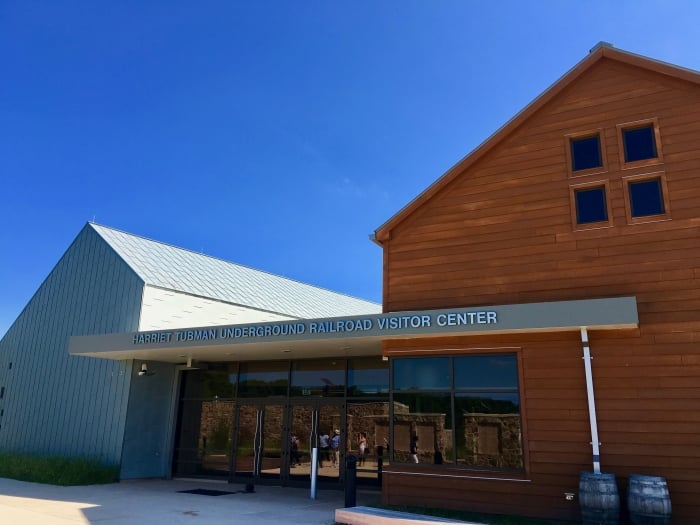 March 11, 2017, marked the opening of the Maryland Harriet Tubman Underground Railroad Visitor Center. This joint project between the National Park Service and Maryland Park Service functions as a National Monument, National Historical Park, and State Park. The 11,750-acre National Monument is a landscape that includes the 480-acre homesite of Jacob Jackson, a freeman who assisted Harriet Tubman with the rescue of her brothers.
I was privileged to join a "hardhat" tour of the visitor center prior to its opening, but even in its unfinished state I could tell it was destined to become a state of the art facility.
The indoor exhibits focus on Harriet Tubman's roles as a freedom fighter, liberator, leader, and humanitarian. A video entitled The Life and Legacy of Harriet Tubman explores her connection to the Underground Railroad and highlights destinations on the Byway. The visitor center is also equipped with an information desk, research library, meeting rooms, and a museum store.
The Visitor Center exhibit building is designed to symbolize 4 stations on the north-facing Underground Railroad. The facility's green environmental design for energy efficiency has also earned it a LEED silver rating.
The 17-acre grounds include a large picnic pavilion, a legacy garden, and two sculptures are planned, as well. Beyond the manmade structures, guests will see a landscape that appears much like it did in Harriet's day.
Bucktown Village Store
---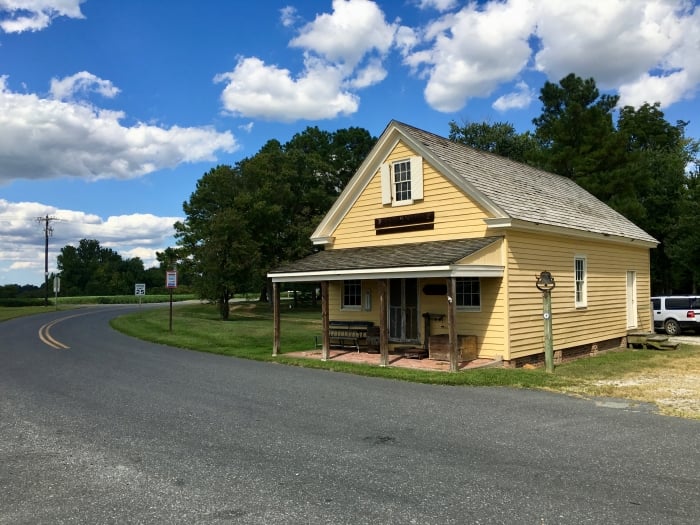 The Bucktown Village Store is the location that resonated the strongest with me because a defining moment in Harriet Tubman's life occurred at this site. Historians believe it may have been her first act of defiance.
In 1835, Harriet would have been about 13 years old. She had been hired out by her master to another family who sent her to the store in Bucktown for supplies. A male slave who had left the field without permission was also at the store. His overseer suddenly appeared and ordered Harriet to tie-up the man. She refused, and the slave bolted. The overseer threw a 2-pound weight at the runaway, but it hit young Harriet in the head instead and cracked her skull. She received no medical treatment, and two days later she was sent back to the fields. Because of this injury, Harriet suffered trance-like seizures and experienced powerful visions for the rest of her life.
The Bucktown Store owners have restored the interior to resemble its 19th-century appearance.
Blackwater National Wildlife Refuge
---
Today, the 28,000-acre Blackwater National Wildlife Refuge is a sanctuary for migratory birds. But in the early 1800s it was situated between Peter's Neck, where historians believe Harriet was born, and the Brodess Farm where she lived and worked as a child. Although no documentation exists that Harriet led any rescues in this area, multiple slave escapes did happen within the boundaries of the refuge.
Jay and Susan Meredith who own the Bucktown Village Store, also own Blackwater Adventures outfitters. Susan taught our group the basics of kayaking, and then led us on a guided tour across the waters of the refuge dubbed the "Everglades of Maryland."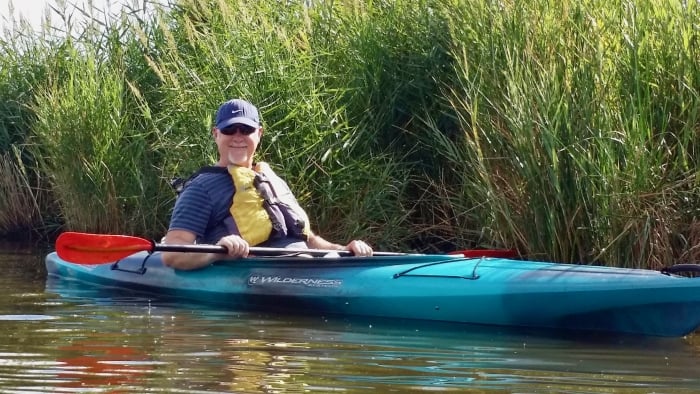 Photo Credit: Vanessa Orr
Although I have canoed many times throughout my life, this was my first time kayaking, and I was instantly hooked. I now believe the best way to get up close and personal with refuge wildlife is by kayak.
Photo Credit: Alex Green of Harriet Tubman Tours
Brodess Farm
---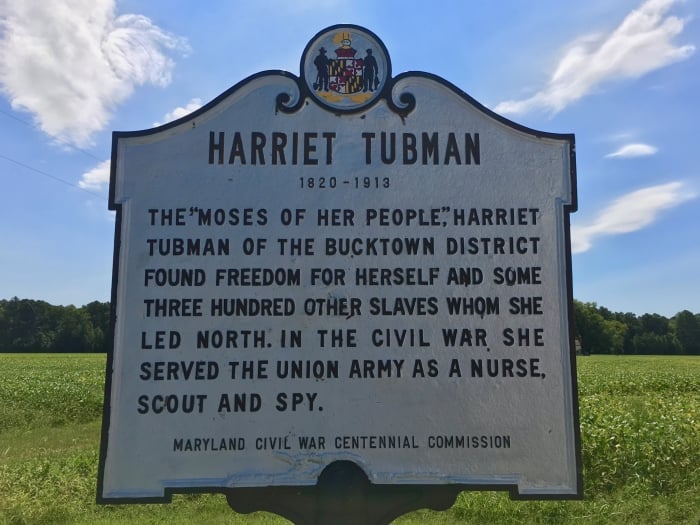 Slaver Edward Brodess owned this plot of land along Greenbriar Road. In the mid-1820s, he moved Harriet, her mother Rit, and four siblings to this site. Because his farm was small, he frequently hired out his slaves to other area farmers.
The planted fields in the landscape adjacent to this roadside pullover look much like they did when Harriet lived and worked here.
Linchester Mill
---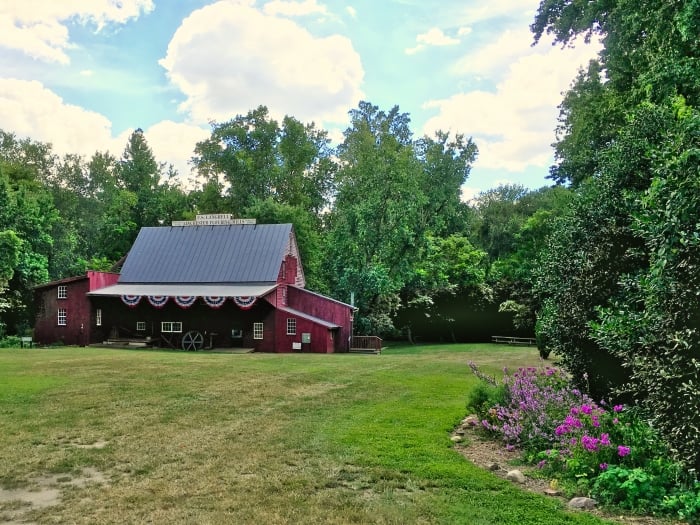 The Linchester Mill (1840) is the centerpiece of a recreated 19th-century village in the community of Preston. The water-powered gristmill operated continuously until 1979 when the mill pond dam failed after a period of heavy rains. The historical mill structure still houses the original machinery.
In the antebellum years, Linchester Mill was a key location for activity on the Underground Railroad. Situated within a secret network of nearby safe houses, the mill was a gathering place where both freemen and slaves, Quakers, conductors, and other abolitionists came in contact with each other, thereby making covert communication possible.
The Linchester Mill village is home to other historical structures including the miller's house, assistant miller's house, and the one-room Hog Island schoolhouse. A nature trail behind the mill leads to a location believed to have been a point where fugitive slaves crossed Hunting Creek.
James H. Webb Cabin
---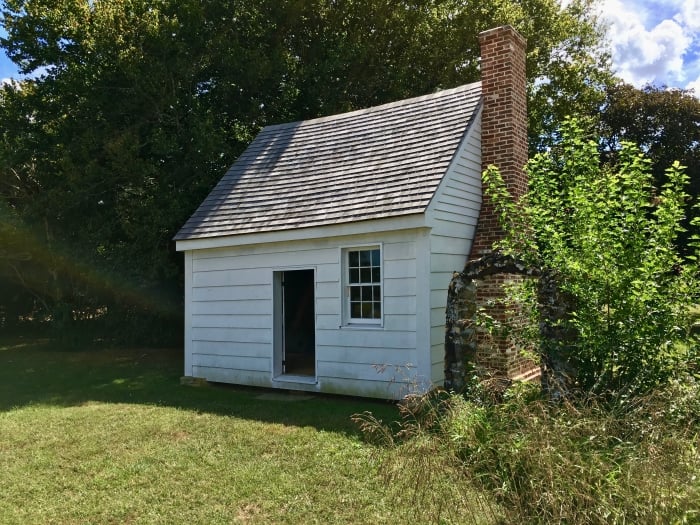 In 1852, a freeman farmer named James Webb built this one-room log cabin for his enslaved wife and four children.
The cabin interior features a loft, an open fireplace, and a "potato hole" that may have served as a hiding place for fugitive slaves. The cabin exterior has been sided with milled weatherboard to protect the original logs.
Denton Steamboat Wharf 
---
A reconstruction of the 1883 Denton Wharf is situated at the site on the Choptank River where steamboats weekly carried passengers and freight to and from Baltimore in the 1850s. This site is significant because slaves arrived here for auction, worked the docks as watermen, and labored in area shipyards.
In 1858, Hugh Hazlett, an indicted Underground Railroad conductor, boarded a steamboat at this point to ultimately face an angry mob and trial in Cambridge.
The Choptank River could be a friend or foe of runaway slaves. Few could swim the strong currents of the broad river, and stealing a boat was risky. A slave named Moses Viney, however, stole a canoe, used two fenceposts for oars, and rowed his way to freedom in Schenectady, New York.
Today, Denton Wharf is home to the Choptank River Heritage Center and the Caroline County Office of Tourism. Local fishermen enjoy the convenience of the wharf's river access.
Tuckahoe Neck Meeting House
---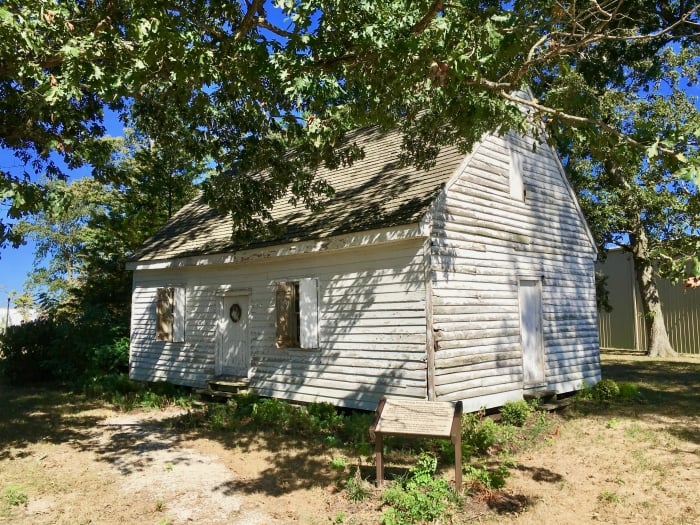 The Tuckahoe Neck Meeting House was built in 1803 by Nicholites, a local sect of the Society of Friends. More commonly known as Quakers, this group participated in an Underground Railroad network with four additional meeting houses in Caroline County.
Quakers were progressive believers who also supported equality for women. Harriet Tubman would later join with Quaker women in the suffrage movement that began in the late 19th century.
Many sites on the Maryland Harriet Tubman Underground Railroad Byway are part of the NPS National Underground Network to Freedom.
---
Lodging & Dining
---
There are many options for lodging and dining in Dorchester and Caroline Counties on or near the Maryland Harriet Tubman Underground Railroad Byway.
Here are a few I can recommend without reservation.
Cambridge House B&B
---
The 1847 Cambridge House B&B was formerly a sea captain's manor. It is within walking distance of several Byway locations.
I had a restful stay in the Bay Room, one of six themed quarters with period furnishings and decor. Quiche was one of the breakfast options I enjoyed in the company of my hosts and other guests.
Click here for more Dorchester County lodging options on TripAdvisor!
Click here for more Caroline County lodging options on TripAdvisor!
The High Spot Gastropub
---
The High Spot Gastropub in Cambridge features upscale dining in a casual atmosphere. On a side note, I love the sky reflection in the windows of the photo above.
High Spot chefs use locally sourced ingredients for their creations as often as possible. As I recall, the pictured dishes were daily specials and not on the standard menu.
Market Street Public House
---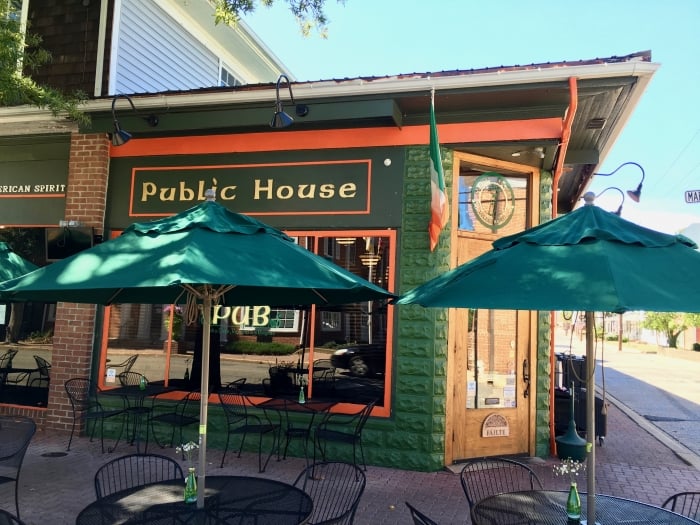 The Market Street Public House, located in Denton, is one of the finest Irish pubs I have visited outside of Ireland. But then, I have yet to visit Ireland.
I enjoyed the Maryland crab soup and blackened salmon salad for lunch.
Riding the backroads in a Mazda CX-3 CUV made my journey through the Maryland Eastern Shore even sweeter!
---
Map It!
---
---
We Would Love to Hear From You
---
We enjoy dialogue with our readers, especially when they share off-the-beaten-path destinations and useful travel tips. Have you visited any of the destinations on the Maryland Harriet Tubman Underground Railroad Byway? If so, we would love to hear about your experience. We invite you to leave your comments and questions below, and we always respond!
---
Pin this Post!
---