(a

12

minute read)
---
Experience Coastal Mississippi's rich African American heritage at Biloxi Beach, the Pleasant Reed House, St. Rose de Lima Catholic Church, and the 100 Men Hall.
---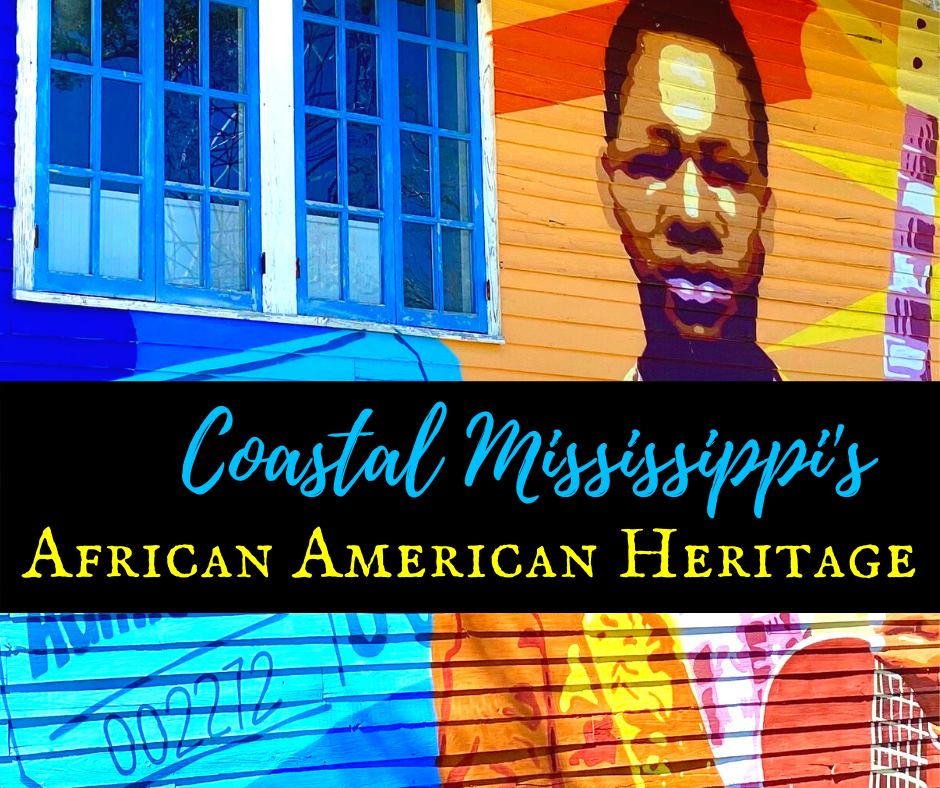 I was a guest of Coastal Mississippi, but all thoughts and opinions are my own. This post may contain affiliate links. Please refer to our our Disclosure/Disclaimer page for more information.
---
Coastal Mississippi's African American Heritage
---
I am an incurable Civil War and Civil Rights history buff, and there is nothing I enjoy more than visiting national battlefields and sites of conscience where the struggle for freedom played out.
This is undoubtedly one of the reasons I love Mississippi, and I have gone on record many times to say that it is my favorite roadtripping state.
My journeys have carried me north, south, east, and west across the state. I have driven the Union and Confederate lines at Vicksburg National Military Park, toured antebellum homes in Natchez, and traced the Final Stands at Brices Crossroads and Tupelo National Battlefields.
In Jackson, I paid my respects at the home of Medgar Evers and visited two world-class museums that chronicle Mississippi's state and civil rights history.
In Hattiesburg, I learned about the Freedom Summer of 1964, and I drove up into the Delta searching for Emmett Till.
Most recently, along the 62-mile Gulf Coast, I encountered a rich African American cultural heritage and toured key sites on Mississippi's Freedom and Blues Trails.
Pleasant Reed House | Biloxi
---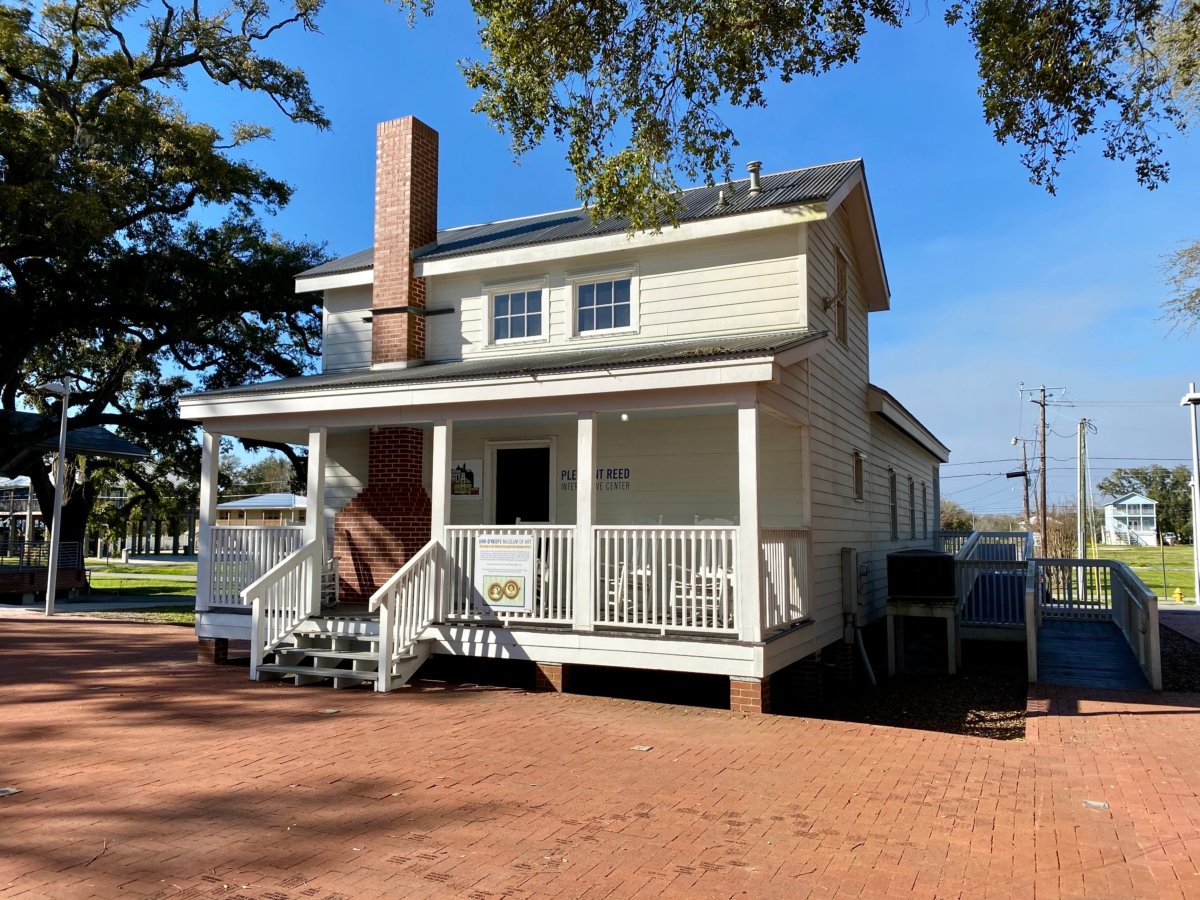 The Pleasant Reed House, situated on the campus of the Ohr-O'Keefe Museum of Art in Biloxi is a great place to begin exploring Coastal Mississippi's African American heritage.
Pleasant Reed was born a slave in 1854. After emancipation, he relocated to Biloxi with other members of the Reed family. In 1884, he married Louisiana native Georgia Anna Harris who was literate in both English and Creole.
Reed became self-sufficient as a master carpenter and by making fishnets for Gulf fishermen. In 1887, he purchased a lot at 306 Elmer Street and began construction on a new home.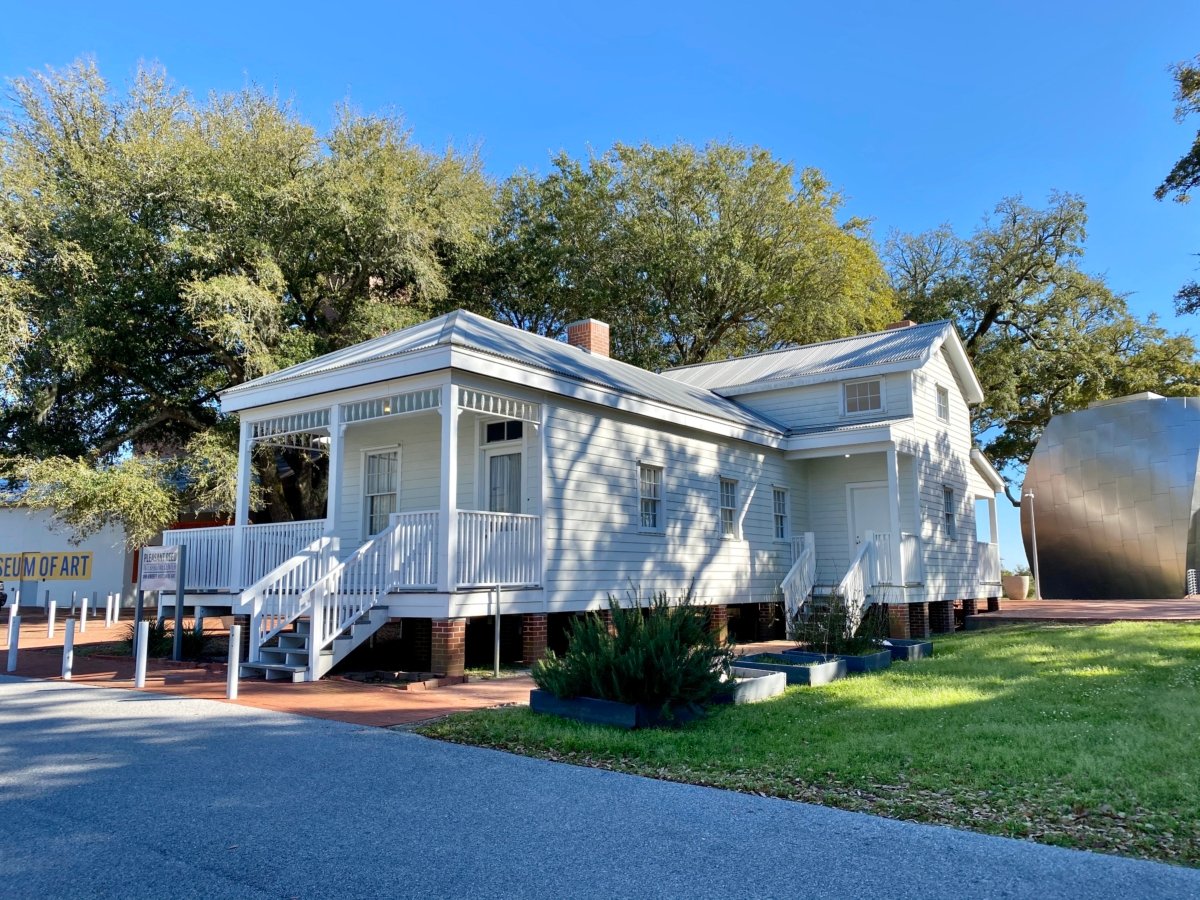 The side-hall camelback cottage became one of Biloxi's first documented houses built and owned by a former slave. After the turn of the century, the Reeds would become one of the most prosperous African American families in town.
In 2003, the restored home opened as a museum on the Ohr-O'Keefe campus, but sadly it was destroyed by Hurricane Katrina in 2005. A replica home was constructed from Pleasant Reed's original house plans and opened as an interpretive center in 2008.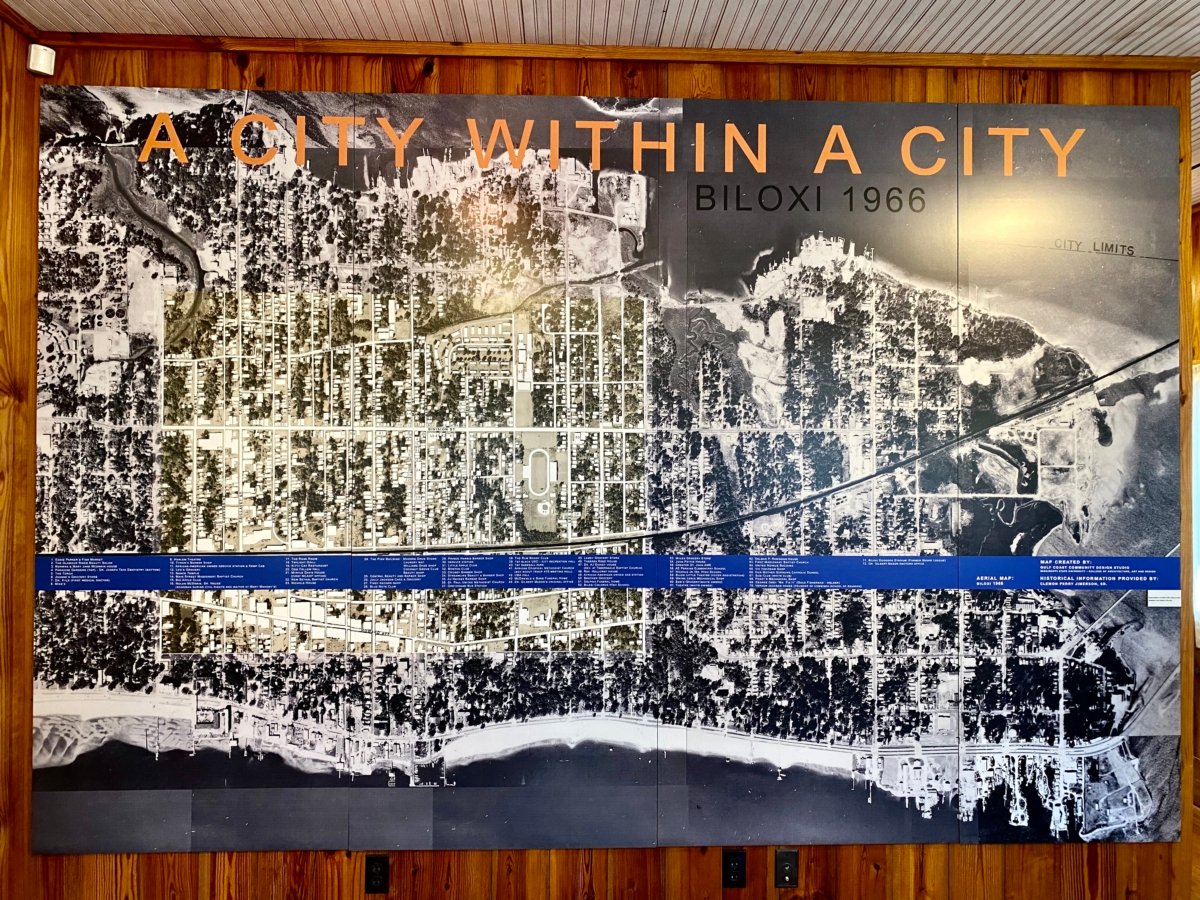 A key exhibit inside the Reed home, "A City Within a City," interprets the history of East Biloxi's African American community during the mid-20th century. The segregated neighborhood called "back of town" was once home to a thriving community with African American-owned restaurants, nightclubs, barber shops, grocery stores, pharmacies, doctors' offices, as well as churches and schools.
Hurricane Katrina destroyed much of the neighborhood, but in 2017 the Mississippi Department of Archives and History (MDAH) completed a study of the area and published the East Biloxi African American and Civil Rights Historic Resources Survey as a guide for preservation initiatives.
Although not intended as a tourism guide, the downloadable publication is a great resource filled with color photos and informative histories of vintage structures such as Our Mother of Sorrows Catholic Church, Dr. Gilbert R. Mason's medical office, and the Jolly Jackson Cafe. History nerds like me may consider using the resource for a self-guided driving tour of the community.
The Pleasant Reed Interpretive Center also features an exhibit about the Biloxi Beach Wade-Ins. A timeline panel presents a detailed overview of the protests, making it a great way to learn the history before visiting the beach site.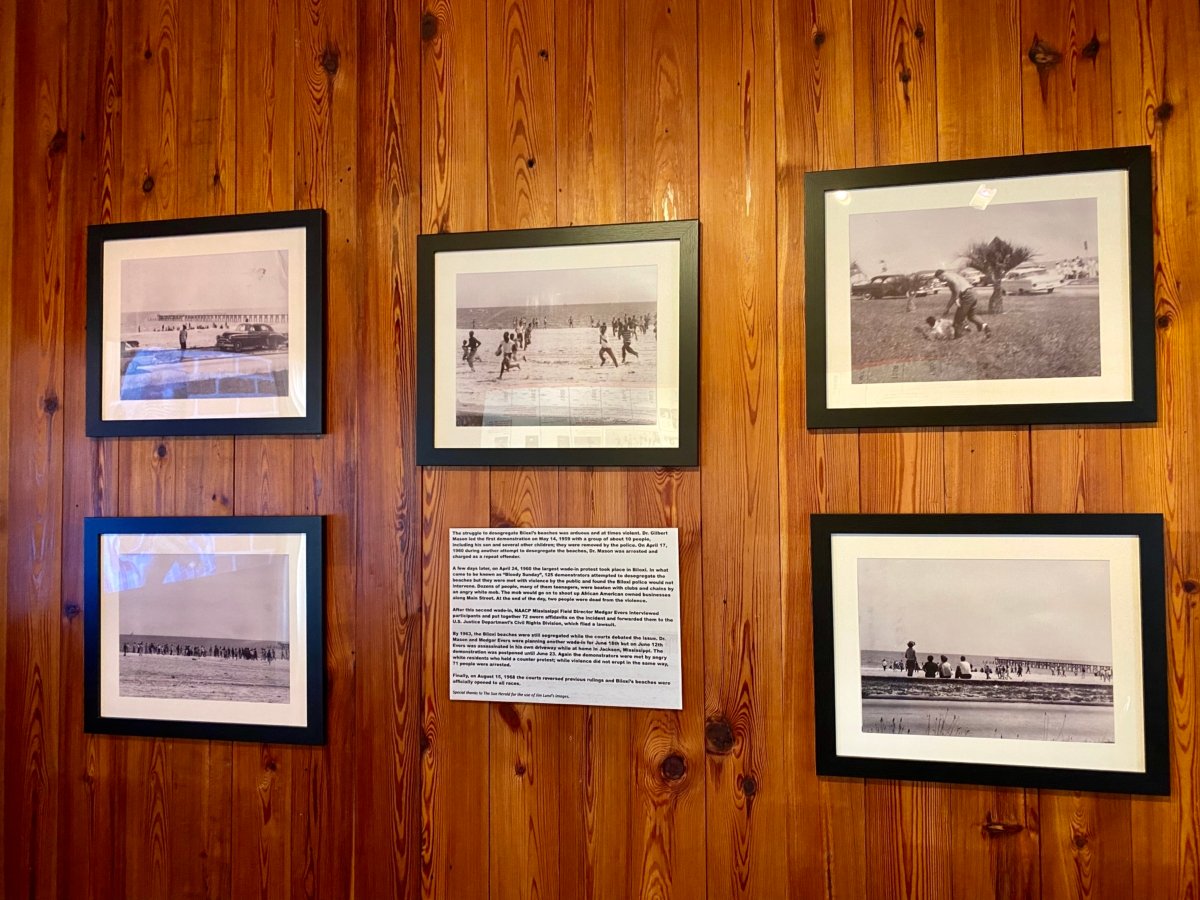 Biloxi Sun Herald photographer Jim Lund's photos bring the historic wade-ins to life.
The Pleasant Reed House is an extension of the Ohr-O'Keefe Museum of Art and admission fees apply.
You can learn more about the art museum in the Backroad Planet post Meet Three Unconventional Coastal Mississippi Artists.
Biloxi Beach Wade-Ins Site | Biloxi
---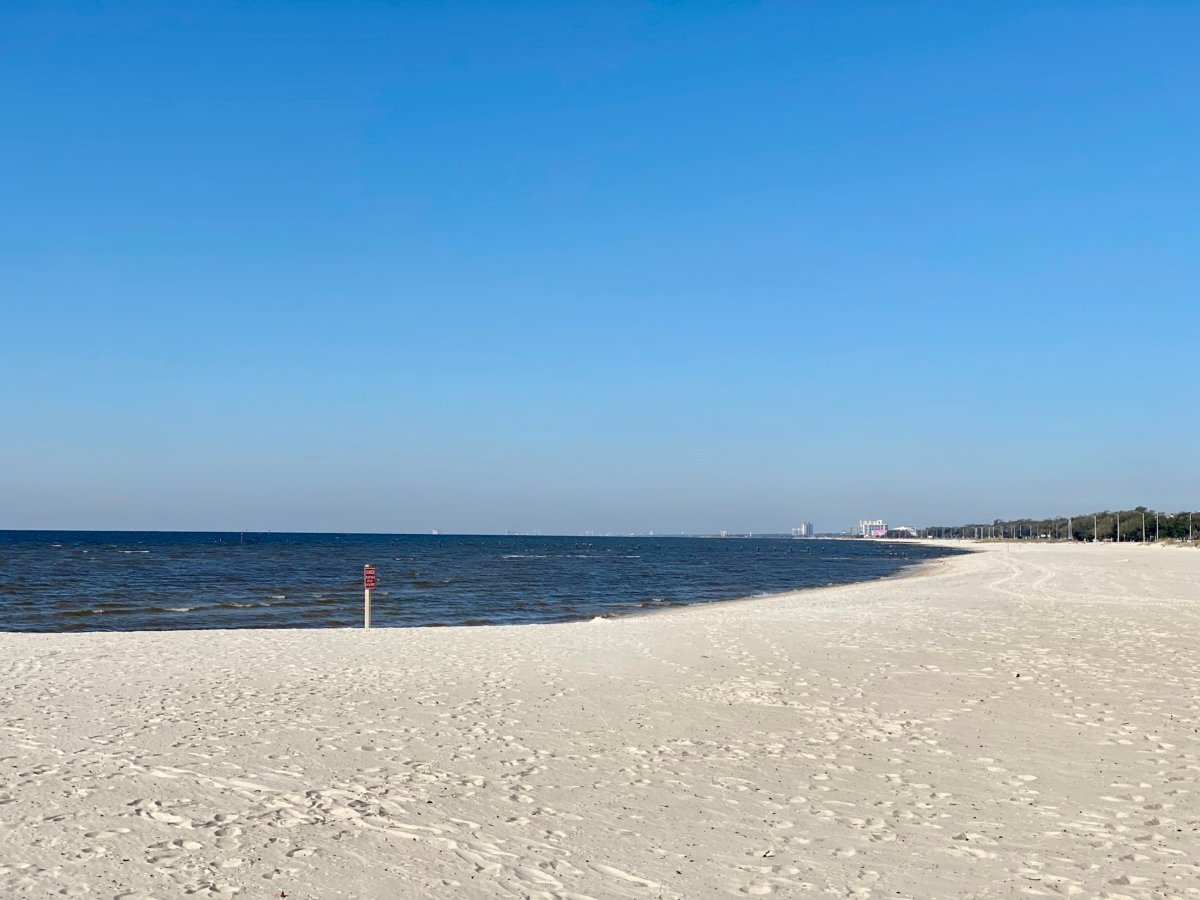 Biloxi Beach is situated along a 26-mile stretch of sparkling sand.
The tranquil seascape belies its unprecedented role in the struggle for equality in Mississippi.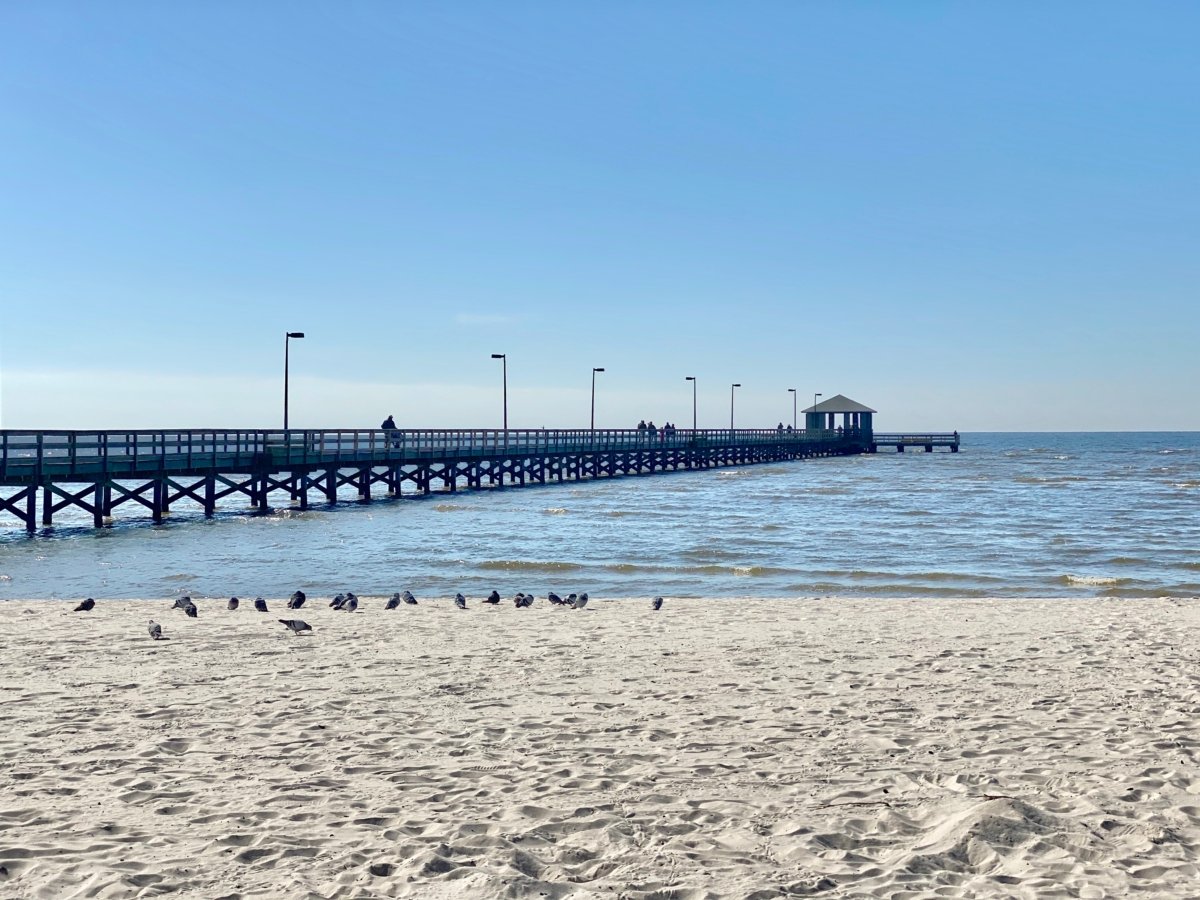 Biloxi family practitioner, Dr. Gilbert Mason, was the driving force behind Mississippi's first non-violent acts of civil disobedience in what would become the modern Civil Rights Movement.
As a black man, he and his family could not enjoy the public beaches created by the U.S. Army Corps of Engineers and funded with federal tax dollars.
Between 1959 and 1963, Mason organized a series of wade-ins at various locations to forcibly desegregate the beaches.
Readers familiar with the lunch counter sit-ins of the early 1960s may be surprised to learn that this method of non-violent protest was actually used to desegregate beaches in Florida and other locations across the Southeast as early as 1955.
The second and largest Biloxi Beach wade-in was scheduled for April 24, 1960. A group of 125 peaceful demonstrators were met with counter-protests and violence by white locals, and law enforcement refused to protect them.
Mississippi NAACP Field Director Medgar Evers interviewed protestors and submitted 72 sworn affidavits to the U.S. Justice Department, which in turn filed suit against the City of Biloxi.
City leaders delayed the court hearing and tied up the case in the courts, arguing a presumption that public beachfront property technically belonged to private homeowners along the coast.
Biloxi Beach remained closed to African Americans for several years, even after President Johnson signed the Civil Rights Act of 1964.
The beaches were finally desegregated in 1968 when the court ruled that they were public property,
Historical markers placed by the MDAH recognize the significance of the wade-ins and identify Biloxi Beach as a site on the Mississippi Freedom Trail.
Before his death in 2006, Dr. Mason published Beaches, Blood, and Ballots, a memoir of the black doctor's civil rights struggle.
To pay your respects to this Civil Rights pioneer, you can visit Dr. Mason's gravesite at Biloxi City Cemetery.
As fate would have it, I met Aria Mason, professional operatic mezzo-soprano and Dr. Gilbert Mason's granddaughter, while touring Louisiana's Cane River National Heritage Trail. Although I was familiar with the Biloxi Beach wade-ins, Ms. Mason was the first to educate me regarding her grandfather's role in Mississippi's Civil Rights history.
A segment of U.S. Highway 90 that passes through Biloxi has been designated the "Dr. Gilbert Mason Sr. Memorial Highway" by the state of Mississippi.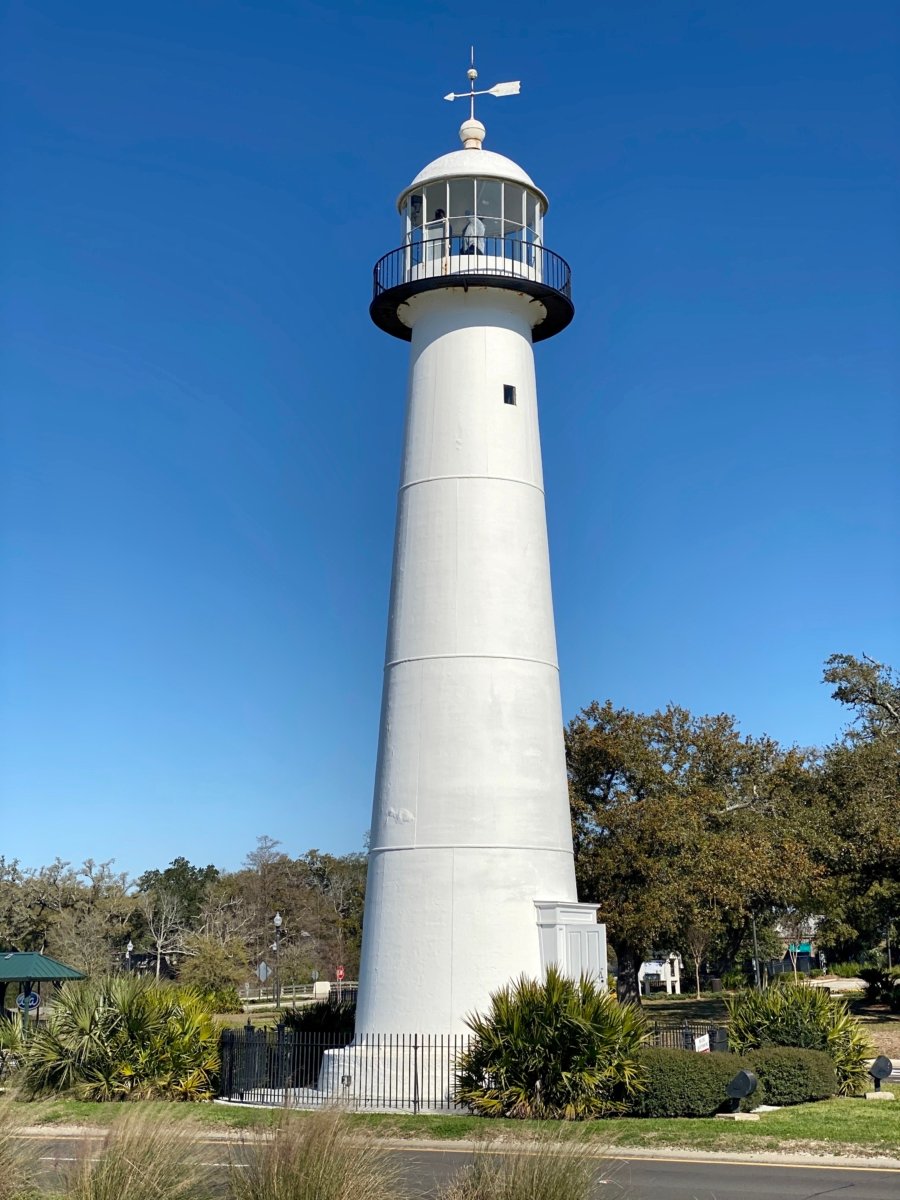 To locate the Biloxi Beach Wade-Ins historical markers, look for the 1848 Biloxi Lighthouse and head to the parking area for the Lighthouse Pier.
St. Rose de Lima Catholic Church | Bay St. Louis
---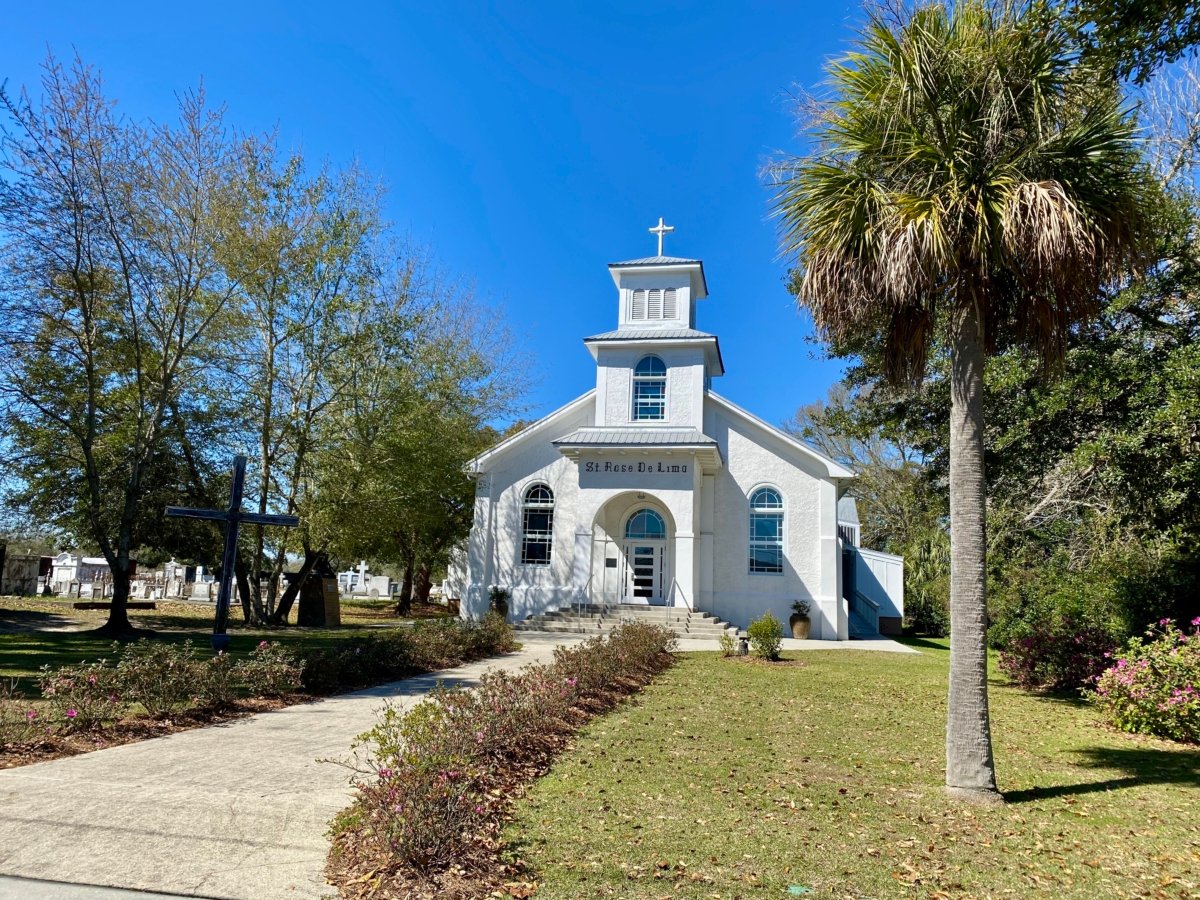 The story and evolution of the St. Rose de Lima Catholic Church dates to 1868.
That year the first school for African American children in Bay St. Louis opened in a two-story white building with 24 students. The school transitioned through various administrations, including the Sisters of Saint Joseph and the German-based Divine Word Missionaries.
When Father Francis Bales was appointed school director in 1923, he recognized the need to establish a new parish to serve African Americans in the segregated community.
Parishioners began construction of a new church in 1925, and it was dedicated November 14, 1926.
In 1991, the aging house of worship underwent a complete renovation in honor of its 65th anniversary, following the theme of "Re-rooting and Re-routing in Christ."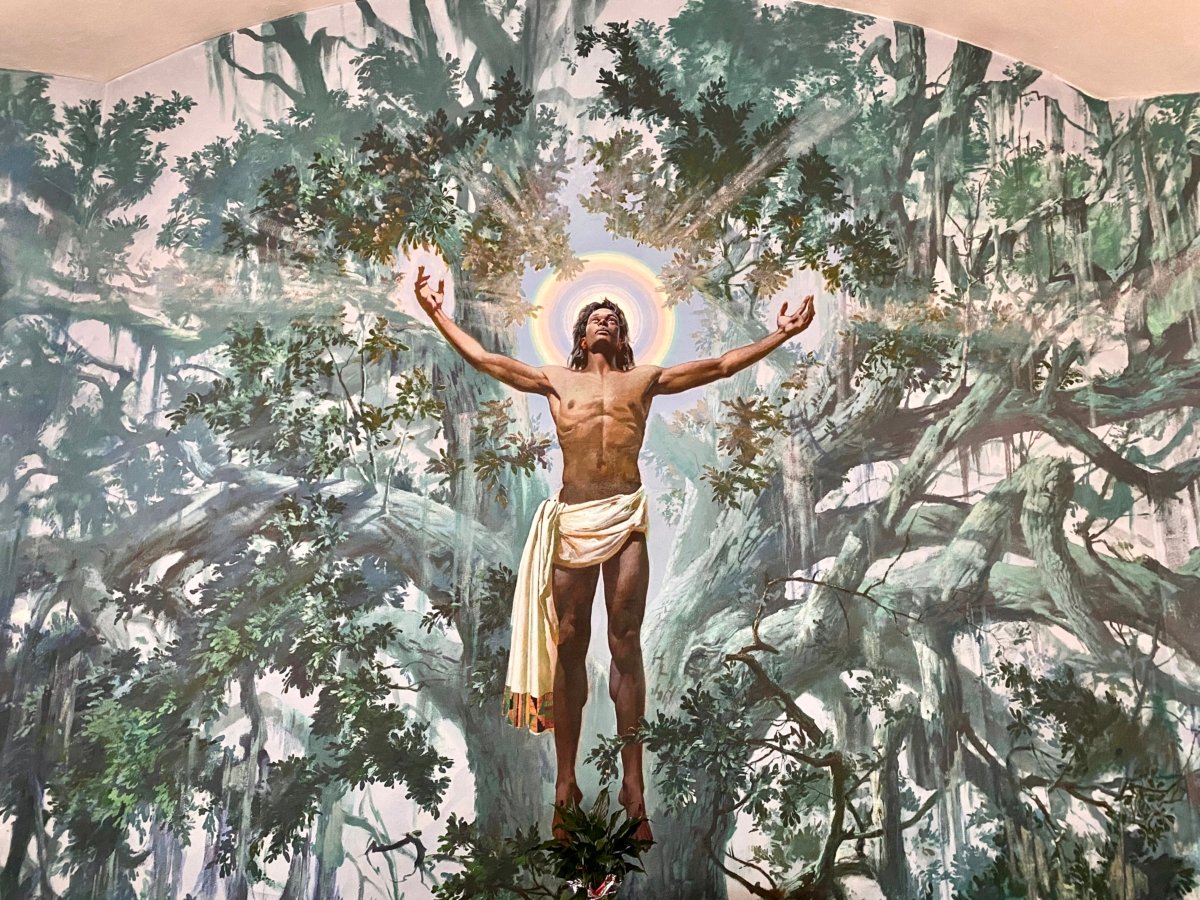 The focal point of the renovation is a stunning mural of "Christ in the Oaks" by Latvian-born American artist Auseklis Ozols (founder of the New Orleans Academy of Fine Arts), assisted by his then-student Kat Fitzpatrick.
The painting depicts both the Crucifixion and Resurrection of Christ, floating "free of bonds and burdens of this earth," before an ancient live oak, "the Cross . . . grasping the ground with ample roots yet reaching up toward the heavens . . . ."
The mural incorporates powerful symbols and subtle elements, including a loincloth trimmed with kente, camouflaged faces en memoriam, and parishioner family names.
Note: While touring Mississippi's Gulf Coast, I encountered repeated variations on the theme of "angels in trees." I mention the appearance of a tree angel in a previous Backroad Planet story: Meet Three Unconventional Coastal Mississippi Artists.
During renovation, a vintage stained glass window of the Jordan River was donated to the church and installed above the baptismal font. The window, rescued when a Baptist Church was demolished in the 1950s, is pictured behind a Civil Rights display.
The altar base, fashioned from a large piece of native driftwood by local artist Ellsworth Collins, reflects the theme of being rooted in Christ.
I am not Catholic, but I was deeply moved by my visit to St. Rose de Lima church. The atmosphere radiates love, joy, and acceptance.
The best way to experience "St. Rose" is to attend mass with music provided by their dynamic multi-ethnic gospel choir.
Tours are by appointment only (228-467-7347), and donations are accepted.
100 Men Hall | Bay St. Louis
---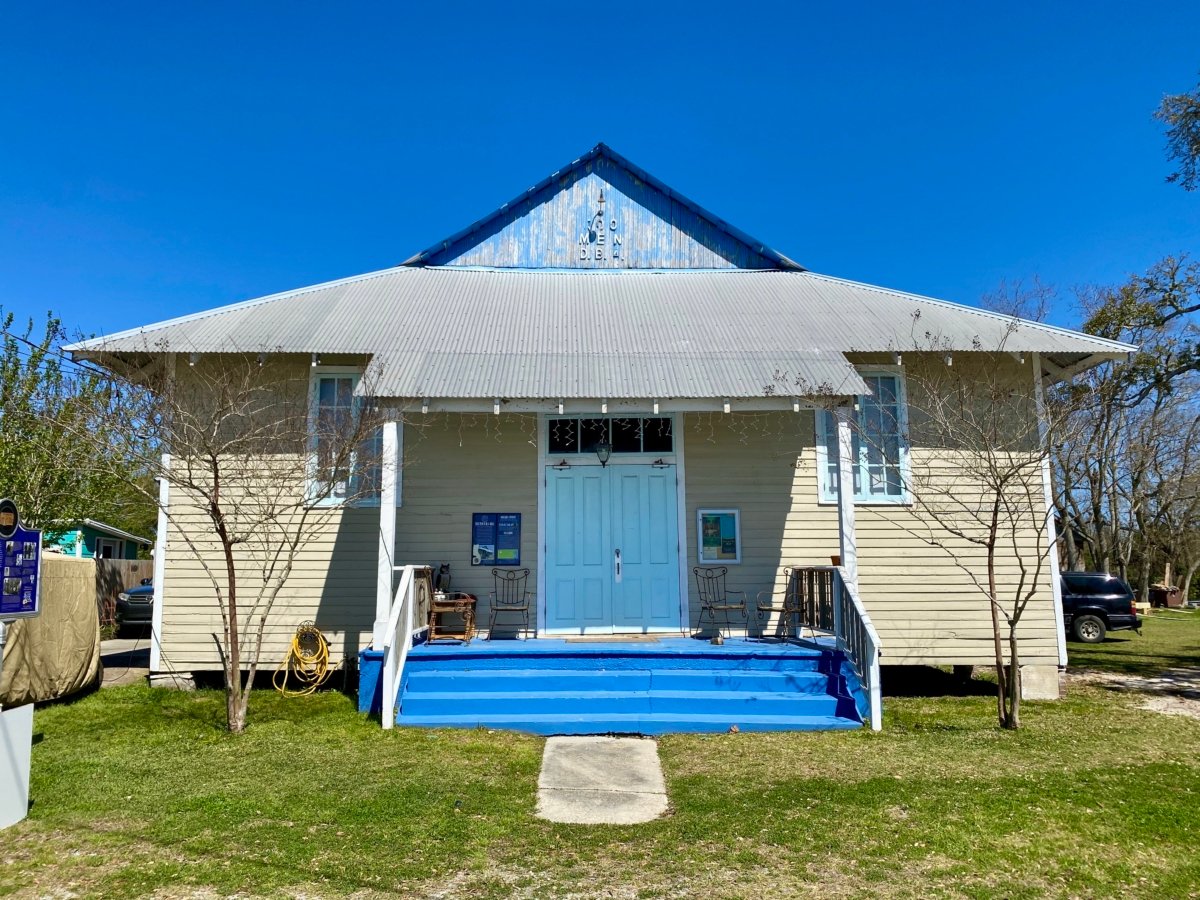 The 100 Men Hall in Bay St. Louis was dedicated in 1923 as an extension of the Hundred Members Debating Benevolent Association (1894), an African American civic organization committed to serving its members.
As a community event center and gathering place, the hall hosted parties, dances, and even funerals.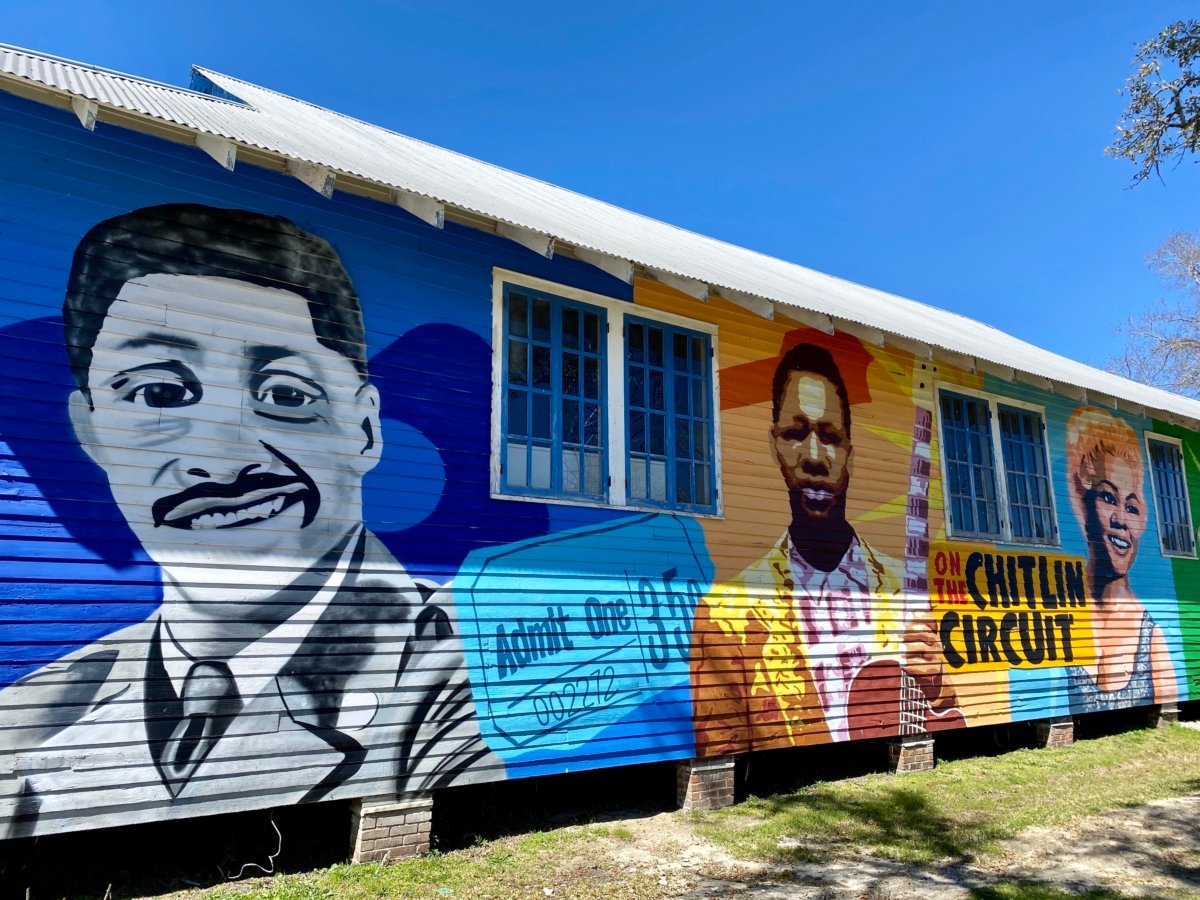 Local musical groups, New Orleans jazz bands, and blues artists played the venue. After World War II, the hall became a stop on the "Chitlin Circuit," a network of African American clubs.
Musicians and entertainers who played here during the era of racial segregation include Ray Charles, Etta James, Fats Domino, and countless more headliners.
A commissioned mural by visual artists Wendo and JoLean depicts a "visual storyboard" of the hall's history.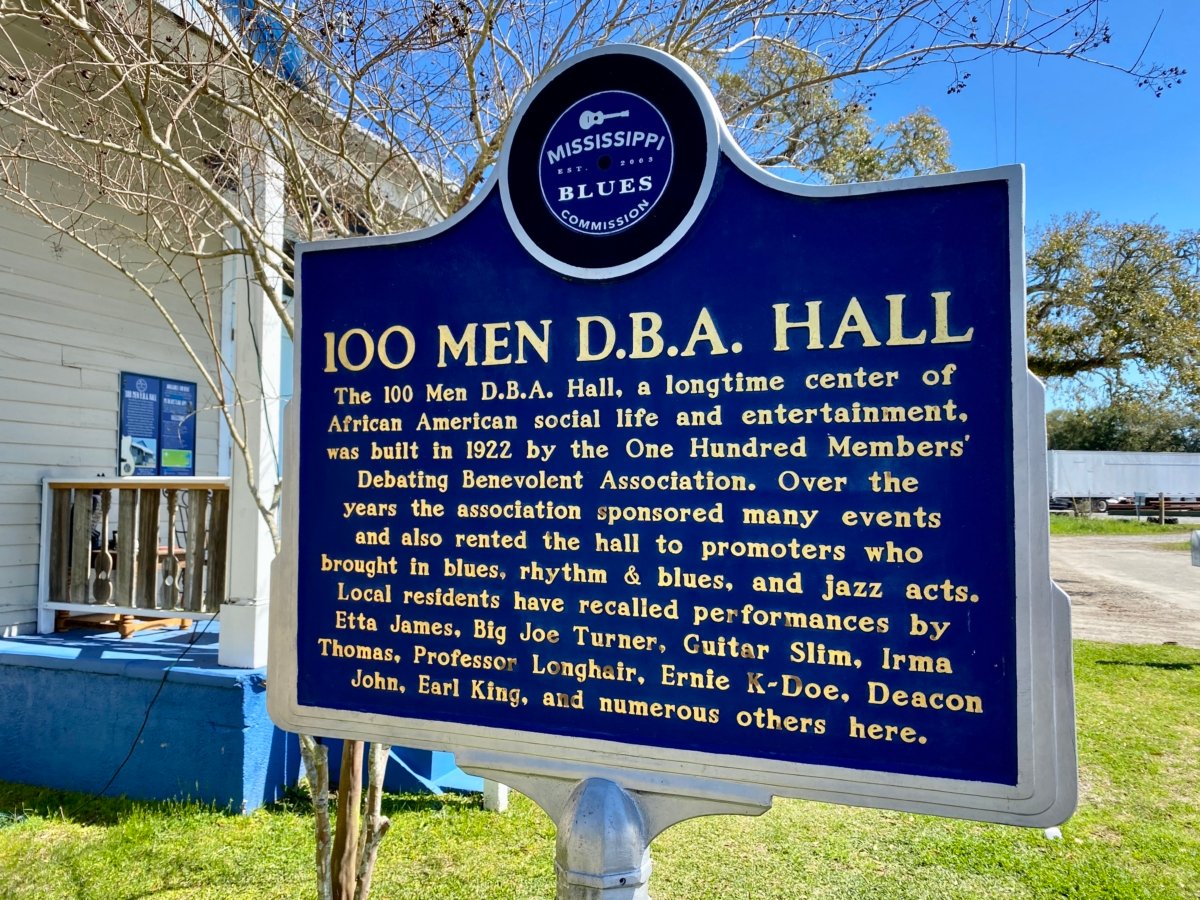 Today, the 100 Men Hall is one of the few surviving structures on the Mississippi Blues Trail.
The property changed hands multiple times in recent years, and at one point the historical building was even slated to be razed.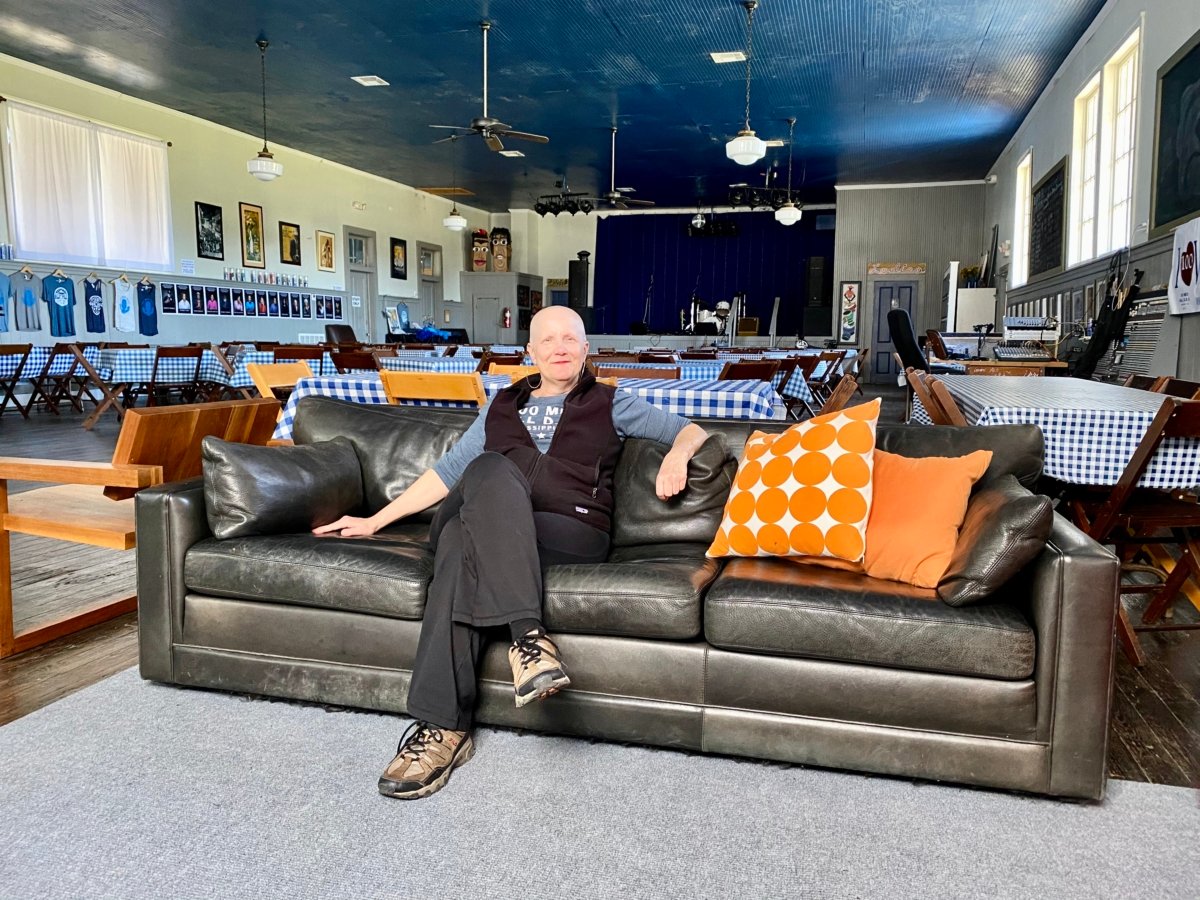 Enter Rachel Dangermond. In 2018, the award-winning investigative reporter purchased the African American landmark "with the intent to operate it as a nonprofit, music venue, multipurpose hall rental, and community space."
I had the pleasure of meeting Rachel in person during my visit. It did not take long to learn she was not only a brilliant visionary and force of nature, but also someone I could have chatted with for hours about everything and nothing.
With all certainty, an act of synchronicity tapped Rachel to ensure preservation of the 100 Men Hall and the distinct culture of Bay St. Louis.
The renovated hall presents an eclectic blend of decor old and new. A corner bar incorporates contemporary pieces, while architectural elements—like the trough urinal in the men's room—retain touches from the past.
Framed posters of previous events line the walls of the venue.
And there were more frames . . . .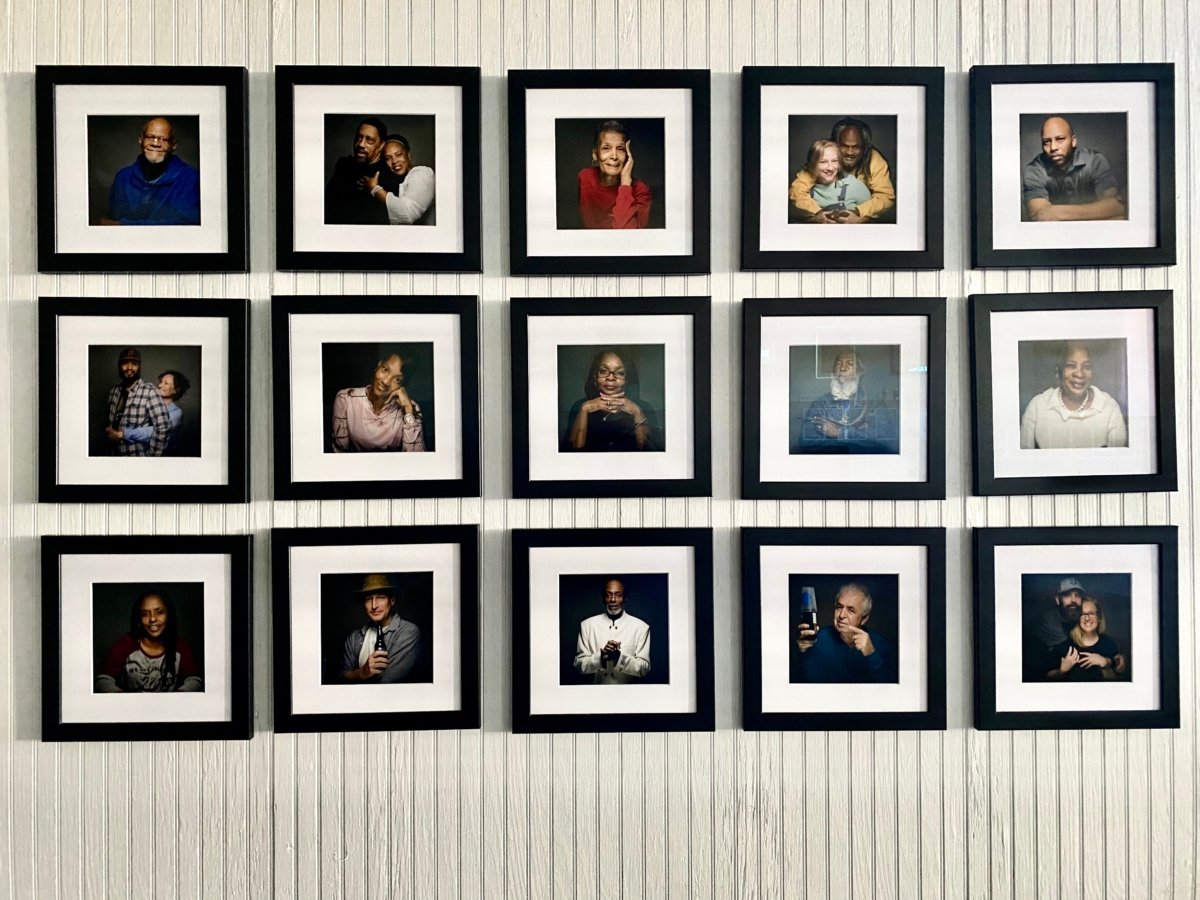 The 100 Men Hall People Project was designed to "strengthen the heritage identity between the community" and the venue.
For a solid week, doors remained open for anyone connected to the hall to have their portraits taken by New Orleans fine arts photographer Gus Bennett.
Participants wrote personal reflections to pair with their portraits, mini-histories to record how the hall has influenced their identities.
Rachel's son Constantin AKA "Tin" and "The 101st Man," is the love of her life.
I believe the frame structure at 303 Union Street is Rachel's love child, too.
Note: Events and tours of the 100 Men Hall are on pause through the remainder of 2020 due to the COVID-19 global pandemic. But until the venue reopens, the 100 Men Hall Facebook page continues to post People Project portraits, community updates, and other resources. Donations are welcomed.
---
Mississippi Gulf Coast National Heritage Area
---
The Mississippi Gulf Coast National Heritage Area covers the state's six coastal counties and promotes "the region's rich cultural and environmental diversity, history, natural beauty, and traditions."
Grants from the Mississippi Gulf Coast NHA have helped fund several African American heritage projects mentioned in this story.
If you are obsessed with collecting National Park Passport stamps like I am, you will be happy to learn that there are 39 cancellation stations throughout the region.
On my next trip to Coastal Mississippi, I plan to collect them all!
---
More Coastal Mississippi Culture
---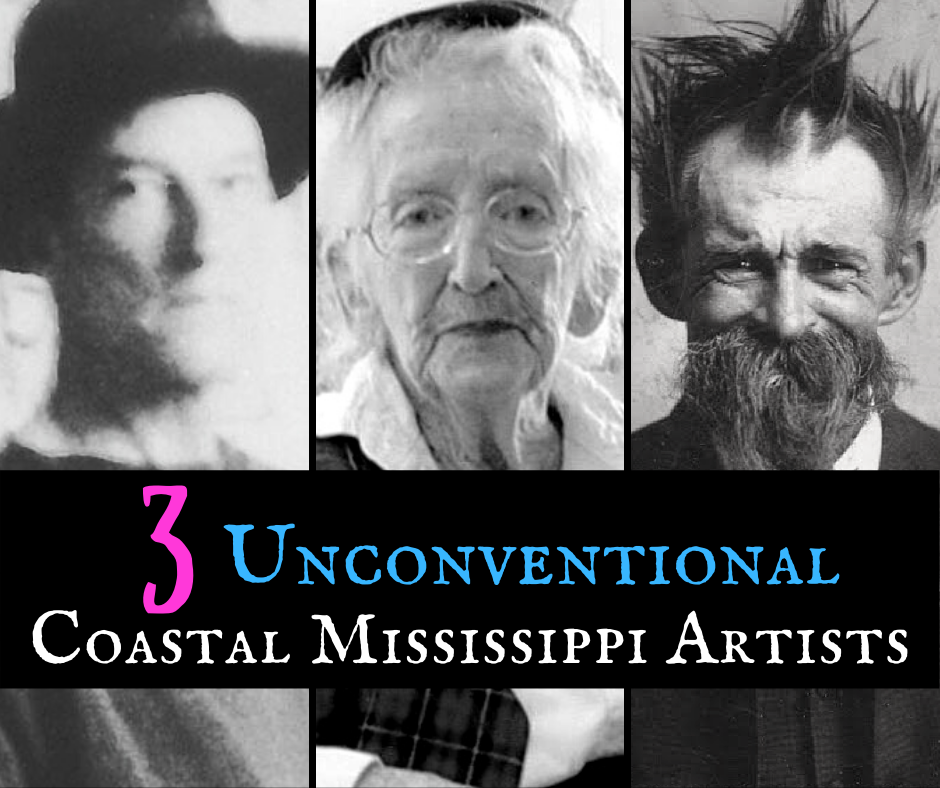 Mississippi's Gulf Coast also boasts a rich visual art heritage. In a related Backroad Planet post, meet Walter Anderson, Alice Moseley, and George Ohr, three unconventional Coastal Mississippi artists with museums dedicated to their lives and work.
Additional Mississippi Gulf Coast travel resources from Backroad Planet:
Discover more exciting destinations for your Mississippi road trip itinerary on Backroad Planet.
---
Map It!
---
---
We Would Love to Hear From You
---
We enjoy dialogue with our readers, especially when they share off-the-beaten-path destinations and useful travel tips. Have you ever explored Coastal Mississippi's African American heritage? If so, we would love to hear about your experience. We invite you to leave your comments and questions below, and we always respond!
---
Pin this Post!
---