(a

30

minute read)
---
Facilities, services, activities, and dining. In a critical review, experience life aboard an Enchanted Princess transatlantic cruise from North America to Europe.
---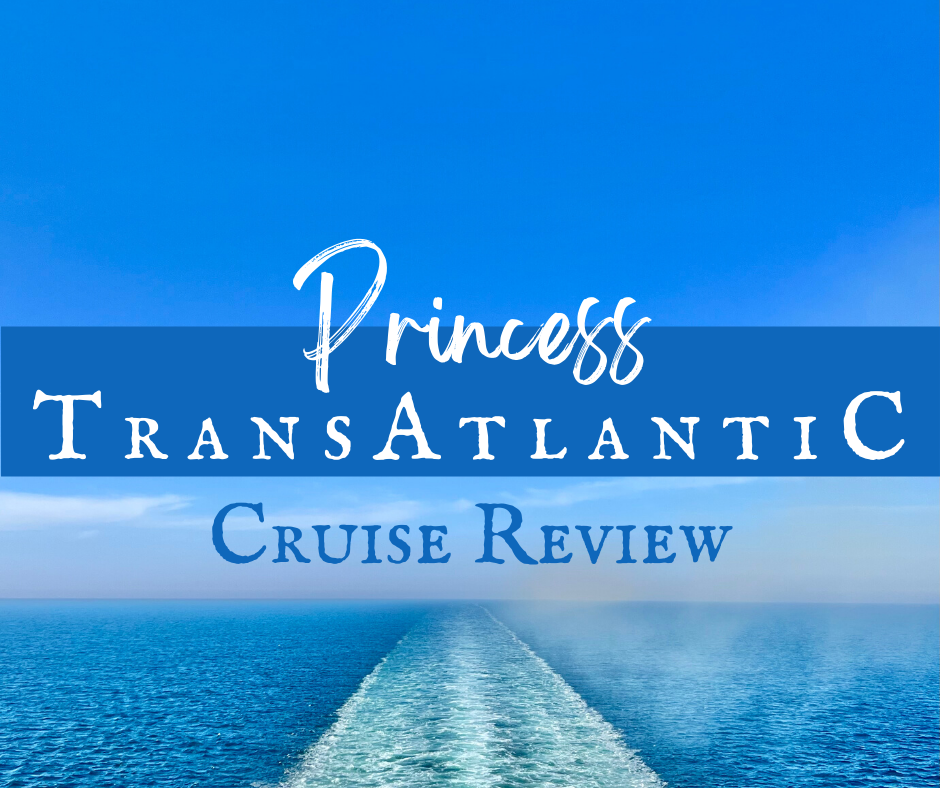 This post may contain affiliate links. Please refer to our our Disclosure/Disclaimer page for more information.
---
Note: This is a long-form, photo-intensive account of my experiences for readers who want to cruise virtually, as well as travelers seeking detailed information before booking a Princess transatlantic cruise of their own.
Please use the Table of Contents to navigate to sections of interest. The arrow to the right of your screen will instantly take you back to the top of the post.
---
---
An Enchanted Princess Transatlantic Cruise Review
---
A 25-Day Transatlantic and Baltic Sea cruise on the Enchanted Princess was an offer I could not refuse. It was a back-to-back of the 14-Day Northern Europe Passage and the 11-Day Scandinavia & Russia.
The fare for the two itineraries booked jointly with a zero single supplement would be $2,455, right at $100 per day. Booked separately, the fare would have been $4,518, a difference of $2,063.
Booking
---
Cruising the Baltic nations had been my dream itinerary for as long as I could remember, and so I booked it.
But it was not to be.
A madman went off the rails and ordered an unprovoked invasion of a neighboring nation and in the process shot down my travel plans. For thousands of innocents, this action brought fear, destruction, and death. For me, it was a mere inconvenience.
To err on the side of safety, cruise lines canceled calls to St. Petersburg and ports in neighboring nations. My Baltics cruise ultimately transitioned to a Western Europe itinerary. As a result, many guests canceled their bookings. Although I was disappointed, I chose to continue with the revised itinerary.
Because I want armchair travelers to experience journeys vicariously and potential travelers to make informed decisions about future destinations, I write monster posts.
To facilitate navigation of the massive amount of content gathered on this 25-day voyage, coverage will be a three-part series. This post will review the Enchanted Princess and my experiences aboard the ship.
The narrative continues in part two with a travelogue of my shore excursions on the 14-day Northern Europe Passage in the Azores, France, and Denmark.
Part three conclude the narrative with an account of the 11-day Western Europe itinerary and port destinations in Norway, Germany, Belgium, and the UK.
My Perspective and Experience
---
My booking on the Enchanted Princess would be my second sailing with Princess Cruises. My first experience had been a couple of months earlier when I did a 14-day Caribbean cruise.
Prior to Princess, I had sailed almost exclusively with Viking and Norwegian, including the following ocean cruise itineraries:
Viking had set a high bar, and with only a few foibles, NCL had made a great impression, so none of the above posts could be considered critical reviews.
Although I loved the itineraries and most of the port excursions with Princess, some of my experiences convinced me that I owed it to readers to be perfectly candid in my reporting.
This prompted a critical review of my cruise on the Caribbean Princess. You will find that I refer to the previous cruise frequently in this post when making comparisons and in order to avoid redundancy on related topics.
Each cruise line markets to a select demographic, every ship has its own design and features, and each passenger's experience is unique. When it comes to cruising, the variables are limitless.
People cruise for many reasons, and all of them are valid. Because I cruise for port destinations, life on board is secondary to me.
This review is entirely subjective, and based on my singular perspective and experience. If you seek information about the casino, luxury spa treatments, and duty free shopping, you will need to search elsewhere.
---
Embarkation
---
On the day of departure, I hopped a morning flight from Tampa to Ft. Lauderdale. The 38-minute flight went without a hitch, and I caught a rideshare to the Port Everglades cruise terminal. The process of deplaning, walking to ground transportation, and waiting in traffic to clear port security took about an hour.
There was potential for a snafu, but for me it was easily averted thanks to excellent in-flight WiFi on Southwest and my membership in an Enchanted Princess Facebook group. I have tried using Cruise Critic roll calls, but website navigation there is too confusing for me.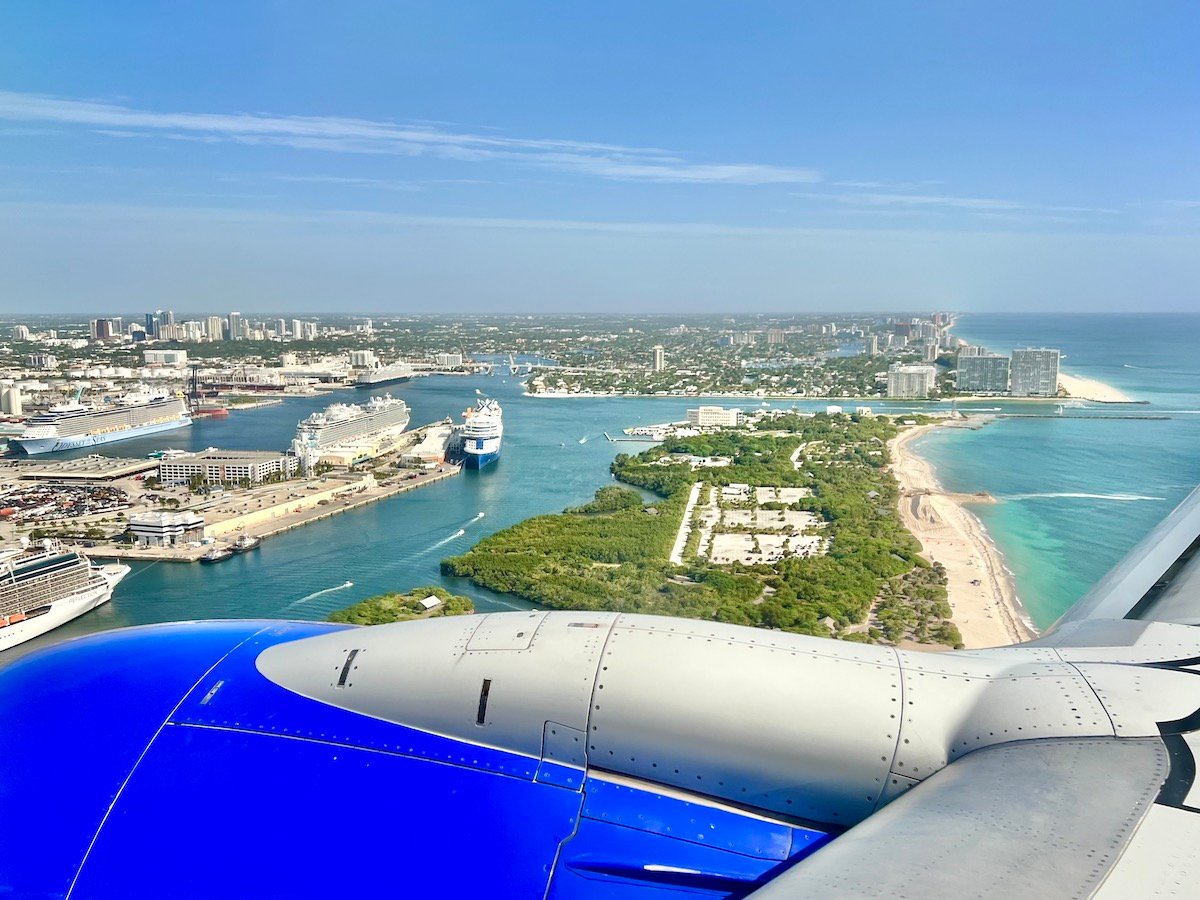 Prior to landing, several group members posted that there had been a terminal change for the Enchanted Princess due to mechanical issues on a Holland America ship. With this intelligence at my fingertips, I was able to book my rideshare to Terminal 21, instead of the previously assigned Terminal 2.
Glancing out my window, I spotted the Enchanted Princess in port below.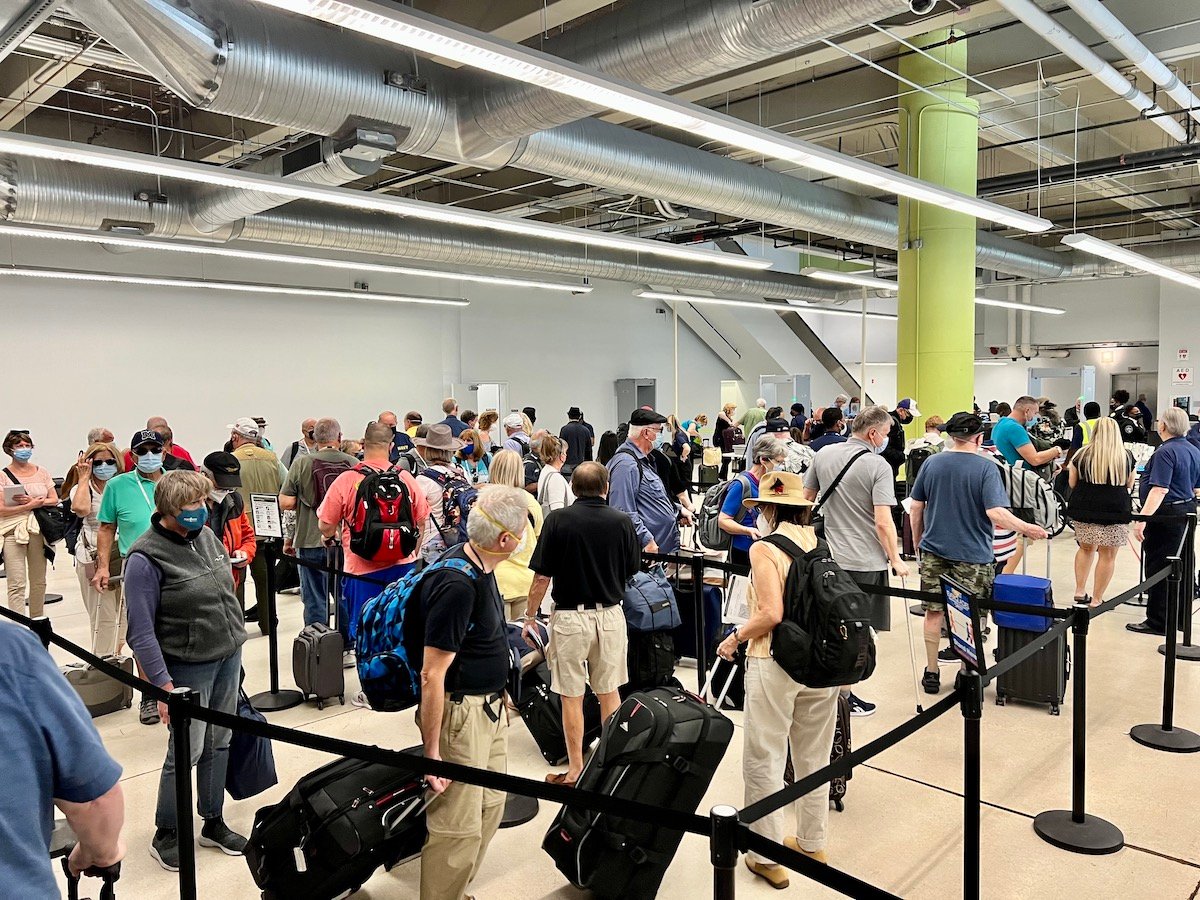 At the terminal, the check-in line was out the door. The Princess MedallionClass app had been a challenge on my previous Caribbean sailing, but the check-in process had been much smoother this time, and I was Green Lane OceanReady.
Although the queue was long, and the newly-assigned terminal only allowed for one gangway, the boarding process moved steadily. An agent issued me a "wearable" medallion—the Princess alternative to a keycard—attached to a lanyard. Because I don't like things hanging around my neck, I popped out the medallion and carried it like pocket change.
The cruise terminal check-in process from arrival to boarding took only 30 minutes.
---
The Enchanted Princess
---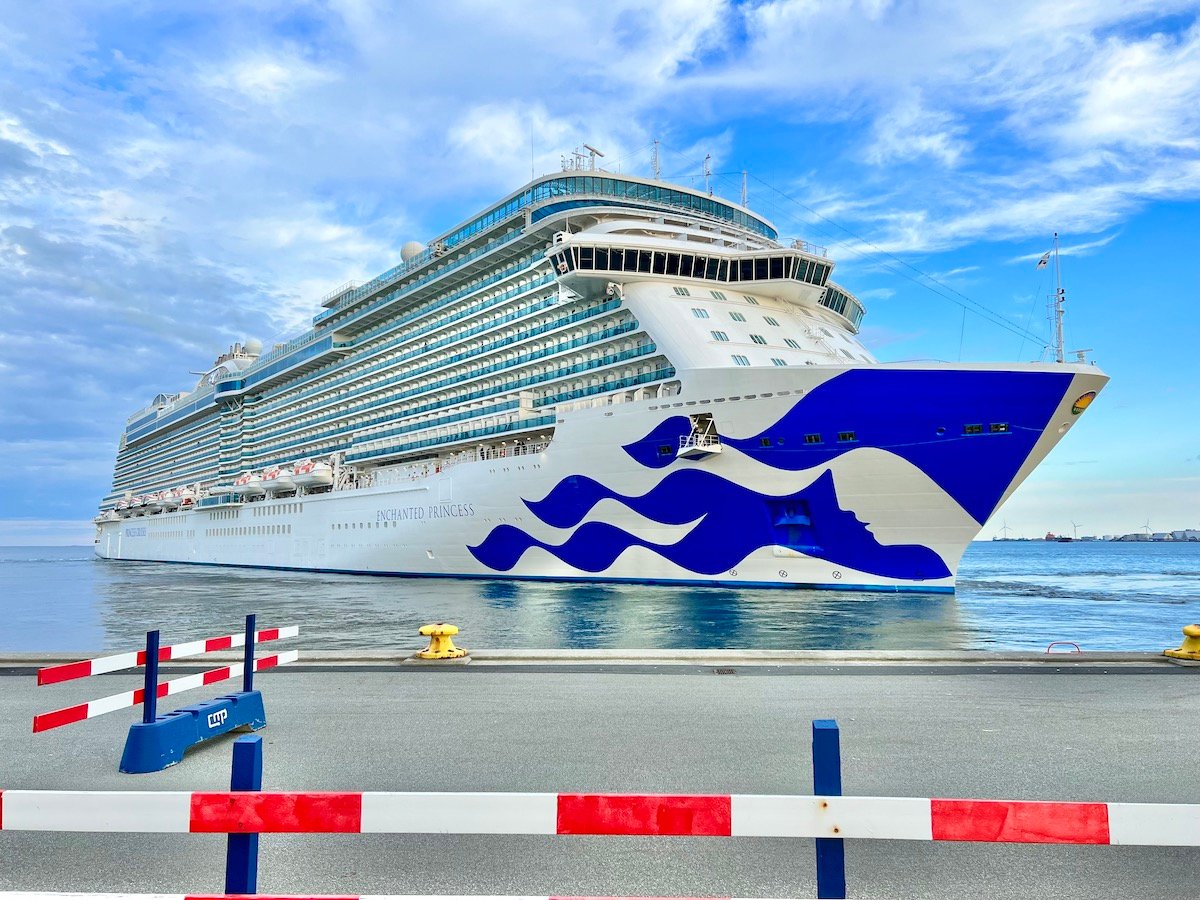 At the time of my sailing, the Enchanted Princess was the newest ship in the fleet, its maiden voyage in November of 2021. The Princess website reports guest capacity at 3,660, while a fact sheet from guest services states that the ship holds 4,450 passengers and 1,350 crew. Either way, there were 2,307 guests aboard for the transatlantic crossing.
After boarding, there are two requirements: check in at the assigned muster station and watch the safety video. Your medallion must be present in front of your stateroom TV to ensure viewing and unlock other features on the home screen.
My Balcony Stateroom
---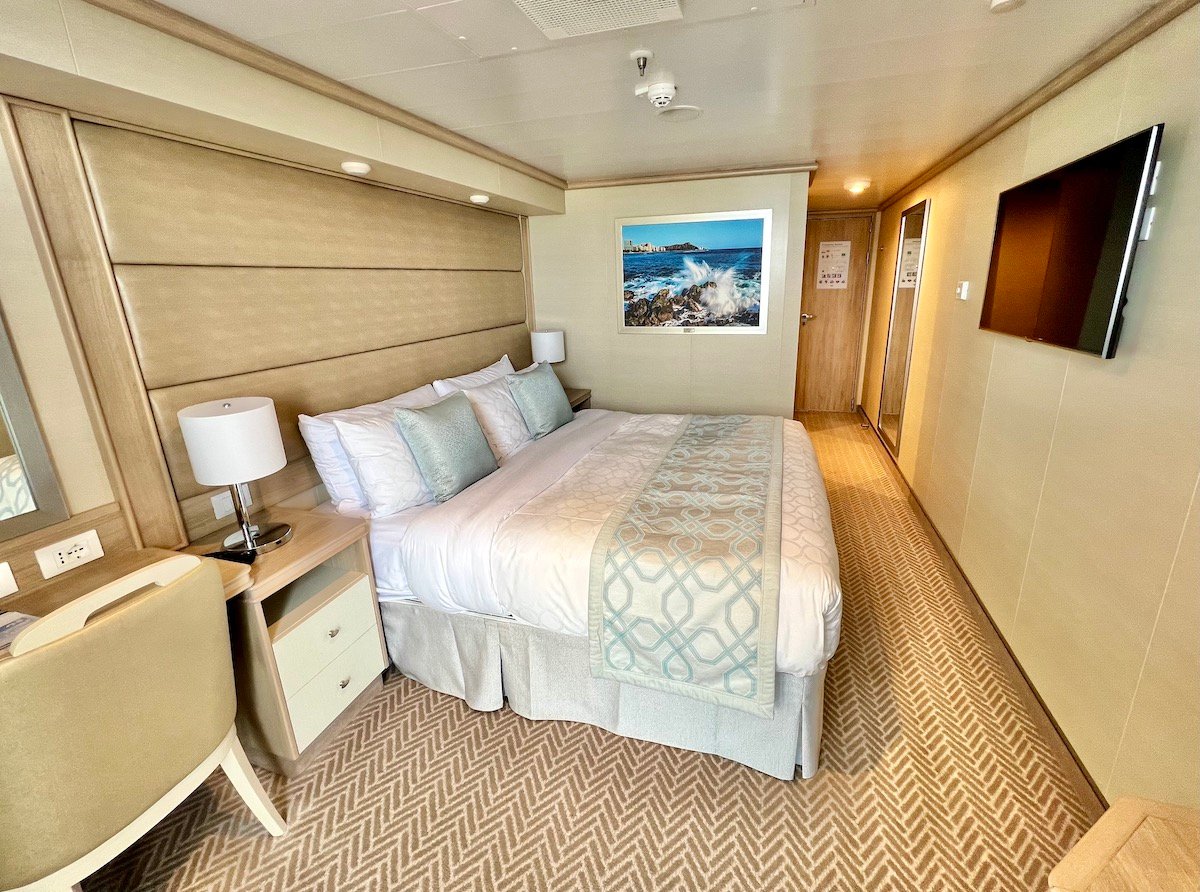 I was curious to discover how much "newer" or "modern" my stateroom would be in comparison with my cabin on the much older Caribbean Princess. There wasn't much difference in decor, but I was happy to see that the TV was mounted on the wall opposite the bed, as opposed to the corner ceiling mounting on the older ship.
Stateroom TVs have multiple applications and offer a wealth of information. On this cruise I used the TV to view the ship's GPS location, catch videos of missed destination presentations, and choose from an extensive selection of classic movies and more recent titles.
I promptly stowed away the bed scarf and throw pillows, superfluous accessories in my opinion. That left only the bed, which was in a word "heaven." The cushy mattress topper, soft bed linens, fluffy pillows, and luscious duvet conspired to ensure that I slept like a log at naptime and all night.
Other stateroom amenities include a wired-in blow dryer, telephone, and safe.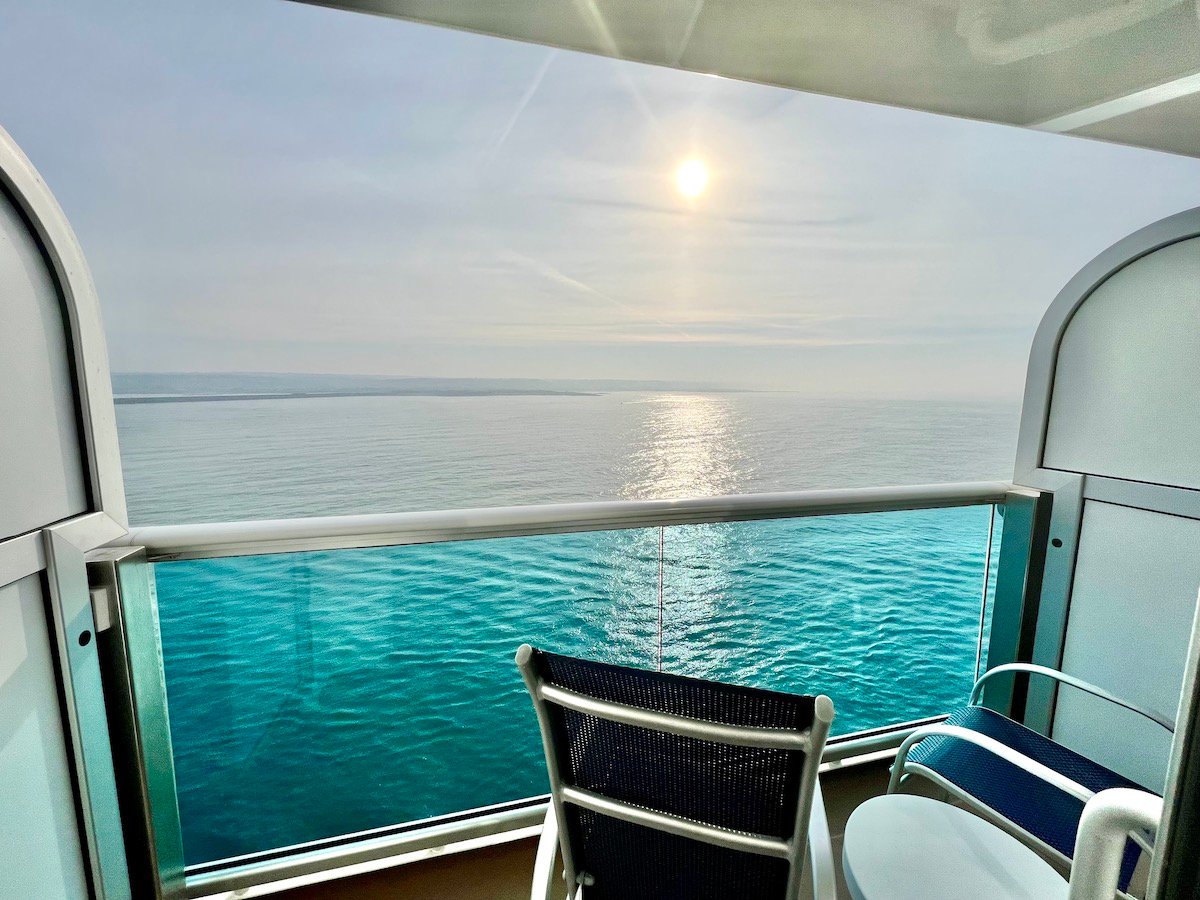 These may be famous last words, but I don't cruise without a balcony. With me, it's a combination of claustrophobia avoidance and curiosity. I don't spend a lot of time sitting outside, but I like knowing I can slide open the doors to check the weather and take in the view.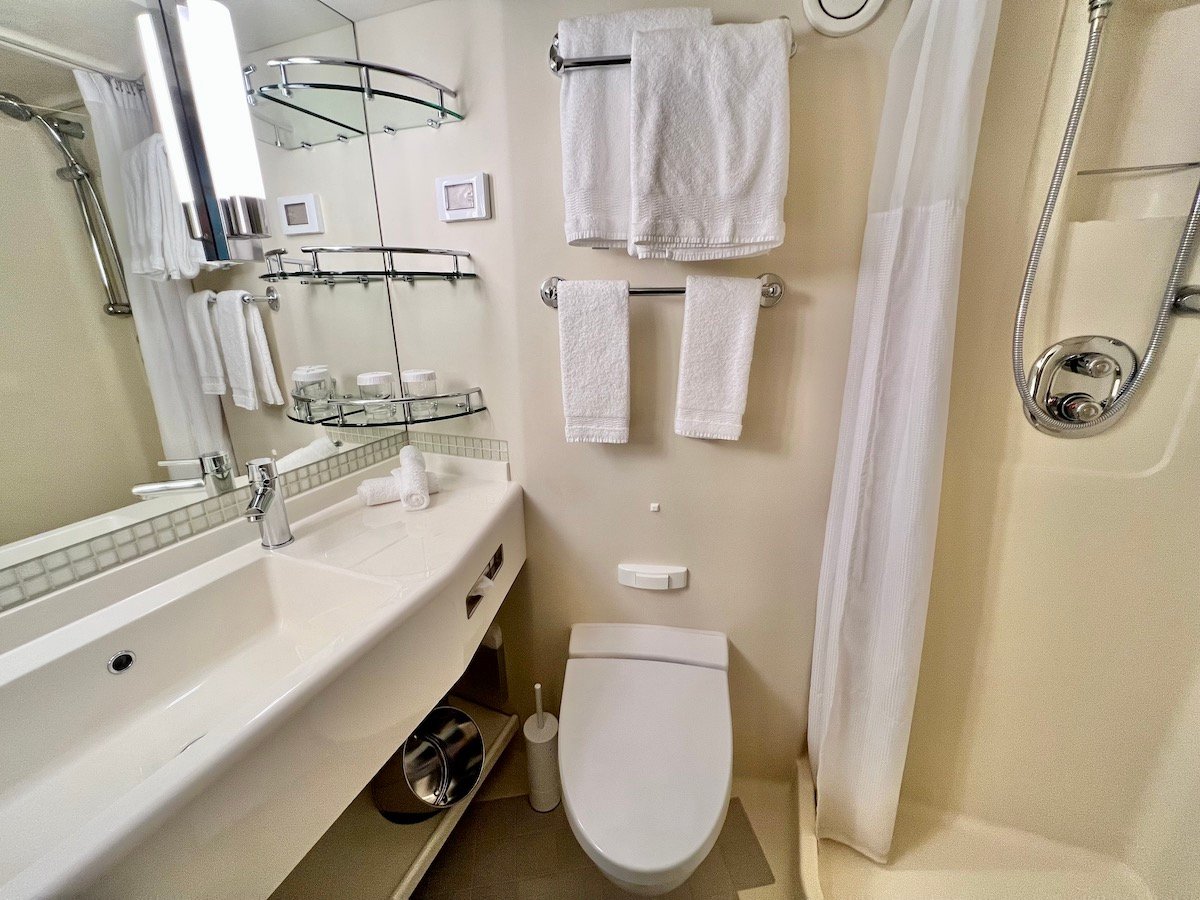 The bathroom was nothing special, with lots of white plastic construction. But it was clean and without a sewer smell I had encountered on other cruises. I wasn't crazy about the shower curtain, preferring a glass or plexiglass enclosure.
A feature worth mentioning is that the bathroom had electrical outlets where I could charge my shaver and power my electric clippers. Most ships I have cruised only have outlets above the stateroom desk.
The Lotus Spa body wash had a strong chemical smell like lavender Fabuloso. It was awful. When I requested bar soap, the room steward informed me that it was only for Elite guests. But then two hotel-size bars of soap appeared on my bed when I returned from dinner that evening.
Princess stewards only make up your stateroom once per day. Turndown service can be requested as needed or for the length of the cruise.
My stateroom was noisy at times, with creaks around the the balcony doors. The most annoying sounds, however, came from guests and crew sliding heavy furniture around the deck of the Wakeview Bar directly above my cabin. At times I wanted to shout, "Oh my God, how long does it take to get the furniture in the perfect arrangement?"
At least there were no hangers banging closet walls in adjacent staterooms.
---
Onboard Facilities, Amenities & Services
---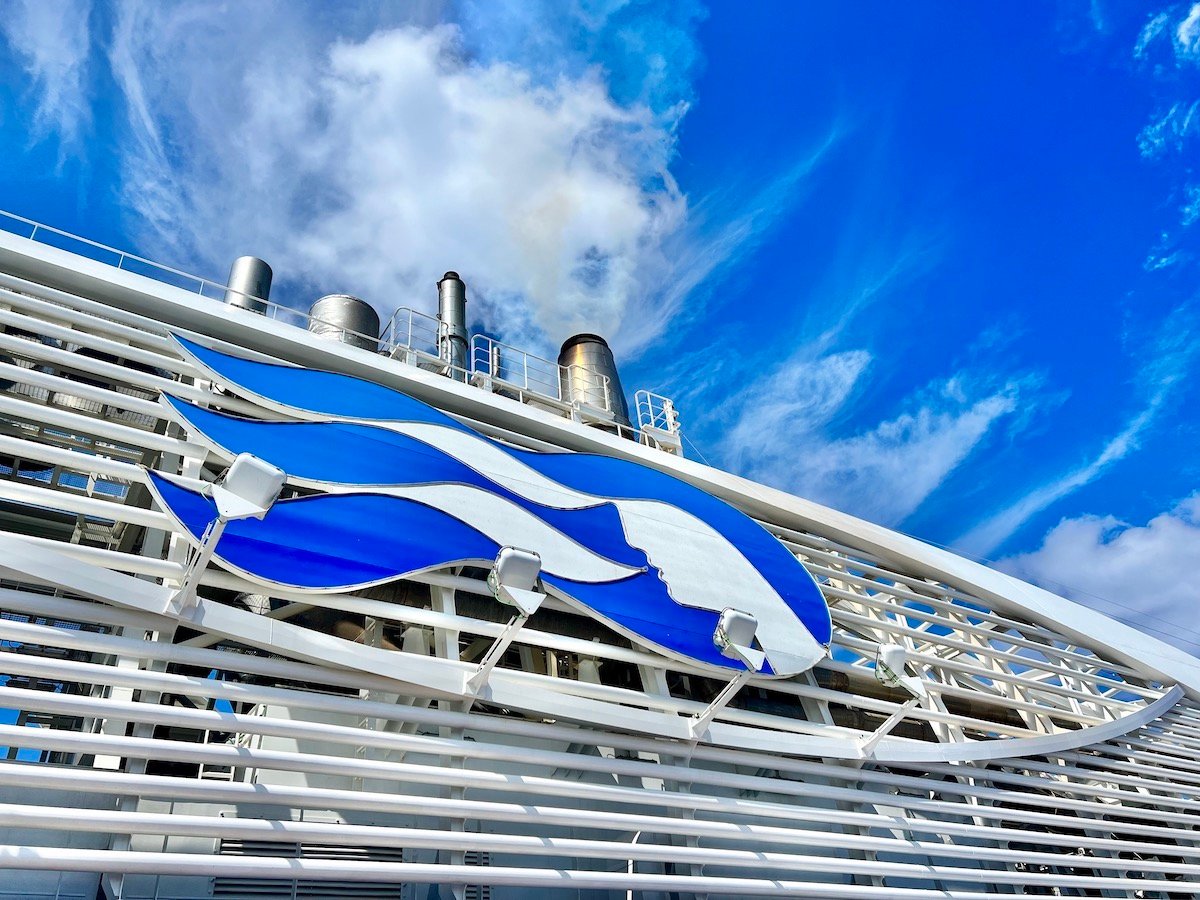 The Enchanted Princess is the fifth Royal-class cruise ship in the Princess fleet, and it is appointed with most of the facilities, amenities, and services you would expect from an ocean liner of its size.
Princess ships do not have go-carts, water slides, and laser tag, which is fine with me.
The Piazza
---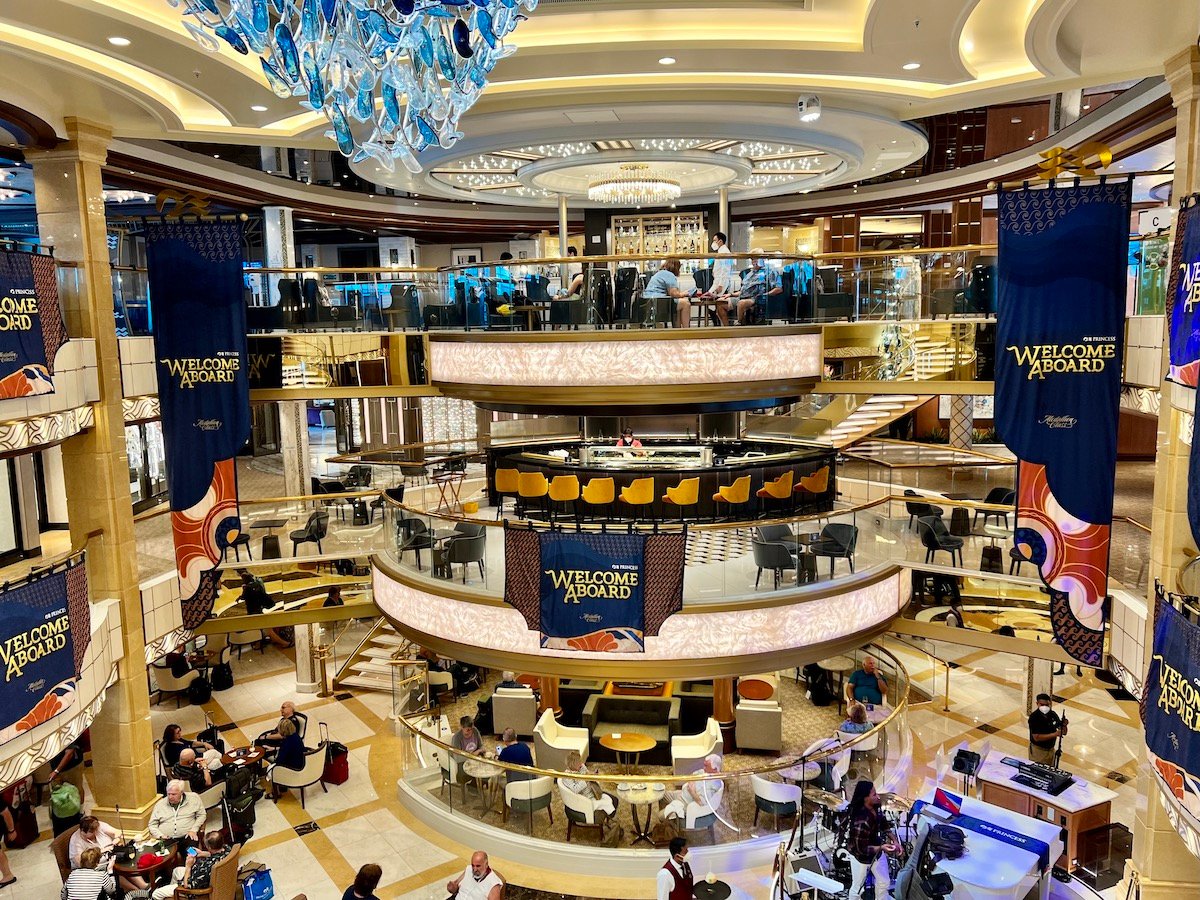 The Piazza is a three-level atrium surrounded by restaurants, bars, shops, and sitting areas on Decks 5, 6, and 7.
It is a "hub of activity," with live music, dancing, and cocktails, although I found it difficult to carry on a conversation because the music was so loud. I tried moving away from the stage, but the music was amplified and piped through speakers throughout the public space.
That said, I must mention that the music of the Capriccio Strings string trio was always a pleasure, making them my favorite live act on the ship.
Pools
---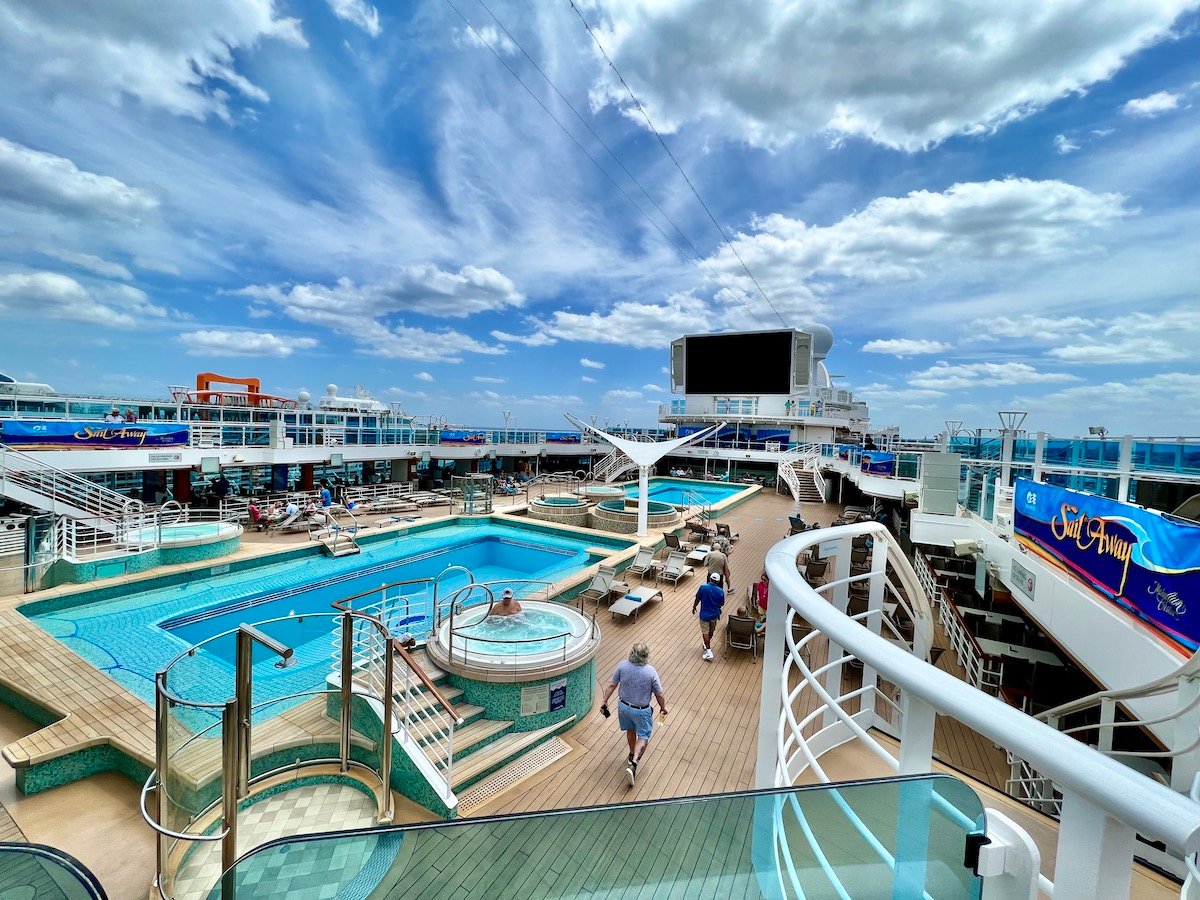 The Enchanted Princess has two large pools and a Jumbotron TV for "Movies Under the Stars" on the Lido Deck. Hot tubs abound on the upper decks. I am not a sun worshiper, so I did not frequent the area. I imagine it was not as busy when temperatures dropped as the ship sailed into the higher latitudes.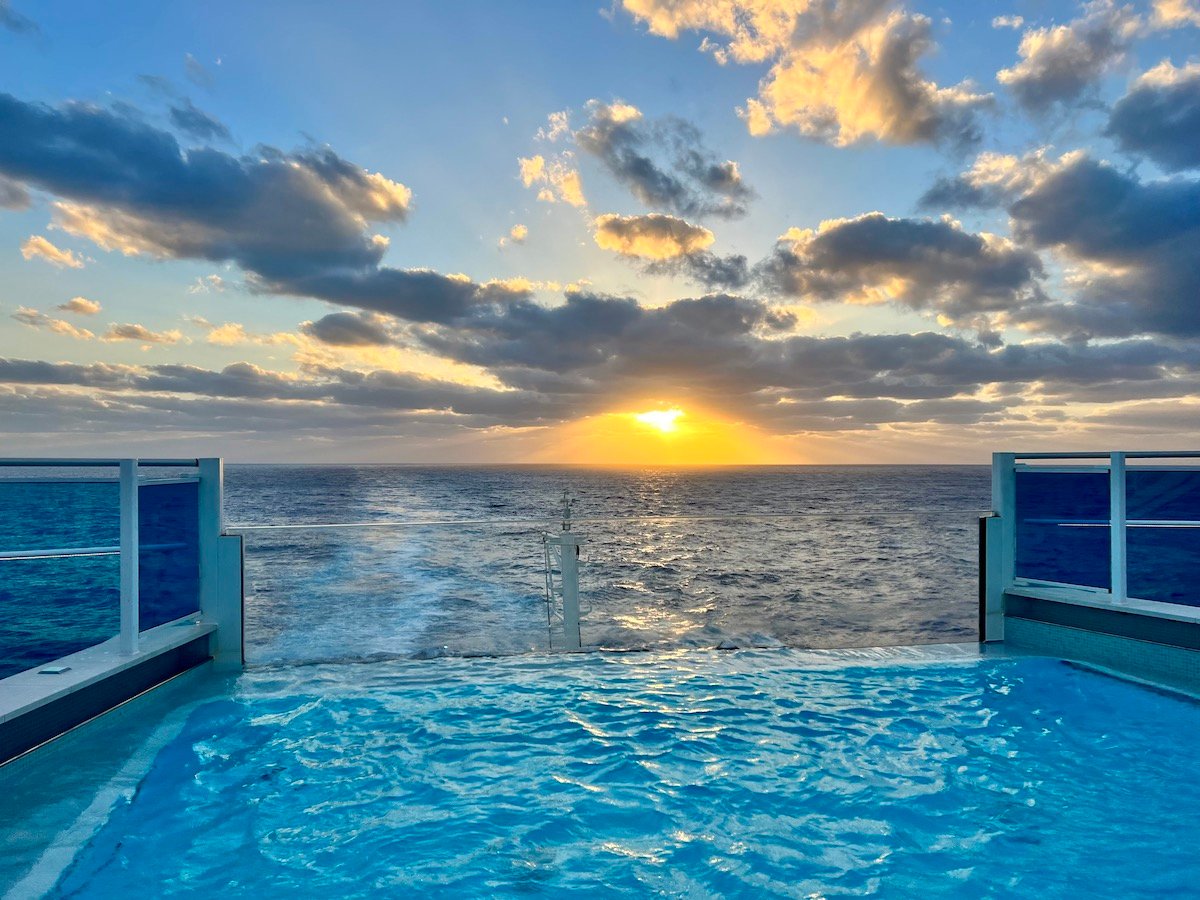 Two adults-only pools are the Retreat pool on the Sun Deck and the Wakeview infinity pool on the Lido Deck at the aft of the ship.
The Promenade
---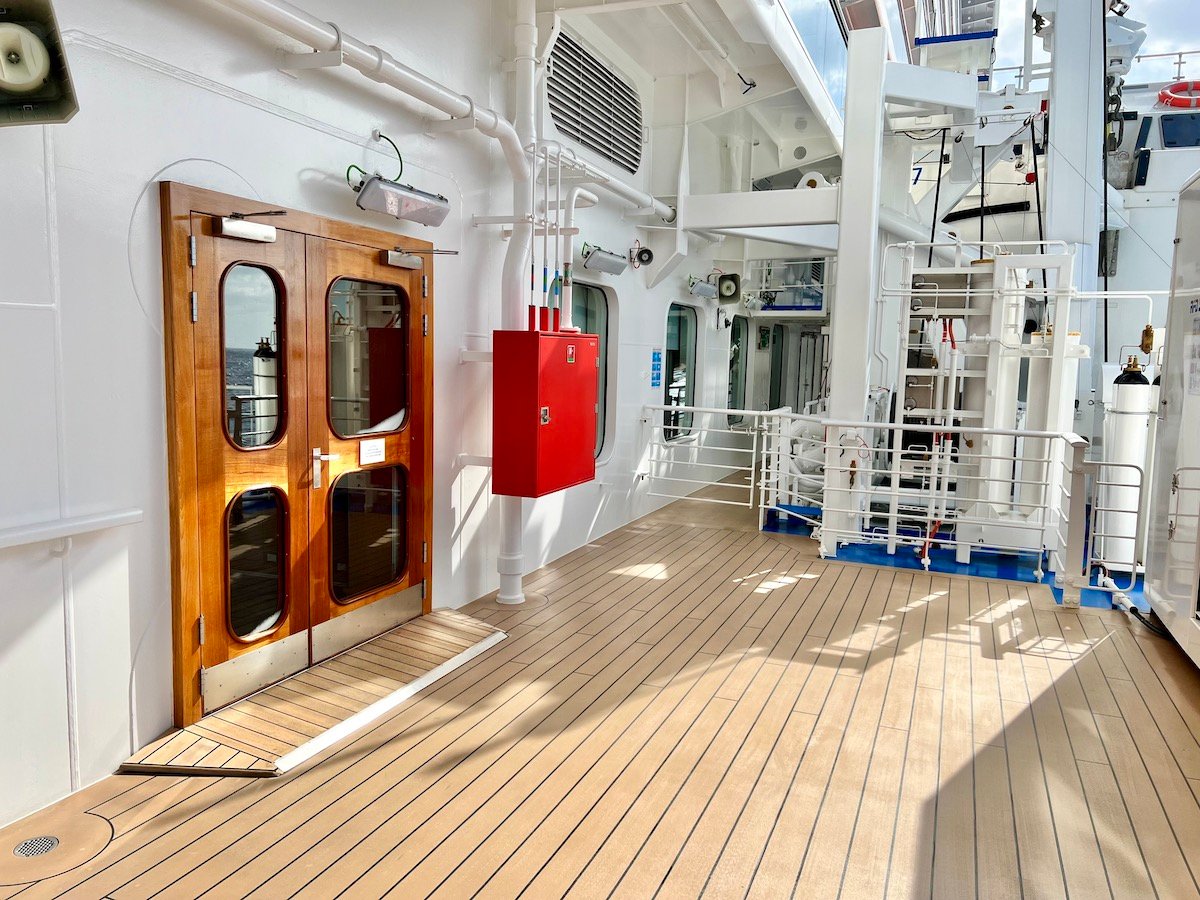 When cruising, I don't gamble at the casino or hang out at the pool, but I do love to walk the promenade for an hour every day to get my exercise and listen to audiobooks or music. So on the first day at sea, I suited up for my walk, only to be met with a huge disappointment.
On the Enchanted Princess, Deck 7 is named the Promenade Deck, but that is a misnomer.
The promenade does not function as a promenade should. Major sections on both sides of the ship are permanently blocked-off as maintenance spaces. There is a smoking section, and there are small dining and observation spaces, but it is literally impossible to circumnavigate the ship along the promenade on foot.
I heard that none of the Royal-class ships have functional promenades. As far as I can recall, I have never sailed on a cruise ship that did not have a promenade. Until now, that is.
On my previous cruise, the promenade of the Caribbean Princess had a few issues, but at least it was open.
Jogging Track & Center Court
---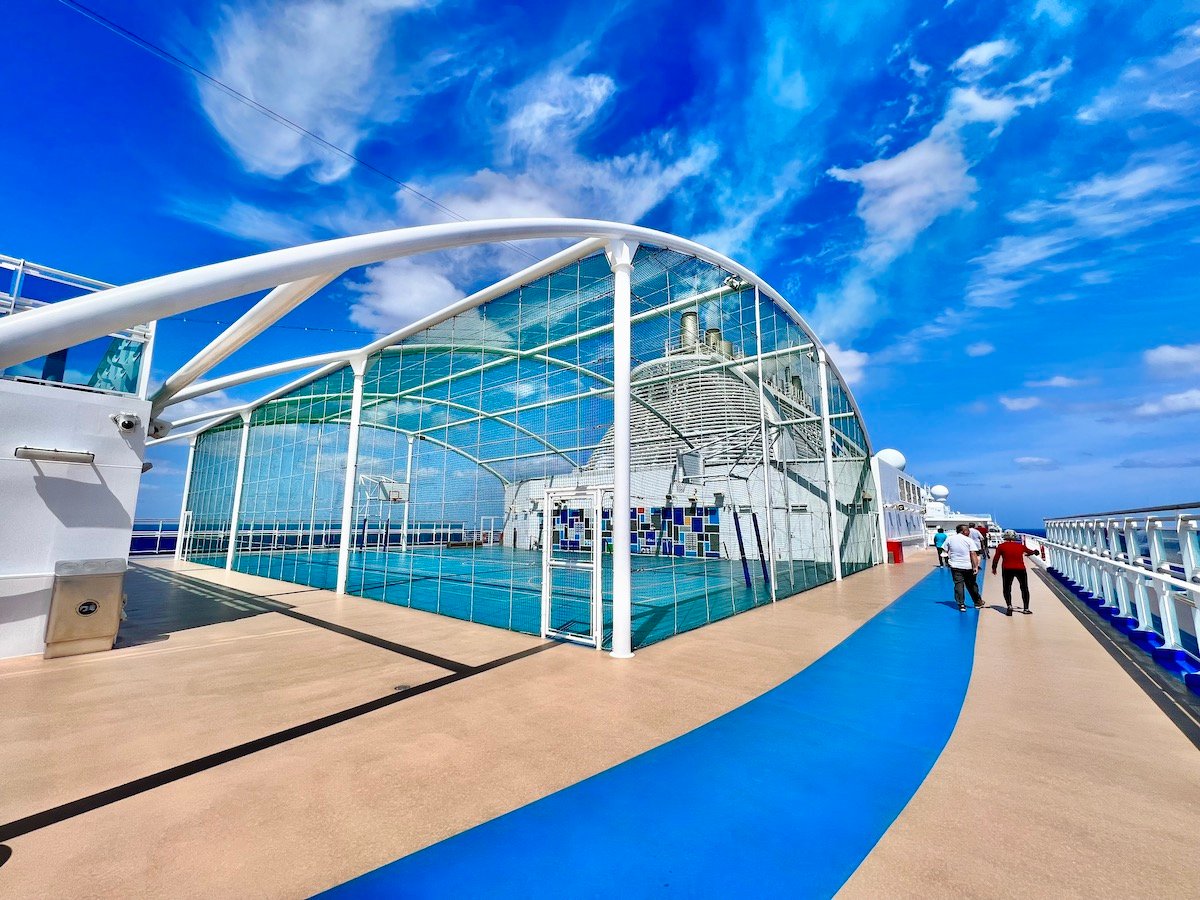 I tried walking the jogging track on the Sky Deck, where seven laps equals one mile, but I didn't like it. Unlike a covered promenade, it was exposed to the elements and did not work for me. I don't like walking in full sun, or rain, and the wind makes it difficult to hear with earbuds. They don't call me Sheldon Cooper for nothing.
The few times I did walk the jogging track I noticed that the Center Court was popular with guests playing pick-up basketball and pickleball.
Fitness Center
---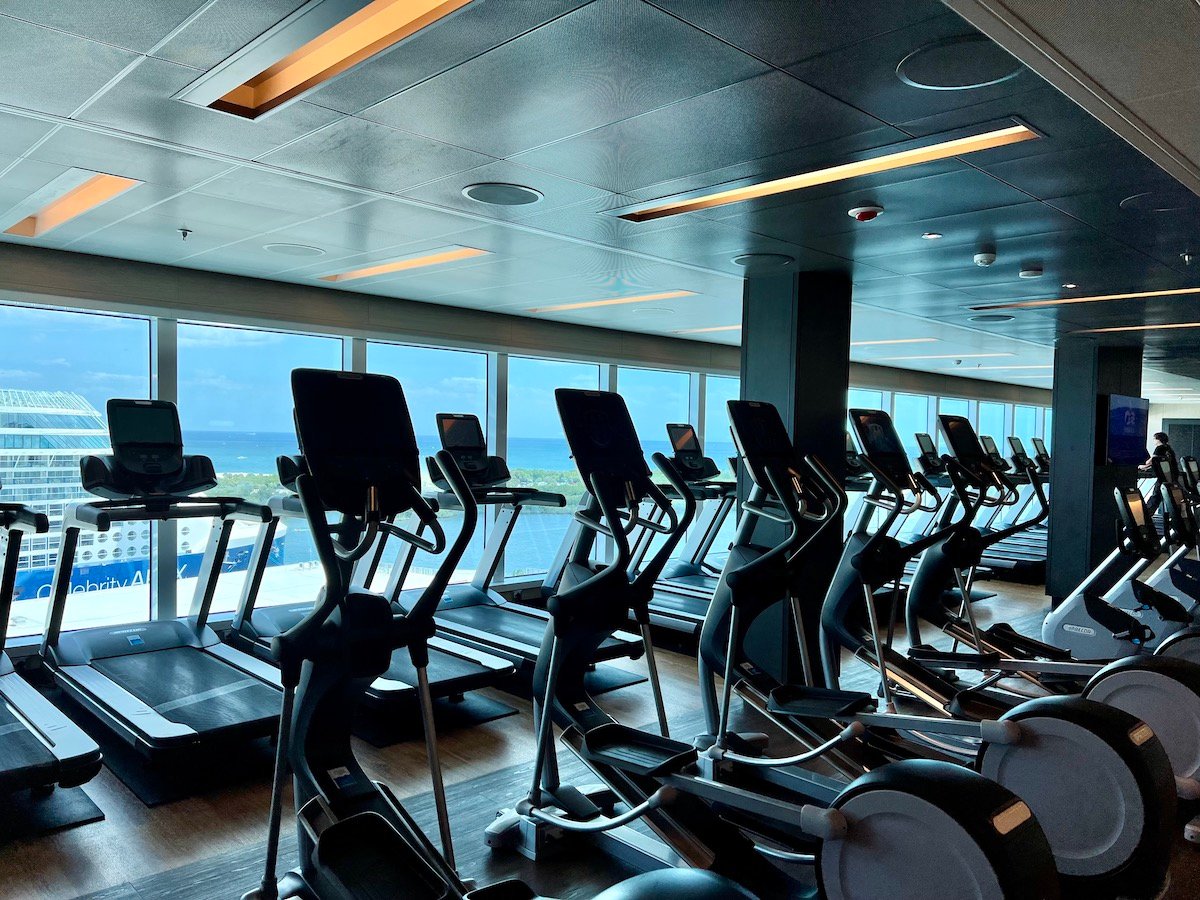 The fitness center seemed to be busy the few times I walked through to access the jogging track. And yes, I tried using a treadmill. Nope.
I heard complaints that the fitness center seemed like more of an afterthought in the ship design. Guests preferred fitness centers located along the bow of the ship with exercise equipment facing forward, rather than the side orientation of an aft starboard space on the Enchanted Princess.
Lotus Spa & Salon
---
The Lotus Spa is not attached to the fitness center as with most ships. I found it strange that the spa was situated on Deck 5 fore, adjacent to Guest Services, while the fitness center was on Deck 17 aft.
I don't use the spa and salon, so I can't review them, but I always try to grab photos during open house walkthroughs on the first day.
Princess Live!
---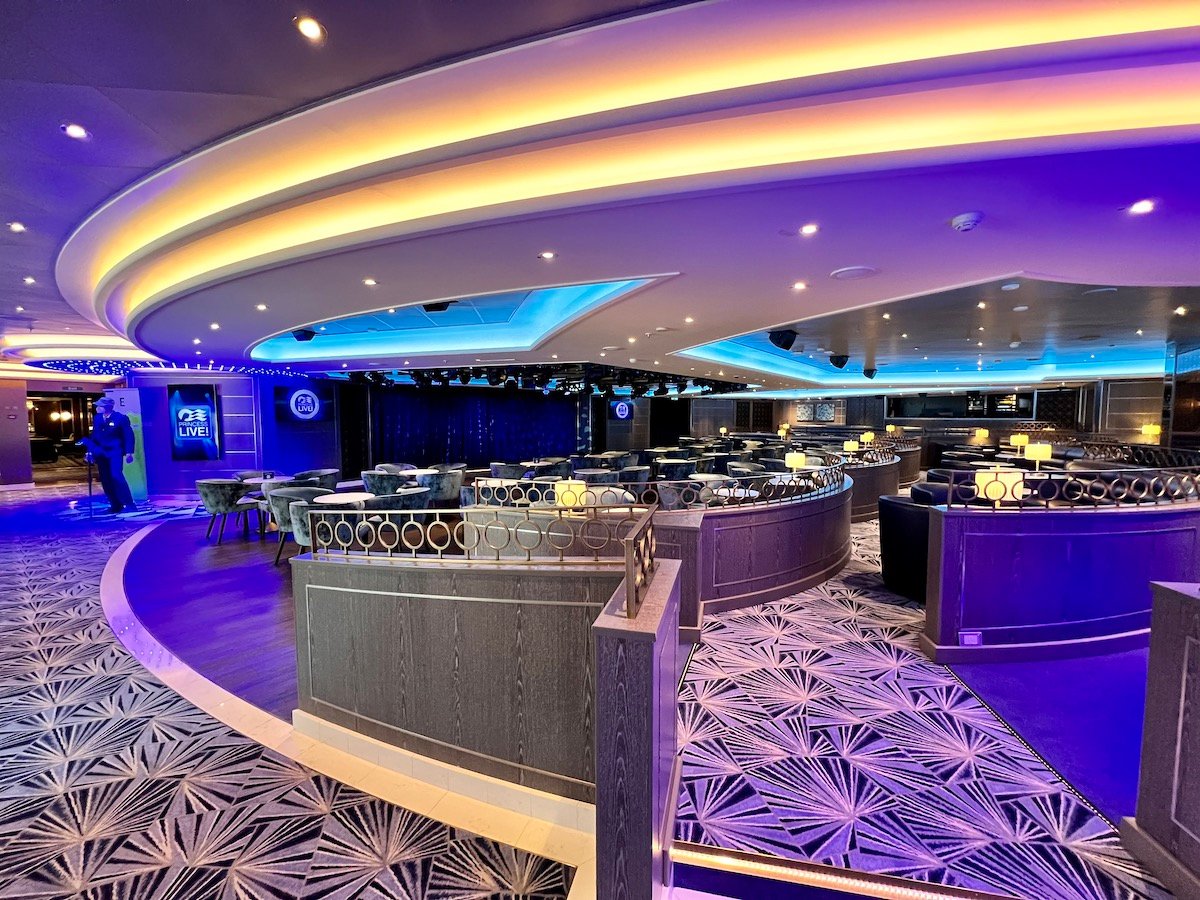 The Princess Live! venue on the Promenade Deck is one of the most versatile and popular spaces I have seen on cruise ships. Situated midship along the main corridor, it was impossible to miss. There always seemed to be trivia, gameshows, line dancing, or other presentations going on when I walked past.
Princess Theater
---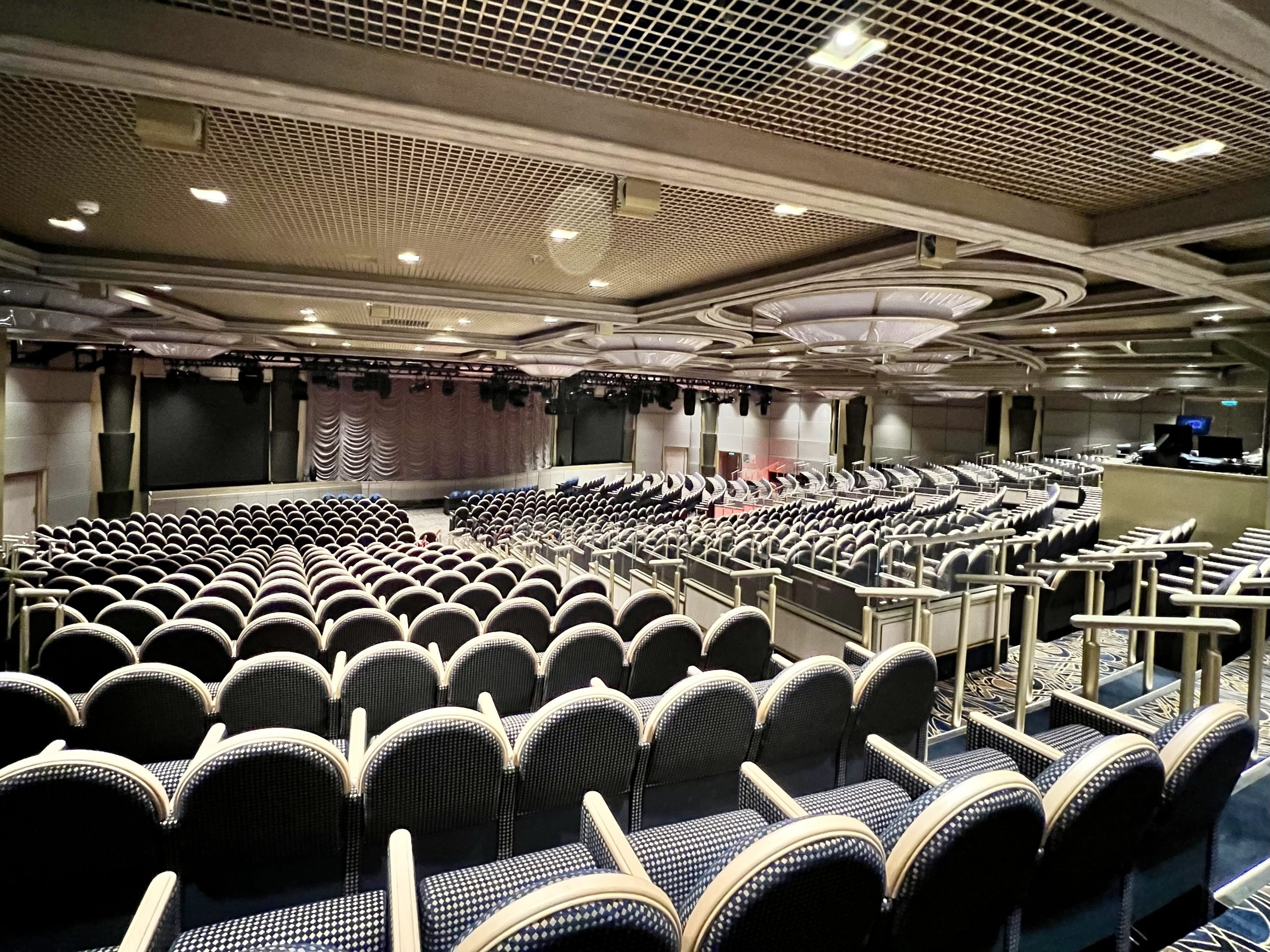 Accessed from Decks 6 and 7, the Princess Theater is the largest venue on the ship.
With state-of-the-art multi-media facilities, the theater hosts enrichment and destination presentations (port talks), concerts, comedians, and production shows. It also functions as a gathering space for shore excursions.
I attended one port talk. Although it was informative, it was not presented by the destination expert who had prepared the presentation. Another crew member filled in, apparently reading notes or a script. This also happened with the tape-delay presentations I watched on my stateroom TV. It was embarrassing that the substitute presenter was unfamiliar with the location, and there were many mispronunciations. I also got the impression that a certain "destination expert" did not have the inside scoop on a couple of the ports we visited. I expected more.
Production shows are the finest entertainment onboard in my opinion. With singing, dancing, an orchestra, costumes, props, and lighting, they are quality presentations. I attended both 5 Skies and Rock Opera. The former had a virtual reality video game premise and the music was electronica. The latter was exactly what you would expect, featuring selections from classic rock, opera, and musical theater.
Although I preferred Rock Opera to 5 Skies, they were both excellent performances. The problem was that the music volume was blasting to the point of discomfort. I sat near the front house right for 5 Skies, and it was painful. For Rock Opera, I sat near the back house center. Even though I loved the music and production, the volume was still way too loud to fully enjoy the show.
Entertainment & Activities
---
I don't attend much live entertainment nor participate in many shipboard activities, but that is by choice.
Each day's Princess Patter newsletter offered a packed schedule of events for every persuasion from early morning to after midnight. There were single & solo traveler meetups, LGBTQ+ get-togethers, Bible studies, as well as meetings for Friends of Dr. Bob and Bill W. There were hosted and unhosted gatherings for card and board games, ping-pong, knitting, sales presentations, and never-ending photo opportunities.
Let's just say there was something for everybody.
Launderettes
---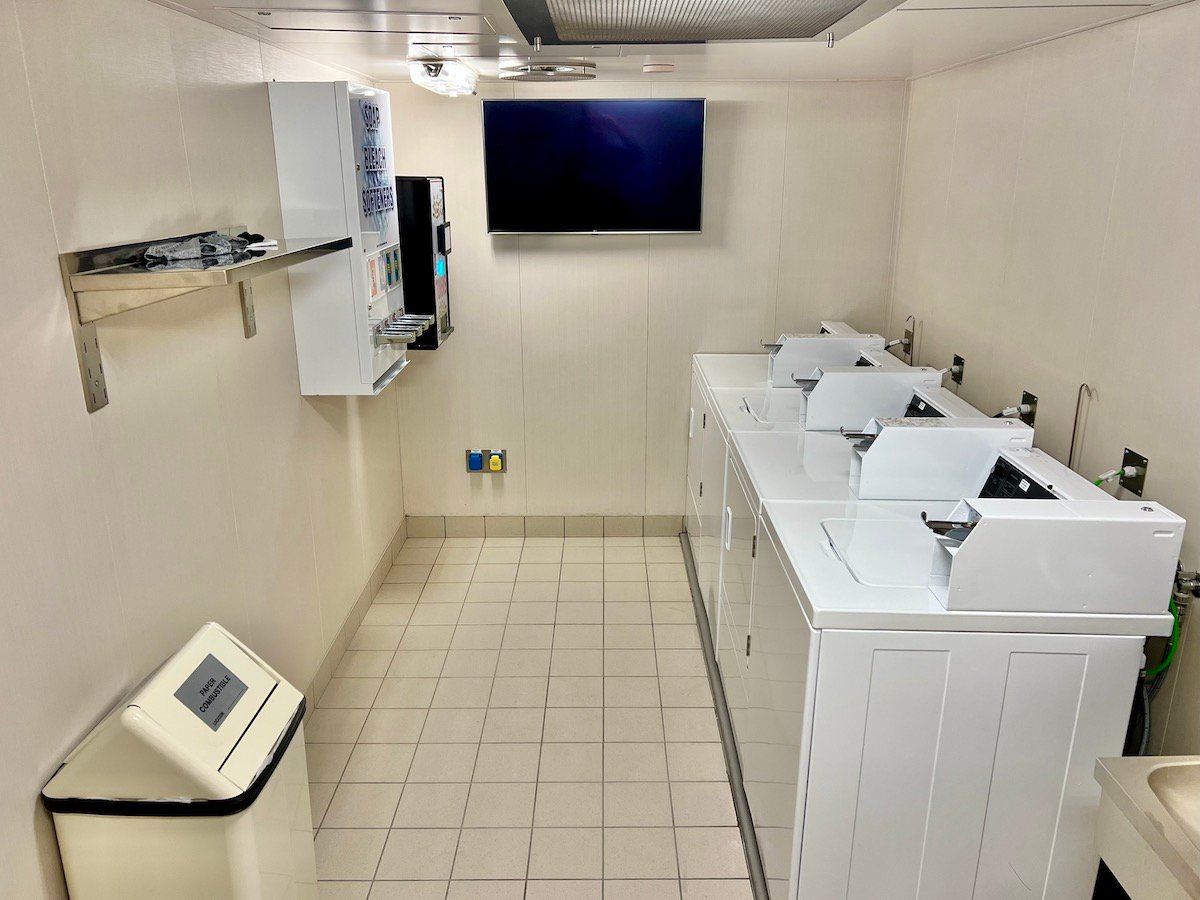 Self-service launderettes are available on most decks, and they are super-easy to use. By scanning your medallion, you can purchase washer and dryer tokens for $3 each, and detergent and softener tokens for $1.50 each. If you want to conserve, pack your own detergent pods and dryer sheets.
Because I travel only with a single carry-on suitcase and backpack, I assumed I would at some point need to do laundry. I thought I might do it at the end of the transatlantic leg while ported in Copenhagen, then I heard through the grapevine that the launderettes were closed while in port. The launderette on my deck was just a few steps down the hall. When I checked the door handle, sure enough it was locked.
I ended up doing laundry after leaving port. The washing machine did not start after inserting the token, so I had to call guest services. A crew member came, inserted another token, and it started.
You also have the option to send out your laundry or dry cleaning, but be prepared to pay steep prices. Guests who have booked suites or have attained Elite status get complimentary laundry.
MedallionNet WiFi & the Internet Café
---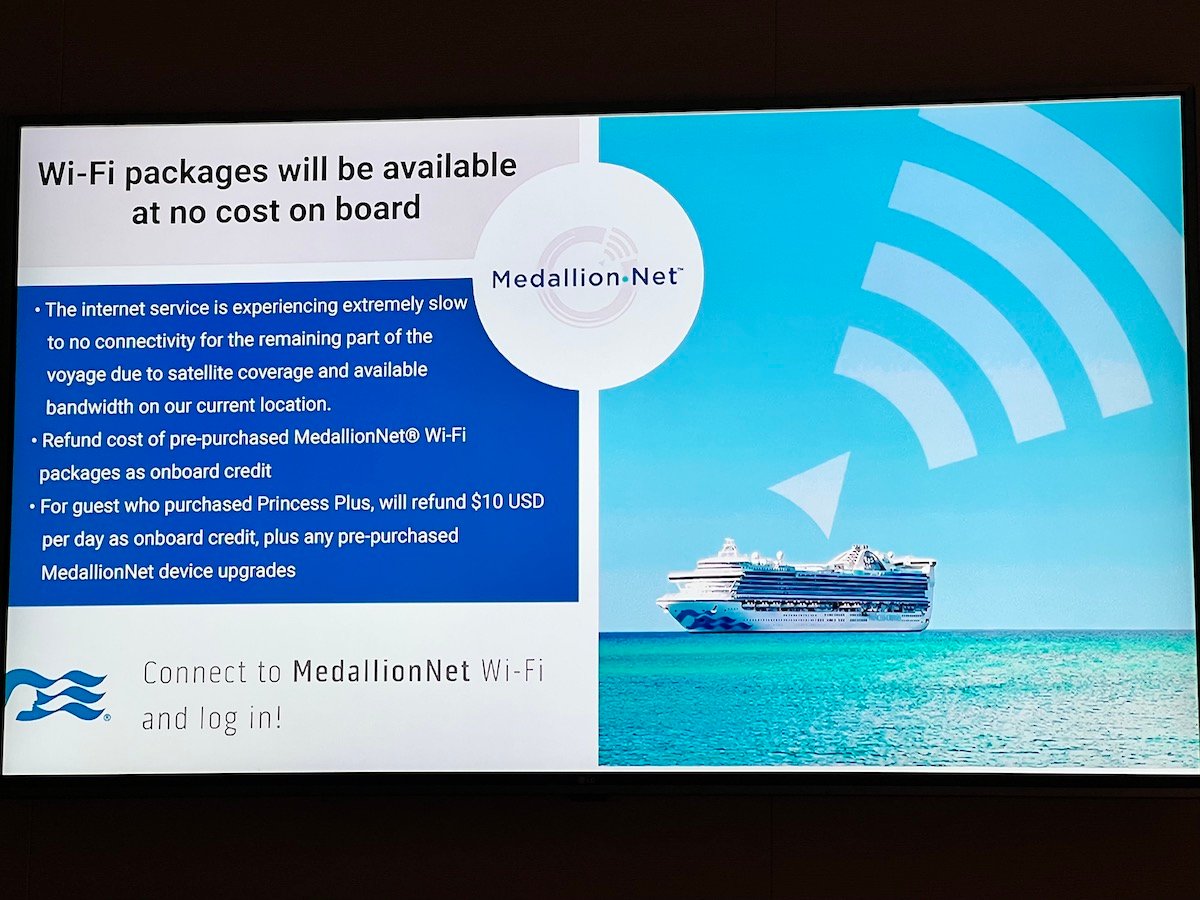 In my previous post, one area where I gave Princess superior ratings was with their superfast MedallionNet WiFi. Princess markets MedallionNet as the "Best WiFi at Sea," and on my Caribbean Princess cruise, it truly was. There were fast speeds, streaming videos, and my photos synced to iCloud every night. And as cruise WiFi prices go, at $10 per day, it was a bargain.
Prior to departure on this cruise I received an email stating that due to anticipated spotty Internet service on the transatlantic crossing, Princess would be refunding prepaid Internet for the entire 14-day first leg. The explanation made sense, and I thought the refund was a noteworthy effort.
For the first four days of the transatlantic passage Wi-Fi was fine, then two days prior to porting in the Azores and two days after departing the Azores there was virtually zero Wi-Fi. While on my shore excursion in the Azores I was grateful to catch up using my T-Mobile international data plan.
After leaving the Azores, the Internet manager told me we would have bandwidth two days later. We didn't. I went to the Internet Café again. Two associates posted at the door gave me deer-in-the-headlights stares behind their protective masks. The café manager was seated behind his desk, and the café was filled with guests on computers. I wasn't sure what they were all doing. When I inquired about having no signal, one associate said we would have Internet tomorrow because we would be in port. Then another associate said, "It's working, just very slowly," which was true.
There was enough bandwidth for mobile phone notifications to get through, but not enough for any app to function. I would get a notification from the Ring app that there was someone at my front door or in my back yard, but I couldn't bring up the video to verify whether it was my neighbor who takes care of my place while I am away. I got a notification that my sister had sent me a message and photos, but the Messenger app was not functional. I got news app notifications, but I could not read the stories. Facebook showed the same posts in my feed for days.
Princess did not refund pre-paid WiFi for the second 11-day itinerary in Western Europe, even though broadband speeds continued to be horribly slow. Upon arrival in Copenhagen, at the end of the 14-day transatlantic leg, I received a letter in my stateroom stating that I had achieved Platinum status in the Captain's Circle loyalty program. Because I had reached that level, they refunded half of my pre-paid WiFi. Internet is only $5 per day for Platinum level guests.
I decided I needed to get my facts straight for this post, so I returned to the Internet Café to interview the manager. He explained that the WiFi was fast in the Caribbean because they source Medium Earth orbit satellites. This was also why we had fast Internet for the first four days of the cruise after departing Ft. Lauderdale. He said bandwidth was low in Europe because they were sourcing High Earth orbit satellites and significant bandwidth had been allocated for government use due to the Ukraine invasion. He said WiFi would be slow for all Princess cruises in Europe and Alaska.
I summarized what I understood to the manager, "So for the foreseeable future Princess Cruise passengers in Europe and Alaska cannot expect MedallionNet to be the fastest Internet at sea," and he said yes.
Broadband speeds were so bad that the MedallionNet app rarely worked. I went back to the Internet Café, and a crew member put a bookmark on my screen for Ocean Concierge, a website that had some of the app functions. He told me the iPhone app required too much bandwidth, and I told him not to blame it on the iPhone.
While writing this post, I discovered a disclaimer on the Princess website that states, "Speeds will vary by destination with slower speeds in regions like Alaska & the Baltic." Until and unless these speed issues are resolved, perhaps they should discontinue marketing "the best WiFi at sea."
On the Caribbean Princess, the Internet Café and Library shared the same space. The Enchanted Princess has no library, and with slow to no WiFi you cannot download e-books and audiobooks. Ask me how I know . . . .
Guest Services
---
The Guest Services desk on Deck 5 is open 24 hours. I did not hesitate to visit or call the desk with any concern.
I visited the desk one time when I lost my medallion. As I mentioned earlier, I carried my medallion like pocket change. When I would visit the Marketplace buffet, it was my custom to put my napkin-wrapped silverware in my pocket. Once or twice I had noticed the magnetic medallion was attached to my silverware when I would pull it out of my pocket.
During dinner one night I realized my medallion was missing from my pocket. I searched the floor in the areas of the Marketplace I had visited, but could not find it. When I reported the lost medallion to Guest Services, the agent looked on her computer and told me my medallion was currently in a shop on a deck above us. I told her I had not been in a shop because I don't shop on cruises. She was not concerned, but instead of going to locate the lost medallion, she chose to deactivate it and issue me a new one.
If you have ever wondered whether cruise lines are tracking your every move, let me assure you, they are.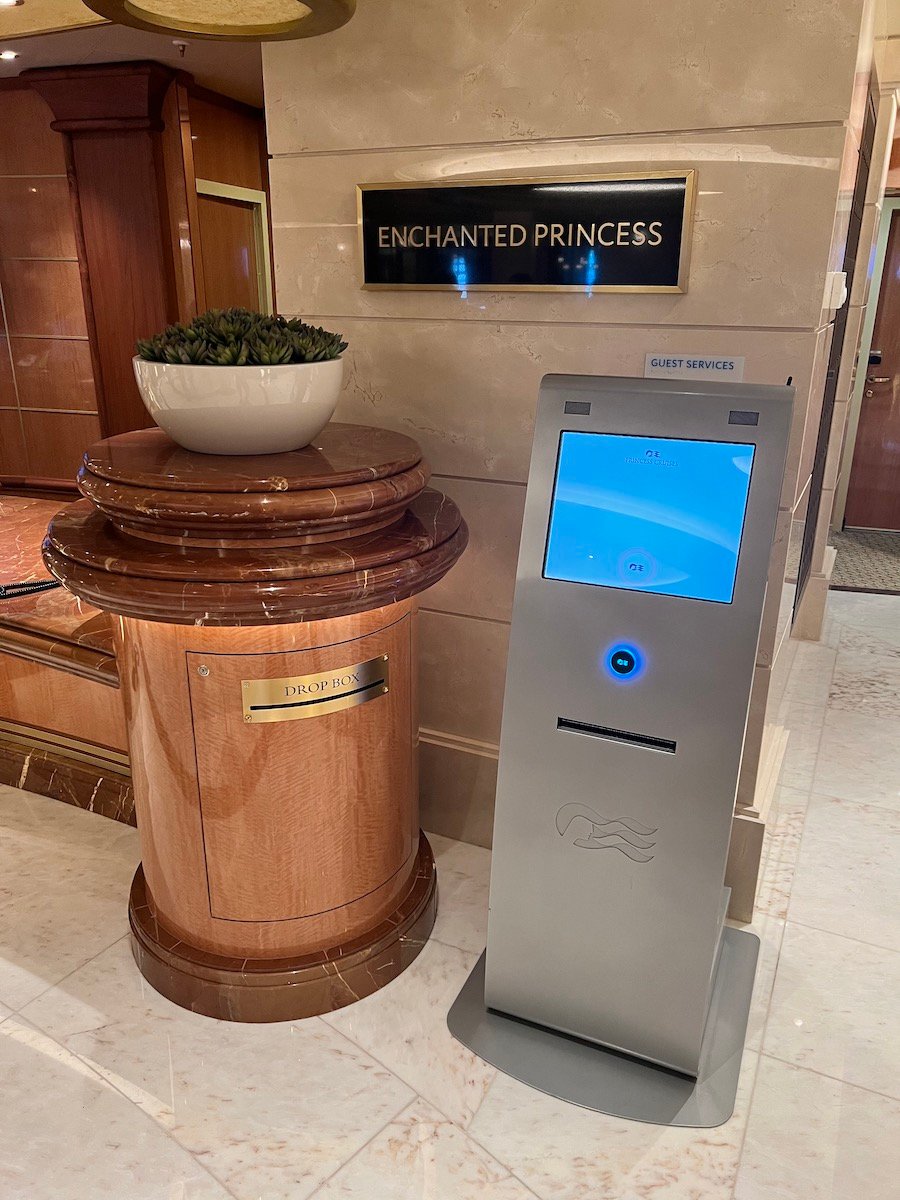 Guest Services also had a self-service machine for printing updated copies of your onboard account. This was a beneficial amenity with the non-functioning MedallionClass app.
Other guest services include the Captain's Circle loyalty department, the Shore Excursions desk, and the Future Cruise Center,
Gratuities
---
Gratuities ranging between $14.50 and $16.50 per guest are automatically added to your onboard account daily. You actually have the option to adjust these amounts if you so choose.
An 18% tip is automatically added to all bar charges and spa services. These gratuities are not negotiable.
Guests typically give additional gratuities at their discretion for room stewards and crew members who go the extra mile.
---
Dining Venues and Bars
---
Dining on the Caribbean Princess had been a disappointment, and there was not much improvement months later on the Enchanted Princess. Food quality on both cruises was mostly institutional. With no Wheelhouse Bar, there were also no Princess pub lunches. Veteran Princess cruisers told me that it had not always been this way, and that it was obvious the company was cutting corners.
Unlike the Caribbean Princess, at least all of the complimentary and specialty dining rooms on the Enchanted Princess were open.
World Fresh Marketplace
---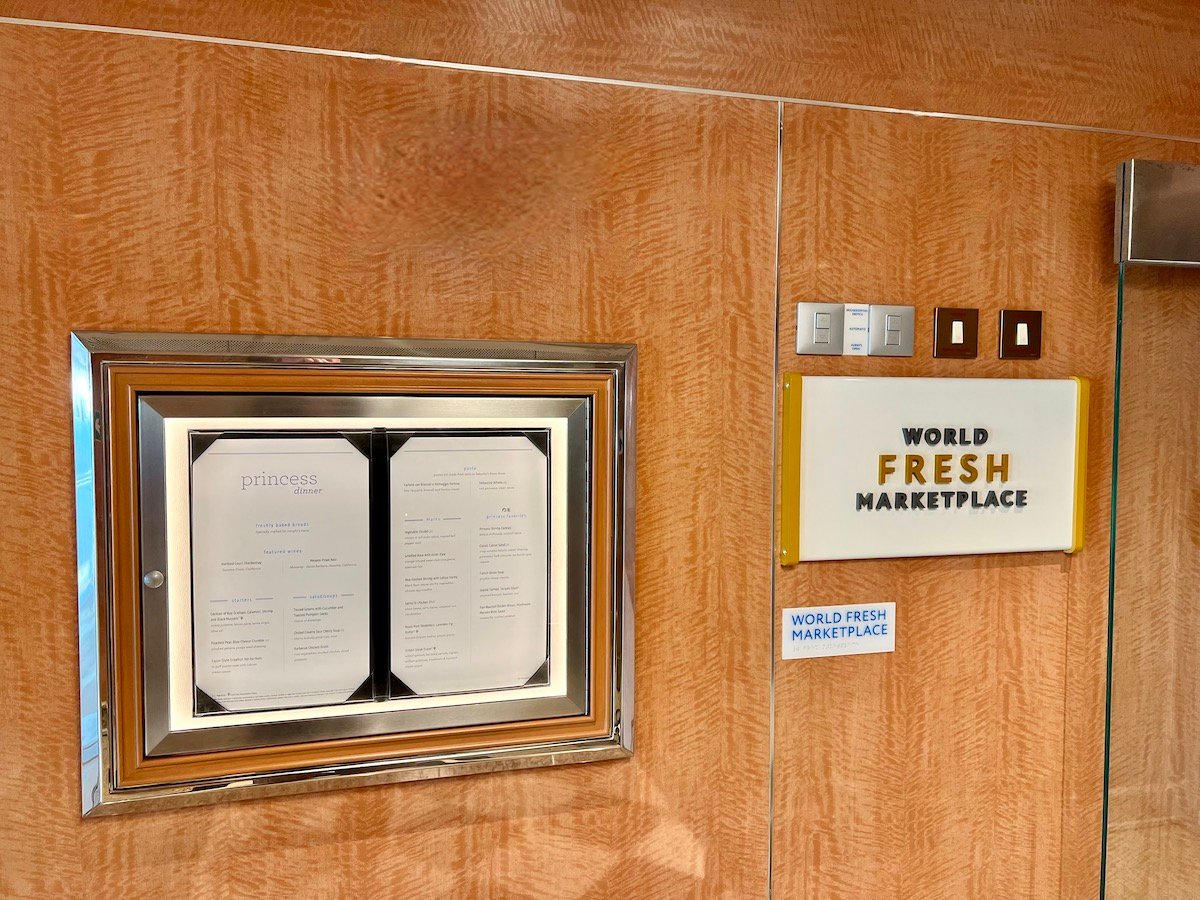 The World Fresh Marketplace buffet was located one deck above my stateroom on Deck 16. Daily menus for the main dining rooms were posted at the entrances to the Marketplace, which was convenient when deciding where to eat. Ironically, these menus were not displayed at the entrances of the main dining rooms like they had been on the Caribbean Princess.
Due to the global pandemic the buffet was not self-serve. All food items were either served cafeteria style by crew or available as grab-and-go dishes.
Don't even get me started on the serving methods. It was almost impossible to communicate to servers the desired portion, receiving either too much or too little. Sometimes I would extend my empty plate for a serving, and the server would place it smack-dab in the middle, not leaving room for other food items on the plate. I would have to slide the food over with my finger or ask the server to move it with a serving spoon.
There was plenty of food available in the Marketplace, but much of it was either low quality or just strange. I typically ate salads, soup, and occasionally a roasted chicken breast or roast beef.
When I am not traveling, I typically eat a big salad for dinner every night. And yes, I am picky about how my salads are made. This is difficult when someone else is making your salad. Servers tended to make salads the way they wanted, not the way I wanted. The salad bar was divided between the regular section and the Caesar salad section. I always wanted chicken, bacon, and parmesan cheese from the Caesar side added to my regular salad, and sometimes the server would get an attitude about having to serve from the other section.
With the exception of the balsamic dressing, salad dressings were bland bargain basement Dollar Store brand knock-offs. I made the mistake of asking for blue cheese and thousand island a couple of times, and they were awful.
I remember one night chicken broth and barbecue chicken broth were the soup options. Such hearty choices! Another night there was an Asian soup assembly station. It was pretty good, but I never did figure out if it was ramen or pho or both.
I know they were trying to be helpful or look busy, but the beverage servers and table bussers liked to hover around tables. One morning I was having breakfast with another guest, and he ordered a specialty coffee. The server's MedallionClass app was not working due to poor WiFi. It was taking forever, and more and more servers started gathering around the offending mobile device. It created such a loud distraction, that we could hardly continue our conversation.
When dining alone, it was difficult to keep my table if I decided to return to the buffet. Even when I told crew members in advance, they still took away my drink, silverware, and napkin when I went back for my next course. Later, a server told me to tip my chair forward to lean against the table. It seemed to work.
Capri, Santorini & Amalfi Dining Rooms
---
The Capri was the main dining room located midship on Deck 6. It was open for breakfast, lunch, and dinner during days at sea, breakfast and dinner when in port.
The Santorini was directly below the Capri on Deck 5, and the Amalfi was on Deck 6 far aft directly below my stateroom. Both were open for dinner nightly.
Afternoon tea was served from 3:00-4:00 during days at sea in either the Capri or Santorini.
It was not until I started composing this post that I realized on a 25-day cruise I had taken zero photos in the main dining rooms. My bad.
That does not mean I did not enjoy any of the dishes served there, because I did. Of the Princess Favorites, meaning dishes served every night, I liked four of the five items: the shrimp cocktail, Caesar salad with anchovies, French onion soup, and salmon. In fact, I ordered the first three at virtually every meal. Lobster night was good, too.
Dining most nights was "smart casual," and there were a few formal nights, as well. To my delight, dress codes were not strictly enforced. I don't even own a suit or tuxedo.
Reservations were not required, and solo travelers like me could choose between dining alone or at a shared table. When asked, I usually told them it didn't matter. I like meeting new people, but I also enjoy my own company.
Gigi's Pizzeria
---
When I cruised the Caribbean Princess, I was fond of the Slice pizza, named "Best Pizza at Sea" by USA Today. The Enchanted Princess also had a Slice pizzeria on the Lido Deck, but there was a better option.
Gigi's Pizzeria on the Promenade Deck is a complimentary restaurant that serves a full menu of soup, salads, pizza, calzone, and desserts. My standard choices were the Antipasto Assortito di Magro (caprese salad) and either Pizza Pepperoni or Pizza Capricciosa (artichoke hearts, mushrooms, ham, black olives & basil). The minestrone was just okay.
I was telling someone on board about the pizzas I liked, and he said, "You know you can order whatever toppings you want." Why didn't I think of that.
Anyway, Gigi's was a solid alternative for lunch and dinner when menus in the dining rooms and buffet were not up to par.
International Café
---
The International Café is located directly off the Piazza on Deck 5, and it is open 24 hours. Sandwiches and pastries are complimentary, but specialty coffees and teas are either a la carte or part of a beverage package. I didn't much care for Princess coffee, and the compostable lids had a bad taste and texture. I much more prefer the Starbucks served on NCL.
I frequented the café in the evenings in search of the elusive peanut butter cookies. I think I only found them three times during the entire cruise. The oatmeal raisin cookies were good, but the chocolate chip cookies had a strange taste.
Cookies are also served at the Marketplace buffet, or the associated Pastry Shop, It was open for the most part during the transatlantic crossing, but rarely if ever open on the Western Europe itinerary, perhaps due to fewer guests on board.
Ocean Terrace
---
The Ocean Terrace is a small sushi bar located on Deck 6 open to the Piazza. I don't eat raw sushi, but I love cooked sushi. My favorites on the menu were the Blue Crab Roll and Spicy Shrimp Roll, cut into four large pieces and served a la carte for $3.25 each. A bargain, I thought.
As much as I enjoyed hanging out at a table overlooking the Piazza, I hated the cigarette smoke that billowed from the adjacent casino. I am neither a gambler nor a smoker, so I have zero understanding why the two must go hand in hand. If gamblers must smoke, wouldn't it make sense to install doors to keep it inside instead of forcing guests in the vicinity to inhale the noxious fumes?
Okay, I'll hop of my soapbox now.
Salty Dog Gastropub
---
Aside from the name, I don't see any connection between the Salty Dog Grill, a fast food joint on the pool deck, and the Salty Dog Gastropub on Deck 5. The gastropub is a specialty restaurant with an $18 cover charge.
Before I ever sailed with Princess, I read about the "Ernesto" burger. I mistakenly believed it was served at the Salty Dog Grill when sailing on the Caribbean Princess. I only learned about the gastropub after boarding the Enchanted Princess.
The menu stated that the meal included a complimentary appetizer, two gourmet plates, and dessert.
The appetizer was two long thin breadsticks with a small ramekin of beer-cheddar fondue. Not that great.
For my first gourmet plate, I chose the "Ernesto," a creation of famed Chef Ernesto Uchimura. The menu described it as a "fresh ground rib eye and short rib patty, pork belly, gruyère, kimchi, beer battered jalapeño, charred onion aioli" on a brioche bun. It was served with either truffle-parmesan or sweet potato fries. The burger was juicy and cooked perfectly. It needed salt, but then most foods do to satisfy my palate. I did not get any essence of truffle from the small serving of fries.
My second gourmet plate was the "aged cheddar, gruyère, and parmesan" Lobster Mac & Cheese. The small bowl contained at least three large chunks of lobster, but the cheese sauce was less flavorful than some box recipes I have made.
The Lemon Posset dessert was some thick cornstarch concoction. One bite was enough.
Specialty Restaurants
---
Although I thought the $25-$29 cover charges were reasonable, I did not dine at any of the other specialty restaurants on this cruise. I had already tried Sabatini's and the Crown Grill on the Caribbean Princess. I thought I might try the Bistro Sur La Mer, but somehow it did not happen. I gather from other guest comments that I didn't miss anything special.
Room Service
---
I ordered room service breakfast twice by phone. Both times it arrived at my door in ten minutes flat. I was super impressed!
Room service is complimentary, but it is customary to tip the waiter.
Bars & Live Music Venues
---
There are no less than eleven bars, many with live music, on the Enchanted Princess. Guests are sure to find one that suits their taste.
Beverage Packages
---
Iced tea, lemonade, coffee, and water are complimentary in restaurants. If you want sodas, you must either have a soda beverage package at $11.79 per day or purchase sodas a la carte. The soda + specialty coffees package is $23.59 per day. Maybe it's just me, but I think sodas should be complimentary.
The Plus Beverage Package, at $70.79 per day, includes cocktails, beer, wine by the glass, fountain sodas, specialty coffees, and water to go. On a 25-day cruise it would have cost me $1,769.75. I could have booked another cruise for that amount.
So, I opted to purchase beverages a la carte.
I considered purchasing a Princess Plus package that includes WiFi and gratuities, but I was told my zero single supplement fare did not qualify for Princess Plus.
In case you are interested, the Premier Beverage Package is even more.
---
To Be Continued . . . .
---
This review is the first in a series of three posts about my 25-day Enchanted Princess transatlantic cruise from North America to Europe.
The narrative continues in part two with a travelogue of my shore excursions in the Azores, France, and Denmark.
Part three will conclude the series with a travelogue of my experiences at port destinations in Norway, Germany, Belgium, and the UK.
---
I Would Love to Hear From You
---
I enjoy dialogue with Backroad Planet readers, especially when they share off-the-beaten-path destinations and useful travel tips. Have you ever taken a Princess transatlantic cruise? If so, I would love to hear about your experience. I invite you to leave your comments and questions below, and I always respond!
---
Pin this Post!
---