(a

17

minute read)
---
The city of Beloit, Wisconsin, is eclectic in every way! Experience this time-honored college town with its world class riverfront, authentic living history sites, farm-to-table cuisine, museums of anthropology & art, and the elegantly rustic Ironworks Hotel.
---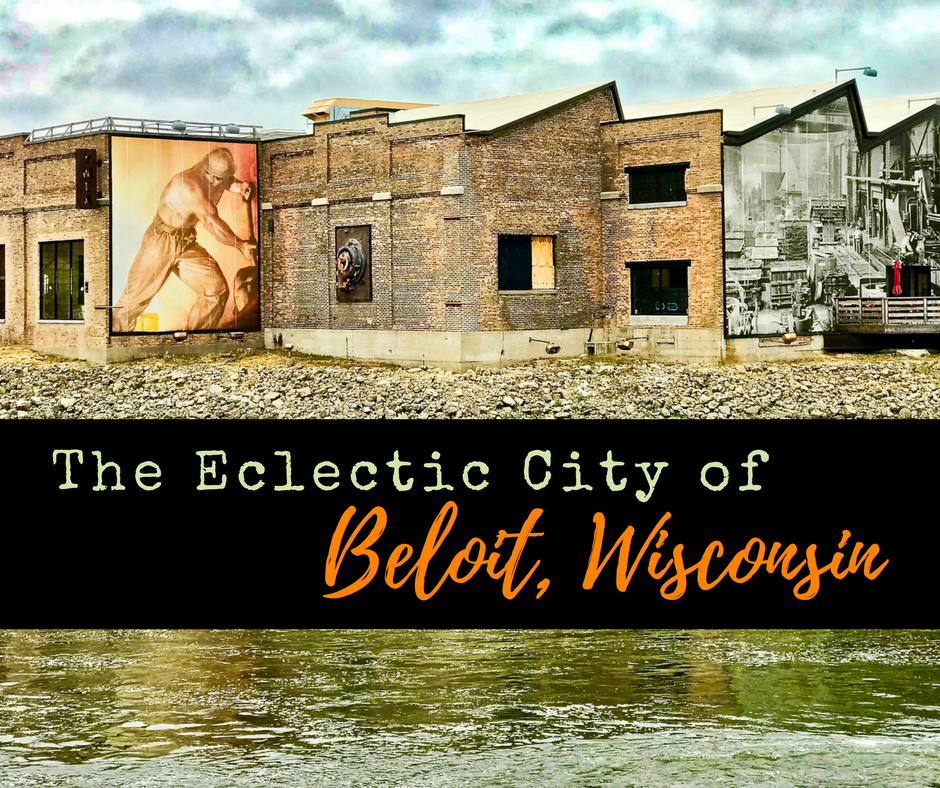 I was a guest of Visit Beloit, but all thoughts and opinions are my own.
---
The Eclectic City of Beloit Wisconsin
---
Beloit, Wisconsin, was the second destination on my first-ever Midwest road trip.
For this fly-drive loop, I flew into Chicago, rented a car, and set off to find fun in Rockford, Illinois. The final destination on my road journey would be Janesville, Wisconsin, just 13 miles north of Beloit.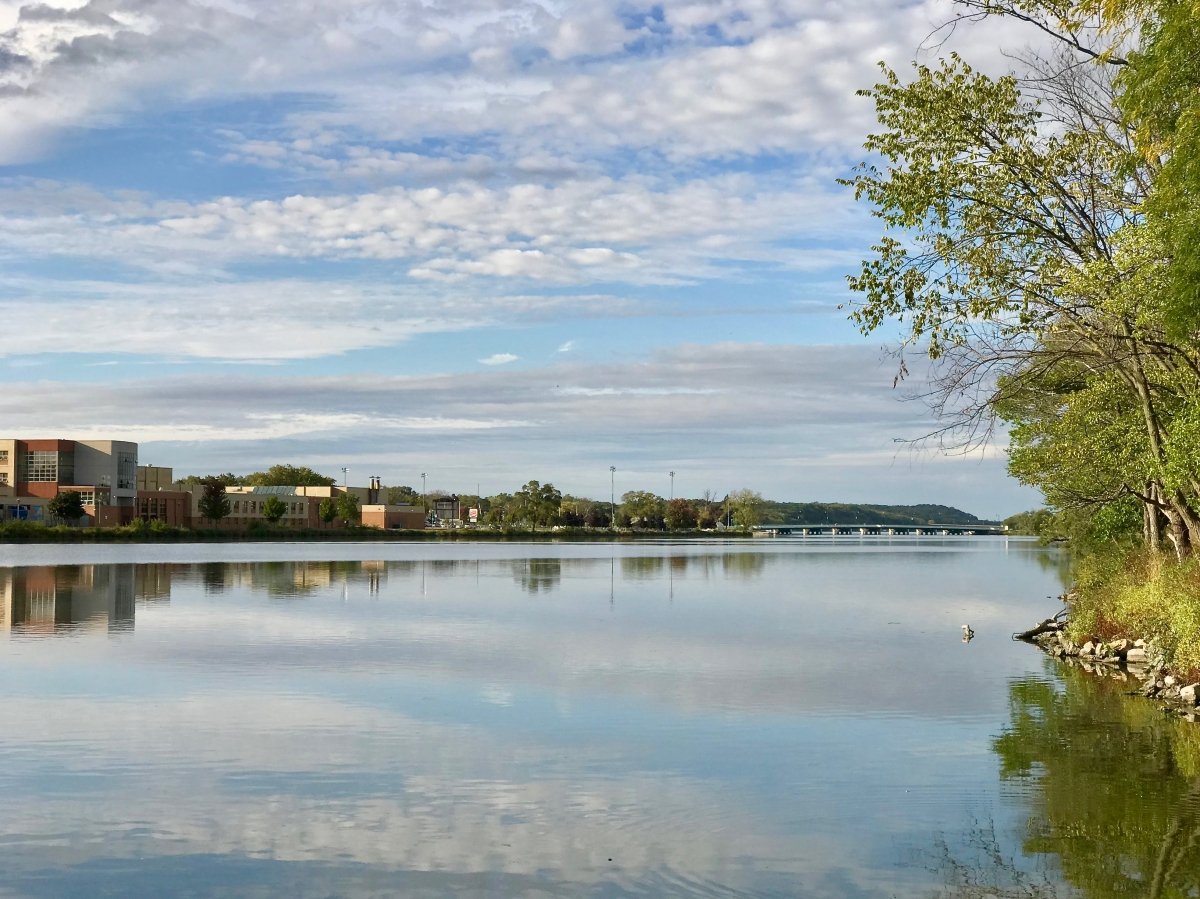 Situated at the intersection of the Rock River and the Wisconsin – Illinois state line, Beloit prides itself as the Gateway to Wisconsin.
But it didn't take long for me to learn this diverse city is so much more than that!
Before Beloit came into existence, various Native American nations, including the Mound Builders and Winnebago, called this region of North America home. French trappers and fur traders traversed the landscape, and by 1836, emigrants from New Hampshire settled at this location along the river.
There is some debate over the origin of the city's name. Some sources say it was a variation of Detroit while others claim it was derived from the French word "balotte." Either way, streets were soon platted, mills sprang up along the river, schools and churches were constructed, and stores opened for business.
Today, the city of Beloit is a winner of multiple state and national awards for its Main Street initiative, but that is only one aspect of this multi-faceted destination.
Beloit's true appeal lies in its diversity, eccentricity, and uniqueness, offering something for everyone.
Without hesitation, I invite you to experience the eclectic city of Beloit!
---
Beloit College
---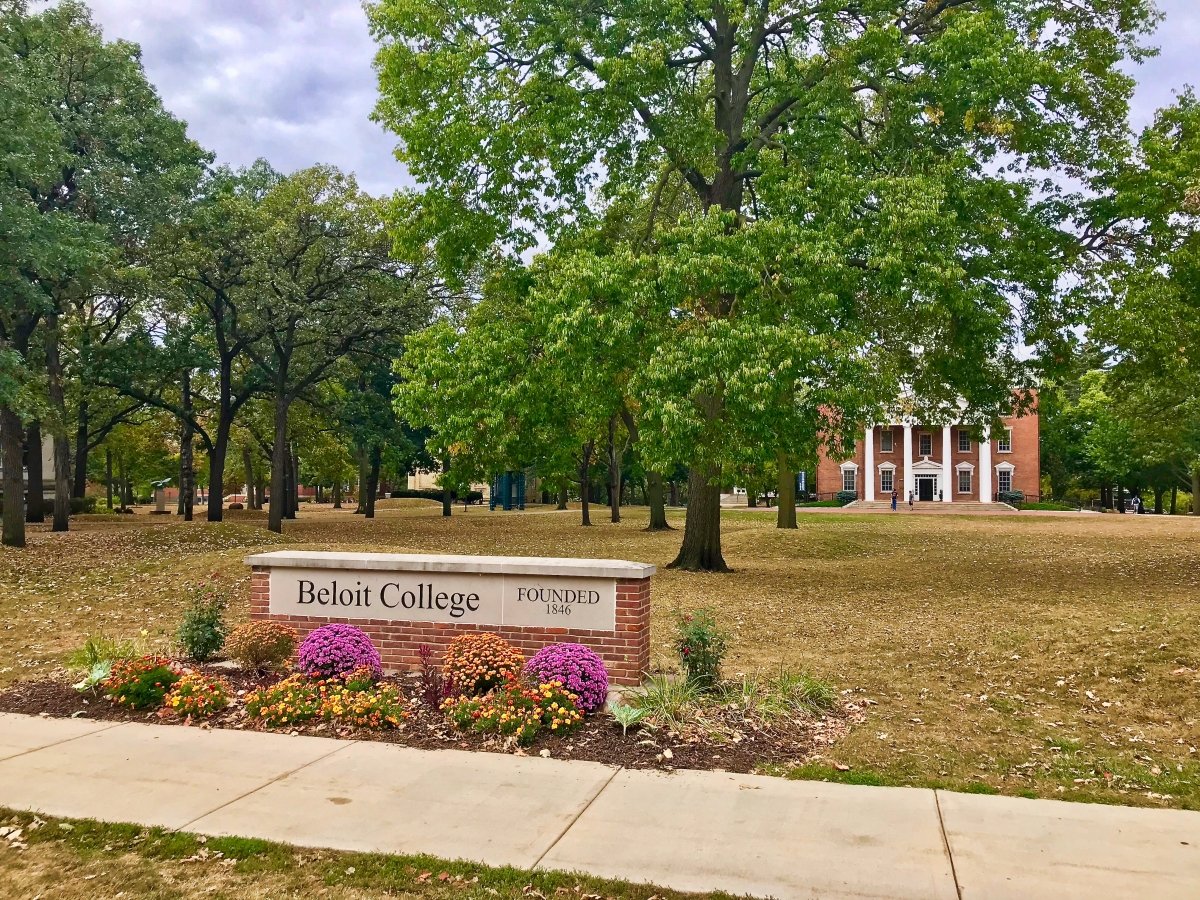 In 1846, Beloit College was established by a group of New England pioneers as a liberal arts institution of higher learning.
It was Wisconsin's very first college.
Middle College, a red brick Greek Revival building completed in 1847, was the first structure built on campus, and it remains in use today. The Romanesque limestone chapel, built in 1892, today serves as a performance space.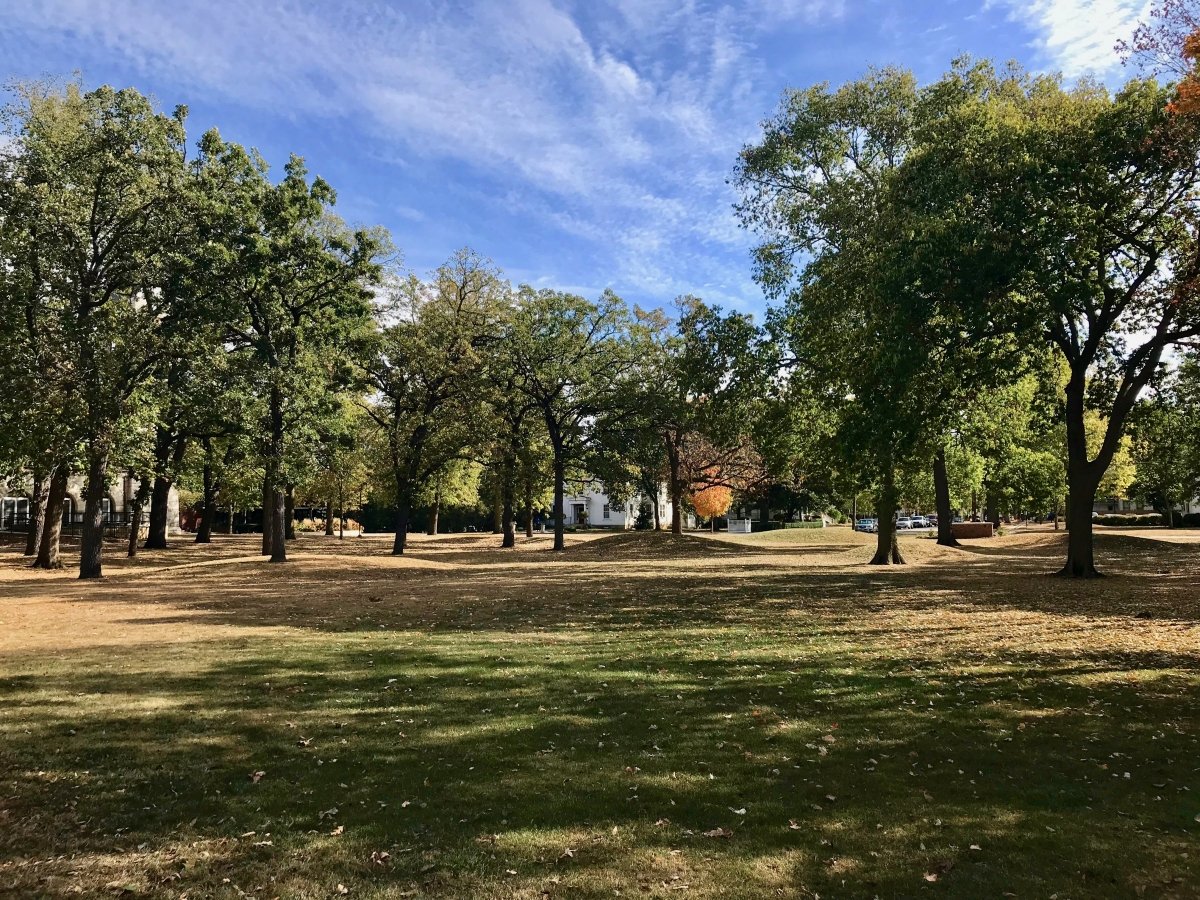 One of the most distinctive features of the college campus are the 20 linear, conical, and animal effigy mounds built from 400 – 1200 AD by the Late Woodland people.
Unlike the temple mounds and earth lodges I had seen at the Ocmulgee National Monument in Macon, Georgia, and the Cherokee council house mound I toured in Franklin, North Carolina, most Midwestern mounds are ancient burial sites.
The turtle effigy mound (above R) influenced design of the college coat of arms, and the turtle has become an unofficial mascot with its influence over other aspects of college life.
Although there have been anthropological excavations through the years, under Wisconsin law the Beloit College mounds today are left undisturbed.
While strolling across campus, I had a chance encounter with Trees for Beloit, a "student-led, city-supported effort to replenish the urban forest of Beloit with the help of local volunteers."
The itemization of tangible benefits from one hackberry tree perfectly illustrates the value trees add to our lives, and the celestial view of leafy boughs against the sky clearly enhances the effort.
Logan Museum of Anthropology
---
The Logan Museum of Anthropology has been an integral part of teaching, learning, and research at Beloit College since its founding in 1893. What began with a donated mineral collection has grown into a collection of "approximately 15,000 ethnographic and over 200,000 archaeological objects from 129 countries and more than 600 cultural groups."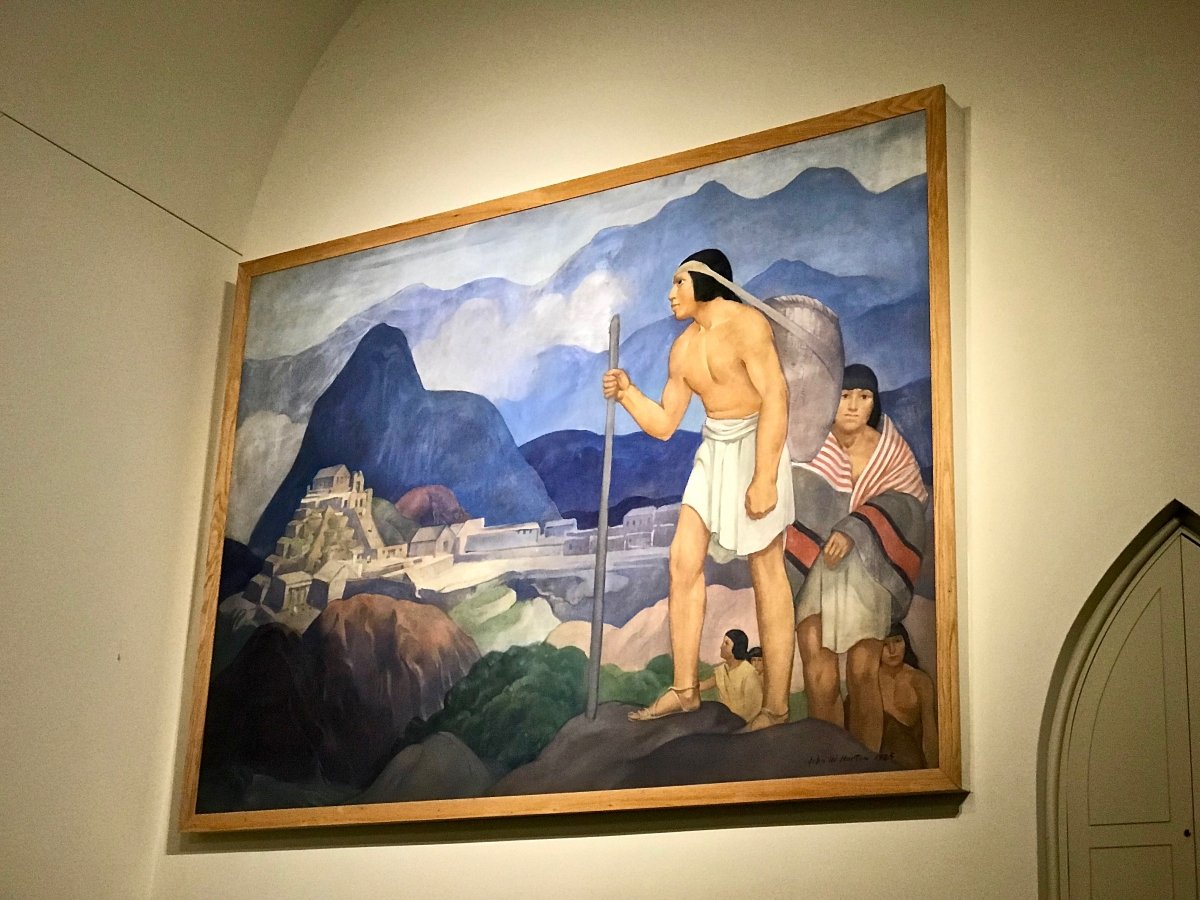 The Norton Murals, twelve paintings commissioned by museum founder Frank Logan in 1925, are displayed in the Shaw Gallery. These works by artist John W. Norton, depicting various early civilizations and stages of human evolution, were intended for educational and decorative value. Although the paintings contain many inaccuracies by today's standards, their worth is evident when viewed through the lens of anthropology in the early 20th century.
Beloit College is also home to the Wright Museum of Art, a teaching museum with more than 6,000 pieces in its permanent collection.
Anyone interested in touring the campus or visiting the museums should consult the Beloit College Visitors web page for complete information.
---
Macktown Living History Education Center
---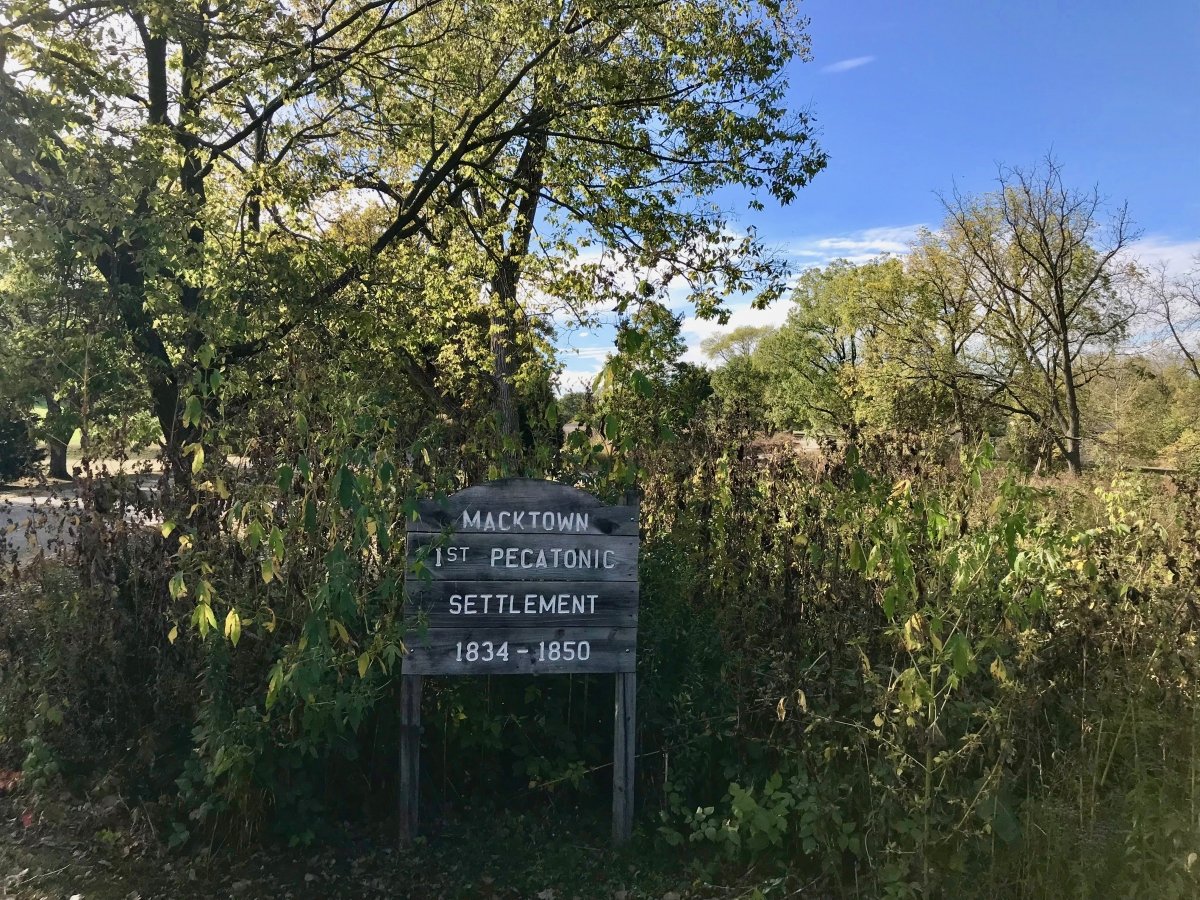 My travels through Pennsylvania and New York, as well as Texas and Louisiana, have taught me when it comes to proximity, even state lines get blurred.
Beloit's location on the Wisconsin – Illinois state line is no different, and my itinerary led me south to Rockton, Illinois, to explore the preserved site of an historical settlement.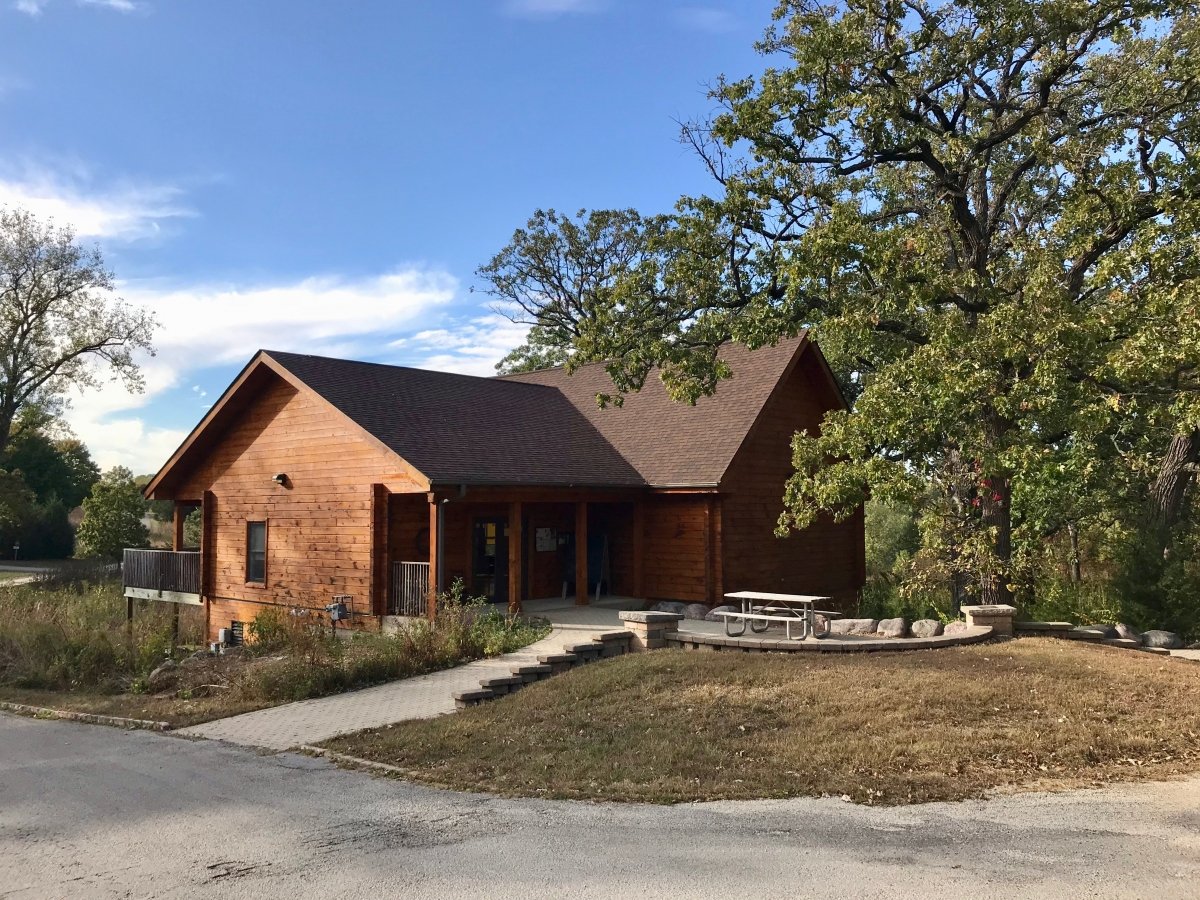 I pulled into the parking area for the Macktown Living History Education Center, where I met up with a group of local volunteers to learn the history of Pecatonic, the earliest settlement in Winnebago County. I was struck with the passion of these residents who invested their time and money in restoring this site to its 1830 – 1846 condition.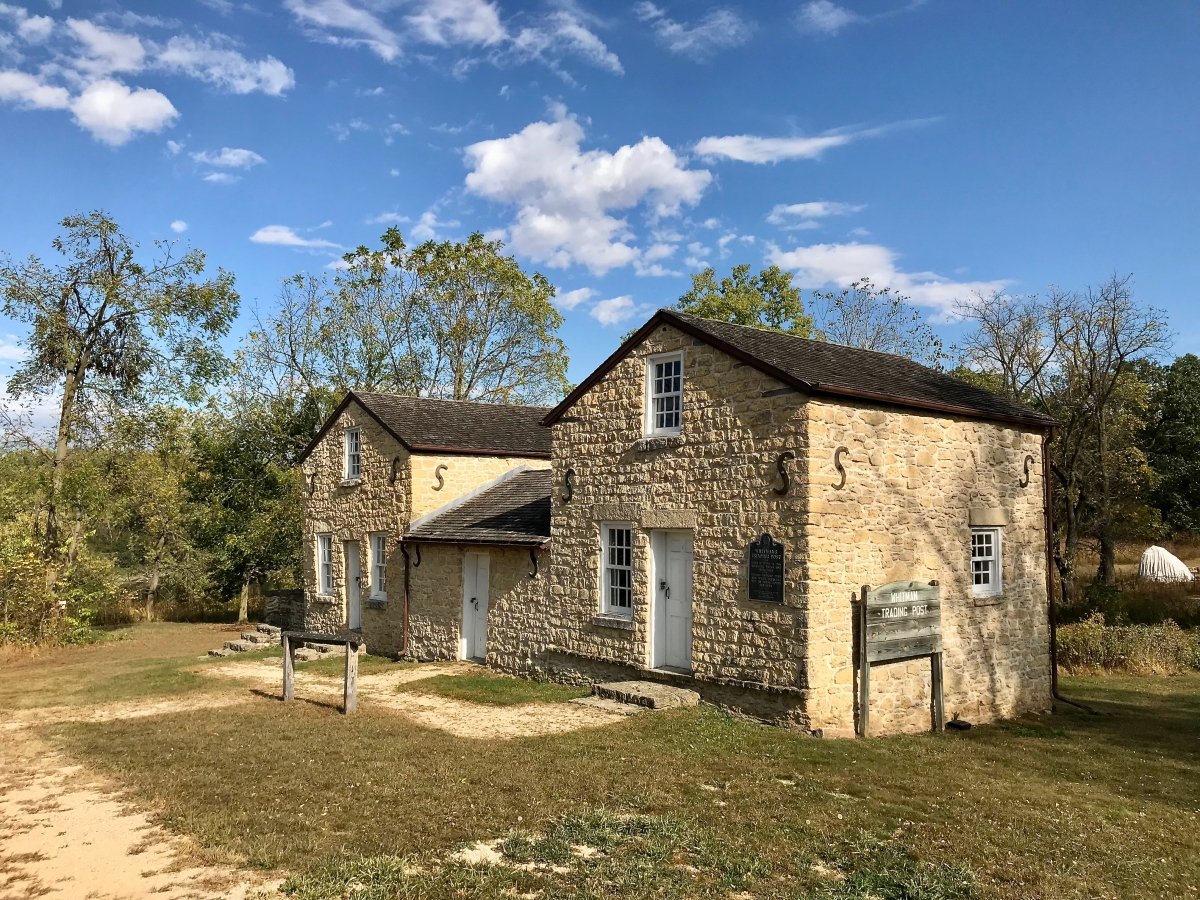 The settlement of Pecatonic, later renamed Macktown, was founded in the 1830s by fur trader Stephen Andrew Mack, Jr. and his common law wife Mary Hononegah, a respected Native American woman of Winnebago and Pottawatomie ancestry.
The 1846 Whitman Trading Post, one of a few surviving structures from the settlement, was constructed on the site of Mack's original log store. Situated near the confluence of the Pecatonica and Rock Rivers and along an ancient Native American trail, the trading post benefitted from its ideal location.
The trading post has been authentically restored inside and is occasionally used as an event space.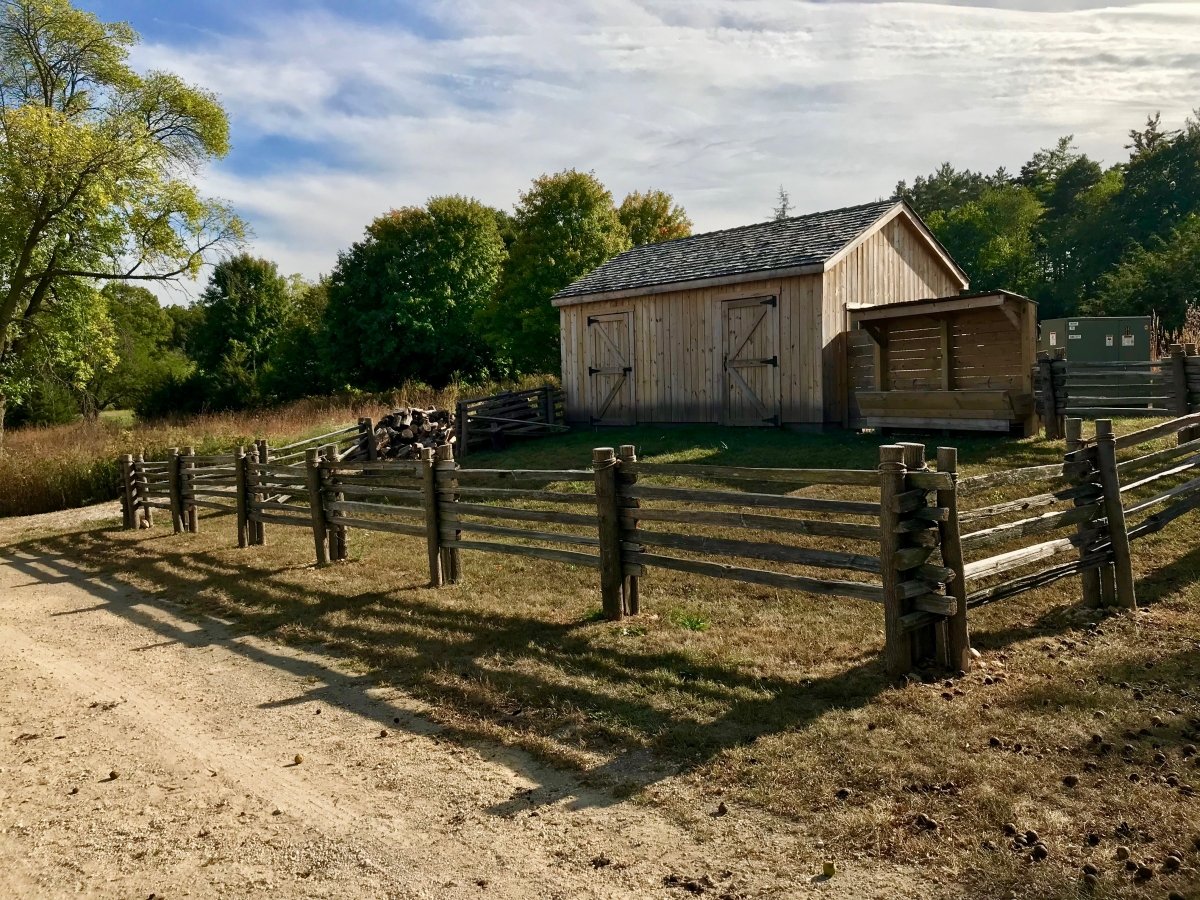 Some structures like this barn and corral adjacent to the trading post have been reconstructed to realistically portray the settlement.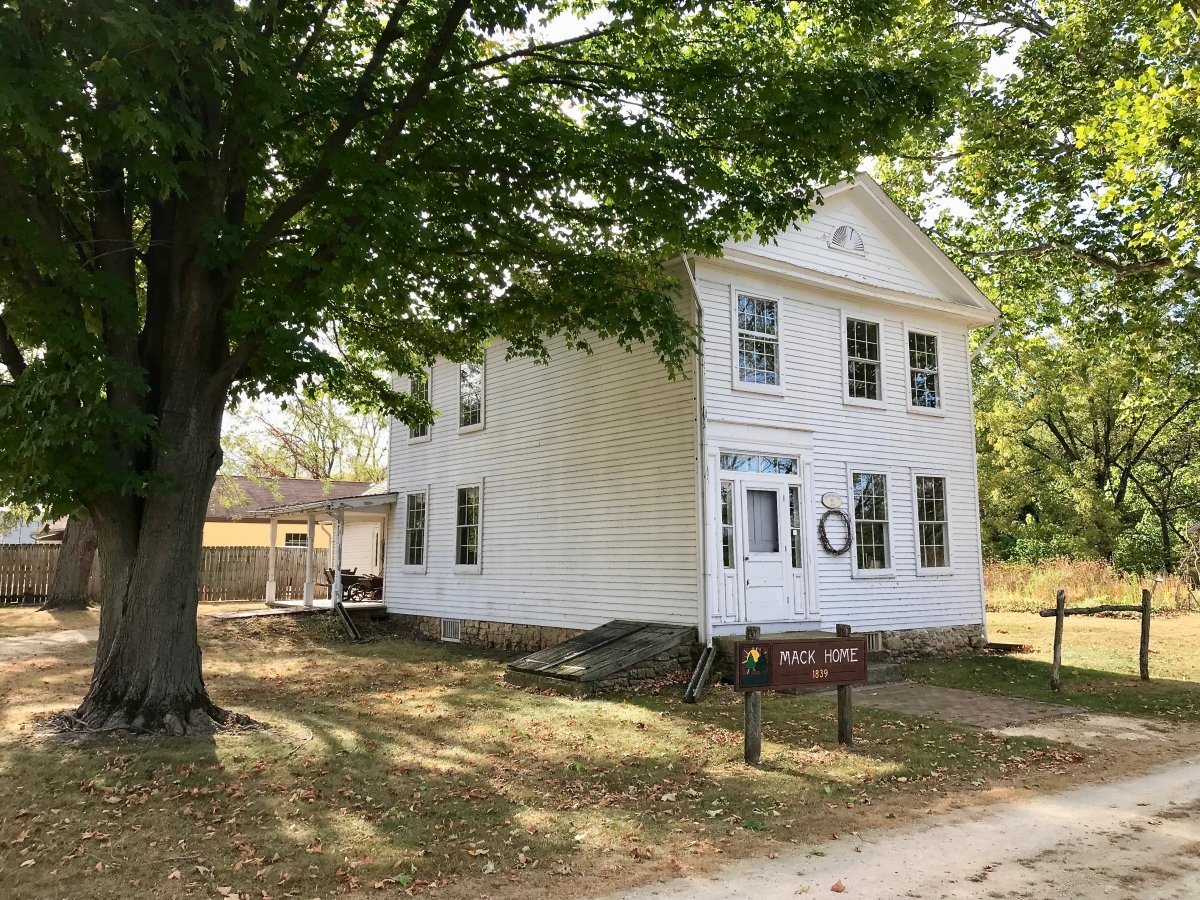 The Mack Family's 1839 two-story house has also survived intact.
The Mack home and another house on the property have undergone interior renovation, as well.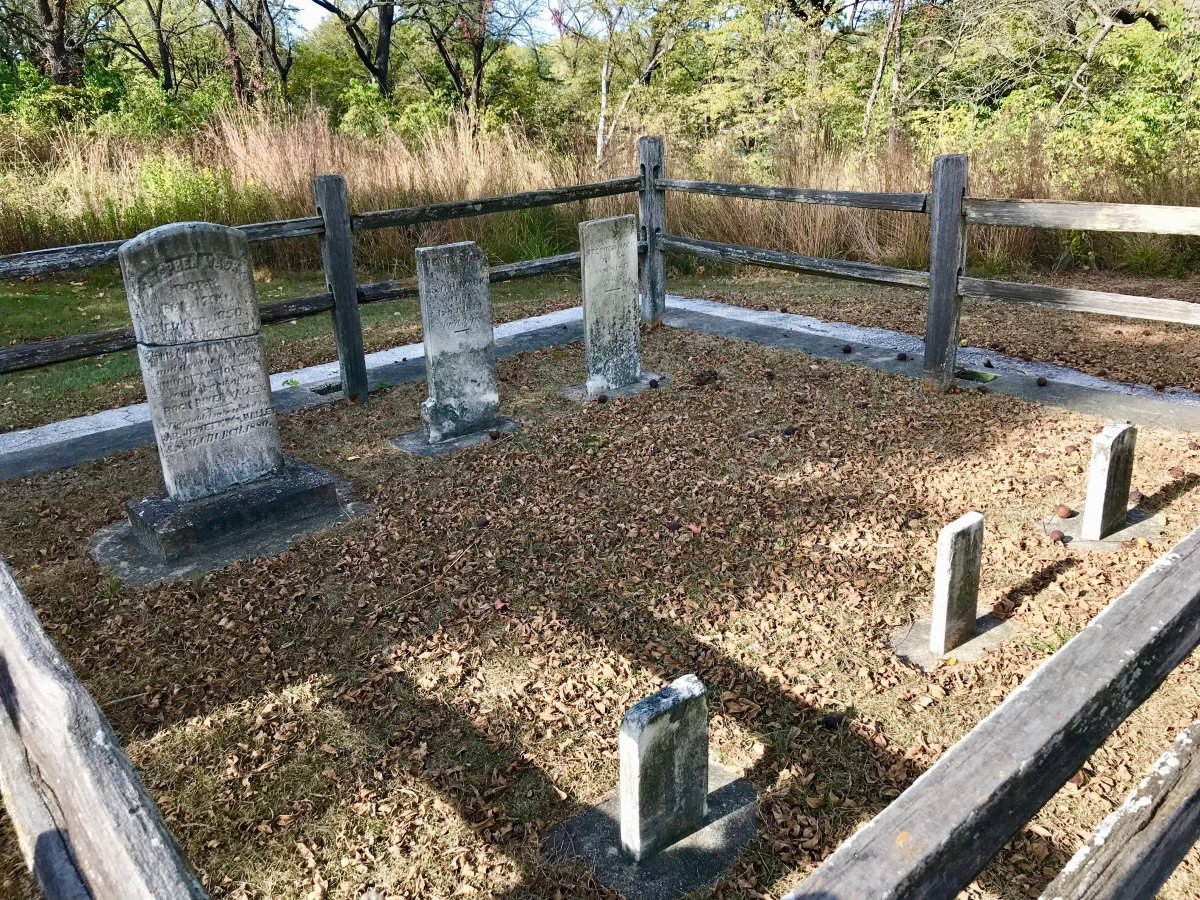 Perhaps the most moving part of the property is the small cemetery where three members of the Mack family came to rest in 1965 after a twisted burial odyssey.
Hononegah passed from a fever in 1847. In a letter to his sister, Stephen remembered his wife with these words: "If I know what a Christian is, she was one, not by profession but by her every act, her every deed proclaimed her a follower of Christ. In her the hungry and the naked have lost a benefactor, the sick a nurse and I have lost a friend who taught me to reverence God by doing good to his creatures."
Stephen died in 1850 of unknown causes. Some have speculated that he was poisoned.
Henry Clay Mack who died at age 9 is buried between his parents.
We walked down to a bluff overlooking the confluence of the Pecatonica and Rock Rivers. Directly below us was the site of a prehistoric Native American mussel shell midden.
Like the fading blooms and berries that brighten the grounds for a season, Macktown could not survive Stephen's death and the imminent destruction of the bridge that connected it to the northern settlement of Rockton.
Thanks to the spirit of community, the historic settlement has been preserved as a living history center for the enjoyment of locals and visitors alike.
Macktown Forest Preserve is open to the public daily. Of the many events regularly hosted on site, I was most fascinated with the archaeological digs. One volunteer told me, "Dig anywhere on the property, and you are guaranteed to find artifacts."
---
Church by the Side of the Road
---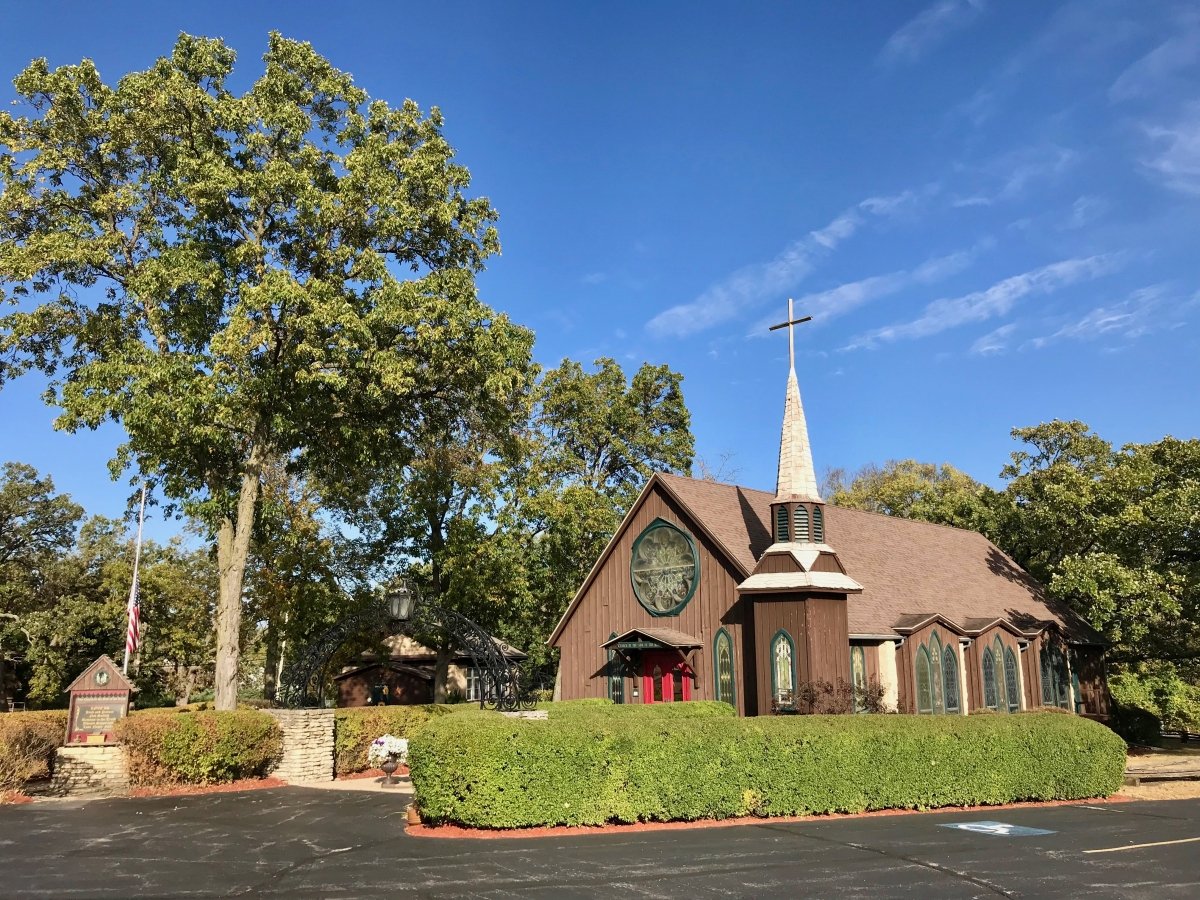 The Church By the Side of the Road was not on my itinerary, but I could not resist stopping to investigate its quaint storybook design.
Completed in 1964, the Gothic-style church was a project of local businessman Walt Williamson. The account of how he collected and assembled the church from period architectural pieces and antiques over a period of ten years is a truly fascinating read. Scroll to the bottom of the church web page for the full story.
The nondenominational church holds Sunday services, but the facility's primary function is as a wedding chapel. A 19th century stone schoolhouse and log cabin are also situated on the two-acre property.
---
Beckman Mill
---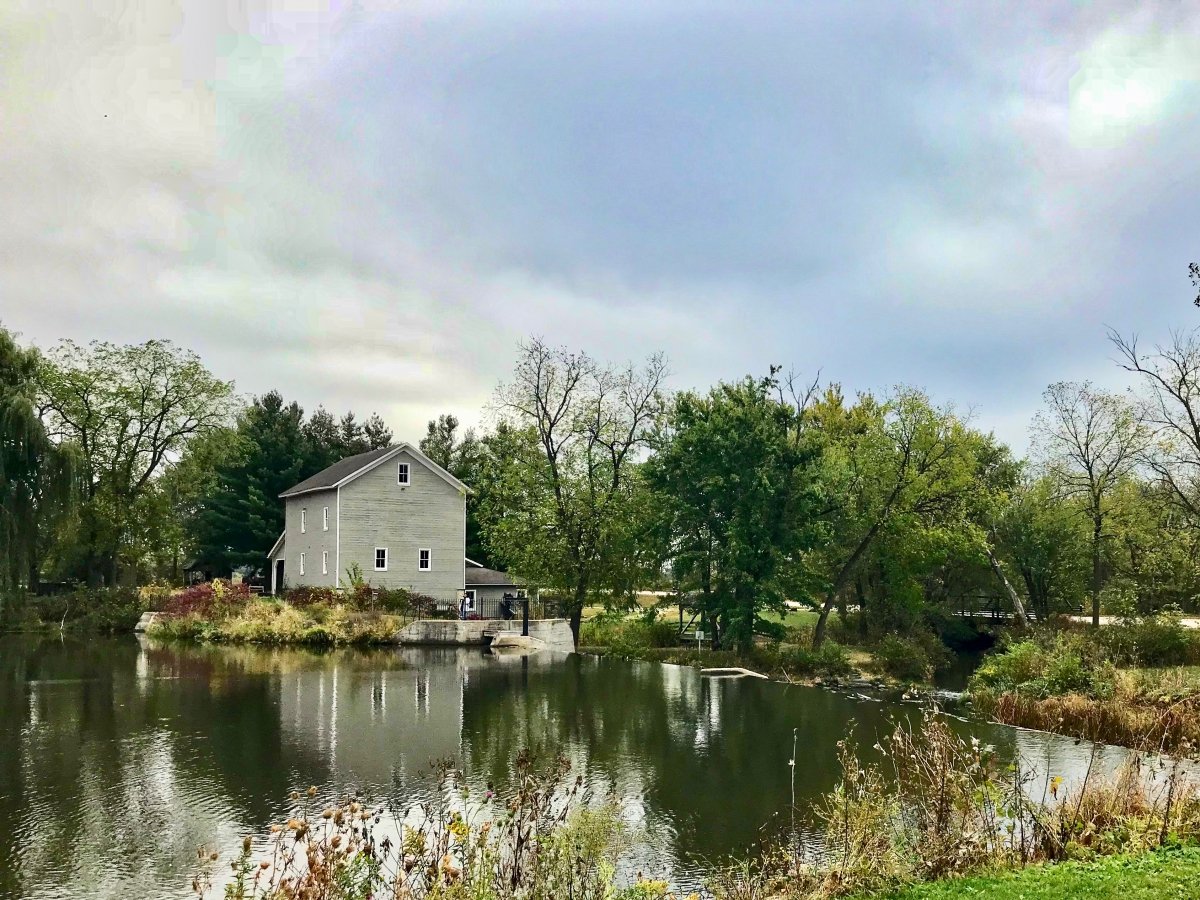 On my second morning in Beloit, I drove 8 miles west of town to visit another living history site. Situated on the grounds of a county park, Beckman Mill is an historical gristmill that, like Macktown, has been lovingly restored by a group of passionate local preservationists.
The mill was built by William Howe along Raccoon Creek in 1868. The Beckman family acquired the mill in 1882, and it remained in operation until 1954.
Beckman Mill does not have a water wheel. It is powered by its original 1860s water-driven Leffel turbine, with a backup vintage two-cylinder gas engine.
The millpond on Raccoon Creek was created by various dams through the years. In 1999, the current concrete dam was rebuilt to match an earlier 1924 dam.
A curved fish ladder was constructed in 2001 to connect the millpond with the creek beyond the dam, to ensure that protected species of fish not become isolated above or below the concrete barrier.
While touring the ladder, I witnessed the handiwork of a busy beaver.
The mill interior is staged with period pieces to demonstrate the milling process.
Original elements are evident, as well, such as the historical handwriting on a support beam above the milling platform. Charlie Beckman's signature dated 1912 can be seen on the underside.
The working mill looks virtually identical to the one I videoed at Jasper City Mill in Dubois County, Indiana. But witnessing that gristmill in action was only the beginning of my education.
At Beckman Mill I learned the true meaning behind the expressions "balls to the wall" and "balls out."
It is not what you think.
The phrases are actually derived from an old-fashioned engine speed indicator. Two weighted balls attached to a vertical shaft rise and fall based on the level of speed-induced centrifugal force.
I also learned through an interactive model how millstone grooves cut at opposing angles grind grain and channel flour or meal to the edges of the stones to be collected.
The building that became the Beckman family home from 1882 to 1978 has been restored to its original state as a cooperage, manufacturing wooden barrels for whiskey produced at a nearby distillery. Today the 1848 structure also houses an interpretive museum.
Completed in 2006, the Beckman Mill County Park visitor center and gift shop was patterned after the Griinke Creamery that once inhabited the property. A vintage-style storage barn was added in 2009.
A heritage garden lends an authentic touch to the park landscape.
The county park is open year round. Guided tours of the mill are available on Saturdays and Sundays from 1 – 4:00 PM, May through October.
Mill grinding demonstrations are scheduled for the first Saturday of every month and on special events.
---
Riverside Park
---
Riverside Park is the centerpiece of Beloit's Riverfront district and home to a host of "fun, free and family-friendly" events sponsored by the non-profit Friends of Riverfront organization.
The 24-acre park was conceptualized and created in the 1930s, and has been expanded through the years to include pavilions, concessions, paddle-boat and bike rentals, tennis courts, and the Rotary River Center.
The 9-mile Riverside Corridor bike and walking trail intersects with Riverside Park and connects to the greater Rock River Trail, a multi-use route that parallels the river for 320 miles through Wisconsin and Illinois.
---
Big Hill Park
---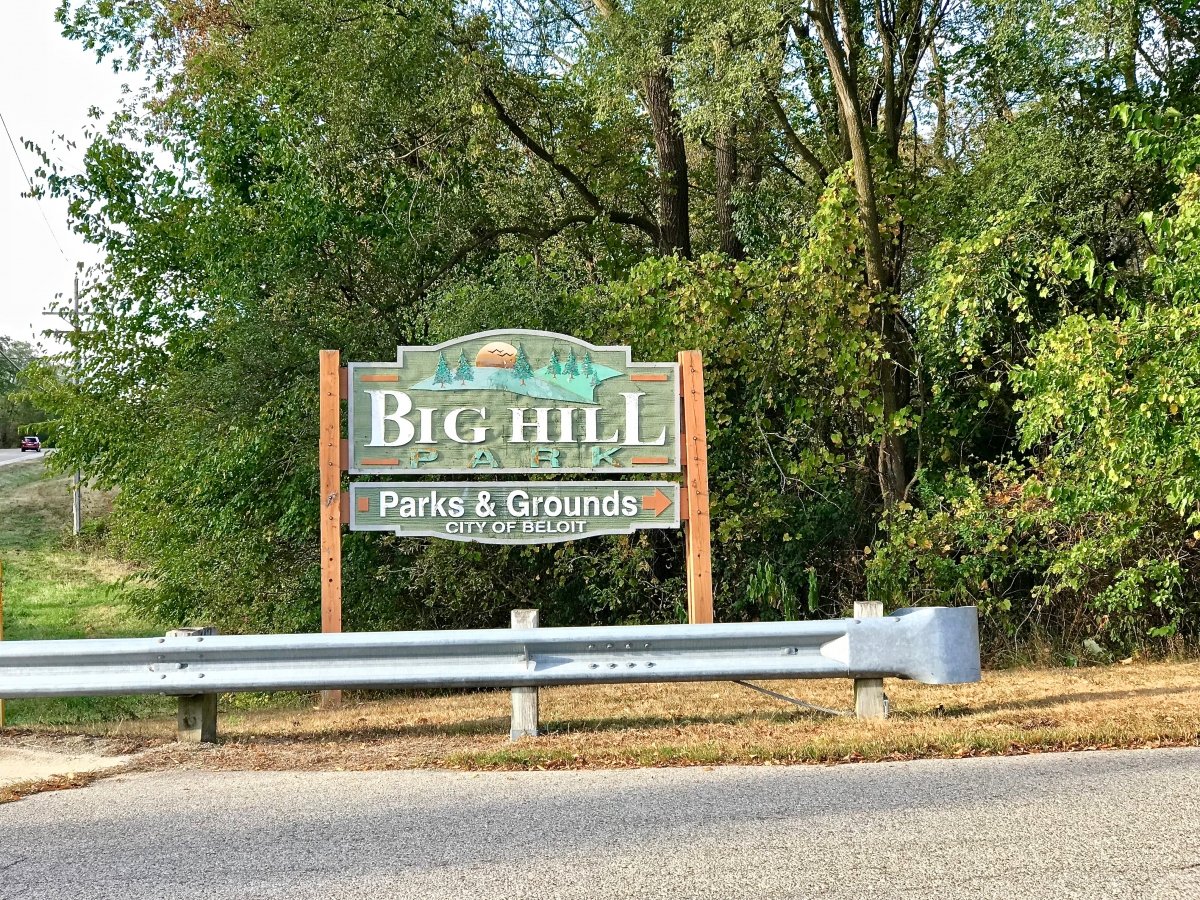 I drove a few miles north of downtown to another city property, Big Hill Park. This 127-acre park was purchased in 1925 as a World War I memorial.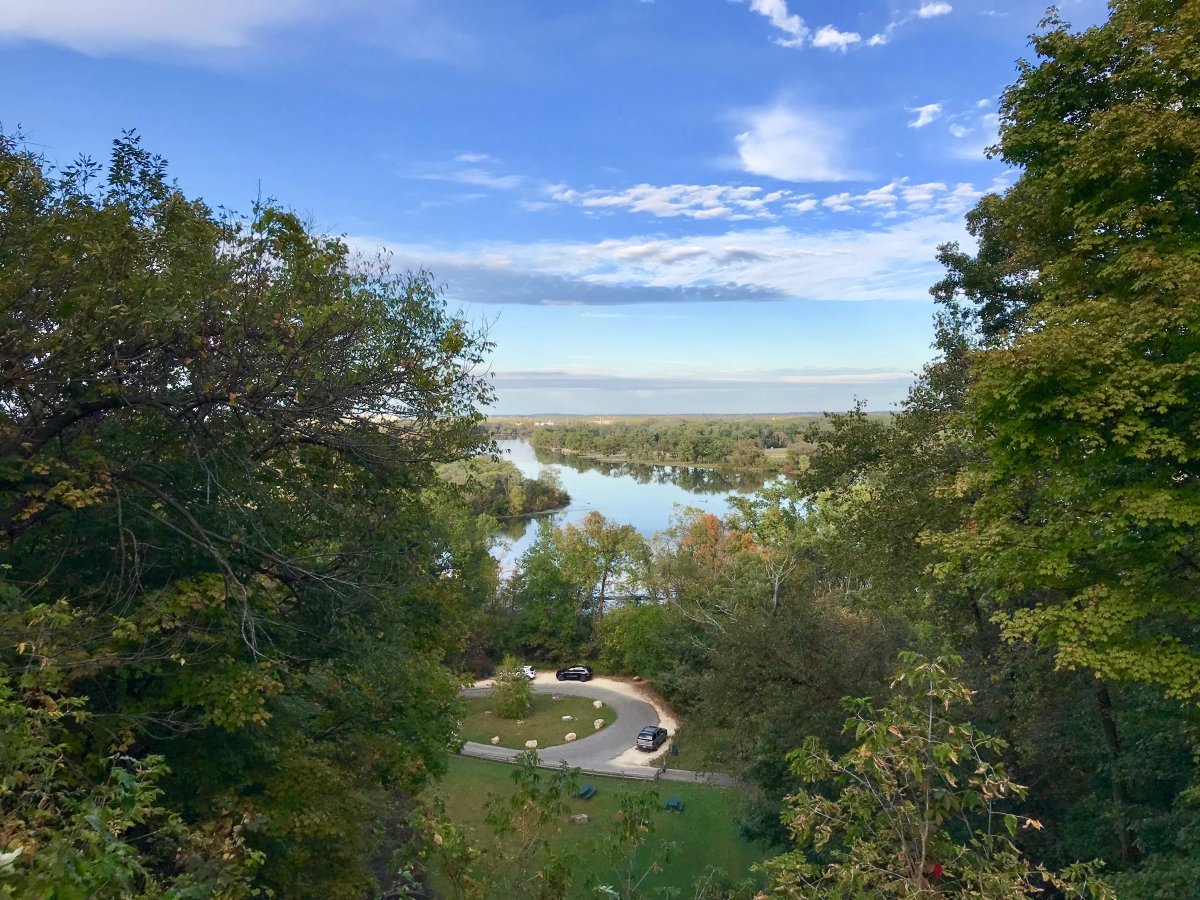 The heart of the park is a 90 ft. bluff with a stellar view from the west bank of the Rock River. This doesn't happen often, but the drive through this city park had the feeling of a scenic tour through a national park.
The Welty Environmental Center is located within Big Hill Park. In addition to its slate of public programs, the center provides environmental education for K-12 students and professional development for teachers.
---
Angel Museum
---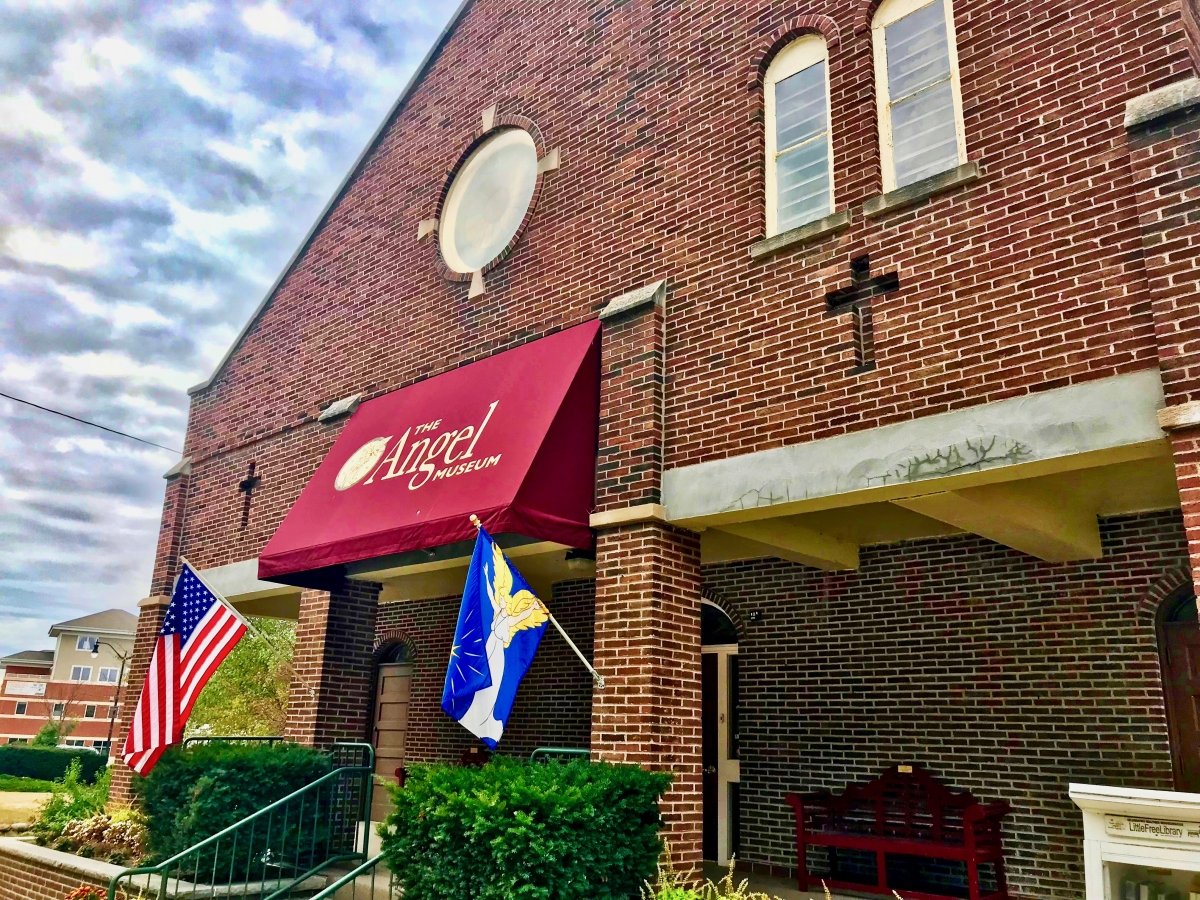 UPDATE: The Angel Museum has permanently closed, but the photos and content remain for posterity.
A short walk south of Riverside Park, will take you to the Angel Museum, certified as the world's largest angel collection by Guinness World Records.
Museum founder Joyce Berg purchased her first angel figurine in 1976 while on vacation in Florida. The figurine captured her heart, and soon collecting angels became her passion.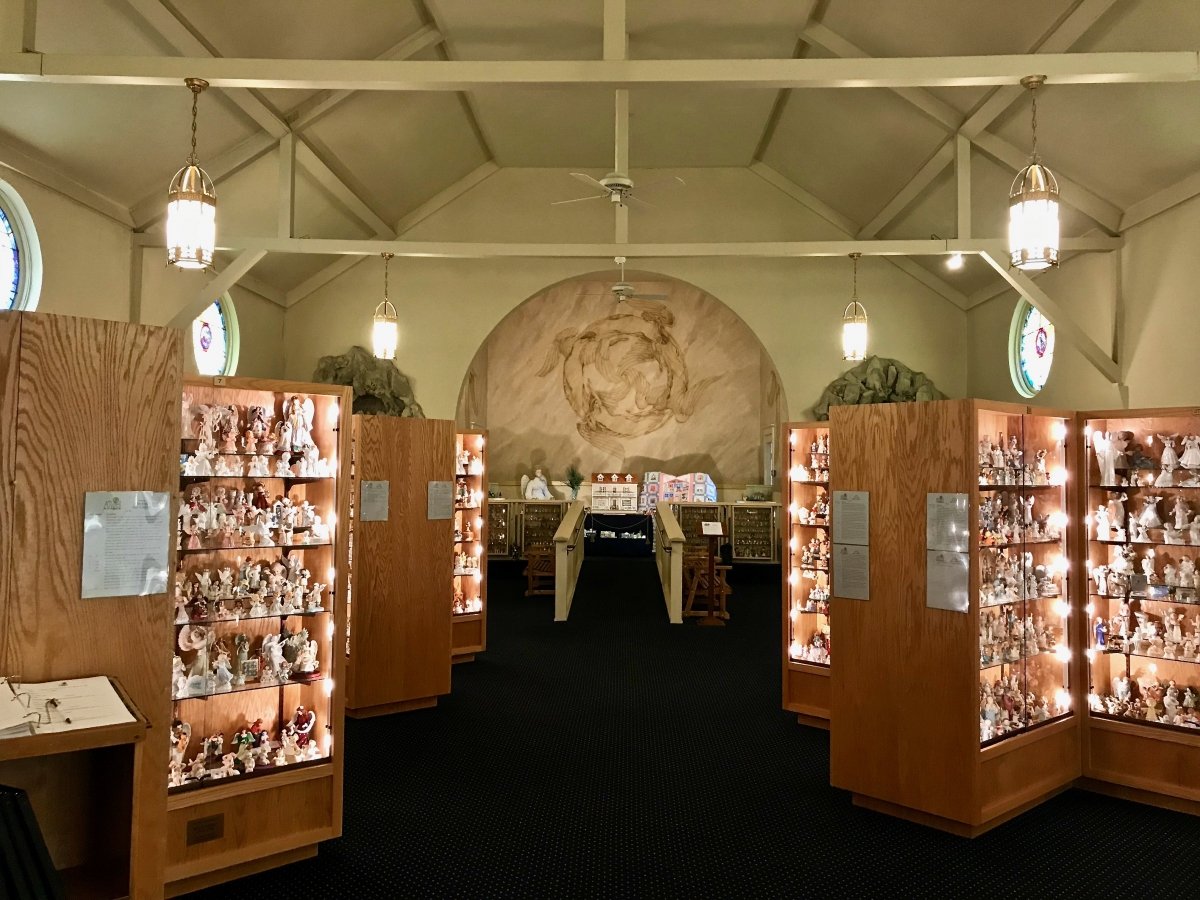 By the mid-1990s, Berg's collection was outgrowing her home, and she began searching for a venue to house her angels. Around the same time she learned St. Paul's Catholic Church was slated for demolition.
The volunteer spirit so prevalent in Wisconsin kicked in and a mighty host of Beloit's citizens helped the city acquire the property. The church was literally and figuratively saved by the angels.
Berg's collection of more than 11,000 angel figurines finally found their home in a former church, of all places.
Most of the angels in the collection were acquired second-hand at "antique shops, flea markets, estate sales and auctions." Others have been donated by museum fans and visitors.
The most celebrated donation to the museum was Oprah Winfrey's collection of more than 600 black angels. In the late 1990s, Oprah casually mentioned on air that she had difficulty finding black angels. Viewers started sending Oprah so many angels that she finally begged them to stop.
With Oprah's donation, even more orphaned angels found their home in a former house of worship.
The Angel Museum is open Thursday – Saturday from 10 AM to 4 PM with winter closings. All admission fees are $7 or less.
---
Ironworks Hotel
---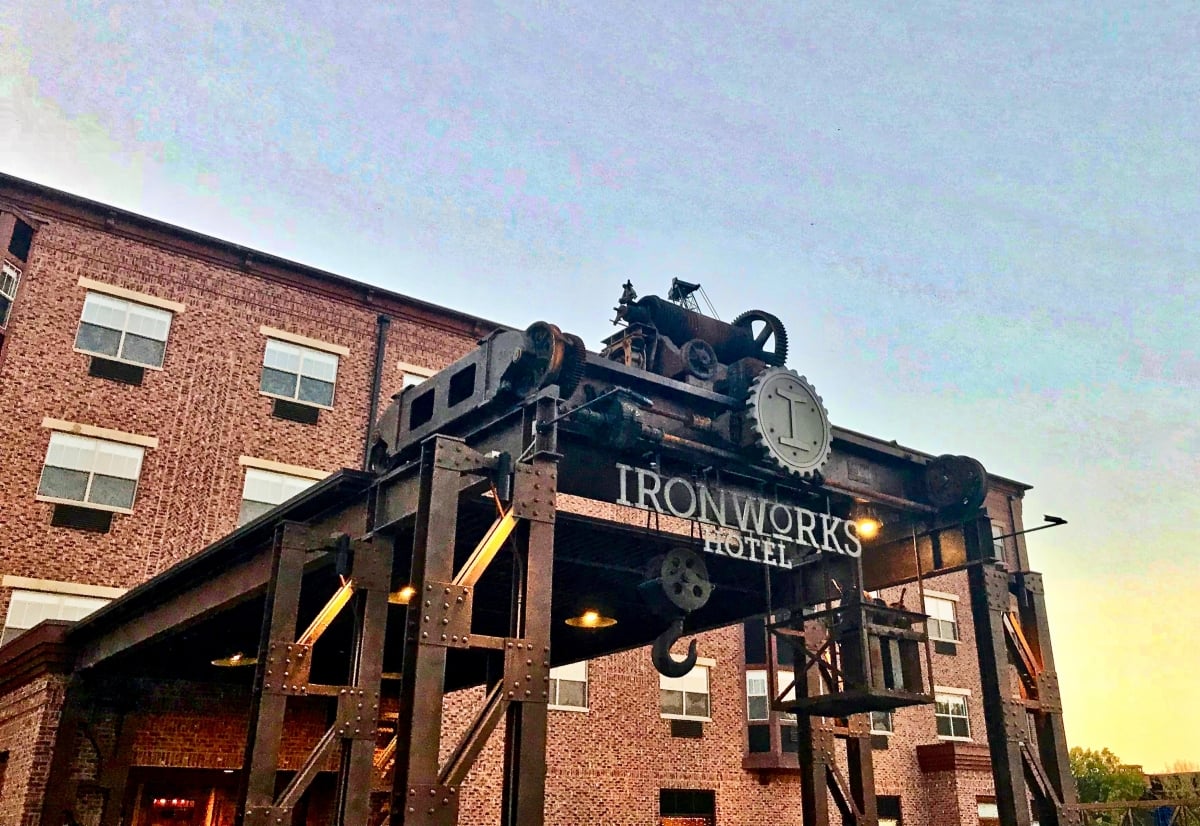 I rarely review hotels. I typically mention lodging locations as a convenience for our readers who may be planning travel itineraries. But my experience at Beloit's Ironworks Hotel have made it my favorite hotel to date, and it would be a disservice not to elaborate a bit on this exceptional host property.
The most striking feature of the hotel is its decor. With a motif inspired by the 1858 Merrill & Houston Iron Works, a local foundry, the hotel is the definition of rustic elegance. In fact, every feature from the covered entry to the elevator to the handmade luggage cart qualifies as industrial art.
The Legacy Suite, with its exposed brick and dark wood grain appointments appealed to my masculine sensibilities.
But there was no denying the creature comforts of a dual-sided gas fireplace with two HDTVs, a workstation, plush king bed, and other amenities of a luxury boutique suite.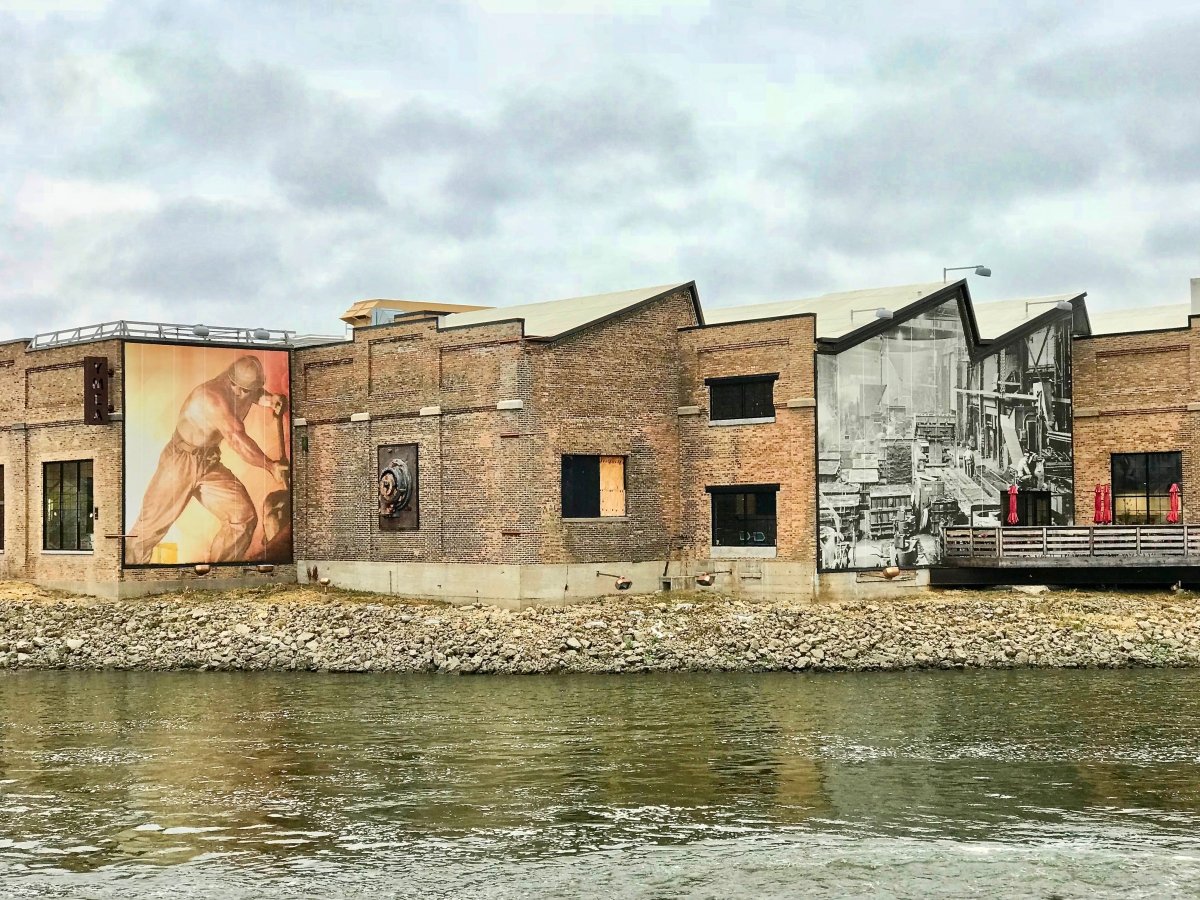 Merrill & Houston Iron Works would become Beloit Iron Works and ultimately the Beloit Corporation. The company ceased operation in 2000.
The former factory building is situated across the Rock River from the Ironworks Hotel. "Forged on the Rock," a mural of vintage photos, now adorns the repurposed structure of loft offices and manufacturing spaces, honoring generations of Beloit citizens who worked there.
Click here to book your stay at Ironworks Hotel on TripAdvisor!
---
Dining
---
Beloit's dining options mirror the city in their diversity, offering a broad selection for every palate.
Merrill & Houston's Steak Joint
---
My first meal upon arrival in Beloit was at Merrill & Houston's Steak Joint. Located in the Ironworks Hotel, the classic rusticity and historic decor flowed seamlessly into the restaurant. I enjoyed an exceptional 10 oz. center cut filet of beef tenderloin topped with onion rings, accompanied by garlic mashed potatoes and tossed salad.
Double B Farm Café
---
For breakfast on the first morning, I drove seven miles out into the country for a ham and cheese omelet served up with hash browns and and a toasted English muffin at the Double B Farm Café.
Lucy's #7 Burger Bar
---
Nothing compares to a great handmade burger, especially when the patty is stuffed with melted cheese, like the Plain Jane I inhaled at Lucy's #7 Burger Bar.
The 615 Club
---
Dinner on my second evening in town was my first experience at a Wisconsin supper club. I have read up on this cultural and historical phenomenon and had it verbally explained to me, but If I am honest, I have to admit I still don't quite get it.
That said, the dining experience at The 615 Club was unforgettable. Our server was a moonlighting teacher, and we connected immediately. Her warm personality combined with a multi-course meal of spinach and artichoke dip, baked French onion soup, prime rib, and roasted brussel sprouts, made it a truly memorable supper club event.
Bagels & More
---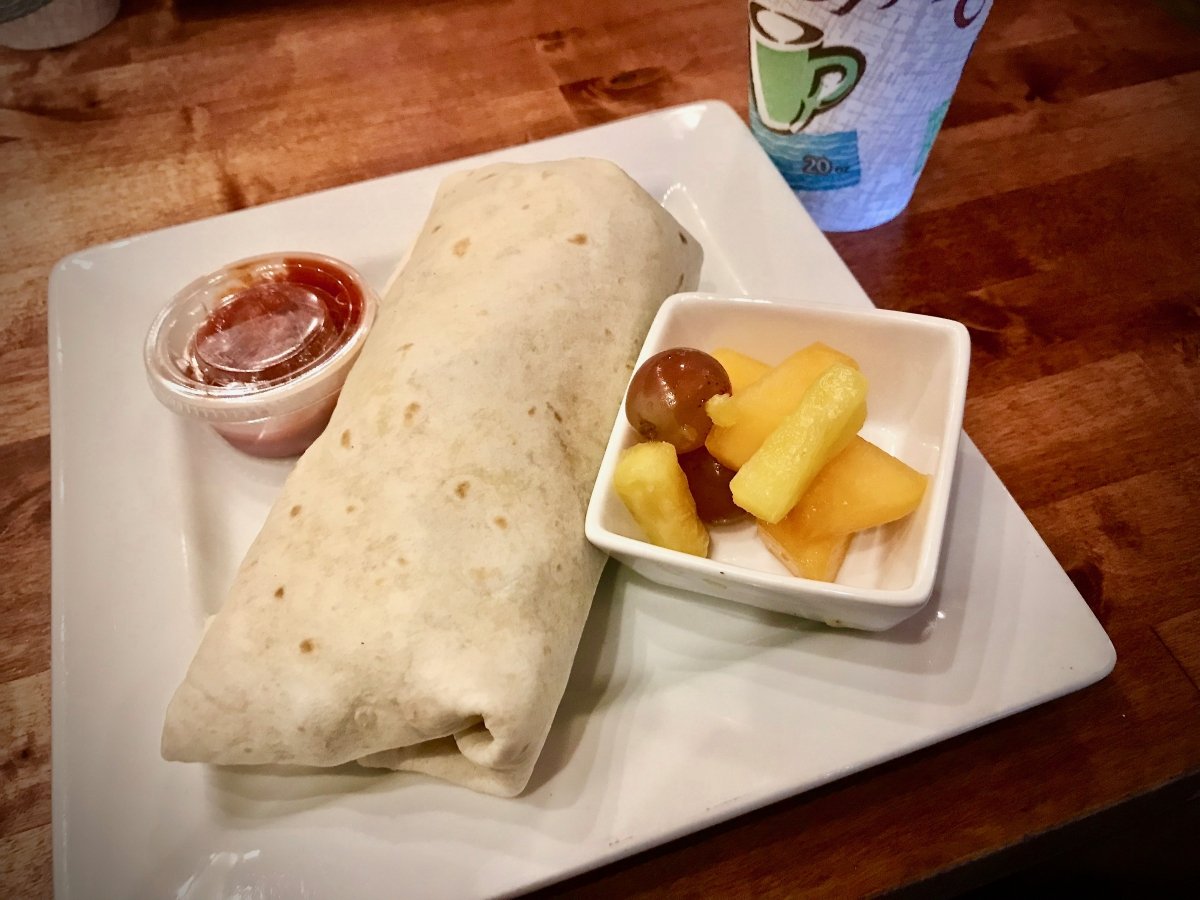 I walked down to Bagels & More for breakfast on my second morning in town. Not really in a bagel mood, I ordered the Everything Breakfast Burrito stuffed with eggs, potatoes, sausage, and cheese served with a side of salsa and fresh fruit.
Bushel & Peck's Local Market
---
Before leaving town, I stopped for lunch at Bushel & Peck's Local Market. (And yes, I was singing the Doris Day show tune under my breath.) B & P's market and café grew out of a certified organic farm that also launched a preservation kitchen and the slogan, "Food you love from people you know." I would love to have sampled every recipe on the shelf, but I settled for fried cheese curds served with peach jalapeño beer mustard, rosemary chicken salad sandwich, and soup of the day.
---
Map It!
---
---
We Would Love to Hear From You
---
We enjoy dialogue with our readers, especially when they share off-the-beaten-path destinations and useful travel tips. Have you ever visited the city of Beloit, Wisconsin? If so, we would love to hear about your experience. We invite you to leave your comments and questions below, and we always respond!
---
Pin this Post!
---