(a

18

minute read)
---
If you are looking for fun things to do in Rockford, Illinois, may I suggest Anderson Japanese Gardens, Frank Lloyd Wright's Laurent House, Midway Village Museum, Rock Cut State Park, and the Coronado Performing Arts Center, for starters?
---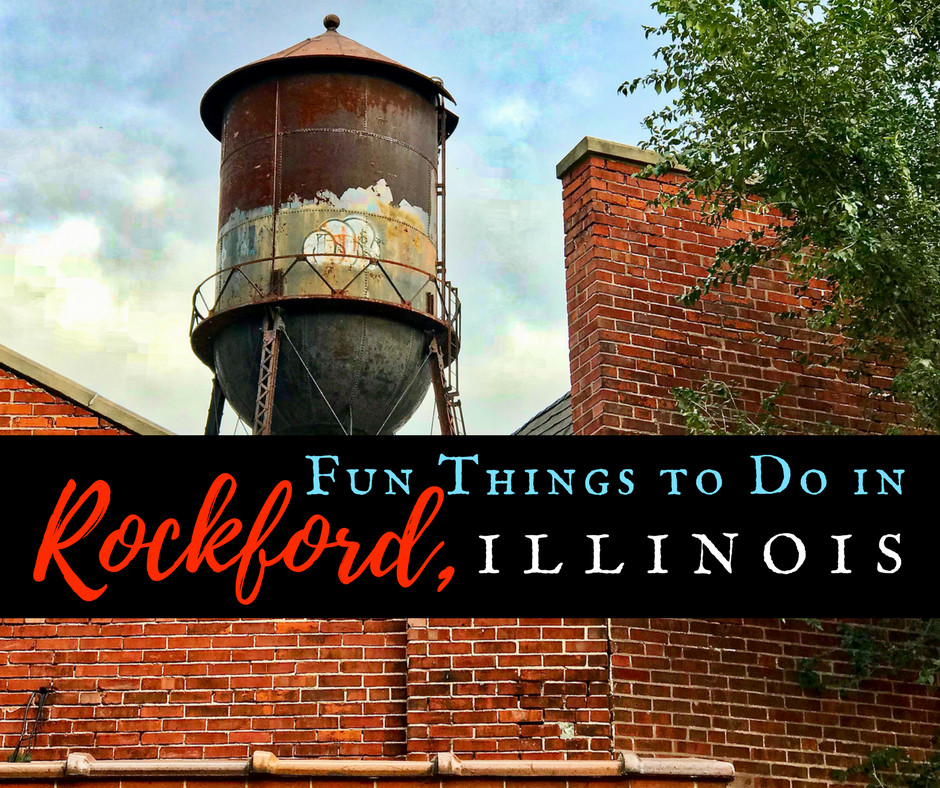 I was a guest of Rockford Area CVB, but all thoughts and opinions are my own.
---
Fun Things to Do in Rockford, Illinois
---
Rockford, Illinois, was the first destination on my first Midwest fly-drive road trip. Later in the week, my loop itinerary would take me to Beloit and Janesville, Wisconsin.
I can't put my finger on it, but for some reason, when I recall my visit to Rockford, I don't envision it being a major urban center.
But it is.
Outside Greater Chicago, Rockford ranks as the largest metropolitan area in Illinois, even with its laid back vibe.
Perhaps my perceptions have something to do with the Rock River and other tributaries that flow through town,
Or maybe it's Rockford's historical designation as The Forest City. Rockford earned that nickname long ago for the lovely canopy elms that lined its city streets, before 50,000 of them were lost to Dutch Elm disease in the 1950s and 60s. Rockford has maintained its reputation due in part to the city's Tree Replacement Program and Forest City Beautiful initiative.
Either way, when I think about fun things to do in Rockford Illinois, virtually all of the activities on my list revolve around the outdoors, with a side of architectural history thrown in.
---
Anderson Japanese Gardens
---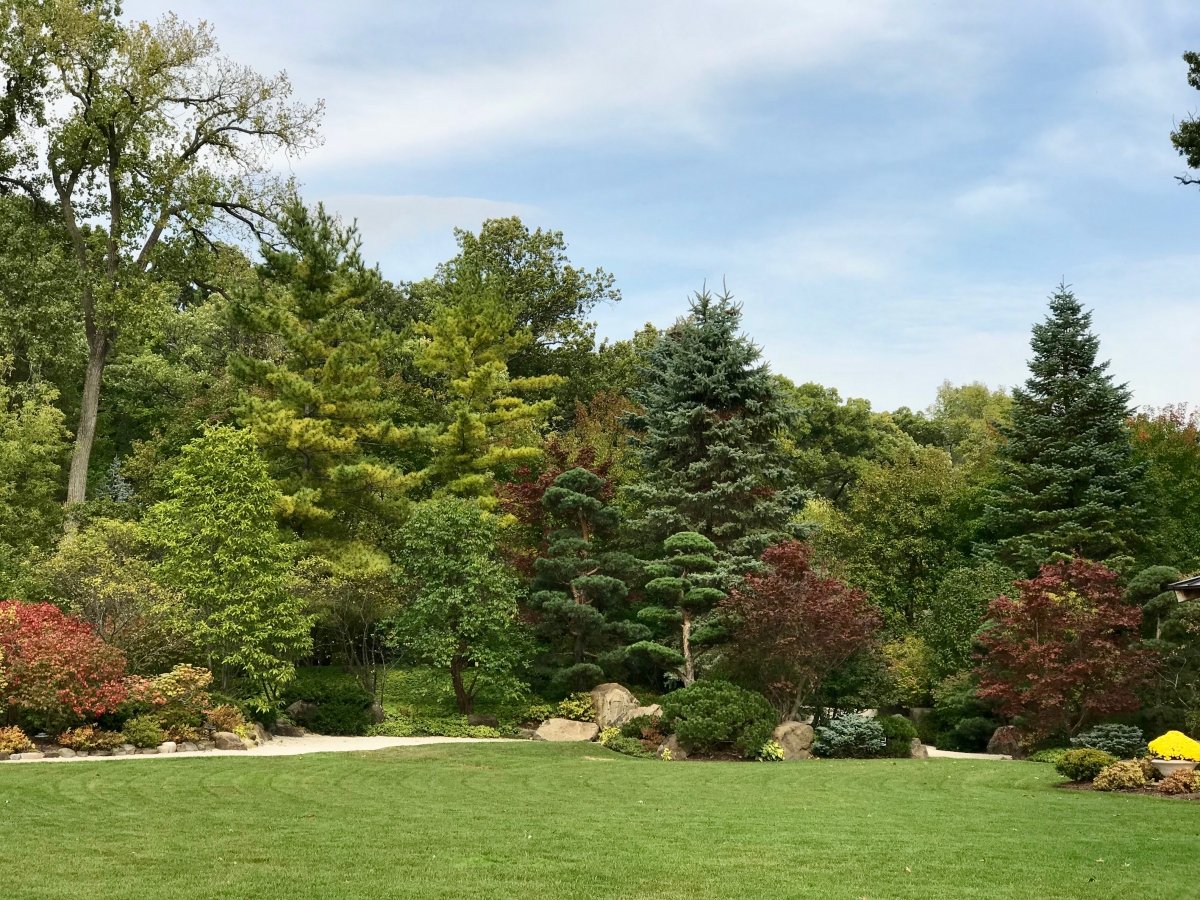 Anderson Japanese Gardens is a sanctuary for anyone needing to escape the stress, noise, and confusion of life, but also for anyone who simply enjoys scenic beauty.
The gardens are the love child of businessman John Anderson who had an inspired vision for a swampy area of his back yard that bordered Rockford's Spring Creek. In 1978, he enlisted Hoichi Kurisu, a Japanese landscape designer who would supervise every element of the garden design from its creation through today.
The Anderson family donated the gardens to the Rockford Rotary Charitable Association in 1998, and today they operate as a non-profit organization.
Stone, water, and plants, the three elements of Japanese garden design, play a prominent role throughout the gardens.
Secondary hardscape elements, including bridges, pagodas, water basins, and stone lanterns, elevate the gardens' design.
Sculptures such as Angels by Swedish sculptor Carl Milles expand the "concept of Japanese gardens beyond traditional symbolism."
A grand weeping willow that grows along the Pond Strolling Garden was one of the garden's first plantings. As a seedling, the trunk measured a mere .5 inch in diameter.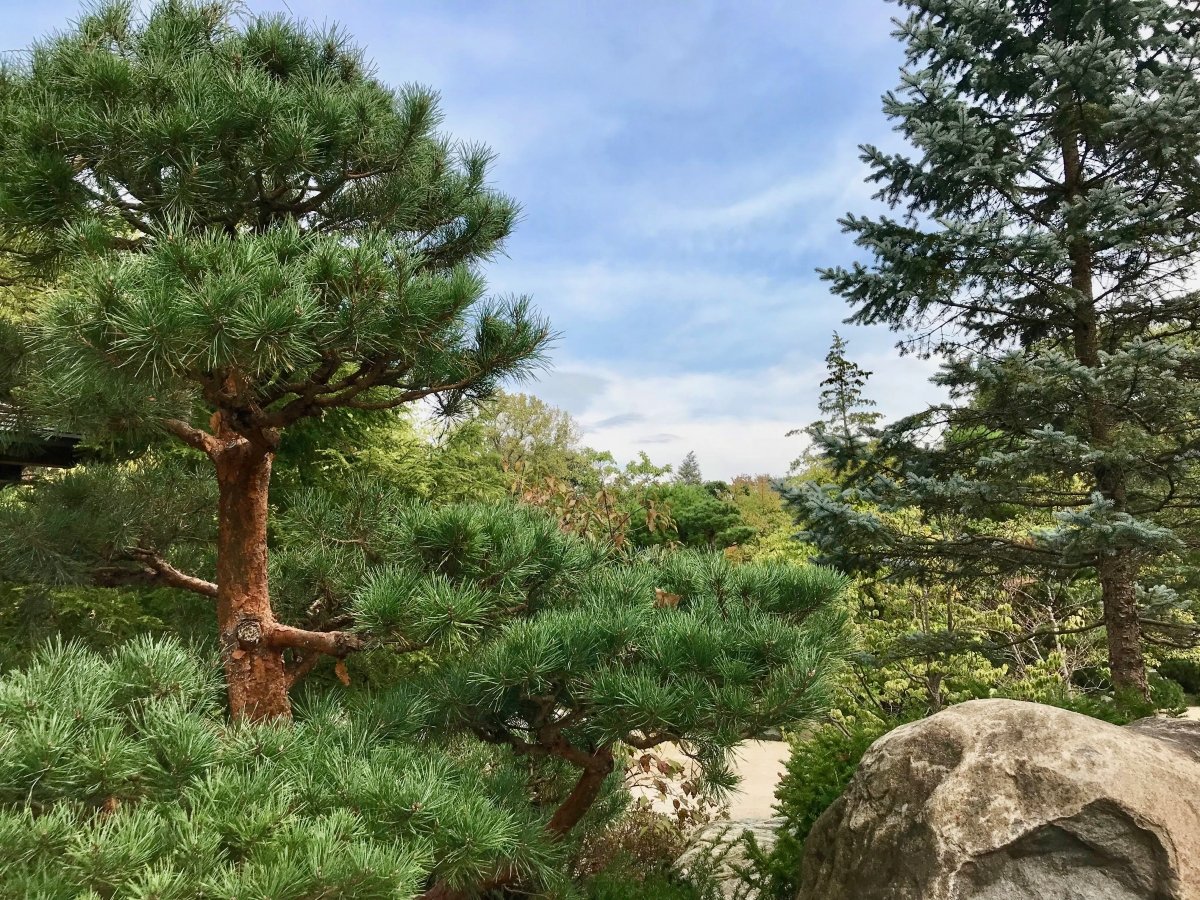 Japanese cloud-pruned pines (Niwaki) mirror clouds in the sky.
A modern guest house constructed in the 16th century Sukiya style integrates interior and exterior spaces, while forgoing ostentatious decor.
Designs in the raked gravel garden (Kare Sansui) mimic ripples in water.
Koi and mallards call the gardens home.
Natural textures and colors evolve with the seasons.
And Japanese maples bring color to the garden, especially in autumn.
Quiet, calm, peace, serenity, grace, and elegance are all terms to describe Anderson Japanese Gardens, making it a perfect retreat for anyone needing to escape chaos of the outside world.
The gardens are open daily with admission fees running $9.00 and lower.
---
Frank Lloyd Wright's Laurent House
---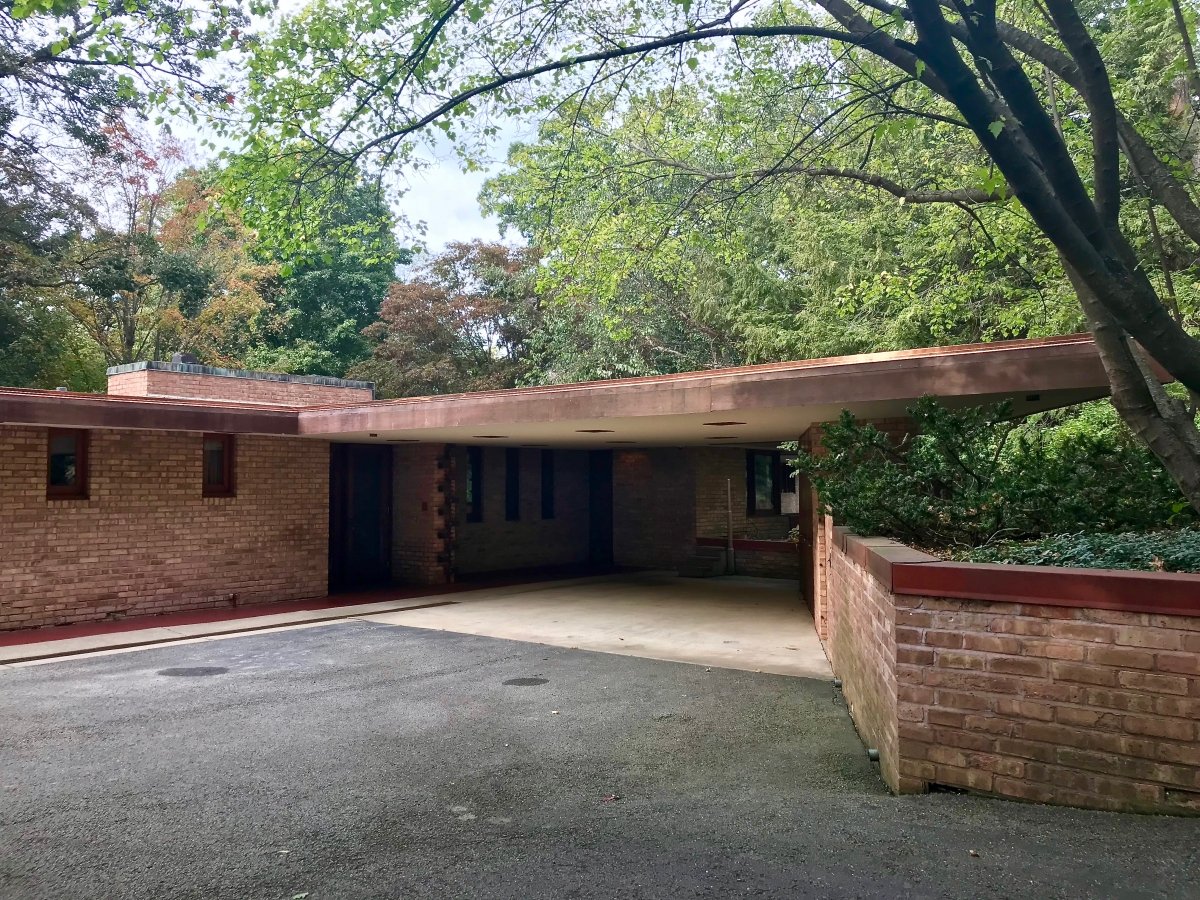 History buffs and fans of architecture won't want to miss touring the Laurent House while visiting Rockford. The home is the only building architect Frank Lloyd Wright ever designed specifically for a physically disabled person.
With a glance, the Chicago Common Brick and Red Tidewater Cypress structure appears to be a nondescript mid-century modern home.
But there is no denying the art and design behind the built-in lightboxes at the entryway. And Wright's trademark red tile identifies the Laurent House as a building the famed architect considered one of his most significant designs. In fact, he called this Usonian design his "Little Gem."
In 1948, at age 81, Frank Lloyd Wright accepted a commission from Kenneth Laurent to design a house for a disabled person, decades before the ADA.
In a letter to the famed architect, Mr. Laurent wrote: "I am paralyzed from the waist down and by virtue of my condition, I am confined to a wheelchair. This explains my need for a home as practical and sensible as your style of architecture denotes."
Kenneth's wife Phyllis had seen Wright's work in a magazine and thought the open style would fit her husband's needs.
A first look inside the home reveals the concrete floors and low cabinets Wright designed to accommodate Mr. Laurent and his wheelchair.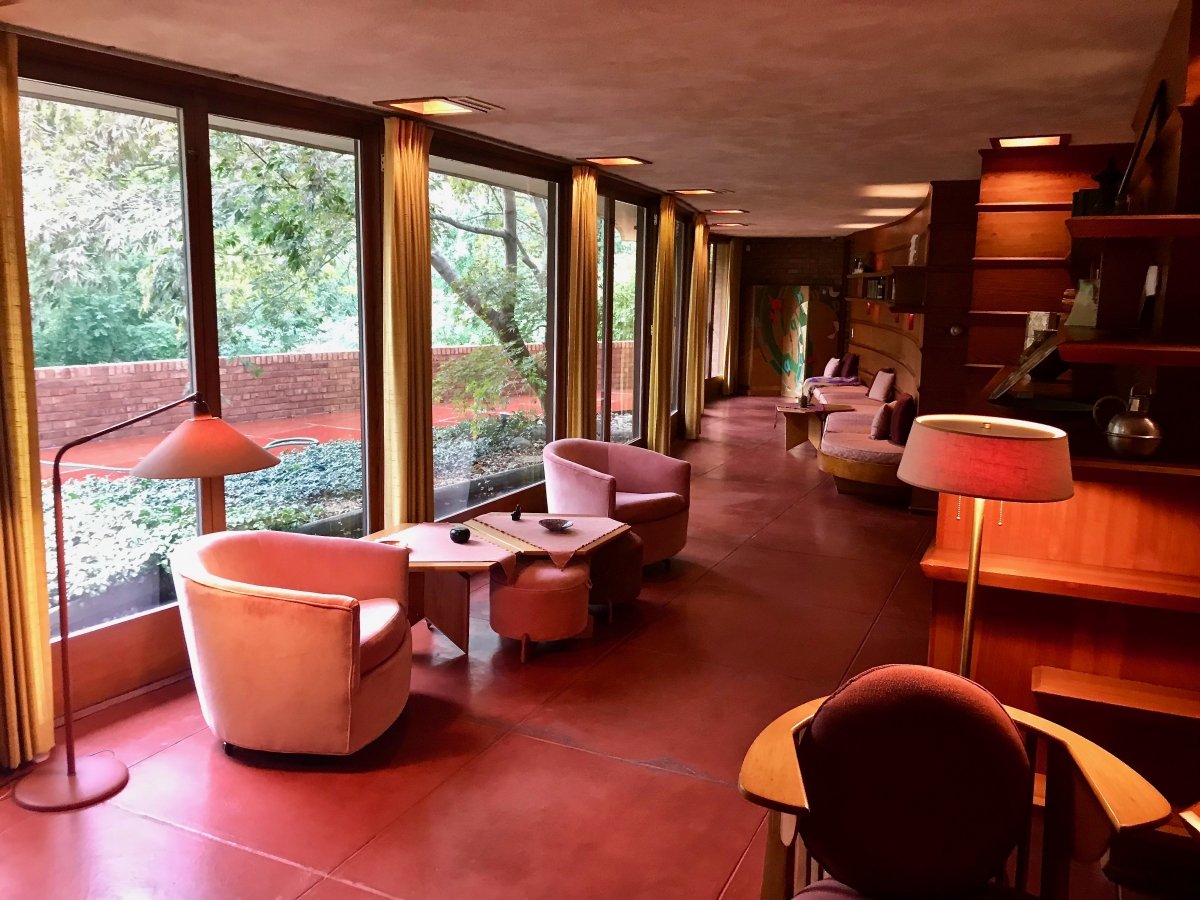 Wright approved a rural lot along Spring Creek, and construction began. The home was completed in 1952, but the requested budget of $20,000 ended up being more than $31,000.
Wright and his apprentices designed all of the home's furniture, with the exception of two chairs, with an orange, green, and Cherokee red color scheme.
Even the Laurent family china was patterned after a stained glass window Wright had designed for the Avery Coonley Playhouse in 1912.
Kitchen appliances have been updated through the years.
Wright's affection for Japanese art and architecture are evident through the hemicycle design of the passageway and outdoor landscaping.
The master bedroom features an accessible closet and desk, as well as "Ricky and Lucy" twin beds.
In the 1950s, the Laurents adopted a son and a daughter, resulting in the need for an addition to the house. Although Wright was commissioned to design the addition, he died before the plans were completed. Ultimately, Wright's apprentice John Howe completed revisions to the drawings, and the original contractor's son completed construction of the addition in 1960.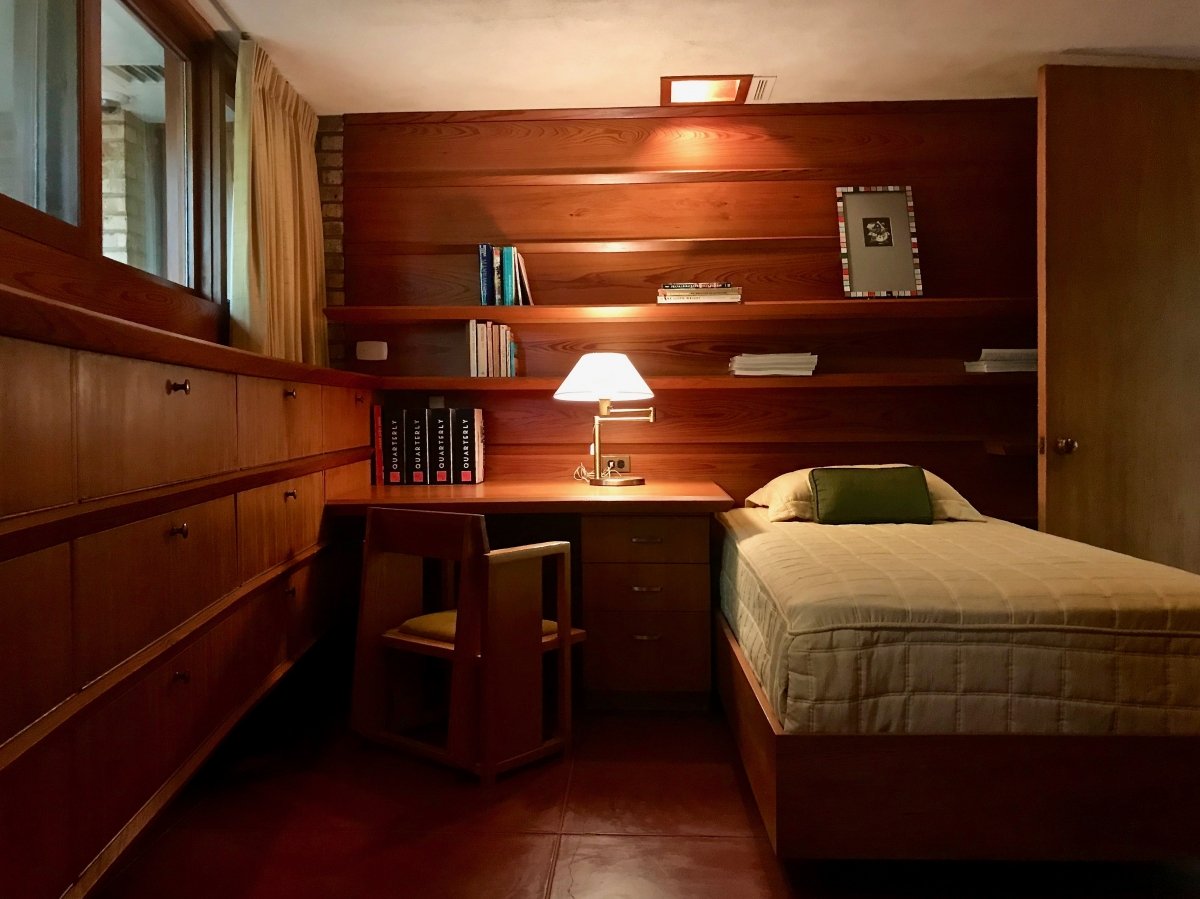 The exercise room of the original house was converted to a bedroom.
Ken and Phyllis Laurent lived in their house for sixty years. They both passed in 2012, having reached their 90s.
Mr. Laurent once said, "This house lets me forget my disability and instead focus on my capabilities. That is the gift Mr. Wright gave me."
The community-formed non-profit Laurent House Foundation, Inc. purchased the house, its contents, and Frank Lloyd Wright's architectural drawings.
Holiday and private tours of the Laurent House can be booked online.
---
Tinker Swiss Cottage Museum and Gardens
---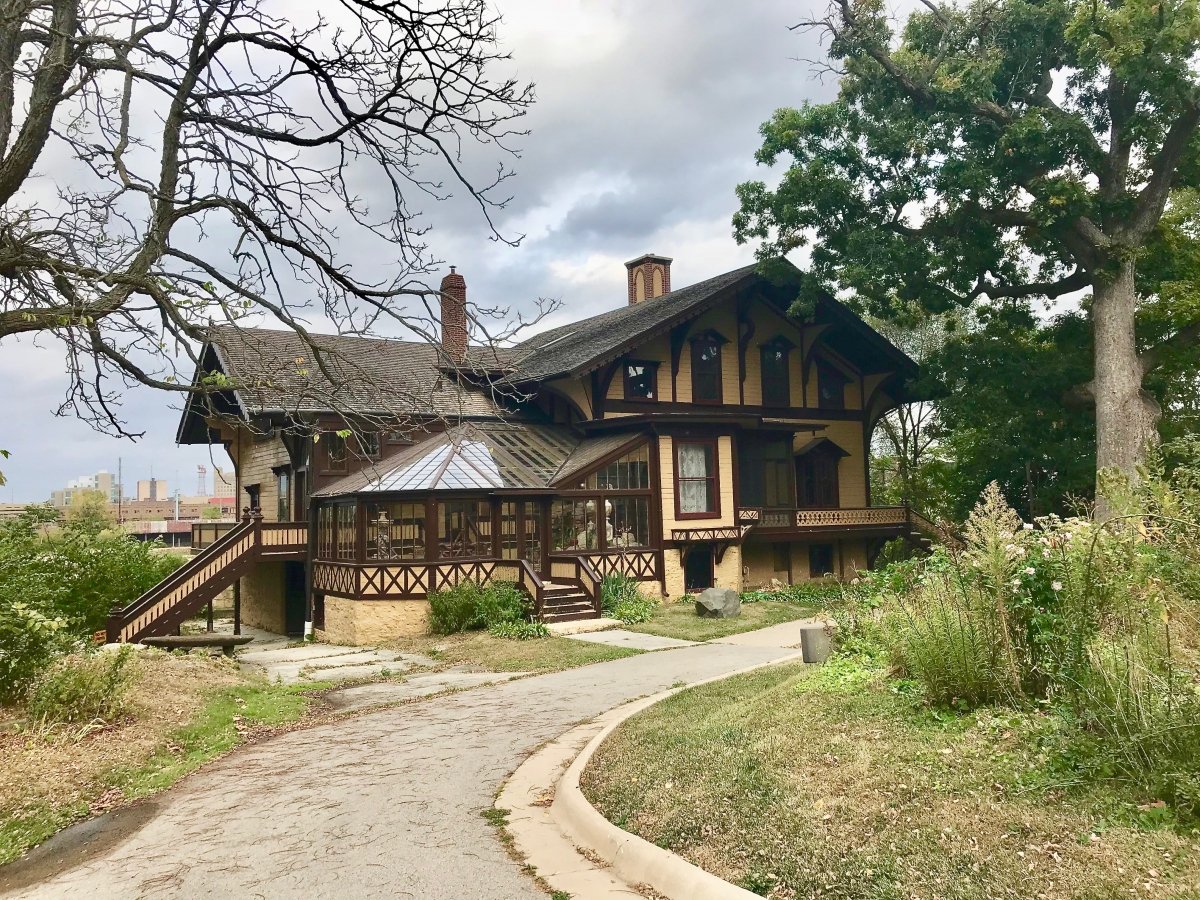 The Tinker Swiss Cottage is another unique historical home in Rockford.
Robert Tinker was born in Honolulu in 1836, the son of missionary parents (like me). He moved to Rockford in 1856 and found employment as an accountant at the Manny Reaper Works. While touring Europe in 1862, Tinker developed an appreciation for the architecture of Switzerland.
In 1865, Robert selected a choice spot on a limestone bluff overlooking Kent Creek, and began construction on a 27-room Swiss-style cottage.
Tinker married his employer Mary Dorr Manny in 1870, and after her passing married her niece Jessie Dorr Hurd. Following Tinker's death in 1924, Jessie entered an agreement with the Rockford Park District, allowing her to live in the home until her passing in 1942.
Featuring original furniture, artwork, and family household items, the home was opened to the public as a museum in 1943.
I especially admired the interior woodwork surrounding an octagonal balcony and a spiral stairway Tinker carved from a single piece of walnut.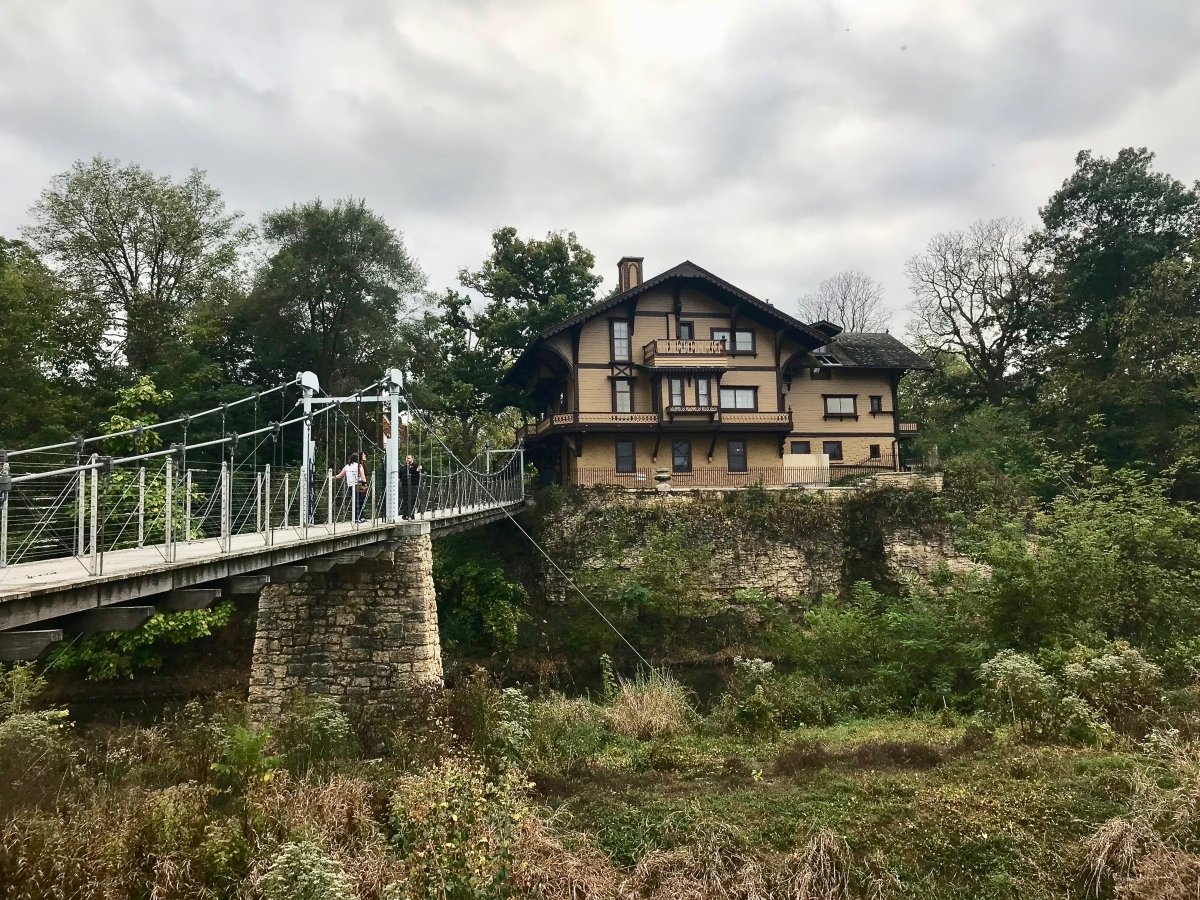 Tinker constructed a suspension bridge across Kent Creek to connect with Mary's limestone mansion on the opposite bank.
The parcel of land across the bridge encompasses the site where Rockford was founded in 1834. Today that acreage has been restored with grasses and other native plants to its original state as a prairie meadow.
General admission tours run $8 and lower, Tuesdays through Sundays at 1:00 and 3:00 PM. The museum also features select free dates, workshops, paranormal tours, murder mysteries, and other special events.
---
Midway Village Museum
---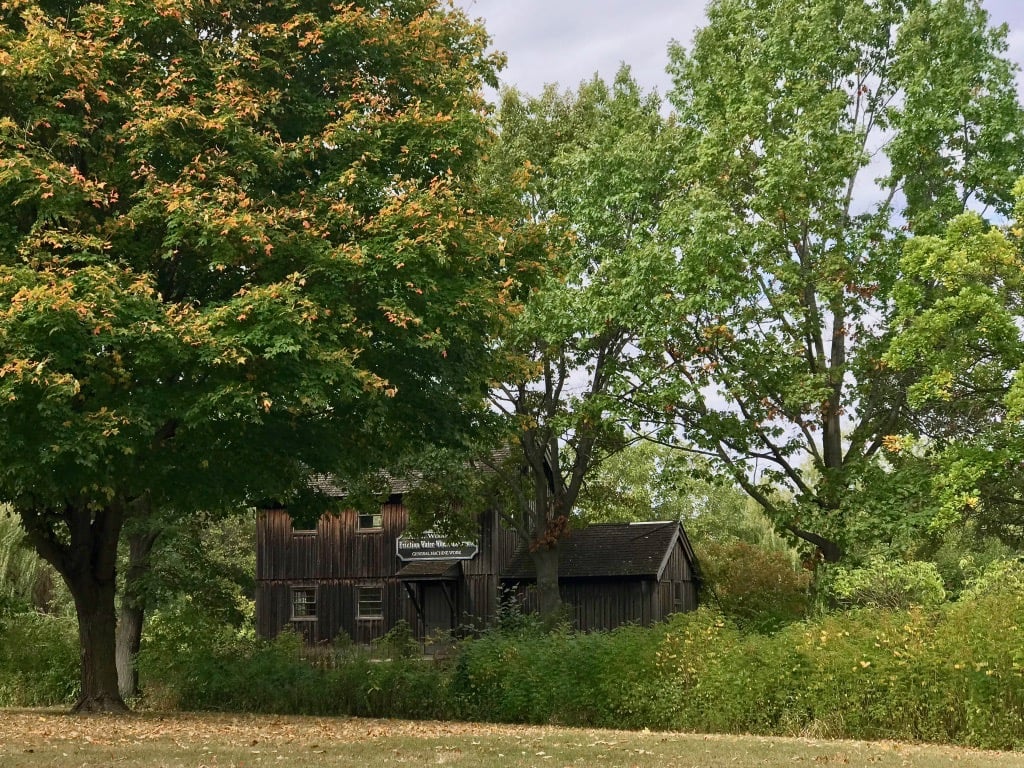 The Midway Village Museum interprets Rockford's rich history in a grand way through 20,000 sq. ft. of gallery spaces in its Museum Center and its 13 acre Victorian Village. The museums's logo is patterned after a replica millhouse with a working waterwheel situated near the museum entrance on Lake Severin.
The Museum Center
---
I opted to explore the Museum Center first, and as an avid roadtripper got a kick right away when I was welcomed by two huge vintage travel postcards.
Many Faces, One Community is the largest gallery in the museum. Its interactive exhibits reveal the history of Swedish, Irish, Italian, Polish, Lithuanian, Laotian, Vietnamese, Hispanic, and other immigrants who settled in Rockford, and their multicultural contributions to the community.
Like most American towns, Rockford has its share of claims to fame. One of those claims is "home of the sock monkey." Rockford's Nelson Knitting Company formed in 1880 and began producing seamless hosiery. In 1932, the company introduced the Rockford Red Heel sock. No one knows exactly who created the first sock monkey, but after a patent feud and court battle, Nelson finally acquired the patent.
If you are familiar with the 1992 motion picture A League of Their Own starring Tom Hanks, Geena Davis, Madonna, and Rosie O'Donnell, you will recall the Rockford Peaches. The Peaches were a founding team in the  All-American Girls Professional Baseball League from 1943 through 1954. The Girls of Summer exhibit tells the story of the home team with artifacts and memorabilia.
Note: While on my Southern Indiana road trip, I visited the 1894 League Stadium in Huntingburg that was the home field location for the motion picture. The stadium is still decorated like the movie set with Rockford Peaches branding.
Rockford's history also includes pioneers in aviation. In 1928, Col Bert Hassell made an attempt to fly his airplane, The Greater Rockford, from Rockford to Stockholm, Sweden, by what would become the Great Circle Route. Unfortunately, the plane ran out of fuel and was forced to land on an ice cap in Greenland. The plane, recovered in 1969, was eventually restored, and has been on display, along with other recovered artifacts, at the museum since 1988.
Victorian Village
---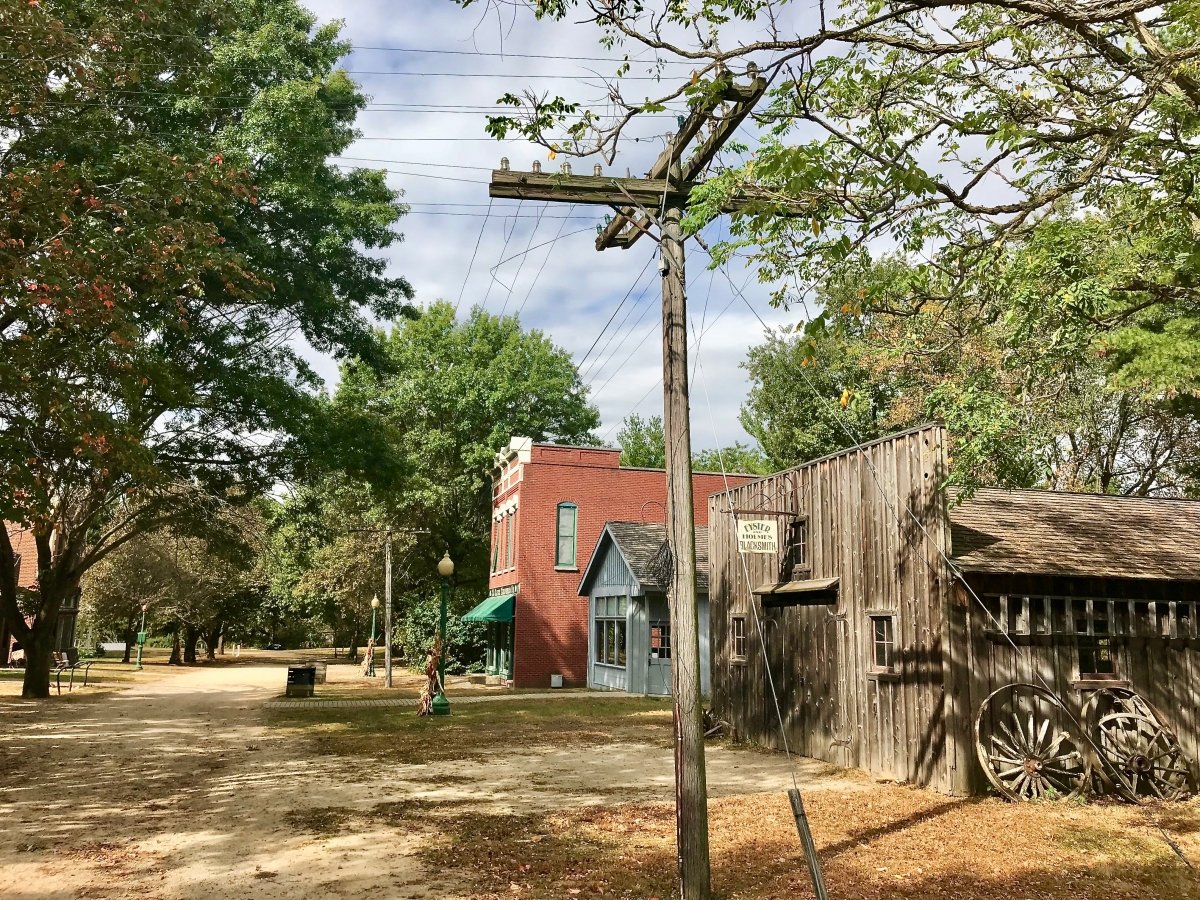 I have visited several themed living history museums during my travels, most notably an old cowtown in Kansas, a ranching historical park in Texas, an Appalachian community in Tennessee, and an Acadian settlement in Louisiana.
Midway Victorian Village was my first experience exploring a turn-of-the-century community.
Development of the rural community began in 1974, and today the village boasts 26 historical structures, including farmhouses, barns, a school, church, and general store.
Okra, tomatoes, morning glory, amaranth, sunflowers, hyacinth bean, and red castor bean were among the varieties of vegetables and flowers growing in eight heirloom gardens around the village.
The museum's Heritage Gardens Program mission is to "reflect the cultural landscape of the period 1890-1910, allow for interactive opportunities for the visitor, and enhance the grounds of the museum."
Museum general admission is $7 for adults and $5 for children. Due to the museums's many special events, guided tours, and varying hours of operation, it is best to consult Visitor Information when planning a visit.
---
Coronado Performing Arts Center
---
The only thing better than urban renewal is urban restoration, and Rockford's historic Coronado Theatre has been lovingly restored to the tune of $18.5 million by the non-profit Friends of the Coronado organization.
Designed by architect Frederic J. Klein, the Coronado had a scant $1.5 million price tag when it was first built in 1927.
I wasn't privileged to attend a performance, but a guided tour of the historic facility was an entertaining and educational experience I won't soon forget.
The restored Coronado is an atmospheric theatre with starlit skies and red velvet seats.
Elaborate chandeliers and ornate gilded plasterwork reflect Spanish, Italian, and Asian influences through the lobby, up the stairways, across the mezzanine, and into the auditorium.
The Coronado stage has featured a roster of entertainment royalty through the years, with performances by artists such as Frank Sinatra, Louis Armstrong, and Gypsy Rose Lee.
Today, the 2,400 seat state-of-the-art facility hosts musicals, ballet, the symphony orchestra, and rock concerts. A lone black-and-white checkered seat in the upper balcony (Row NN, Seat 13) is a tribute to Rick Nielsen, of Rockford's hometown band Cheap Trick. Nielsen helped raise funds for the theatre renovation.
A behind-the-scenes tour takes guests through the stars and chorus dressing rooms and into the 1927 Art Deco apartment that belonged to the Coronado's original owners, Willard and Irma Van Matre.
Whether you take a guided tour, attend an event, or both, you can count the Coronado Performing Arts Center as one of the many fun things to do in Rockford.
---
Edwards Apple Orchard West
---
Autumn is my favorite time of year, and I was fortunate to visit Rockford during the apple harvest. The lure of apple cider doughnuts led me ten miles out into the country to Edwards Apple Orchard West, situated near the village of Winnebago.
A restored 1891 dairy barn now serves as the apple barn and visitor center for the family orchard Michael and Lynn Edwards opened in 1988.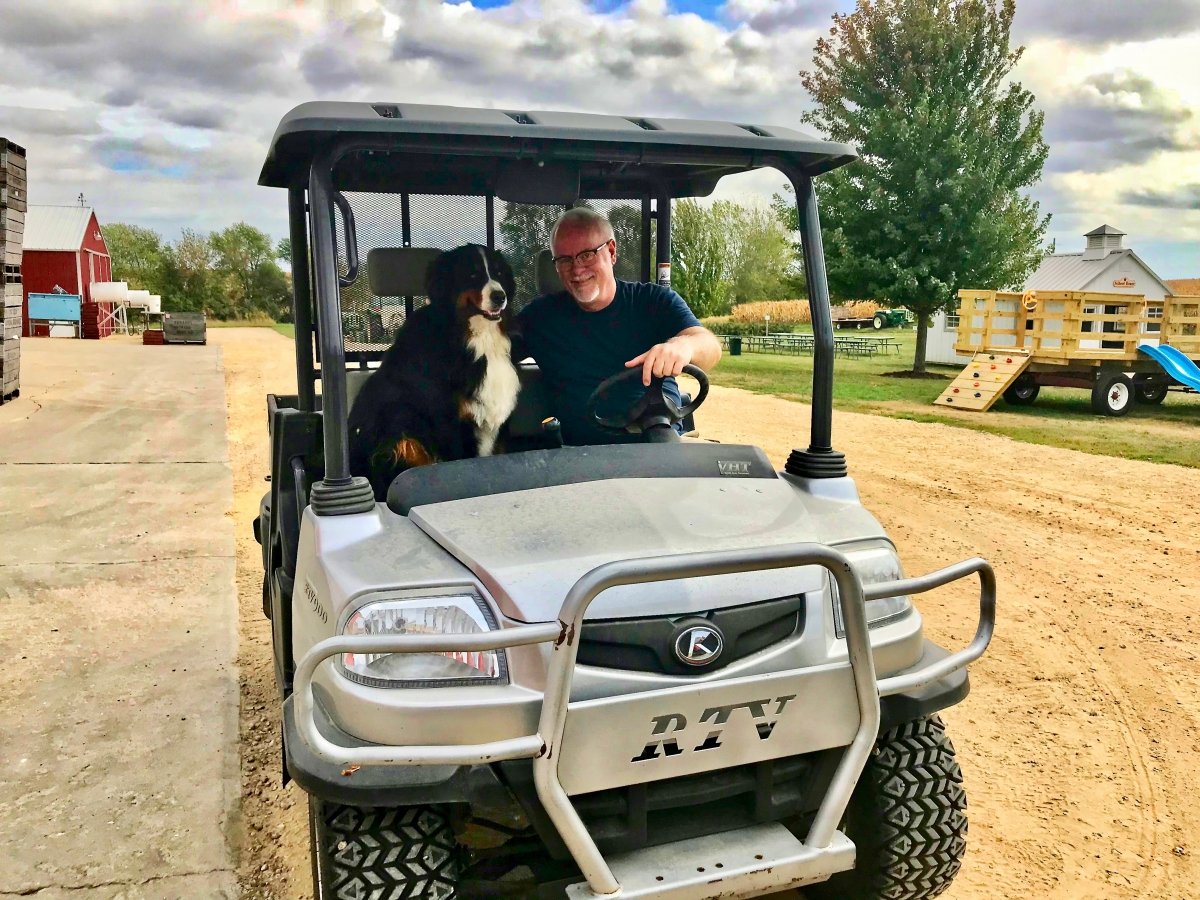 Bernese Mountain Dogs Cabela and Dakota are official greeters at the orchard and dole out plenty of puppy love to guests. You know I got my share!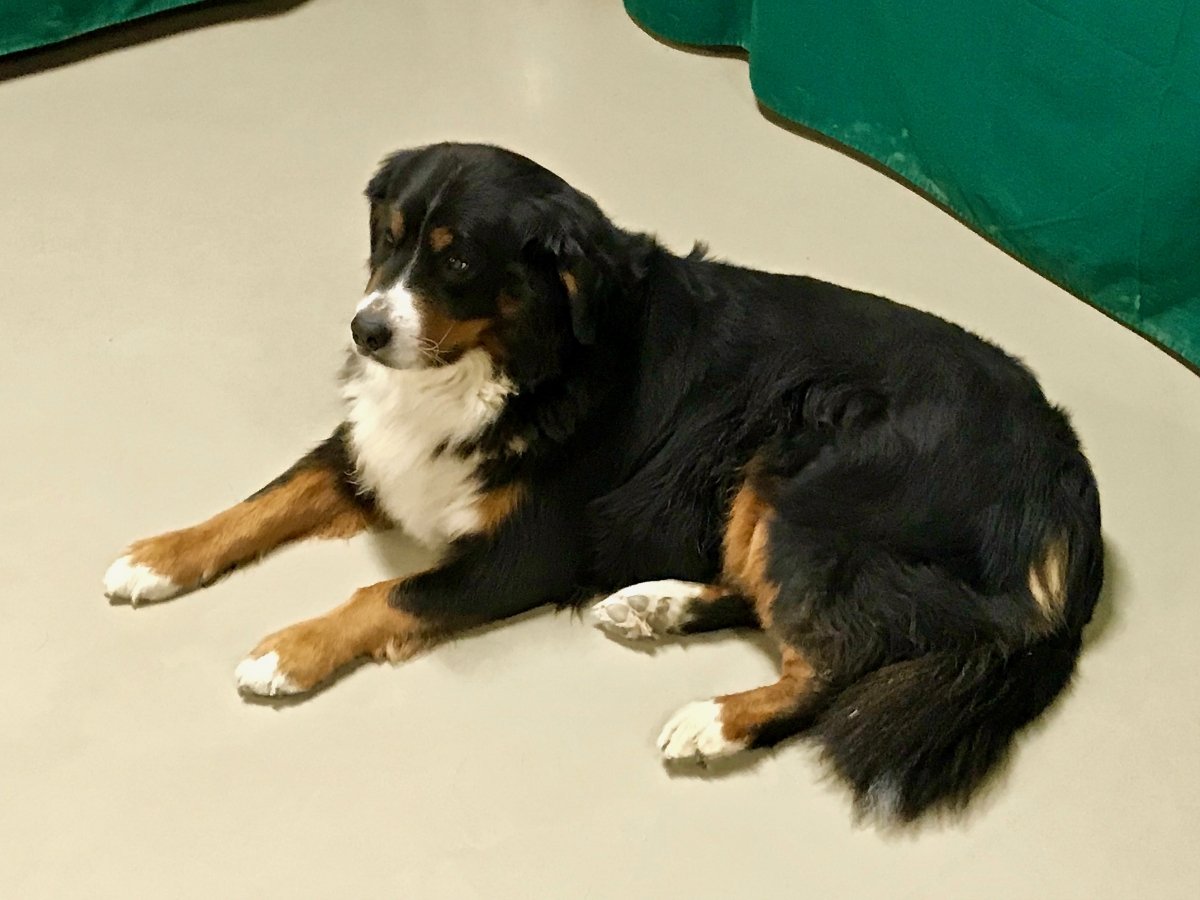 Note: The Edwards family requests for the safety of your dogs, their dogs, and other customers, that you not bring your furry friends when you visit.
The apple barn visitor center houses food services, a gift shop, and apple processing machinery. As a confirmed backroad rider, I enjoyed seeing a classic 1930 Ford Model A and other automotive antiques on display.
Apple cider donut production at Edwards is a beautiful thing, and the fragrant, mouth-watering star attraction draws fans by the thousands from far and wide.
Who wants to help Lynn make that tray disappear?
There would be no donuts without cider, and no cider without apples. The orchards at Edwards bear 18 varieties.
Fresh apples and homemade cider are popular in their own right.
We stepped behind-the-scenes for a demonstration of the cider press in action.
Michael and Lynn's son Brian works full time at the family business and specializes in crop production. He loaded us on the wagon for a tractor tour of the orchard.
More than 5,000 apple trees grow in the Edwards orchard.
The Edwards Pick-Ur-Own harvest schedule is posted each August. During our visit, Brian did the picking, and I did the eating.
And nothing tastes quite like a fresh-picked Fuji (my favorite).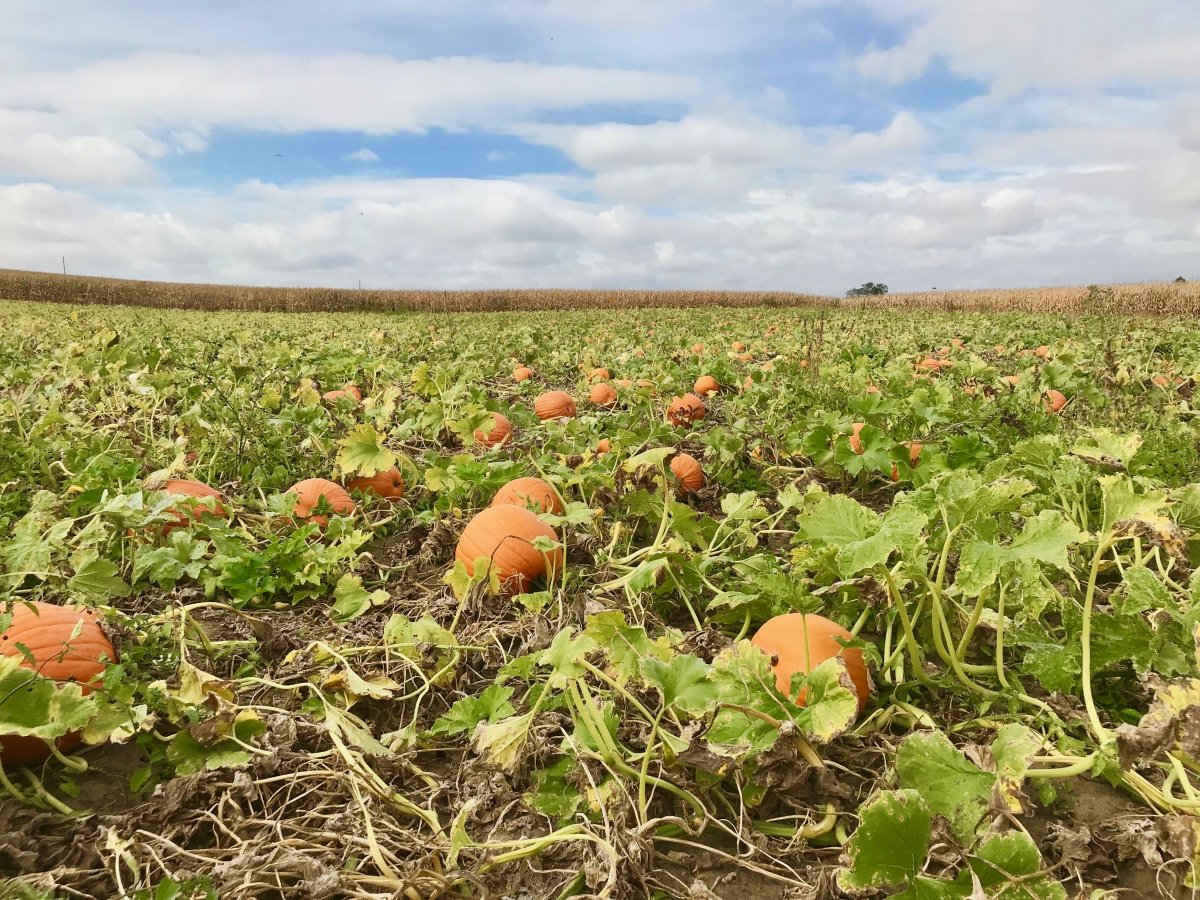 Each fall, pre-picked "pumpkin patches" spring up at roadside locations across the country, but at Edwards guests can pick their own farm-fresh pumpkins from the field where they grow.
Traditional pumpkins and other decorative cultivars are available beginning in late September.
It is easy to see why Edwards Apple Orchard West is such a popular destination for locals and out-of-towners alike.  The season opens in late August and closes the weekend after Thanksgiving in November.
We also also stopped by Curran's Orchard, a smaller, yet fun facility featuring lots of family-friendly activities.
Curran's specializes in growing apples with 75% less chemicals than is typically used in most orchards.
The Rockford orchard has also gained renown for its award-winning cider and "ginormous caramel apples."
---
Rock Cut State Park
---
There was time for one more stop a few miles north of Rockford as I headed to Beloit, Wisonsin, the second destination on my Midwest road trip.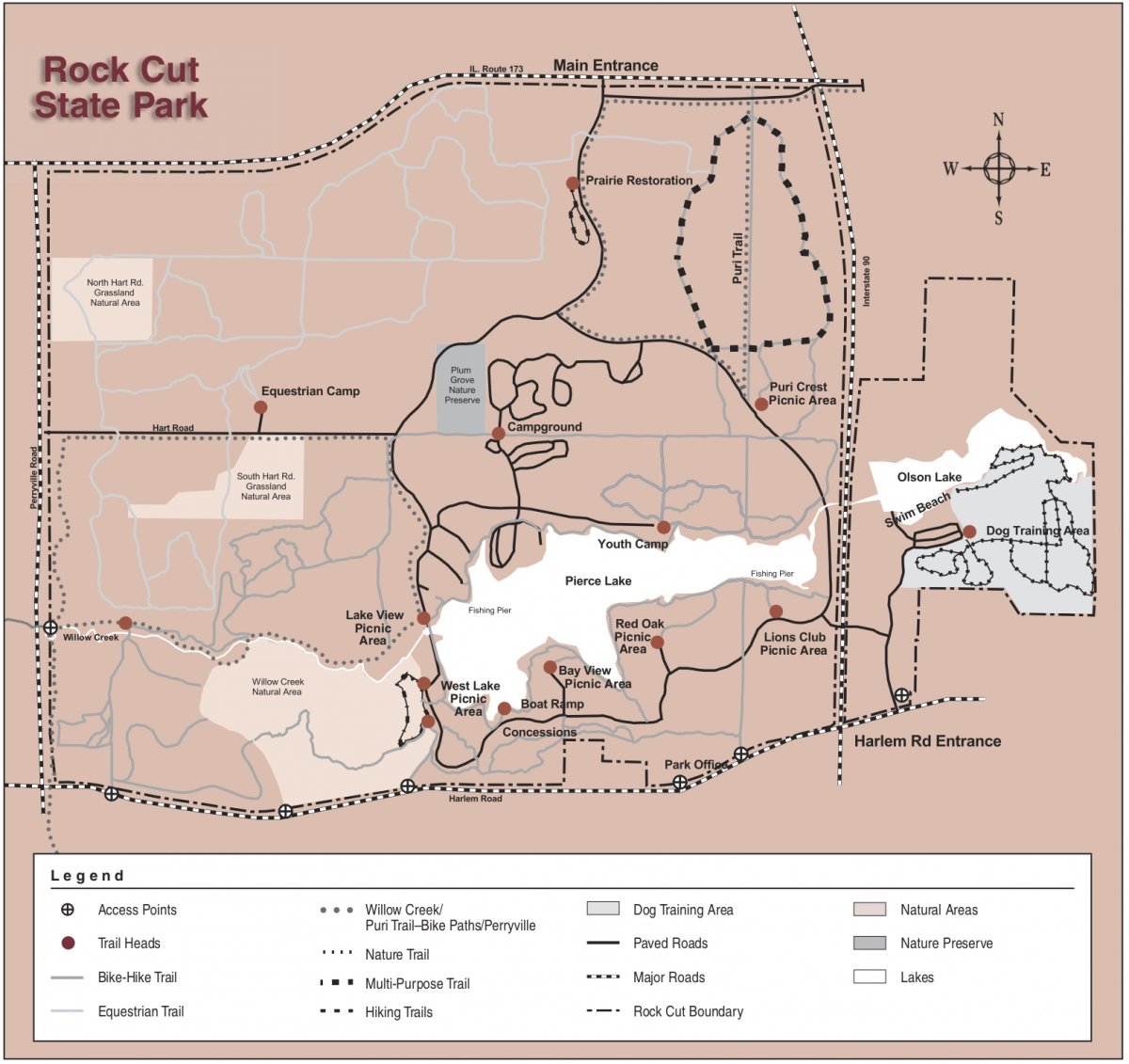 Map Credit: Illinois Department of Natural Resources
Rock Cut State Park encompasses 3,092 acres along I-90, including two lakes, 268 campsites, 40 miles of hiking trails, as well as mountain biking, horseback riding, and cross-country ski routes.
Although the park property features parcels of natural grasslands, a prairie restoration project has been initiated near the north entrance.
Upon discovering this lovely location, I could not resist pulling over for a short hike through a prairie meadow of fading wildflowers, scarlet sumac, and native grasses waving in the wind above my head.
Rockford and its historic landscapes would not soon be forgotten.
---
Dining and Lodging
---
Rockford has a great selection of dining options for every budget.
Fresco at the Gardens
---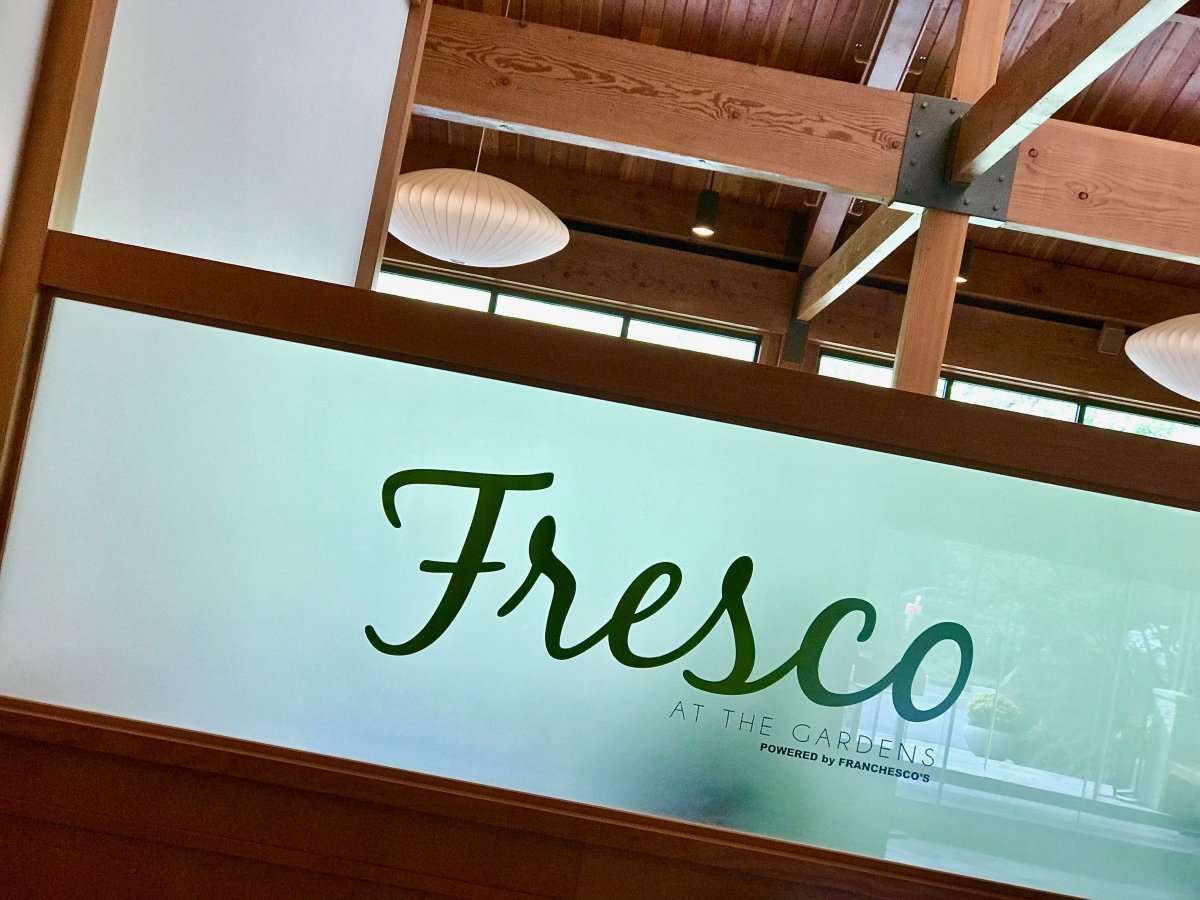 Fresco at the Gardens is a convenient breakfast and lunch option when visiting Anderson Japanese Gardens. The brunch menu features locally-sourced breakfast fare, soups, salads, sandwiches, and artisan cocktails.
Prairie Street Brewhouse
---
We stopped by the Prairie Street Brewhouse for after-dinner drinks and desserts. This unique historic landmark situated along the Rock River also features a 40-slip marina, event venue, loft-style apartments, and office spaces.
Stockholm Inn
---
An institution since 1968, the Stockholm Inn celebrates Rockford's Swedish heritage serving up world famous Swedish pancakes and other specialties. I opted for a platter of potato pancakes with sour cream, applesauce, and a side of Swedish meatballs.
Olympic Tavern
---
The Olympic Tavern has been serving up comforting American fare from its location at Fulton & Main since 1945. For lunch, a crock of baked French onion soup and a thick grilled cheese sandwich comforted me well.
Mary's Market
---
With three Rockford locations, Mary's Market is a café and bakery that serves up made-from-scratch breads, soups, salads, sandwiches, and desserts. I ordered a Mary's Benedict, a hearty breakfast dish made with two poached eggs, grilled ham, asparagus, grilled black pepper parmesan bread, savory hollandaise sauce, served with a side of fried potatoes and coffee.
Lino's 
---
Lino's Italian Restaurant has been serving Rockford since 1972.
Lino's Special Salad and Famous Baked Lasagna served with mushrooms and meatballs was my favorite meal in Rockford.
And yes, I ate it ALL!
But then, it was my BIRTHDAY!
And I got to celebrate with Andrea Cook, my lovely Rockford host, and Megan Bannister, my dear colleague from Olio in Iowa.
Be sure to check out Megan's Backroad Planet debut post. Instagram Stories for Travel Bloggers: A User's Guide  + 10 Essential Tips.
Hint: It's not just for travel bloggers!
Holiday Inn Express 
---
Home base during my visit was the Holiday Inn Express & Suites Rockford – Loves Park. Hotel amenities include a hot breakfast bar, complimentary WiFi, heated swimming pool, and fitness center.
Click here to book your stay at Holiday Inn Express & Suites Rockford – Loves Park on TripAdvisor!
Click here for more Rockford lodging options on TripAdvisor!
---
Map It!
---
---
We Would Love to Hear From You
---
We enjoy dialogue with our readers, especially when they share off-the-beaten-path destinations and useful travel tips. Have you ever visited Rockford, Illinois? If so, we would love to hear about your experience. We invite you to leave your comments and questions below, and we always respond!
---
Pin this Post!
---