(a

18

minute read)
---
When on a Baltic Sea cruise, explore Riga, Latvia, on your own with Backroad Planet's downloadable guide to notable sites, public transportation, and much more.
---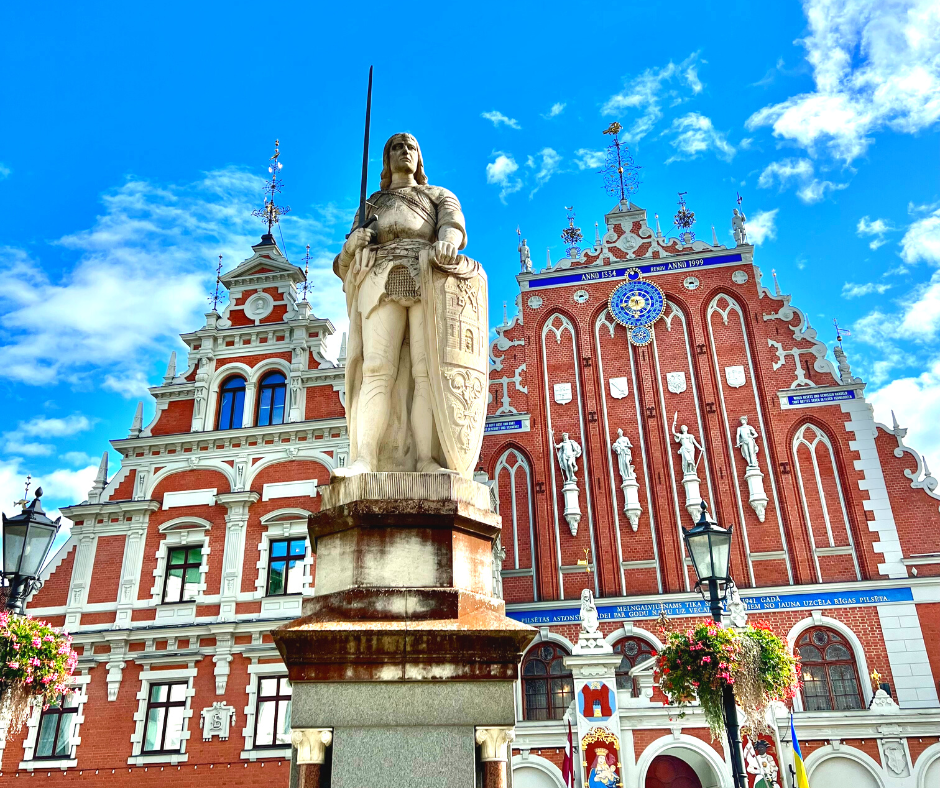 This post may contain affiliate links. Please refer to our our Disclosure/Disclaimer page for more information.
---
Explore Riga On Your Own
---
Howard: This guide to Riga, Latvia, is the second in Backroad Planet's "Explore Cruise Port Cities On Your Own" series. The idea for the series was conceived while Lucy Turner and I were aboard the Island Princess on a Baltic Sea itinerary. Although both of us occasionally book cruise ship excursions, we prefer exploring on our own. So we decided to create and publish handy guides for other travelers that we wish had been available to us.
Upon our return home, we published the first guide, How to Explore Skagen (Denmark) On Your Own, with plans for many more to come.
Although travelers by other means may discover useful information in these posts, the series is designed for cruise ship passengers who prefer to explore port cities on their own.
Cruise line excursions can be costly and constricting. But when you explore on your own you save a ton of money, and you don't have to be held hostage with 60 strangers in paradise. Plus, you get to decide which sites to visit and how long you want to stay there.
Howard: The Island Princess sailed from the Baltic Sea up the Daugava River and docked adjacent to a major thoroughfare. In all my travels, I have never seen anything like it!
I decided to explore Riga on foot. Although the city is very walkable, I barely scratched the surface of notable attractions within the city limits, even though I clocked in with more than 22K+ steps by the time I returned to ship. I fell in love with Riga and hope to return for another visit someday.
Lucy: The location of the pier in Riga was remarkable to me for another reason. I thought the location was somewhat deceptive. Not only were we right next to a busy highway, we were overlooking a very western-appearing Circle K convenience store and gas station. It looked like we had docked next to the main road near my house.
From the ship, it was difficult to tell just how close we were to the historic and picturesque city center. It was a pleasant surprise to find out that we were quite close and everything was lovely and walkable, even for a slow walker like myself. To me, Riga was the surprise highlight of the ports we visited on our Baltic cruise. One day was not enough to enjoy this vibrant city. It is on my list of places that deserve a return visit of several days.
Howard: This guide contains information about public transportation, notable sites to visit, and suggestions based on our independent explorations of Riga. Perhaps the most useful element is a downloadable checklist near the end of the page that will help you make the most of your visit to Riga. The list of key sites includes GPS coordinates, weblinks, and other useful information.
---
Ground Transportation
---
There is no need for port shuttles in Riga, because it is a short walk from the cruise pier to the city center.
Bicycle Rentals
---
There are several bicycle rental outlets in town, not far from the pier.
Hop-On Hop-Off Buses
---
Red Sightseeing hop-on hop-off buses stop at the entrance to the port and offer a 24-hour ticket for €20 per person. If you ride the full loop at one time, it should take about one hour. Take a close look at the map before handing over your Euros for this. Most of the interesting sights in Riga are in a concentrated and largely pedestrianized area where the buses can't go. Riga Sightseeing buses are also available for €25 per person. Bus service may be seasonal.
Taxis
---
Taxis are available at the pier, and drivers offer 2-hour tours for €60. If traveling with a group of three or more, this is a more economical option than the HOHO tours. However, many of the best sights in Riga are in the pedestrianized center. A taxi will get you a bit closer to some places than the HOHO bus, so a taxi could be useful to passengers with mobility concerns. The main attractions, however, are close enough to the pier for most people to easily walk the distance and enjoy sights along the way. Weblinks and phone numbers for four Riga taxi companies are included in the downloadable guide below.
Lucy: I joined three friends for a taxi tour, and found the driver spoke excellent English and provided great information about the sites along the route. However, looking back, I realize that we did not make the best use of the taxi services in Riga. There are some sights that are outside of the central core, such as the Central Market. It would have been a better plan to take a taxi to more distant locations, as needed, and explore on foot in the central area.
---
About Riga
---
Riga is the capital and largest city in the Republic of Latvia. It is situated at the mouth of the Daugava River on the Baltic Sea. The historic city center and Art Nouveau architecture have earned Riga designation as a UNESCO World Heritage site. Riga is an incredibly beautiful and highly-developed city with landscaped greenspaces and restored historical structures, as well as countless memorials, monuments, and museums that record the city's storied past.
Throughout its tortured history Riga, along with all of Latvia, has been conquered and occupied by the Holy Roman Empire, Polish-Lithuanian Commonwealth, Swedish Empire, Russian Empire, German Empire, Nazi Germany, and the Soviet Union, among others. Today Riga embodies the mythical Phoenix rising from the ashes, fully accomplished through the strength and resilience of her citizens.
An exhibit panel in St. Peter's Church depicts Latvians taking down a statue of Lenin in 1991 after re-gaining independence from Soviet occupation.
Howard: Before visiting Riga, my only connection with the city was an epithet recalled from a book I read as a young adult and also from my training as a Holocaust educator.
Eduard Roschmann, an Austrian Nazi SS commandant of the Riga Ghetto was fictionalized in The Odessa File, a novel by Frederick Forsyth and motion picture adaptation starring Jon Voigt. His character was dubbed "The Butcher of Riga" for the mass killings and other atrocities perpetrated at his direction upon European Jews. Roschmann was one of the many Nazi officers who eluded punishment for war crimes by escaping to Latin America.
While researching this guide, I learned that Roschmann died in my second hometown of Asunción, Paraguay, on August 8, 1977. As best I recall, I would have been there at the time during summer break between my freshman and sophomore years of college.
I had imagined that Riga would evidence the ravages of Soviet occupation much like what I had witnessed while touring Bratislava, Slovakia, in 2015. I saw nothing of the sort. Riga was a grand urban municipality on par with other European capitals.
---
Riga Key Sites to Visit
---
Howard: There is so much to see and do in Riga, and you won't be able to see it all with just one day in port. I selected a few sites to highlight based on the impression they made on me at the time of our visit. You may want to prioritize them during your visit.
Town Hall Square
---
Riga's Town Hall Square is a not-to-be-missed destination with several historical sites of note. Although the square was destroyed by German bombing in 1941, in recent years the historic buildings have been reconstructed to their former grandeur. In 1510 AD, the first known decorated Christmas tree was erected in the square.
Town Hall Building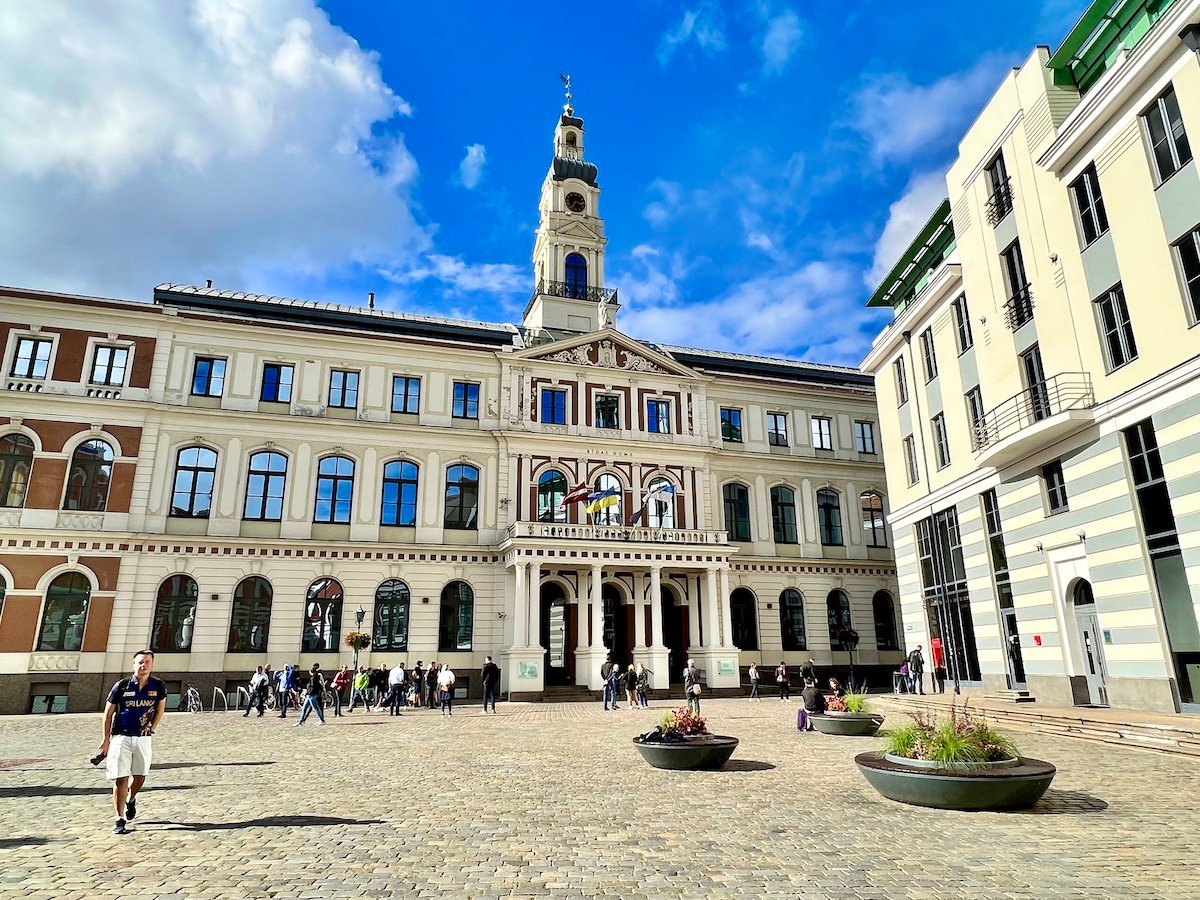 Reconstruction of the 19th century Riga Town Hall itself was completed in 2003. The hall is the meeting place for the 60-member Riga City Council.
House of the Blackheads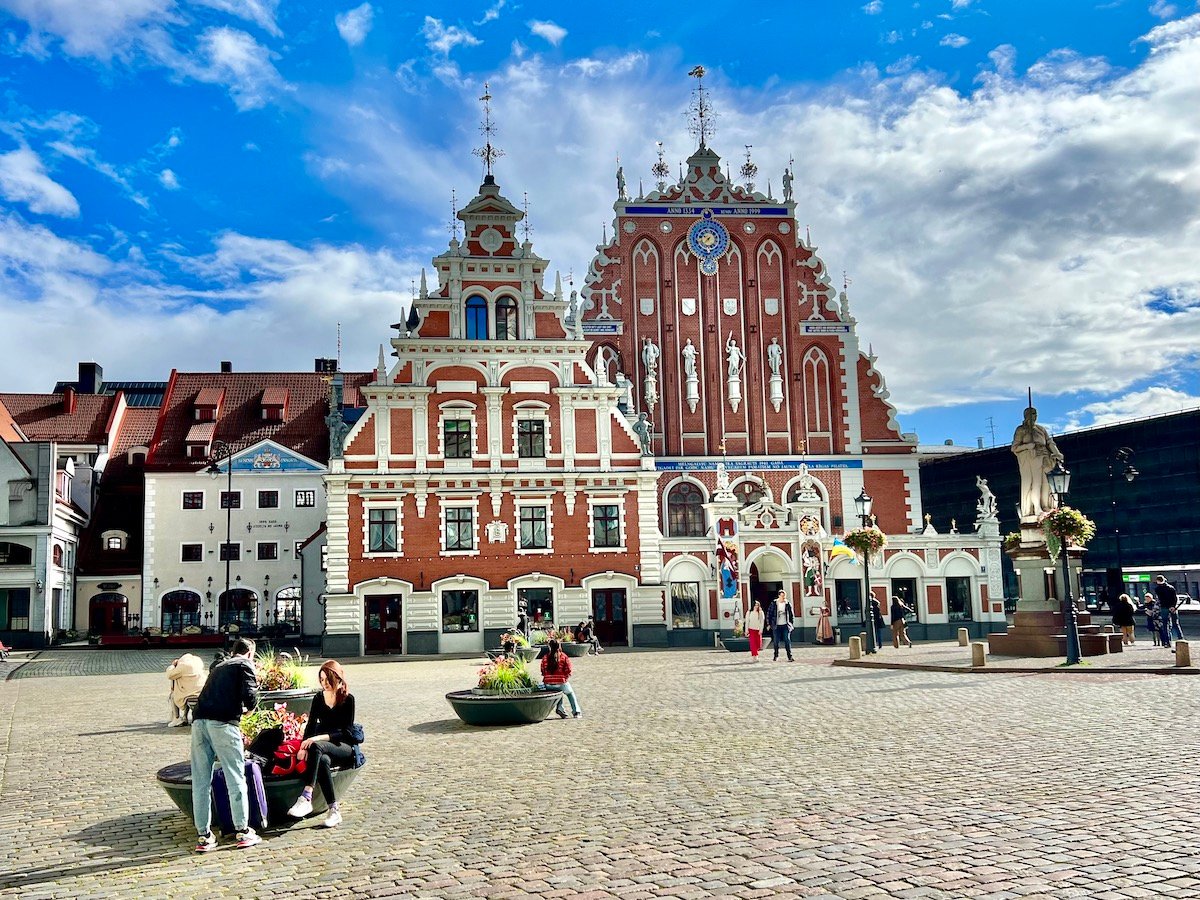 The House of the Blackheads was erected during the early 14th century for the Brotherhood of Blackheads, "a guild for unmarried merchants, shipowners, and foreigners in Riga." The original buildings destroyed during World War II were reconstructed in the late 1990s.
Statue of Roland
---
Howard: The statue of Roland stands proudly in Town Hall Square before the House of the Blackheads. Roland is the patron saint of Riga, Latvia. Although his origins are dubious, he is a symbol of freedom for the city.
One account says that Saint Roland was the abbot of a Cistercian monastery in Chézery, France. According to local tradition, he was born in 1150 AD in England or Ireland and died in Chézery around 1200. His relics are housed there in the parish church.
Another account states that the real Roland was a nephew and close confidant of the Holy Roman Emperor Charlemagne, and that he died at the Battle of Roncevaux in 778 AD. He was later glorified as a French military man and just protector of the people.
Riga's original statue of Roland was erected in 1896. Damaged during World War II, the statue now resides in the nearby Saint Peter's Church. Unveiled in 1999, the current statue of Roland in Town Hall Square is a replica. A drinking fountain at its base, originally fed by an artesian well, was connected to the Riga city water supply in 2001.
I am sure some readers know that my first name is Roland, so now you know the rest of my sainthood story. It is about time I got the recognition I deserve!
Riga's Historical Houses of Worship
---
These days many historic European churches function more as museums and art repositories than houses of worship. In Riga, countless churches, cathedrals, and synagogues blanket the city. To find them, all you need to do is look up and follow the steeples.
Howard: I could barely resist peeking inside every church I passed, and I even paid entry fees to three of them: The Riga Cathedral and Saint Peter's Church (both Evangelical Lutheran), and Synagogue Peitav-Shul.
I never resent paying entry fees to historical sites because I understand the exorbitant costs of restoration and maintenance. I am grateful for previous benefactors whose contributions ensured that these sites would be accessible during my visit.
Art Nouveau Architecture
---
It is widely acknowledged that Riga has the highest concentration of Art Nouveau (Jugendstil) buildings in all of Europe. Approximtely one-third of the buildings in Riga's center were constructed in the Art Nouveau style. Most were built between 1904 and 1914, at a time when Riga was experiencing a period of rapid economic growth. Up until the middle of the 19th century, the Riga center was still surrounded by medieval walls.
By 1863, the old walls and gates were removed and eventually replaced with parks and wide streets circling the old medieval center. The opening up of the city coincided with a period of tremendous growth. The population grew by 88% between 1897 and 1913. In 1899, Riga's first Art Nouveau building was completed. By 1910, between 300 and 500 new structures were opened each year, and many of those were apartment blocks designed in the Art Nouveau style.
Visitors can enjoy examples of the architecture throughout the older parts of the city. A large concentration is found on Alberta Street, which is also where visitors will find the Riga Art Nouveau Centre, built in 1903 as a private home. The museum website includes useful maps showing locations of Art Nouveau architecture in Riga.
Central Market
---
Howard: Whatever it is you need, I am pretty sure you can find it at Riga's Central Market. The market's five main pavilions are repurposed German Zeppelin hangars from WWI. Vendors also hawk their wares in surrounding outbuildings and open-air stalls.
At dinner, following our day in Riga, I mentioned to my cruisemates that I had never seen such a huge market. My research later confirmed that Central Market in Riga is the largest market and bazaar in Europe.
Riga Ghetto and Latvian Holocaust Museum
---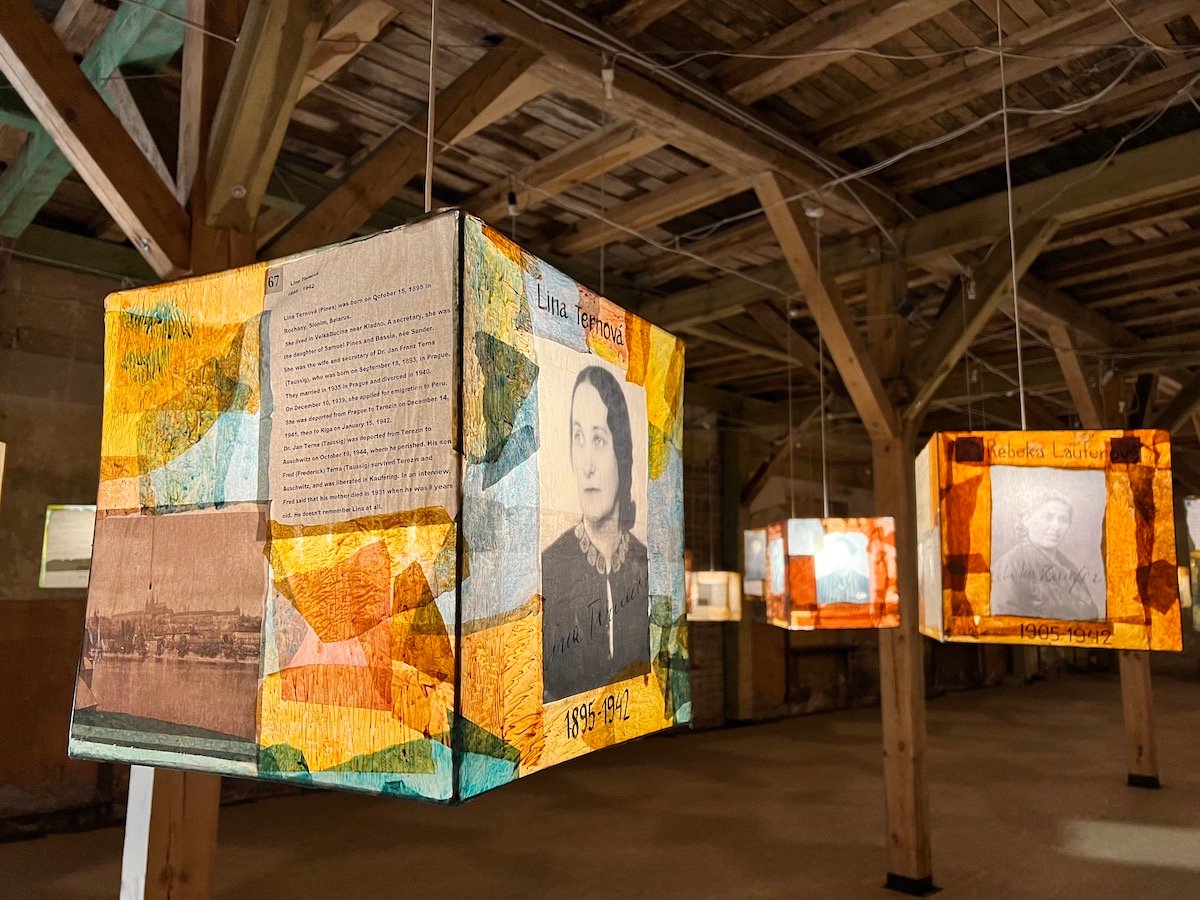 The Riga Ghetto and Latvian Holocaust Museum recounts the story of Jewish life before, during, and after the European Holocaust. Along the street a Great Memorial Wall of Names pays homage to the 70,000 Latvian Jews who perished at the hands of German Nazi invaders.
A rail cargo wagon similar to those used to transport thousands of Jews from Nazi Germany to Riga is prominently displayed.
In 2011, a 19th century two-story wooden house from the Riga Ghetto was relocated to the museum grounds. During the time of the ghetto it would have accommodated 30 people.
The museum's statement of purpose reads, "We strive to preserve the lessons of the past and help the world progress to a future filled with more kindness, compassion, and tolerance." Admission is free, but donations are accepted.
The ghetto museum occupies the same block as the Spikeri Quarter, a warehouse district with 24 red brick buildings constructed between 1864 and 1884.
Great Choral Synagogue Memorial
---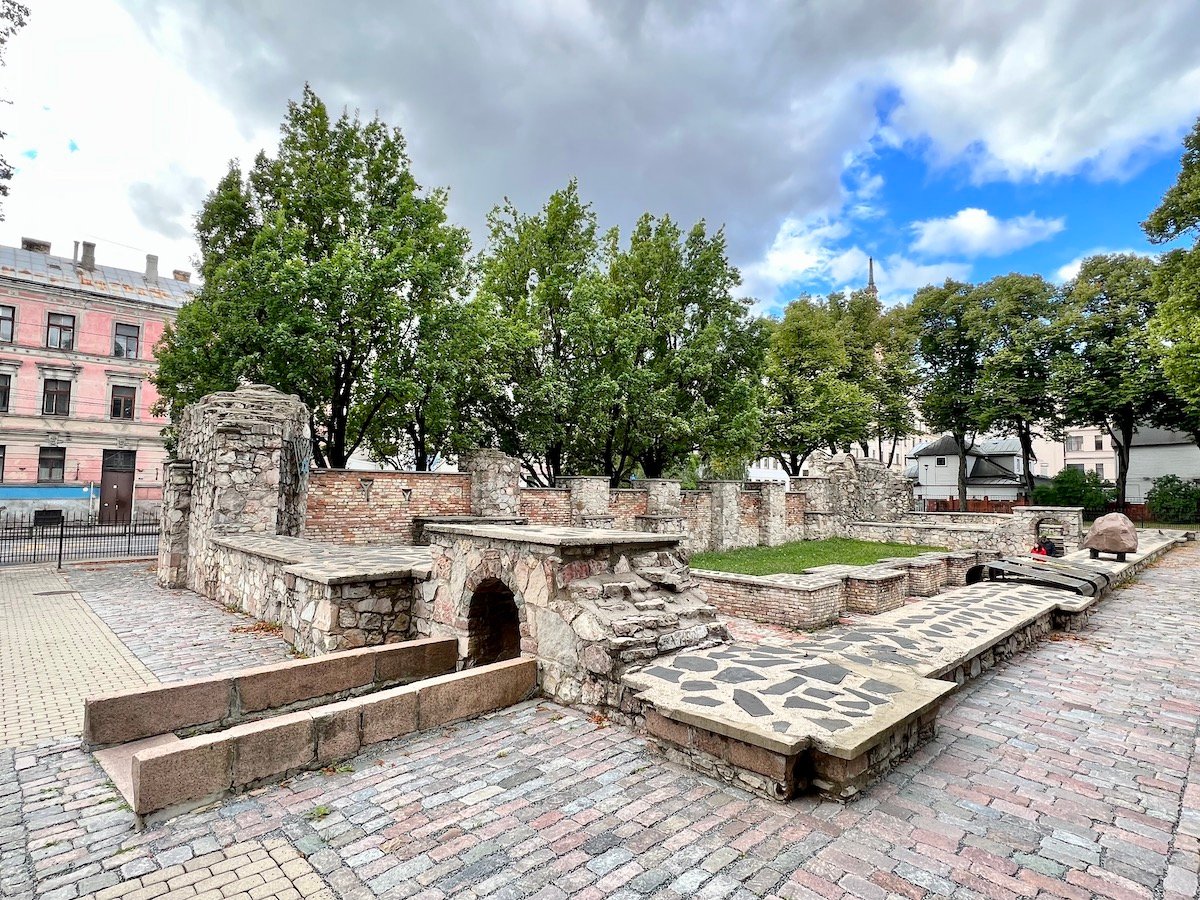 An interpretive panel at the Great Choral Synagogue Memorial tells the tragic story: 
"This is the site of the Great Synagogue built in 1871. On July 4, 1941, three days after the Nazi German army entered Riga, the local auxiliary police unit under the command of Viktois Arajs, subjected to the German security police and security service, burnt the synagogue on the order of the Nazis. The furnishings were doused with fuel and set on fire, while the Jews inside were prevented from escaping the building. On the same day other synagogues in Riga were torched with the death toll surpassing 400 souls."
Big Christopher
---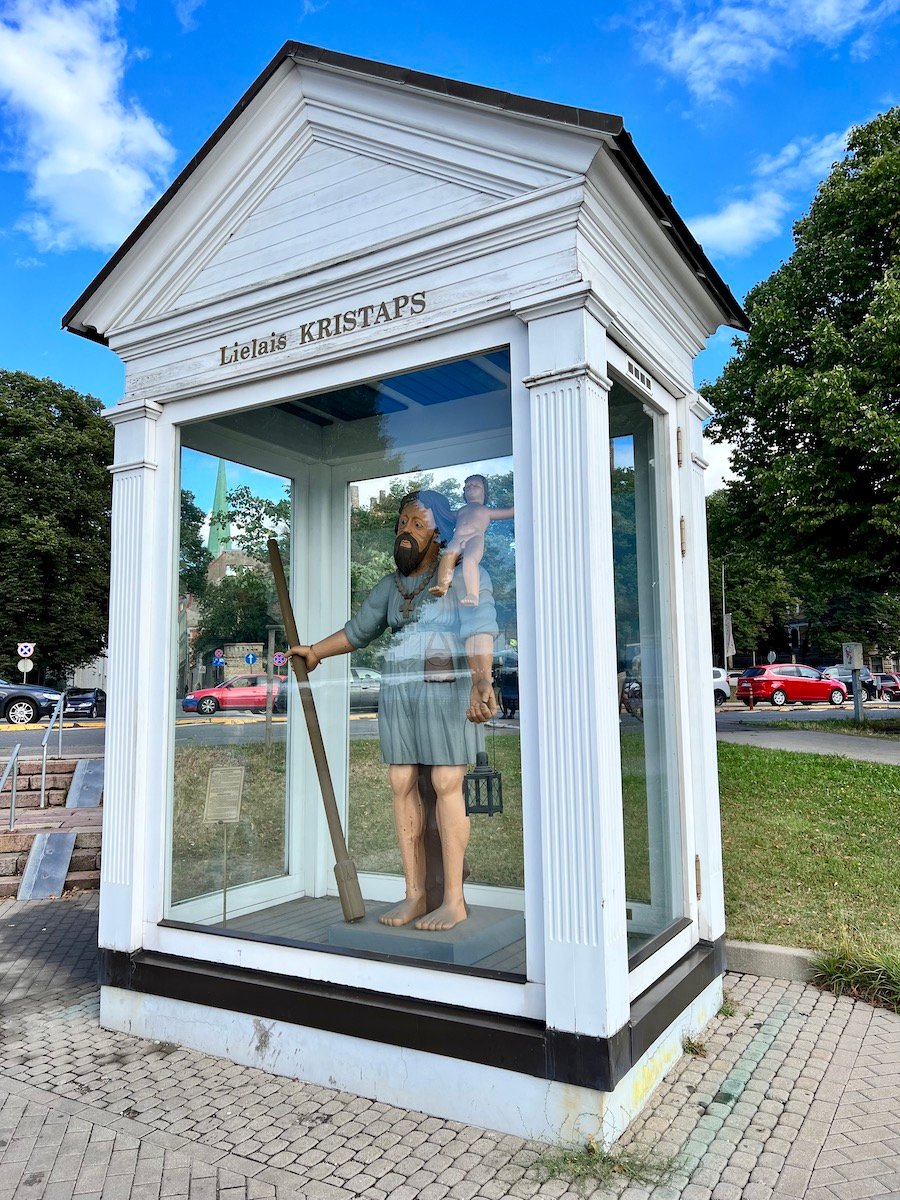 You can't miss passing the statue of Big Christopher when traveling on foot between the cruise pier and the city center. An interpretive panel at the site recounts the ancient legend:
"Once upon a time, long ago, before the city of Riga was founded, a tall strong man named Lielais Kristaps (Big Christophér) carried people across the River Daugava. Kristaps lived in a cabin on the right bank of the river. While sleeping one night, Kristaps heard a small child crying on the other side of the river. He immediately rose to fetch the child, and began to carry it across the river. Halfway across, the child became so heavy that Kristaps barely managed to get to the other bank.
Exhausted, he laid the child down to sleep in his shack, and fell asleep himself. The following morning Kristaps awoke to find a large chest of gold coins where the child had been. Upon his death, the money was used to found the city of Riga. The first building was built on the spot where Kristaps' cabin had once stood."
In 1997, Gints Upitis made a copy of the original wooden sculpture built by Michael Brinkman in 1683. The original statue is located in the Museum of History of Riga and Navigation.
---
More Notable Sites Around Riga
---
The list continues with even more sites of note you may want to add to your self-guided tour of Riga.
Riga Castle
---
Riga Castle, currently under renovation, was founded in 1330 AD. Today, Riga Castle is the official residence of the president of Latvia and home to several museums. If you are lucky, you may witness a changing of the guard when approaching the castle. Try as we may, we could not locate any information about the guard schedule nor the castle museums.
Children's Monument
---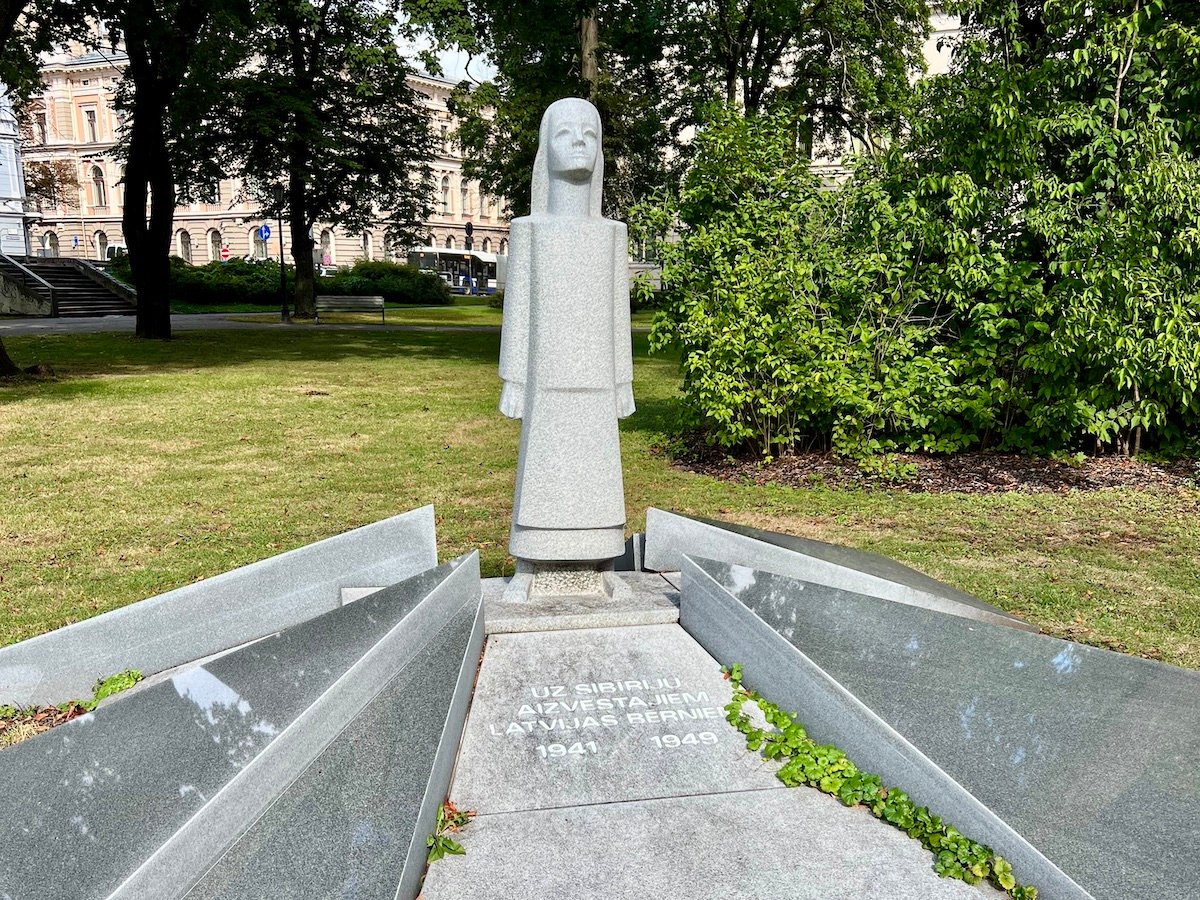 Located in a park across the street from and slightly north of Riga Castle is a poignant statue of a young girl. This is the Riga Children's Monument. It is dedicated to the 4,000 Latvian children who were deported to Siberia with their parents in the Soviet period from 1943 to 1949. The Soviets conducted a number of mass deportations of individuals deemed to be anti-Soviet. Entire families were forcibly relocated. The sculptor, Janis Karlovs, was one of the deported children. He was two years old when his family was exiled.
Three Brothers
---
The Three Brothers is a complex of three buildings with different architectural styles from three distinct periods dating to the 15th century.
Jacob's Barracks
---
Jacob's Barracks is a long line of yellow buildings that were initially built to house Swedish troops who defended the city in the 17th century. The buildings have been rebuilt and repurposed many times since then. In 1991, the barracks were transferred to the city. The area was redeveloped as a tourist area, and since 1997 the buildings house cafés, pubs, shops, hotels, and representatives of towns and cities around Latvia. The end of the last building displays the coats of arms of the towns who have representatives in the old barracks.
Museum of the Occupation of Latvia
---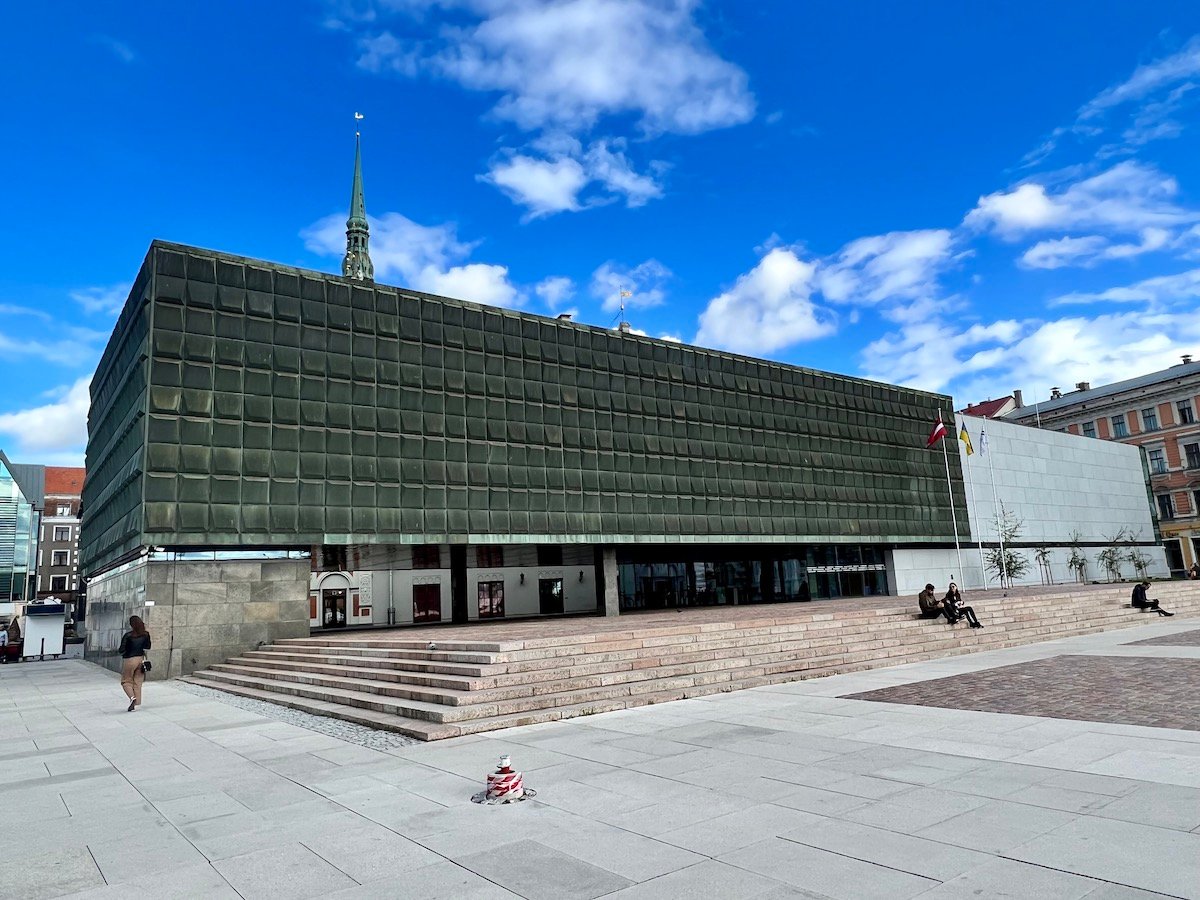 Situated along one side of Town Hall Square, the Museum of the Occupation of Latvia opened in 1993 to interpret German and Soviet occupations of the nation between 1940 and 1991.
Latvian Red Riflemen Monument
---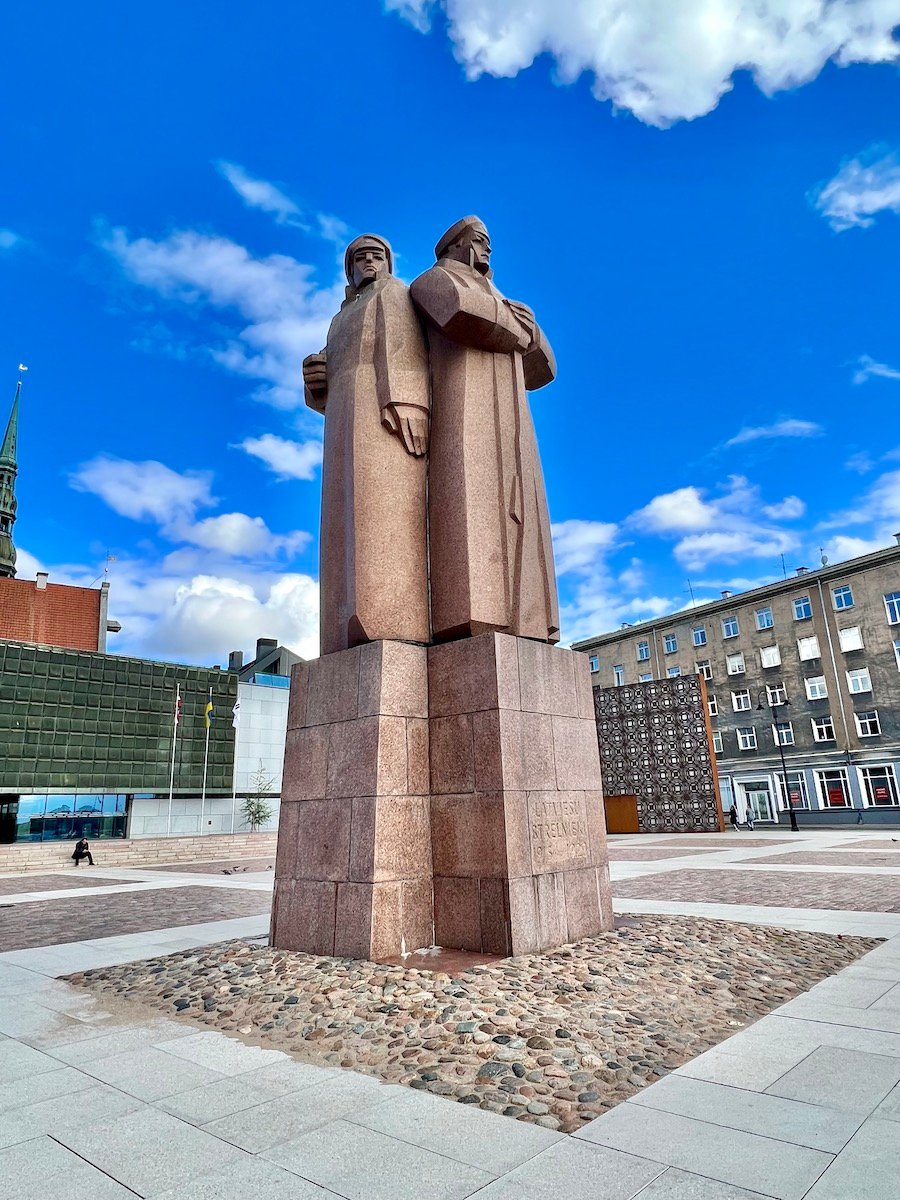 A red granite monument honors the Latvian Red Riflemen. This military formation of the Imperial Russian Army was formed in 1915 to defend the Baltic territories from Germany during World War I. Certain members of the unit later became Lenin's personal bodyguards. Some Latvians view the monument as a symbol of the old communist system and would like to see it taken down.
The Cat House
---
The Cat House, constructed in 1909, features two turrets topped with cat sculptures. Varying accounts report that the builder directed the cats tails toward his neighbors in adjacent buildings, but then they were later reversed.
Powder Tower
---
Completed in 1650, the Powder Tower was originally part of Riga's defense system. At various times it has been used for storage of gunpowder and weapons and also as a prison with torture chambers. Today the tower adjoins the Latvian War Museum.
Bastejkalns Park
---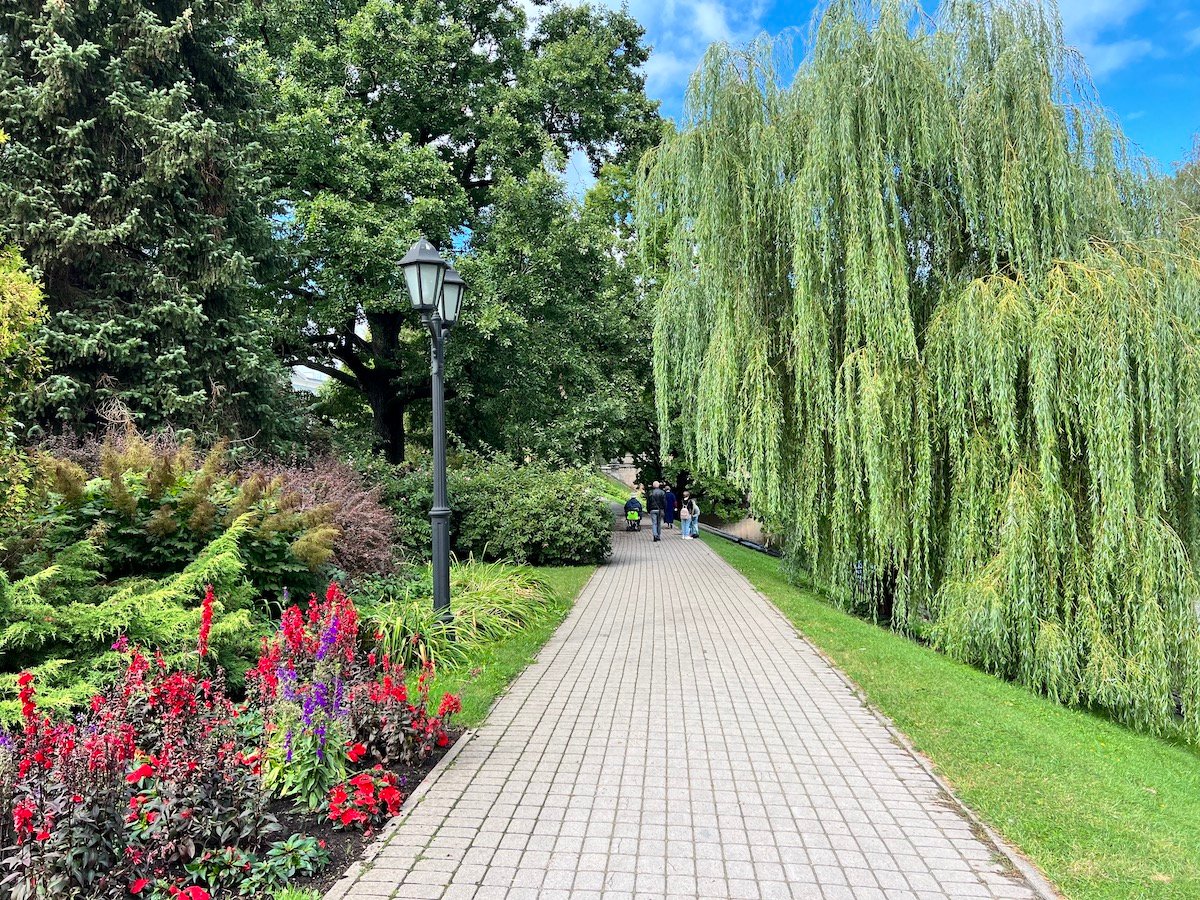 Bastejkalns Park is a lovely urban greenspace that dates to 1898. The park is landscaped with exotic trees, shrubs, flowering ornamentals, and native species. An artificial waterfall constructed the year the park was designed is still flowing today.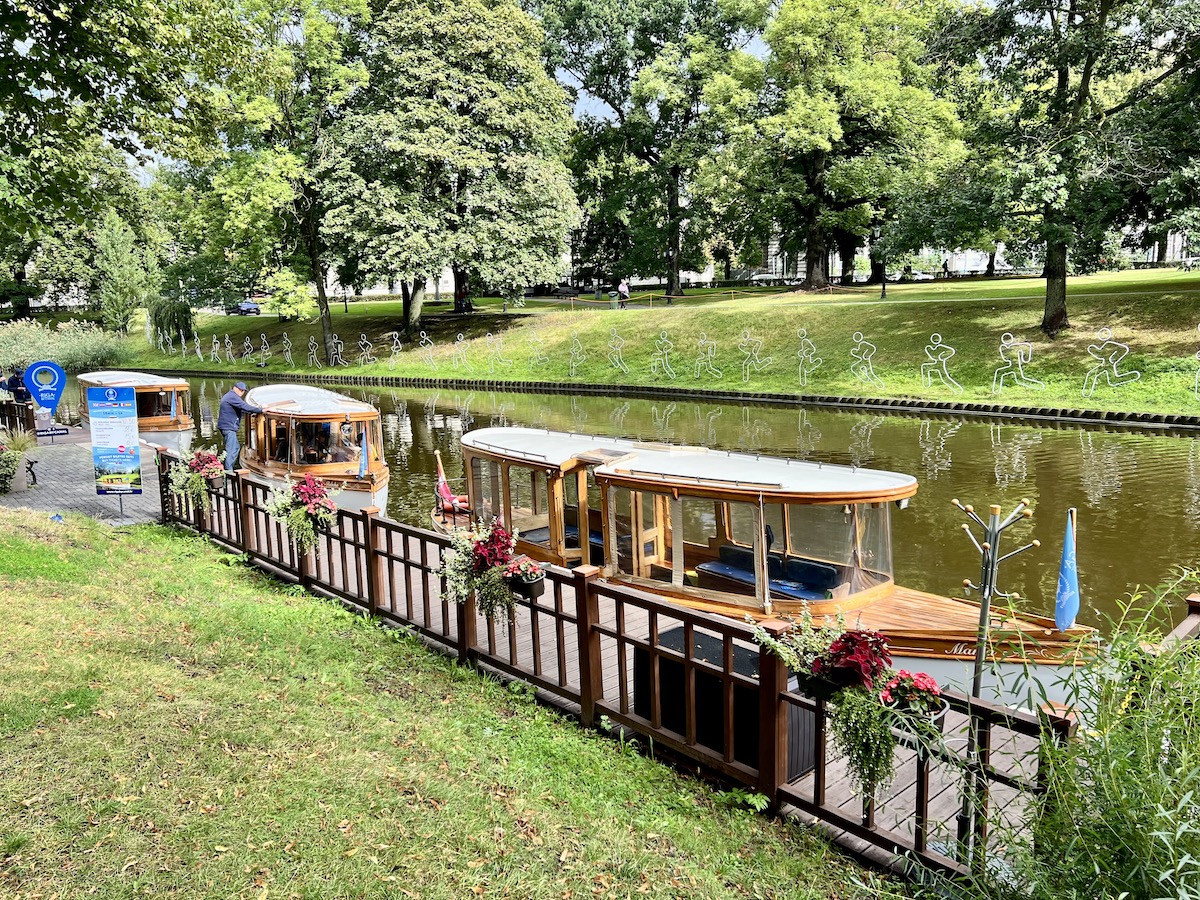 Riga By Canal boats docked in Bastejkalns Park offer 50-minute tours along the Riga City Canal and Daugava River.
Freedom Monument
---
Soldiers who lost their lives during the Latvian War of Independence (1918–1920) are honored at the Freedom Monument. A copper statue of Liberty lifts three gilded stars atop the monument. Memorial guards change on the hour and switch sides every half hour daily between 9:00 AM and 6:00 PM.
Laima Clock
---
The Laima Clock is an enduring symbol of Riga. The original clock was erected in 1924, and is a popular meeting spot. Laima is the name of the local chocolate manufacturer in Riga.
Latvian National Opera House
---
The National Opera House is home to the Latvian National Opera and Ballet. Designed by architect Ludwig Bohnstedt, the Great Hall seats 952 people and was completed in 1863.
Latvian Academy of Sciences
---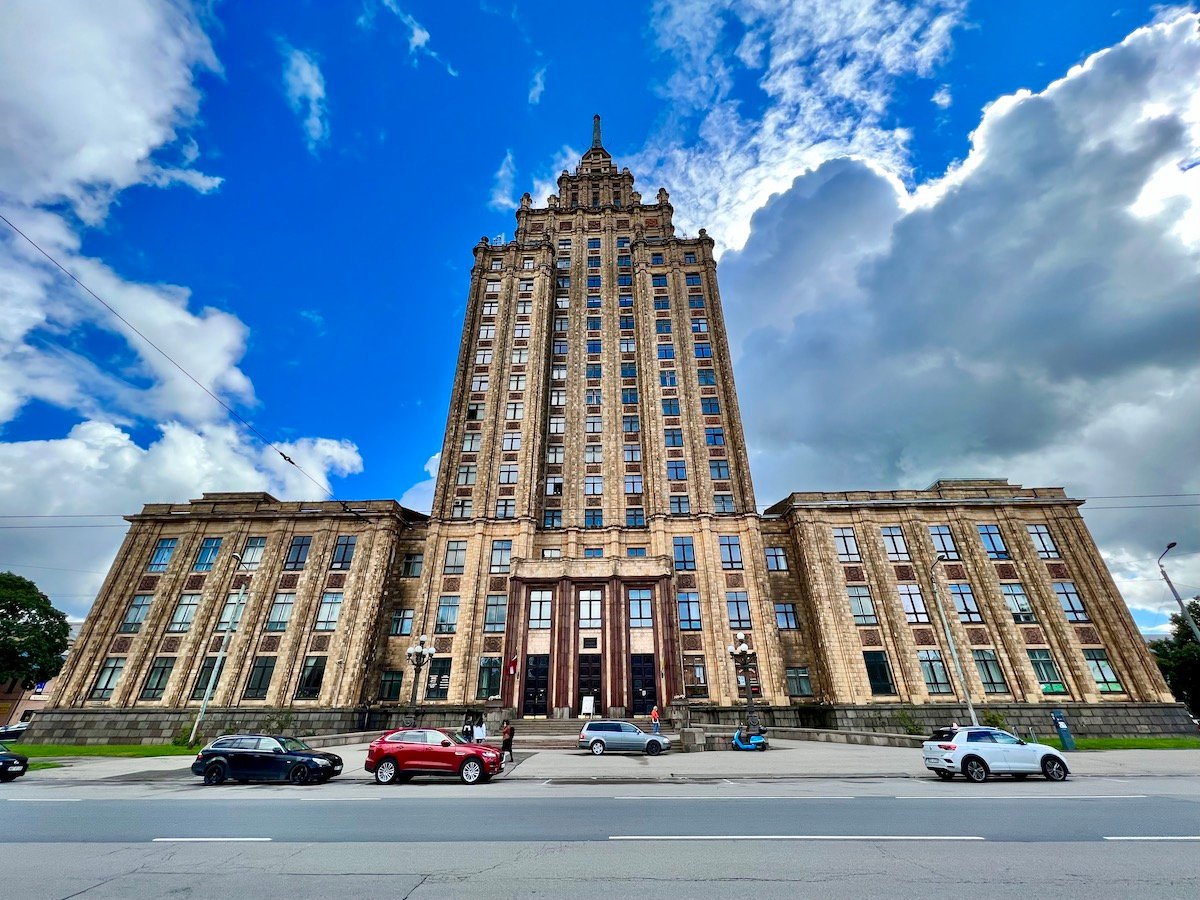 Built between 1951 and 1961, the Latvian Academy of Sciences building is a perfect example of Stalinist architecture. An observation deck is open to the public on the 17th floor. For €6, visitors can take an elevator to the 15th floor, then hike up two floors to the observation area.
National Library of Latvia
---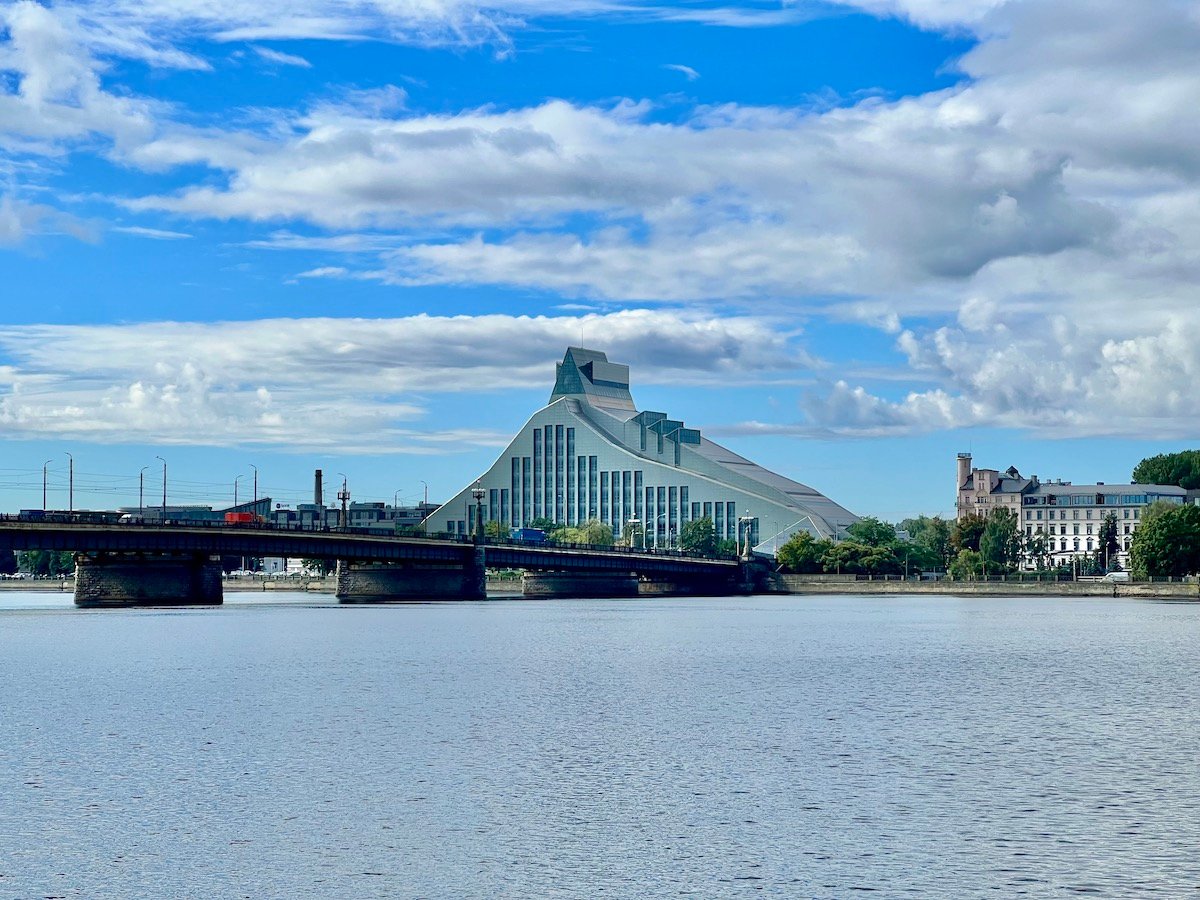 The National Library of Latvia's architectural design is inspired by the Glass Mountain from Latvian mythology.
---
Explore Riga On Your Own Downloadable Checklist
---
Download Backroad Planet's Explore Riga On Your Own Checklist! This handy resource lists all of Riga's key sites mentioned in this post and puts their website links and GPS coordinates at your fingertips. An attempt has been made to list notable sites in a logical progression from those closest to the pier to those farthest away.
For additional information, navigate to the Live Riga website, or when you arrive in port, head to the tourist information center located in Town Hall Square.
And be sure to check out Backroad Planet's Explore Skagen (Denmark) On Your Own guide for a downloadable checklist on another amazing Baltic port.
---
Map It!
---
No matter where you travel, find great hotel deals on TripAdvisor!
---
We Would Love to Hear From You
---
We enjoy dialogue with Backroad Planet readers, especially when they respond to our published content. If you have suggestions for enhancing our "Explore Cruise Ports On Your Own" series, we invite you to leave your comments and questions below, and we always respond!
---
Pin this Post!
---