(a

17

minute read)
---
Forget cruise port excursions! Explore Skagen, Denmark, on your own with Backroad Planet's downloadable guide to key sites, public transportation, and much more.
---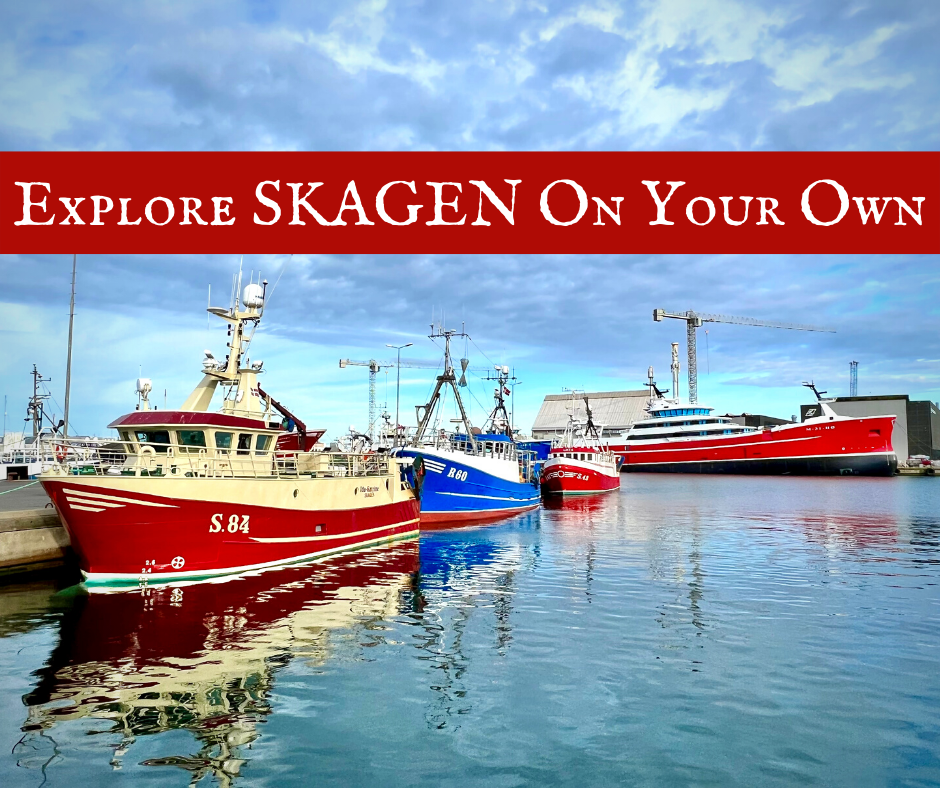 This post may contain affiliate links. Please refer to our our Disclosure/Disclaimer page for more information.
---
Explore Skagen On Your Own
---
This guide to Skagen, Denmark, is the first in Backroad Planet's "Explore Cruise Port Cities On Your Own" series.
Although travelers by other means may discover useful information in this post, the series is designed for cruise ship passengers who prefer to explore port cities on their own.
Cruise line excursions have a reputation for being expensive, limiting, and crowded. Exploring on your own is budget-friendly, allows you to visit only the sites that interest you, puts you in control of your time management, and you don't have to be trapped with 60 of your new best friends.
In this guide you will find information about public transportation, notable sites, and suggestions from Lucy and Howard based on our own explorations in Skagen.
Perhaps the most useful element is a downloadable checklist near the end of the page that will help you make the most of your visit to Skagen. The list of key sites includes GPS coordinates, weblinks, and other useful information.
---
About Skagen
---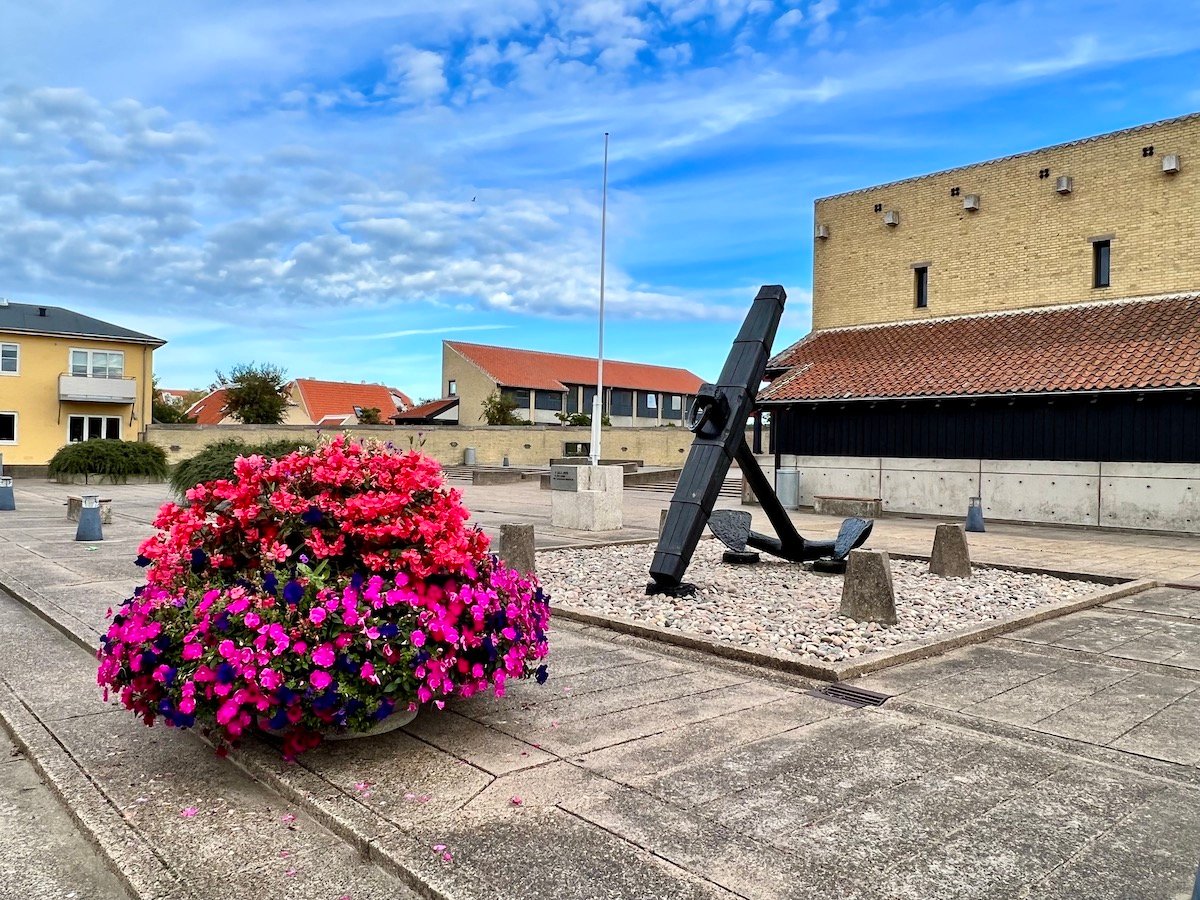 Lucy: Skagen is a picturesque town situated at the top of Denmark, near where the North Sea meets the Baltic Sea.
Fishermen have lived here since the 12th century, and Skagen is still the most important fishing center in Denmark. But the peninsula is so blessed by the colorful seas, shifting sand dunes, bright sunshine, and clear air that artists began coming here to paint the scenery in the 1800s.
The Skagen artists brought impressionist techniques from France and imbued their canvases with vibrant colors and realistic vistas. The result was a thriving artist colony established by the late 1800s. The paintings that came out of Skagen inevitably attracted visitors who wanted to enjoy the place themselves. Danish royalty established a summer residence here in 1914, and the well-to-do have enjoyed the town for more than a hundred years.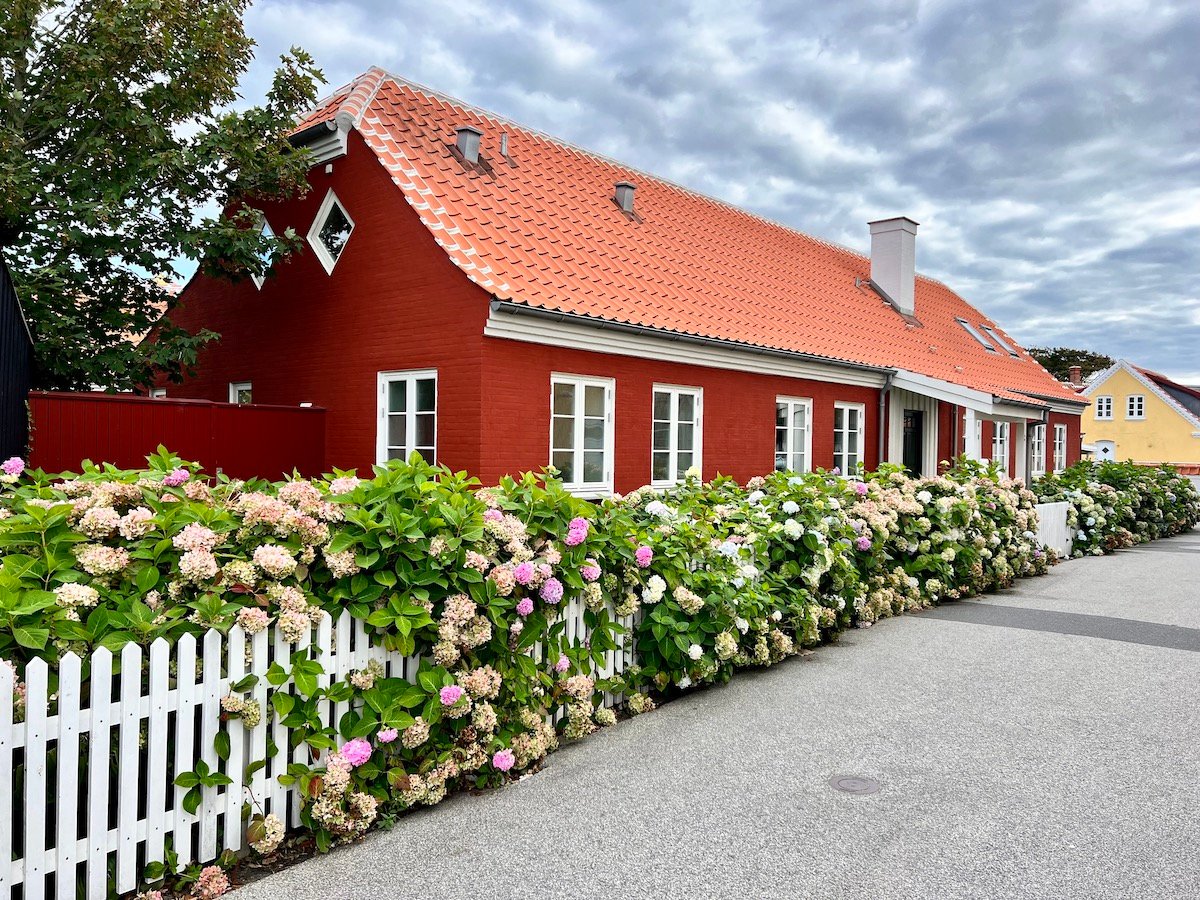 The town maintains its picture-perfect look with architectural rules requiring uniform home colors with red-tiled roofs. The current year-round population is less than 8,000, but it is a popular summer resort for Danes.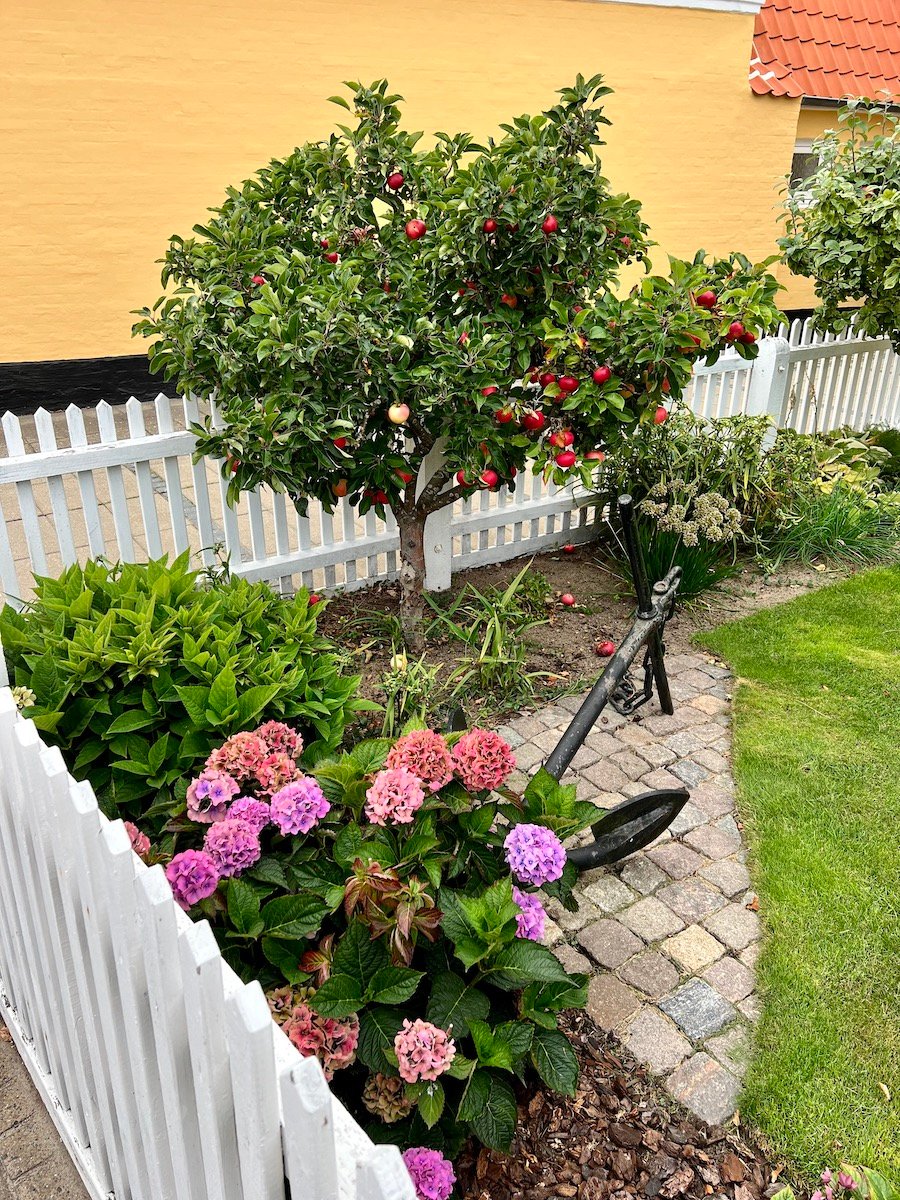 In the past ten years, Skagen has pursued an even bigger percentage of the tourism market by investing in infrastructure designed to lure cruise ships and their passengers.
It is possible that Skagen is an unintended beneficiary of Russia's invasion of Ukraine in 2022. When the cruise industry dropped its usual two-day stop in St. Petersburg on Baltic cruises, Skagen had the port facilities and the sights to fill part of the resulting void.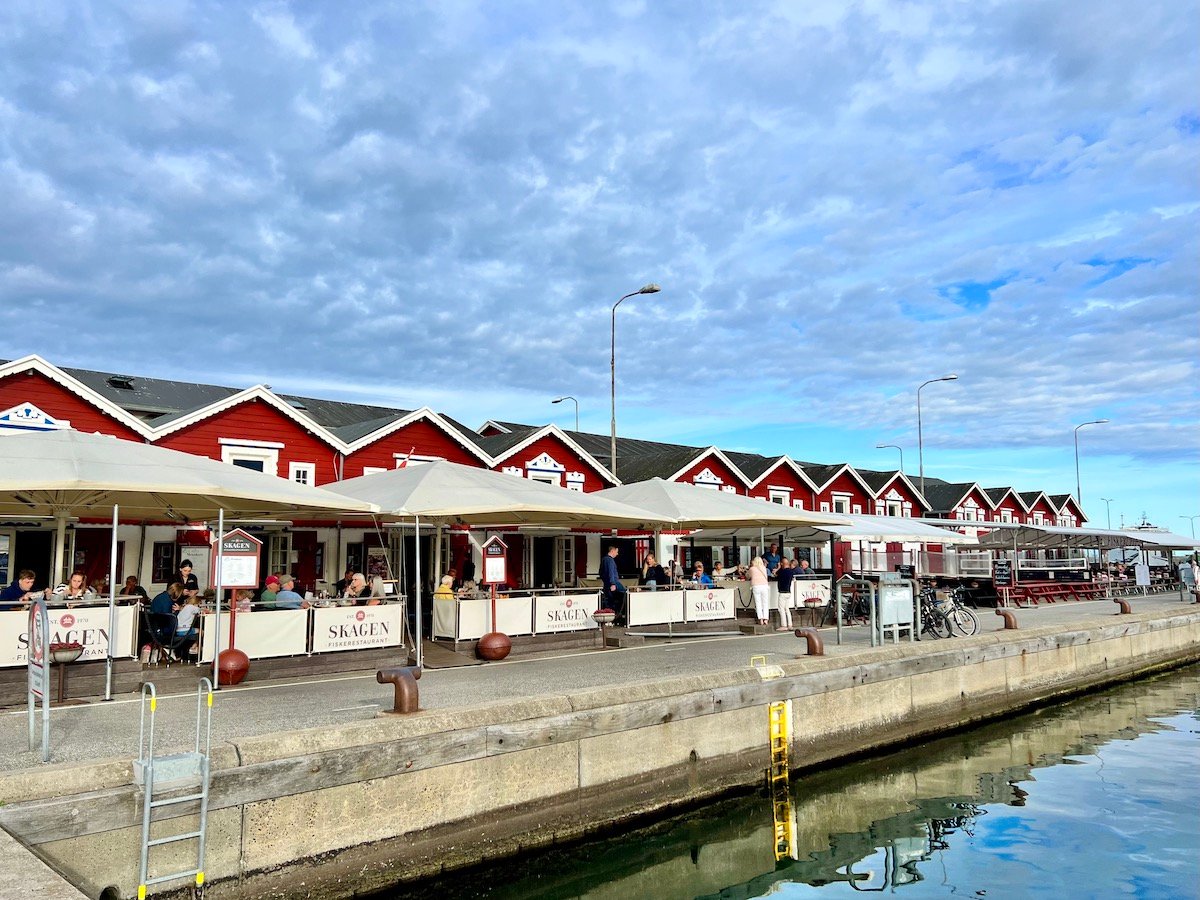 Cruise passengers who stop here are welcomed by friendly locals and have the opportunity to dip their toes in two seas, visit historical sites, museums, art galleries, gift shops, and enjoy local seafood at venues such as the harborside Old Fish Warehouse restaurants.
---
Ground Transportation
---
Skagen does not have a public transit system nor a hop-on hop-off bus service. Rideshare companies such as Uber and Lyft do not operate in Denmark.
Complimentary Port Shuttles
---
The Skagen cruise port is close to town, and complimentary shuttle buses whisk cruise passengers to and from town at regular intervals.
Bicycle Rentals
---
Bicycle rental outlets abound in Skagen, and several are located within walking distance of the port.
Taxis
---
Lucy: Taxis are available, but scarce in Skagen. On the day we visited, drivers said there were only four taxis regularly working the area. Sometimes when cruise ships are in port, drivers from neighboring areas travel to Skagen to assist. Your best bet to get a taxi is to call Dantaxi at +45 98 44 22 44.
Sometimes there is a taxi waiting at Skagen Station. If not, the staff at the station are happy to call for a taxi. Taxi rates are reasonable if you are traveling with a few friends.
Sandormen Tractor-Trailer Shuttle
---
Lucy: Sandormen is the tractor-pulled coach that carries passengers from the Grenen parking area out to the point between the two seas. The cost is 35 Danish Krone round-trip (about $4.60). It operates from just before Easter until late October, and it runs approximately every 30 minutes. More information is available at the Sandormen website.
Returning to Ship
---
Although the distance between the port and town is walkable, be advised that returning to ship on foot is like navigating a maze.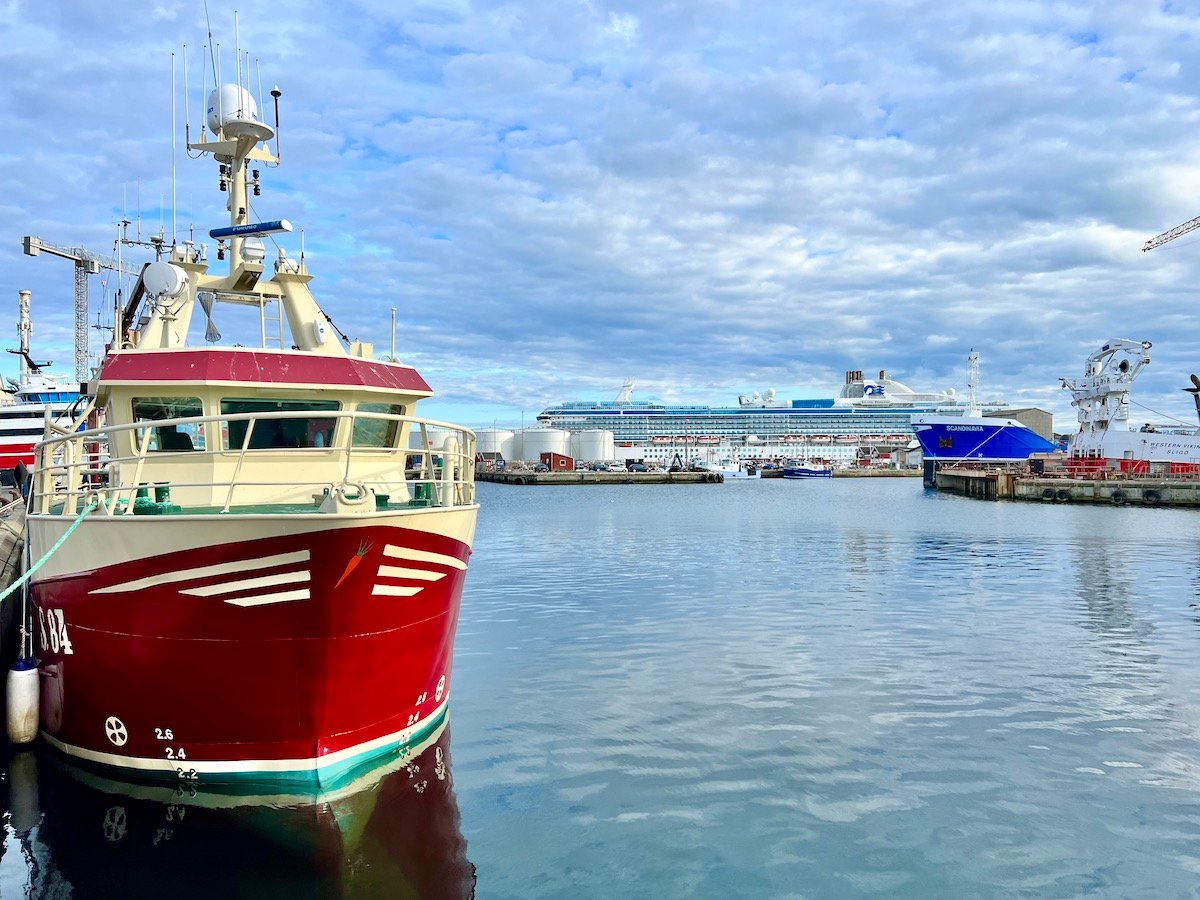 Howard: I had planned to walk back to ship at the end of the day. I did not know the exact route, but I was not concerned because I could see the ship towering above other structures at the port. But every entry I approached was gated. It was one of those "you can't get there from here" scenarios from a bad dream.
Finally, I saw two guys exiting a gate, and I asked them for directions. They attempted to explain the roundabout route, but ultimately told me to get in their car and they would take me. I can't say I didn't have second thoughts about jumping in a car with strangers, but I figured I approached them first, and this was peaceful Denmark, so I hopped in. They promptly delivered me to the gate of the correct entrance, and I thanked them for their kindness.
Although it is possible to return to ship on foot, I recommend returning by way of the complimentary shuttle to avoid confusion.
I loved every minute of exploring Skagen, and by the time I made it back to the ship I had clocked more than 23K steps.
---
Skagen Key Sites to Visit
---
As you will see on the map below, many sites of interest are grouped at central locations. To optimize your time in port, you may want to visit sites in one area before moving to the next. If you plan to visit Grenen and the Sand-Covered Church (as well you should), we recommend heading out to those outlying areas before touring the in-town sites. Because the port shuttle stop is in town and closer to the harbor, you can ensure that you make it back to the ship in time.
For more information, navigate to the Enjoy Skagen website, or when you arrive, head to the visitor information center situated near the port.
Grenen
---
The most popular attraction in Skagen is Grenen, a narrow spit of sand at the northernmost tip of Denmark that marks the point of separation between the North Sea and the Baltic Sea. Technically, one can wade into the water and stand in both seas at once.
Howard: I had heard that it was fairly easy to walk from the town center to Grenen, so it only made sense that I would head there first and then work my way back to town to be closer to the ship at the end of the day.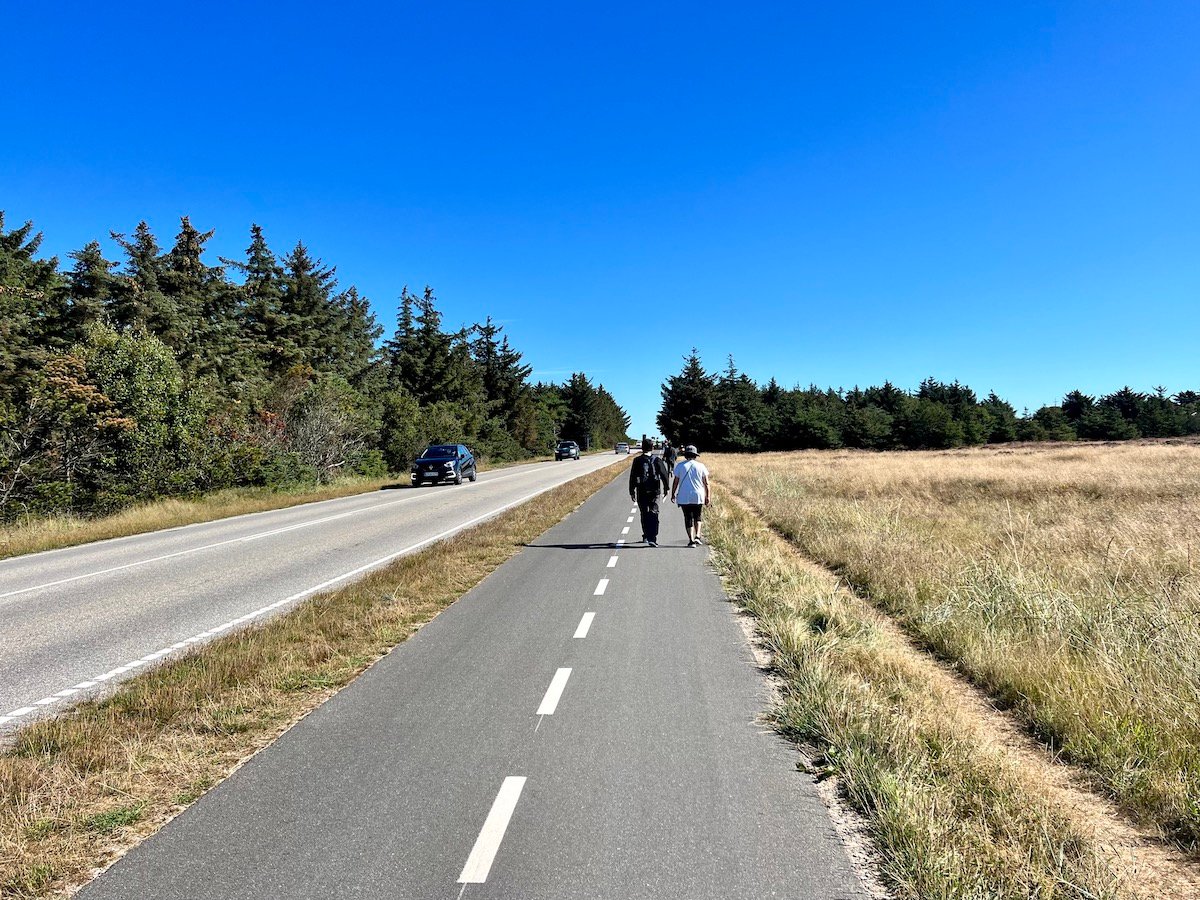 The morning was cool and clear and perfect walking weather, however I soon realized my destination was much farther than I had figured, approximately 5 miles. Lots of ship passengers rented bicycles, but others traveled on foot like me.
Leaving town, I walked streets lined with traditional Danish homes painted yellow with white trim and red tile roofs. Picket fences enclosed pocket gardens, now waning in the late summer.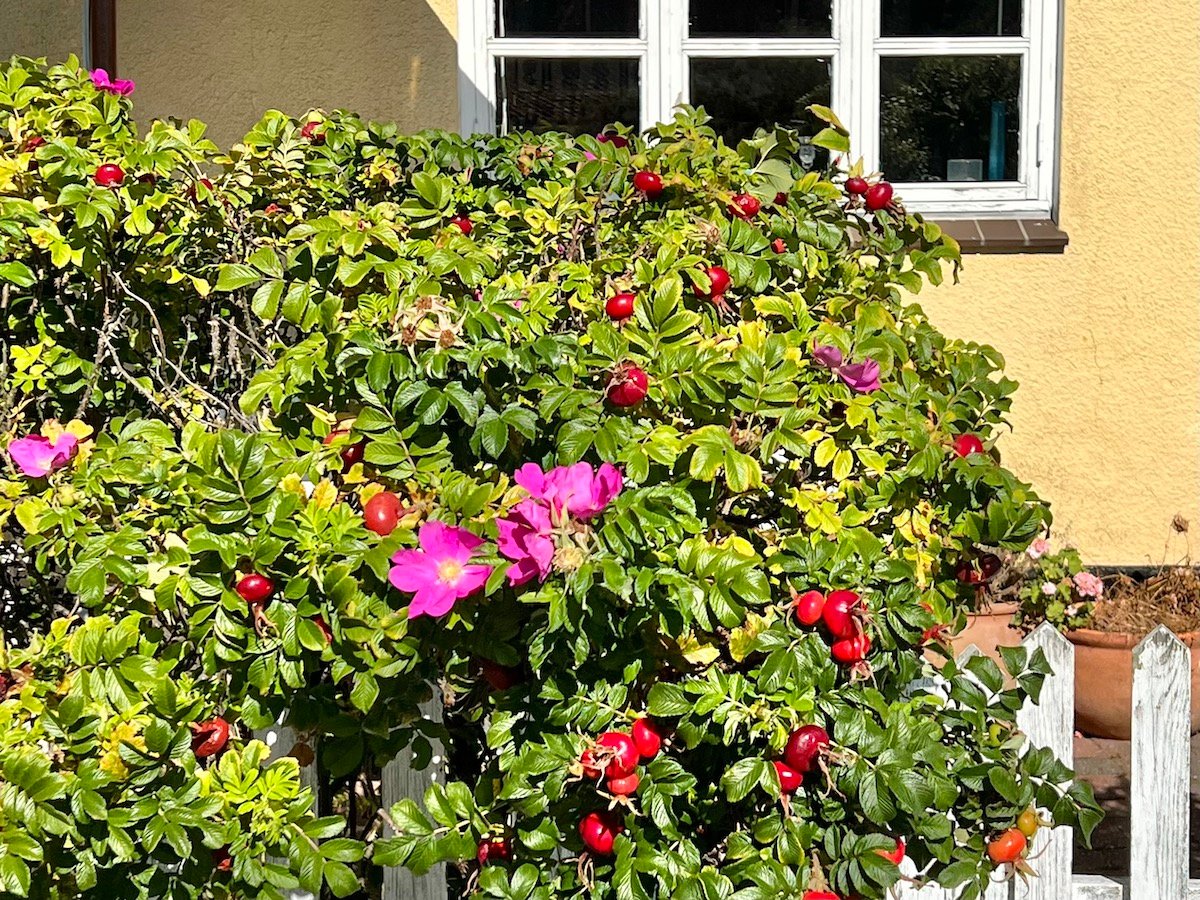 Sand dunes began to appear, blanketed with heaths and heathers like the Yorkshire moors. The lovely, yet exotic and invasive rosa rugosa grew from every sandy space along the path and out to the beach.
Along the route to Grenen and beyond, abundant maps and interpretive panels in Danish, English, and German were  welcome additions for visitors in port.
The walk to Grenen was a lesson in Denmark's lighthouse history. In the distance, I spotted a replica of the Vippefyr, a fuel-burning lever light first constructed in 1627. Situated along the path, the 1747 White Lighthouse was Denmark's first brick lighthouse, later whitewashed around the turn of the 19th century.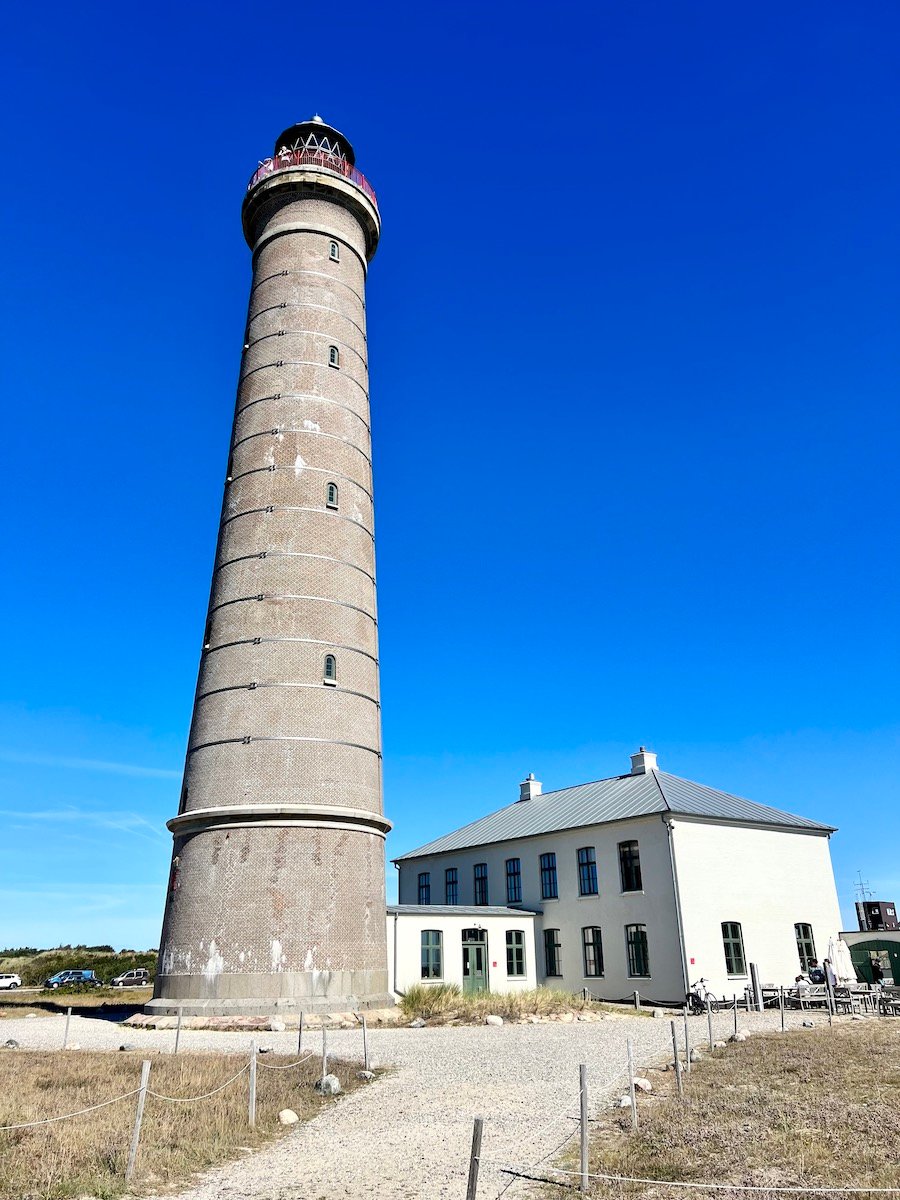 The 1858 Grey Lighthouse is currently active, and in 2017 the Center for Migratory Birds opened at this site. There are public restrooms and a café at this location.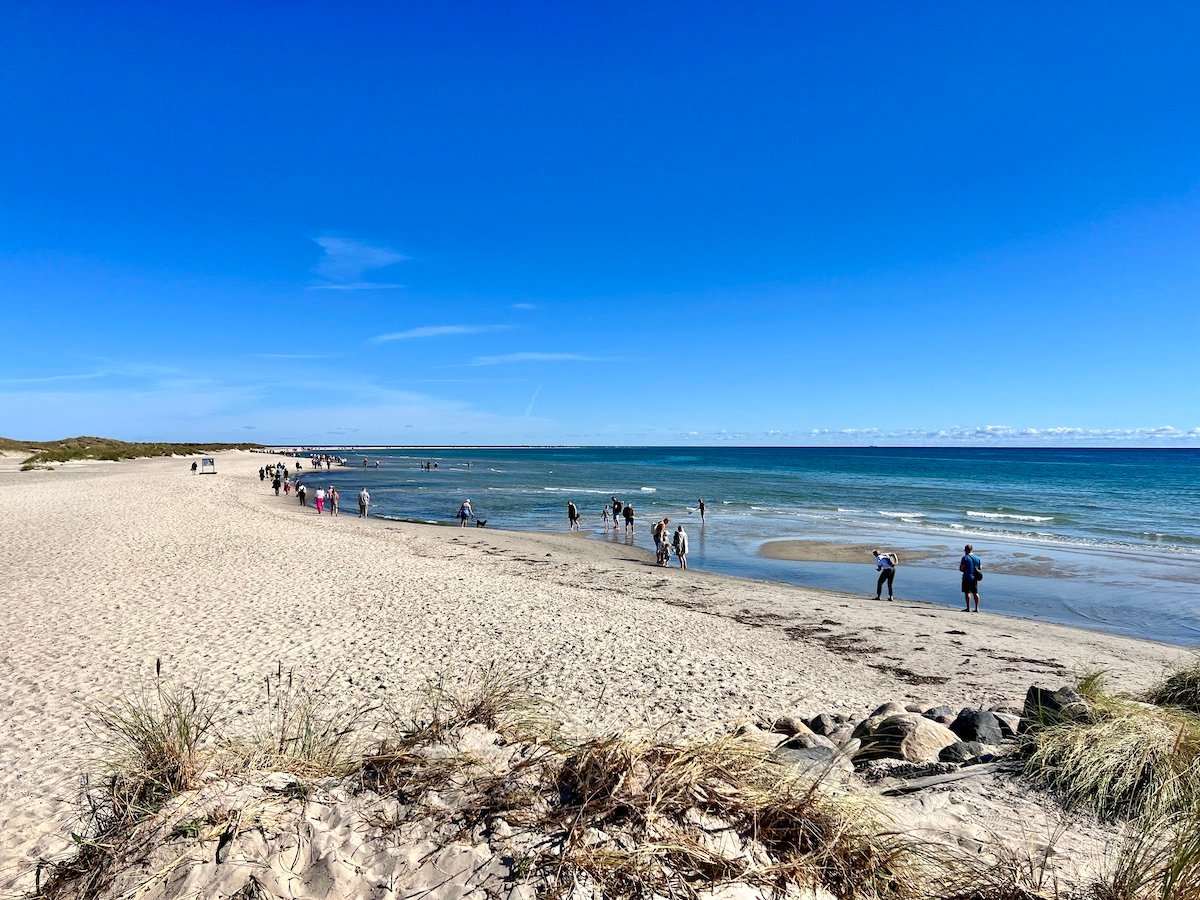 Upon reaching the parking area at Grenen, I learned that it was yet another 30-minute walk out to the tip of the sand spit. I was tired, but I was there, and so I set out, opting for the compacted sand along the water's edge.
The grave of famed Skagen painter Holger Drachmann is located trailside on a sand dune en route to the point.
WWII-era German bunkers dotted the landscape upon the highest dunes, and the Skagen Bunker Museum is a short walk from the Grenen parking area.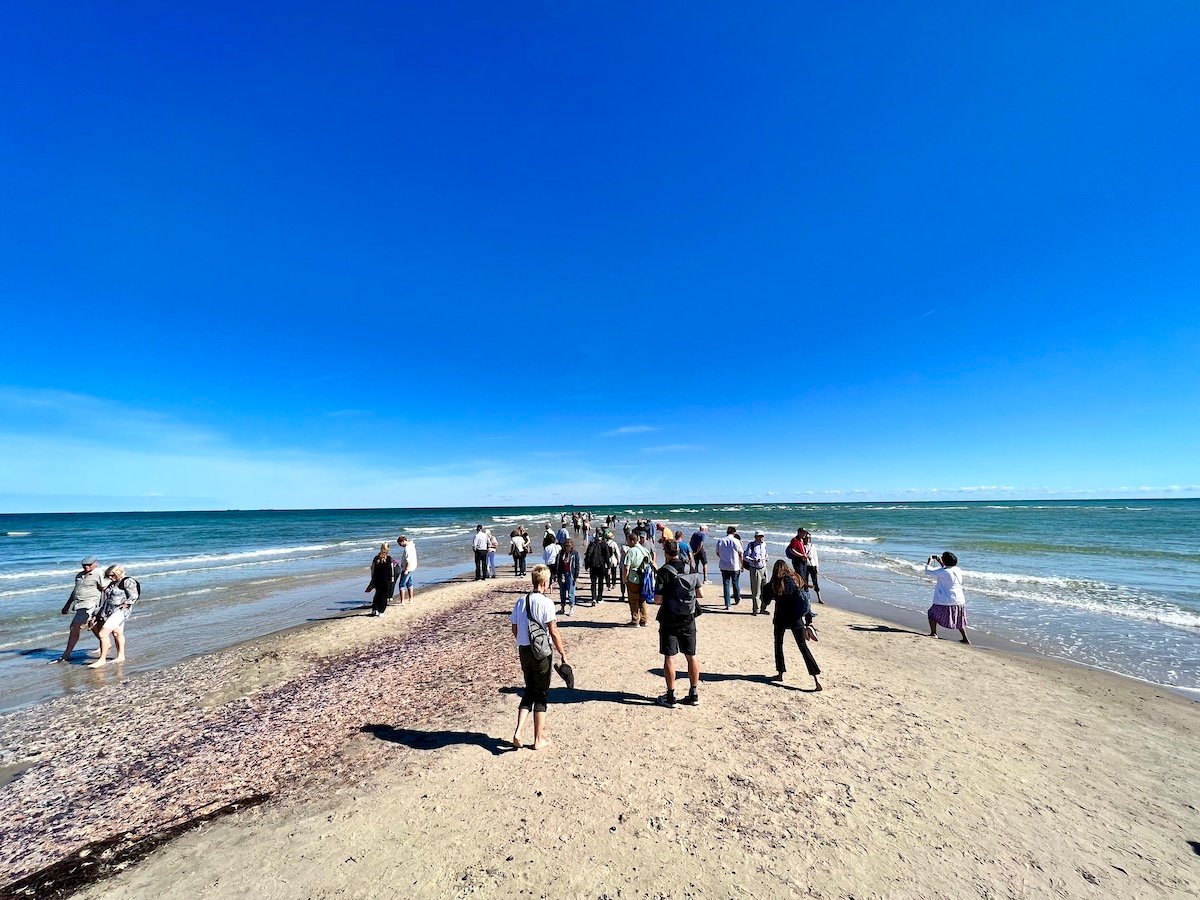 Reaching the point, many visitors shucked their shoes and waded into the merging waters. I was content to stay dry and capture the scene from a distance.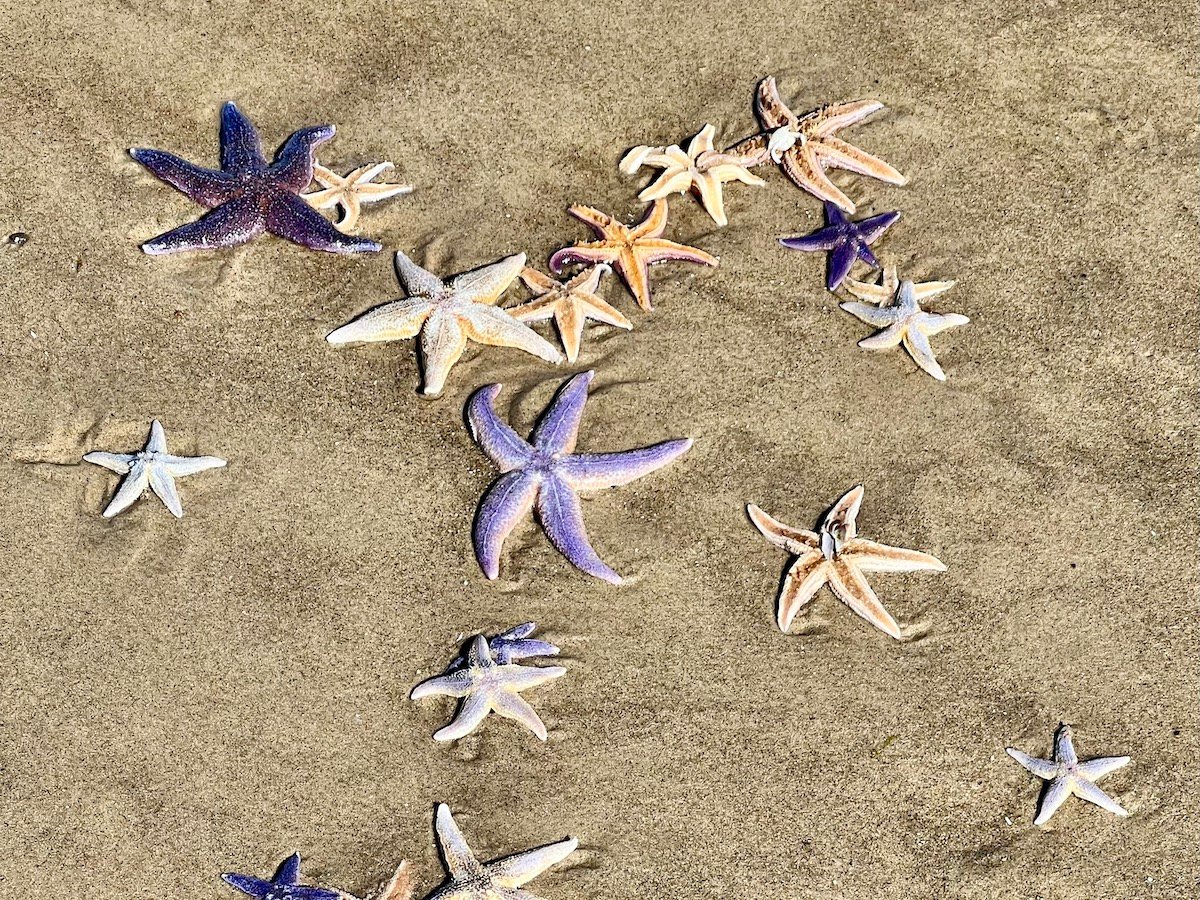 There were thousands of beached starfish in multicolored hues on the sand, and I have yet to learn the cause of this phenomenon.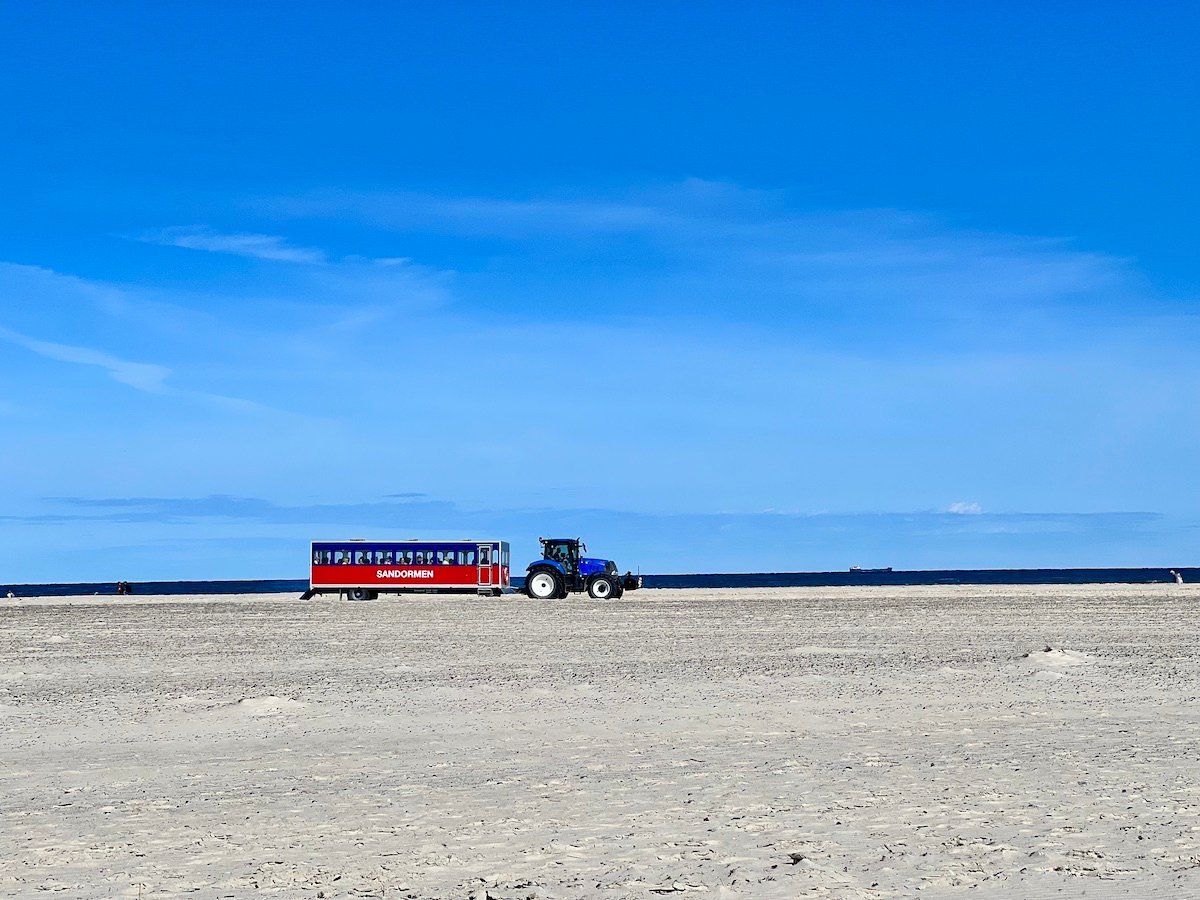 For the return trip, I hopped the Sandormen tractor-trailer transport back to the parking area.
Lucy: Visitors can also reach Grenen by taxi. I opted to take a taxi along with my friends Jackie and Patty. We had heard a rumor that there was bus service from Skagen out to Grenen and initially sought information about that. We enjoyed a stroll through town and stopped at Skagen Station hoping to get information about the rumored bus. As it turned out there was no such service, at least not when we were in town.
The friendly, English-speaking folks at the station advised that taxis were available to drive us to the parking area at Grenen and could get us there for about the equivalent of $30 US. There was a taxi waiting for passengers when we arrived at the station, but by the time we reviewed our options and decided to go, the taxi was gone. The station staff called a taxi for us, and it arrived in about ten minutes.
We went directly from town to the Grenen parking area which is the departure point for the Sandormen tractor-trailer shuttle. There is also a restaurant, snack bar, souvenir shop, and restroom facilities at the this location. The cost for the taxi ride was less than $30 one way. Payment by credit card was accepted, so there was no need to acquire Danish Krone.
I would recommend using the taxi service as a great way to save time during your visit. Remember there are so many things to see during the short time most ships are in port. And for those of us who are not used to walking miles at a time, it is the best alternative to expensive shore excursions.
We rode directly to Grenen without stopping at the sights Howard visited on his walk to the area, though we were able to see the lighthouses, which are visible from the road. Once we got to the area, thanks to the miracle of international cell phone service, we learned that Howard was in the vicinity. We made plans to meet him for the taxi trip back to town.
Howard:  While waiting to catch up with my friends Lucy, Jackie, and Patty, I made lunch of a Danish frankfurter and a soft-serve ice cream. The "fransk" hot dog is served in a hollowed-out baguette filled with tangy mayo, and I customized my soft-serve with a dusting of chocolate.
When my friends returned from their excursion to the point, we took one of the four taxis in town to our next destination. Our driver delivered us to the access point for Skagen's Sand-Covered Church. Because taxis were in high demand, we asked him to keep the meter running while we visited the historical structure so he could drive us to the art museum.
The Sand-Covered Church
---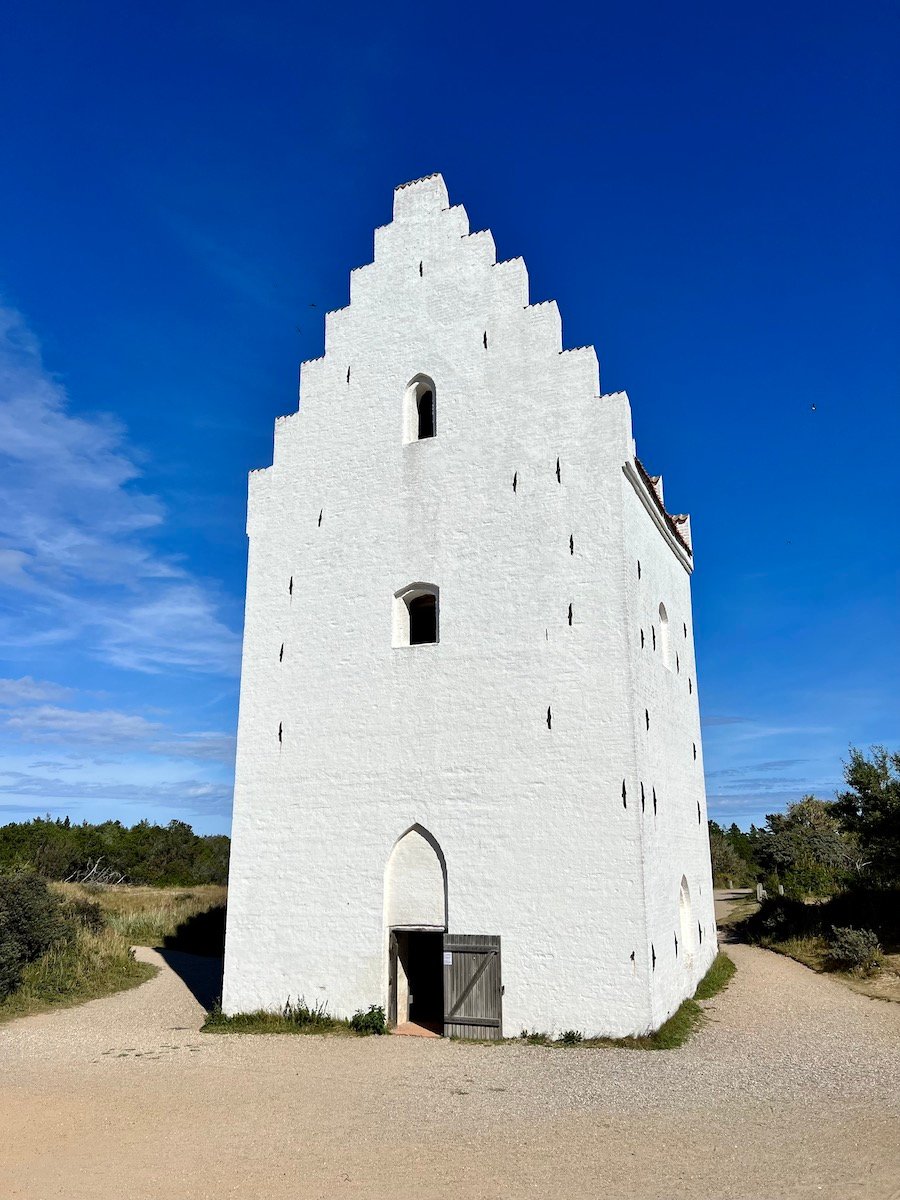 A path through the trees leads to the site of the former Saint Lawrence Church, dating to 1355 AD.
Around the year 1600, as a result of desertification, encroaching sands began destroying fields and ultimately buried a nearby village.
By the latter part of the 18th century, sand dunes began to swallow the church. For a period of 20 years, beginning in 1775, parishioners labored to keep the church free of sand, digging around the door to enter for services. In 1795, the church was ordered to be closed by royal decree, and it was demolished.
Although the site has never been excavated, the floor, altar, and baptismal font are believed to remain underground.
Today, only the tower of the church remains above the sand. Originally constructed during the 15th century, it was rebuilt in the 18th and 19th centuries.
Visitors can take a narrow spiral staircase up two levels inside the tower.
The Sand-Covered Church is a few kilometers outside of town and there is no admission fee. You can see its location on the map below. It is a 30-minute walk or an 8-minute bike ride from the port. If you are able to get a taxi, it is about an 11-minute drive, but you will need to allow wait time for the taxi to arrive.
Skagens Museum
---
During the late 19th century and early 20th century a colony of artists known as the Skagen Painters was established in Skagen, Denmark.
Scandinavian artists who emulated French impressionism, including Anna and Michael Ancher, P.S. Krøyer, and Holger Drachmann, were drawn to Skagen as a summer destination for its beach landscapes, seascapes, nature, light, and social community.
The Skagens Museum opened in 1928 and houses an extensive collection of works by these artists.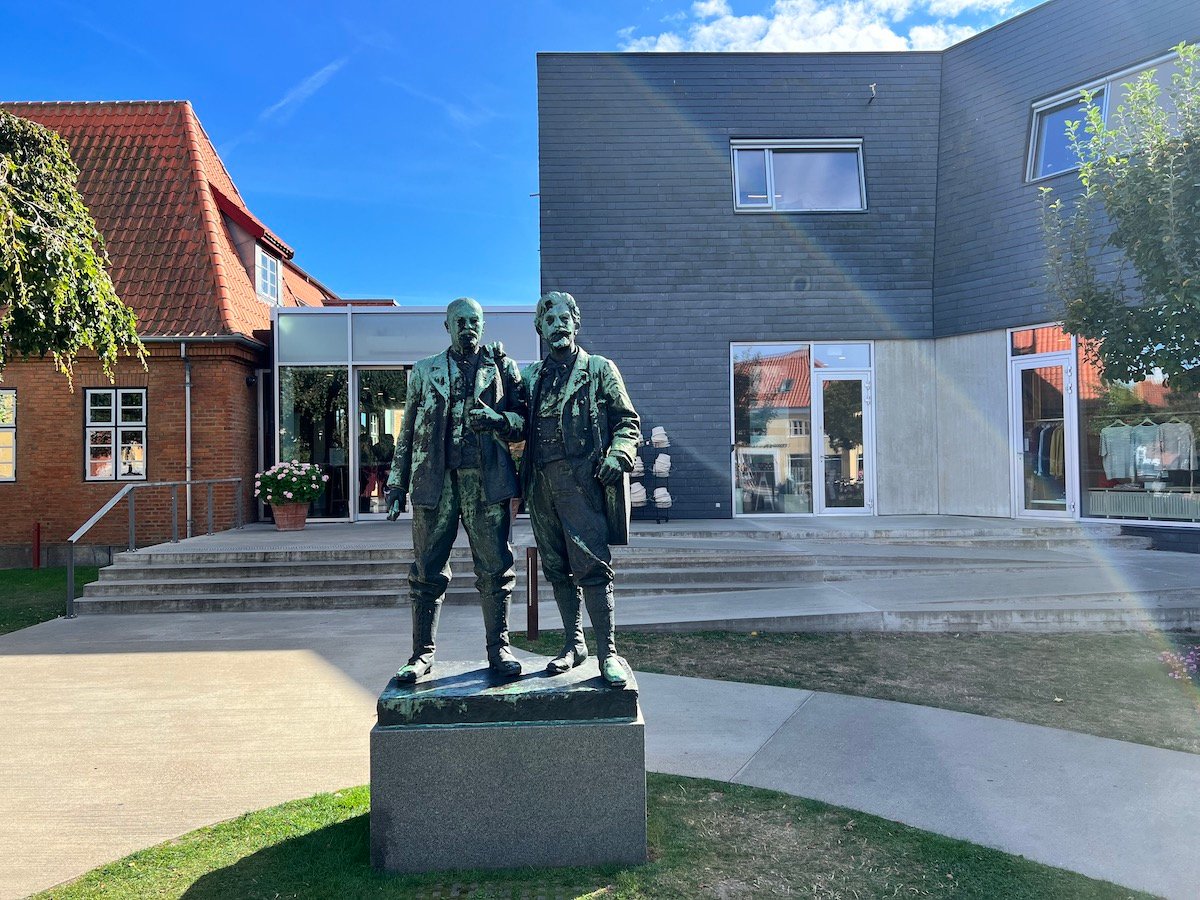 A statue of Michael Ancher (left) and P.S. Krøyer (right), installed the year the museum opened, welcomes visitors to view themed galleries of the finest works by the Skagen Painters.
The Skagen Painters' subjects were primarily locals, especially fisherman. Then, as now, Skagen was the largest fishing port in all of Denmark.
Brøndums Hotel
---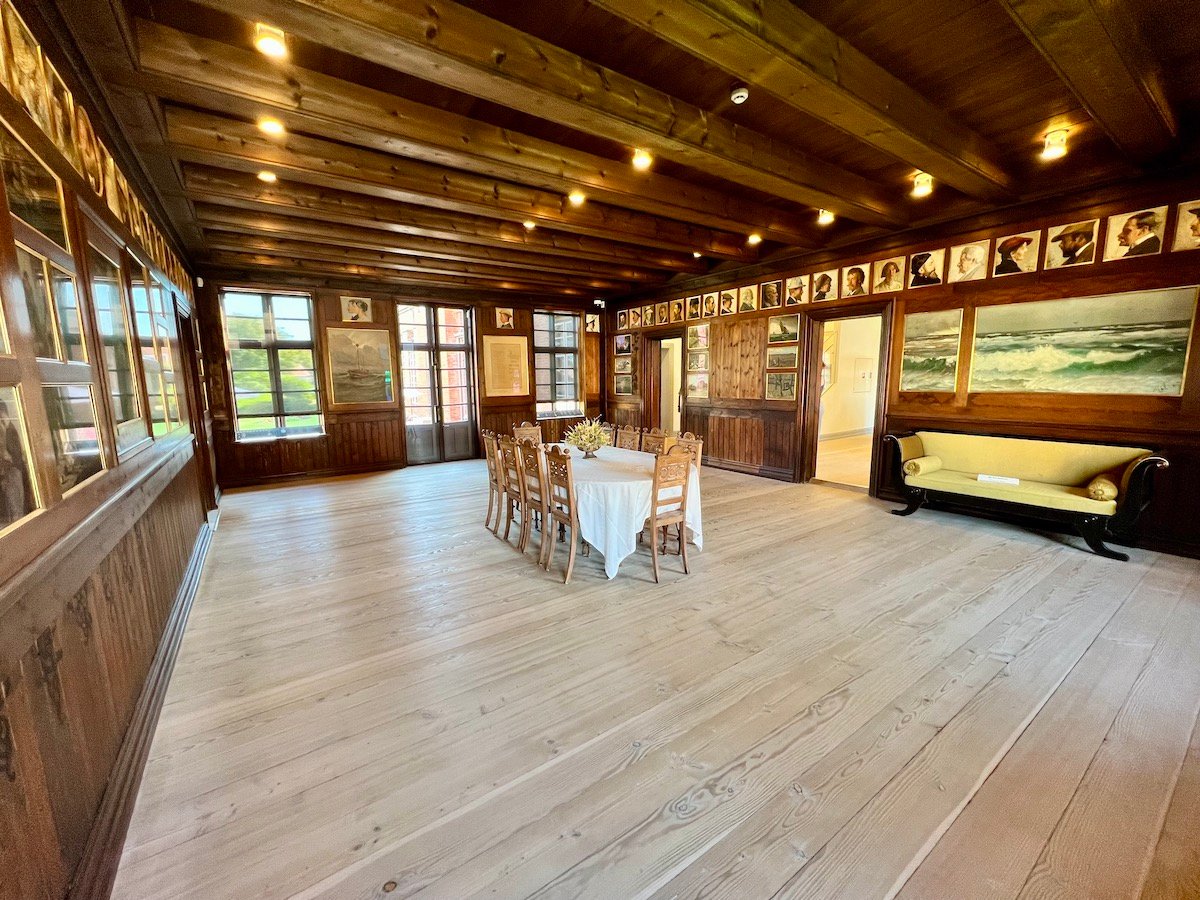 The dining room of the nearby Brøndums Hotel was the gathering place for the Skagen Painters. The artists installed panels of inset paintings along the walls of the room, and in 1908 made a joint decision that the room would be removed to a future museum. Their wishes were carried out the year the museum opened.
The Brøndums Hotel also hosted other prominent guests through the years, including writers Hans Christian Andersen and Karen Blixen (Isak Dinesen). In 1936, Blixen spent several months writing a part of her book Out of Africa in room 116.

The historic hotel and restaurant remain open for guests and diners.
The original Ancher and Krøyer studios, located on the museum grounds, are surrounded by beautiful gardens across the street from the Brøndums Hotel. The Ancher House and Drachmann House Museums are open to the public at satellite locations in town.
Anchers House
---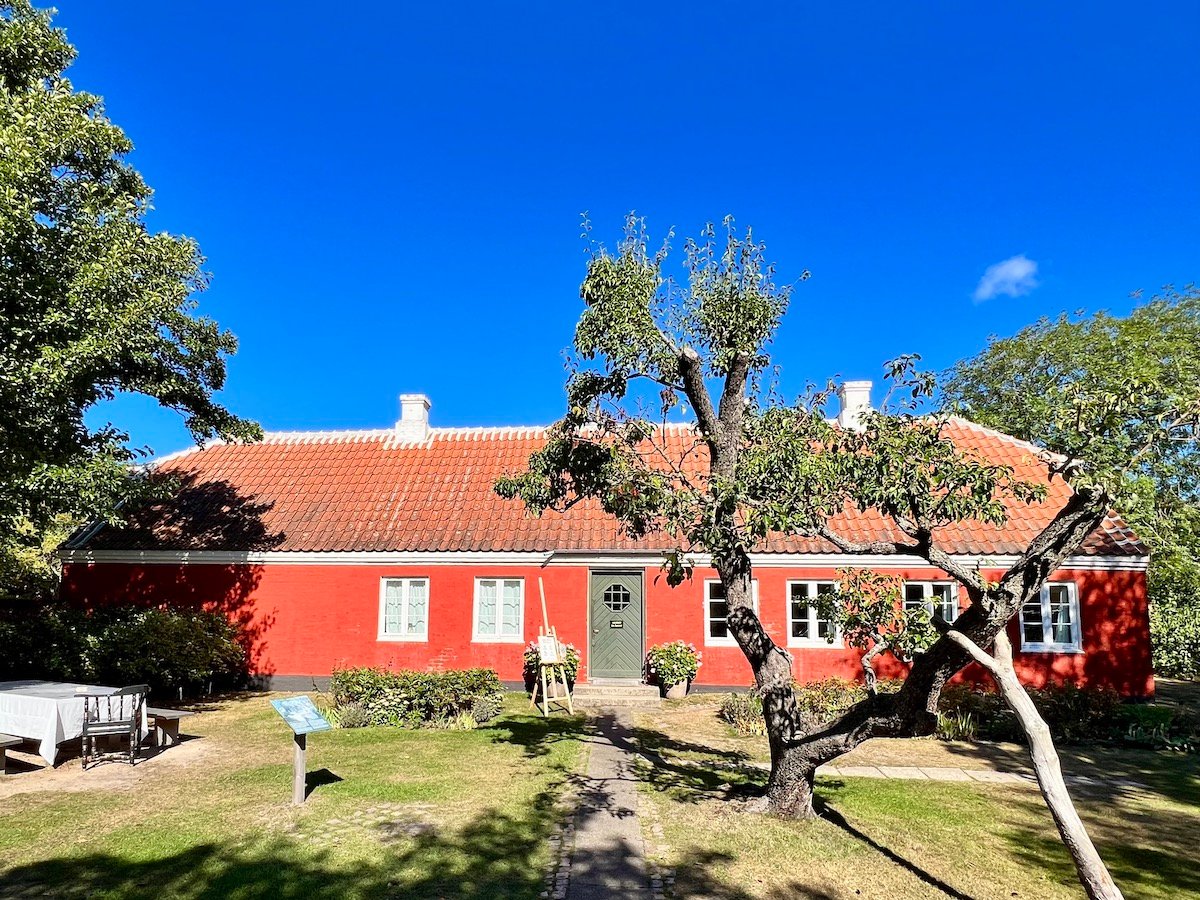 Anchers House is the home where Anna and Michael Ancher and their daughter Helga lived, As a house museum it has been preserved the way it was at the time of Anna's death in 1935. The house is furnished with pieces acquired during the family's travels, as well as more than 250 works of art by other European artists.
Drachmanns House
---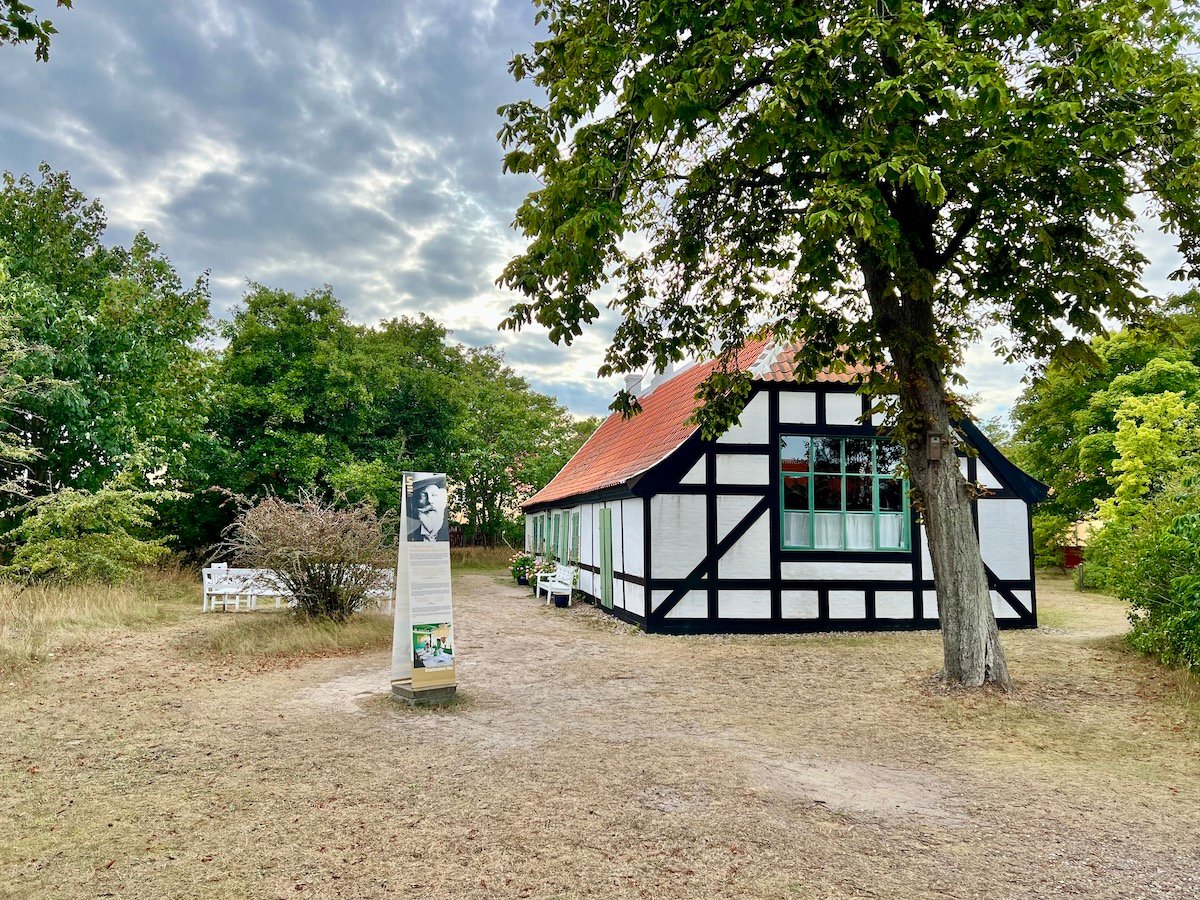 Painter and poet Holger Drachmann lived at Drachmanns House from 1902 to 1908 with his third wife Soffi. The house museum appears very much like it did when the Skagen painter lived there, with about 150 works by Drachmann and his contemporaries on display.
Consult the Skagens Museum website for current admission fees, special exhibitions, and additional information.
---
Skagen Points of Interest
---
There are other points of interest around town and in the area, and many of them are near other key sites
Skagen Church
---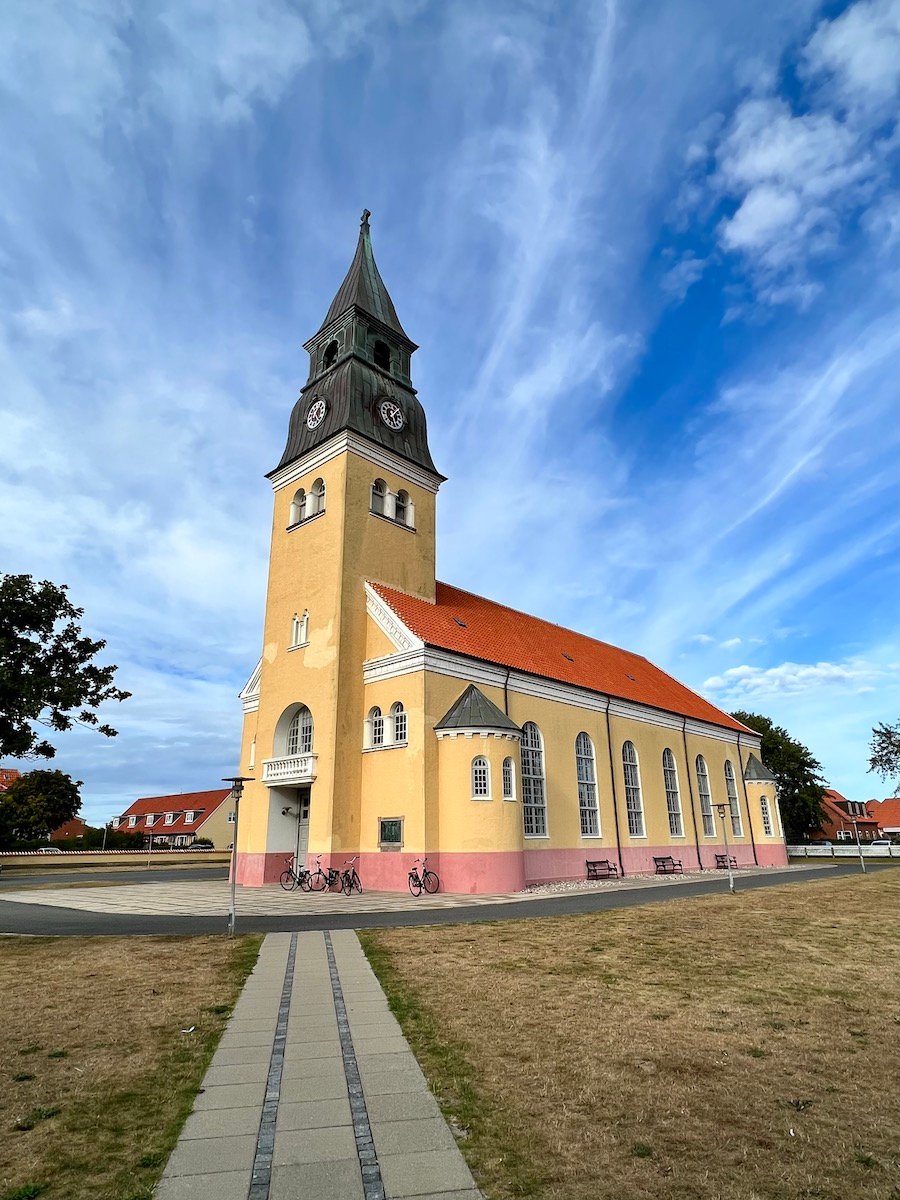 The 1841 Skagen Church, belongs to the state-supported Evangelical-Lutheran Church of Denmark.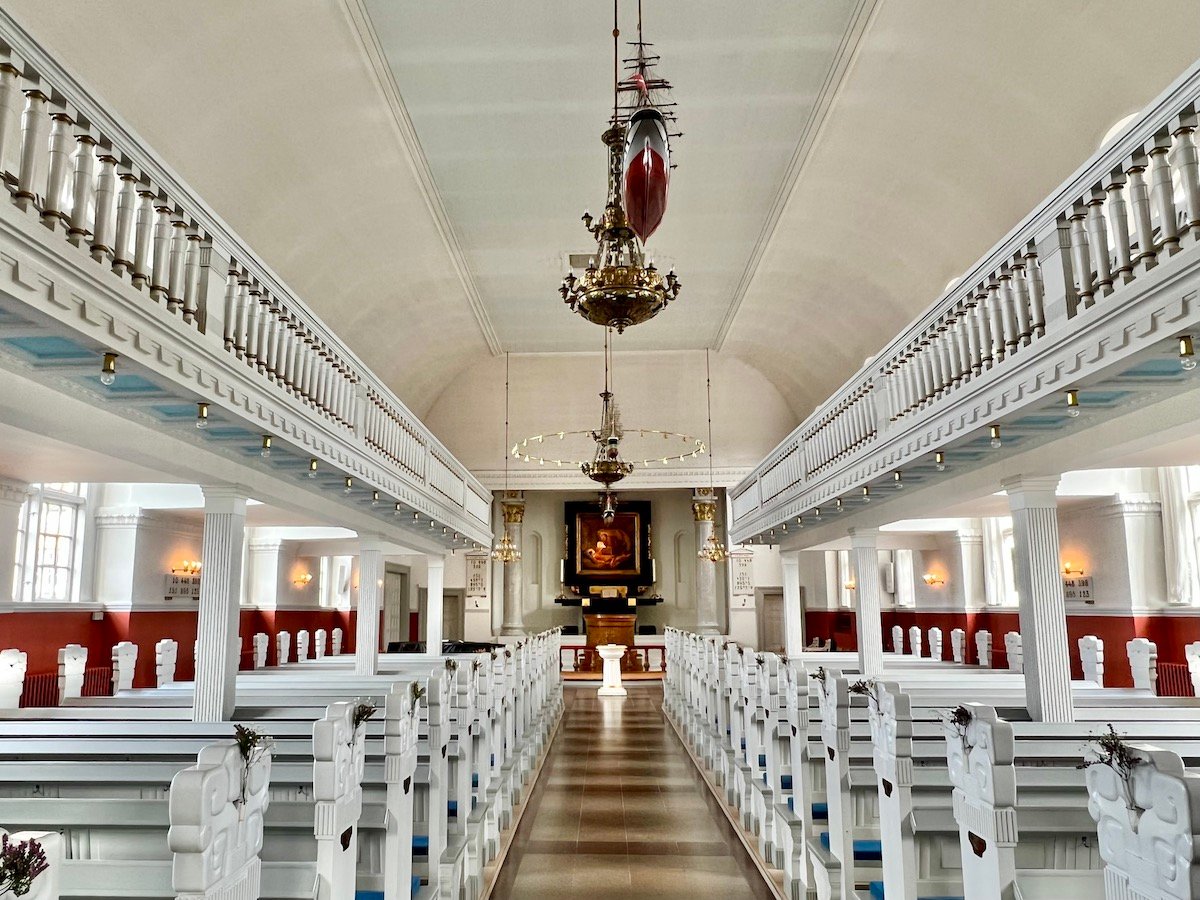 The church doors are open daily from 10:00 AM to 6:00 PM. A Skagen Church fact sheet (PDF) details the church's history, furnishings, and artifacts for visitors who may want to spend additional time inside the light-filled sanctuary.
Skagen Station
---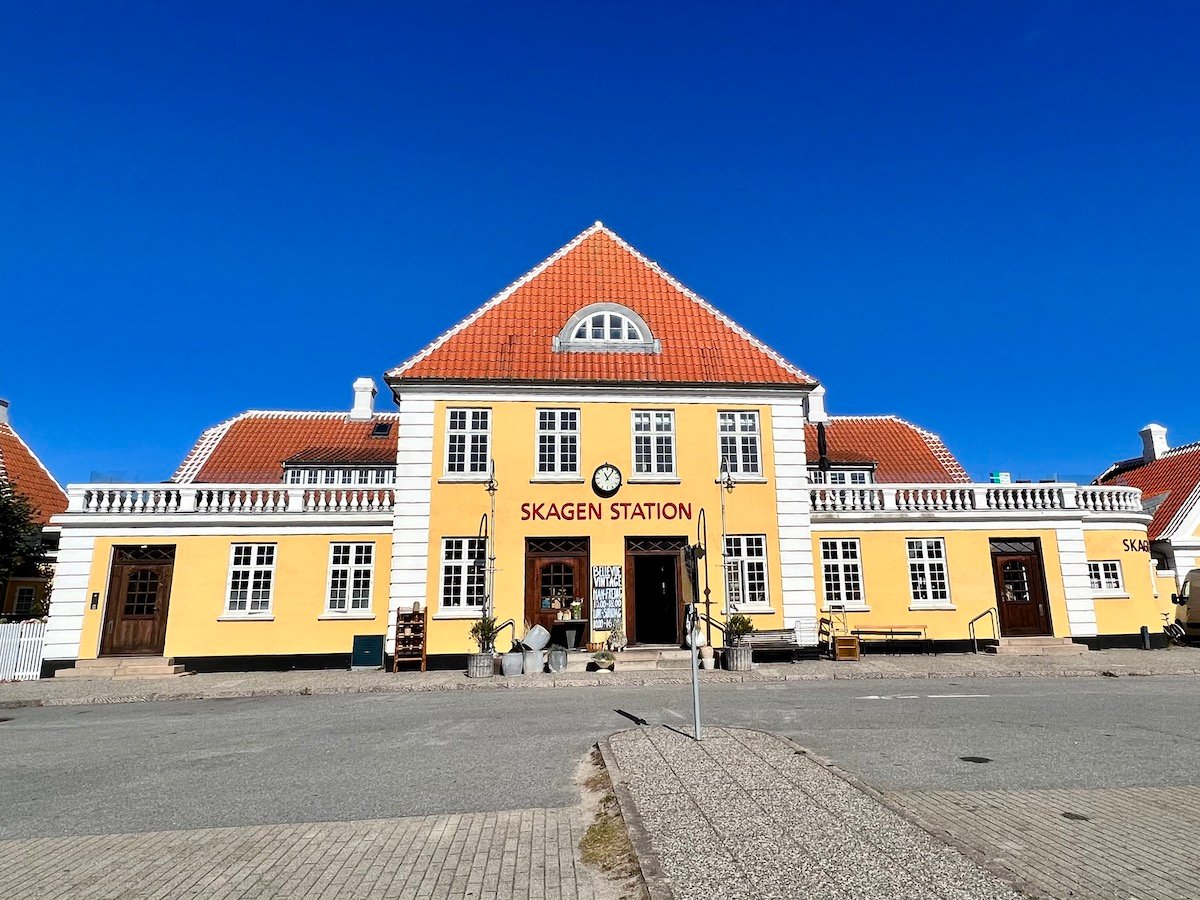 Skagen Station is the northernmost passenger railway station in Denmark. It connects Skagen to  Frederikshavn and ultimately the rest of Denmark. The tourist-friendly depot was built in 1919 and renovated in 2017.
Skagen Water Tower & Mindestotten Memorial
---
If you visit Ancher House, you can't miss the 1934 water tower. No longer operational, the brick structure is now a viewing tower during summer months. For a fee, visitors can climb 120 steps to the top.
Also in the vicinity, the Mindestotten Memorial honors eight fishermen who lost their lives on December 27, 1862, during a rescue action for the Swedish ship "Daphne."
Coastal Museum of Skagen
---
The Coastal Museum of Skagen interprets the region's fishing, seafaring, and maritime history. An open-air section of the museum exhibits historical houses from three architectural periods.
Danish Hot Dogs & Ice Cream
---
You don't want to miss a visit to one of Denmark's Pølsevogn hot dog stands that sell a wide variety of sausages and frankfurters, including the "rød pølse" red hot dogs. These street food treats are typically served with remoulade, ketchup, mustard, pickles, and fried onions.
Howard: I didn't get a picture, but I may or may not have enjoyed a second soft-serve ice cream later in the day, this time dipped in salted caramel bark. Words cannot describe how delicious it was!
---
Explore Skagen On Your Own Downloadable Checklist
---
Download Backroad Planet's Explore Skagen On Your Own Checklist! This handy resource lists all of Skagen's major sites mentioned in this post and puts their website links and GPS coordinates at your fingertips.
The Cruise Skagen website offers a downloadable brochure and map.
---
Map It!
---
No matter where you travel, find great hotel deals on TripAdvisor!
---
We Would Love to Hear From You
---
We enjoy dialogue with Backroad Planet readers, especially when they respond to our published content. If you have suggestions for enhancing our "Explore Cruise Ports On Your Own" series, we invite you to leave your comments and questions below, and we always respond!
---
Pin this Post!
---