(a

16

minute read)
---
The city of Janesville, Wisconsin, extends the invitation to study architecture on walks through historic districts, embrace tranquility at Rotary Botanical Gardens, travel the Underground Railroad at the Milton House Museum, and experience a Midwest dining tradition at the Buckhorn Supper Club.
---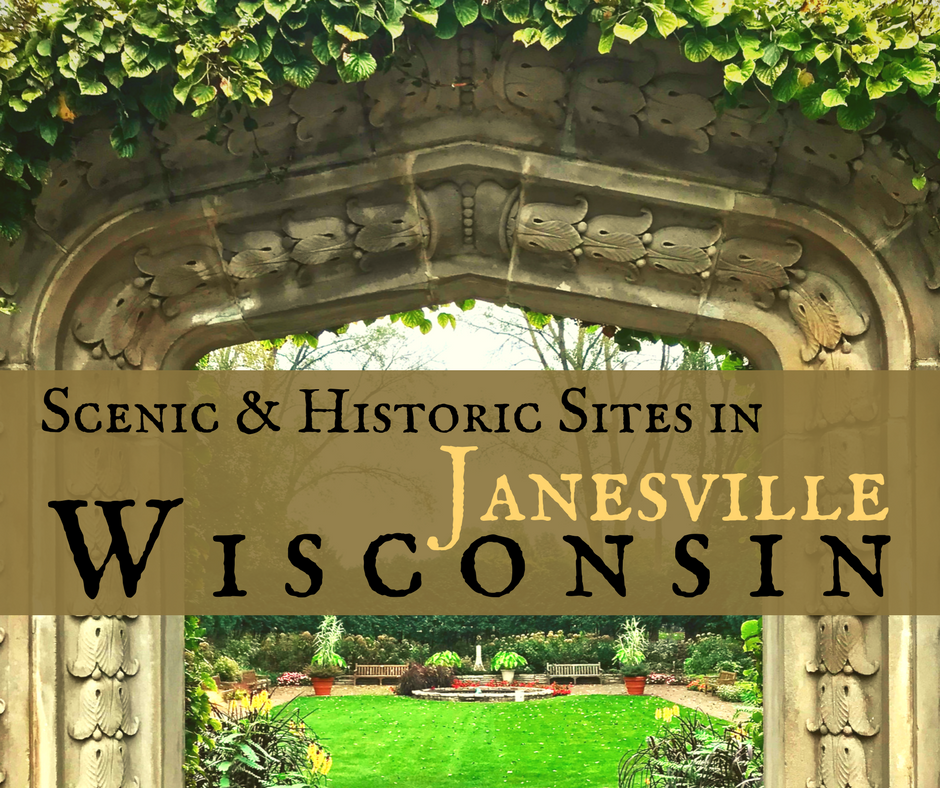 I was a guest of Janesville CVB, but all thoughts and opinions are my own.
---
The City of Janesville Wisconsin
---
My first ever Midwest road trip began exploring the fun side of Rockford, Illinois.
Then I headed north to the state line, where I experienced all things eclectic in Beloit, Wisconsin.
The scenic city of Janesville, Wisconsin, would be the third and final destination on my journey through three Rock River municipalities. I would study the architecture of historic districts, tour a vintage toy factory, stroll through tranquil gardens, retrace fleeting steps in an ancient subterranean passageway, and eat my fill in a classic Wisconsin supper club.
In the end, the city of Janesville would leave me hungry more . . .
---
City of Janesville Historic Districts
---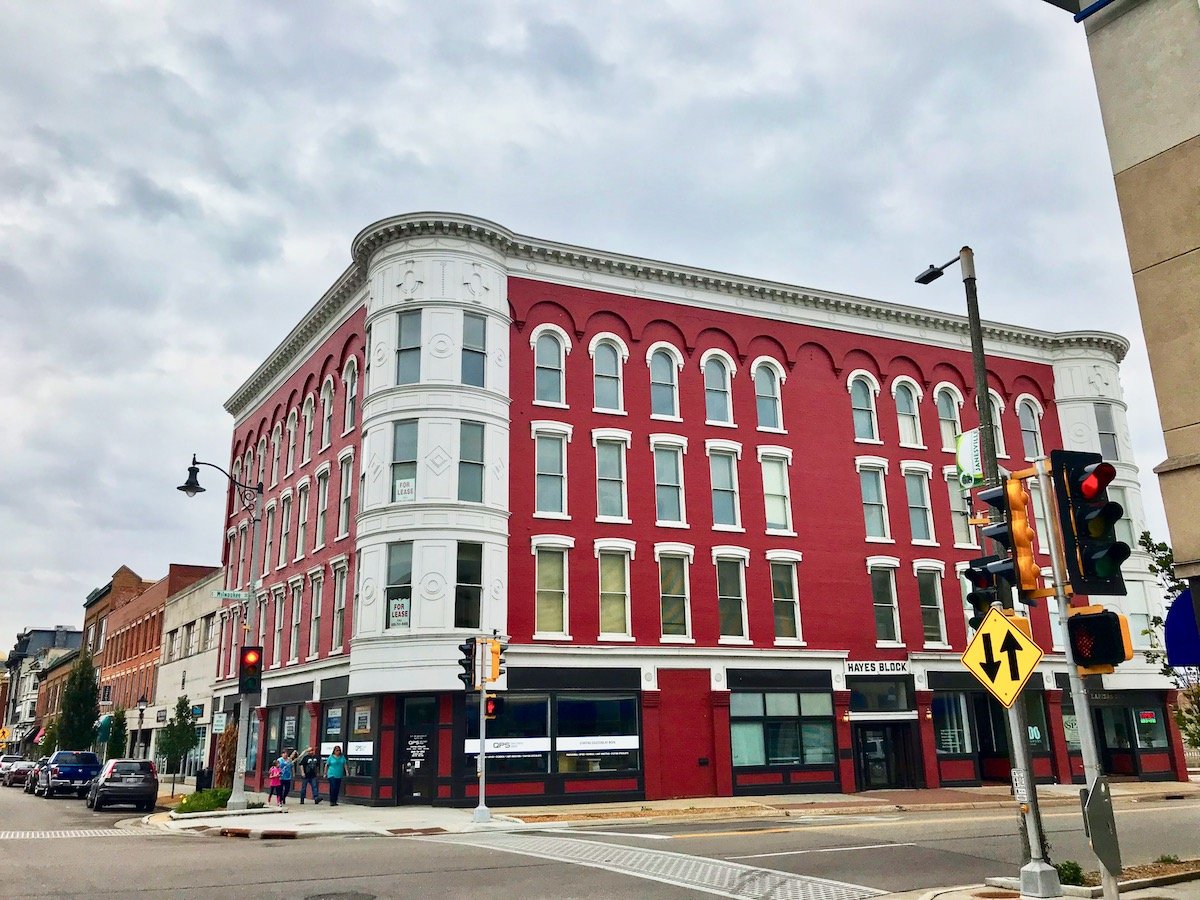 With 2,448 buildings listed on the National Register of Historic Places, the city of Janesville is a mecca for lovers of history and architecture. The Rock County Historical Society in partnership with the Janesville Visitors Bureau offers a variety of historic walking tour resources for locals and out-of-towners alike.
The 1855 Hayes Block building at the intersection of Milwaukee and Main (above) was constructed at the site of Janesville founder Henry Janes' 1835 log cabin.
During my visit, I drove through several of Janesville's historic districts, including the downtown area.
Map Credit: City of Janesville
But my itinerary would lead me even further on immersive walks through Columbus Circle and Courthouse Hill.
Click on the map image above to download a Janesville Historic Districts map.
Courthouse Hill Historic District
---
The best way to experience any historic district is on a guided tour. We met local guide Rich Fletcher at Jefferson Park for our first walking tour through the Courthouse Hill Historic District. This 30-block area on the city of Janesville's east side is made up of late 19th century and early 20th century homes.
Queen Anne, Italianate, Prairie, and Bungalow are a few of the popular architectural styles represented in this upscale district.
The 1929 Georgian Revival mansion situated at the intersection of Saint Lawrence Avenue and Sinclair Street is home to the city of Janesville's most influential citizen. Judging from the number of Secret Service agents giving us the eyeball as we walked by, and the fact that it was a weekend, let us know the Speaker of the House was in residence.
Columbus Circle Historic District
---
Our guided tour led us next to the Columbus Circle Historic District. Most of the homes in this whimsical neighborhood were built within a ten year period during the Great Depression.
The city of Janesville's working class and middle class citizens were able to weather this economic downturn far better than their counterparts in cities across America due to stable employment opportunities at the local unionized GM plant and other industries in the area.
The modest homes in Columbus Circle represent a diverse range of revival architectural styles, a pleasant precursor to the cookie cutter homes that would proliferate in suburban housing developments in the post-WWII years.
Regarding Columbus Circle, architectural consultant Carol Lohry Cartwright observed, "Few of the houses are individually significant, but together, they make up . . . a neighborhood in which the group of houses is much more significant than any of its parts."
I agree and disagree.
Columbus Circle is a quaint snapshot of a bygone era, and collectively these structures deserve their historic district status, but I found virtually all of the homes intriguing, and I could easily have submerged myself in an architectural study of any single dwelling.
Janesville Historic District Walking Tour Options
---
As a Rock County Historical Society volunteer, "Roaming Rich" Fletcher maintains a slate of free guided walking tours through Janesville's historic districts during the summer and fall. You can find tour dates and times on the Events page of Roam Around Tours, where Rich also organizes small-group architectural, historical, and cultural tours to domestic and international destinations.
Self-guided tours through Janesville's historic districts are facilitated by downloading the Clio app for Android or iOS, or directly at the Clio website.
Walking tour brochures for most of the historic districts are available for purchase at the Janesville Visitors Bureau office or by a free download at the University of Wisconsin Madison Libraries Digital Collections website.
The Lincoln-Tallman House
---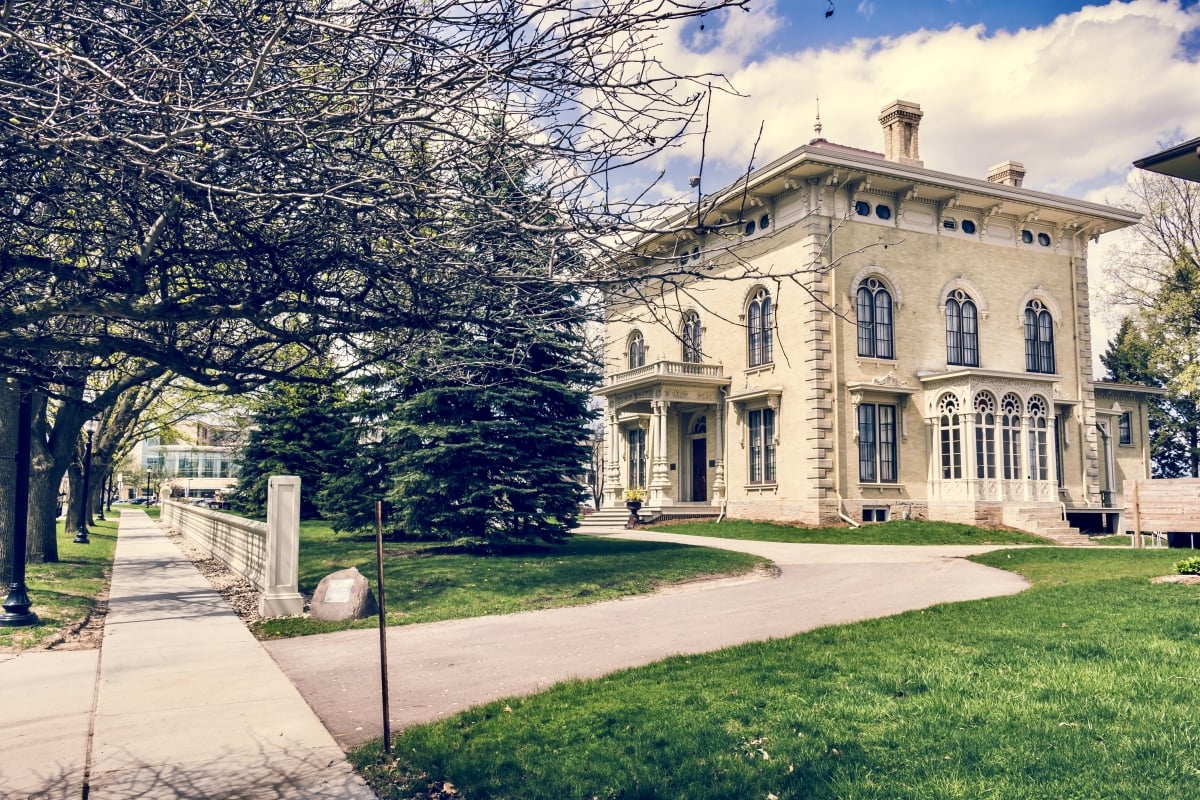 Photo Credit: Eric Panico
Janesville's most prominent architectural treasure, the 1857 Lincoln-Tallman House, is situated on the campus of the Rock County Historical Society. The house's most famous visitor was Abraham Lincoln who spent two nights there in October of 1859, one year before he was elected president.
I was unable to take a traditional tour of the home due to its staging for a special event. I do, however, hope to take a proper tour the Lincoln-Tallman House upon my next visit.
---
Janesville Farmer's Market
---

Each Saturday morning from May through October, the Janesville Farmers Market closes down a section of Main Street. Markets are also held on select Saturdays during the remaining months of the year.
Vendors sell produce, eggs, honey, cheese, and baked goods, while local artists and craftspeople display their work. "Roaming Rich" thinks a visit to the Farmers Market pairs well with his Saturday morning walking tours.
---
Janesville Riverfront and Trail System
---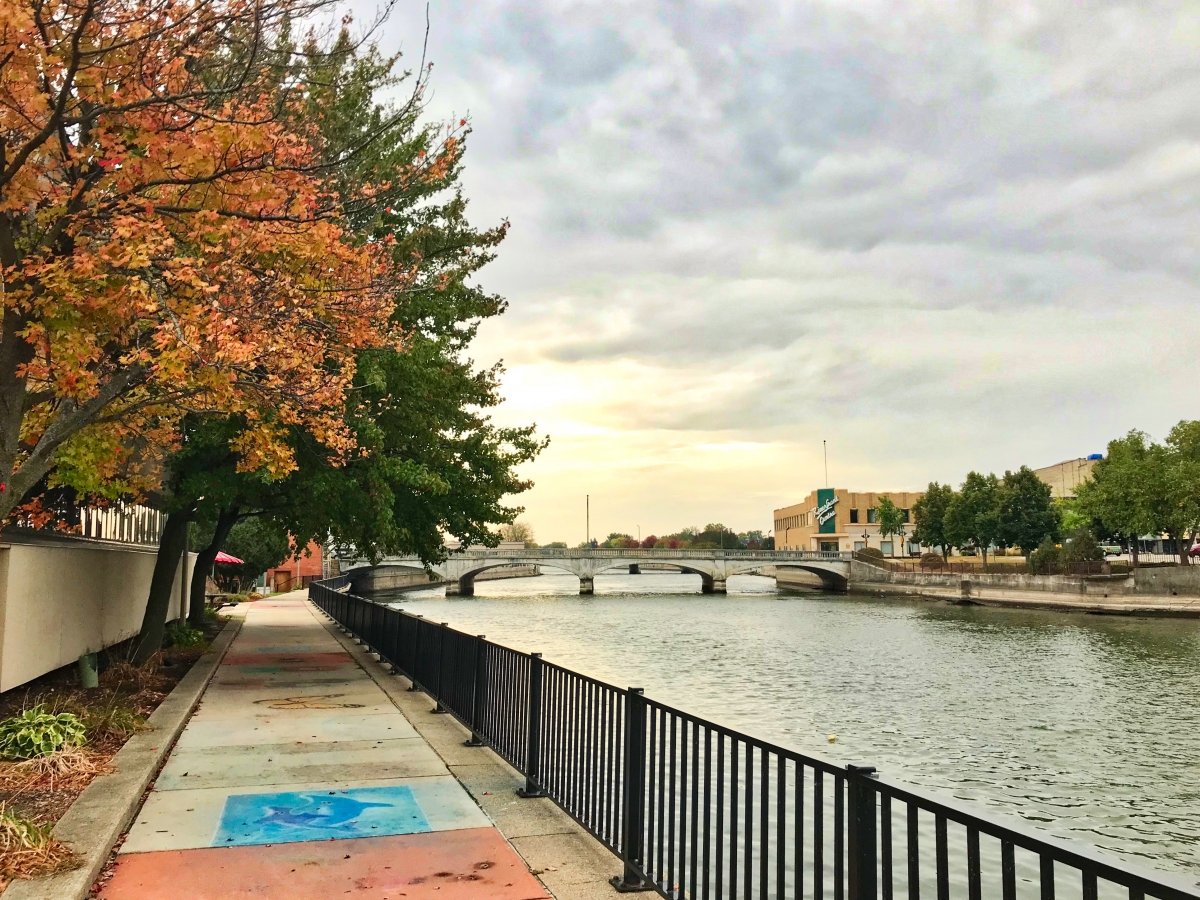 Like the first two destinations on my Midwest road trip, Rockford, Illinois, and Beloit, Wisconsin, Janesville is situated along the Rock River.
While the city of Janesville does not have a formal riverwalk, segments of both banks are lined with paved sidewalks, and others are currently in development.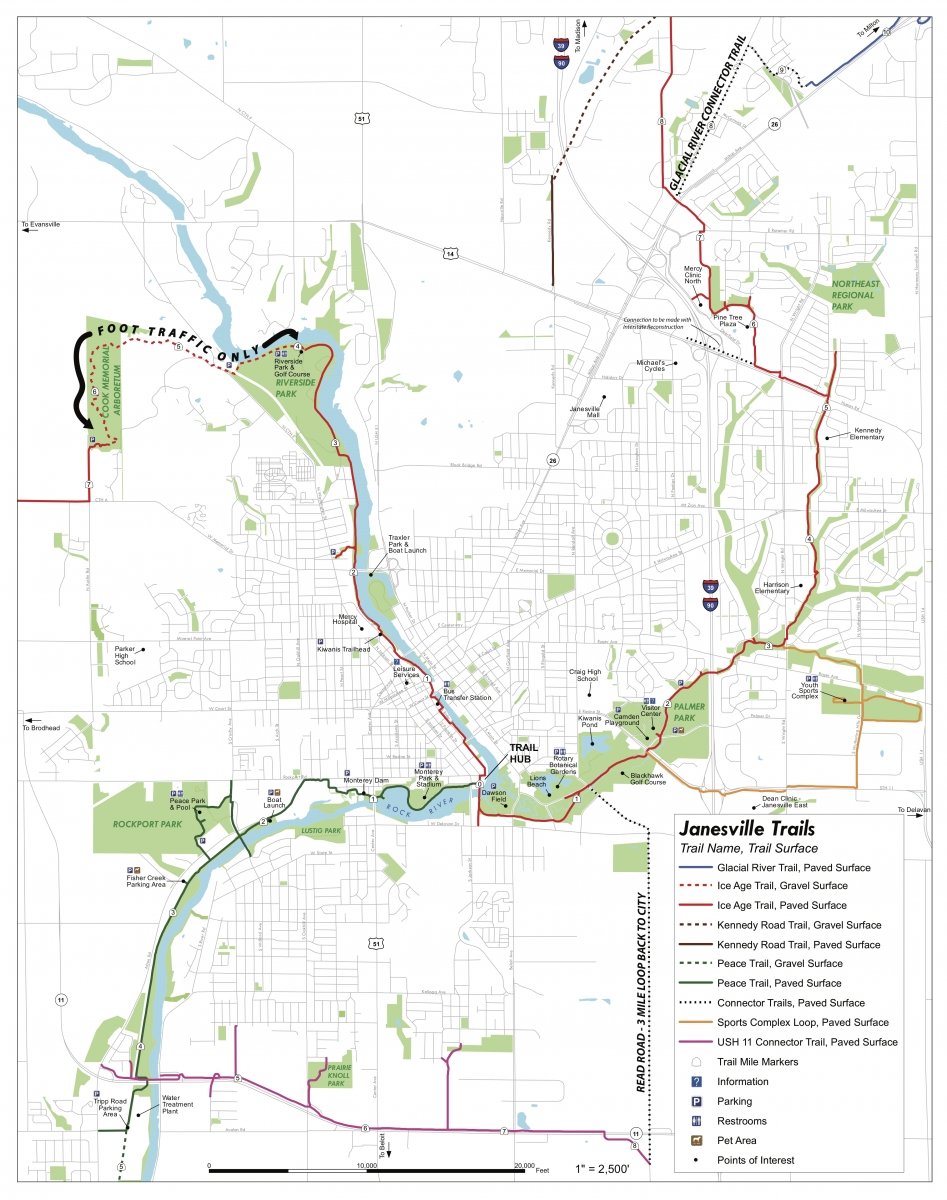 Map Credit: City of Janesville
The Ice Age National Scenic Trail loops through Janesville and follows the west bank of the Rock River from Riverside Park south to the riverbend, where it curves west and away from the river. From the bend, Janesville's paved Peace Trail continues south along the west bank to the edge of town.
Click on the map image above to download a Janesville Trails map.
---
Janesville Performing Arts Center
---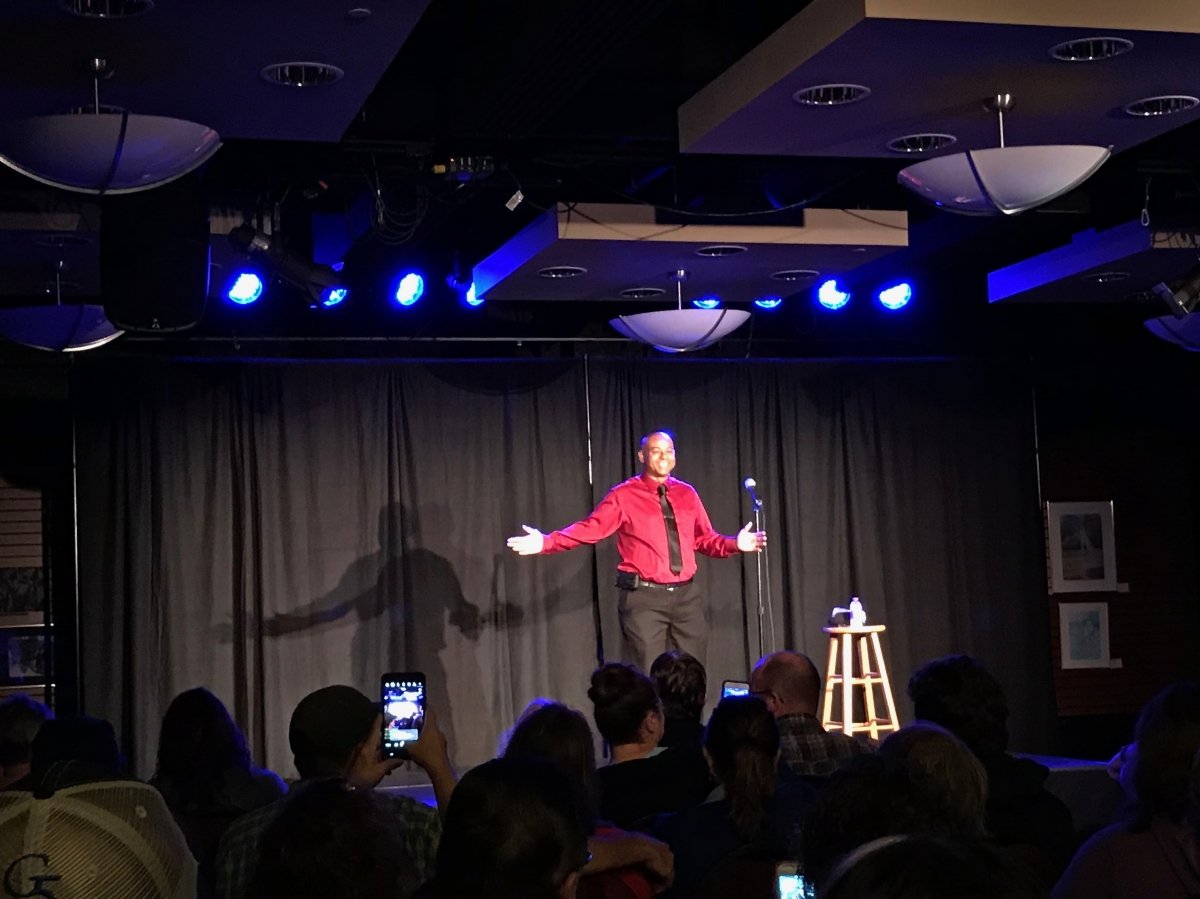 Culture and the arts are alive and well at the non-profit Janesville Performing Arts Center. The venue hosts more than 100 events annually, featuring concerts, dance, drama, symphony orchestra, musicals, and comedy from both local and national touring acts.
Located at the historic Janesville High School, JPAC boasts a 633-seat theatre and art gallery. During our visit, we attended a stand-up performance of Comedy on Main.
The JPAC events calendar and ticket purchases are available both online and at the box office.
---
Rotary Botanical Gardens
---
Situated on the outskirts of town, Janesville's Rotary Botanical Gardens is an award-winning landscape featuring 24 themed gardens and more than 4,000 varieties of plants.
I toured the gardens in the month of October, and had it not been for an autumn nip in the air, I would have sworn I was witnessing a spring bloom.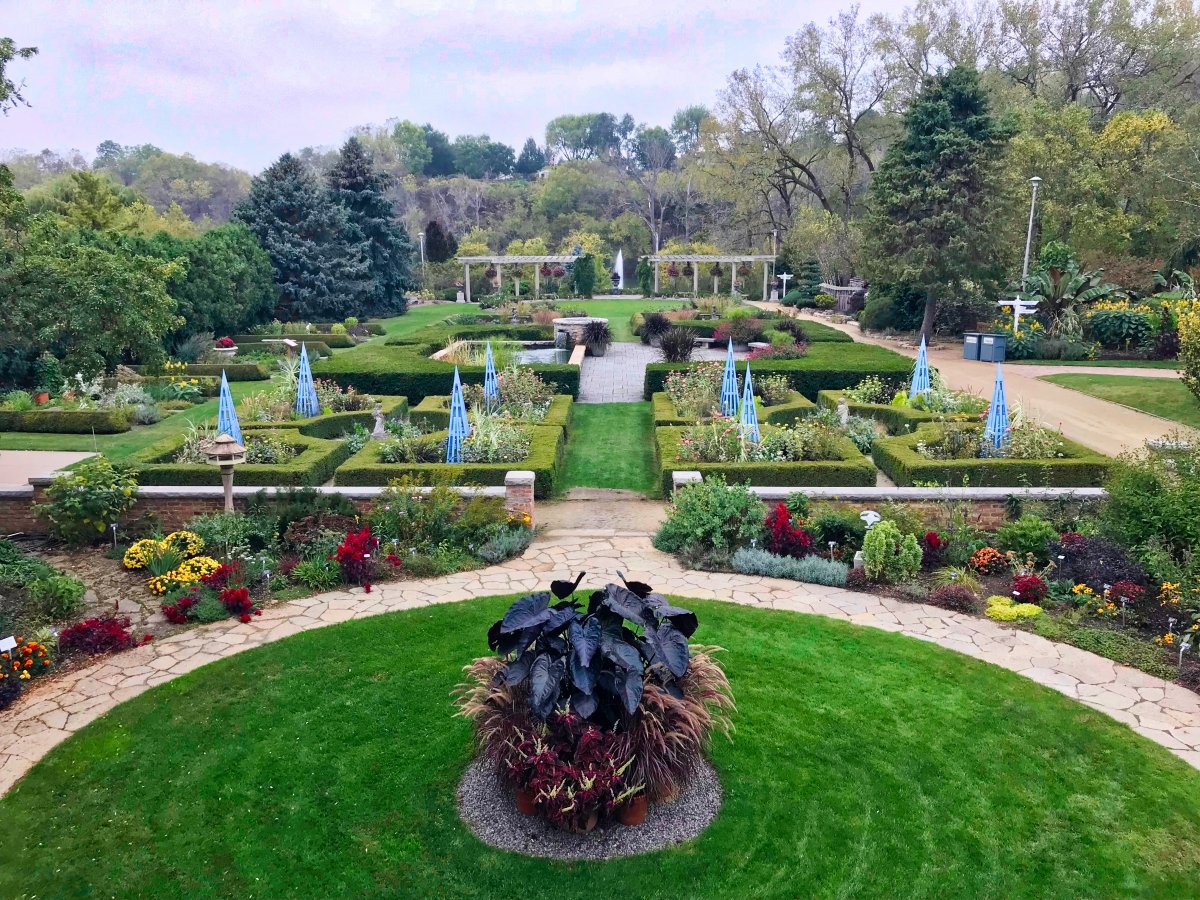 The 20-acre property did not always look this way.
Prior to 1988, when retired orthodontist Dr. Robert Yahr enlisted the support of Janesville's Rotary Clubs and scores of other cleanup volunteers, the site was an abandoned gravel quarry littered with "tons of broken glass, rusty barrels, old tires, concrete slabs, rusty cyclone fencing and underbrush."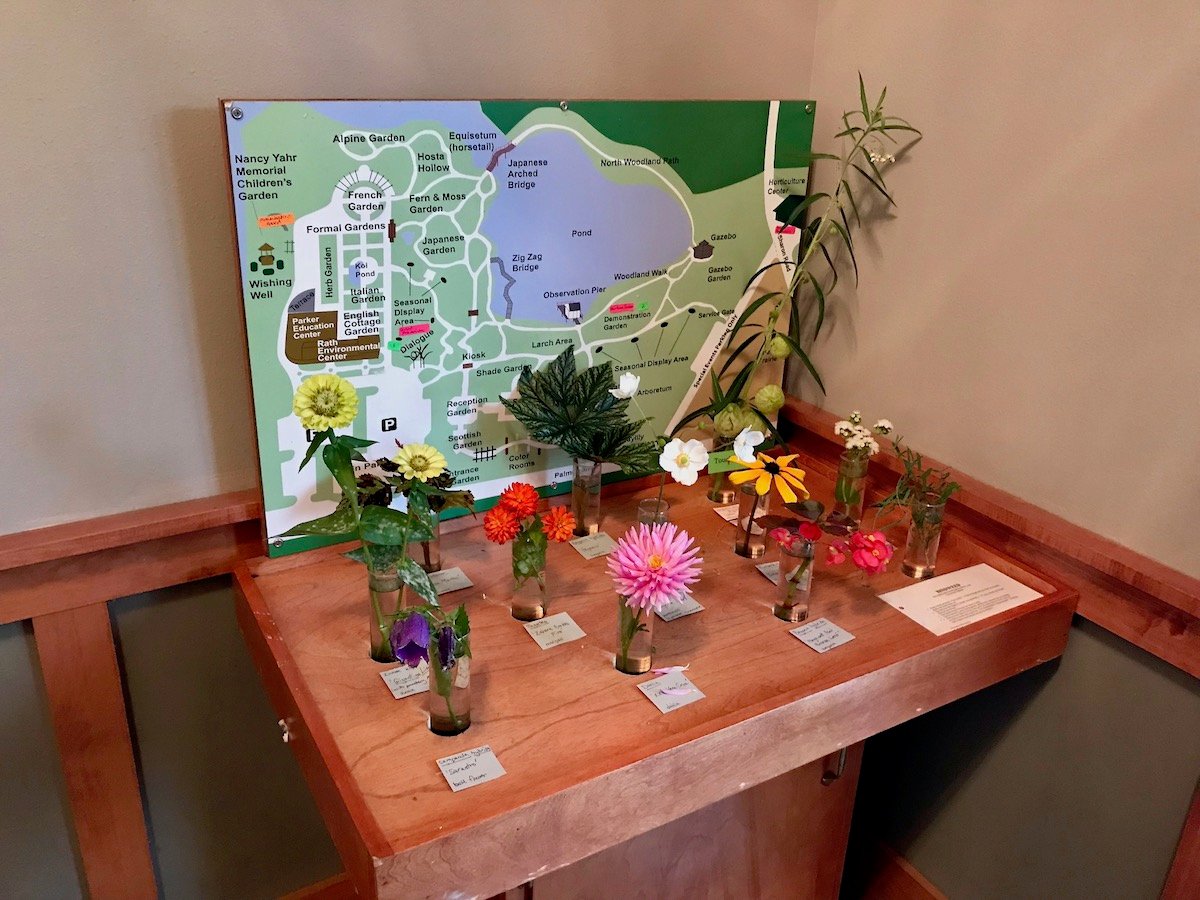 I was delighted to discover a "What's in Bloom" cutting display located near the entrance to the Parker Education Center. It reminded me of a similar display at Bok Tower Gardens near my home in Central Florida. The cuttings are labeled for identification and numbered to match the location where they are blooming in the gardens.
We met up with our guide Art Hilker, a volunteer with an undeniable passion for the gardens, in the English Cottage Garden where Virginia creeper had already begun its autumn blaze.
Just beyond the garden gate we were met by an explosion of color in the seasonal display area.
The harmony of hardscape and softscape was evident as we made our way through the various themed gardens. As a collector of quotes, I was especially drawn to the many park benches etched with garden-related sayings and environmental wisdom.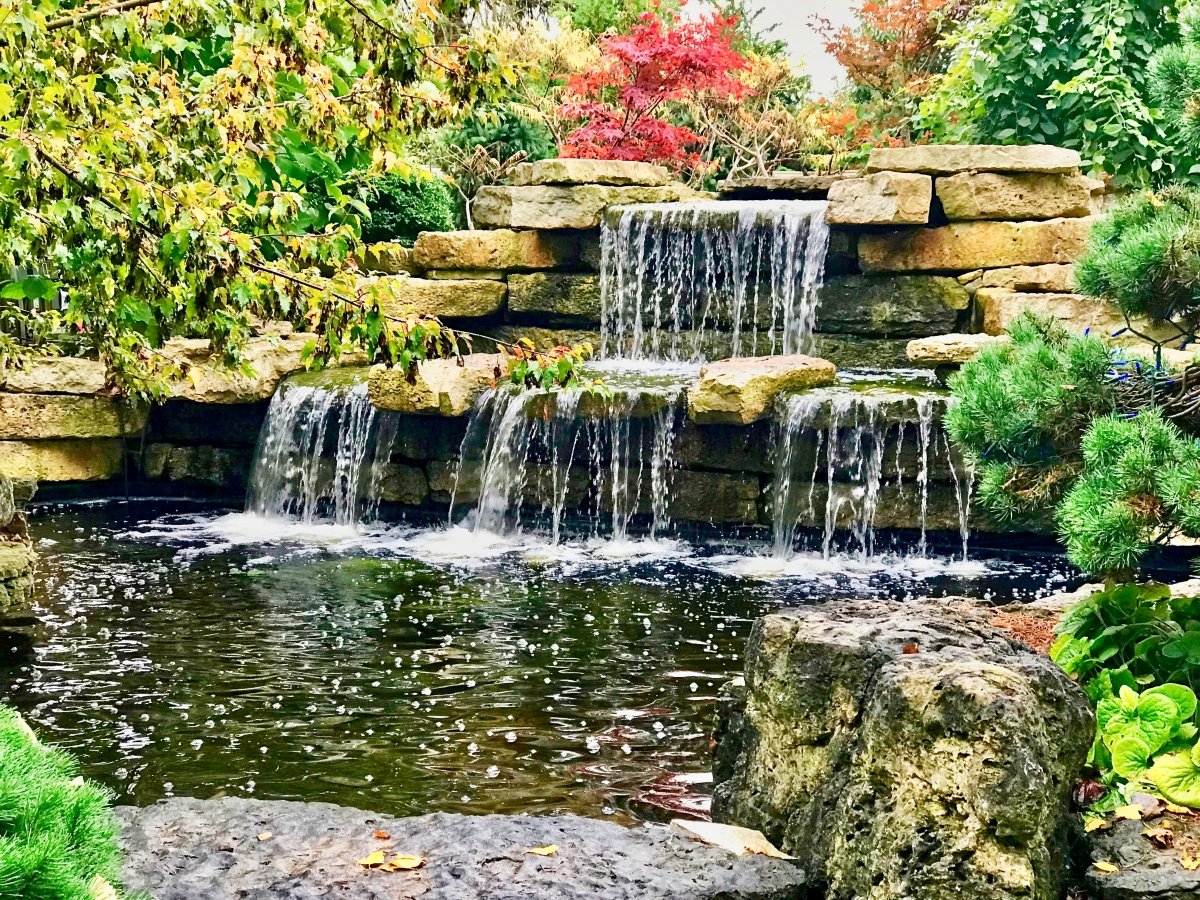 The Japanese Garden prodded me to reflect on my tour of Anderson Japanese Gardens a few days earlier while visiting Rockford, Illinois.
Lush borders and woodland beds brought new perspectives and fresh vistas at every turn.
Leaves, needles, and stems displayed the understated elegance of foliage with its diverse shapes and textures in verdant shades and hues.
And flowers were the multi-colored icing on the cake, that is Rotary Botanical Gardens.
The gardens are open year round at varying dates and times. Admission is charged from April through October, and all fees are $7.00 or less.
---
Wisconsin Wagon Company
---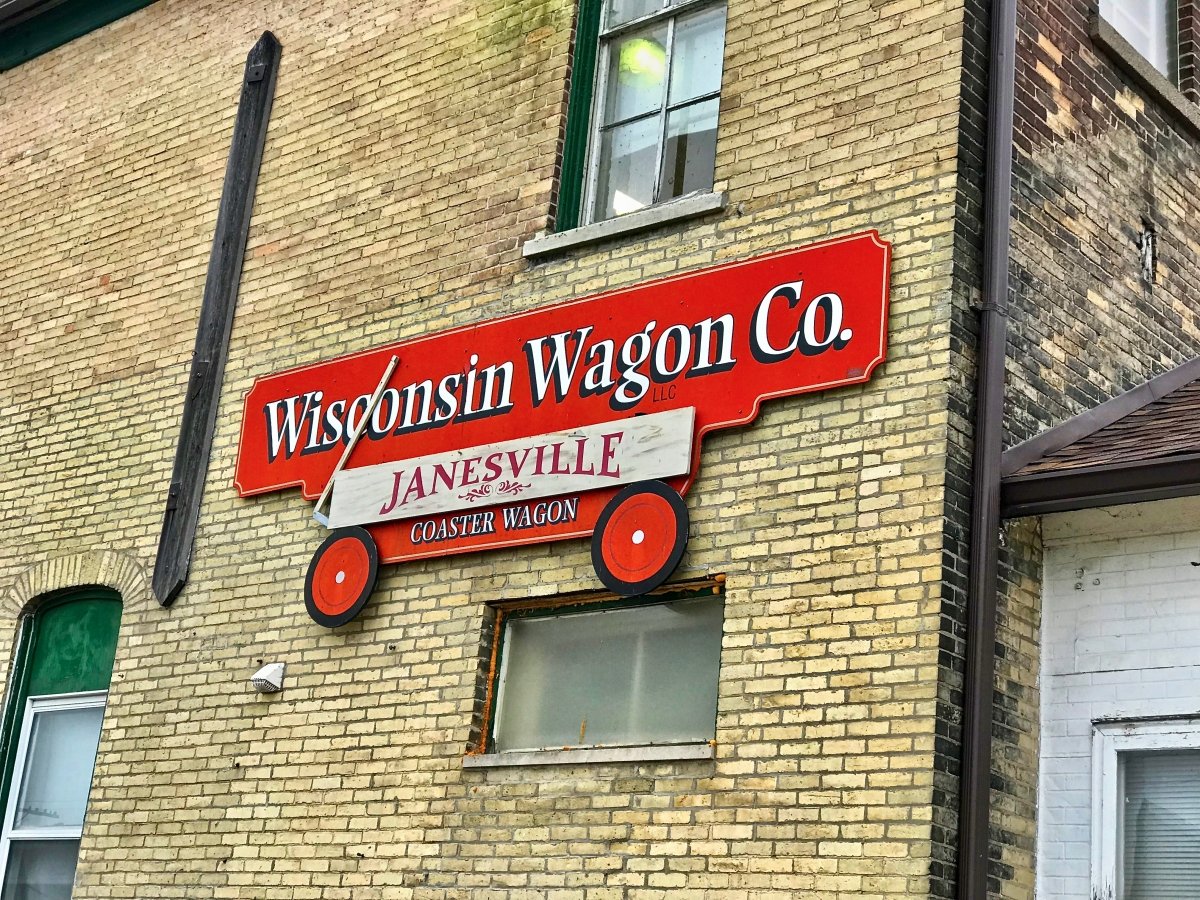 A nostalgic factory tour was up next, and we were about to learn the comeback story of a local heirloom.
In 1915, the Wisconsin Carriage Company, introduced the Janesville Coaster Wagon.
These high-quality wagons constructed from white ash featured spoked wheels, ball bearings, and even a hand brake.
Janesville Coasters were advertised in national publications such as The Saturday Evening Post, and sold by the thousands. However, wagon sales were deeply affected by the onset of the Great Depression, forcing the factory to cease production and close around 1940.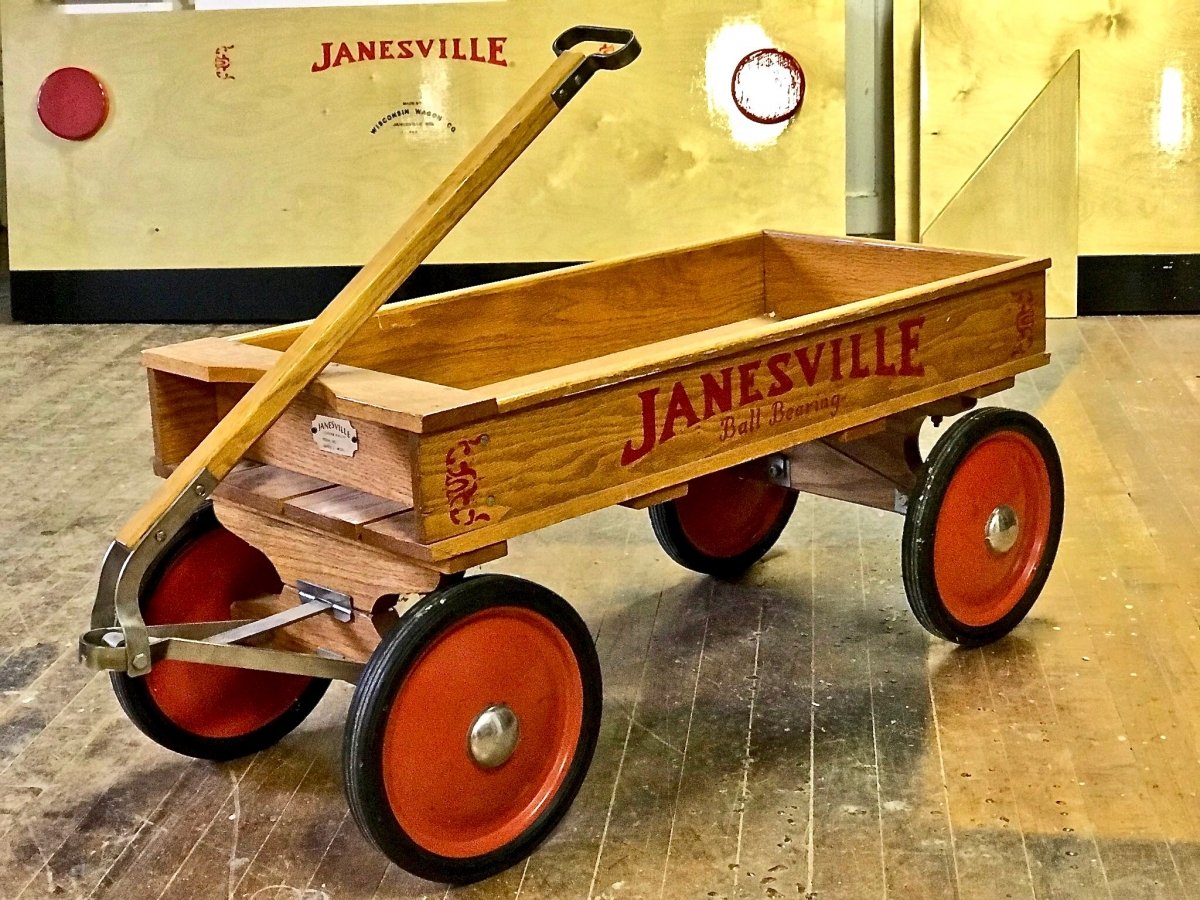 The Janesville Coaster Wagon was resurrected in 1978 when a retired businessman sought to give his first grandson a wooden wagon like the one he cherished as a child.
He located and disassembled an original wagon found in a friend's garage. Using those parts as patterns, he redesigned a new wagon, and the Wisconsin Wagon Company was reborn.
Today constructed with solid red oak and stainless steel hardware, Series II Janesville Coasters retain virtually all of the original wagon features. Each handmade wagon is registered with a numbered nameplate for authenticity and posterity.
The Wisconsin Wagon Company also produces wheelbarrows, sleds, doll beds, rocking horses, and various kitchen accessories with customizable options. All are available for purchase at the online store.
Wisconsin Wagon factory tours are by appointment only for a $5.00 per person fee.
---
Milton House Museum
---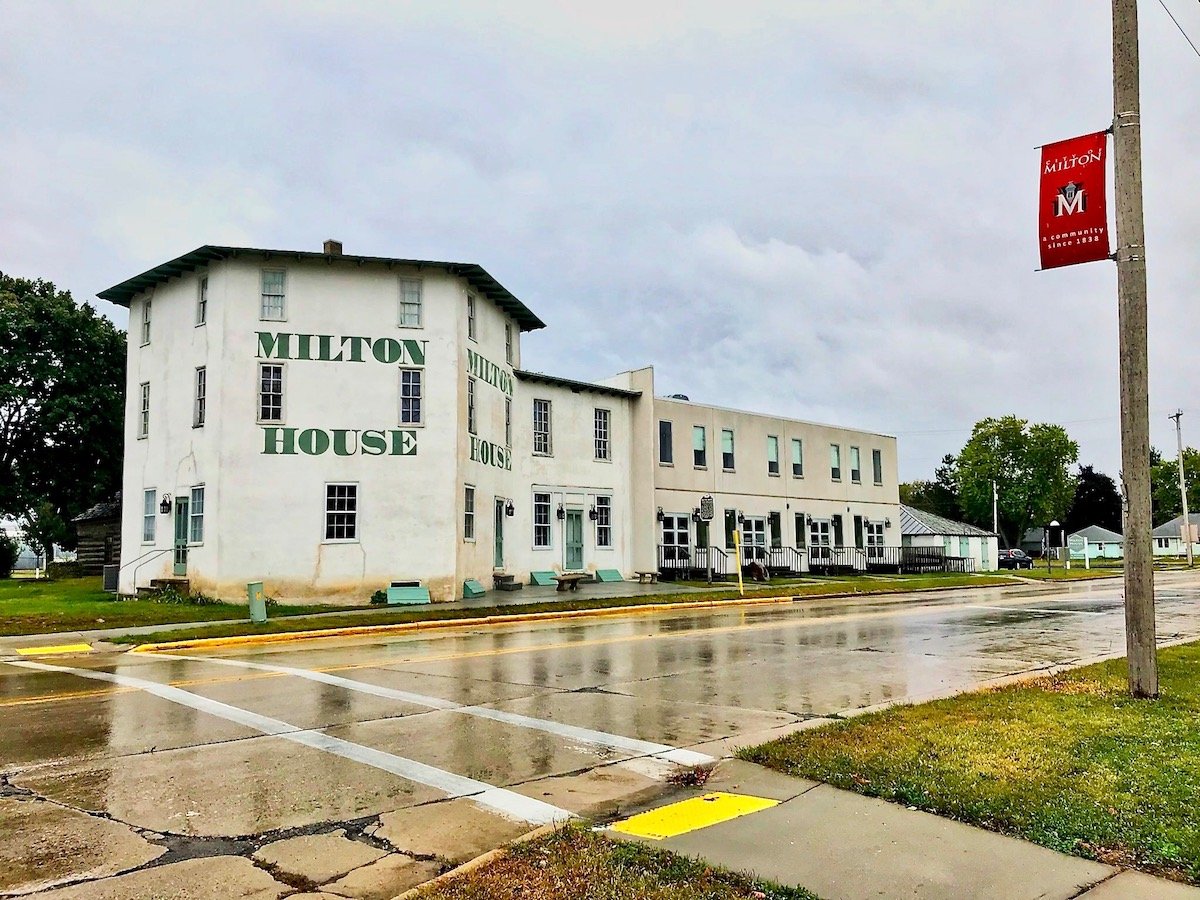 On the second day of my visit, I drove up to Milton, Janesville's neighbor to the north.
As a Civil Rights history buff, I was eager to tour the Milton House Museum and learn more about its storied past.
Our guided tour took us first into a room housing a scale model of the building. The walls were lined with framed historic portraits and vintage photographs.
A three-story hexagonal tower attached to a two-story rectangular wing is not the structure I had expected. Nor was it a common architectural style upon its completion in 1845, according to one writer for the Janesville Gazette who described it as ". . . truly an object of curiosity."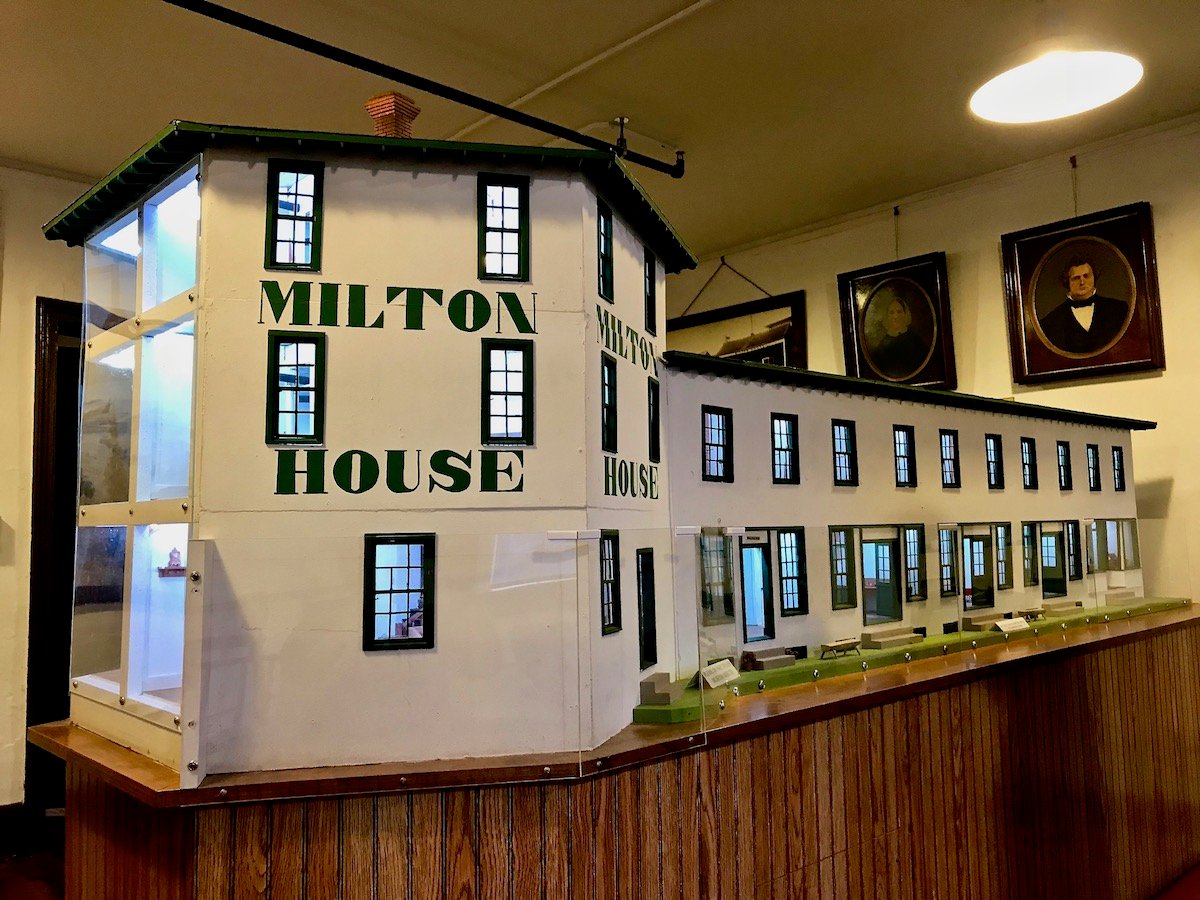 The unique architectural style was attributed to builder and owner Joseph Goodrich, who maintained the design would help him keep an eye out for hostile Indians, and the grout (concrete) construction would be resistant to fire.
But Joseph wasn't fully forthcoming.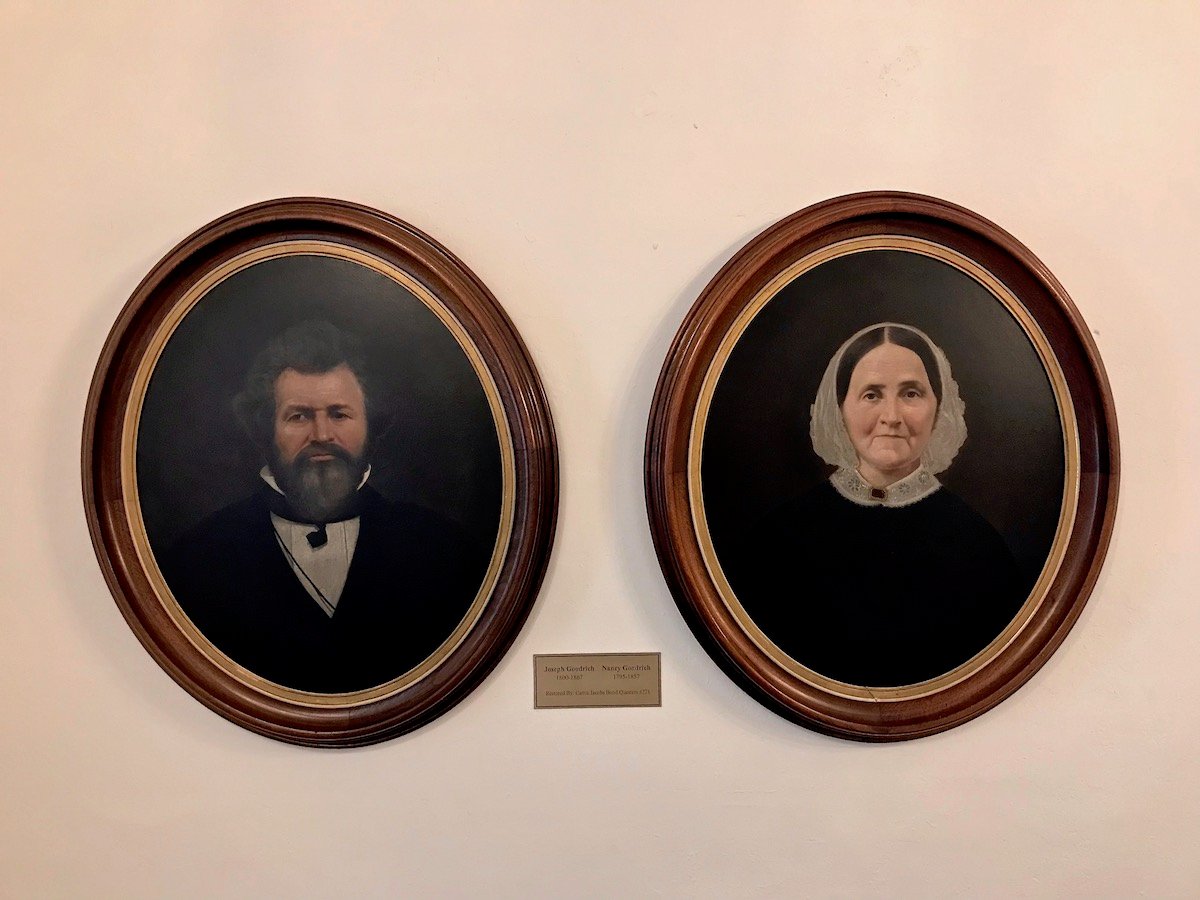 In 1839, Joseph and Nancy Goodrich, their two children, and eight additional friends and family members left their home in New York to settle at a spot Joseph had claimed on a previous scouting trip to Wisconsin.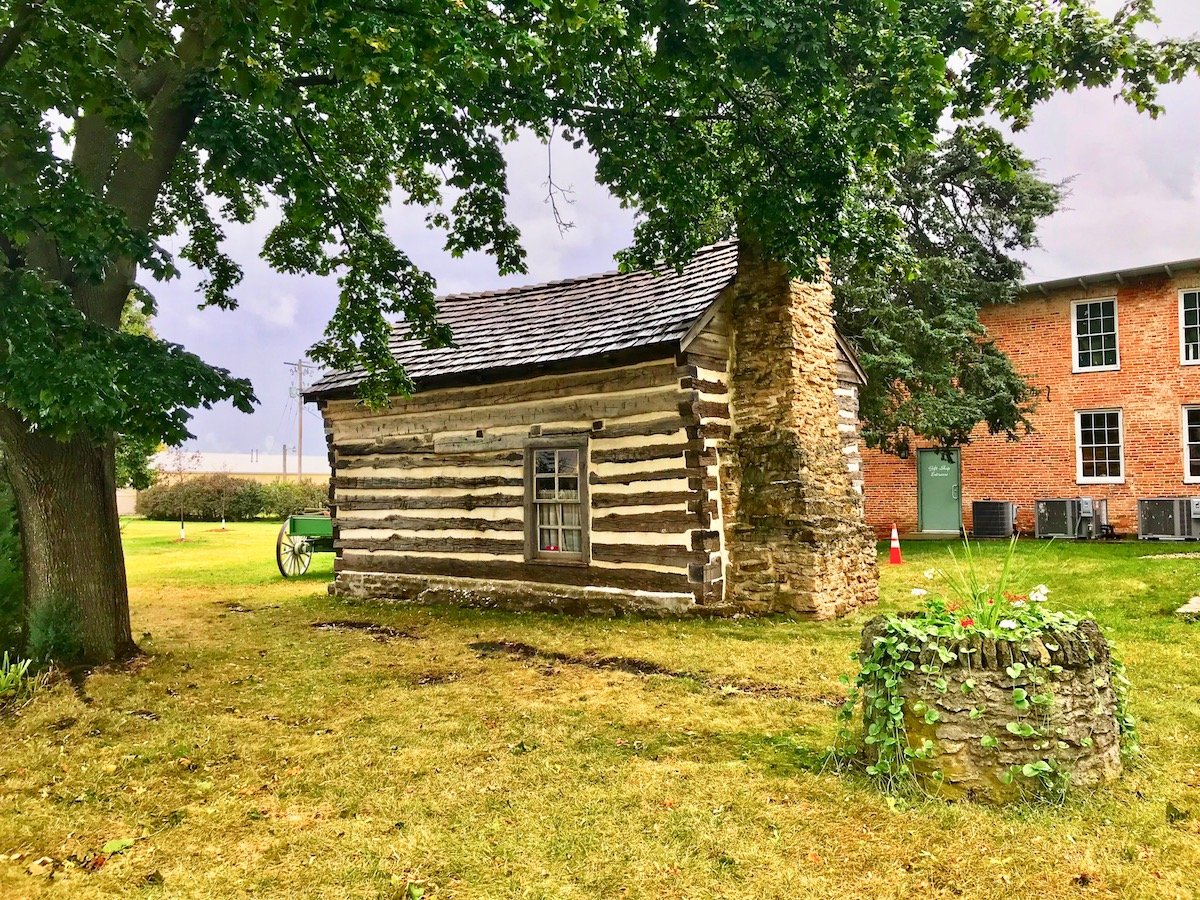 The Goodrich family built a new cabin (now demolished) at this location and also moved the original cabin built during Joseph's 1837 trip to this spot.
Goodrich had selected this location near the intersection of the road from Janesville to Fort Atkinson and the military road between Chicago and Madison with the intention of building a profitable stagecoach stop and frontier inn.
By the late 1870s, at least twenty-five stagecoaches stopped daily at the Milton House. The location remained popular even after the railroad came through and made stagecoach travel obsolete.
But the Goodrich family had other intentions, as well.
Our tour led us next through the inn's lobby, parlor, and dining area on the first floor of the tower.
A central spiral staircase led to the upper two floors where former guest rooms were located.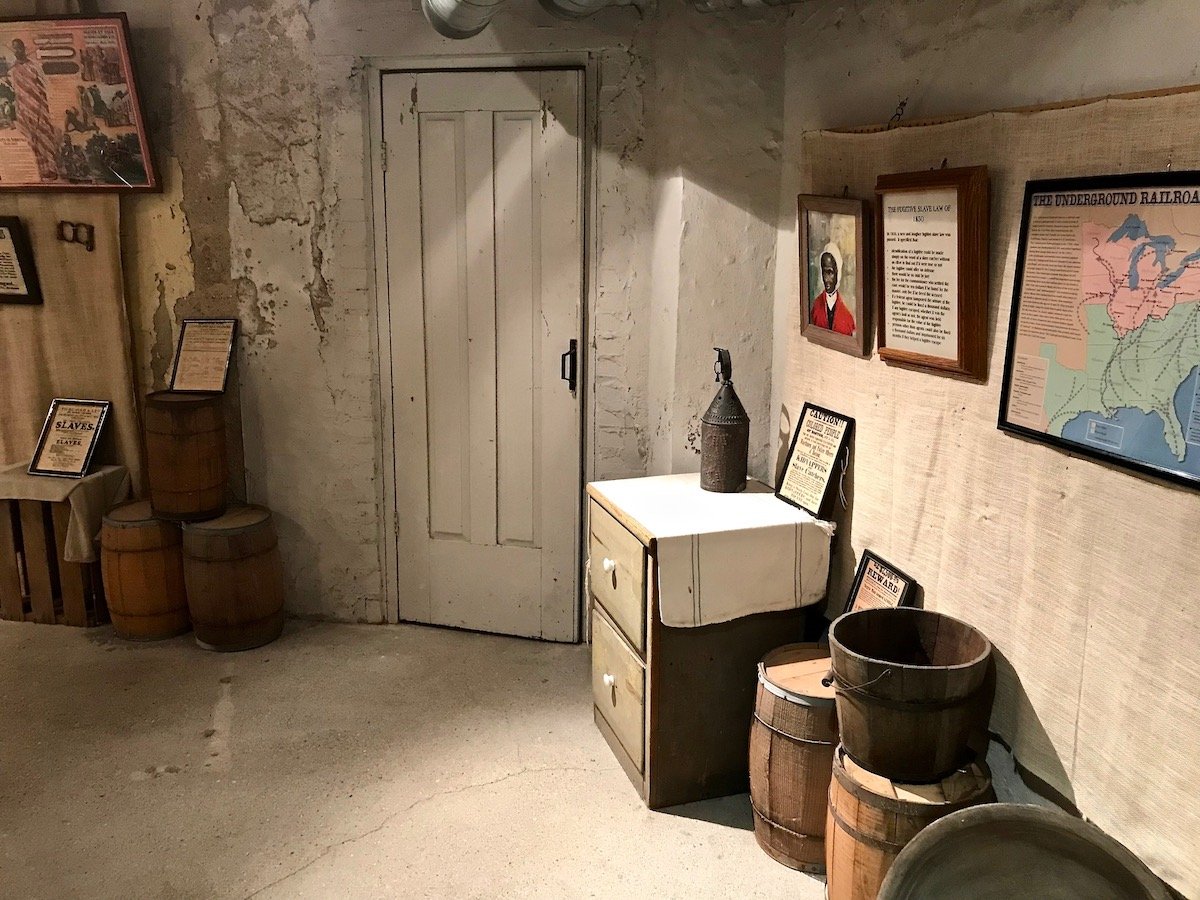 The plot thickened as we descended steps to the tower basement.
While in New York, the Goodrich family had become members of the Seventh-Day Baptist church, a Christian denomination with strong anti-slavery beliefs.
And their convictions influenced them as good stewards of this unusual house.
In addition to its prime location at the intersection of two busy thoroughfares, the Milton House was situated only a few miles from the Rock River. The inn's proximity to those routes made it a place of refuge, not just for weary travelers at nightfall, but also those who moved under the cover of darkness.
The Milton House was a station on the Underground Railroad, assisting fugitive slaves in their journey to freedom in Canada.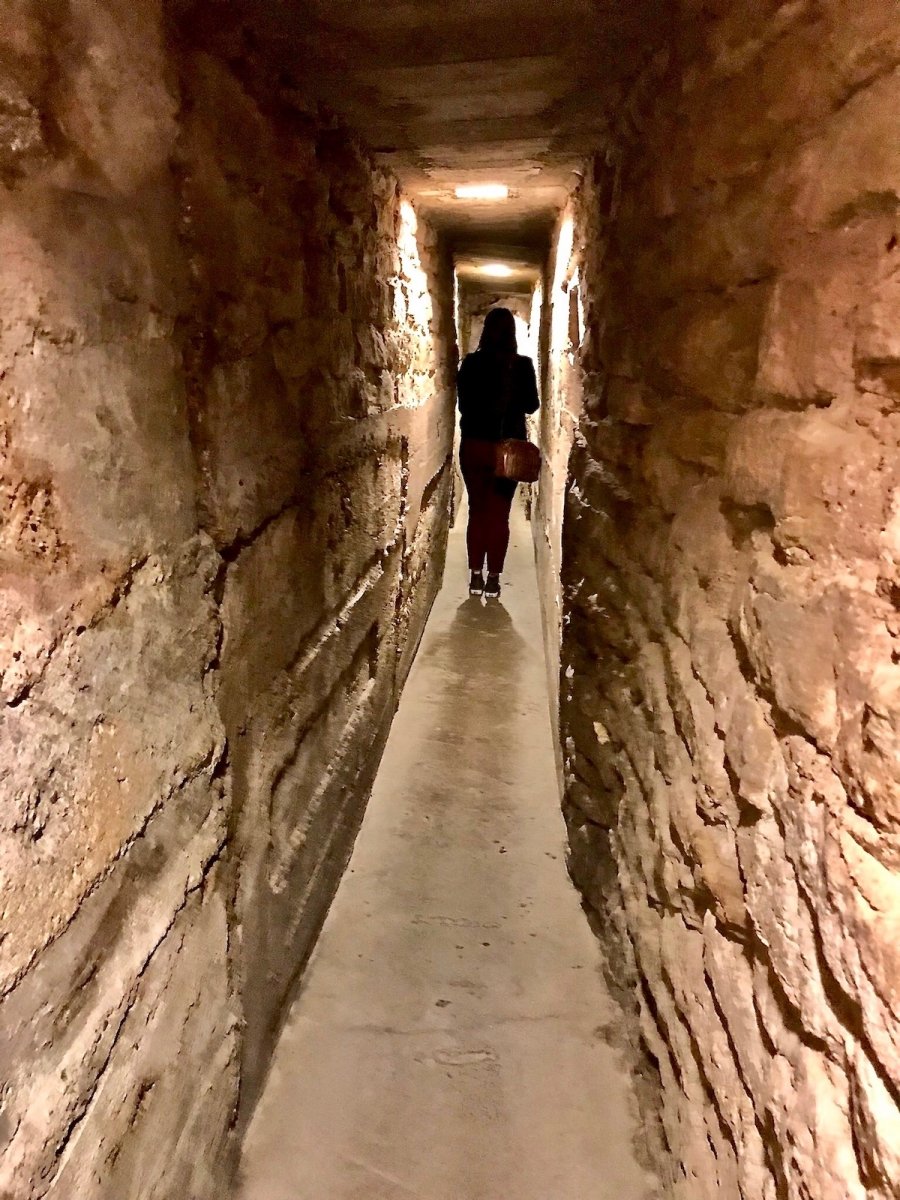 I have explored historic sites on the Harriet Tubman Underground Railroad Byway in Maryland, toured the home of abolitionist John Ritchie in Topeka, and most recently visited the Burkle Estate in Memphis. But the Milton House experience was the first time the Underground Railroad literally took me underground.
Because covert operations in the Underground Railroad were so secretive, no one knows exactly when the 40 foot tunnel between the Goodrich cabin and the Milton House basement was excavated.
The original earthen tunnel was a three to five foot crawlspace. When the Milton House became a museum, the tunnel was expanded and lined with stone and concrete to allow visitors to comfortably walk through the narrow passageway. Trap doors in the cabin and inn were replaced with stairs.
In 1998, the Milton House was designated a National Historic Landmark.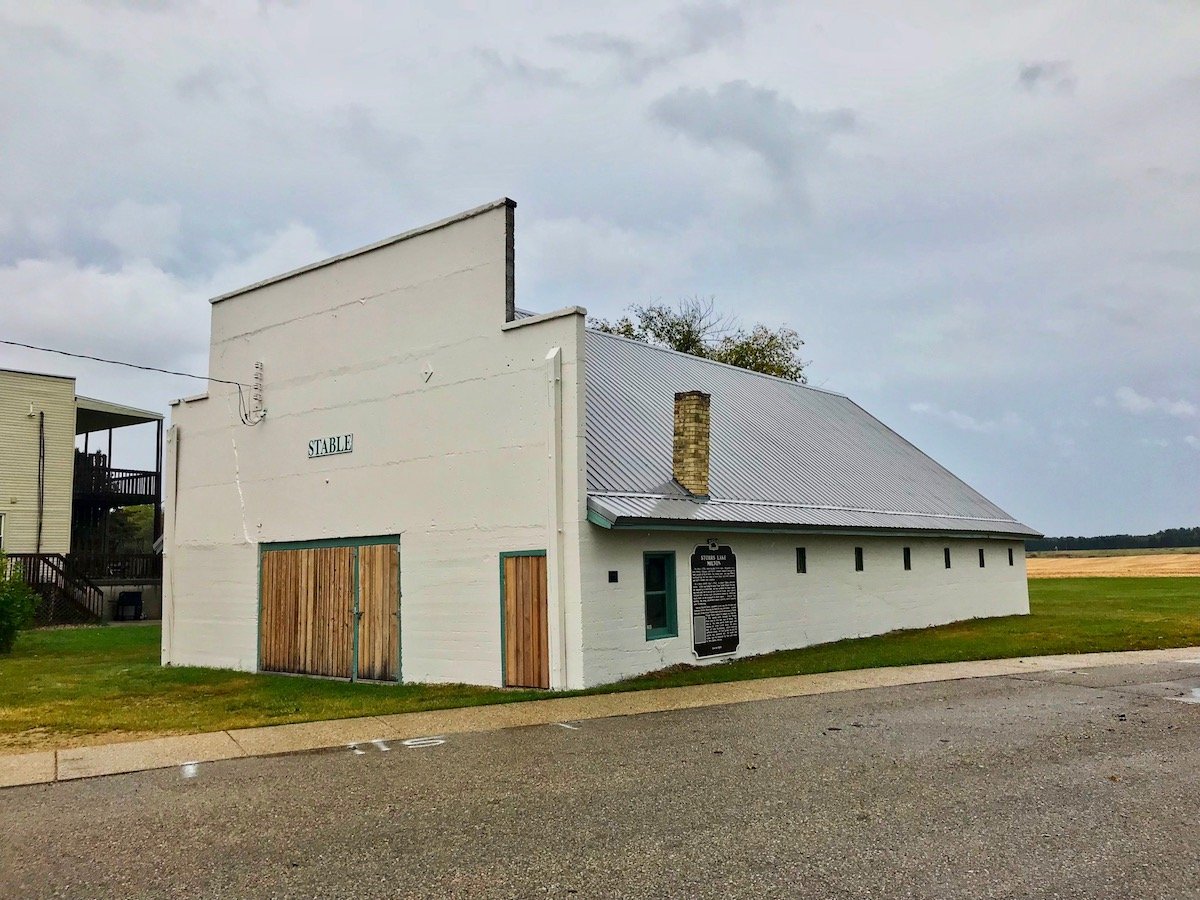 The former livery stable is situated just across the road from the MIlton House. Mounted to its side, an historical marker identifies the location as a US soldier campsite during the Black Hawk War of 1832. One of the mounted scouts was 23-year old Abraham Lincoln.
Guided tours of the Milton House Museum are available daily from Memorial Day through Labor Day, and by appointment during the remainder of the year. All admission fees are $8.00 or less.
---
Dining and Lodging
---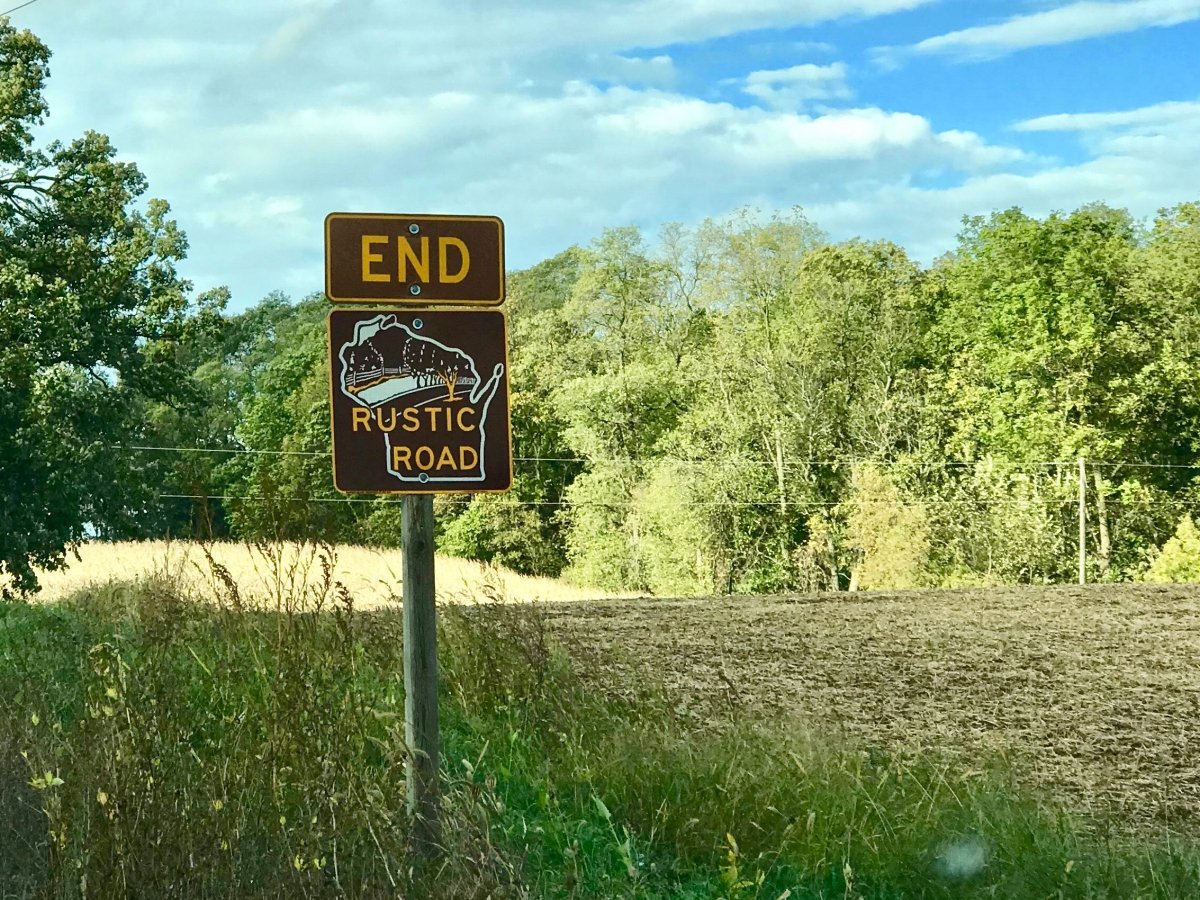 No visit to the Milton House would be complete without the paired experience of a Midwest dining tradition. A short scenic drive along a Wisconsin Rustic Road carried me to my destination on the shore of Lake Koshkonong, a reservoir of the Rock River.
Buckhorn Supper Club
---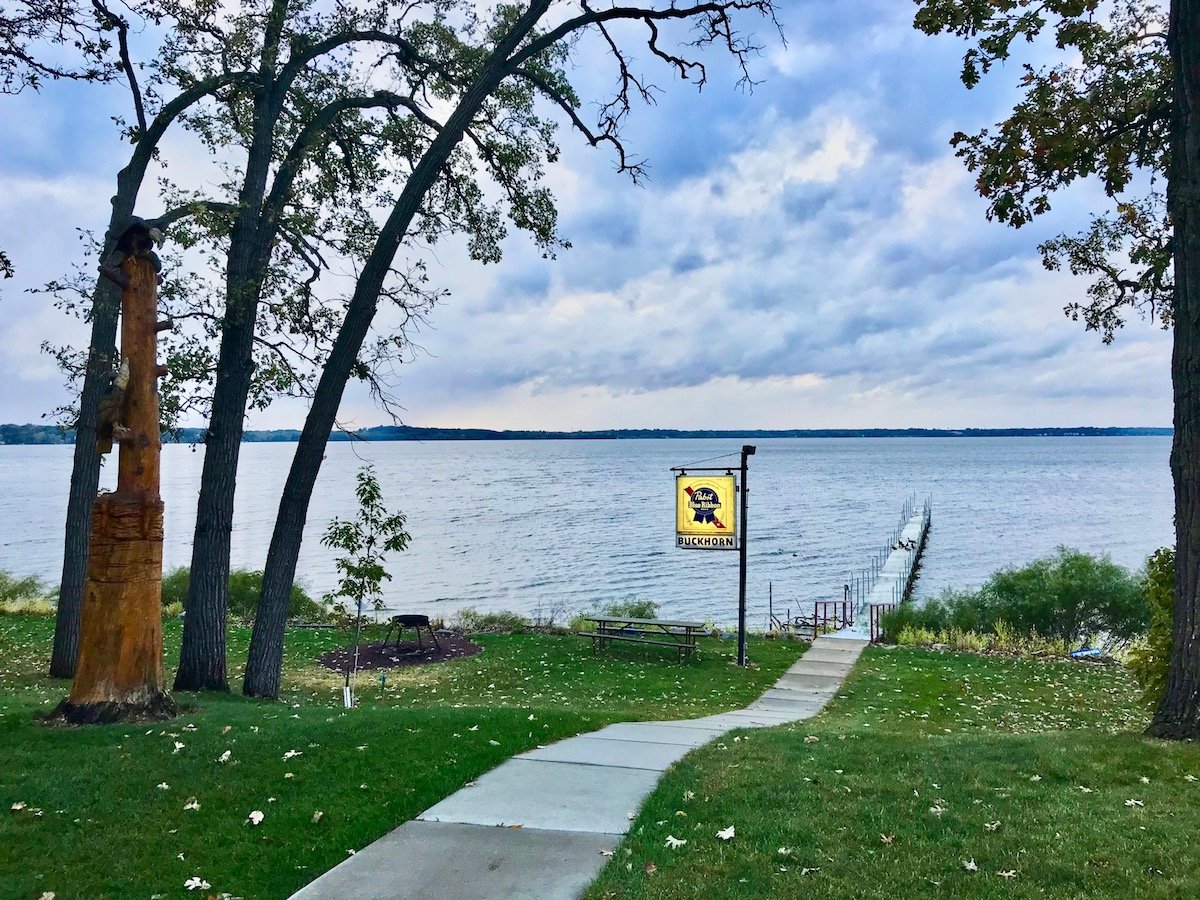 The Buckhorn Supper Club has been serving guests from this spot on Charley's Bluff for more than 85 years.
As I mentioned in my description of Beloit's 615 Club, the Wisconsin supper club is a cultural phenomenon I love, but don't fully understand. So for this lesson I defer you to my friend and social media guru Megan Bannister, a native Midwesterner who explains the dining concept and tradition far better than I ever could.
For me, dinner at the Buckhorn Supper Club was far more than classic menu items and generous portions. Somehow the wood paneling, old-fashioned vibe, picture-window lakeview, autumn light, and great company conspired to create a retro ambience and dining experience I will never forget.
Lark
---
If you enjoy adventures in cuisine, a reservation at Lark in Janesville would be in order. With a menu inspired by old favorites, yet driven by seasonal ingredients, you will want to select a variety of small plates to share with your table.
Craft cocktails are made with fresh-squeezed juices, which meant no cranberry for me, but hey, aren't dining adventures all about nudging you to try something new?
The Looking Glass
---
Lunch at The Looking Glass started with my favorite Wisconsin staple, battered and deep fried cheese curds served up with two dipping sauces. I followed it with an Italian grilled cheese made with sliced seasoned beef, melted mozzarella, grilled red onions, and a side of au jus.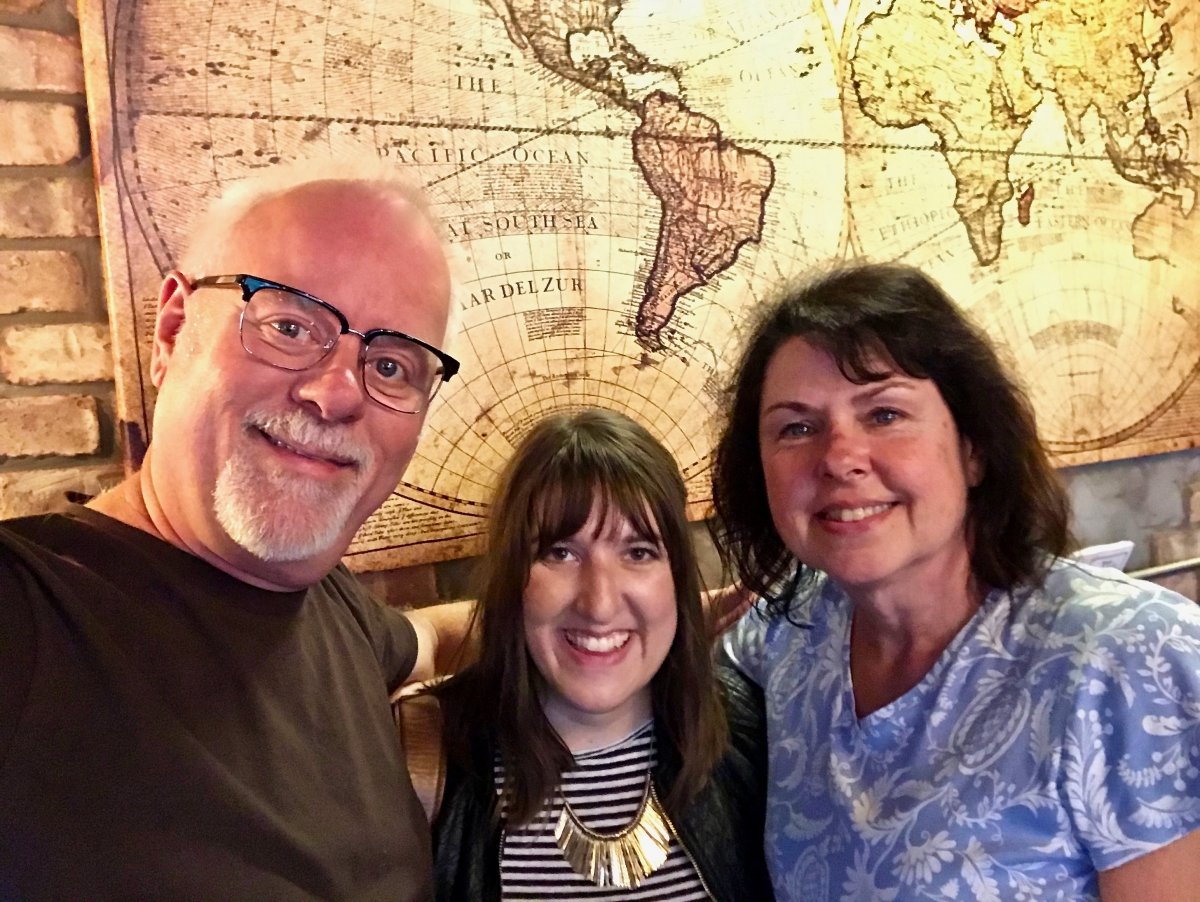 Of course pub grub is always better when enjoyed with kindred spirits, such as my aforementioned colleague, the brilliant Megan Bannister, and our wonderfully attentive Janesville host Susan Melton.
Guardian Angel Bed & Breakfast
---
The 1871 Hamilton Richardson House located in the Prospect Hill Historic District was my home away from home during my Janesville visit.
The Italianate mansion now houses the Guardian Angel Bed & Breakfast. Proprietor Carol Larson will make you feel right at home "with a mix of Victorian charm and simple elegance."
Visitors to Janesville can find lodging with many fine bed & breakfast and campground options.
Click here for more Janesville lodging options on TripAdvisor!
---
Map It!
---
---
We Would Love to Hear From You
---
We enjoy dialogue with our readers, especially when they share off-the-beaten-path destinations and useful travel tips. Have you ever visited Janesville, Wisconsin? If so, we would love to hear about your experience. We invite you to leave your comments and questions below, and we always respond!
---
Pin this Post!
---