(a

10

minute read)
---
Kayaking with sea lions below Willamette Falls and a visit to an organic farm with a killer view headline an urban adventure in Oregon's Mt. Hood Territory.
---
I was a guest of Mount Hood Territory, but all thoughts and opinions are my own. This post may contain affiliate links. Please refer to our our Disclosure/Disclaimer page for more information.
---
Oregon's Mt. Hood Territory
---
Oregon's Mt. Hood Territory encompasses the whole of Clackamas County, stretching from Mt. Hood in the east to the Willamette Valley and Greater Portland in the west.
I know what you're thinking. Oregon's Mt. Hood Territory would be the perfect place for hiking, fishing, skiing, snowboarding, mountain biking, and camping.
And it is.
But those activities would have to wait. This time I would not be exploring the Mt. Hood National Forest nor the 11,245-foot peak from which it takes its name. This time I would be touring the urban region of the Mt. Hood Territory and discovering adventures of another kind.
My Oregon road trip had already taken me through the Tualatin Valley and along the Tillamook Coast, and I was ready to fully experience Mt. Hood Territory's urban region within the Portland metro area.
---
Oregon City
---
My urban adventure would begin in Oregon City, located 13 miles south of downtown Portland. Oregon City is the seat of Clackamas County, and its origin goes back to 1829 when it was first established by the Hudson's Bay Company. (Note: Founded in 1670 as a British fur trading corporation, HBC continues in operation today as the parent company of upscale retail outlets such as Lord & Taylor and Sak's Fifth Avenue.)
Oregon City gained recognition in 1844 as the first incorporated city west of the Rocky Mountains, and as the location of the land claims office, it became the western terminus of the Oregon Trail.
It was nothing less than serendipitous that I found myself at the End of the Oregon Trail after having visited Independence, Missouri, the "jumping-off point," only a few months earlier.
But this trip would not be about frontier trails and historical sites.
---
Willamette Falls
---
Oregon City is also home to the mighty Willamette Falls, a distinction it shares with its sister city West Linn on the opposite bank of the Willamette River.
I viewed the falls from the overlook on McLoughlin Blvd./99E. A bronze bust erected onsite honors Dr. John McLoughlin, Chief Factor of the Hudson's Bay Company and honorary "Father of Oregon."
As U.S. waterfalls go, with an average flow of nearly 250,000 gallons/second, Willamette Falls are second in volume only to Niagara Falls. As necessity and progress would have it, the scenic value of these impressive falls is marred by unsightly hydroelectric power stations and paper mill industrial buildings that line both banks of the river.
The good news is that the Willamette Falls Legacy Project has initiated plans for total redevelopment of the area, beginning with designs for a Willamette Falls Riverwalk. I cannot wait to see this magnificent scenic water feature get the presentation it deserves.
Two miles below the falls, I checked-in at the docks of eNRG Kayaking to begin an intimate encounter with the Willamette River.
The outfitter's director Sam Drevo, a former member of the U.S. Canoe and Kayaking Team, and his furry buddy Mojo met me on arrival for a custom kayak fitting and brief orientation.
Almost immediately on our guided tour, we paddled through a colony of California sea lions. Although the species is native to the Pacific Coast, radical groups occasionally migrate into freshwater rivers.
Getting up-close and personal with sea lions on the tour was a thrill, but sadly their presence is threatening thirteen federally-protected species of salmon and steelhead trout, some to the point of extinction. As you might expect, this situation has created an issue between state wildlife officials, animal rights activists, and other Oregonians.
Here's hoping they find a workable solution!
Our kayak journey continued upriver along the basalt cliffs and beneath the arched 1922 Oregon City Bridge. Rumor has it that daredevil motorcyclists and pedestrians have traversed the river by way of the arch.
Perish the thought!
We headed across the river toward the west bank for a look inside the downstream entrance of the historical Willamette Falls Locks, the oldest multi-tiered lock system in the nation. The locks opened in 1873 to allow vessels to navigate around the falls. In 2011, the locks closed permanently due to decreased traffic and aging parts.
This shot, courtesy of Sam, shows our closest proximity to the falls. I am not sure how close you can safely paddle based on seasonal flow, but I have seen photos on the eNRG website that show kayakers much closer than we traveled during my tour.
On our return trip we had another encounter with sea lions swimming mid-river beneath the I-205 bridge.
90-minute kayak and stand-up paddle board tours on the Willamette River run $60 per person. Rentals are $20 per hour or $70 for the entire day. Additional services, trips, and locations are detailed on the outfitter's website.
My first urban adventure in the Mt. Hood Territory was a blast, thanks to Sam, Mojo, and eNRG Kayaking!
---
Our Table Cooperative
---
I first learned about agritourism when I visited several locations on Mesa, Arizona's Fresh Foodie Trail®. So I was excited to be expanding my repertoire with a lunchtime visit to an Oregon organic farm. Our Table Cooperative, situated on a 58-acre urban property near Sherwood, offers visitors an on-farm store, food service, U-pick crops, and seasonal events.
The co-op farm store was a pleasant blending of garden center, decorating boutique, deli, and produce market.
I could not stop taking pictures.
The fresh selection of 90% Certified Organic and 80% Oregon-sourced produce, eggs, dairy, bakery, wine, and preserved goods made me want to grab a basket and start shopping.
Cooperative members receive discounts and other ownership benefits, but the farm store is open to the public. The most surprising thing I learned during my visit is how these healthy options are priced competitively with chain grocery outlets.
At lunchtime, I was introduced to Kombucha for the first time. Kombucha is a fermented tea with Asian origins touted to boost wellness. Although the verdict is still out on its health benefits, it was fun to sample an exotic beverage for the first time.
Rather than order from the menu, I requested a sampler plate from the kitchen. The selection was fresh, tasty, colorful, and I found it invigorating to enjoy a healthy lunch outdoors overlooking the fields.
After lunch, it was time for a guided tour of the farm. It was spring, so the greenhouses were bursting at the seams and farmers were at work planting seedlings in freshly-tilled rows.
Mt. Hood provides a majestic backdrop for the farm. Who wouldn't want to work the fields with a panoramic view like that?
Our Table grows organic fresh flowers as companions for their fruits and vegetables. Flowers not only provide color and beauty, they play a valuable role by attracting bees, butterflies, and other pollinators.
Compost piles may not be the most scenic or fragrant aspect of organic farming, but the resulting product is black gold.
The farm at Our Table Cooperative is Certified Organic under the USDA National Organic Program (NOP) and most food products sold at the store are Certified Local Food™ either grown on the farm or supplied by regional producers. The store is open to the public Wednesdays through Sundays 10:00 AM – 6:00 PM.
Only 18 miles from downtown Portland, my second urban adventure felt holistically rural, and this soft-adventurer left feeling renewed, refreshed, and reassured having made acquaintance with a leader in America's return to sustainable agriculture and healthy eating.
I did not realize it at the time, but I was only five miles from the Tualatin River National Wildlife Refuge, my first urban outdoor adventure in Oregon, making my road trip itinerary to that point a virtual loop.
---
Lodging
---
Host accommodations during my visit to the Mt. Hood Territory were in Lake Oswego at Lakeshore Inn, the only hotel located on this urban lake, eight miles from downtown Portland.
The twilight view from the deck of my suite was exceptional.
Click here to book your stay at the Lakeshore Inn on TripAdvisor!
Click here for more Mt. Hood Territory lodging options on TripAdvisor!
---
Dining & Spirits
---
The Mt. Hood Territory's urban region offers excellent dining options and an award-winning distillery, as well.
Stickmen Brewing
---
Dinner the first evening was a grilled salmon salad at the Stickmen Brewing Company pub in Lake Oswego, a one-minute walk up the block from Lakeshore Inn. Kudos to the sociable mixologists who kept me entertained while enjoying my solo meal at the bar!
Highland Stillhouse
---
Dinner the second evening was at the Highland Stillhouse, a popular Scottish pub situated across the street from the Willamette Falls overlook.
I enjoyed a hearty fish and chips in the al fresco dining area as the sun set over the falls. Pubs and fish two nights in a row . . . . What can I say?
Trail Distilling®
---
My first afternoon in town, I stopped for a tour and tasting with the folks at Trail Distilling®, the "first distillery in the First City west of the Mississippi since Prohibition."
Say that three times fast!
Open less than a year, Trail Distilling® has already won silver medals for their handcrafted First City vodka and Trillium gin, made from Cascadian glacial water and naturally-harvested grain. I am no gin aficionado, but I was especially intrigued to learn about the 14 fragrant botanicals and aromatics that flavor the spirits during the distilling process.
As a confirmed completionist, I gave each of the 14 bottles a devoted sniff!
The Trail Distilling® tasting room is open on weekends and by appointment.
When you stop by, be sure to enjoy a Trillium Kiss cocktail on me!
---
Map It!
---
---
How to Plan an Oregon Road Trip
---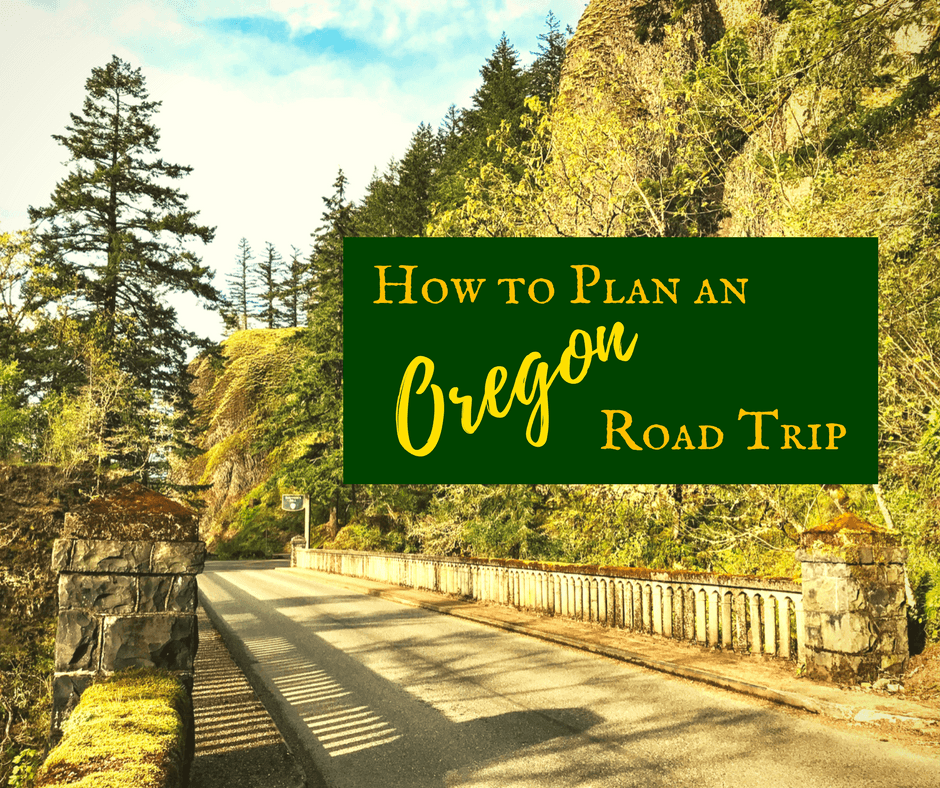 For a wealth of additional Oregon destination information and resources, navigate to our How to Plan an Oregon Road Trip guide, or select from the listing below:
---
We Would Love to Hear From You
---
We enjoy dialogue with our readers, especially when they share off-the-beaten-path destinations and useful travel tips. Have you ever had an urban adventure in Oregon's Mt. Hood Territory? If so, we would love to hear about your experience. We invite you to leave your comments and questions below, and we always respond!
---
Pin this Post!
---