(a

14

minute read)
---
A pullover-packed drive along the North Oregon Pacific Coast is a scenic vision with rocky cliffs, crashing waves, plunging waterfalls, and hikes in the rain.
---
I was a guest of Tillamook Coast, but all thoughts and opinions are my own.
---
The North Oregon Pacific Coast
---
The Tillamook Coast would be the second regional destination on my Oregon road trip. Having spent a perfect day exploring the scenic Tualatin Valley, I headed west on Route 6 through the Tillamook State Forest.
Click on the map image for a downloadable PDF recreation guide.
---
Tillamook Forest Center
---
My first stop was at the Tillamook Forest Center, an interpretive and educational center that offers a wealth of state forest and recreational resources for visitors to the area.
The forest center occupies a narrow strip of land between Route 6 and the Wilson River. The most prominent feature on the property is a 40-foot replica forest fire lookout tower open to guests. A pedestrian suspension bridge across the river connects the center with the Wilson River Trail and Jones Creek Campground.
Interactive exhibits within the center tell the story of the Tillamook Forest through the eyes of ancient Native Americans, homesteaders, loggers. and firefighters.
Loaders like the rebuilt Tunnel Creek Steam Donkey were used from 1906 to 1933 to haul logs up hills to train cars.
A model stream portraying the life cycle of salmon, and other such environmental displays, interpret plant and animal life within the forest.
The award-winning documentary "Legacy of Fire" gives an account of the Tillamook Burn, a series of massive wildfires that ultimately destroyed 355,000 acres of forest in the 1930s and 40s. In the succeeding decades, a host of volunteers helped reforest the area with 72 million Douglas fir, spruce, cedar, and hemlock seedlings. The land immediately surrounding the forest center was completely replanted by local schoolchildren.
---
Tillamook Cheese Factory
---
Arriving in town, I pulled into the parking lot of the Tillamook Cheese Factory's temporary visitors center. I am no connoisseur, but as a cheese-lover I never pass up the opportunity for a tasting.
The Tillamook County Creamery Association, one of the largest dairy cooperatives in North America, produces and sells cheese, butter, sour cream, ice cream, and other dairy products under the Tillamook brand name.
A barn-style building on the property is a stop on the Tillamook Quilt Trail.
If I didn't know better, I would never have believed the visitor center was not permanent. The interpretive and educational displays about life on a dairy farm and the production of cheese were of high quality and engaging.
The best part of the visitor experience for me was the wide variety of cheeses available for sampling and, of course, lunch. What could warm the soul better on an overcast spring day than a grilled cheese sandwich and cream of tomato soup with cheese curds?
---
Three Capes Scenic Loop
---
With a full belly, I set off on the first segment of my drive along the the North Oregon Pacific Coast. The Three Capes Scenic Loop is a 70-mile route that can easily be completed in a single afternoon, but best enjoyed when given a full day. The route takes its name from the three capes situated along the route: Cape Meares, Cape Lookout, and Cape Kiwanda.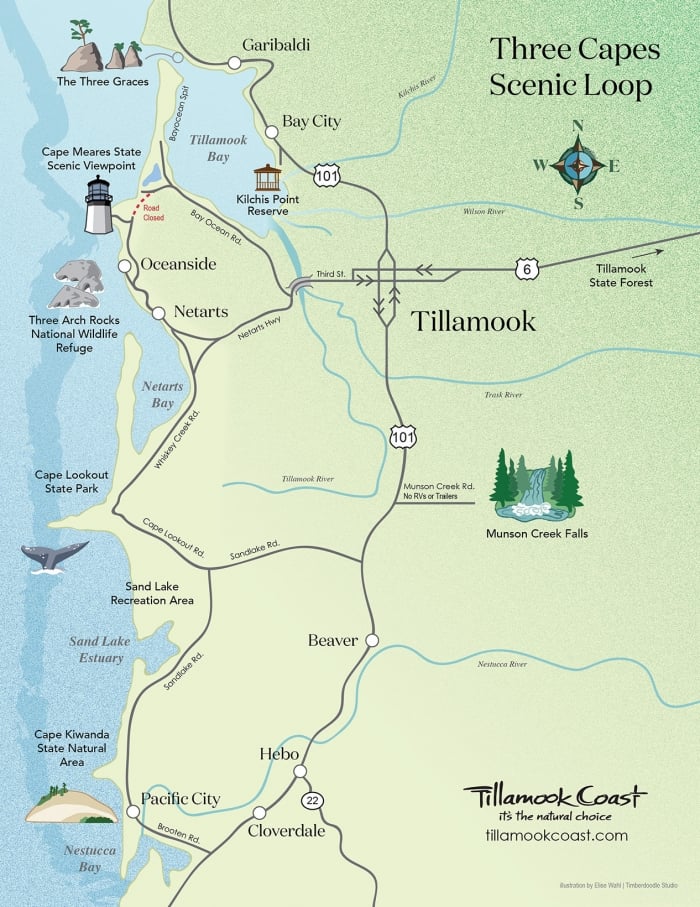 As scenic loops go, you can begin and end at any point along the route. Beginning in Tillamook, I chose to drive the Three Capes Scenic Loop in a counterclockwise direction, traveling first along the coast and inland on the return.
It is important to note when reaching the fork in the road after crossing the Tillamook River, to veer left on Netarts Hwy. A road closing on Bay Ocean Rd. prevents access to Cape Meares, the northernmost stop on the route.
The inland portion of the Three Capes Scenic Loop along US Route 101 between Tillamook and Cloverdale is also a segment of the Pacific Coast Scenic Byway. I highly recommend that anyone driving the PCSB take a detour from the inland route and drive along the coast.
Rumor has it that the Three Capes Scenic Loop has been nominated to become a National Scenic Byway in its own right.
Download a free Driving Guide to Oregon Scenic Byways and Tour Routes (PDF).
Coastal Oregon Native Plants
---
Roadside native plants always add to the beauty of scenic drives, and they are one of my frequent reasons for pullovers. During my visit in mid-April, Oregon's native flora was showing out!
I had barely left town when I began passing thousands of what appeared to be burnt sticks emerging from the ground along the roadways. Of course, I had to pull over and investigate. What I saw were not burnt sticks, but rather the most bizarre, alien-looking sprouts I had ever seen.
As it turned out, these sprouts were horsetail (Equisetum arvense), an aggressive, yet beneficial native plant. Equisetum is considered a living fossil, having survived for over 100 million years. Native people of the Pacific Northwest used the sprouts for food and mature plants for polishing tools. Horsetail's medicinal qualities include hemostatic, styptic, and diuretic uses, and inclusion in urinary formulas. As pictured, the plant produces both reproductive and vegetative stalks.
Thanks to the Oregon Native Plants Facebook Group for providing information and assistance in identifying this amazing plant!
Also abundant in the wetlands, were the yellow-blooming western skunk cabbage (Lysichiton americanus). The plant takes its common name from its distinctive fragrance. Bears eat the roots for their laxative and cathartic qualities following hibernation.
Large sections of shady roadside were blanketed in white-blooming sweet coltsfoot (Petasites frigidus). Although I did not try them, one source says the flower stems and leaf stalks are edible. Another source says they can cause cumulative liver damage. I think I will admire them from afar.
Cape Meares State Scenic Viewpoint and Wildlife Refuge
---
The majestic rocky cliffs and crashing waves at Cape Meares State Scenic Viewpoint and Wildlife Refuge were everything I imagined them to be.
Before exploring the many viewpoints and trails around the cape, I headed up a short trail from the parking area to take a peek at the Octopus Tree. Estimated to be more than 250 years old, this gigantic Sitka spruce has multiple skyward-reaching branches that resemble tentacles, as opposed to a central trunk. Sources have debated whether the tree's unique shape is a result of natural forces or the work of Native Americans.
The most prominent manmade feature on Cape Meares is the 1890 lighthouse, located at the westernmost tip of the cape. Though deactivated in 2014, Oregon's shortest lighthouse still strikes a regal pose against stormy skies.
A central trail through a wooded area and south-facing coastal trail both lead to the historic light.
Nesting seabirds flock to the jagged cliffs and migrating whales move near the distant Pillar Rock and Pyramid Rock.
Three Arch Rocks National Wildlife Refuge
---
Traveling south, I pulled over at the Symons State Scenic Viewpoint in Oceanside. This location along the Oregon Pacific Coast gives a great view of the Three Arch Rocks National Wildlife Refuge, also visible from Cape Meares.
The Three Arches NWR supports breeding colonies of murres, tufted puffins, and Steller sea lions. Roadside signs never let travelers forget nature's ugly side.
Netarts Bay
---
I pulled over for a look at Netarts Bay, an estuarine bay rich in clams, oysters, and crabs. I did not know it at the time, but I would return to this location later for seafood and sunset.
Cape Lookout State Park
---
One of the most stunning vistas along the Oregon Pacific Coast was at a pullover south of the main entrance to Cape Lookout State Park. This area, know as Anderson's Viewpoint is a popular hang-gliding launch that gives a stellar view of the sand spit that borders the western side of Netarts Bay.
The state park recreation area has a day use parking fee, and since I could not stay I snapped a couple of pictures and moved on.
Sand Lake Recreation Area
---
A few miles south of Cape Lookout, there was a dramatic shift in scenery along the route. Suddenly, the rocky cliffs turned into sand dunes.
The golden dunes bordering both sides of the highway brought an otherworldly ambience to the coastal drive.
The Sand Lake Recreation Area, located within the Siuslaw National Forest, is a popular destination, not just for all-terrain vehicle enthusiasts, but also for those who love camping, hiking, swimming, and fishing.
Cape Kiwanda State Natural Area is the third cape in the Three Capes Scenic Loop, but I did not did not get to explore this area as much as I would have liked. I had one more stop to make on the inland part of the route.
Munson Creek Falls State Natural Site
---
It was getting late in the day, and it was raining, but I am a confirmed waterfall-chaser, and I was not about to let this beauty slip through my fingers.
A series of three drops totaling 319 feet, make Munson Creek Falls the tallest waterfall in the Coast Range, and the viewpoint can be reached by hiking a lush half-mile trail from the parking area.
Munson Creek below the falls is a salmon spawning ground during the late fall and winter. My visit was in the spring, so I did not get to witness this act of nature.
---
Kilchis Point Reserve
---
The next morning I would do another hike in the rain. Along the Oregon Pacific Coast, rain goes with the territory. If they scheduled activities around rain, Oregonians would never get anything done.
So, when in Oregon . . . do it in the rain!
The trailhead for Kilchis Point Reserve was conveniently located less than a block away from my night's lodging. This pristine property is a key site in Oregon's history as the location of a large Native American village and pioneer settlement.
The 200-acre preserve features more than two miles of accessible linear and loop trails, improved with benches, picnic tables, and a gazebo overlooking the bay. Interpretive signs guide visitors through three themed trail sections exploring Flora and Fauna, Native American Heritage, and Pioneer Settlement.
The end of Pioneer Path, just beyond the gazebo, leads to the shoreline of Tillamook Bay. I imagine these stunning views look much like they did thousands of years ago.
The rain let up for my return hike, leaving the wetlands and woodlands glistening and green in the afterglow.
---
Rockaway Beach
---
I headed north on Hwy. 101 along the Oregon Pacific Coast, but it wasn't long before I made my first pullover of the day near Rockaway Beach.
To the south, I could see The Three Graces, a well-known rock formation surrounded by tidal pools. The beach and offshore area are accessible during low tides, but visitors should exercise caution when crossing the highway and railroad tracks.
---
Manzanita
---
I stopped for lunch in the seaside town of Manzanita, an artsy, upscale destination frequented by sun-worshipers.
A simple, yet satisfying order of grilled halibut at the Big Wave Café hit the spot.
A knowledgeable staff of volunteers at the Manzanita Visitors Center have abundant print publications to share with guests. The center has convenient restrooms, and it is ideally located one block from the beach. 
---
Oswald West State Park
---
Hwy. 101, also known as the Oregon Coast Highway, passes through Oswald West State Park, just north of Manzanita.
A small parking area offers an expansive view above Manzanita Beach and a trickling roadside waterfall.
This state park does not allow camping, but it offers an extensive trail system leading to the beaches and up Neah-Kah-Nie Mountain.
---
Cannon Beach
---
The last roadside pullover of my northbound drive was at a location just south of Cannon Beach.
A final view of sandy beaches and rocky cliffs was a fond farewell to the North Oregon Pacific Coast.
I headed east on US Route 26 for the Mt. Hood Territory, leaving my tsunami worries far behind.
---
Sheltered Nook
---
Overnight lodging for my visit to the Tillamook Coast was at the Sheltered Nook tiny home village.
Although the trend in sustainable living has long fascinated me, this stay was my first experience in a tiny home, and I loved it!
I realize all tiny homes are not created equally, but my home had all, and I mean ALL the bells and whistles. Full-sized kitchen appliances, private WiFi, HDTV, an electric fireplace, and many more comfy accommodations.
With only 385 sq. ft. of living space, you might think a tiny home would feel claustrophobic. Not at all! In fact, the only tight squeeze I noticed was between the foot of the queen-sized bed and large bedroom closet. I could easily live in one of these tiny homes, and Sheltered Nook is great destination for anyone curious about tiny home living.
Sheltered Nook is pet-friendly, and a stay comes with a complementary continental breakfast. Outdoor amenities include a picnic area, propane grills, and a fire pit.
Did I mention the trailhead for Kilchis Point Reserve is a mere 125 yards away?
Click here to book your stay at Sheltered Nook on TripAdvisor!
Click here for more Oregon Coast lodging options on TripAdvisor!
---
The Schooner
---
When I drove through the seaside community of Netarts Bay earlier in the afternoon, I did not realize I would be returning there later in the evening for dinner at The Schooner Restaurant & Lounge.
The Schooner's motto is "fresh, local, seasonal," and my visit turned out to be one of the most memorable dining experiences of the year, beginning with a Lavender Collins craft cocktail.
If you've ever wondered whether local ingredients make a flavorful difference in quality cuisine, let me assure you they do. The Schooner partners with more than twenty local farmers, fishermen, and foragers as sources for their dinner creations. In fact, I first heard the term "boat to table" from Jeffrey Wong, one of my dinner companions from CSFishery.
I excused myself temporarily from dinner when I noticed the golden hour strike Netarts Bay. I could not let this sunset go uncaptured.
Views like these can put your average dining experience over the top!
---
Map It!
---
---
How to Plan an Oregon Road Trip
---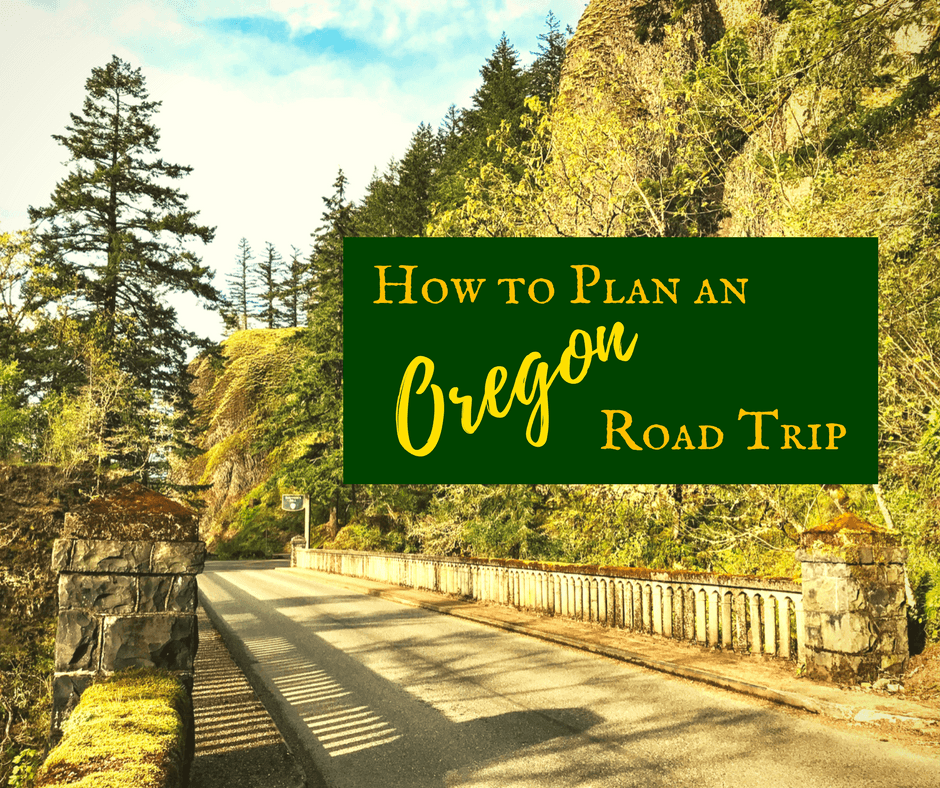 For a wealth of additional Oregon destination information and resources, navigate to our How to Plan an Oregon Road Trip guide, or select from the listing below:
---
We Would Love to Hear From You
---
We enjoy dialogue with our readers, especially when they share off-the-beaten-path destinations and useful travel tips. Have you ever driven along the North Oregon Pacific Coast? If so, we would love to hear about your experience. We invite you to leave your comments and questions below, and we always respond!
---
Pin this Post!
---