(a

11

minute read)
---
An Oregon scenic drive through the Tualatin Valley features pastoral landscapes, farms, wineries, historical sites, taverns, and a national wildlife refuge.
---
I was a guest of Washington County Visitors Association, but all thoughts and opinions are my own.
---
An Oregon Scenic Drive
---
If you are looking for an Oregon scenic drive, there are many options that will take you through more than 50 mountain ranges and along the Pacific Coast. Oregon's Tualatin Valley, however, offers a drive of another kind with its Vineyard and Valley Scenic Tour. This route is a C-shaped drive through pastoral landscapes dotted with farms, wineries, historical sites, scenic views, taverns and cafés, and its very own national wildlife refuge.
The Tualatin Valley, located directly west of Portland, follows the winding flow of the Tualatin River to its convergence with the Willamette River, which then joins the Columbia River on its way to the Pacific Ocean. It is no secret that I have an affinity for America's Scenic Byways, and driving the 60-mile Vineyard and Valley route was a memorable day trip with plenty of stops for hiking, photography, and roadside discoveries.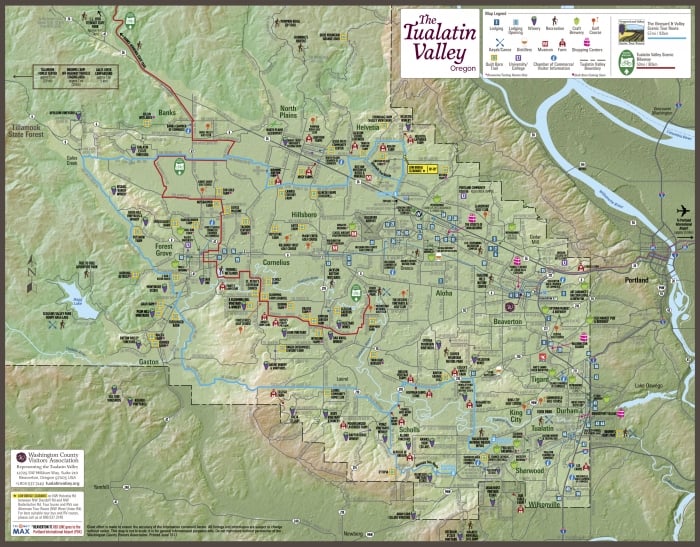 Read more about the Vineyard and Valley Scenic Tour here, and download turn-by-turn directions here. Additional route maps and guides are available in the Tualatin Valley Visitor Guide.
As a confirmed completionist, I knew I wanted to drive the route in its entirety, allowing plenty of time for stops along the way, so I got an early start.
---
Tualatin River National Wildlife Refuge
---
The crown jewel of the Vineyard and Valley Scenic Tour route is the 1,856-acre Tualatin River National Wildlife Refuge. If you begin your drive at the southern entrance, the refuge will be your first stop. If you began at the northern entrance, the refuge will be your last stop. I recommend visiting the refuge first thing in the morning to allow plenty of time for hiking the trails.
The refuge parking lot was almost full even though I arrived mid-morning. I headed first to the Wildlife Center to pick up a trail map, get a brief orientation from the reception desk, and check out the exhibit hall.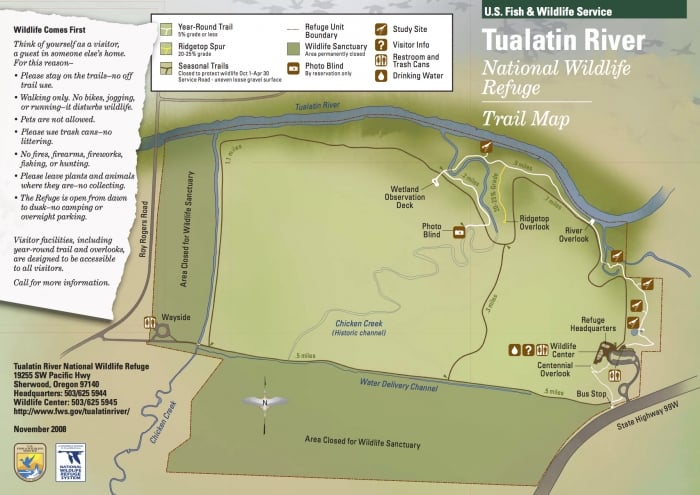 Before embarking on a hike through public lands, it is always wise to carefully read the trail map, including the map legend, in order to prevent the unexpected. Even though I pulled the folded trail map from my pocket multiple times while hiking to orient myself, I failed to read the small print.
My plan to take the shortcut across the wetlands back to the Wildlife Center did not work out for me. I knew it was nesting season at this key location on the Pacific Flyway, but I had failed to read the notice in the legend about the closing of seasonal trails. My careless navigation led me to believe I was hiking the brown trail, when in reality I was on the white trail all along. I ended up speed-hiking on the return segment to keep myself on schedule.
You can find more information about the hiking trails here.
The ADA accessible year-round trail winds through a variety of habitats, including wetlands, grasslands, meadows, and forested areas. Hikers who plan to reach the wetland observation deck at the end of the 1-mile trail should keep in mind that the return segment will make it a 2-mile hike. I may not always read maps carefully, but I can add 1 + 1.
The wildlife refuge is home to nearly 200 species of birds, more than 50 species of mammals, dozens of reptiles, amphibians, and fish, and who knows how many varieties of insects. Although I only saw a few birds on the day of my visit, it's nice to know they have a suburban sanctuary.
Spring was in full swing with budding leaves and fern fiddleheads "bustin' out all over."
Foliage from countless species of mosses, ferns, vines, and grasses lent their unique textures and verdant hues along the trail. Trees draped in lace lichen caused me to do a double-take more than once because they so closely resemble the trailing tendrils of Spanish moss in my home state of Florida.
The wildlife refuge is free of charge, and the main hiking trail is open to the public from dawn to dusk 365 days a year. The Wildlife Center is closed on Mondays and select holidays. Domestic pets are not welcome.
I returned to the parking area shortly before noon and set off to explore other sites along the Vineyard and Valley Scenic Tour Route.
---
Flowers
---
Back on the road, it didn't take long to discover that cultivated plantings were also in bloom.
Tulips, rhododendrons, and other flowering shrubs were showing off big time on my Oregon scenic drive!
---
Farms
---
Without question, Oregon's Tualatin Valley is farm country, and its bucolic fields and pastures populated with barns and silos bear testament to that claim.
Tualatin Valley Harvests by Month
---
Many of the family-owned farms along the route offer seasonal U-pick crops. But because spring is the time for planting, I was out of luck in that respect.
The blossoming orchards were a great consolation, and of course farm fresh eggs are always in season.
---
South Store Café
---
I stopped for lunch at the South Store Café, a former general store and fraternal order meeting hall. Over the years, the building has evolved through several reincarnations, but it has always been a gathering place for locals. In 2007, it reopened as a casual eatery.
I opted for the daily specials, a grilled roast beef sandwich served up with a cup of tortilla soup.
During lunch I had an engaging visit with café business manager Karl Samson, a travel writer and author of several Frommer's guidebooks in years past. It was then I learned the café had only reopened that day after the unexpected passing of visionary and beloved owner Lee Thompson a week earlier. I know she will be long loved and remembered by those who carry her vision and legacy into the future.
When I approached the counter to pay my check, gourmet cookies in the display case tempted me from behind the glass. But dessert had already been planned for my next stop.
---
Smith Berry Barn
---
The Smith Berry Barn is a combination farm, garden center, gourmet gift shop, and espresso bar located directly across the street from South Store Café.
The colorful seed packets and potted plants put me in the mood to do some spring planting of my own, but my yard was 3,000 miles away.
I couldn't leave without a sample from the espresso bar, and when I asked for a recommendation, the barista suggested I try a raspberry-lavender milkshake. The culinary synchronicity of sweet berries and herbal fragrance whipped into a creamy frozen frenzy was a recipe for heaven in my mouth. It's a good thing I I don't live in the Tualatin Valley, or I would be at the espresso bar every day.
---
Wineries
---
The Tualatin Valley is home to more than 30 wineries, many of them located along the Vineyard and Valley Scenic Tour Route.
Although I am not a wine enthusiast like so many of my fellow travelers, there was no denying the stunning beauty of the vineyard landscapes along the route.
---
Roadside Discoveries
---
I love hill and valley panoramas, lush foliage, and expansive skies like everyone else, but on backroad drives my eyes keep a perpetual lookout for intriguing manmade features, as well. An abandoned schoolhouse, a rusty vintage tractor, a country church, and a low train trestle foot the bill, don't you think? The term "scenic" can be defined in so many ways.
---
The Old Scotch Church
---
The Carpenter-Gothic Old Scotch Church, located near the northern entrance to the route, is one of Oregon's oldest churches in continuous use since construction. The historic structure is home to the Tualatin Plains Presbyterian congregation, but got its common name from the Scottish immigrants who built it in 1878. The church's frame architecture features a steep roof, imported Scottish stained glass windows, and a signature eight-sided steeple.
The church cemetery is the final resting place of many of the Scottish settlers, as well as notable mountain man and pioneer Joe Meek.
---
Helvetia Tavern
---
Dinner at the Helvetia Tavern was the perfect ending to my drive on on the Vineyard and Valley Scenic Tour Route. This popular watering hole is located mere minutes from the northern entrance to the route, and ultimately my exit.
The eye-catching red and green establishment known for its jumbo burger and ceiling covered with hundreds of baseball caps has been serving up comforting pub grub since 1946. And nothing beats sharing a juicy cheeseburger and fries with friends at the end of the day.
---
Twilight
---
On the drive back to the hotel, I could not resist pulling over for more pictures, even after the sun dipped below the horizon.
A perfect ending to my Oregon scenic drive.
---
McMenamin's Grand Lodge
---
McMenamins is a family-owned hospitality brand founded in 1983 that has become legendary throughout the Northwest. I made acquaintance with the chain of pubs, breweries, theater venues, and historic hotels for the first time when the McMenamins Grand Lodge in Forest Grove became home base for the first leg of my Oregon road trip. The Grand Lodge is a historical structure, and it is also a lodge, but it is not technically a historical lodge. The Greek Revival building was constructed in 1922 as a Masonic and Eastern Star home for the aged. When the home relocated to a new facility in 1999, McMenamins purchased the property and reopened it as a hotel in 2000.
Although my itinerary did not allow me much time to enjoy the facilities, the Grand Lodge is a destination in and of itself. Its 90 themed rooms are all uniquely appointed with the same vintage whimsical artwork that fills the hallways. They feature original porcelain sinks, delicious flowing tap water, air conditioning, and WiFi, but no TVs. The hotel property boasts several restaurants and bars, a saltwater soaking pool, sun parlors and sitting rooms, a spa, and a movie theater showing first-run motion pictures.
My next stay at McMenamins Grand Lodge will include a few days curled up in a fireplace parlor with a good book and homemade hot buttered rum.
Click here to book your stay at McMenamin's Grand Lodge on TripAdvisor!
Click here for more Tualatin Valley lodging options on TripAdvisor!
---
Map It!
---
---
How to Plan an Oregon Road Trip
---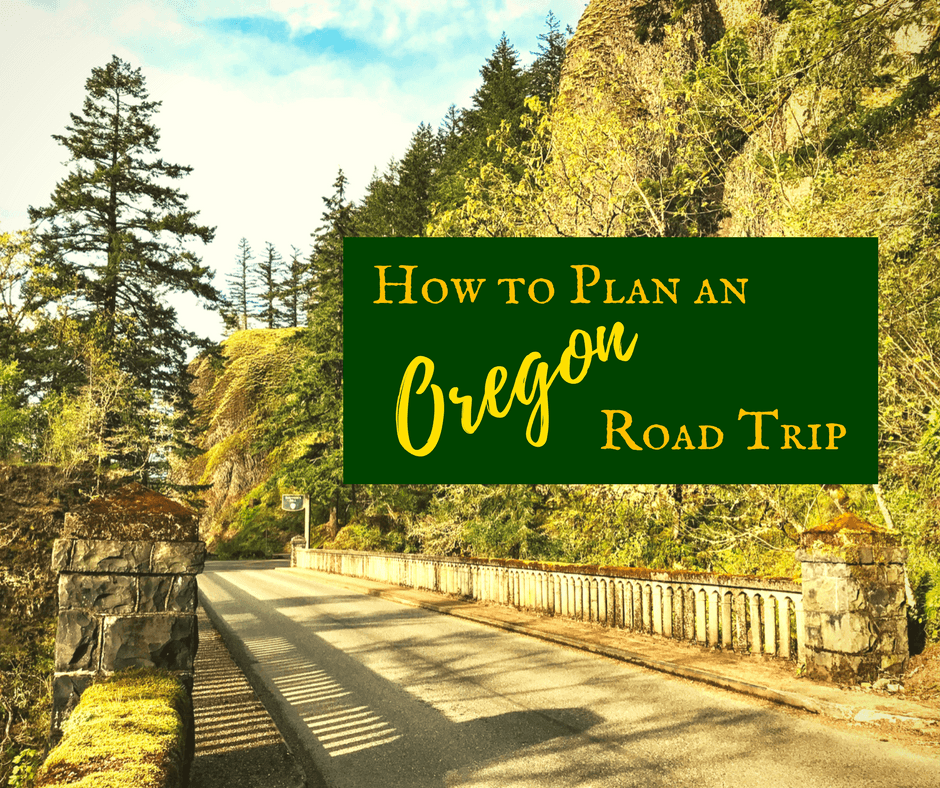 For a wealth of additional Oregon destination information and resources, navigate to our How to Plan an Oregon Road Trip guide, or select from the listing below:
---
We Would Love to Hear From You
---
We enjoy dialogue with our readers, especially when they share off-the-beaten-path destinations and useful travel tips. Have you ever visited Oregon's Tualatin Valley? If so, we would love to hear about your experience. We invite you to leave your comments and questions below, and we always respond!
---
Pin this Post!
---
---
Helpful Links
---
Washington County Visitors Association
Vineyard and Valley Scenic Tour Route
Tualatin River National Wildlife Refuge