(a

15

minute read)
---
The Great Lakes tour is a circle road trip route through the United States and Canada to scenic destinations along Lakes Superior, Michigan, Huron, Ontario, and Erie. This guide will help you map the perfect itinerary with suggested food, lodging, hikes, waterfalls, cruises, lighthouses, and more outdoor activities.
---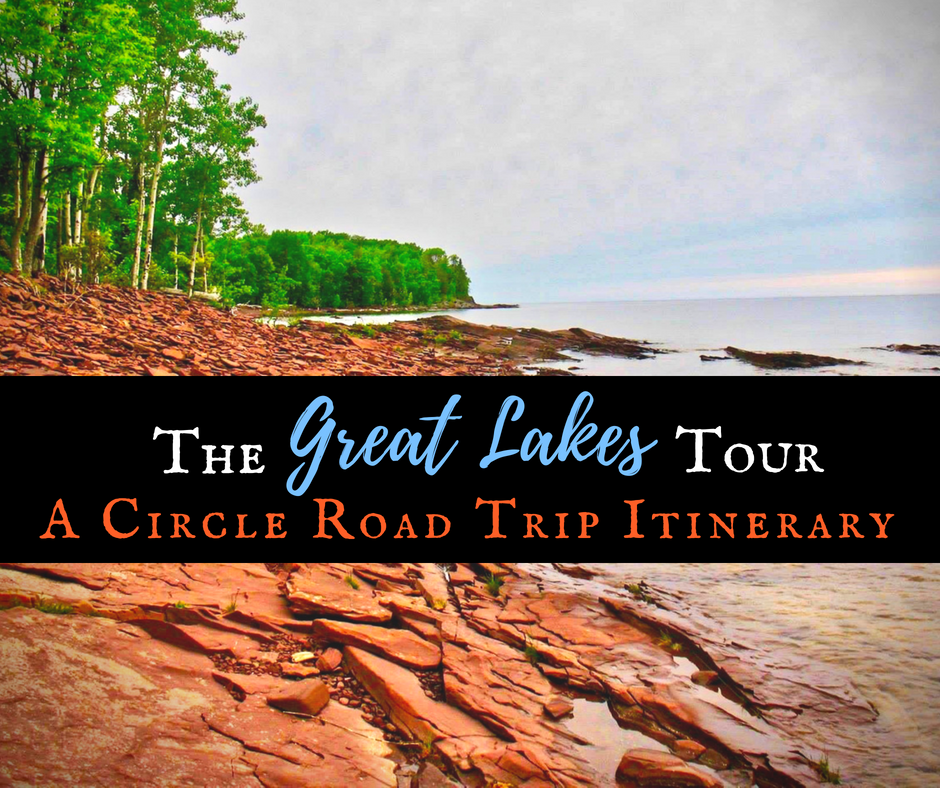 Guest Post by Kristi Schultz
This post may contain affiliate links.
---
The Great Lakes Tour
---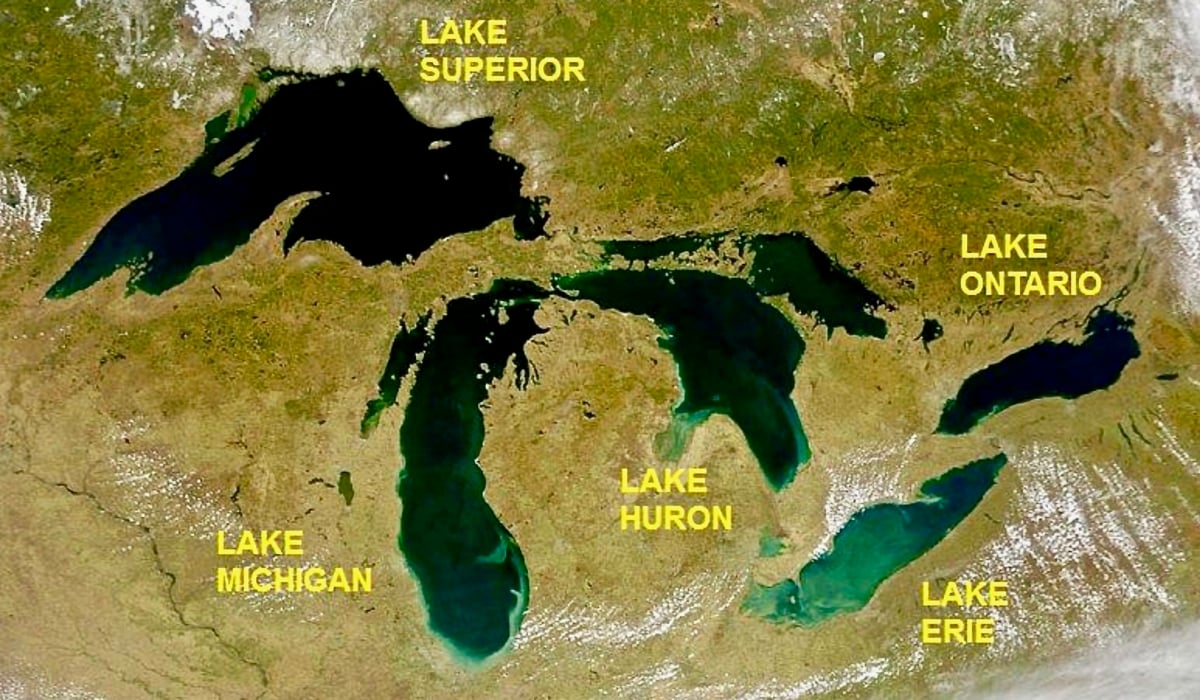 UPDATE: After reading this Great Lakes road trip itinerary, be sure to read our new Great Lakes Explorer cruise with Viking Expeditions.
What are the Great Lakes? The Great Lakes are a series of five interconnected freshwater lakes located on the border of the United States and Canada. They are the largest group of freshwater lakes in the world by area and have sea-like characteristics such as rolling waves, strong currents, miles of sandy and rocky beaches, and distant horizons.
There are many ways to navigate around the shorelines of these great bodies of water. But could we traverse all of them within 10 days?
On a cool June day, my kids (ages 23, 19, and 15 at the time) and I set out on a Great Lakes road trip to do just that, with the intent to step into the water and take a photo at each lake.
The map illustrates our itinerary and key spots where we stopped while on our journey. The route begins in Stoughton, Wisconsin, just south of Madison, heads up to Duluth, Minnesota, and then makes a loop, hitting key sites while visiting every Great Lake along the way.
We had an incredible time on our Great Lakes tour and returned with some great experiences and recommendations to share!
---
Day 1 | Duluth, Minnesota, and Lake Superior
---
My oldest daughter was attending the University of Minnesota in Duluth, so in the early morning hours, my two youngest, our Boston Terrier, Izzy, and I headed that way.
Duluth serves as a major port on Lake Superior for ocean vessels that have made their way through the Great Lakes Waterway and the St. Lawrence Seaway. A revitalized downtown and surrounding areas provide a wealth of activities, history, and tourist destinations.
While in Duluth, we visited the must-see Lake Superior Railroad Museum, one of the best collections of railroad equipment in the country! The displays told the story of the railroads in Duluth and the role they played connecting its ocean port to the rest of the country. A very well-thought-out exhibit with a great gift shop!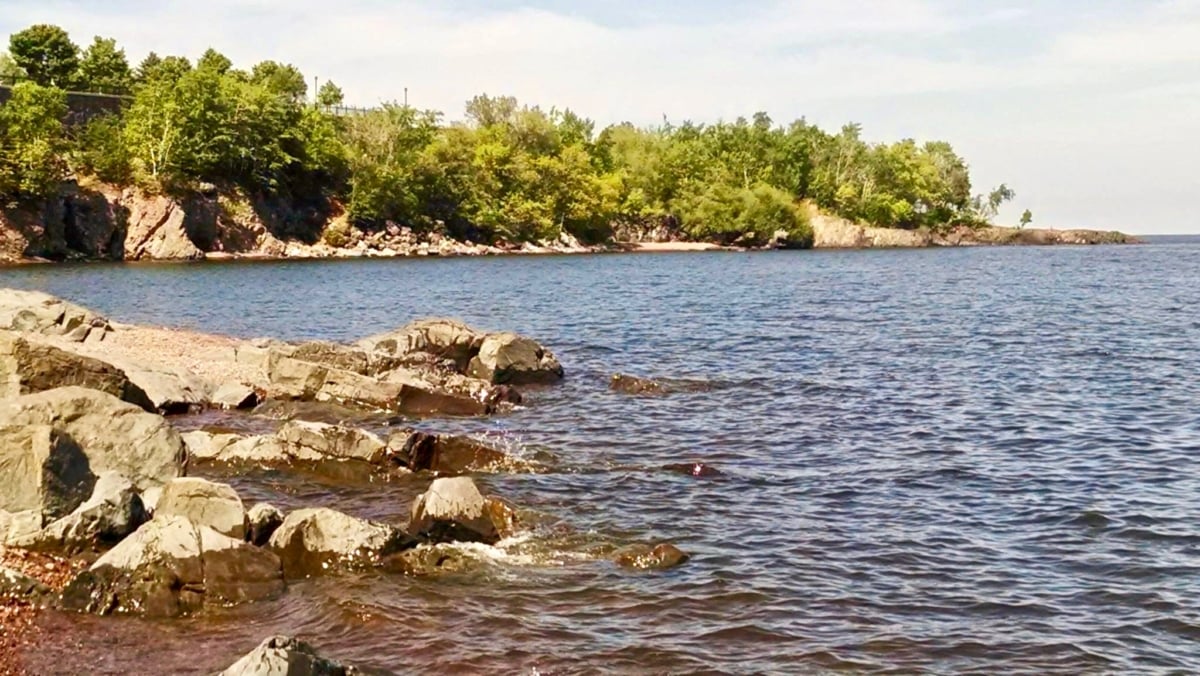 Lake Superior was our first Great Lake to visit. From the rocky shores of the Duluth Lakewalk, we dipped our toes into this cold lake (average summer temperature is 61°) and watched the huge ocean vessels go through the 1929 Aerial Lift Bridge to the harbor.
With enough water to flood both North and South America to a depth of one foot and waves more than 40 feet high, Lake Superior is the largest freshwater lake in the world.
You cannot visit the Duluth area without venturing up the North Shore Scenic Drive, so that's where we went next.
We stopped for lunch and homemade pie at Betty's Pies, a staple to the area since 1956. If you drive Hwy. 61 and don't stop here, you are not doing it right! With more than 38 different pies to choose from, and even pie shakes, you really can't go wrong.
With our timetable in mind, our northern destination was the Split Rock Lighthouse, one of the most visited lighthouses in the nation, just 47 miles from Duluth on Hwy. 61 and about one-third of the way up the shoreline. The views from the lighthouse were spectacular and the short hiking trail down to the water was easy to navigate so we could get a great picture of the lighthouse itself.
Heading back south on Hwy. 61, we stopped at Gooseberry Falls State Park, another must-see on the North Shore Scenic Drive. We got a great view from the Hwy. 61 bridge before taking a short walk down to the river for a closer look.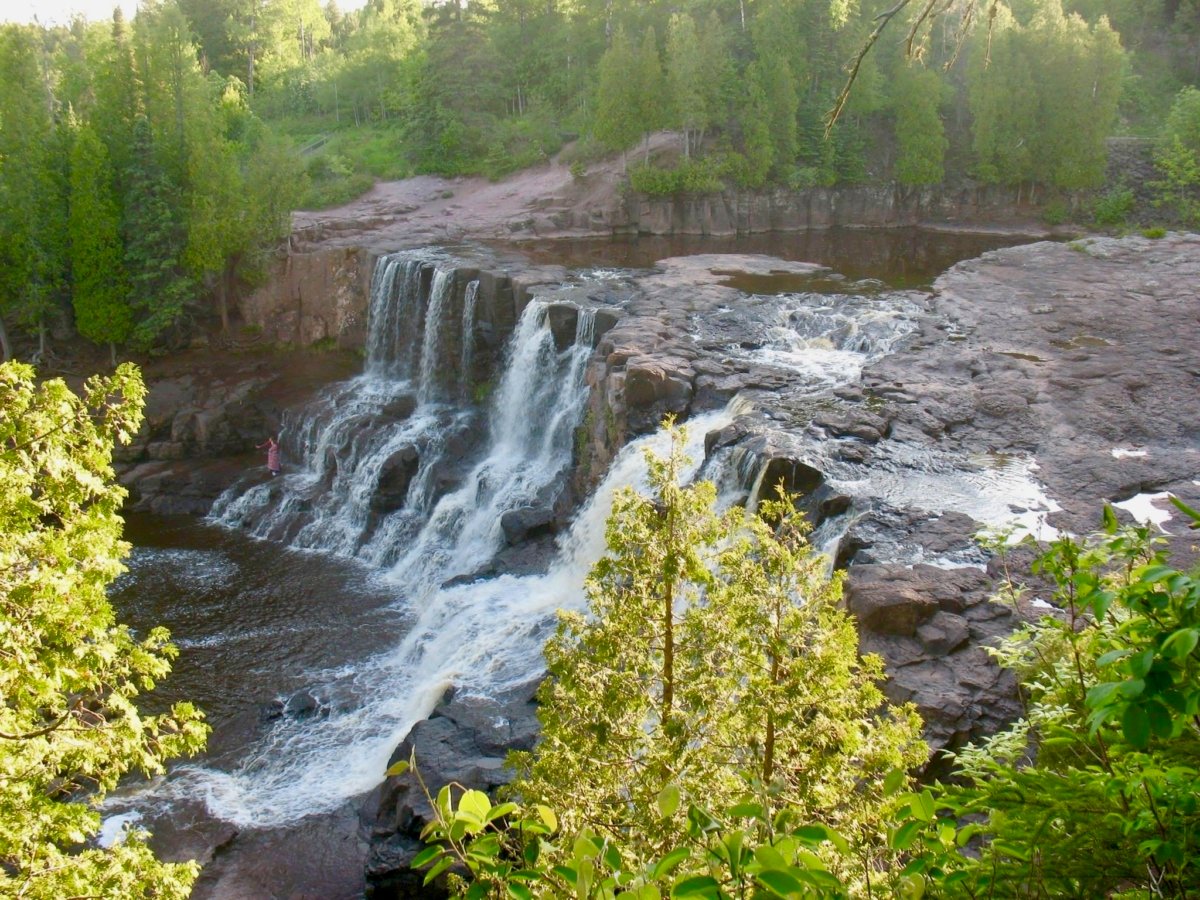 The falls are the result of the Gooseberry River passing through a rocky gorge on its way to Lake Superior. In spring, the snowmelt runoff is spectacular, and in summer, the exposed rocks provide many opportunities for close encounters with the falls.
After exploring the falls, we hiked a 2-mile segment of the Gitchi-Gami State Trail through the woods to the overlook, and later a 2.4-mile loop trail to Fifth Falls before heading back to Duluth. These trails can be muddy, so be prepared.
Back in Duluth, we had dinner at Grandma's Saloon & Grill in Canal Park, another icon of the area since 1976. The food and service were stellar, as always, and they had a great beer and cocktail menu, as well. We spent the night on the shores of Lake Superior and enjoyed the sunset from our balcony.
Click here for Duluth lodging options on TripAdvisor!
---
Day 2 | Apostle Islands
---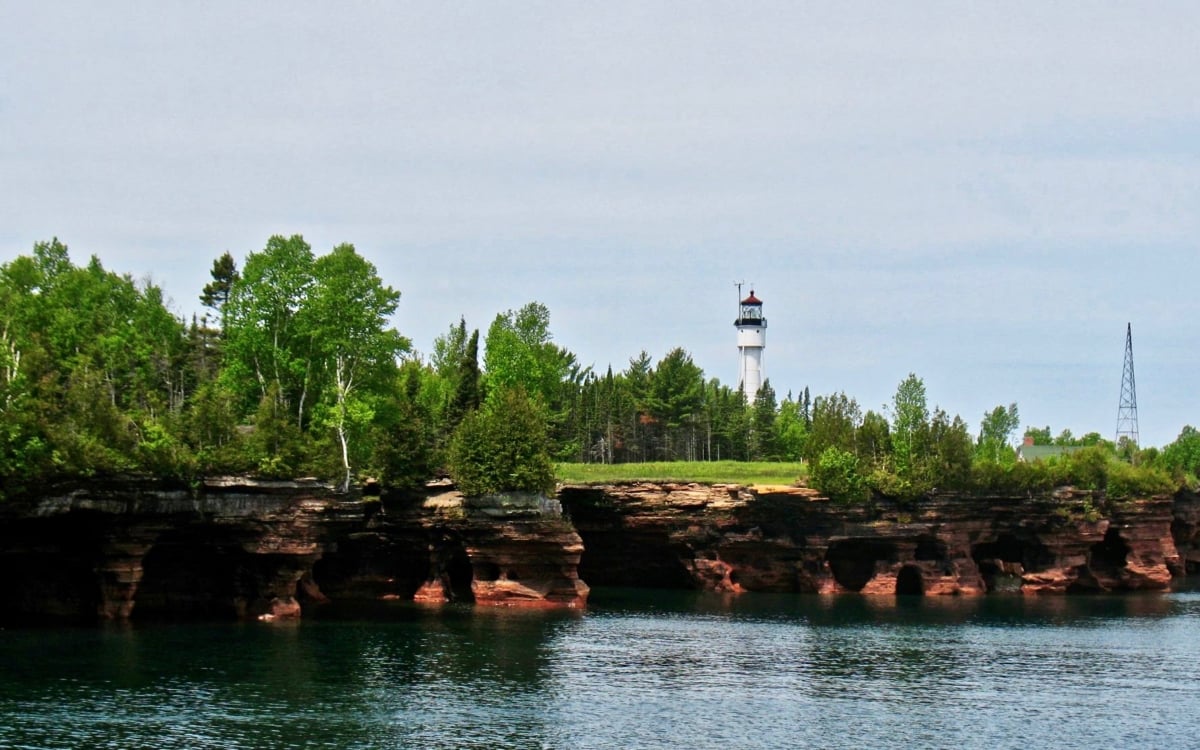 The next day, we drove 86 miles to Bayfield, Wisconsin, via Hwy. 13. Bayfield serves as the headquarters for the Apostle Islands National Lakeshore, consisting of 21 islands and 12 miles of mainland shoreline along Lake Superior.
We had booked the 10:00 AM Classic Grand Tour at Apostle Islands Cruises, the best way to get an overview of the area. It is a 55-mile, 3.25 hour scenic cruise, superbly narrated by folks knowledgeable about the history and natural wonders of the islands and shoreline. Highly recommended!
After the cruise, we grabbed lunch at colorful Maggie's, a locally owned Bayfield original with a unique menu, great drinks, and eclectic décor. You can't visit Bayfield without trying Maggie's!
Next, we went to the Apostle Islands headquarters to find out the current conditions for getting to the Lakeshore Trail. The road to the official trailhead at the beach was still closed due to construction, so the worker there pointed out an intercept point off an unmaintained road, and we set off.
It is a good thing we had a 4-wheel drive Ford Expedition. The road down to the trail was deeply rutted and narrow. At the end was a wide area big enough to park in the grass. This winding trail through the woods was enjoyable, undulating over and through streambeds and littered with roots and rocks to navigate.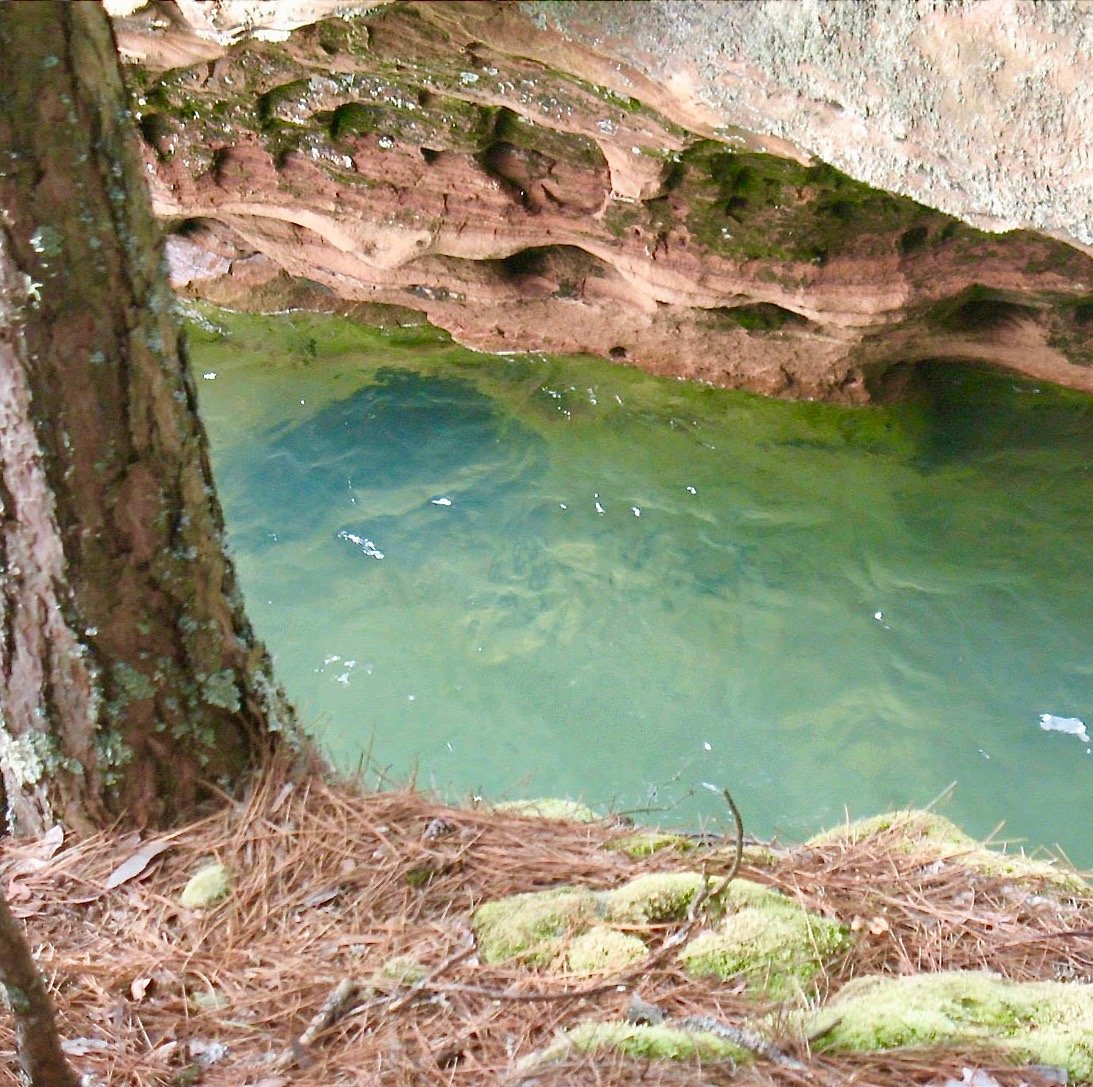 About a mile down the path, we reached great views of the sea caves and a top-down view into some of the bluest water we had ever seen.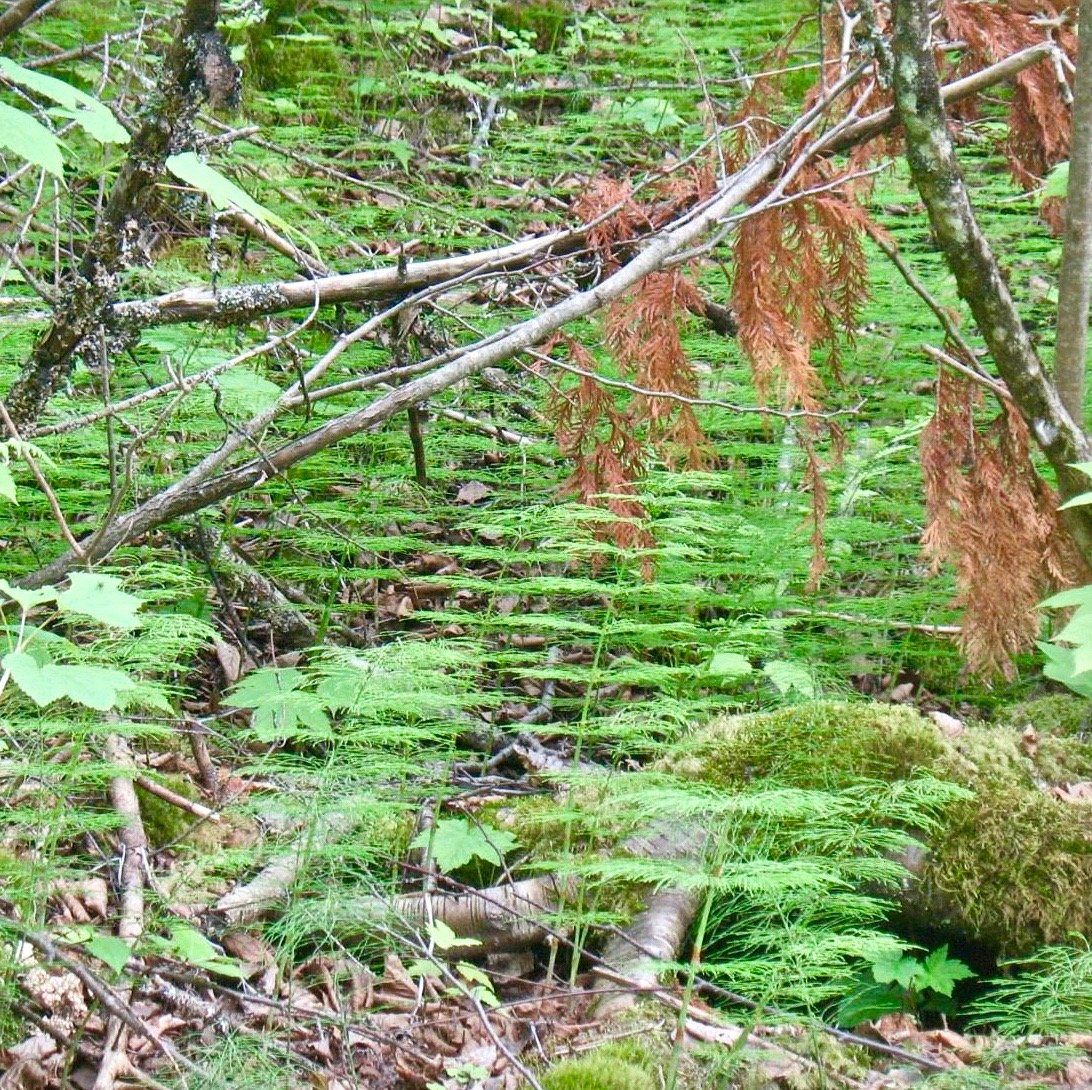 The flora in this area was incredible, and we observed the strangest phenomenon involving ferns with a horizontal growth habit. I don't know what variety they were, but we had never seen this type of fern before.
For dinner, we ate at the renovated and historic Bayfield Inn where we were also staying the night. This quaint accommodation in the heart of downtown was definitely a great place to eat and stay with its friendly staff making us feel right at home.
Click here to book your stay at Bayfield Inn on TripAdvisor!
---
Day 3 | Porcupine Mountains Wilderness State Park
---
On Day 3 of our Great Lakes road trip route, we were still driving along Lake Superior! Porcupine Mountains Wilderness State Park, Michigan's largest state park, was our destination. Affectionately known as "The Porkies," it is 60,000 acres along the Lake Superior shoreline with 35,000 acres of old-growth forest, countless rivers and streams, and more than 90 miles of hiking trails.
We entered the park from the south, so we started out hiking the river trails in the Presque Isle River Area. This was a great loop hike through the woods and along the river to view the waterfalls and turbulent rapids of the Presque Isle River. Along the path, we saw some unique mushrooms.
From there, we took a leisurely drive through the park on the scenic Boundary Road and headed to the Konteka Black Bear Resort for lunch, where supposedly black bears can be viewed through the dining room windows. But none were to be seen on our visit. The food was decent enough, but the place had kind of a rundown atmosphere about it. Might try another place next time.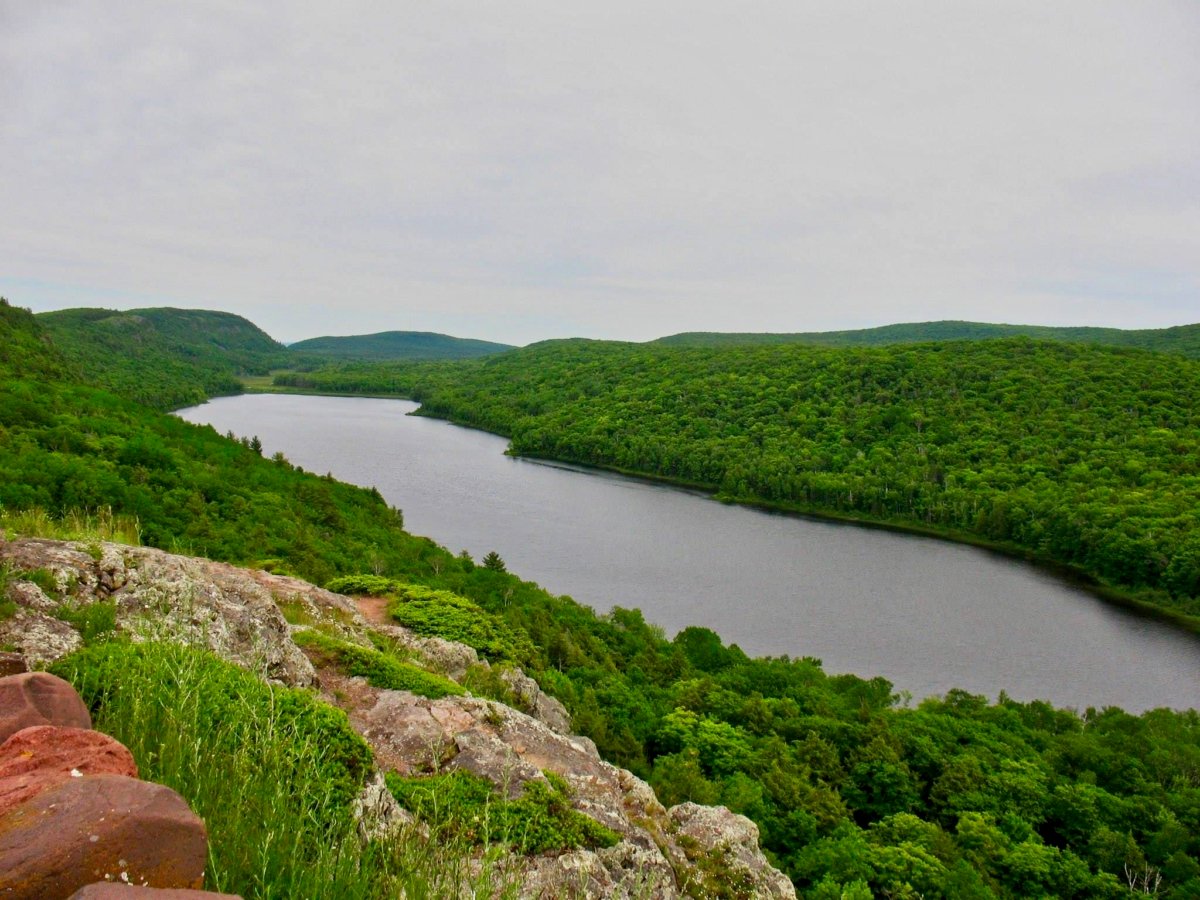 After lunch, we drove to the Lake of the Clouds scenic area where we took in the spectacular views of the lake nestled among the rich greens of the Porcupine Mountains old-growth forest. We hiked along the Escarpment Trail before heading off to find dinner.
For that night, we had reserved a yurt on Union Bay. We found a convenience store and purchased fully-cooked brats, buns, chips, and s'more fixings (chocolate, graham crackers, and marshmallows). We also bought a skewer and firewood.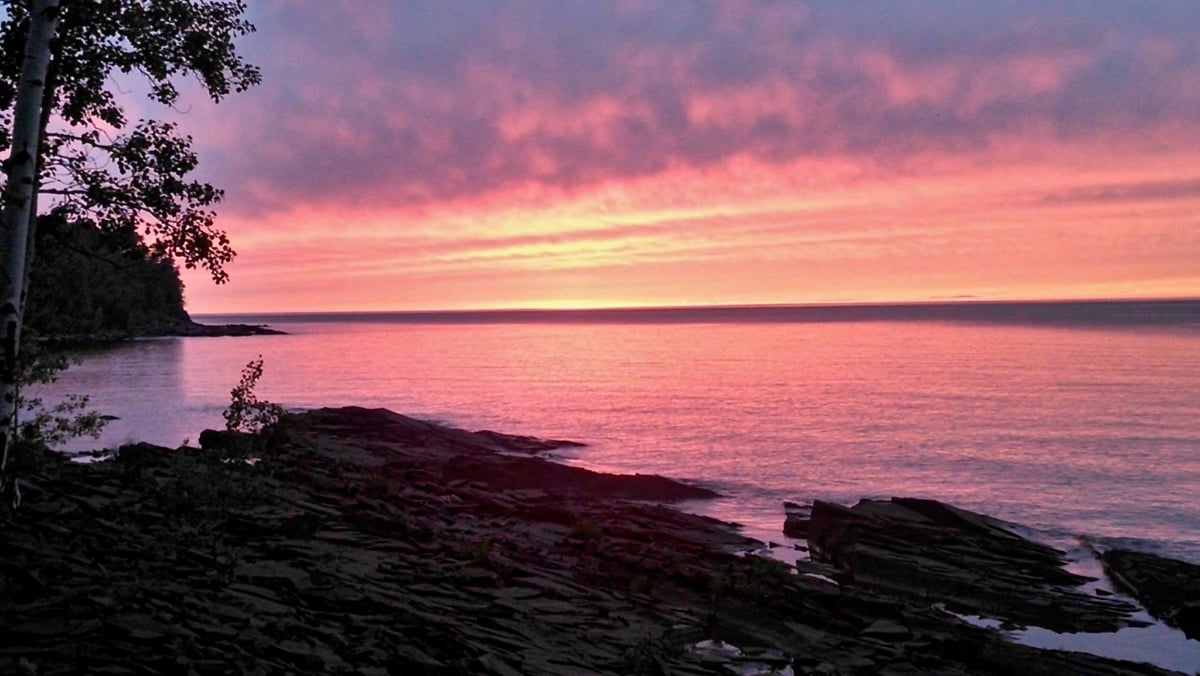 After we set up camp and cooked over our fire, we took a short hike down to the rocky beach and enjoyed an amazing sunset over Lake Superior. The only bad thing about this great idea was that we didn't think to pack more than one sleeping bag. Our fleece blankets left a little to be desired in the cool night of the Porcupine Mountains . . . .
---
Day 4 | Pictured Rocks National Lakeshore
---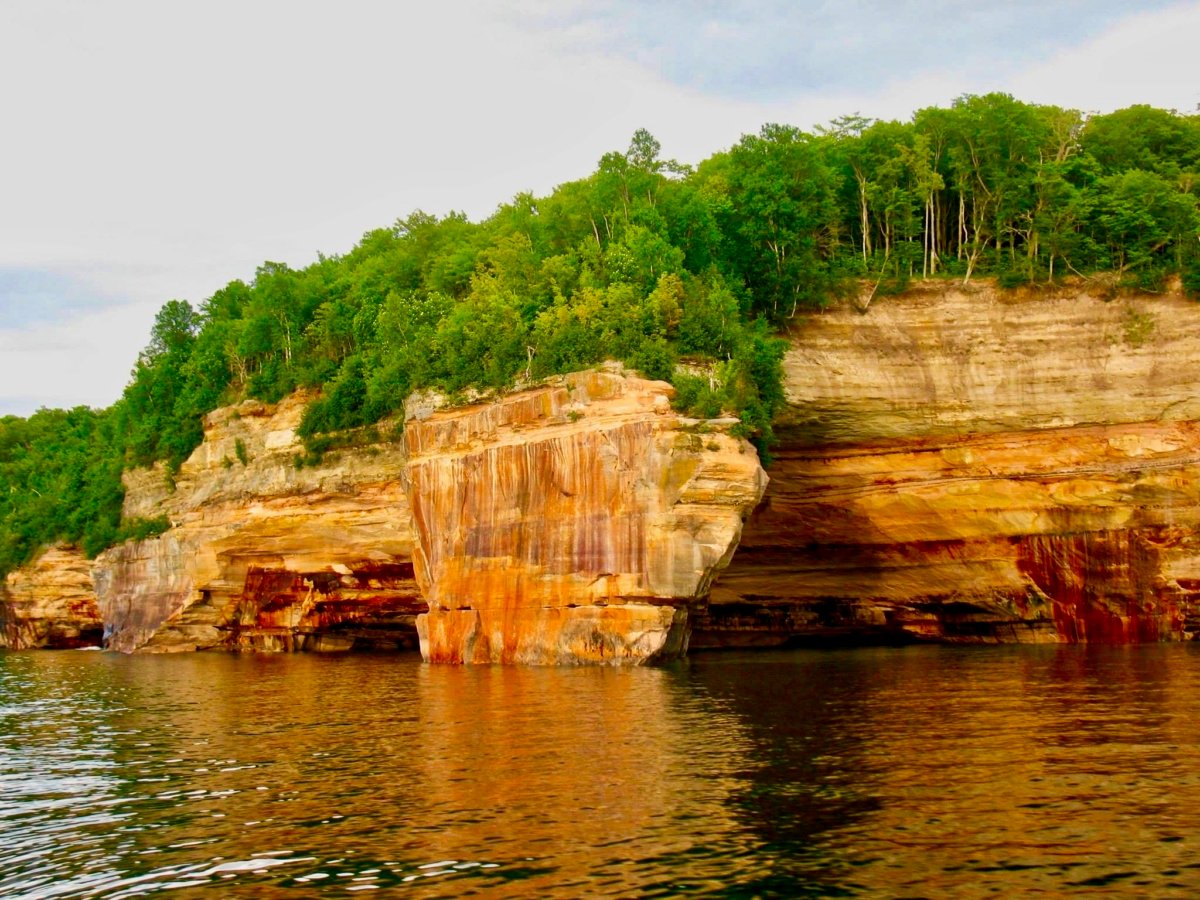 Day 4 was more of the Lake Superior experience, and we had only touched the surface of this amazing place. On this day, we drove 3.5 hours to the Pictured Rocks National Lakeshore, more than 40 miles of multicolored sandstone cliffs and geological formations, reaching a height of 200 feet above the water.
Getting a view of the pictured rocks requires getting in a boat. We had booked the 2:00 PM Spray Falls Cruise, a 40-mile, 2.5-hour round trip boat ride along the shore, including Spray Falls, a 70-foot cascade down the cliffside into Lake Superior.
The day was cool and rainy, but the cruise was still great. Pictures do not do it justice, as the colors on the sandstone were stunning. One fun part of the cruise takes you down a narrow passageway between sandstone cliffs where you have to back up to get out.
When we returned to the dock, a pontoon was heading out where bagpipers were playing. I don't know if they always do that, but it was amazingly beautiful. We definitely recommend this cruise if you're in the area.
After the boat ride, we hiked the 1.2-mile round-trip trail to Miners Falls and went to the Miners Castle Overlook we had seen while on the cruise. We walked the trails along the shore until time for dinner at the iconic Dogpatch Restaurant, "home of the legendary vittles" with its unique atmosphere. For the night we stayed at the Holiday Inn Express and enjoyed the grounds and the view.
Click here to book your stay at the Holiday Inn Express Munising-Lakeview on TripAdvisor!
---
Day 5 | Port Huron, Michigan
---
Finally on Day 5, we ventured away from Lake Superior. Driving toward the Mackinac Bridge, we dropped down to Hwy. 2 so we could drive along the shore of Lake Michigan. We stopped at a wayside beach to test out the waters and take a picture.
Before leaving Upper Peninsula Michigan, we needed to sample an authentic pastie. So when we spotted the sign at White Tail Resort, a hole-in-the-wall motel and restaurant featuring delicious, homemade pasties, we had to stop. I would highly recommend eating here if you are driving through.
As we came up on Mackinac Bridge, it was dreary and foggy, but it made for an interesting picture. The Mackinac Bridge connecting Upper and Lower Michigan is the longest suspension bridge in the western hemisphere at nearly 5 miles in length.
As we drove over the bridge going south, Lake Michigan was on our right and Lake Huron was on our left, the only place where you can see two of the Great Lakes at once. Driving the interstate, we went all the way to Port Huron on the St. Clair River and the US—Canadian border.
We stayed at the DoubleTree situated right on the river and walked the path to Lighthouse Park, featuring a large sand beach on Lake Huron. The 1829 Fort Gratiot Lighthouse was closed by the time we arrived, but we were able to take our picture and enjoy the walk back despite the rainy conditions.
Click here to book your stay at DoubleTree by Hilton Port Huron on TripAdvisor!
---
Day 6 | Niagara Falls
---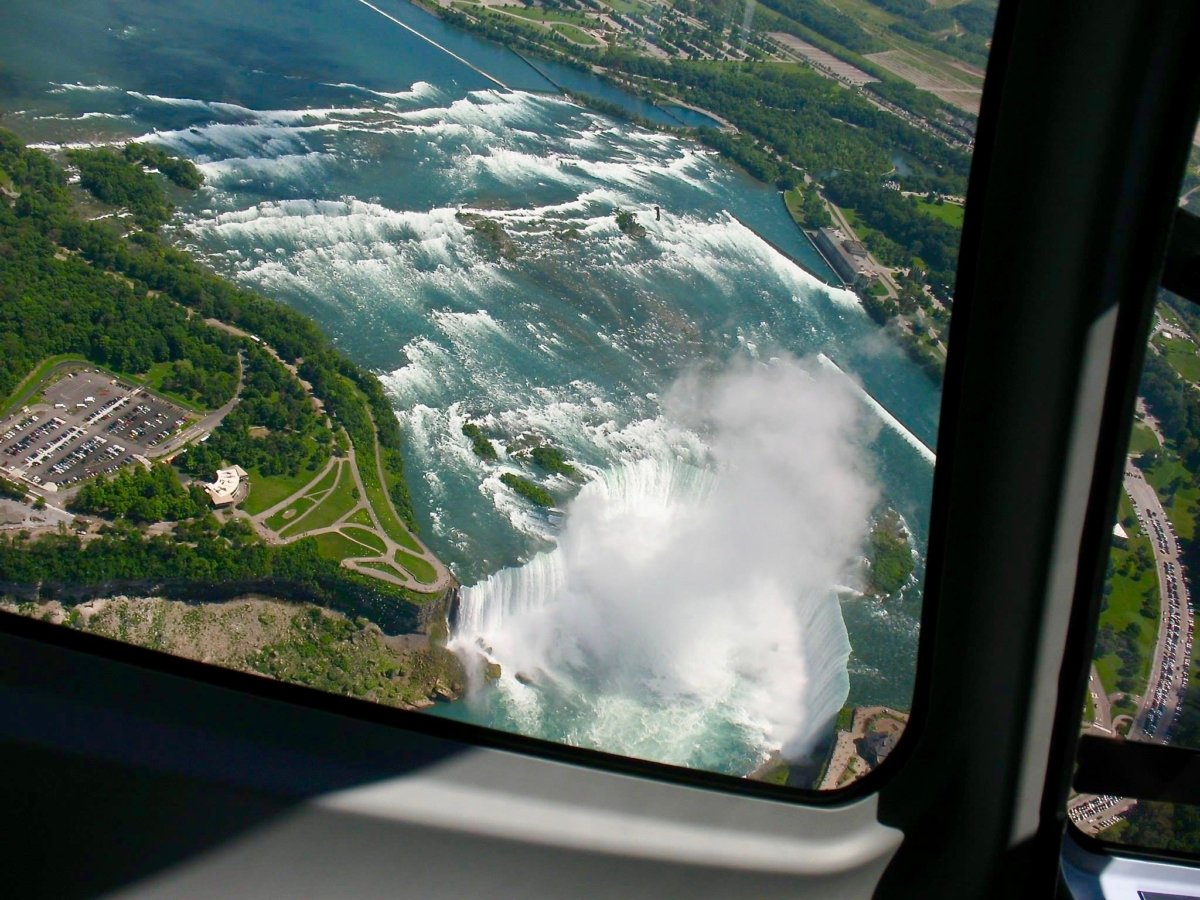 In the morning, we crossed the border into Canada and visited Lake Ontario by way of Skyway Park. It took a little navigating via service roads, but we were able to walk down to the beach to visit and take a photo of our fourth Great Lake.
You really can't drive to Lake Ontario and not see Niagara Falls. Even if you've been there before, which we had. We prefer the Canadian side of the falls which offers the best views and better hotels and restaurants. Not to mention, my daughter appreciated the lower drinking age.
Since we had visited the falls before, we opted for two activities we had never done. The first was a helicopter tour. We booked a ride through Niagara Helicopters and loved it. Everything went smoothly, and we enjoyed the views of a lifetime. We highly recommend it!
Our second activity was the Hornblower Niagara Cruise that allows visitors to get up close and personal with the falls. You will get wet on this ride due to the mist, so ponchos are provided. The wind gets a little intense, which caused our ponchos to fill with air and threaten to go up over our heads. It generated quite the laughs as we did our Marilyn Monroe imitations. This ride is definitely a must-do!
While in Niagara Falls, we enjoyed an excellent Italian lunch on the patio at the Sandstone Grillhouse, explored the eclectic Clifton Hill Street of Fun, ate great burgers at Kelsey's Original Roadhouse and enjoyed some local beer at the Niagara Brewing Company before turning in at the Country Inn and Suites.
Click here to book your stay at Country Inn and Suites by Radisson Niagara Falls on TripAdvisor!
---
Day 7 | Cuyahoga Valley National Park
---
With one more Great Lake to go, we set off early, crossing back into the US, headed for Pennsylvania. We had not really planned where to stop and visit Lake Erie because I figured we could find it randomly along the way. It took some doing, but finally we worked our way to a beach near Dunkirk.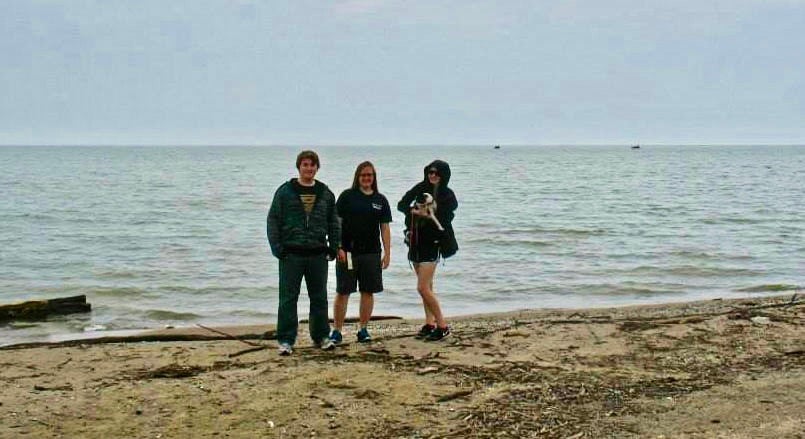 Further research revealed a much better place to stop would have been Presque Isle State Park in Erie, Pennsylvania. It is a 3,200 acre peninsula that juts into Lake Erie, offering a wealth of recreational activities. Live and learn!
After visiting our fifth and final Great Lake, we stopped to hike Brandywine Gorge Trail and see the 65-foot Brandywine Falls, part of the gorgeous Cuyahoga Valley National Park. This park is not to be missed when visiting northern Ohio!
The bridge across Brandywine Creek was out, so rather than turn around and retrace our steps, we chose to ford the stream. After a couple of attempts to navigate the slippery rocks, we all decided to brave the cold water, took off our shoes, and waded in. Making memories!
We also decided to hike the 2.2-mile Ledges Trail despite the rain. It is an enjoyable hike and features a great overlook of the beautiful valley. On this night, we stayed at the Holiday Inn Express near the park.
Click here to book your stay at Holiday Inn Express Cleveland-Richfield on TripAdvisor!
Click here for more hotel options on TripAdvisor!
---
Day 8 | Home
---
On the final leg of our journey (other than taking my oldest back to Duluth), we drove home to Stoughton, Wisconsin. We stopped to see Lake Michigan again at the Indiana Dunes National Lakeshore featuring 15 miles of shoreline and 15,000 acres of sand dunes, wetlands, prairies, and forests.
After stretching our legs and negotiating a nasty traffic jam in Chicago, we arrived safely home.
I hope you enjoyed this Great Lakes circle tour itinerary and road trip adventure and get a chance to try it out for yourself. There are plenty of opportunities to enjoy these beautiful lakes. I'd like to take road trips around each one in the future!
If you want to learn more about the Great Lakes tour or road trips like this one, navigate to my website Roadtrippers R Us!
---
Map It!
---
---
Viking Great Lakes Explorer Travelogue
---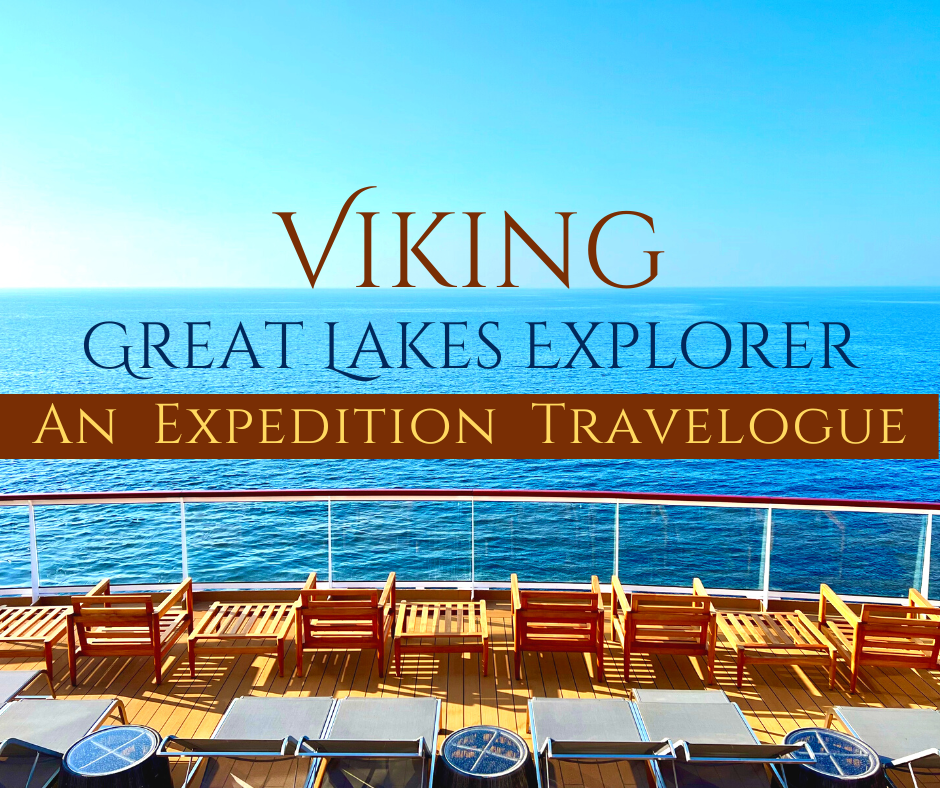 Be sure to check out Howard's Great Lakes Explorer travelogue with Viking Expeditions for another way to explore the Great Lakes!
---
We Would Love to Hear From You
---
We enjoy dialogue with our readers, especially when they share off-the-beaten-path destinations and useful travel tips. Have you ever taken a Great Lakes circle tour? If so, we would love to hear about your experience. We invite you to leave your comments and questions below, and we always respond!
---
Pin this Post!
---