(a

20

minute read)
---
Cultural and spiritual encounters are the standard in St. Landry Parish, Louisiana, with its Cajun roots, Catholic heritage, Zydeco music, artistic towns, and brand new tax-free districts.
---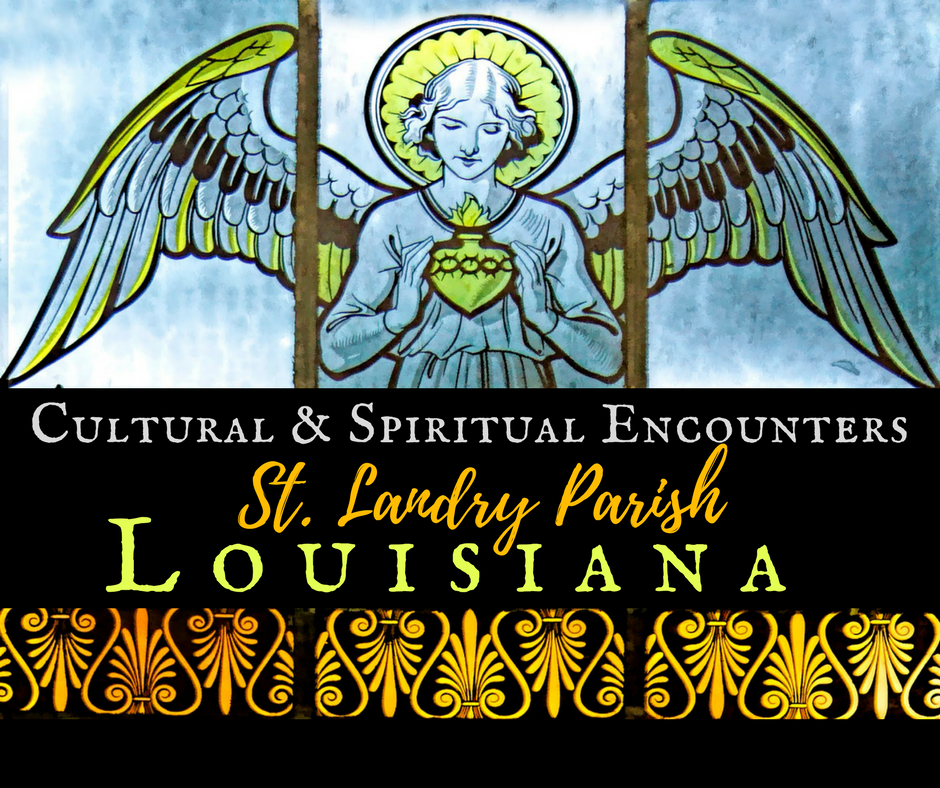 I was a guest of St. Landry Parish Tourist Commission, but all thoughts and opinions are my own.
---
St. Landry Parish Louisiana
---
St. Landry Parish, Louisiana, is one of the most unique destinations I have ever visited.
Sure, it has its share of history like Natchitoches and Ascension Parishes, and it offers plenty of outdoor opportunities like Lafayette and Sabine Parishes.
But in St. Landry Parish, cultural experiences are front and center. Visitors will hear the French Creole language, feel the rhythms of Zydeco music, and taste the bold flavors of Cajun cuisine, but even more so they will encounter the inescapable presence of art and religion in daily life.
I spent two days exploring St. Landry Parish, and my itinerary would lead me through the five diverse towns of Opelousas, Washington, Sunset, Grand Coteau, and Arnaudville. The temporary clouds and rain would only enhance the warmth and beauty of humanity, and the power of the divine I experienced during my stay.
---
St. Landry Parish Visitor Information Center
---
Conveniently located at Exit 23 on I-49, the St. Landry Parish Visitor Information Center is the perfect first stop for anyone visiting the area. Not just because the staff is warm, engaging, and accommodating, but because the visitor center is a destination itself.
The award-winning LEED-certified facility is an eclectic blend of old and new construction. My favorite interior element were the rustic, yet refined longleaf pine floors, locally-sourced and salvaged from a demolished historic structure.
The visitor center exterior also reflects sustainable, renewable design, beginning with the reclaimed asphalt parking area. Porch roof rainchains direct water flow into a drainage runnel filled with repurposed oyster shells, that in turn irrigates native plantings in the cypress bog garden.
Boardwalk kiosks with interpretive panels detail environmental practices implemented in the project design and their connections to surrounding communities.
Fiddle Mania is a public art project sponsored by Opelousas Main Street, Inc, to celebrate the parish seat's title as Zydeco Capital of the World. Zydeco is a genre of Creole music characterized by accordion and fiddle, set to rhythms created with household percussion, such as rubboards and spoons. The Spicy Cayenne Fiddle displayed at the Saint Landry Parish Visitor Center was created by local artist Christine Ledoux.
---
Opelousas
---
As a chronic fact-checker, I do my best never to report any historical inaccuracies, but when researching dates and locations for my stories, it can get crazy, especially with histories that go back as far as Louisiana. When writing about oldest cities, there are so many terms to consider, such as settled, chartered, founded, established, incorporated, and I think you get the picture.
Opelousas claims to be the third-oldest city in Louisiana, so we will go with that. It is also known as the Spice Capital of the World, as home to leading brands such as Tony Chachere's, Targil, and Savoie.
Le Vieux Village
---
My first stop in town was at Le Vieux Village, a historical park and heritage museum complex designed with some of the parish's oldest buildings.
Historical structures in the village include the French Creole Venus House (1700s), the Emar Andrepont General Store (c. 1880), and the Whiteville Schoolhouse (1911).
Most of the structures are open to visitors who want to explore inside. The interior of the Andrepont Store shows how general stores carried a variety of goods from groceries to hardware and clothing. I was especially intrigued with the vintage account ledger on display.
Other buildings in the village house the City of Opelousas Tourist Information Center, a Zydeco music exhibit, and a Jim Bowie display honoring the hero of the Alamo and former resident of Opelousas.
Louisiana Orphan Train Museum
---
The most prominent feature of Le Vieux Village is the Louisiana Orphan Train Museum. The museum, appropriately housed in the former Union Pacific Freight Depot (c. 1900), is dedicated to collecting artifacts and preserving the history of orphan train riders, especially those who arrived in Louisiana. It is one of only two orphan train museums in the United States.
I first learned of the orphan train from books featured in Scholastic Book Clubs during my first career as a middle school reading and history teacher, so I was quite excited about this stop on my itinerary.
The dominating feature of the museum main gallery is a mural entitled "The Gathering" that shows families meeting newly-arrived children at the Opelousas depot. Father John Engberink, pastor of the St. Landry Catholic Church and the priest responsible for bringing the orphans to the area, is depicted on the left side of the painting.
Other murals by local painter Robert Dafford were pictured in our Lafayette, Louisiana, post.
The orphan train initiative to place New York's homeless children with families across the country began with the work of Protestant minister Charles Loring Brace through the Children's Aid Society and the New York Foundling Hospital operated by the Roman Catholic Sisters of Charity. Between 1854 and 1929, more than 200,000 children were relocated throughout North America.
In 1907, orphans from the New York Foundling Hospital were sent to Catholic families in Louisiana. Cooperating parish priests forwarded applications to the Sisters of Charity who attempted to match children with familial requests. Sisters would accompany the children on their journeys, unite them with pre-selected families at the depot, and sign the document of indenture. There were various agreements between the parties, including that the children be raised in the Catholic faith. In cases where the relationship proved unsuitable, children could be returned or the indenture revoked. In other cases, children were eventually adopted.
To me, the most moving exhibits at the museum were the shadowboxes and displays containing original clothing and number tags worn by the orphans in route to their new homes. These historical artifacts authentically portray the humanity behind the stories.
Lifelike statues outside the museum honor St. Landry Catholic Church pastor, Rev. John Engberink, and founder of the New York Foundling Hospital, Sister Mary Irene Fitzgibbon
Although it never transported orphans, the (c.1904) wood-burning Mary Jane Steam Engine lends a realistic touch to the depot.
Crawfish House & Grill
---
There is nothing like a cup of gumbo to warm the body and soul on a rainy day. I enjoyed a cup for lunch at the Crawfish House & Grill, followed by a crawfish, shrimp, and lump crab salad.
Michel Prudhomme House
---
The weather was not ideal for doing the Opelousas Historic Walking Tour, but I was able to view several sites on a drive after lunch, including the (c.1770) French Colonial Michel Prudhomme House, believed to be the oldest structure in St. Landry Parish.
St. Landry Catholic Cemetery
---
The St. Landry Catholic Cemetery is the final resting place of many prominent residents. The lion and lamb memorial where Louisiana Governor Jacques Dupré (1830-31) and his wife Théotiste are buried is a moving work of art.
Click here for Opelousas lodging options on TripAdvisor!
---
Washington
---
The village of Washington is situated six miles north of Opelousas on Bayou Cortableau. Washington joins Opelousas in its claim as the third oldest settlement in Louisiana due to its proximity and location of its trading post. In the mid-1800s, Washington was the largest inland port between New Orleans and St. Louis for steamboats navigating the bayou.
My itinerary did not allow time for me to thoroughly explore the Washington National Historic District with its many board and batten cottages, Victorian houses, and regal plantation homes. But I experienced a taste of the town's history and hospitality when I drove there for my first evening in St. Landry Parish.
Steamboat Warehouse
---
For dinner, I headed to the Steamboat Warehouse Restaurant. Fine dining in a rustic atmosphere is defined in this restored 1820s steamboat warehouse.
The Catfish Diane was divine!
Laura's Cottage
---
I passed a cold, rainy night in the warmth and comfort of Laura's Cottage Bed & Breakfast.
It was clear upon my first walk-through that the restored cottage was the love child of its proprietor Mrs. Laura Allegood. Attention to every detail was evident, and I was welcomed with a handwritten note, banana bread, and a personal greeting from Miss Laura when she stopped by to schedule breakfast.
I made myself at home in the 1940s cottage, and like we travel writers do, got caught up on a bit of work courtesy of the cottage's high-speed Wi-Fi.
With the fully-outfitted kitchen, well-appointed bath, and convenient laundry facilities, I could easily have checked-in for an extended stay.
Miss Laura serves breakfast at her personal home around the corner from the cottage. On a gray, drizzly morning, nothing warms the soul like a hearty omelette, served with grits, fresh fruit, and fresh-baked biscuits. Miss Laura joined me with a cup of coffee and entertained me with stories of the Little Cajun Saint and Budden's Old General Store in nearby Palmetto, a store her parents opened in 1934 and a family business she managed for many years.
---
Sunset
---
Founded in 1904, Sunset is one of the younger towns in St. Landry Parish. Legend holds that railroad crews regularly named new stops upon arrival, hence the timely name.
Today Sunset's thriving arts community has made it a Louisiana Cultural Districts destination, providing a sales tax exemption for sales "of original, one-of-a-kind works of art from locations established within the Cultural District." The Louisiana Legislature also proclaimed Sunset as the "Rubboard Capitol of the World" after one of four musical instruments to have originated in the United States.
Artworks by Ted Bertrand Gallery & Studio
---
I had the pleasure of visiting one cultural location, Artworks by Ted Bertrand, a gallery and studio located in a historic bank building.
Founded in 1906, the Bank of Sunset, dubbed the "Biggest Little Bank in the World," was one of the few banks that never closed during the Great Depression.
Raised in rural South Louisiana, Ted Bertrand's personality is as warm and colorful as the subjects he paints. Of course, it didn't hurt that "Finlay," Ted's West Highland terrier companion, was on hand to welcome me with an abundance of excited puppy love, as well.
I am no art critic, but Ted's style may best be described as a fusion of impressionism and expressionism punctuated with bold, contrasting pops of color. His original acrylics of Louisiana landscapes, native wildlife, and historic Cajun structures are sure to brighten any room.
Ted's gallery also features the work of other local artists, including current Artist in Residence Ann Matt. He also hosts a monthly open house with live music and seasonal refreshments.
I wondered then, and I wonder now whether the landscape painting original to the bank vault door had been a prophetic sign of things to come.
---
Grand Coteau
---
A 2-mile drive, passing beneath I-49, took me to the neighboring town of Grand Coteau. Although Grand Coteau is also a Louisiana Cultural District for its arts scene, its history and culture are more deeply tied to education and the Catholic faith.
Faith-based tourism was a relatively new concept to me, having only experienced it once before during a visit to sites along the Trail of Faith in Dubois County, Indiana.
My spiritual encounters in St. Landry Parish, Louisiana, however, would open my eyes even more to the beauty that can be found in the creative expressions of diverse faiths.
Academy of the Sacred Heart
---
Today, the Academy of the Sacred Heart in Grand Coteau is an internationally recognized educational institution for girls grades Pre-K-3 through 12, but its beginnings are humble. The school was founded in 1821 after a wealthy widow, Mrs. Charles Smith, offered the Religious of the Sacred Heart fifty acres of land, a small building, and travel expenses for two sisters to come to the area and found a parochial school for girls.
In spite of humble beginnings, the school thrived and construction on the main building was completed in 1835. Formal gardens were installed, and an oak alley was planted leading from the Academy front gate to the town of Grand Coteau.
We met up with Director of Tourism, Sr. Barbara Moreau, for a guided tour to learn about the academy, its history, and the Miracle at Grand Coteau.
UPDATE: A thoughtful reader informed us that Sr. Barbara passed away July 27, 2019.
Mater Admirabilis
---
There are four saints venerated by the Society of the Sacred Heart whose representations are prominently displayed at the academy. Those saints are founder St. Madeleine Sophie Barat, missionary St. Rose Philippine Duchesne, Jesuit scholastic St. John Berchmans, and Mater Admirabilis.
Mater Admirabilis (Mother Most Admirable) is an 1844 depiction of the Virgin Mary painted as a fresco by novice Pauline Perdrau at a Sacred Heart convent in Rome. Symbols in the painting include "a lily at Mary's side representing her purity; a distaff and spindle, her love of work; a book, her dedication to study and prayer."
Chapel
---
The academy chapel, added to the west end of the main building in 1850, is a grand, yet spartan sanctuary. The chapel's Greek revival exterior mirrors the library, added to the east end of the main builiding in 1872.
Museum
---
A campus museum has authentically preserved the academy's rich history with furnishings and artifacts dating to the 19th century. In those days, the Religious of the Sacred Heart were cloistered at the convent. Museum exhibits portray scenes from their daily lives and the lives of their students.
According to sources, Sacred Heart educators taught slaves prior to emancipation, and believing their special calling was "education of negroes," started a school for African American girls in 1875. Today, the academy "accepts students of all races, religions, and ethnic backgrounds who meet the admissions criteria," and in 2006 the organization opened Berchman's Academy of the Sacred Heart for boys.
Shrine of St. John Berchmans
---
The Shrine of St. John Berchmans is a small chapel on the academy campus dedicated to the saint who performed a miracle here shortly after the end of the Civil War. It is the only shrine in the United States situated at the exact spot of a confirmed miracle.
John Berchmans (1599-1621) was a Flemish Jesuit priest who died of malaria at age 22, but in his short life he devoted himself to study, loved people genuinely, and appreciated the value of ordinary things. He was beatified by the Catholic Church in 1865.
As the story goes, Mary Wilson left her home in New London, Canada, at age 15 to enter the novitiate of the Society of the Sacred Heart in Grand Coteau as a postulant. She was in poor health, and her conditioned worsened to the point that she was vomiting blood and had eaten no solid food for 38 days. On December 14, 1866, Mary prayed to Blessed John Berchmans who appeared and touched her tongue. She was instantly healed of her condition.
Mary documented the apparition and miracle in a handwritten account later submitted to the Vatican. Blessed John Berchmans appeared to Mary a second time just a few weeks later on January 27, 1867. He gave approval to her statement, encouraged her to be faithful to her calling, but also informed her she would die before becoming a nun.
Cemetery
---
Mary died on August 17, 1867, of a cerebral hemorrhage, and she was buried at the Sacred Heart convent cemetery. Ultimately, her account contributed to John Berchman's canonization as a saint in 1888.
Readers may be interested to learn that actress Salma Hayek enrolled at the academy at age twelve. Salma was Sr. Barbara's student for a while, but as a mischievous prankster she was encouraged to pursue her education elsewhere.
Campus tours including the Shrine of St. John Berchmans, the historic chapel, and the cemetery are available by appointment only. Interested parties may contact the school directly or submit a tour request online.
Brent's Catering
---
We stopped for lunch at Brent's Catering in Gran Coteau. I was in the mood for a burger and fries, and my host ordered the daily special. The restaurant doubles as an event venue featuring in-house catering, specialty cakes, full-service wait staff, and other event options.
St. Charles Borromeo Catholic Church
---
We met up with local church historian Bonnie Barry for a tour of Grand Coteau's St. Charles Borromeo Catholic Church. It was immediately evident that her attachment to the church was more than mere facts and dates. It was a deep love for her Lord, her faith, her church, and her fellow man.
Mrs. Barry's passion for the church led her to years of research that culminated in 1987 with the publication of her book entitled "For the Greater Honor and Glory of God: St. Charles Borromeo Catholic Church." The story of the church's design, financing, and construction has all the elements of a good novel with twist and turns, tragedy and triumph.
Although the St. Charles Borromeo Parish was founded in 1819, the present church building dates to 1879. I have toured many churches and cathedrals throughout North America, South America, and Europe, and I have to say the artistic treasures and simplicity of design of this church have conspired to make it one of the most beautiful.
Seventeen of the church's thirty-two original paintings were done by an itinerant painter named Erasmus Humbrecht from the Alsace-Lorraine region of France on the German border.
Dated 1862 and signed by the artist A. Zimmermaun, the Sacred Heart of Jesus painting over the main altar was a gift from the Religious of the Sacred Heart in Orléans, France.
Humbrecht was commissioned to paint the Mater Admirabilis and St. Joseph for the side altars.
Humbrecht also painted the fifteen Mysteries of the Rosary for the fourteen niches high on either side of the nave and on the ceiling. In addition to wine and daily meals, Humbrecht received $15 for each of the niche paintings and $65 for the ceiling painting.
Humbrecht had arrived in Gran Coteau on February 16, 1880, and he departed on May 5, 1880, having painted seventeen canvases in less than eighty days.
Stained glass windows have been installed in the church in three sets: at the time of construction, in the 1920s, and the 1940s.
St. Charles has a second belfry, a unique feature not seen in many churches. In 1886, a parishioner donated a massive bell to the church in memory her late husband. Because there was no belfry to house the donation, a second bell tower was built in the rear of the building, giving the church a rare architectural feature and distinctive appearance.
St. Charles Borromeo Catholic Church Photos: Bonnie Taylor Barry
Visitors interested in learning more about the church or how to acquire a copy of the book can email Bonnie Barry for more information.
Guided tours must first be cleared with the church calendar by calling (337) 662-5279.
The Kitchen Shop
---
Before leaving Grand Coteau, we stopped by The Kitchen Shop to sample two local treats. Unfortunately they were out of Cajun Sweet Dough Pie, but I did get to try a slice of its close relative Gateau Na-Na, "a giant pecan praline baked inside two layers of buttery dough."
I also found the stainless steel beverage straws I had been seeking for so long. I purchased one set each of the curved and straight varieties.
---
Arnaudville
---
The last town on my St. Landry Parish itinerary was Arnaudville, located at the junction of Bayou Teche and Bayou Fuselier. It was named for the Brothers Arnaud who in the 1800s donated land to build a church for whites and black that still exists.
In recent years, Arnaudville has become a mecca for artists, musicians, and French linguists.
NUNU Collective
---
The heartbeat of the Arnaudville cultural scene is the NUNU Arts & Culture Collective, located on the site of the former Singleton Hardware and Lumber complex.
In its own words, NUNU's is "an educational nonprofit that works to encourage the development of artistic talents, skills, knowledge and business savvy by connecting artists with other artists, businesses, organizations and programs."
In addition to its participation as a Louisiana Cultural District, Arnaudville joins Sunset, Grand Coteau and two other towns as members of the Corridor des Arts tax-free initiative. Sites along this art and cultural trail are marked with vintage car door signs like NUNU's pictured above.
NUNU's is the brainchild of visual artist George Marks.
Like a Phoenix, the collective has risen from the ashes of the Town Market, Marks' studio and gallery that was lost to fire in 2010.
Visitors can view and purchase locally handcrafted items created by participating artists at NUNU's tax-free Marketplace.
A restored barn on the property functions as a multi-purpose space for educational programs, potlucks, and other events.
NUNU's Marketplace is open Thursdays through Sundays 11:00 AM to 4:00 PM or by appointment.
The Little BIG Cup
---
My host and I took refuge from the rainy night at The Little BIG Cup and shared a family style last supper that included a praline chicken bites appetizer, pan fried crab cakes, and roast pork tacos.
Cajun Cabin Guest Cottage
---
Lovingly constructed in the tiny house style, I found the Cajun Cabin Guest Cottage cozy and comfortable and stocked with tasty snacks. The fully outfitted bathroom was a bit compact for someone of my stature, but I slept comfortably and found proprietors Peggy and Mark Devall to be truly delightful personalities and accommodating hosts.
I had arrived at the cabin long after dark, and I would be rising hours before daylight for a 6-hour drive to Grapevine, Texas.
My body was tired, but my spirit had been renewed by many cultural and spiritual encounters in St. Landry Parish.
---
Zydeco Cajun Prairie Scenic Byway
---
While touring St. Landry Parish, I drove a a segment of the Zydeco Cajun Prairie Scenic Byway.
You can learn more about Louisiana Trails & Byways in our Design Your Own Louisiana Road Trip post.
---
Map It!
---
---
We Would Love to Hear From You
---
We enjoy dialogue with our readers, especially when they share off-the-beaten-path destinations and useful travel tips. Have you ever had cultural or spiritual encounters in St. Landry Parish Louisiana? If so, we would love to hear about your experience. We invite you to leave your comments and questions below, and we always respond!
---
Pin this Post!
---