(a

14

minute read)
---
As a world-class bass-fishing destination and home to the 2nd-largest historical district in the state, you won't run out of things to do in Eufaula Alabama.
---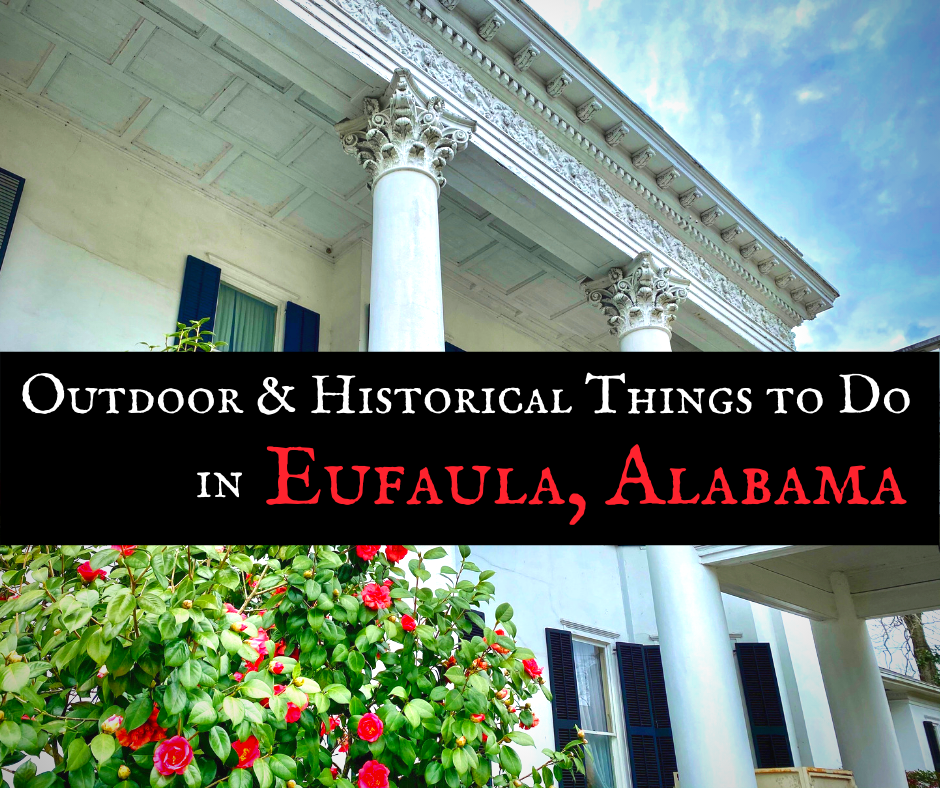 I was a guest of Eufaula-Barbour County Chamber of Commerce, but all thoughts and opinions are my own. This post may contain affiliate links. Please refer to our our Disclosure/Disclaimer page for more information.
---
Things to Do in Eufaula Alabama
---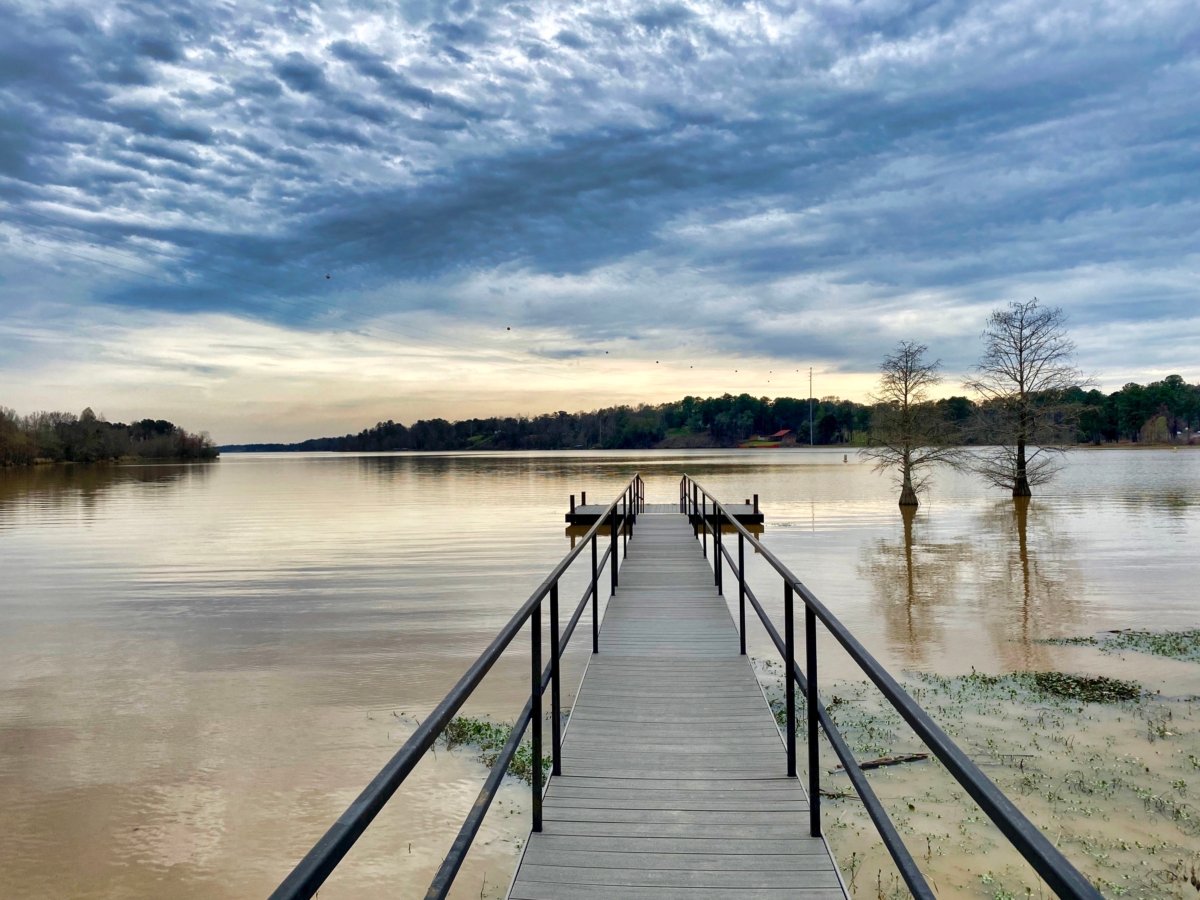 Word of mouth is a powerful motivator, and in this case, it did not disappoint.
Multiple friends and acquaintances who know and understand my affection for historical small towns had informed me that I would love Eufaula, Alabama.
Lucky for me, Eufaula was perfectly situated en route on a loop road trip through the Southeast that would carry me north to Thomasville, Georgia, west to Hattiesburg, Mississippi, and finally south to Coastal Mississippi.
I was eager to tour Eufaula's famed tree-lined historical district, and the outdoor opportunities would be a bonus.
Eufaula, Alabama, is situated directly across the Chattahoochee River from Georgetown, Georgia.
When visiting, three names for the same body of water can get confusing, so let's clear things up.
In 1962, the Army Corps of Engineers completed construction of a lock and dam on the Chattahoochee River, and named it for U.S. Senator Walter F. George of Georgia. The resulting reservoir was called Walter F. George Lake. In 1963, however, the Alabama legislature passed a resolution to name the body of water Lake Eufaula.
The 45,181-acre reservoir soon became a fishing destination for spotted, striped, and largemouth bass, as well as crappie, bream, and catfish. Today, Lake Eufaula—or whatever you want to call it—is a site for frequent bass tournaments and other boating and fishing events.
---
James S. Clark Interpretive Center
---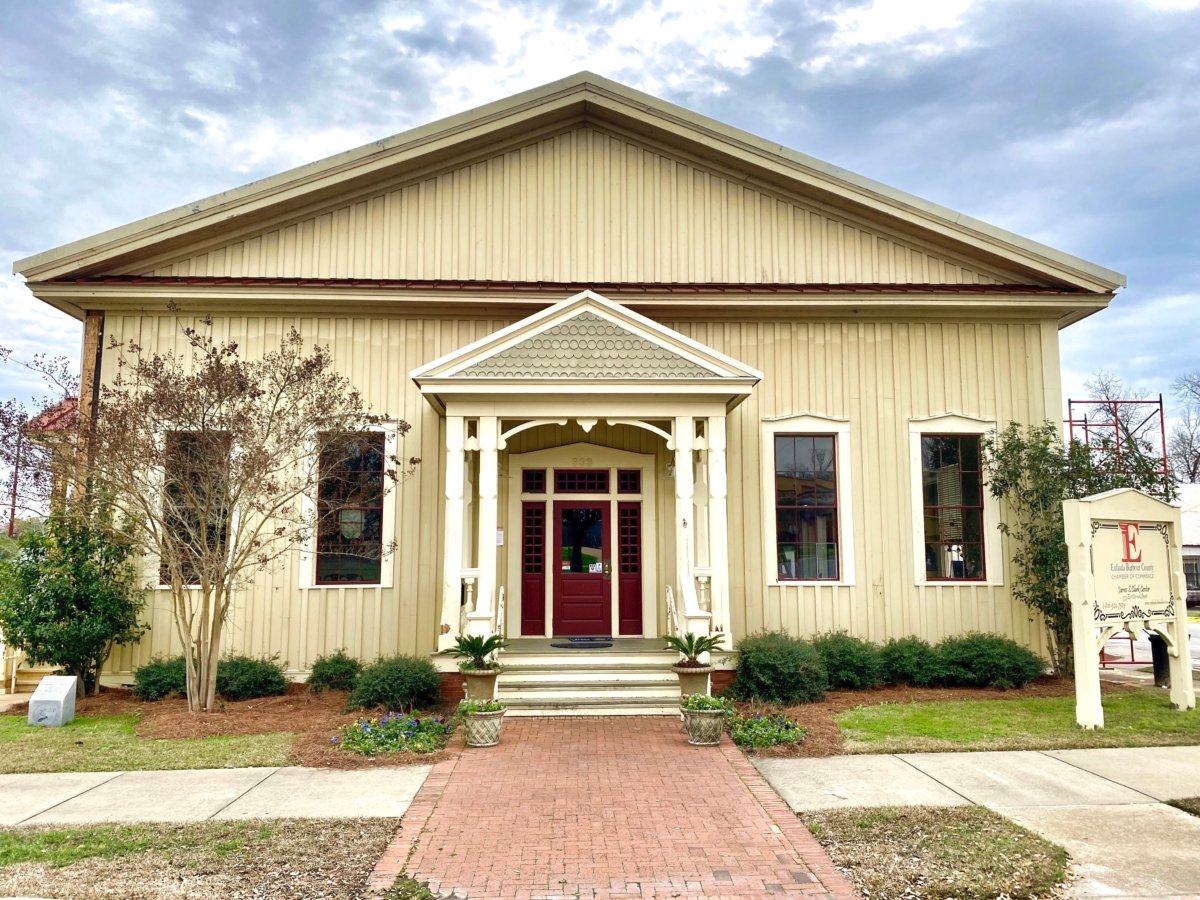 A renovated 1890 freight depot is home to the Eufaula-Barbour County Chamber of Commerce and Welcome Center. The historic structure also houses the James S. Clark Interpretive Center, making it the perfect place to begin your visit to Eufaula, Alabama.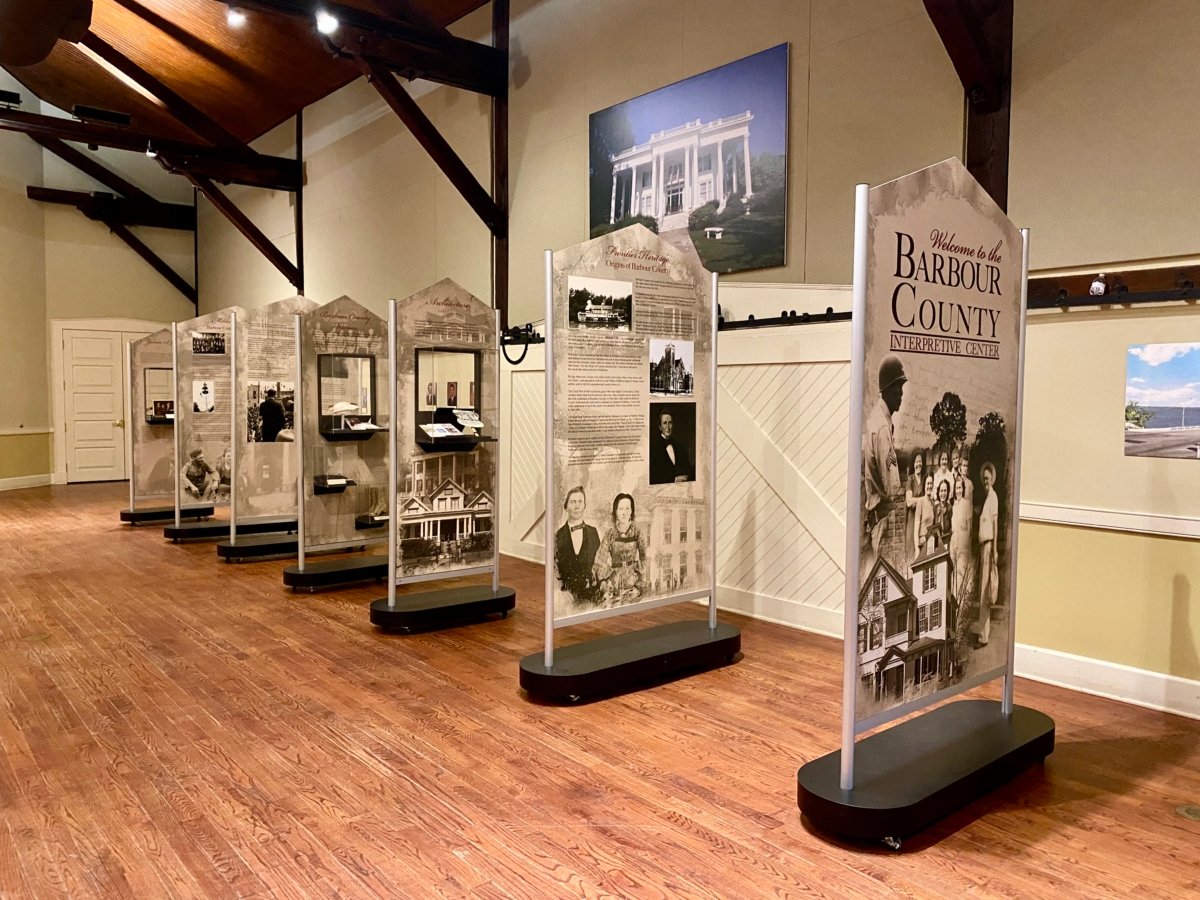 Two rows of interpretive panels interspersed with small exhibits offer guests a concise overview of the region's rich history.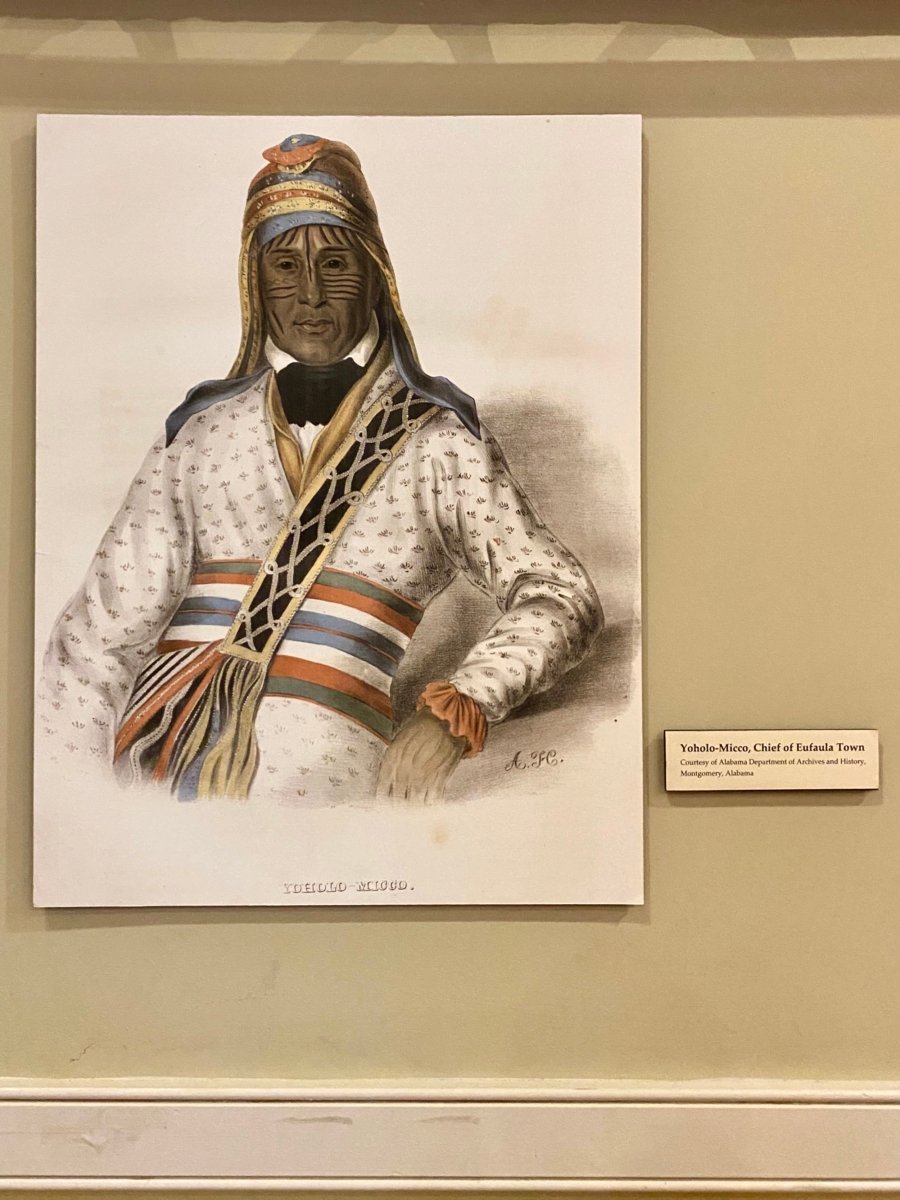 Throughout my tour of Eufaula, I would encounter multiple references to Yoholo-Micco, principle chief of Eufaula Town. The respected leader was a member of a delegation from the Creek Nation that met with President John Quincy Adams in 1825 to renegotiate the Treaty of Indian Springs.
While in Washington, DC, the native delegates sat for portraits by renowned artist Charles Bird King. These works, along with more than 100 additional full-color portraits of native leaders, would ultimately be published in the three-volume "History of the Indian Tribes of North America" in 1842.
Sadly, in 1836, Chief Yoholo-Micco and his people were driven from their home in Eufaula along the Trail of Tears to resettle in Oklahoma.
I am always intrigued to learn about lesser-known historical characters and their accomplishments when I explore small towns across the country.
Eufaula was no different.
In one display, I learned the first covered bridge spanning 540 feet across the Chattahoochee River at Eufaula was built in 1838 by architect John Godwin and his slave junior partner Horace King.
Note: While curating photos for this story, I recalled learning about an African-American bridge builder a year earlier while working on a guide to North Georgia swimming holes. Checking the story, I was able to verify that the 229-foot long covered structure at Watson Mill Bridge State Park near Athens, Georgia, was built in 1885 by Horace King's son, Washington King.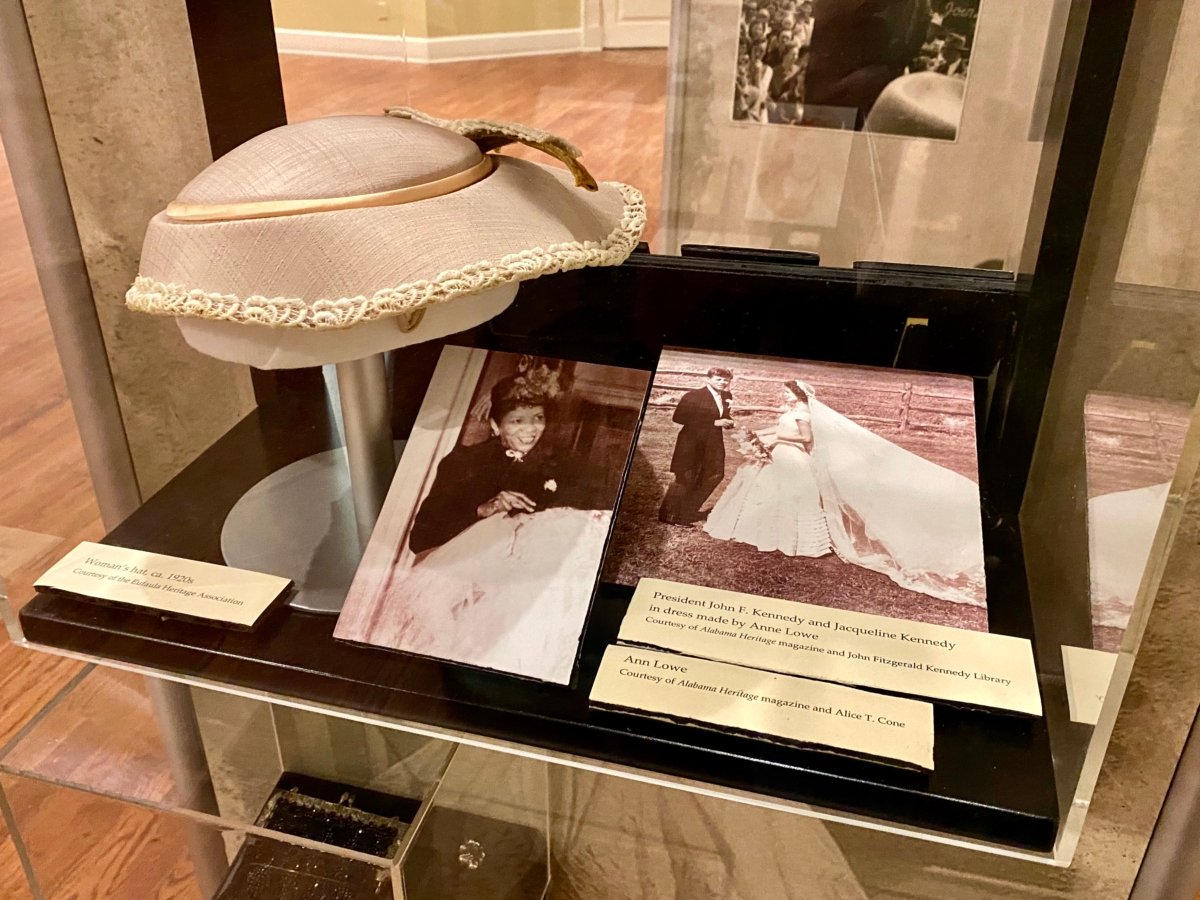 Seamstress Ann Lowe from Barbour County was the first African American to become a fashion designer of note. She designed gowns for the First Lady of Alabama, actress Olivia de Havilland, and Saks Fifth Avenue.
In 1953, Ann Lowe designed Jacqueline Bouvier's ivory silk taffeta wedding gown for her marriage to John F. Kennedy.
Tom Mann, legendary bass angler and inventor of the "Jelly Worm" lure, moved his business to Eufaula in the late 1960s. He often hosted celebrities on fishing trips, including President Jimmy Carter.
Barbour County prides itself as home to six elected Alabama governors plus two acting governors, more than any other county in the state.
Scenes from the popular motion picture Sweet Home Alabama (2002) starring Reese Witherspoon were shot on location in Eufaula. The welcome sign prop to the fictional town of Greenville, Alabama, is on display at the interpretive center.
Before leaving the welcome center be sure to grab any brochures and maps you may need. Feel free to pop in with questions Monday through Friday from 8:30 AM to 4:30 PM like I did. The warm, friendly staff is eager to help visitors to town.
---
Seth Lore and Irwinton Historic District
---
Eufaula's Seth Lore and Irwinton Historic District encompasses more than 700 structures listed on the National Register of Historic Places, including homes, commercial buildings, and houses of worship.
Captain Seth Lore and developers platted what is now the downtown area, naming four north-south avenues—Livingston, Orange, Randolph, and Eufaula—as an acronym for his surname.
As the antebellum cotton-based economy prospered, residents erected magnificent Greek Revival, Italianate, and Victorian homes along the tree-lined streets. Much like the grand homes in Natchez, Mississippi, Eufaula's homes were spared imminent Union destruction by news of the Confederate surrender at Appomattox Courthouse.
History buffs and lovers of architecture are sure to enjoy touring Eufaula's Seth Lore and Irwinton Historic District, the second-largest of more than 200 historic districts in the state of Alabama.
---
Eufaula Walking-Driving Tour Highlights
---
My host inundated me with a wealth of print publications to keep me busy exploring the area for days. But the most valuable resource was the Eufaula Walking-Driving Tour. I knew there was no way I could see everything, so I skimmed the map and descriptions to ensure I visited some of the most notable spots in town.
There are several sites to see in the immediate area adjacent to the welcome center. The Reeves Peanut Company warehouse is a gorgeous brick building constructed in 1903.
A time capsule to be opened on April 2, 2101, rests in the median of East Broad Street, and a collection of historical markers and interpretive panels line both sides of the street to the east.
I regret not having time to walk the Yoholo-Micco Trail. A Rails-to-Trails project, the 3.2-mile paved path leads from the former depot through mixed woodlands, across a former trestle, and past a hidden waterfall to Old Creek Town Park.
Manny, named for Eufaula's favorite son Tom Mann, is a 12-foot high bass statue announcing the town's claim to fame as the "Big Bass Capital of the World."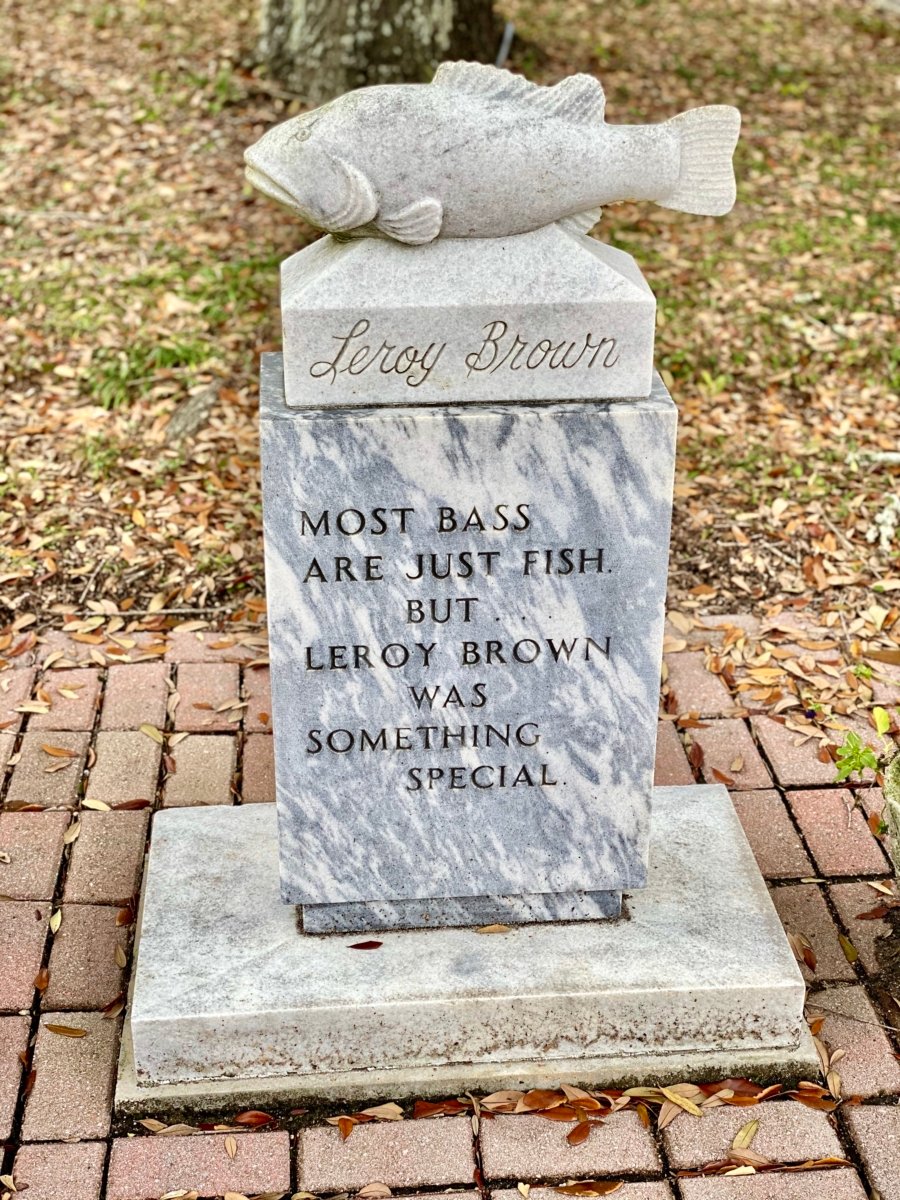 A monument to Leroy Brown, Eufaula's most famous bass, is located two and a half blocks west of Manny in the East Broad Street median. The legend of Tom Mann's beloved pet bass is one for the books!
Note: For more bass-fishing fun check out the Backroad Planet guide to Louisiana's Toledo Bend Lake.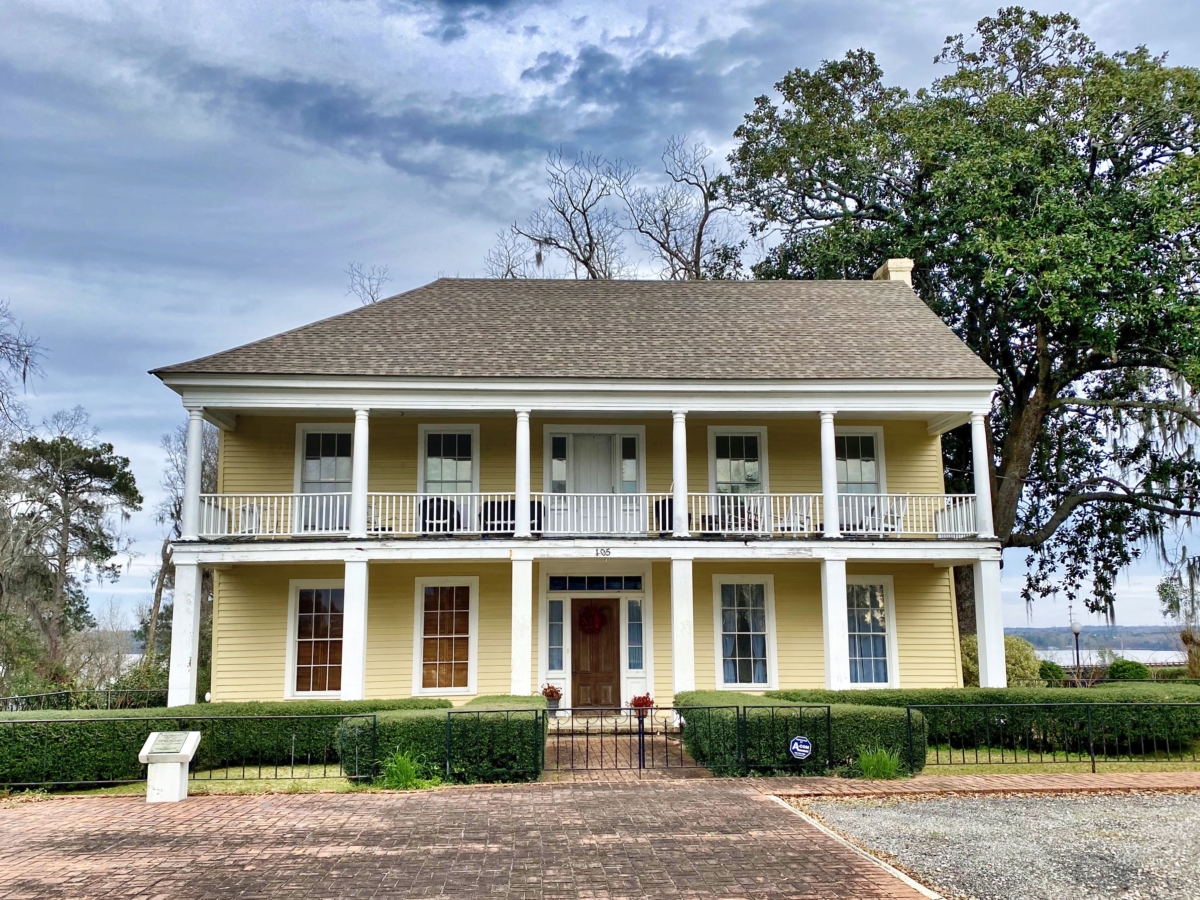 I hopped in my car to drive to several key sites on the tour.
"The Tavern" was built as a river inn on the Chattahoochee in 1836 (the same year Yoholo-Micco was expelled). The oldest building in town also served as a Confederate hospital during the Civil War. Today, it is a private residence, and I enjoyed a chat with the owner who was taking out his trash when I stopped by.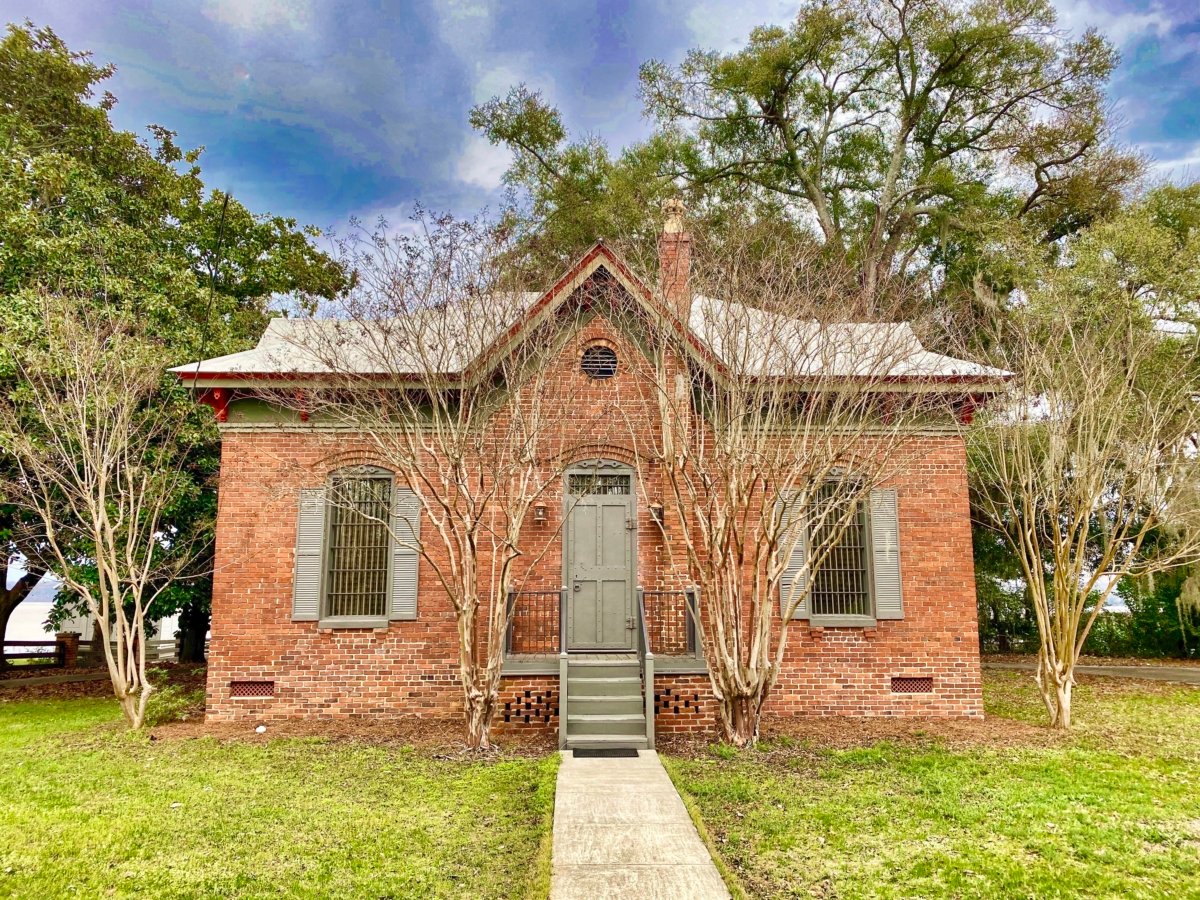 A short walk down the block will take you to the Old City Jail (1882). The foot-thick brick structure was restored and moved to this location in the 1980s. It houses two cells, one for men and the other for women or lunatics.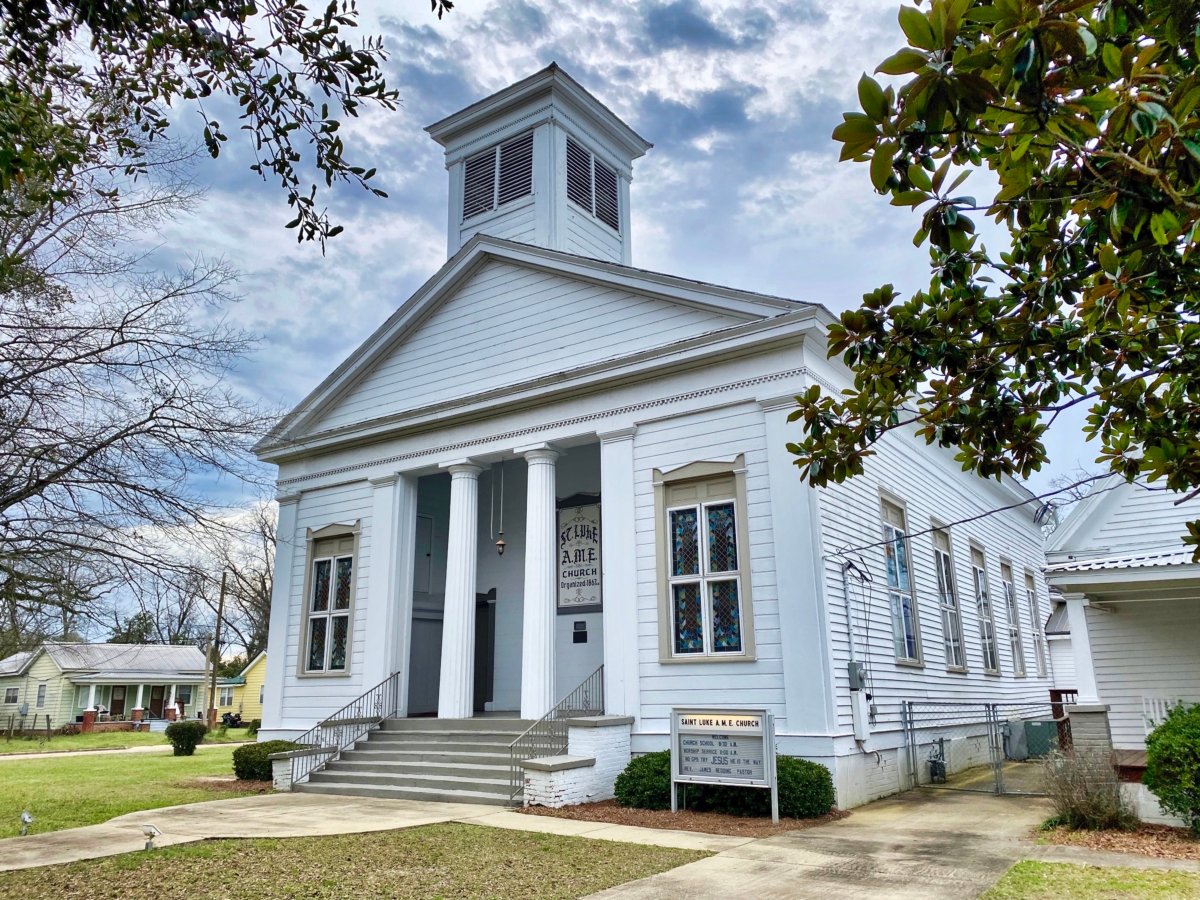 The oldest surviving church building in Eufaula, constructed with slave labor, was completed in 1840. In 1869, the former Eufaula Baptist Church was deeded to the negro Baptist church. The African Methodist Episcopal church purchased the building in 1877, and it remains St. Luke AME Church to this day.
You will find two more architecturally stunning churches in the Seth Lore Historic District. The Gothic Revival St. James Episcopal Church (1905) features two towers, open beams, and stained glass windows.
The First Presbyterian Church (1869), patterned after English parish churches, was built with imported brick from Holland and features a Tiffany front window.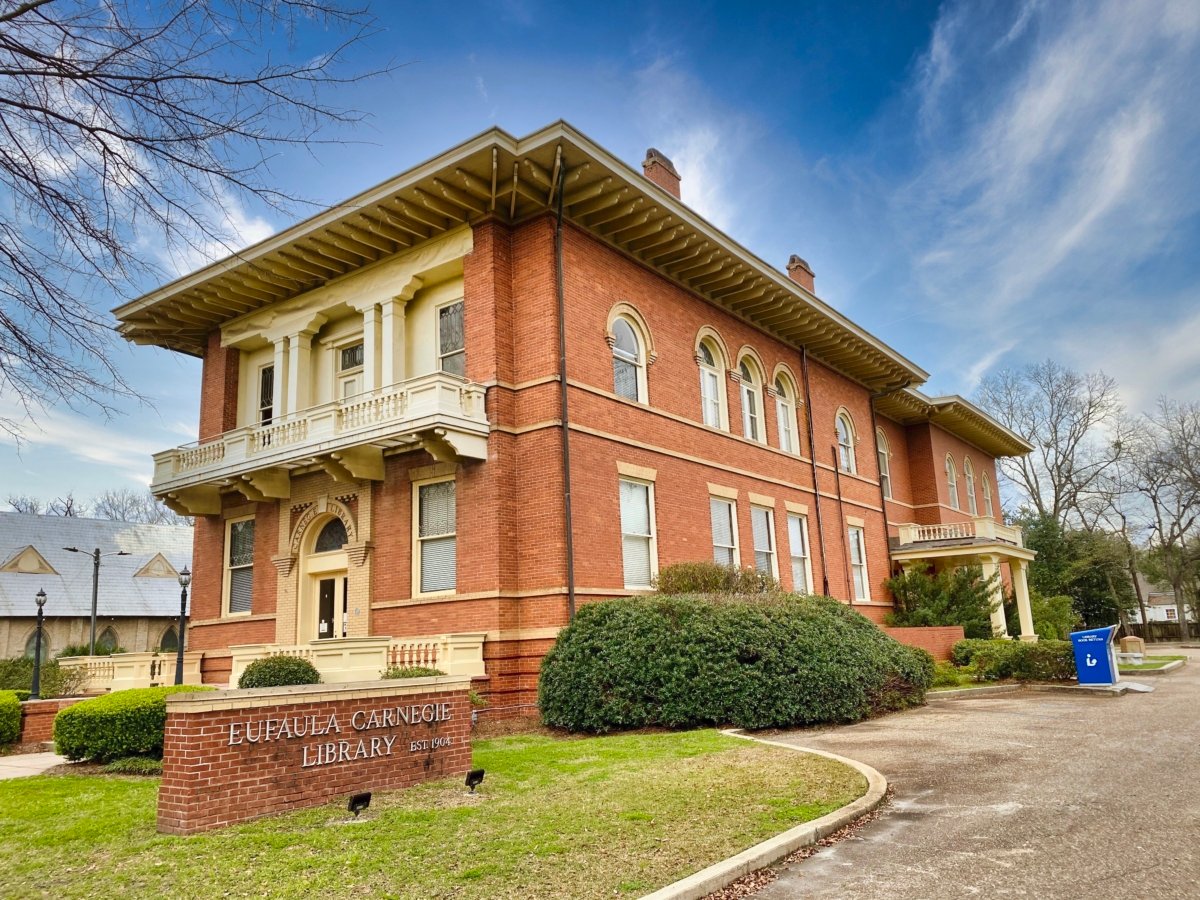 As you might imagine, the Eufaula Carnegie Library (1904) was funded by an Andrew Carnegie Foundation grant. The Italianate structure features second-floor balconies on the north and west facades.
The Couric-Smith House (c. 1845) is the ancestral home of former Today Show host and journalist Katie Couric. The older parts of the Greek Revival structure are constructed with heart pine, and the front porch features six square columns.
Virtually unchanged from the time it was first built, the Hart House (1850) is a one-story Greek Revival cottage. It was built by New Hampshire entrepreneur John Hart who owned "Hart's Block," an early Eufaula business center with eight stores.
The Old Fairview Cemetery (1838), the oldest cemetery in town, encompasses several graveyards. Slaves, governors, Confederate soldiers and officers, members of the Jewish community, Odd Fellows, and Katie Couric's parents are all buried here.
It was encouraging to see ongoing restoration of Eufaula's historic homes while walking and driving the district.
Since 1966, the Eufaula Heritage Association has hosted the Eufaula Pilgrimage, an annual tour of historical homes, the first weekend in April. An annual Christmas Tour was added in 2005 for the first weekend in December.
---
Shorter Mansion
---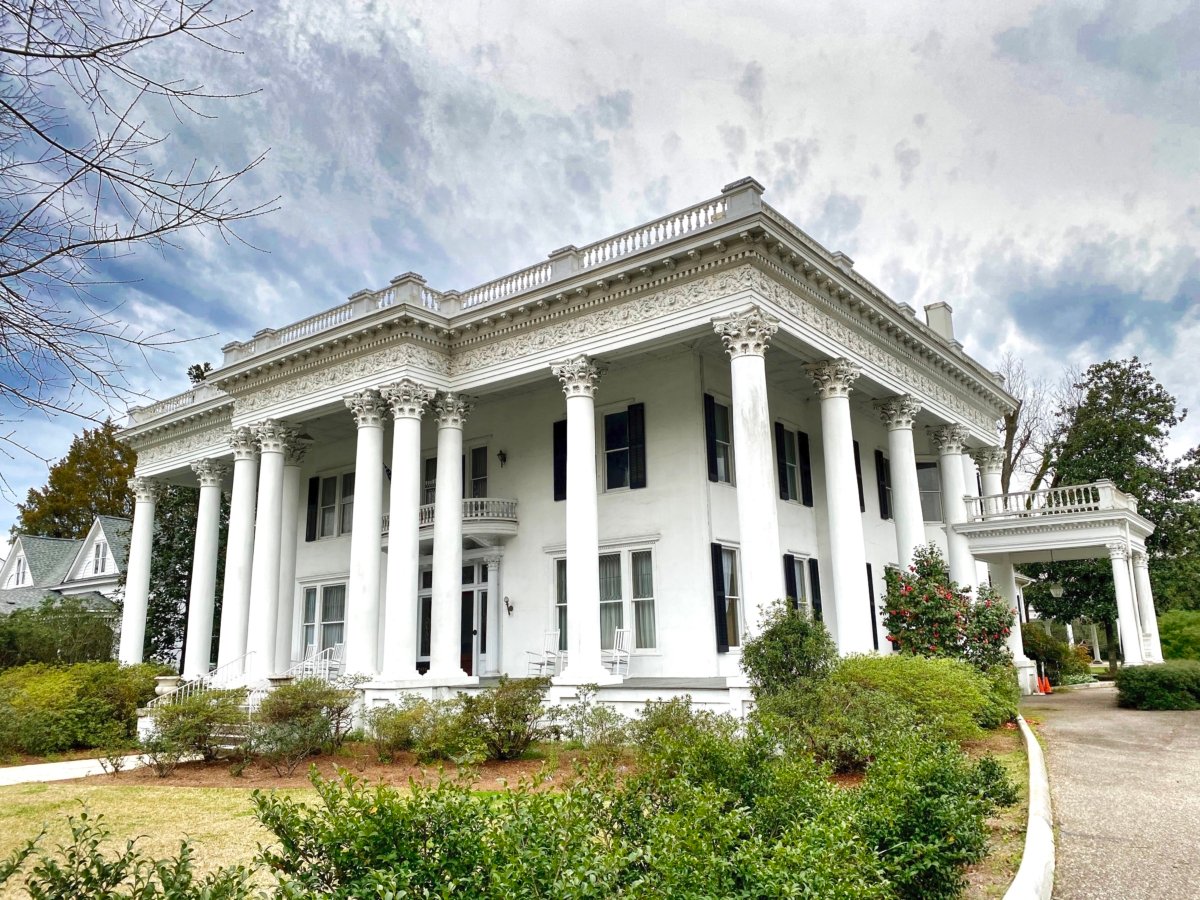 Two of Eufaula's grandest historic homes are open for tours year round.
The Shorter Mansion at 340 North Eufaula Avenue is considered the centerpiece of the historic district.
The most eye-catching feature of the white stucco Greek Revival mansion are the seventeen Corinthian columns that line the front and side porches.
Cotton planter Eli Sims Shorter II, and his wife Wileyna Lamar Shorter, Macon-born heiress to the SSS Tonic fortune, completed a $100,000 remodeling of the 1884 one-story structure in 1906.
Front and back entrance doors to the house are constructed with leaded plate glass panes in a lotus-blossom design.
A ground floor solarium on the south porch is designed with curved glass windows, a new technology for the period.
When the Shorter Mansion went up for public auction in 1965, a group of civic-minded citizens formed the Eufaula Heritage Association and raised funds to purchase the property for $33,000. A $75,000 state grant funded the purchase of antique furnishings to outfit the mansion as a house museum.
Among the furnishings are no less than three antique pianos, including a lovely rosewood instrument with mother of pearl keys.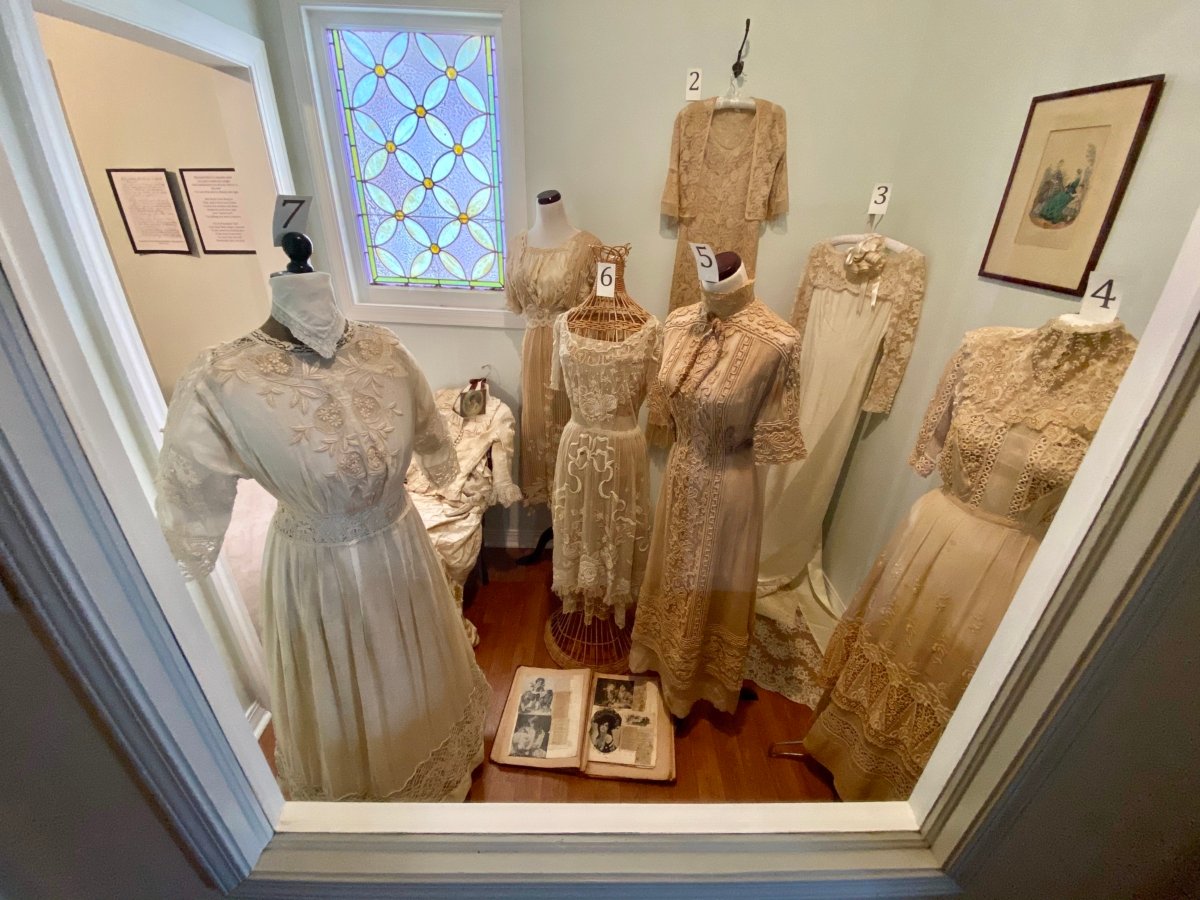 The second floor of the Shorter Mansion houses the Eufaula Historical Museum.
The Military Room's artifact displays recall Eufaula's Civil War and World War connections.
A special exhibit honors Eufaula native Admiral Thomas H. Moorer who served as Chairman of the Joint Chiefs of Staff for two terms during the Nixon Administration.
The Governor's Parlor pays homage to the six Alabama governors from Barbour County, including renowned segregationist George Corley Wallace.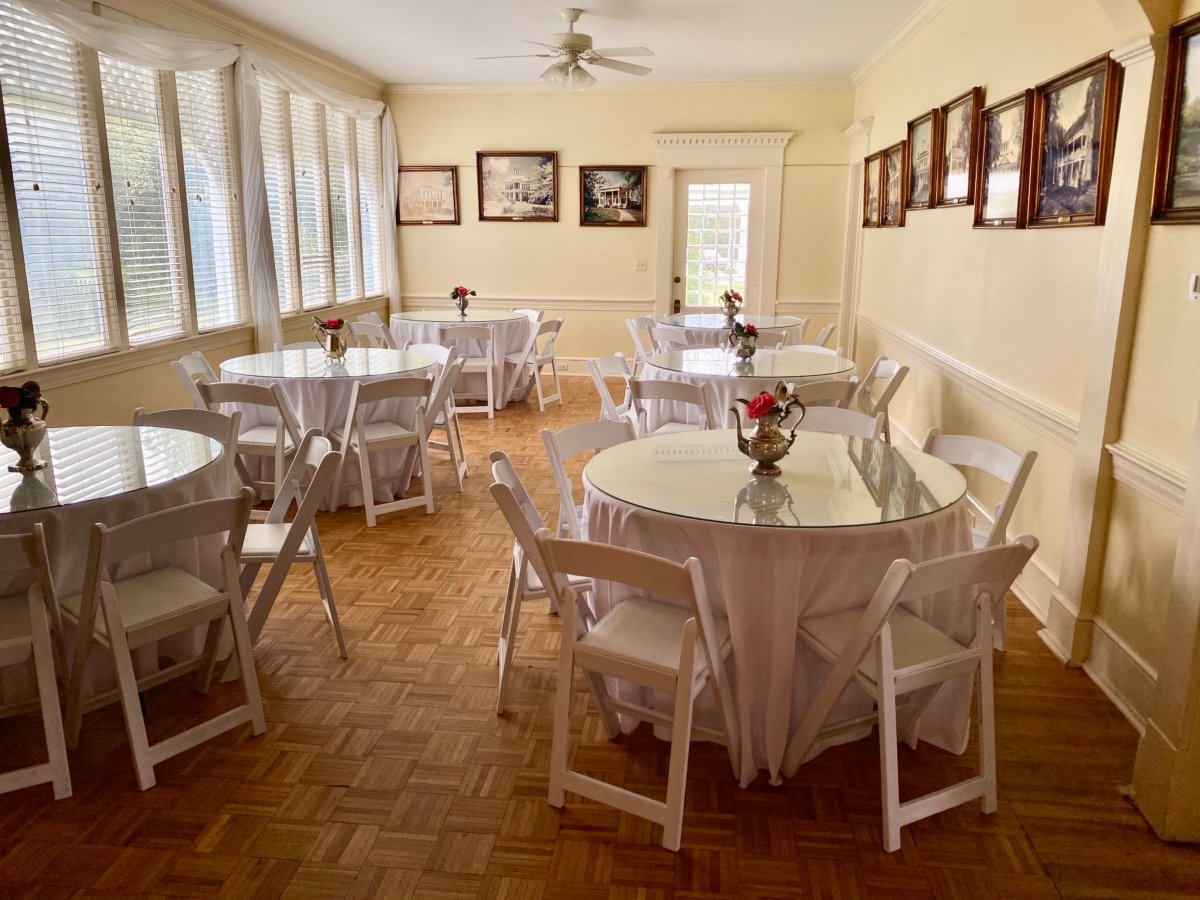 The Shorter Mansion is open for guided tours Monday through Saturday from 10:00 AM to 4:00 PM for a nominal fee.
After-hours event spaces are available with reservations.
---
Fendall Hall
---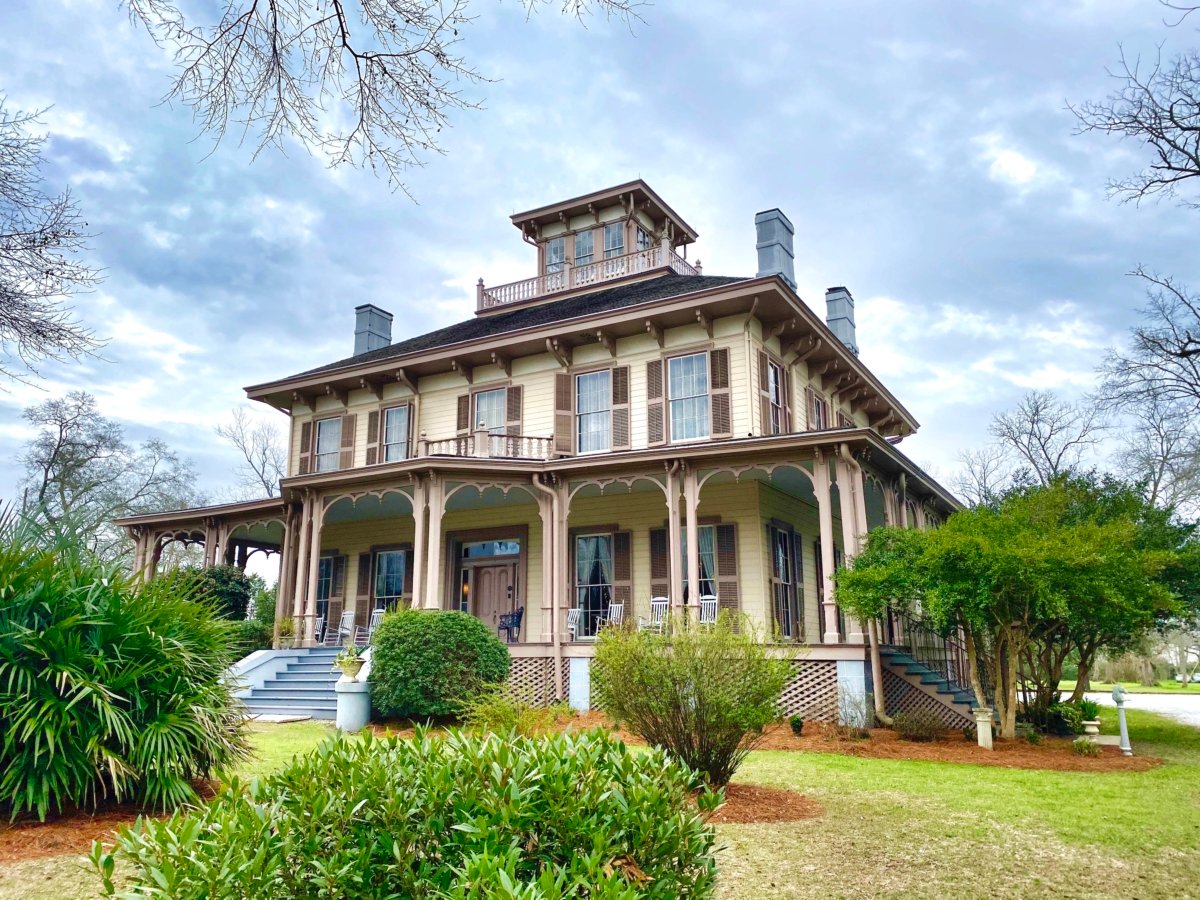 Eufaula's second house museum, Fendall Hall, is owned by the Alabama Historical Commission and operated by the local Friends of Fendall Hall organization.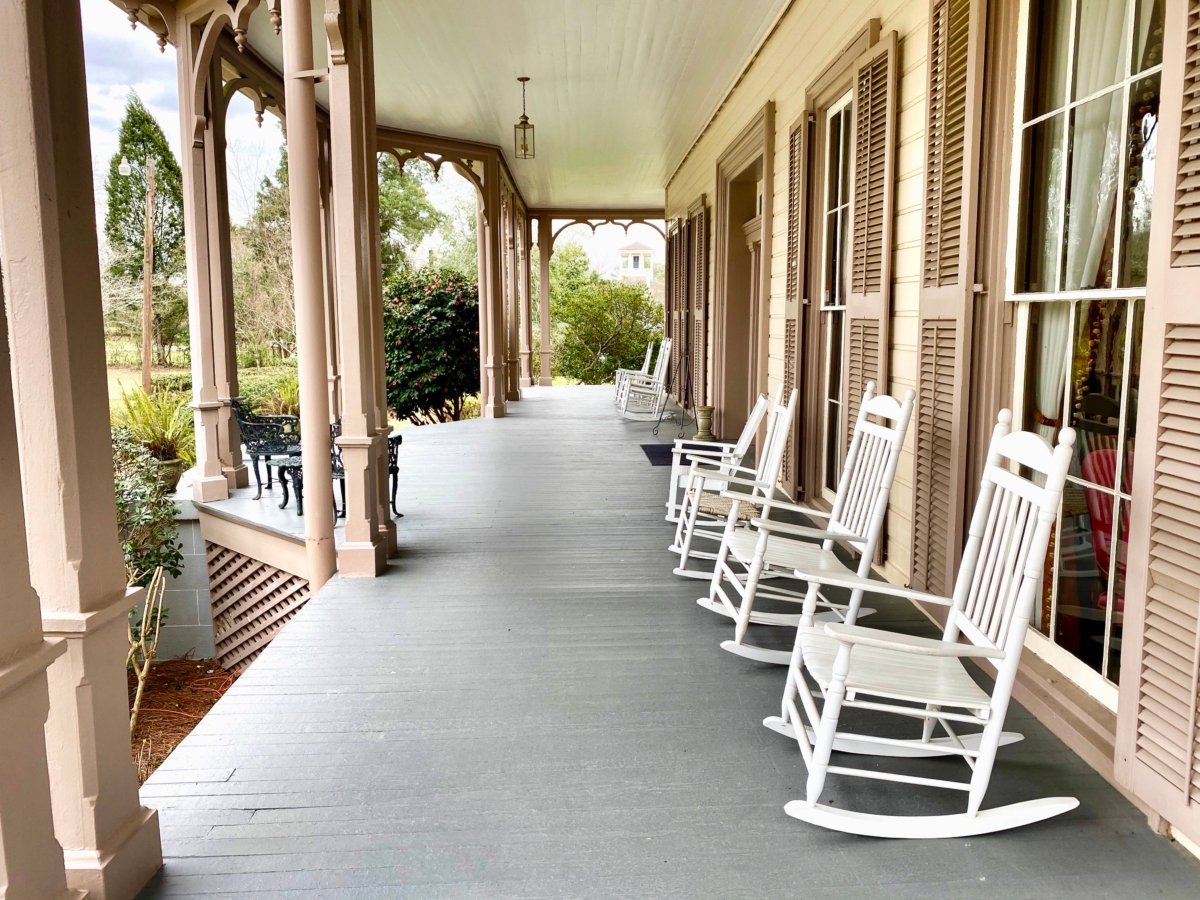 Considered one of Alabama's finest examples of Italianate architecture, the house exterior remains virtually unchanged.
New York native Edward Young and his wife Ann Fendall Beall Young moved to Eufaula by way of Georgia in 1837. A wealthy banker and businessman, Young's home in the College Hill section was completed in 1860.
Fendall Hall remained in the family until 1973 when it was acquired by the state.
With few exceptions, the home interior is staged to reflect the 1880-1916 time period. The straw matting on on the floor is a reproduction of the type used from 1880 until 1972.
Revolving exhibits, including toys and kitchen utensils that belonged to family members, are housed in the Museum Room.
During the Civil War, the encased Confederate flag on display flew over Dent's Battery in Pensacola, Florida. The battery commander was Captain S. H. Dent, husband of Anna Dent, the second owner of Fendall Hall.
Few parts of the historical home are off limits to guests, including the attic. Lead-lined wood boxes and a galvanized tub are two types of cisterns that stored water carried by gravity to faucets on the first and second floors.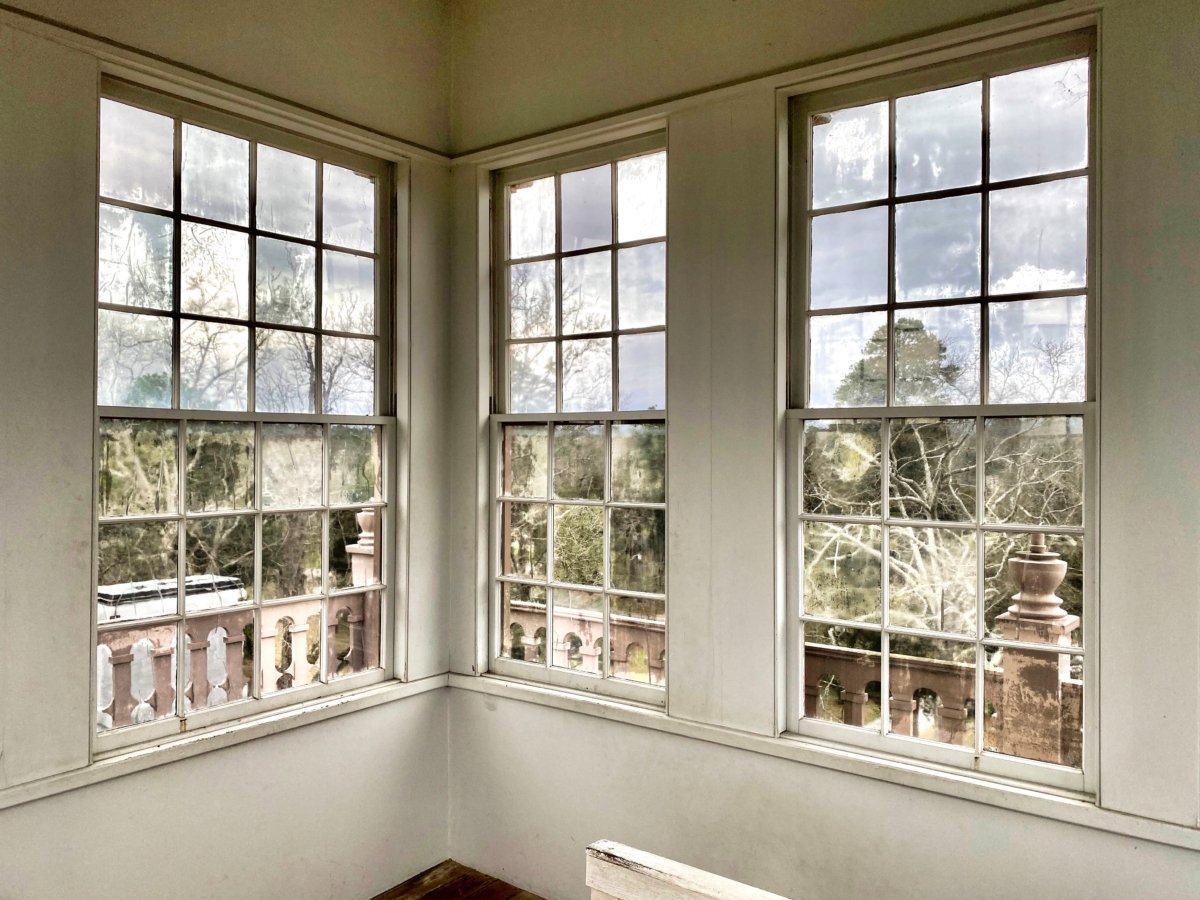 The cupola at the top of the house is a key feature of Italianate architecture. Although its functionality was primarily for ventilation, the views 60 feet above ground are also pretty spectacular.
Fendall Hall is open for self-guided tours Monday through Saturday from 10:00 AM to 4:00 PM. Admission fees are nominal.
---
Eufaula National Wildlife Refuge
---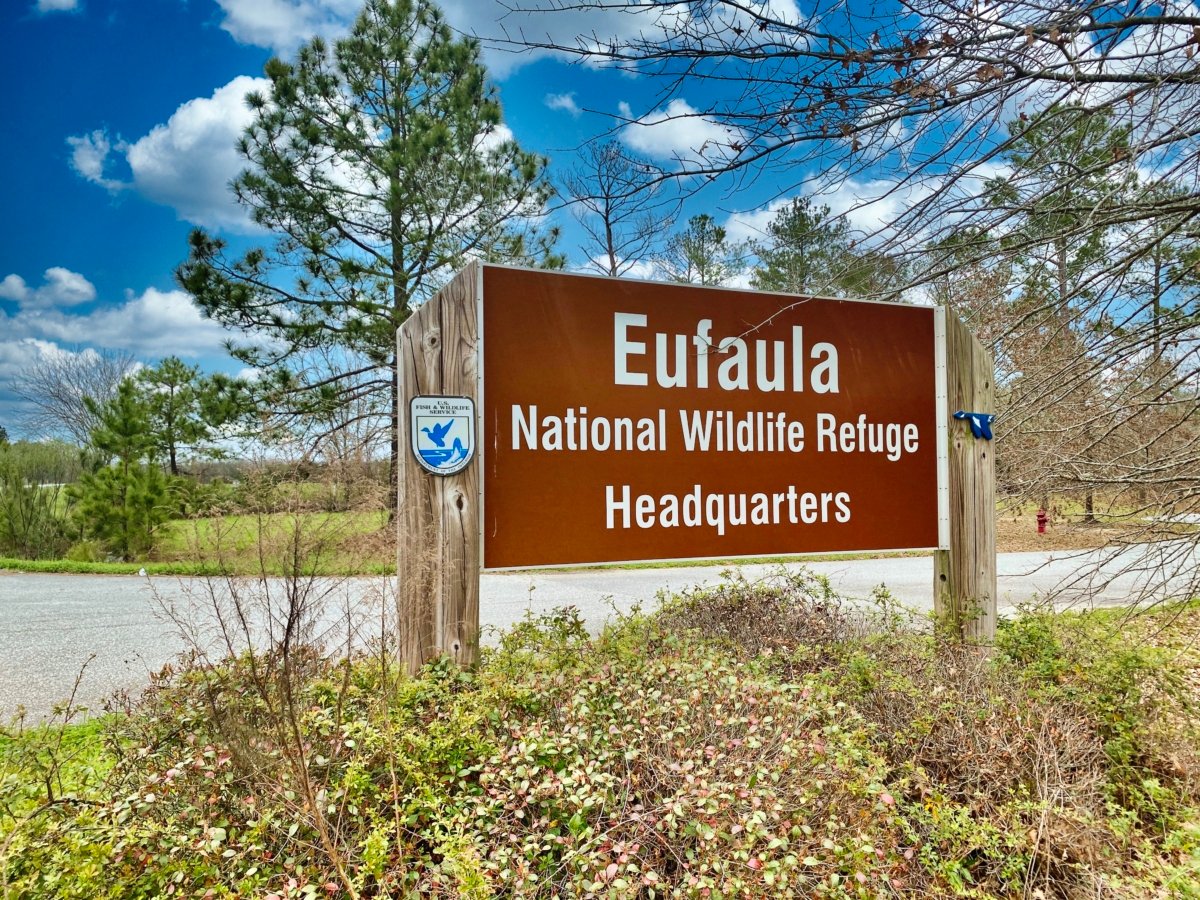 The 11,184-acre Eufaula National Wildlife Refuge straddles the Alabama-Georgia border at a location seven miles north of the city. Four boat ramps within the boundaries give access to Lake Eufaula and the Chattahoochee River.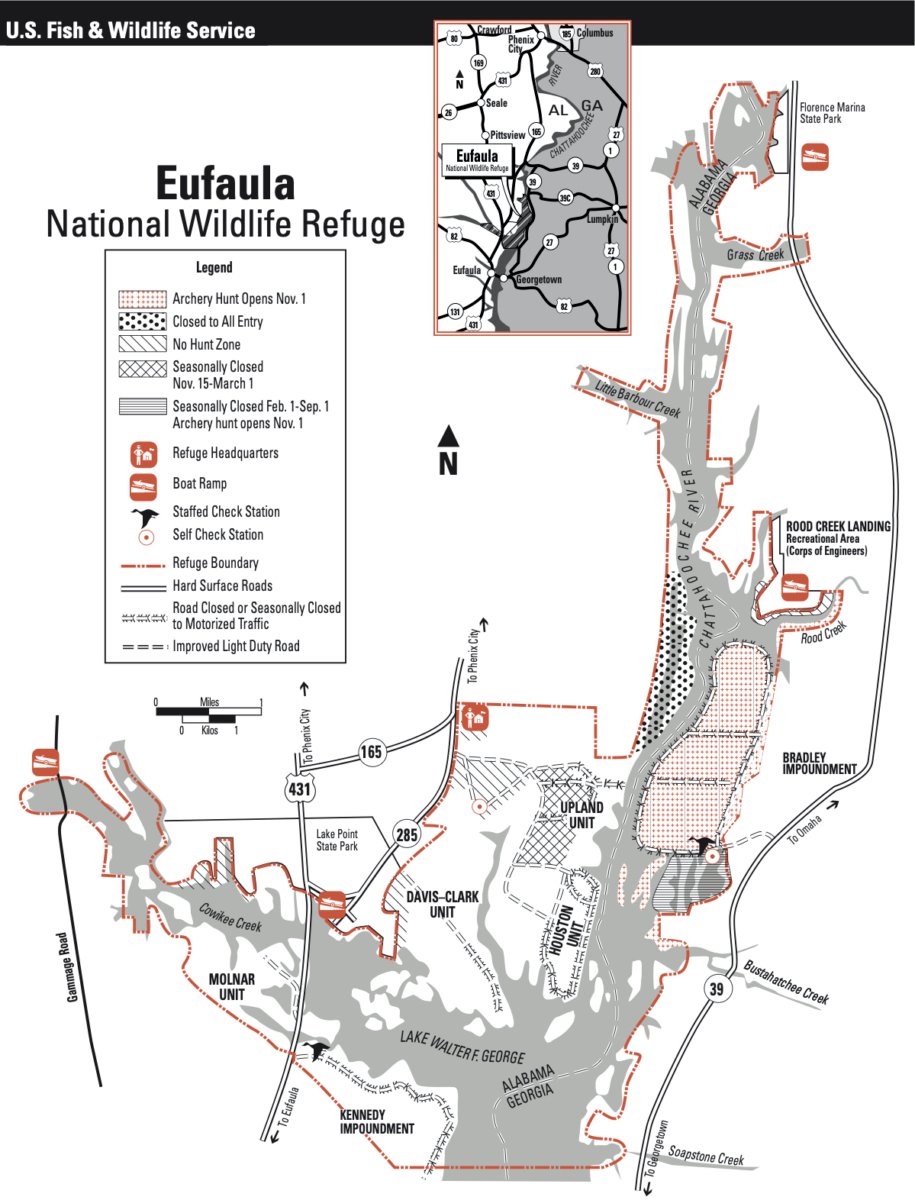 The seven-mile Wingspread Wildlife Drive auto tour is a great way to become acquainted with the refuge. The Upland Waterfowl Viewing Platform and Houston Observation Tower located along the route serve as scenic viewpoints for spotting wildlife.
---
Lakepoint State Park
---
Lakepoint State Park, north of Eufaula is a full-facility park perfect for family vacations and fishing trips.
Guests can rent open and covered slips with water and electric hookups, purchase a fishing license, bait and tackle, and even take a shower at the park marina.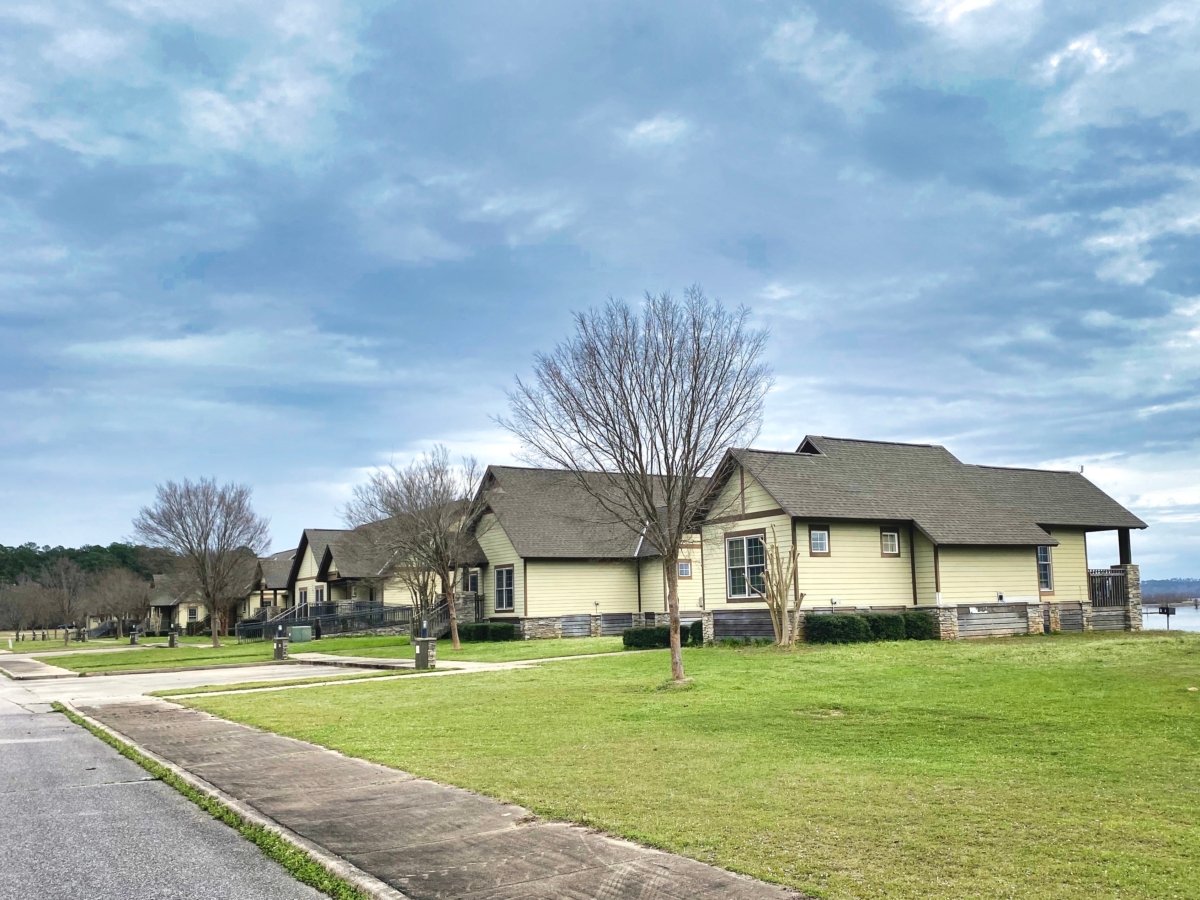 The resort provides a variety of lodging options such as lakeside cottages, fishermen cabins, lodge rooms, and of course camping.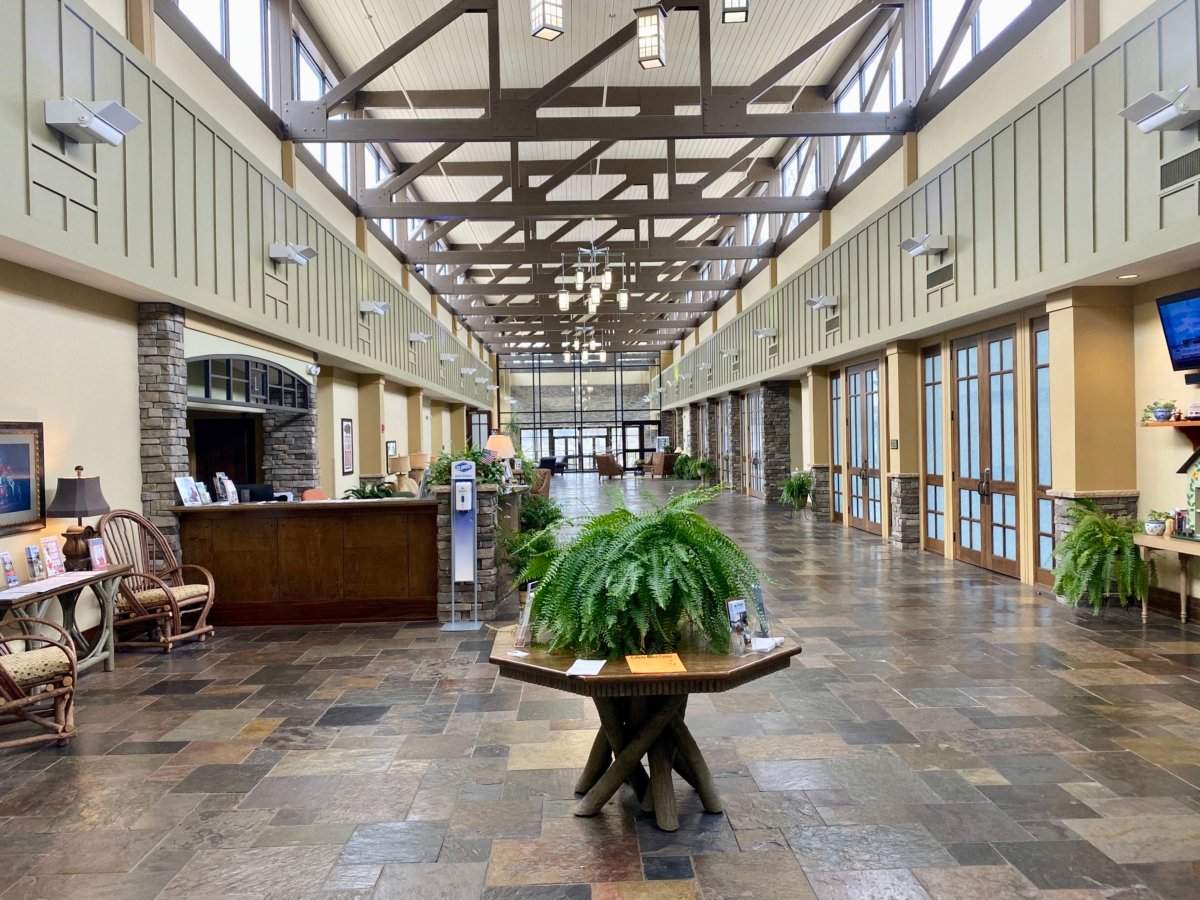 The lodge offers event facilities for weddings, conventions, meetings, and other group events.
Guests can enjoy a meal at The Water's Edge dining room located inside the convention center, or grab a beer and pub grub at the Pier's End Bar & Grille.
Lakepoint State Park facilities include tennis courts, a swimming pool complex, picnic pavilions, as well as outdoor spaces for hiking, geocaching, and other outdoor activities.
---
Dining & Lodging
---
Eufaula has a broad selection of dining and lodging options. I visited the following locations during my stay.
Big H Chicken Buffet
---
The Big H Chicken Buffet in Eufaula is legendary.
The rotating menu includes standard southern buffet fare. But if you are a fried chicken fanatic like me, you can't go wrong with the all-you-can-eat option. As a confirmed carnivore, I also enjoyed the meat loaf.
Graffiti's Pizza Joint
---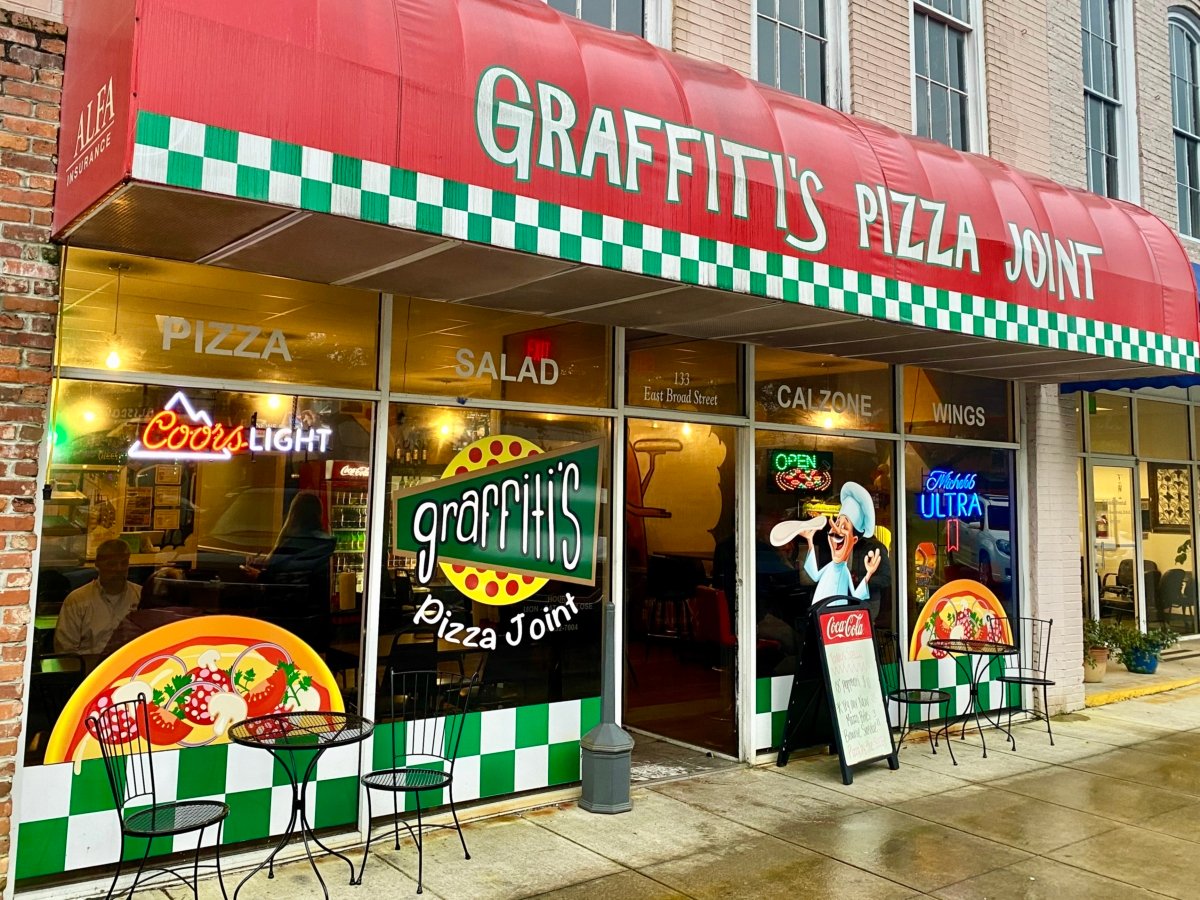 Having consumed my daily meat limit at lunch, I went in search of a green stuff for dinner. I settled on a tasty takeout Greek salad from Graffiti's Pizza Joint, located downtown.
Superior Pecans & Gifts
---
Superior Pecans is a local institution, distributing my favorite nut since 1934.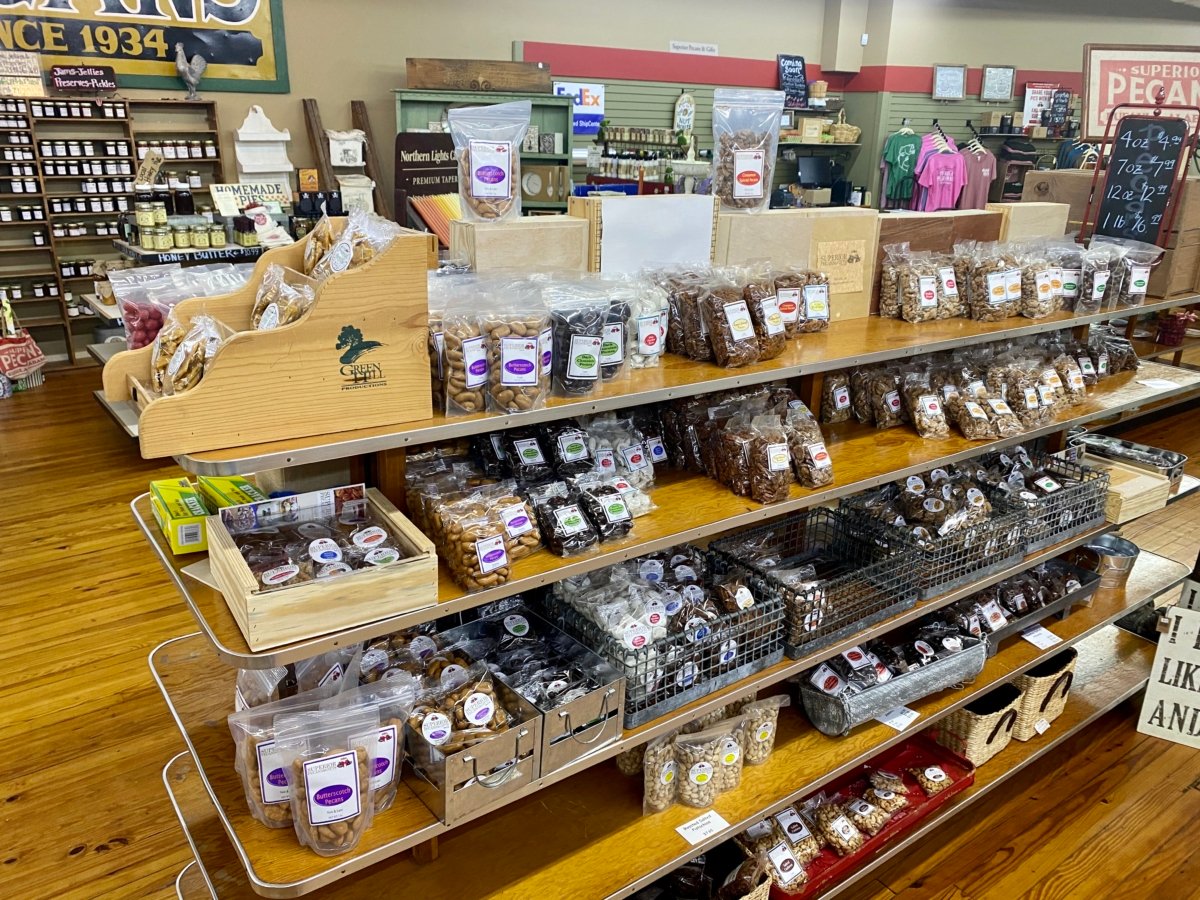 The business has expanded in recent years, adding a coffee shop and ice cream parlor, as well as a wide selection of gifts
Hampton Inn Eufaula
---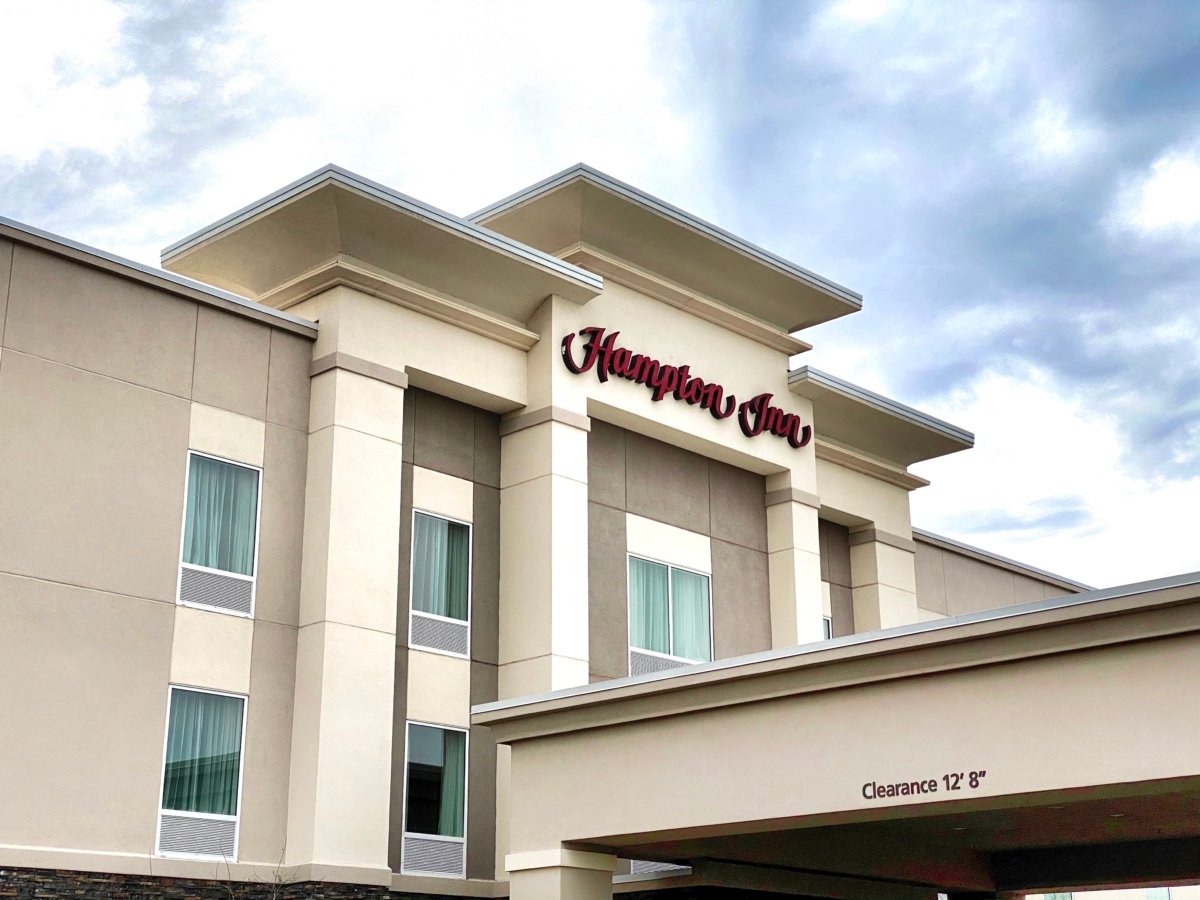 As in countless towns and cities across the country, Hampton Inn Eufaula was a soft place to fall during my stay.
Click here to book your stay at Hampton Inn Eufaula on TripAdvisor!
Click here for additional Eufaula lodging options on TripAdvisor!
---
Map It!
---
---
We Would Love to Hear From You
---
We enjoy dialogue with our readers, especially when they share off-the-beaten-path destinations and useful travel tips. Can you recommend additional things to do in Eufaula Alabama? If so, we would love to hear about your experience. We invite you to leave your comments and questions below, and we always respond!
---
Pin this Post!
---