(a

8

minute read)
---
Get out on the water, tour a botanical garden, and explore a state park! These and many more Lake County Florida outdoor adventures await you "The Perfect Distance Away."
---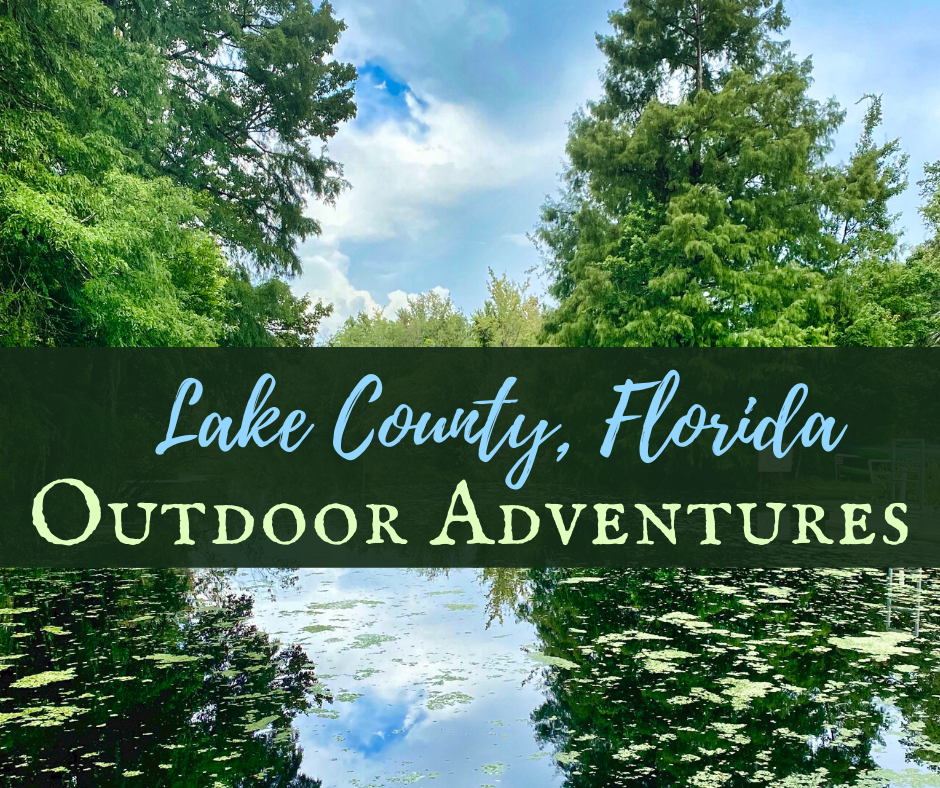 This is a sponsored post written by me on behalf of Visit Lake County, FL. All opinions are 100% mine.
---
Lake County Florida Outdoor Adventures
---
As Central Florida residents, Lake County has been one of our favorite day trip destinations for many years.
One of my earliest memories is hopping a vintage rail excursion on the Orange Blossom Cannonball in Tavares when it was still in operation.
Then we discovered historic downtown Mount Dora with its unique shops, festivals, and fine dining. The Goblin Market and Pisces Rising still rank among our favorite Florida restaurants.
More recently, we attended a performance with stand-up comedian and Will & Grace cast member Leslie Jordan, at the Clermont Performing Arts Center.
Although many Lake County destinations are temporarily closed while taking precautions for COVID-19, the region still offers many safe outdoor activities and low-risk attractions for Central Florida residents and visitors alike. Consult Lake County's COVID-19 Travel Safety Information webpage for updated information.
Incurable roadtrippers that we are, Jerry and I have been grinding our gears for weeks to get out on the backroads in search of adventure. And for us, Lake County is the Perfect Distance Away to plan a safe day trip outing.
Before the day was over, we would get out on the water, tour a botanical garden, and enjoy a picnic lunch at one of Florida's fine state parks.
CatBoat Adventures | Mount Dora
---
Historic Mount Dora is situated along the shores of Lake Dora, and is home to the only registered inland freshwater lighthouse in Florida.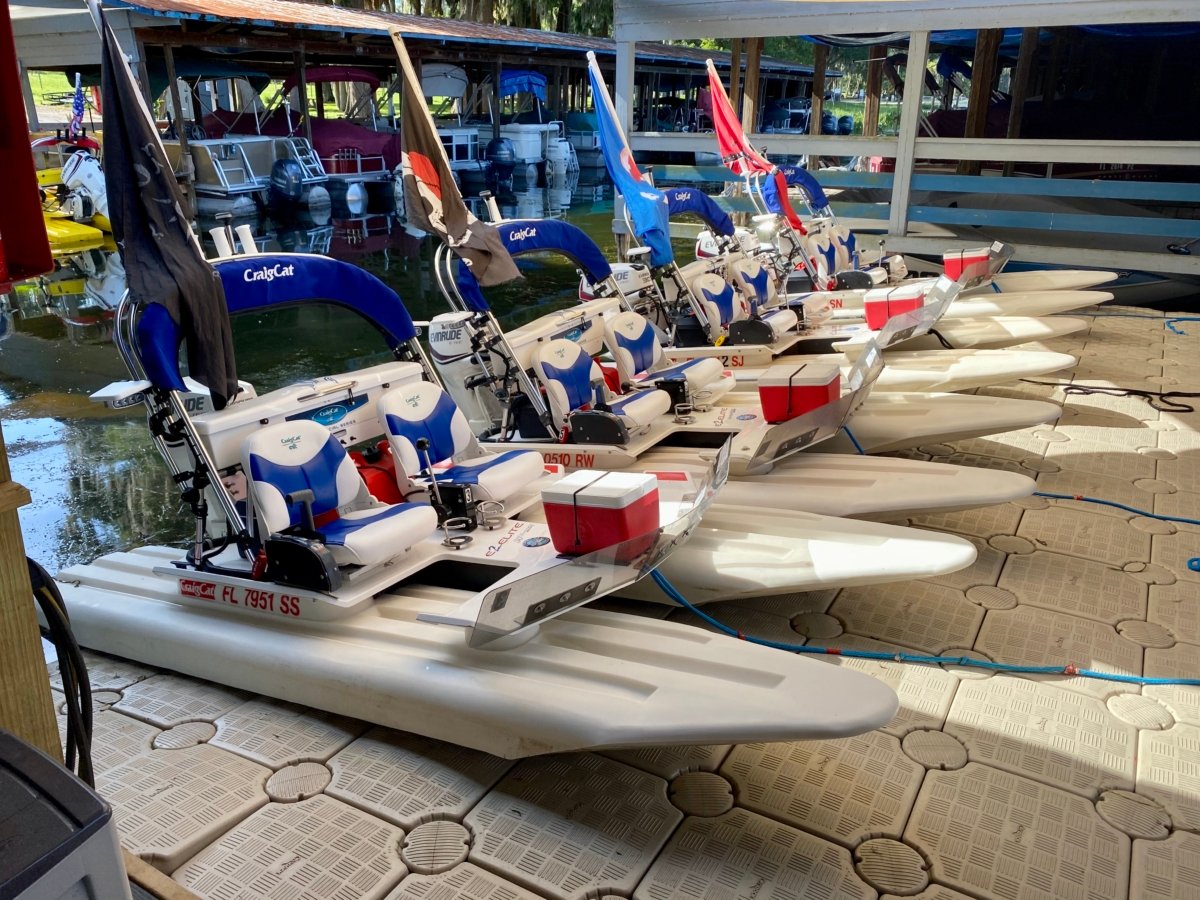 A 2-hour tour of Lake Dora and the Dora Canal with CatBoat Adventures put us out on the water for the first activity on our day trip itinerary.
A catboat is a 2-person powered mini-catamaran, perfectly designed for both lazy cruising and adrenaline-pumping sprints across the water.
Guests have the option of taking a narrated group tour or renting a boat to explore on their own. Because this was our first time, we opted for the narrated tour.
The tour route departs the Mount Dora Boating Center & Marina, travels the full length of Lake Dora, continues through the Dora Canal to Lake Eustis, and retraces the route back to the marina.
Not unlike our road travels, Jerry "drove" the boat, while I rode shotgun and documented the trip.
Our good-natured guide Todd narrated the journey, pointing out scenic and historic landmarks and telling corny jokes between zips across the lake.
High-speed skimming across the surface of the water is a thrill. Your underside WILL get wet, so be sure to dress appropriately!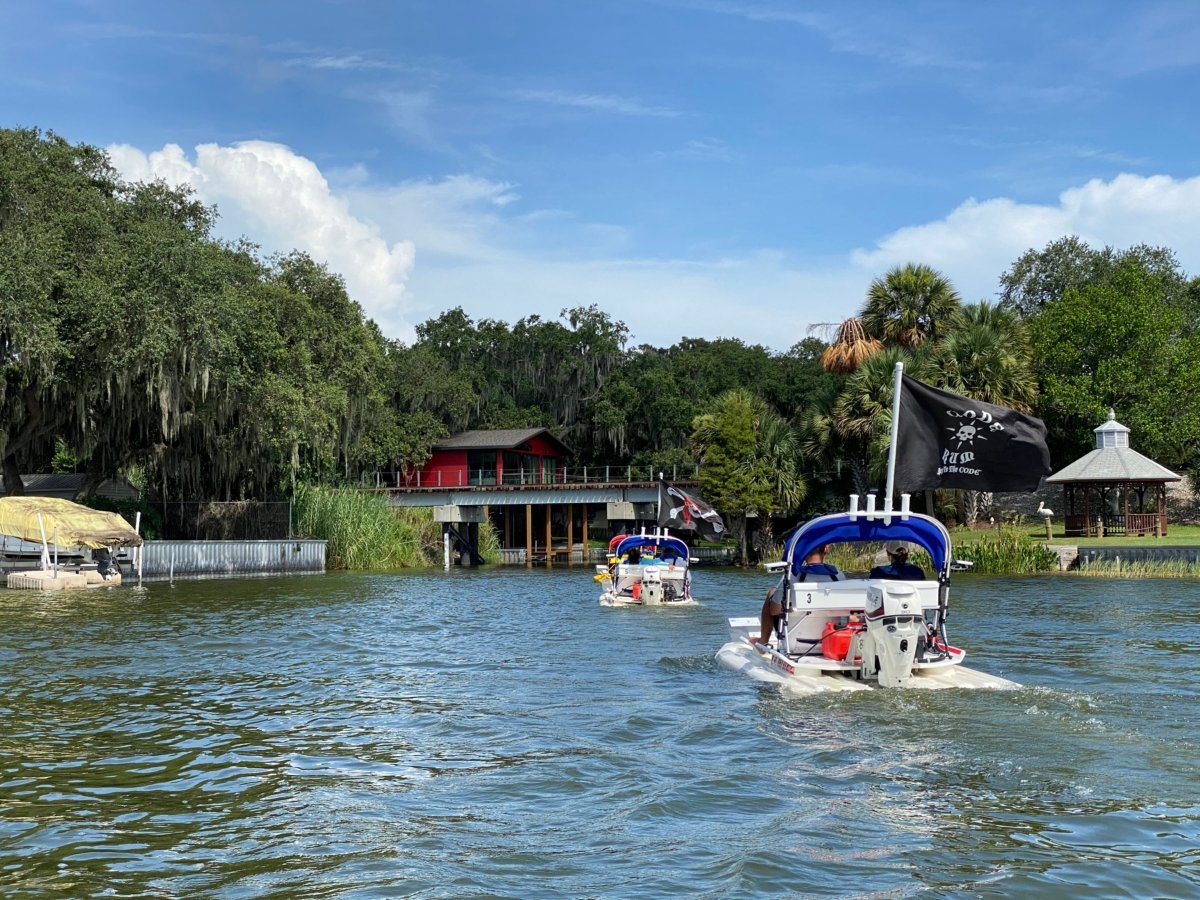 We slowed for the entrance to the Dora Canal.
In the late 1800s, the 1.25-mile Elfin River between Lake Dora and Lake Eustis was dredged and widened to accommodate small steamboats and renamed the Dora Canal.
As part of the Harris Chain of Lakes the waterway connects to the Ocklawaha River, St. John's River, and ultimately the Atlantic Ocean.
Keep an eye out for water birds, turtles, otters, alligators, snakes, and other Florida wildlife.
For its jungle-like appearance, the Dora Canal was selected as a location to reshoot certain scenes from the 1951 motion picture The African Queen, starring Katherine Hepburn and Humphrey Bogart.
Cruising the canal beneath a Spanish moss-draped canopy of green brings a relaxing counter-balance to the speed of the lake tour.
Upon reaching Lake Eustis, we circled back through the canal. At the mouth of Lake Dora, we sent the throttle full-tilt for a breathtaking return to the marina.
For guest protection, all boats, equipment, and flotation devices are disinfected between tours.
Schedules, FAQs, online tour and rental bookings, as well as COVID-19 updates are available at the CatBoat Adventures website.
Discovery Gardens | Tavares
---
As an amateur Florida gardener, I was excited to learn about Discovery Gardens in nearby Tavares, and we scheduled a visit as the second stop on our Lake County day trip itinerary.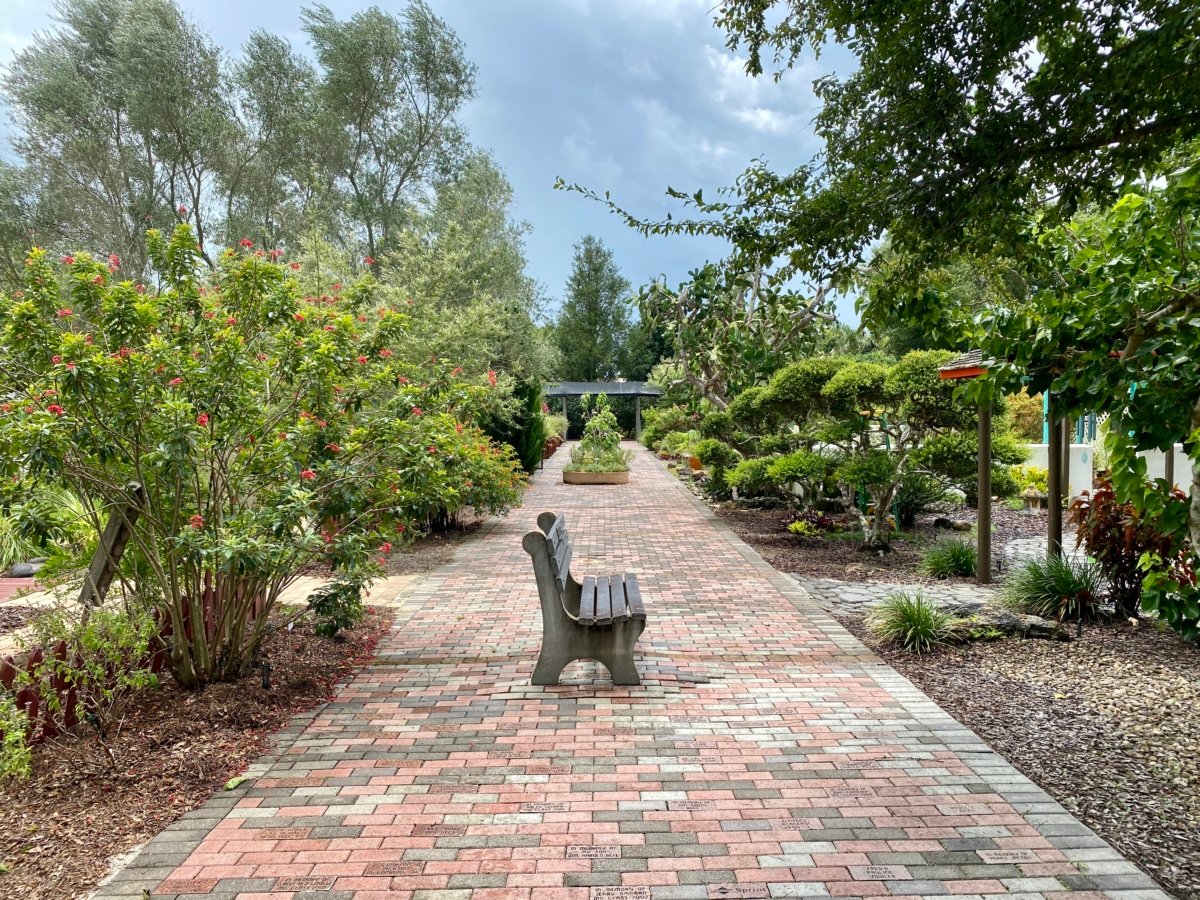 The 3.5-acre botanical gardens are a joint venture and partnership between the local UF/IFAS Extension Office and Lake County, and a great place to spend a morning or afternoon.
In addition to the serenity and beauty of nature, the gardens provide inspiration for home gardeners and illustrate what is possible for design projects and landscapes.
More than twenty themed gardens maintained by Florida Master Gardeners and other volunteers offer something for every botanical interest.
The softscape and hardscape design of the Spanish Garden transports guests virtually to the Mediterranean coast.
Herbs and other plants in the Edible Landscape illustrate how Florida gardens can be both beautiful and beneficial. No grazing, please!
I was especially taken with the vast variety of bromeliads in the Tropical Shade Garden. Anyone can grow bromeliads successfully in your home garden, even if you have a brown thumb.
Interpretive panels throughout the gardens make the tour both engaging and educational.
The orchid greenhouse is an otherworldly experience with bold splashes of color and exquisite flowering epiphytes.
The public gardens feature a Wetlands Display complete with a boardwalk for up close and personal accessibility.
Discovery Gardens is open for free self-guided tours Monday through Friday and the third Saturday of each month 9:00 AM – 4:00 PM.
The Lake County Extension website offers information on Florida-Friendly landscapes, horticultural and agricultural resources, virtual gardening classes, and COVID-19 updates.
Lake Griffin State Park | Fruitland Park
---
We had packed a cooler, so we headed next to Lake Griffin State Park for a picnic lunch. The park is located a few miles north of Leesburg in Fruitland Park.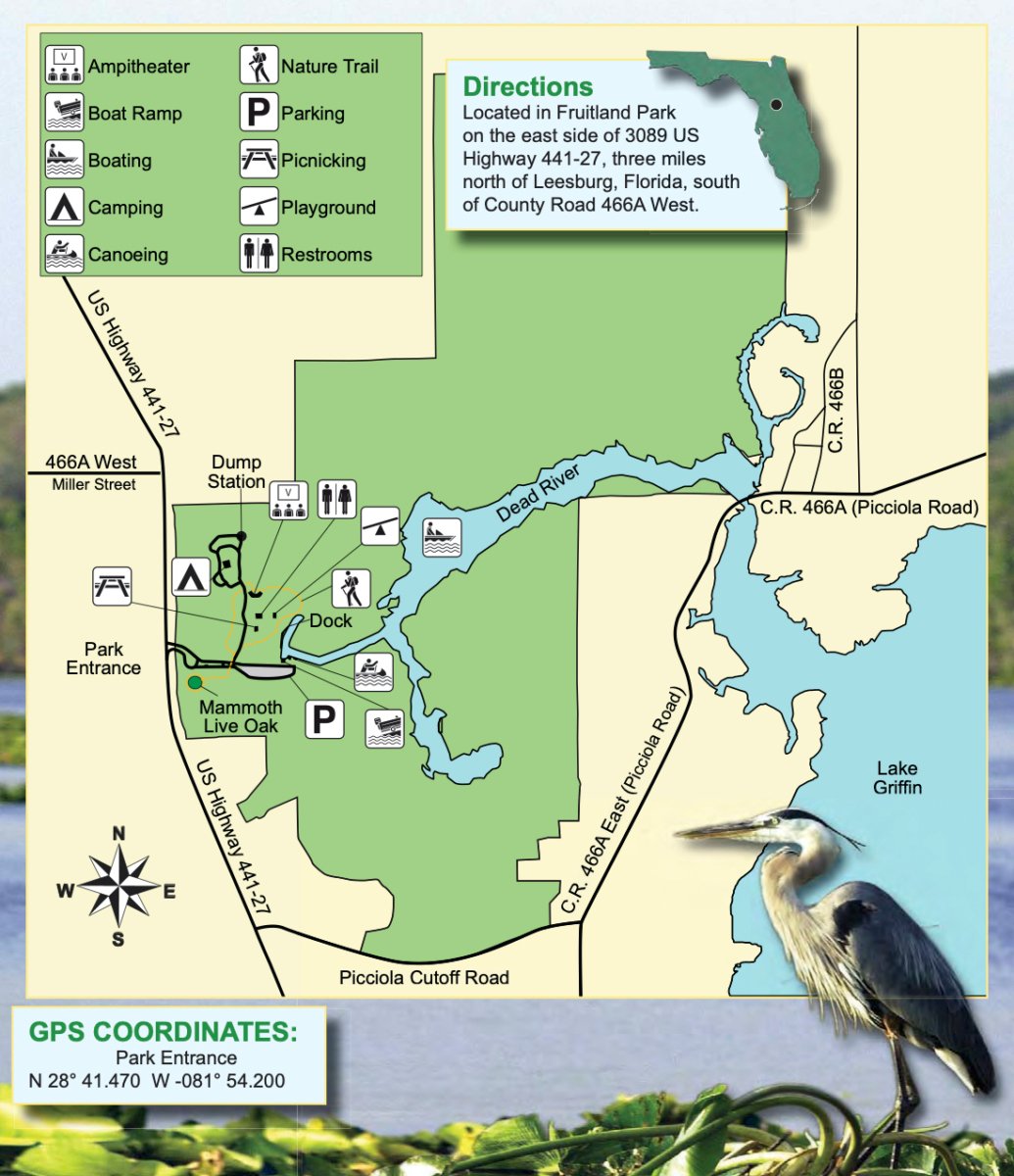 The 620-acre park is small in comparison to other state parks, but its natural beauty, well-maintained facilities, and outdoor activity options make it an excellent all-in-one destination.
The picnic pavilion was partially occupied, so to keep our distance we opted for a picnic table under the oaks.
Magnolias, resurrection fern, and other lush vegetation enveloped us in a hydric hammock environment so typical of Central Florida.
A furry uninvited guest entertained us as we devoured pulled-pork sandwiches, sour cream chips, and juicy watermelon.
The park's boat ramp and dock is situated at the head of a 1,000-foot canal that leads to Dead River and Lake Griffin one mile beyond.
Nearly two miles of nature trails invite guests to explore the park on a leisurely hike.
The park's campground features 40 campsites for tents and RVs. All sites have water and electric service, and seven sites are outfitted with sewer hook-ups.
Restrooms, showers, and laundry facilities are centrally-located within the campground and are accessible to all guests.
A mammoth live oak tree located a short walk from the entrance is the park's oldest inhabitant.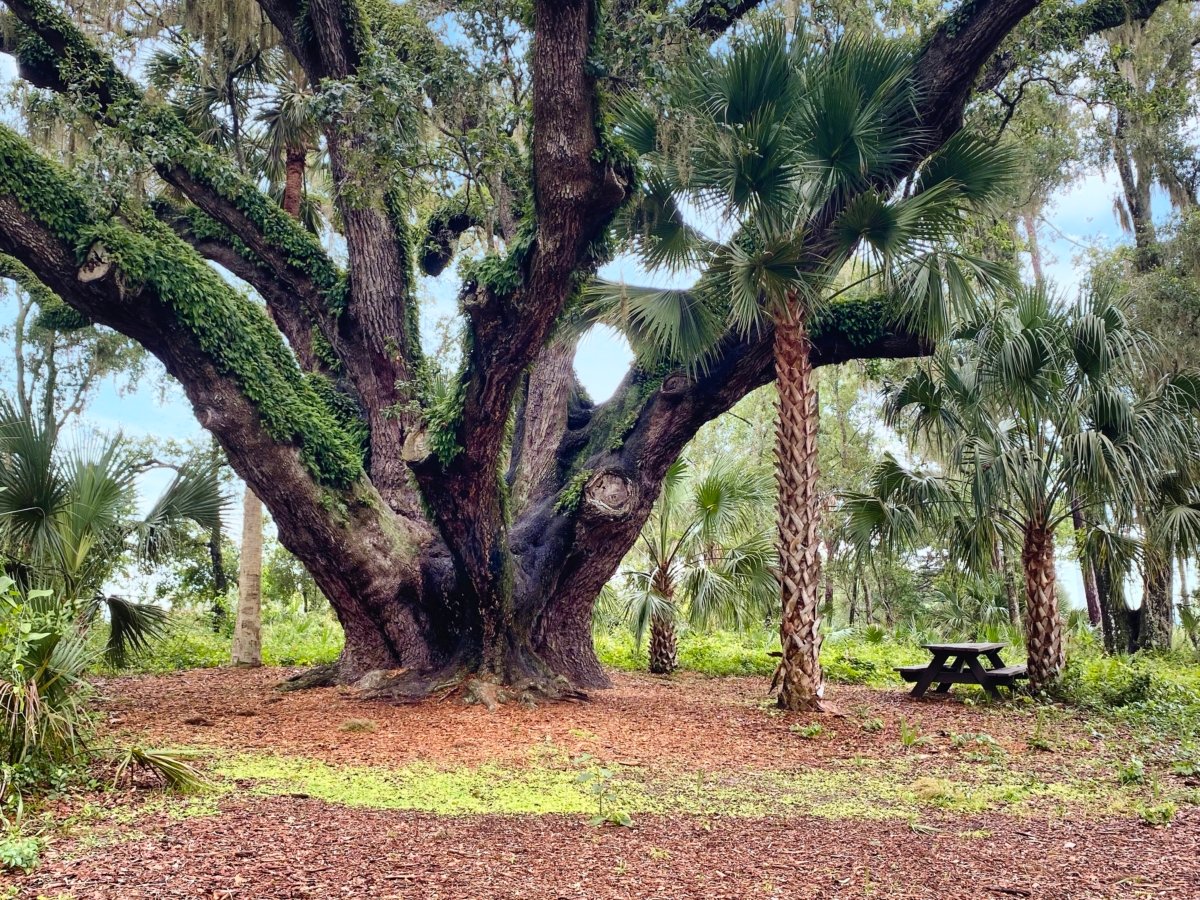 Discovered by settlers in 1811, the giant oak is documented as the second-largest in Florida and estimated to be between 300 and 500 years old.
The park is open from 8:00 AM to sundown year round, and nominal admission fees apply.
Consult the Lake Griffin State Park website for information on the park's outdoor experiences, canoe and kayak rentals, camping reservations, and COVID-19 updates.
---
More Lake County Florida Outdoor Adventure Options
---
Experience "Real Florida. Real Close" in Lake County Florida, centrally located just 30 minutes west of Orlando and 1.5 hours from Tampa.
Quickly reach your outdoor adventure by way of I-4, the Florida Turnpike, US-27, and US-441, or you can take to the backroads for a relaxing scenic drive.
For more outdoor adventure options, consult the Visit Lake County website, or navigate to the attractions and service providers listed below.
On the Water:
In Nature:
Other Attractions:
Lake County's "Find a Place to Stay" webpage is a great resource for locating hotels, resorts, B&Bs, campgrounds, and other lodging options.
Find more Florida travel stories on Backroad Planet.
---
Map It!
---
---
We Would Love to Hear From You
---
We enjoy dialogue with our readers, especially when they share off-the-beaten-path destinations and useful travel tips. Have you enjoyed a Lake County Florida outdoor adventure? If so, we would love to hear about your experience. We invite you to leave your comments and questions below, and we always respond!
---
Pin this Post!
---