(a

7

minute read)
---
Swim, dive, float, and paddle the sparkling waters at Florida's Blue Spring State Park & Campground. During the cooler months, come back to see the manatees.
---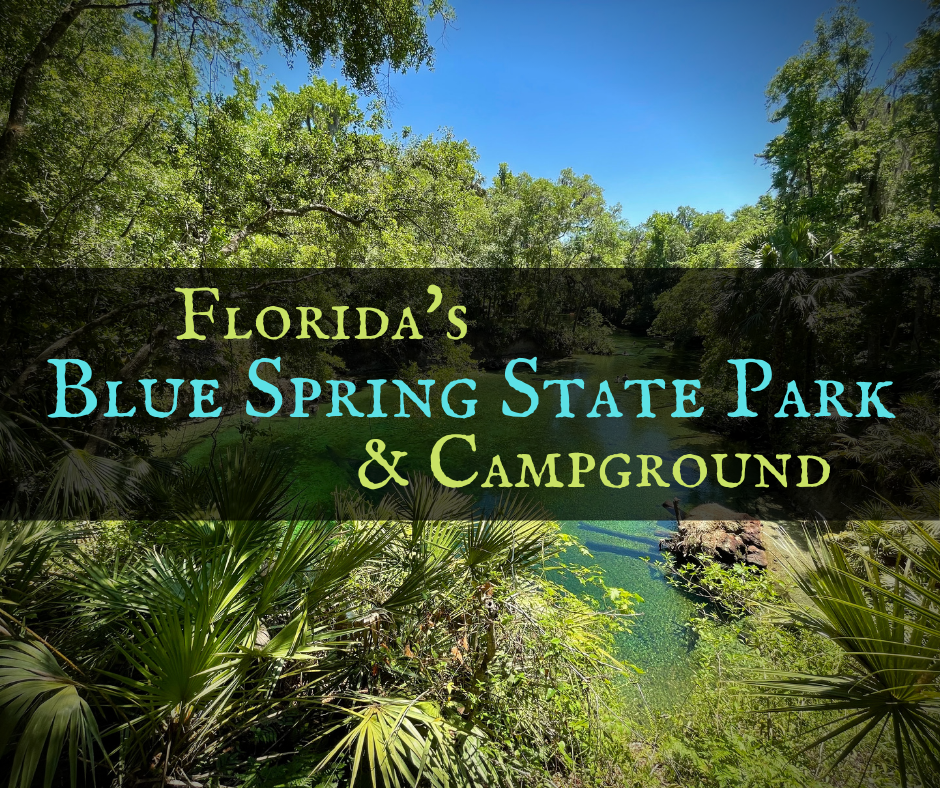 This post may contain affiliate links. Please refer to our our Disclosure/Disclaimer page for more information.
---
The Shakedown Continues
---
My decision to buy a camper van was one thing. And outfitting it with essential accessories was another thing.
But learning how to operate a Class B RV and its many systems both on and off the road was perhaps the most important step of all.
This called for what the RV world calls a "shakedown," a camping trip to a destination not too far from home to help new owners get acquainted with their rigs.
Because he is a handyman—and I am not—I invited Jerry along in case I ran into any difficulties.
I intended to book two nights at Blue Spring State Park, but only one night was available for the dates we needed.
So I booked the first night of shakedown at Tomoka State Park in Ormond Beach, a post you may want to read first if story sequence matters to you.
As it turned out, Plan B enhanced the adventure, giving us the opportunity to explore two Florida state parks, only 45-minutes apart, on one trip.
---
Blue Spring State Park
---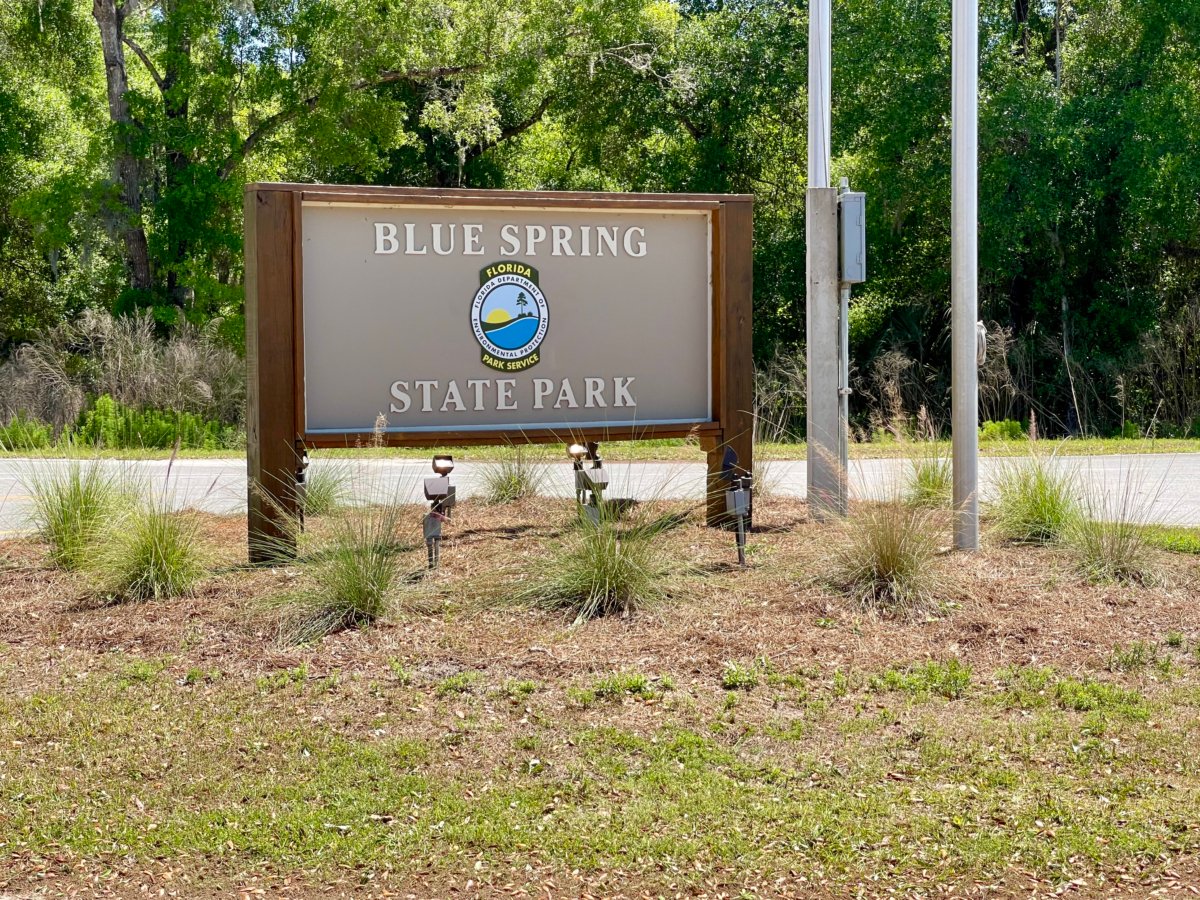 Not to be confused with Gilchrist Blue Springs, Lafayette Blue Springs, or Madison Blue Spring state parks—all located in North Florida—Blue Spring State Park is situated just north of Orlando in Orange City.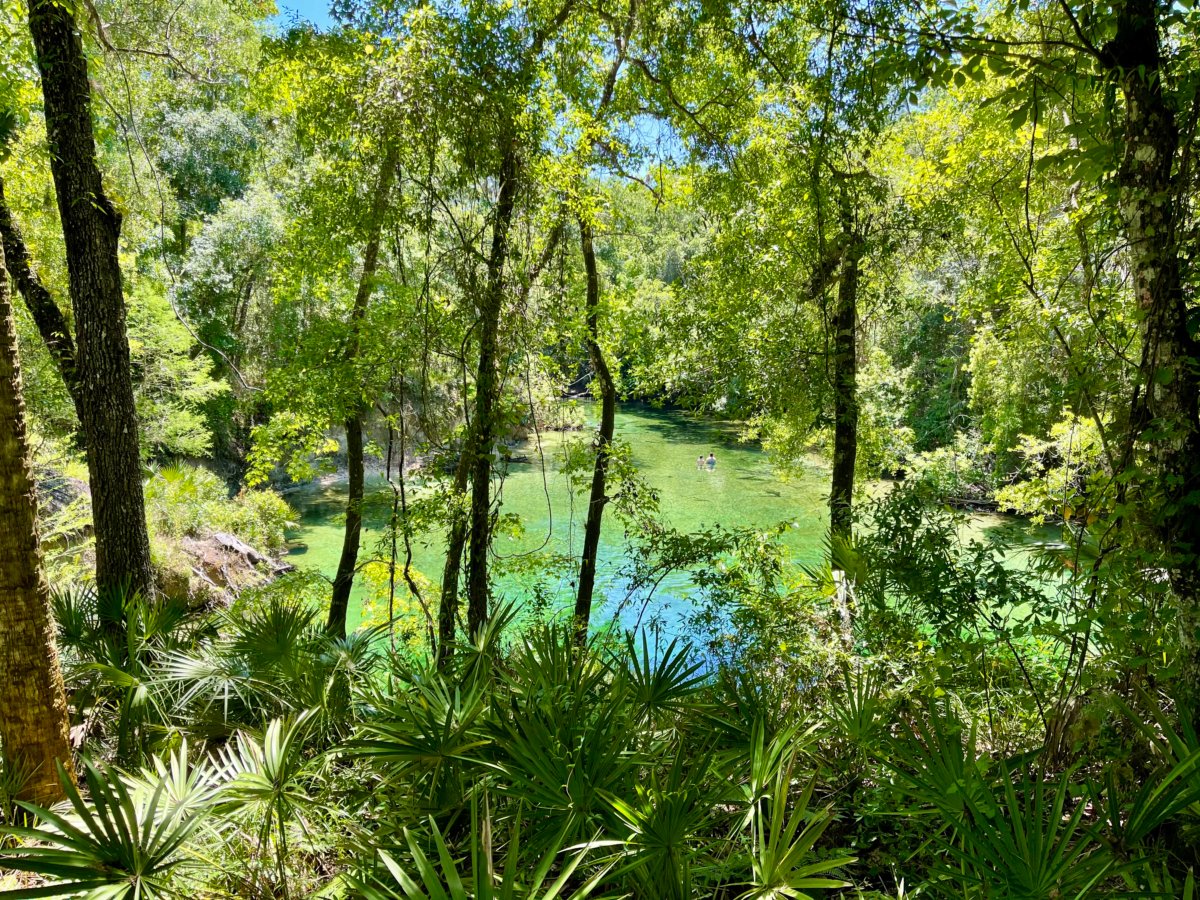 The 2,643-acre park takes its name from the aquamarine first-magnitude spring that daily discharges more than 70 million gallons of fresh water into the north-flowing St. Johns River.
A 0.4-mile accessible boardwalk near the main parking and picnic area winds through a hardwood hammock to multiple overlooks for viewing the Blue Spring boil.
A spur boardwalk leads down to the water's edge, providing access to the refreshing 72° waters of the spring.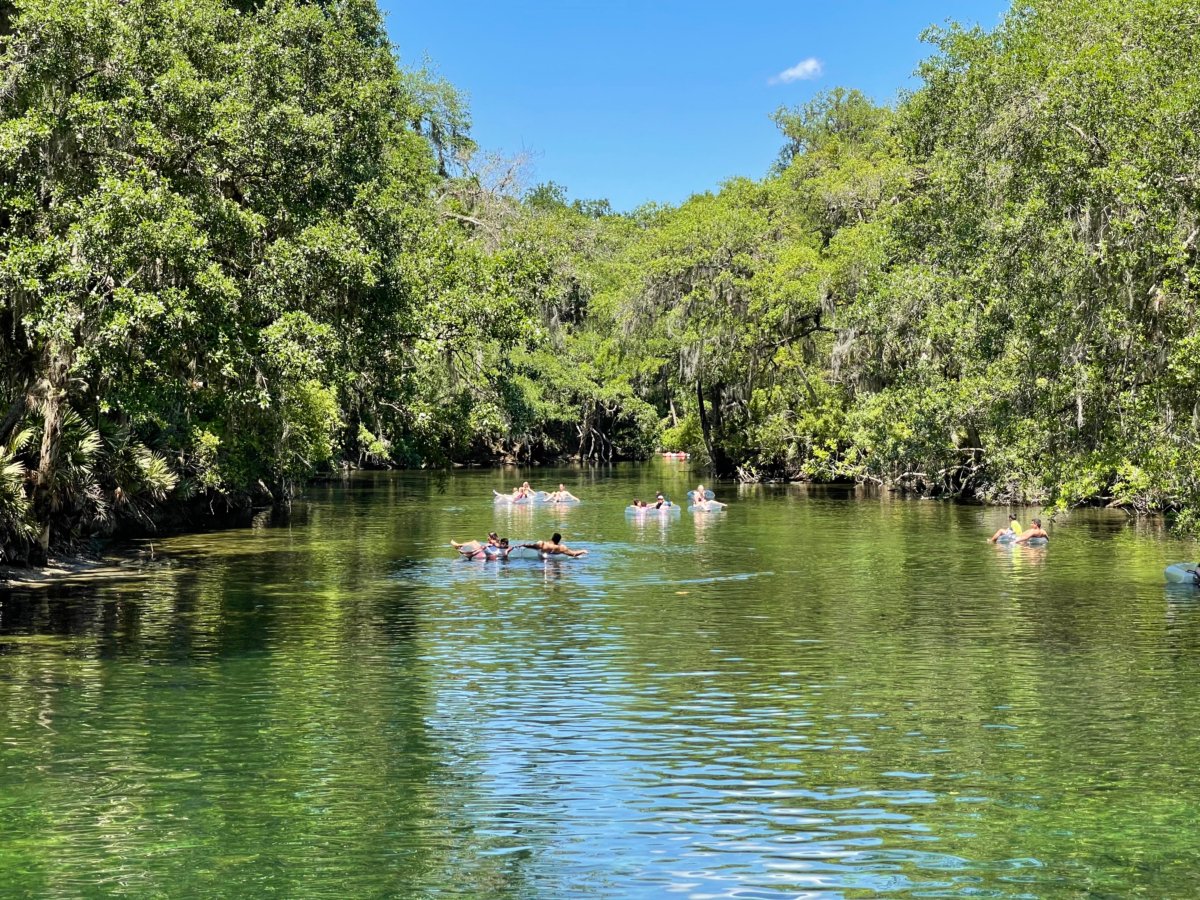 A one-eighth mile segment of Blue Spring Run—beginning at the boil—is designated for water recreation: swimming, floating, and even scuba diving.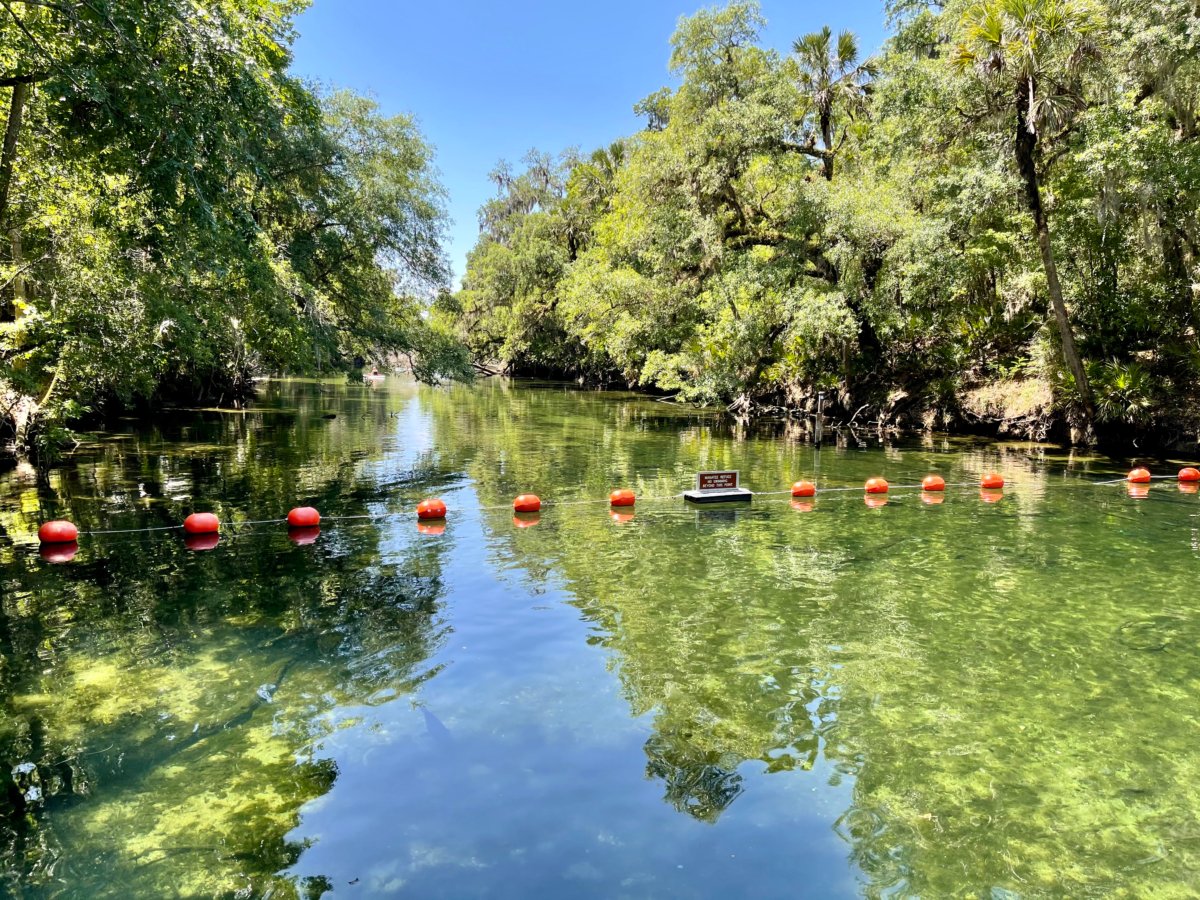 Kayaks, canoes, and paddleboards can pass freely beyond the cordoned-off section to the run's confluence with the St. John's River.
Blue Spring Run's floating distance may be limiting for some guests. If you are interested in longer float trips, I suggest Florida's Rainbow River or Ichetucknee Springs State Park.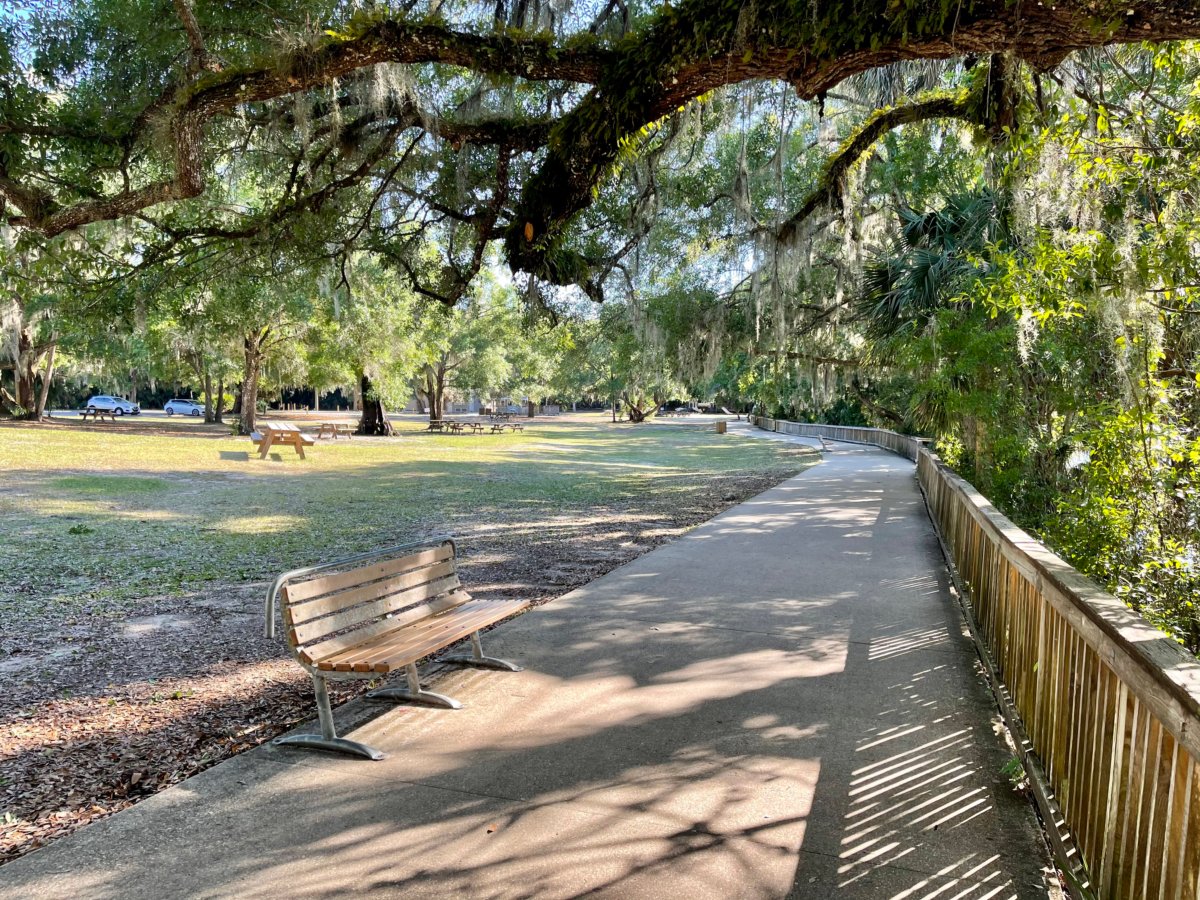 A paved walkway parallels Blue Spring Run leading down to the river.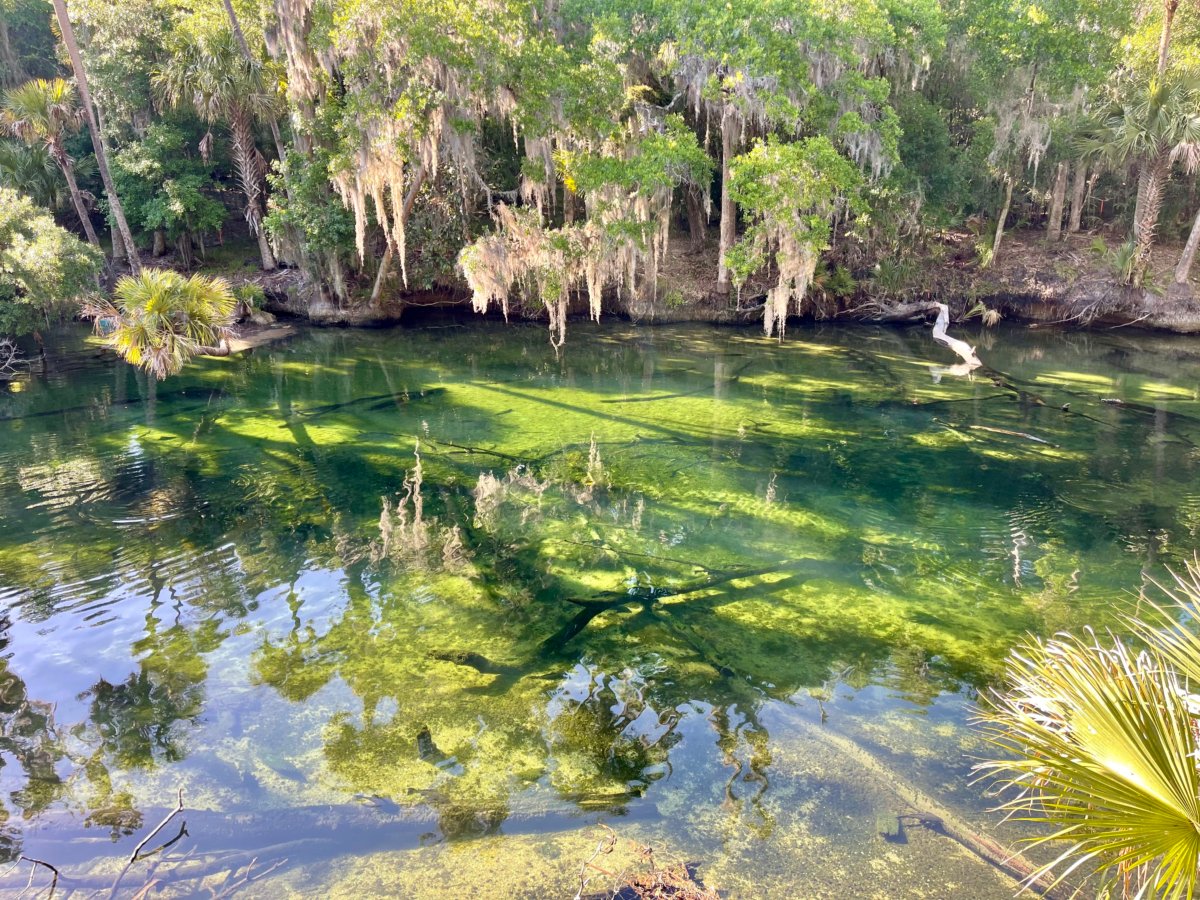 Multiple decks along the path offer stellar views of the run's crystal clear waters. If you don't want to get wet, walking the accessible boardwalk and walkway is the best way to enjoy the park.
---
Blue Spring State Park Manatees
---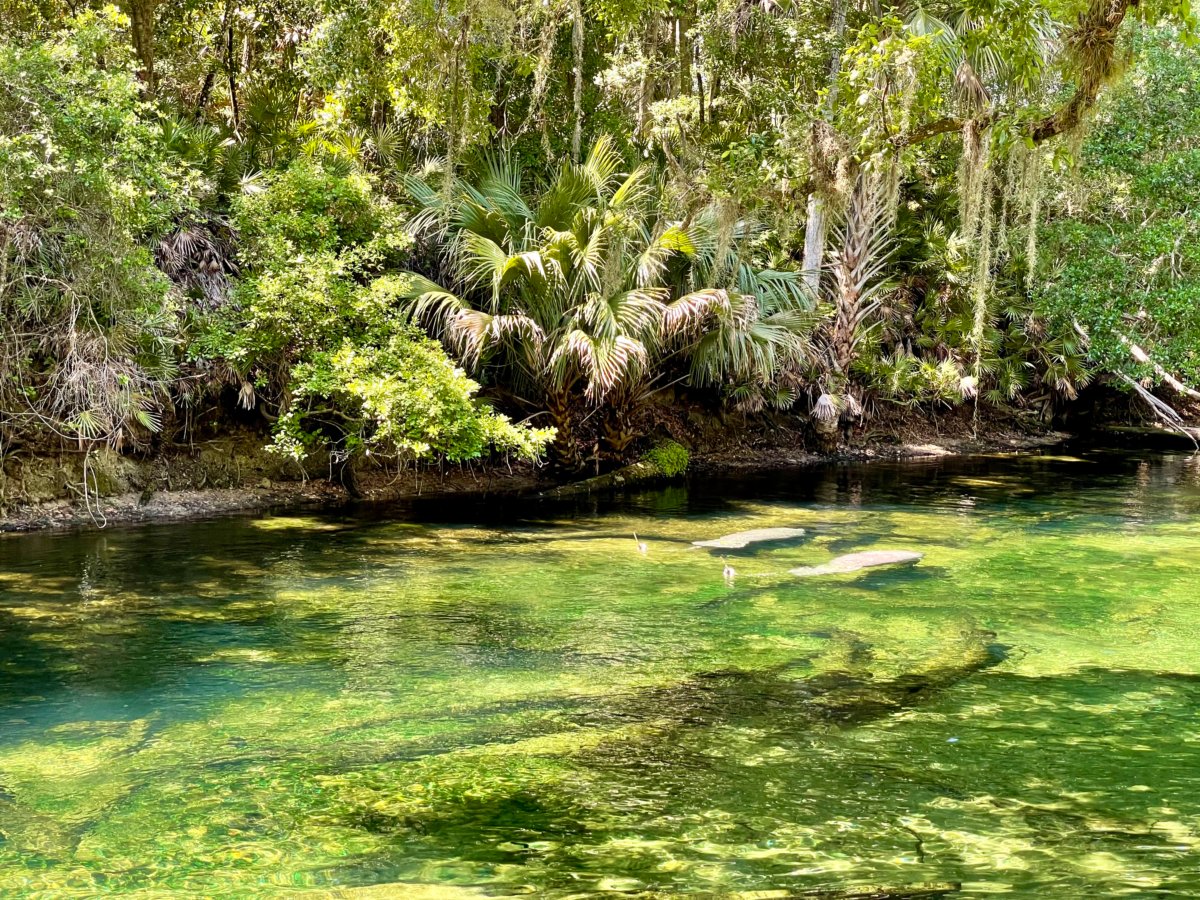 For many guests the star attraction at Blue Spring State Park is the arrival of its winter visitors.
During Florida's cooler months the spring provides a warm refuge for more than 500 West Indian manatees.
To protect the manatees, Blue Spring Run is closed for water recreation from November through March.
We visited the park in April and there were still a couple of "sea cow" stragglers hanging out in the run. Swimmers are required to keep a 50-foot distance from any manatees that remain in the run when the waters reopen to the public.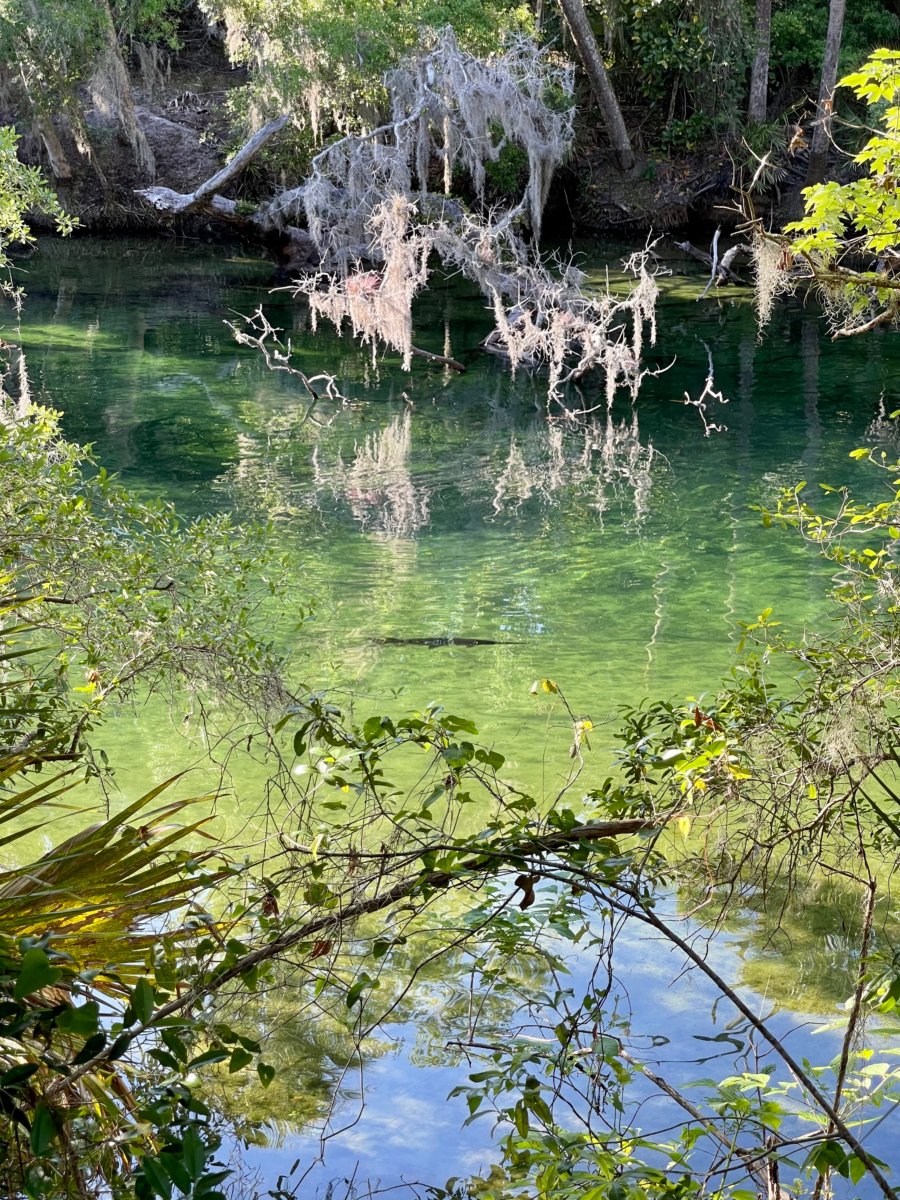 Guests may spot gar and other fish in the clear waters of Blue Spring Run.
The park is also home to other wildlife, including the endangered Florida scrub jay, black bear, alligators, and countless migratory water birds.
Interpretive panels throughout the park educate guests about plant and animal life, invasive species, Florida springs, and the park's intriguing history.
---
Blue Spring State Park History
---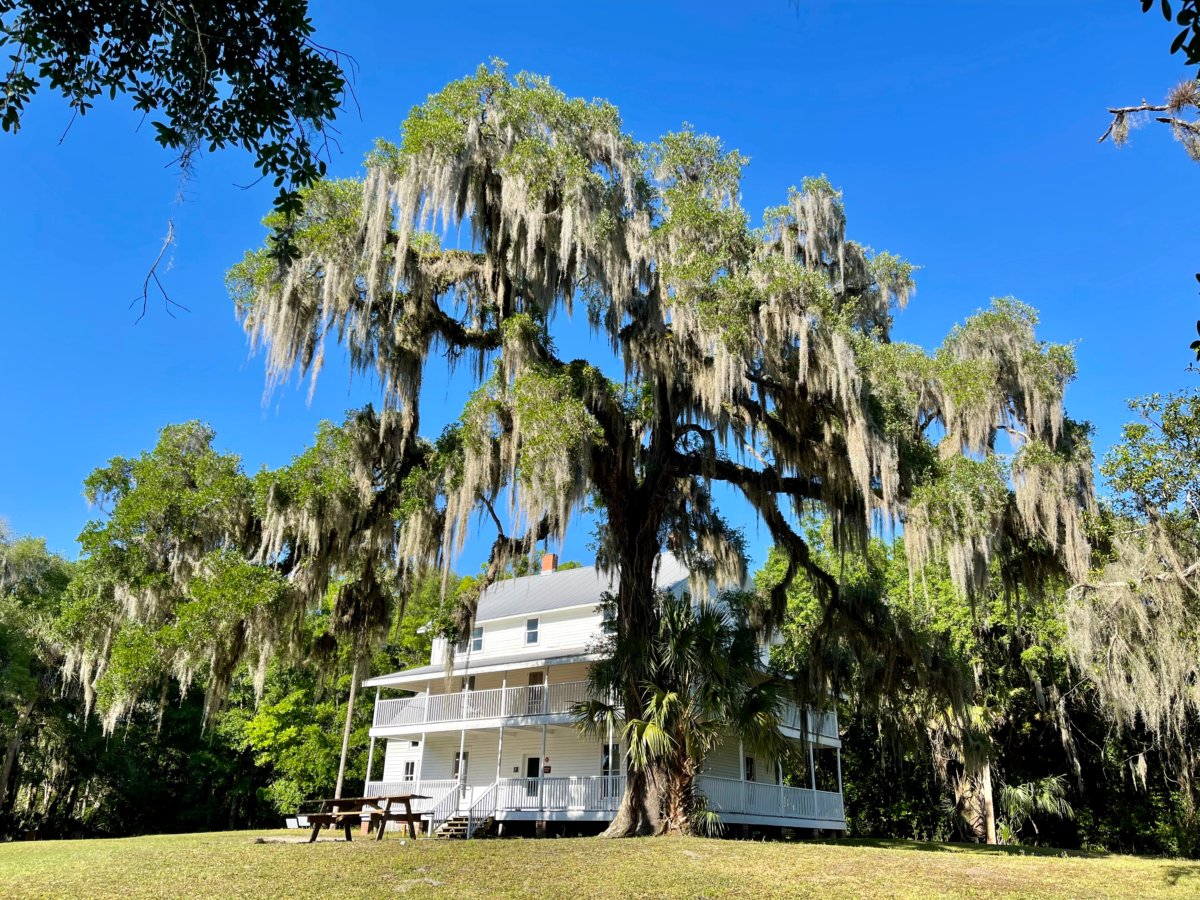 I always enjoy outdoor experiences more when they are accompanied by a bit of history. In that respect, Blue Spring State Park does not disappoint.
The most obvious historical feature on the park landscape is the 3-story frame Thursby house, built in 1872 by local businessman Louis Thursby.
Thursby settled on acreage adjacent to Blue Spring in 1856. He built a log cabin, planted an orange grove, and established a steamboat landing on the St. Johns River. The enterprise prospered, bringing tourism and trade to the area, until the railroad came through in the 1880s.
The historic home belies a more distant history from its location atop a Pre-Columbian shell midden. Archaeological efforts within the park have uncovered Native American artifacts dating back as far as 6,000 years.
The first floor of the Thursby House museum and interpretive center is open Wednesdays through Sundays for self-guided tours.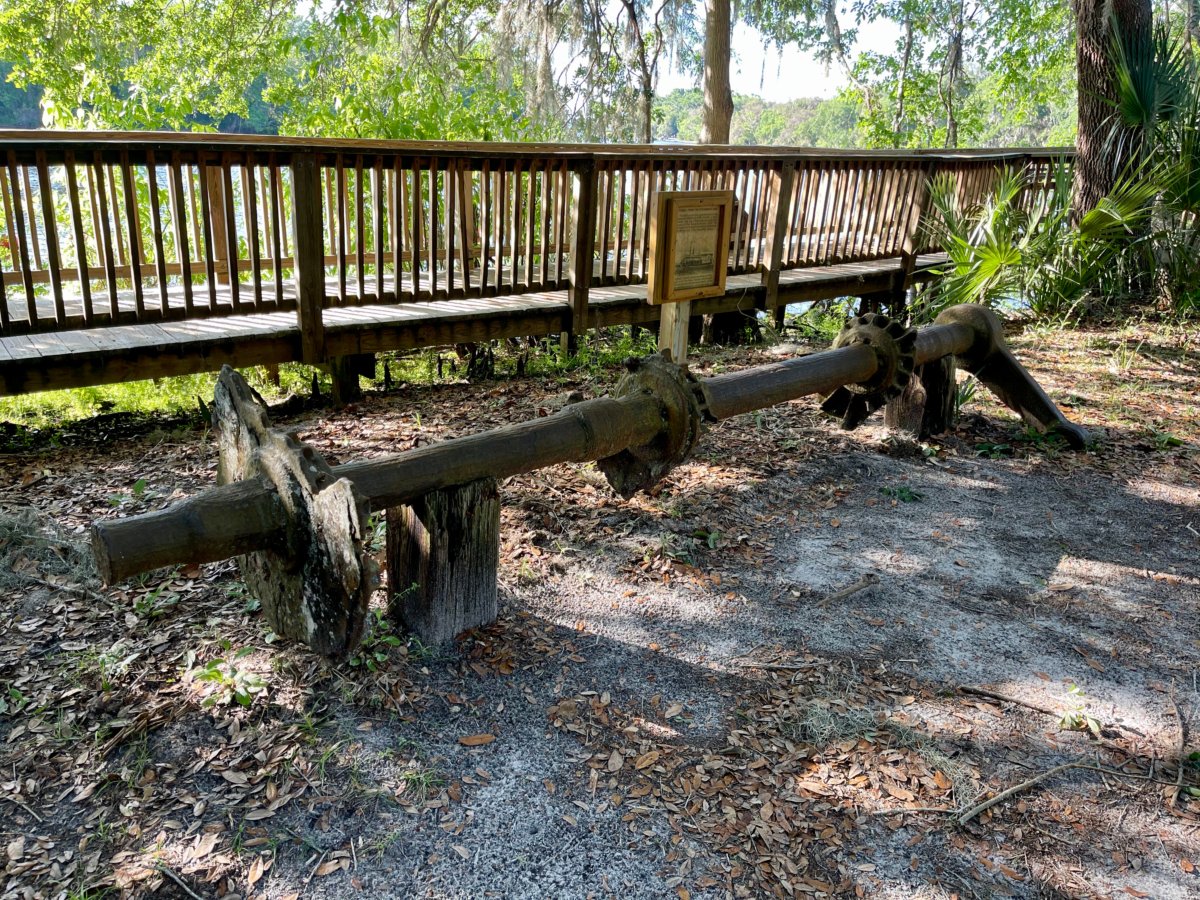 Don't miss taking a look at an authentic relic from the Golden Age of steamship travel and transportation. The paddlewheel shaft from the side-wheeler steamboat Fannie Dugan, long abandoned in a nearby creek, is displayed along the river boardwalk.
---
Blue Spring State Park Campground
---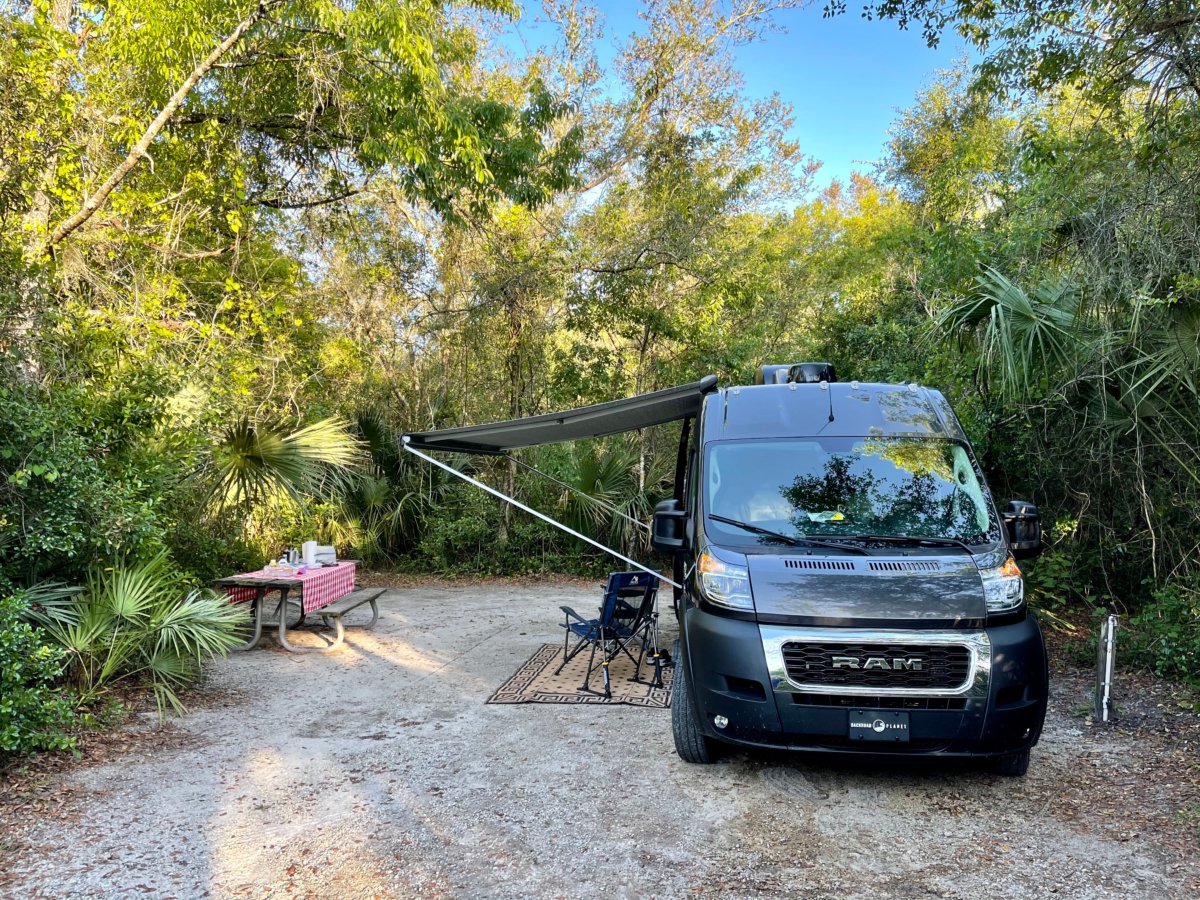 The Sand Pine Scrub campground at Blue Spring State Park has 51 tent and RV campsites equipped with water, electricity, a picnic table, and a fire ring. A dump station is also available.
You will find descriptions and photos for both dirt and paved campsites when booking online.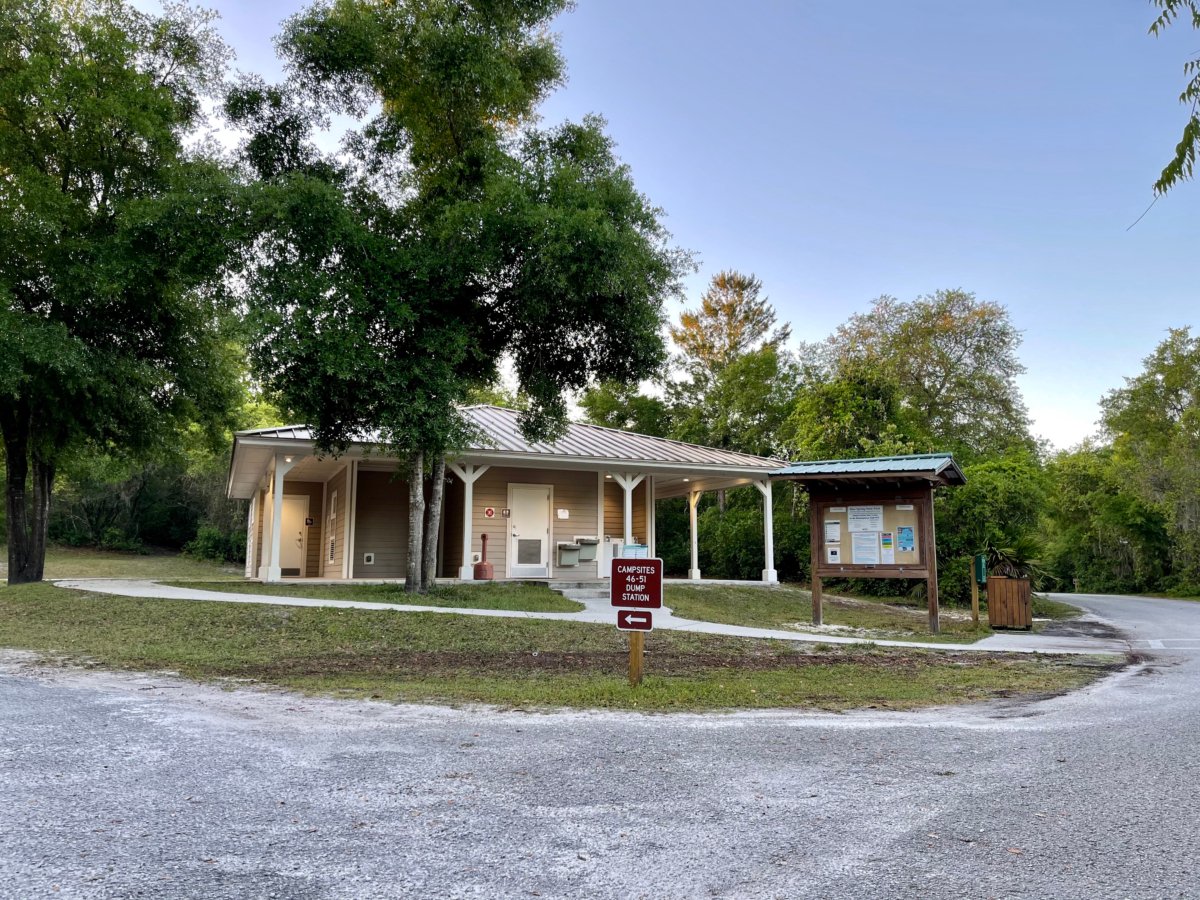 Two new bathhouses with accessible showers and stalls are well maintained by campground volunteer hosts.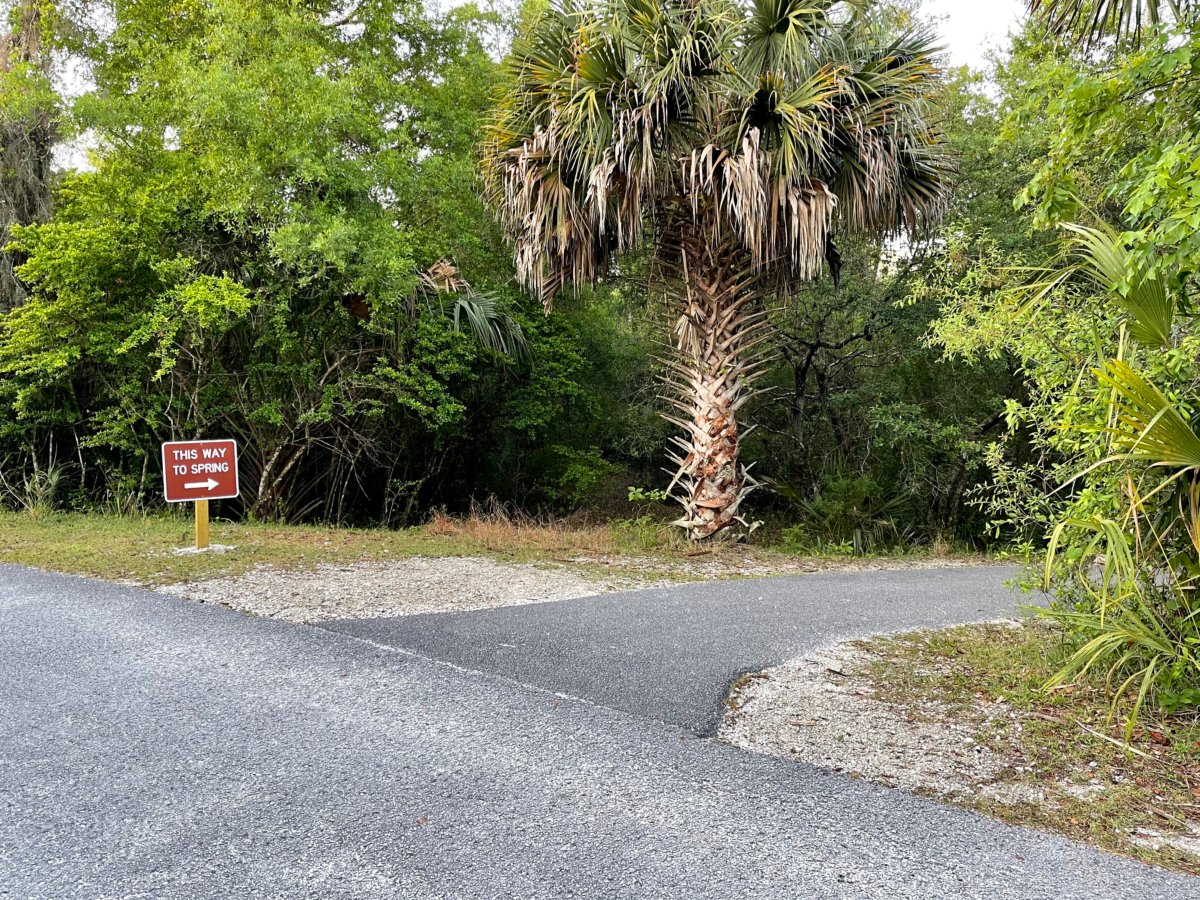 A paved trail conveniently connects the campground to the spring and other locations inside the park.
For a longer immersive outdoor experience, park visitors may choose to hike the 3.6-mile Pine Island nature trail.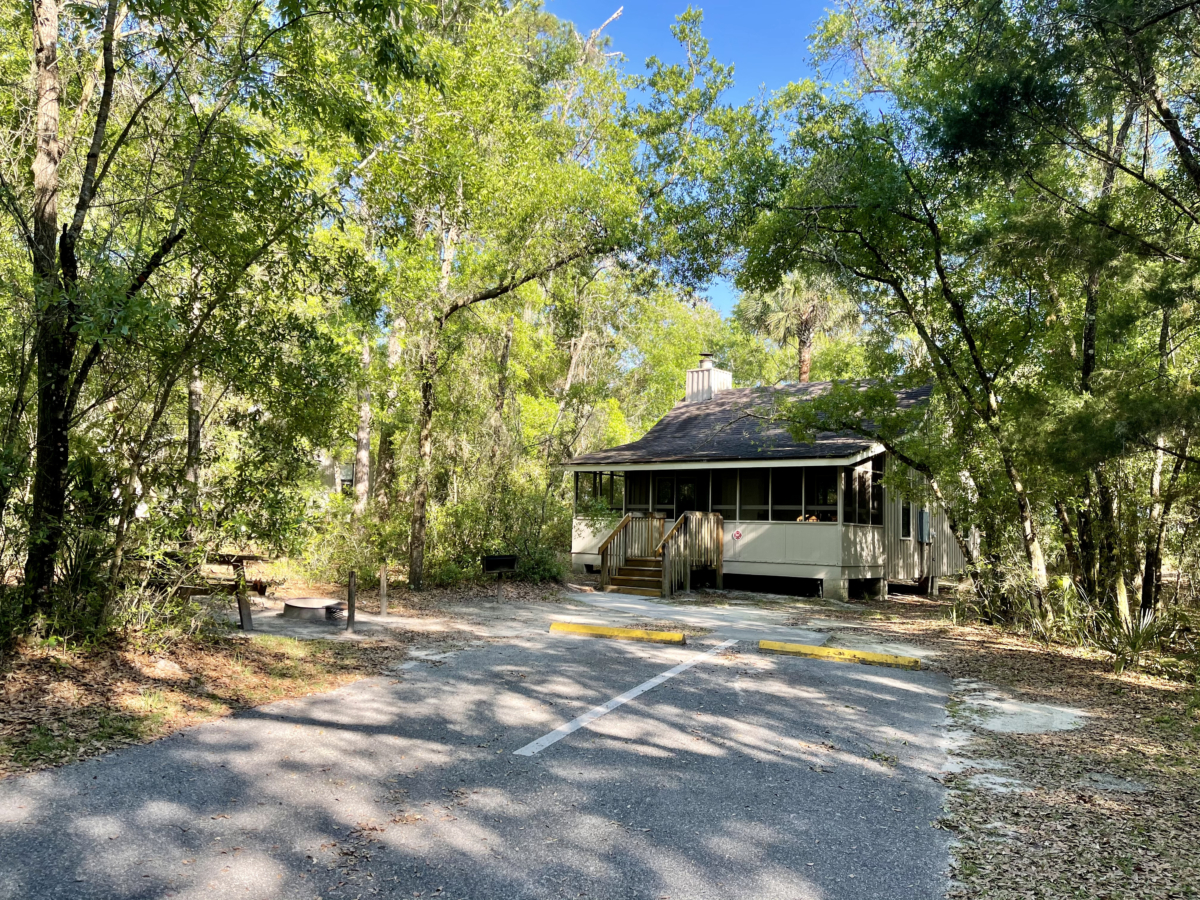 Guests may also book a stay at one of six fully-furnished cabins. The two-bedroom cabins accommodate six persons in climate-controlled comfort. Linens and cooking utensils are provided, as well.
---
Blue Spring State Park Facilities and Concessions
---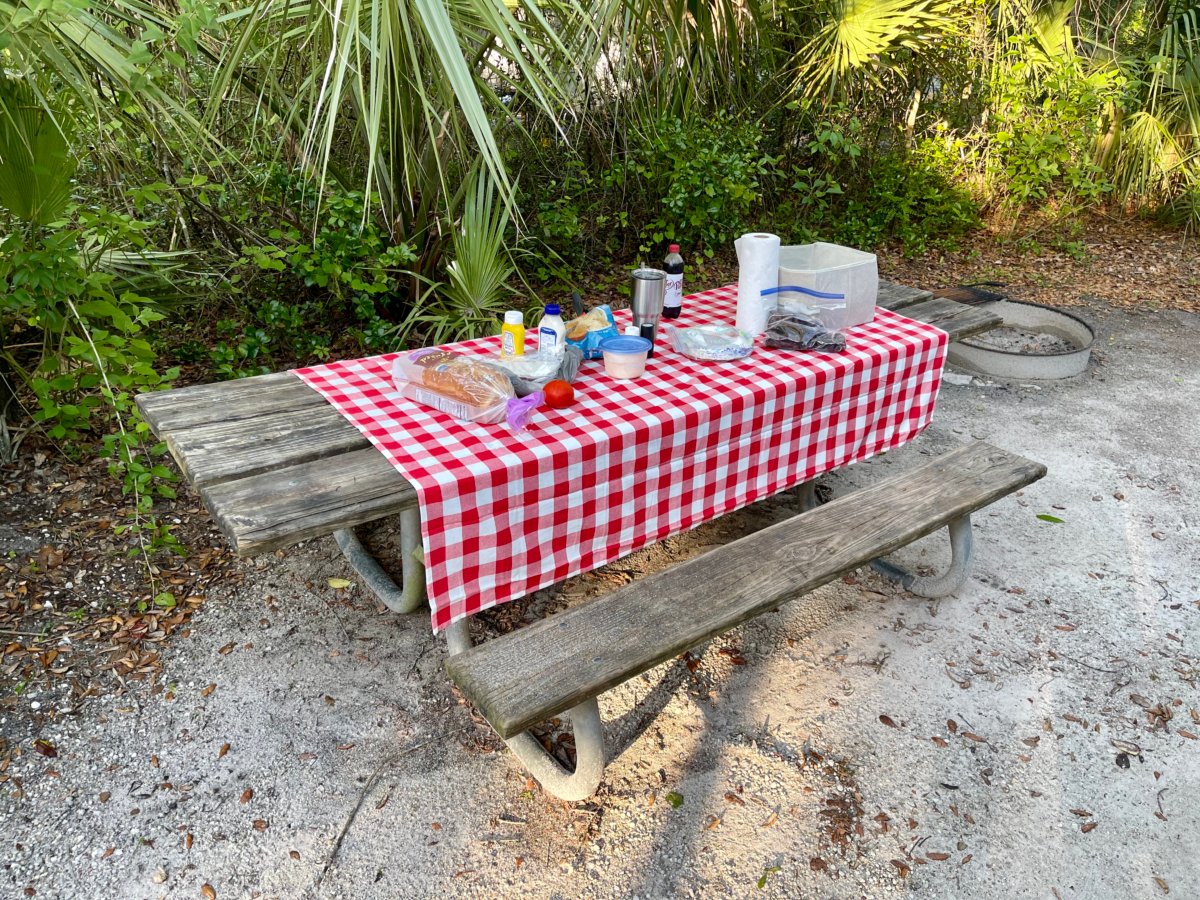 There are few things I enjoy more while traveling than a picnic lunch.
Picnic tables and barbecue grills are sprinkled throughout the park and at three first-come, first-served covered pavilions.
One of the greatest benefits of visiting Blue Spring State Park is that you could show up totally unprepared and still find everything you need for a fun-filled day.
In addition to sunscreen, T-shirts, and other souvenirs, the Gift Locker offers rentals of lockers, tubes, goggles, and snorkels.
You can find a menu of hot and cold sandwiches, salads, sides, and beverages at the Blue Spring Canteen. Both concessions are centrally located in the park near the public swimming area.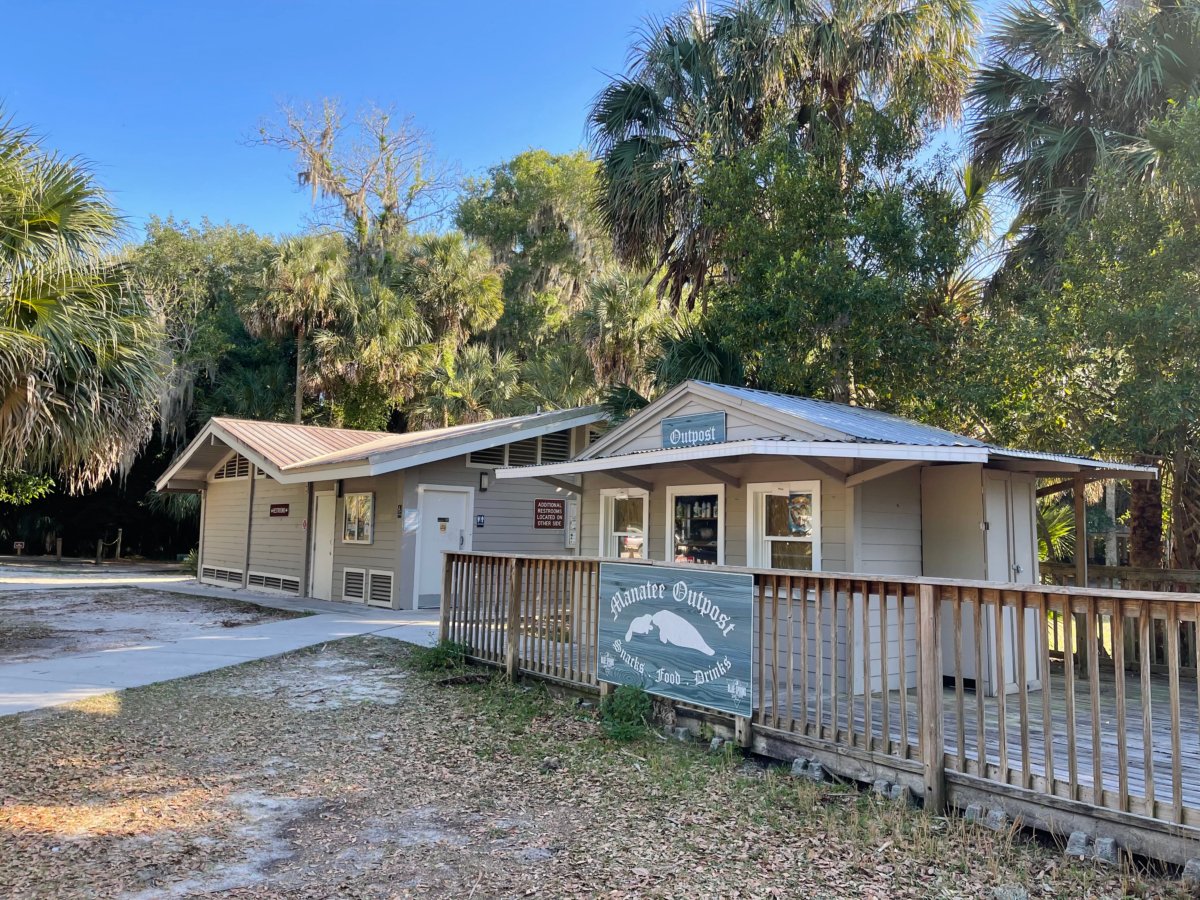 The Manatee Outpost, situated closer to the river, sells sandwiches, ice cream, candy, chips, assorted snacks, and even adult beverages.
You will find canoe, kayak, and paddleboard rentals in the shade of a grandfather oak hammock near the river's edge.
Recreational rentals, guided Segway and kayak tours, as well as a 2-hour St. Johns River Nature Cruise are best booked in advance at the Blue Spring Adventures website.
---
Blue Spring State Park Map
---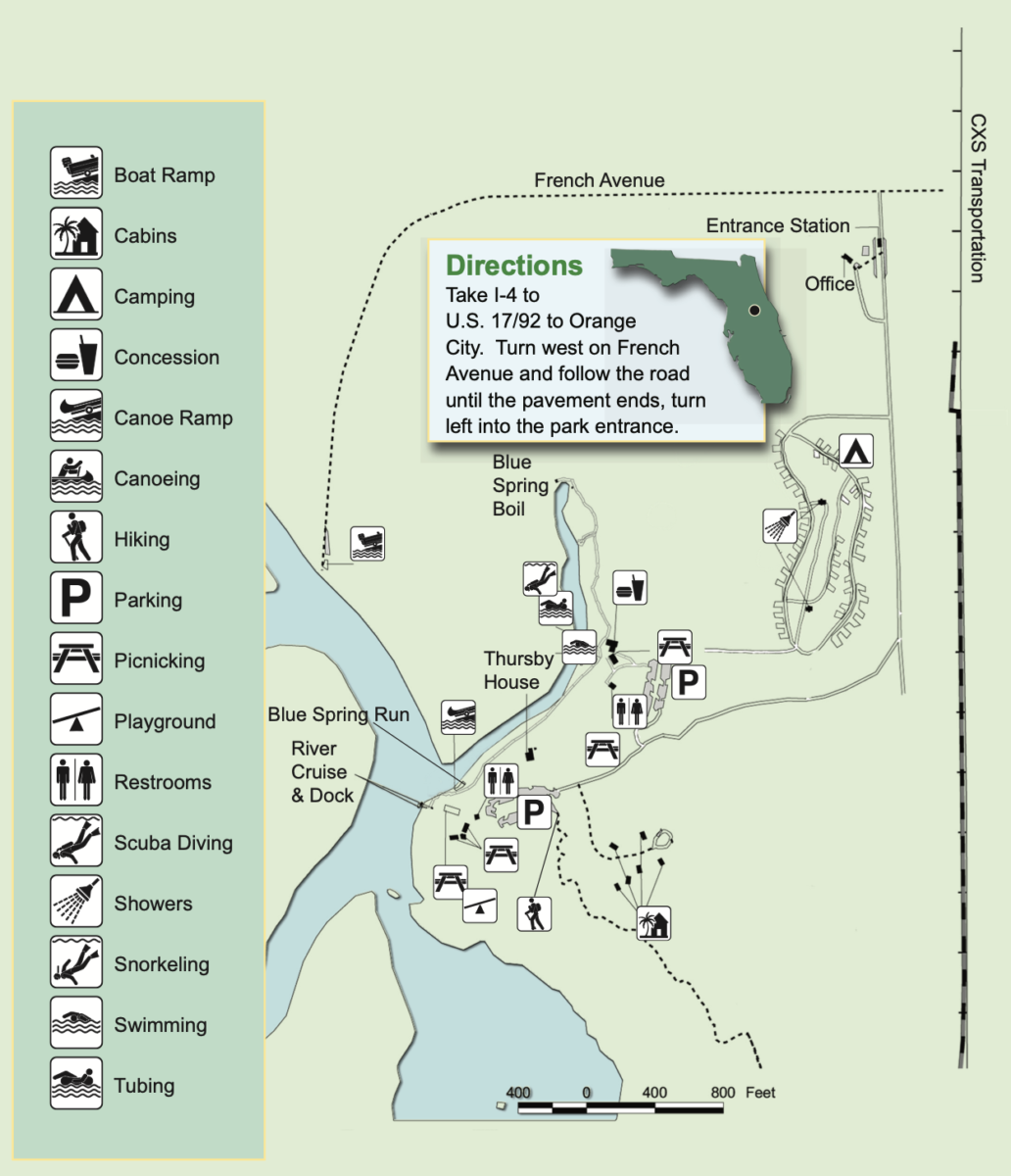 ---
River of Lakes Heritage Corridor
---
Blue Spring State Park is just one of many scenic, historical, and cultural sites located within the River of Lakes Heritage Corridor.
Designated as a Florida Scenic Highway and a National Scenic Byway, the ROLHC offers a perfect roadmap for exploring the region. A downloadable PDF brochure and map will help you plan your visit to the area.
---
Dining & Lodging
---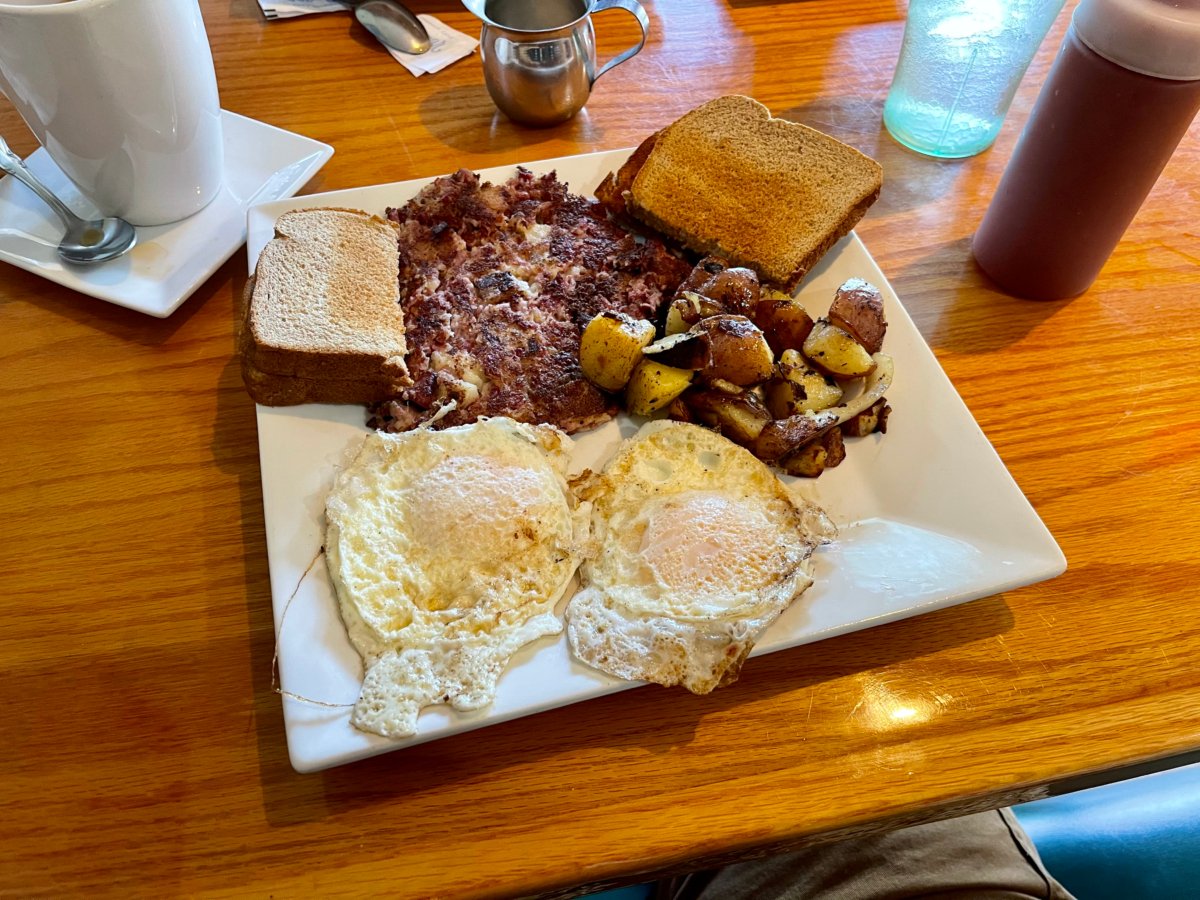 Lazy campers that we are, we headed over to The ROCK (Regan's Orange City Kitchen) in Orange City for breakfast. We enjoyed friendly service, good coffee, and I can personally vouch for the delicious homemade corned beef hash.
Click here for Orange City lodging options on TripAdvisor!
Click here for Deland lodging options on TripAdvisor!
Click here for Sanford lodging options on TripAdvisor!
---
I Would Love to Hear From You
---
I enjoy dialogue with Backroad Planet readers, especially when they share off-the-beaten-path destinations and useful travel tips. Have you camped at any of Florida's State Parks? If so, I would love to hear about your experience. I invite you to leave your comments and questions below, and I always respond!
---
Pin this Post!
---