(a

29

minute read)
---
Buying a camper van can be a daunting experience. In this candid guide, Howard from Backroad Planet shares his story and lessons learned while acquiring a Class B RV.
---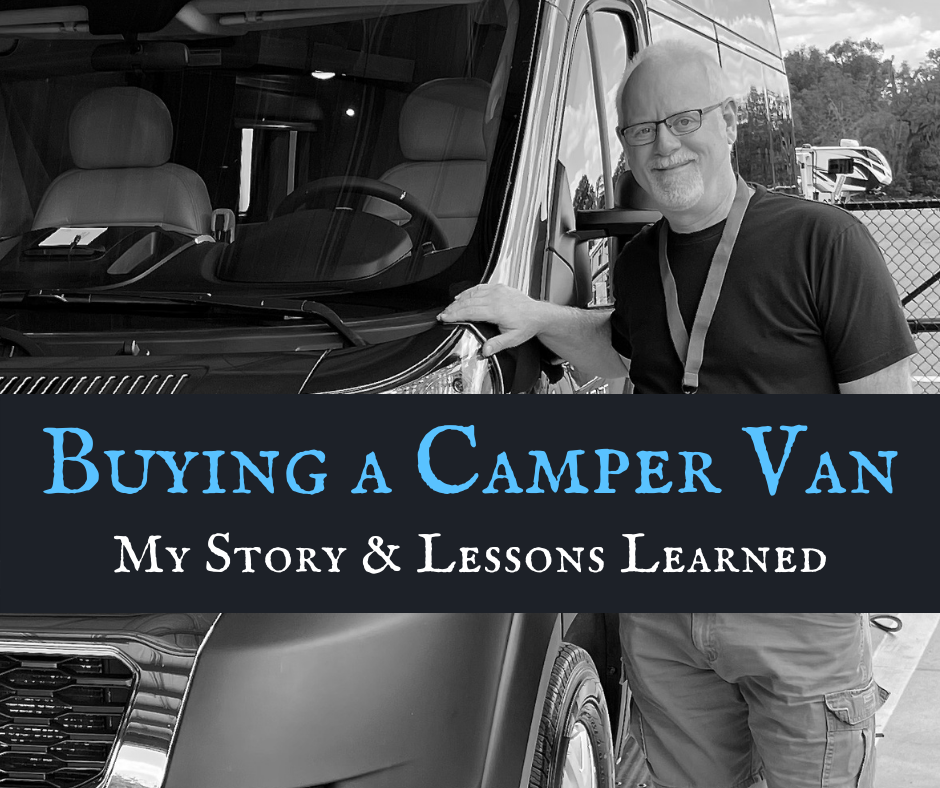 This post may contain affiliate links. Please refer to our our Disclosure/Disclaimer page for more information.
---
Buying a Camper Van: My Story
---
If you read my previous post Surviving the Year of COVID, then you learned Backroad Planet would be taking a new direction in 2021.
In order to safely resume travel, I made the decision to get vaccinated and buy an RV.
This post is my story unveiling the complexities of buying a camper van. It is also a guide for prospective buyers. Perhaps not in the traditional sense of telling readers concrete steps to take, but rather showing the process from a buyer's perspective.
There is no perfect method for purchasing a motorhome because every person in the market has a distinct set of requirements and budget.
This is a LONG post, navigating the ins and outs of my experience buying a camper van. Feel free to read the post from beginning to end, or use the table of contents below to jump to sections of interest.
Research
---
It was time for my RV research to begin. I knew I wanted something compact and self-contained, yet tricked-out with all the bells and whistles. I for sure did not want to drive a monstrosity or tow a trailer.
A customized Class B motorhome built on a panel truck chassis seemed to fit the bill.
A Class B RV, also known as a conversion van, camper van, or B van, can range from 17′ to 23′ in length. I was hoping to find a unit that would fit within most standard parking spaces.
Because I am an incurable researcher, I thought it would take me forever to narrow down what I wanted from the many makes and models on the market.
It didn't.
In retrospect, without getting overly spooky or spiritual, it almost seems as if the Universe had already chosen the perfect unit for me and paved the route I should take. I just had to move in that direction.
As it turned out, I woke up in the early morning hours of February 10, and could not go back to sleep, which is rare for me. I typically sleep through the night.
I pulled out my laptop and started watching Class B RV introductory videos.
I liked the look of motorhomes built on the Ford Transit and Mercedes-Benz Sprinter chassis, although I assumed correctly that the latter would be way out of my price range.
Then, videos of the Thor Sequence and Tellaro models built on a RAM Promaster 3500 chassis popped up. By the time I closed my laptop, I felt like a charcoal Thor Sequence with a 20L floor plan would be the best Class B RV for me.
Later that morning, I went for my daily walk around the lake. As I returned to the parking lot, it occurred to me that I should go take a look at some camper vans.
The Dealership
---
I knew it shouldn't be a problem because I live in the RV Capital of the World where dozens of dealerships populate the I-4 corridor. My first stop was at the General RV Supercenter in Dover, Florida, only eight miles from my house.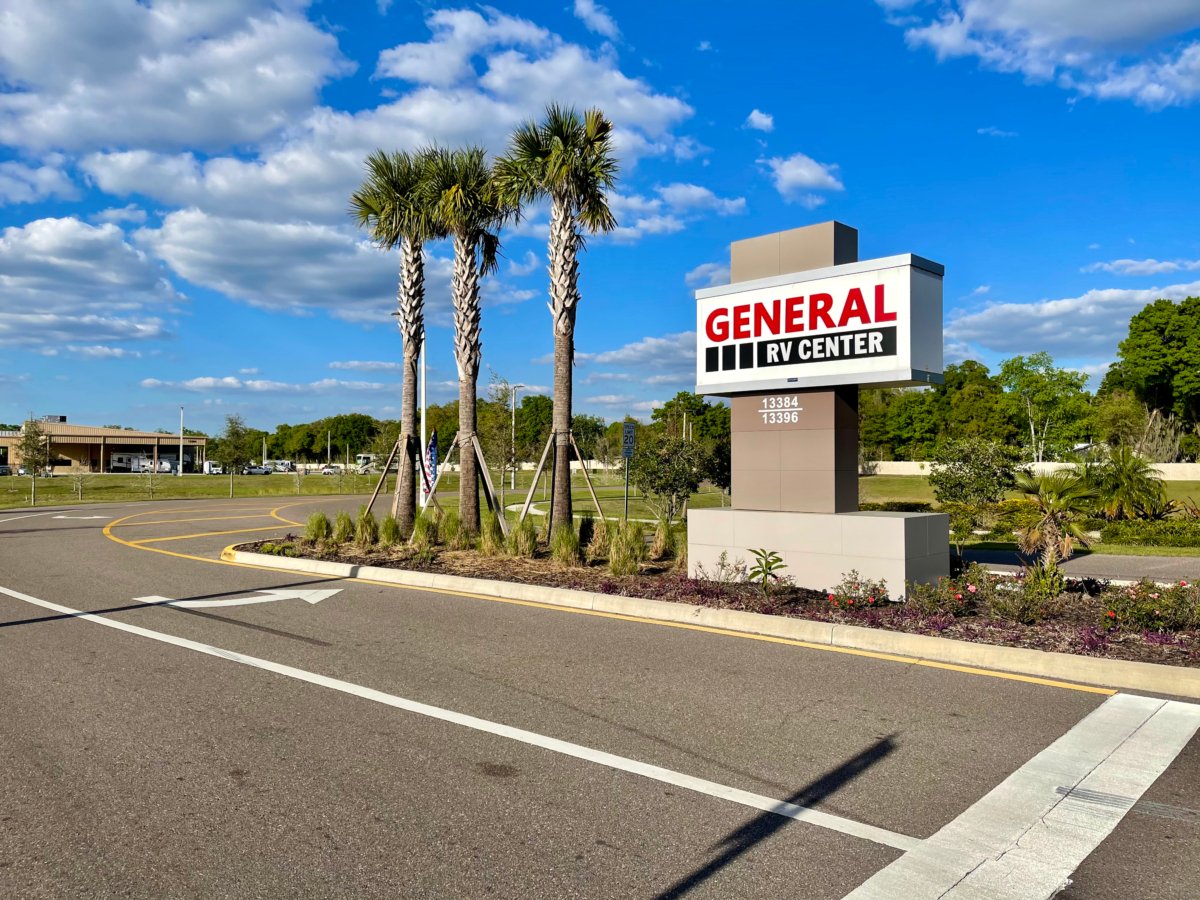 I didn't know what to expect, entering the complex without an appointment. I checked in at the reception desk, and soon a young sales representative arrived and accompanied me back to his cubicle.
We got acquainted, and I filled him in with most everything you have read up to this point. He checked inventory to determine what units were available on the lot, and then we boarded a golf cart to go check them out.
The first model I toured was a charcoal 2021 Thor Sequence with the 20L layout, the same model I had seen in the video.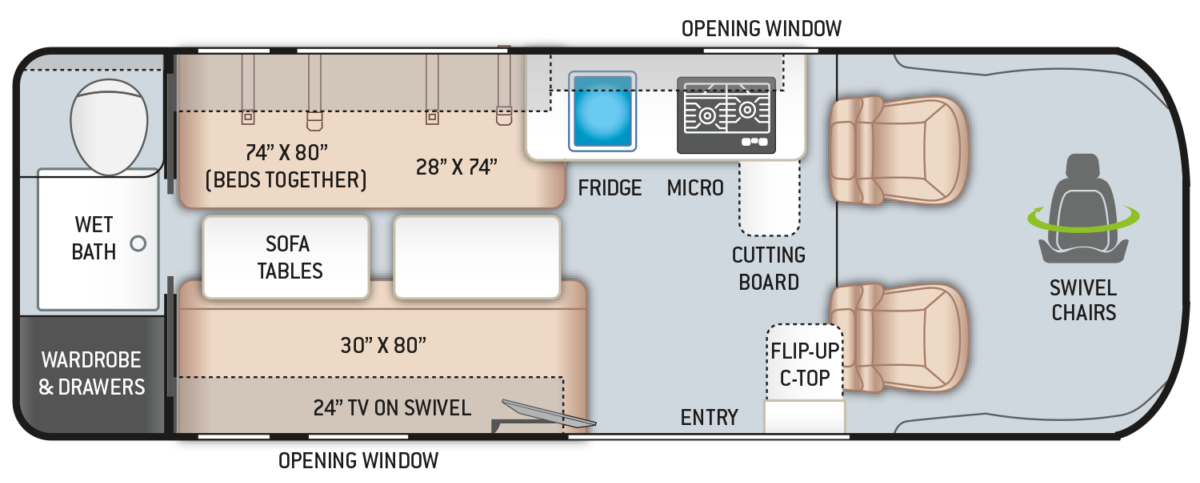 As soon as I stepped inside, I knew it was the perfect camper van for me.
The representative showed me several other Class B RV options, and even a couple of Class C RVs, but there was no doubt in my mind which one I wanted.
Back inside, the sales rep provided the names of other Class B makes and models built on the RAM Promaster chassis for comparison. I didn't really feel the need to look any further, but in order to cover all the bases we both thought it would be a good idea to visit a couple of other RV dealerships.
I got back on the road and drove over to Camping World. They had nothing, not a single Class B RV.
Then I headed down to Lazy Days. They had several Class B models for comparison, including a Thor Tellaro, a twin of the Thor Sequence. But none of the units on the lot changed my mind about what I wanted.
The General RV sales rep would be away a few days working the Jacksonville RV show, so I took advantage of this time to go by my credit union to apply for financing pre-approval.
The following Monday, February 15, I called the sales rep, and he said to come on in. We chatted it up while waiting for the Sequence to be brought in from the lot for a test drive.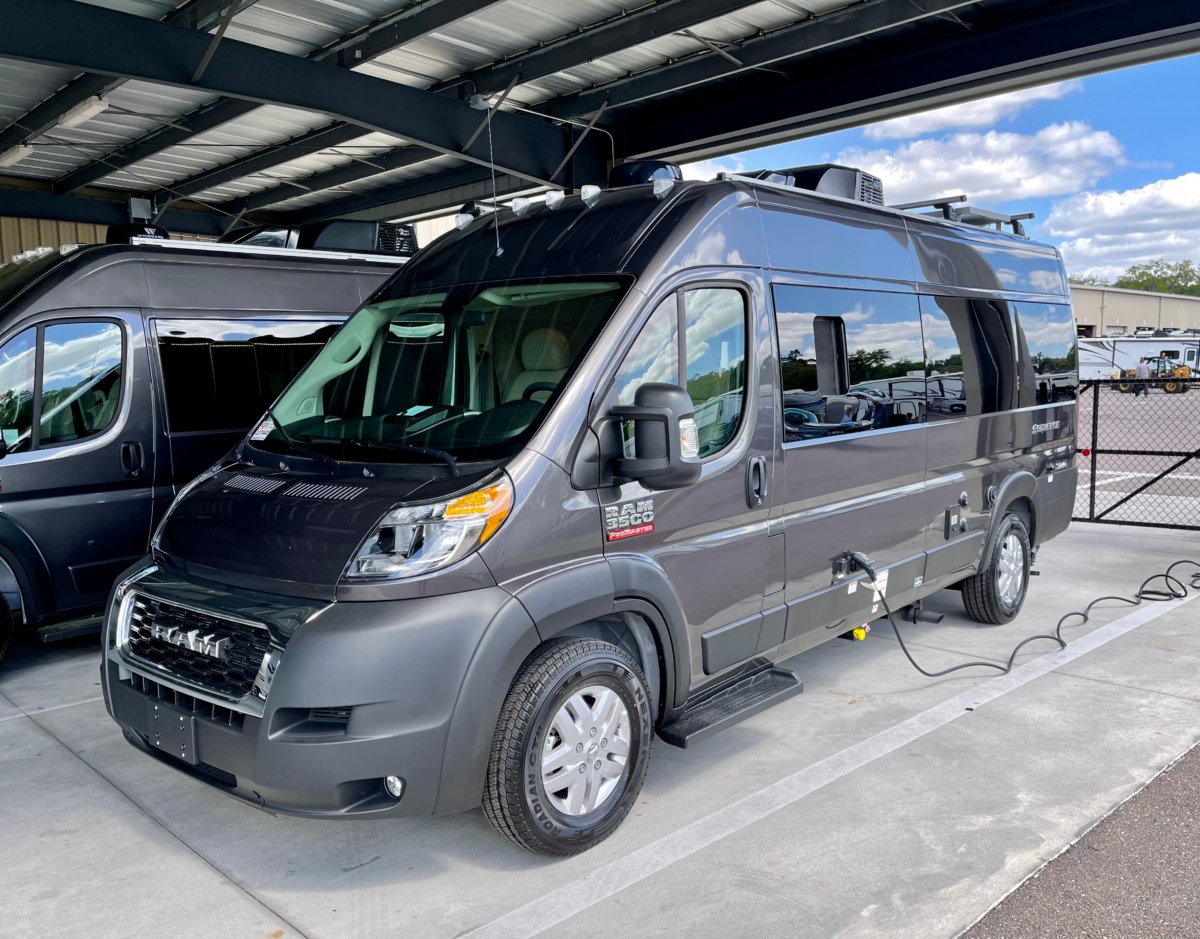 We drove a loop along two-lane country roads and a segment of I-4 between two exits. The RAM cab, driver's seat, and dash controls were different from my Mercury Mountaineer, but I easily adjusted. I took care to remember I was driving a vehicle nearly 22′ in length with a 159″ wheel base.
This was not a small Class B RV.
Back at the dealership, I realized it was time to move forward into making this decision a reality.
A nomad friend of mine recommends renting an RV and doing at least one trip to ensure that van life is what you want to do before laying down your money.
For most potential buyers, I believe that is great advice, but I just couldn't see it working for me. Every RV model has different features, so it seemed pointless to do a test trip in any unit except the one I intended to buy . . . and I did not want to spend any more time researching rentals to make that happen.
The California Desert camper van trip I had done a few years back would have to suffice.
It was time to negotiate.
Negotiation
---
Let me state up front that I decided early on to be transparent about the entire process of purchasing a camper van. I owe it to current and future Backroad Planet readers who may be considering RV life.
The sales rep knew from the moment I handed him my business card that I was a travel blogger. Later, during final negotiations, I clarified that although the dealership would be mentioned in my story, I would respect his privacy, and he would not be named.
From our previous conversation, I understood I was negotiating in a seller's market. RV sales had skyrocketed in recent months due to the global pandemic to the point that manufacturers could not keep up with the demand. After all, I wasn't the only person who wanted to travel safely in the times of COVID.
The sales rep began by offering me a white model of the Sequence 20L that was available at an out-of-state General RV dealership. The MSRP (Manufacturer Suggested Retail Price) on the unit was $92,375, and it was currently available for $79,695. He mentioned that he could possibly get another $1,000 or $2,000 knocked off the price.
The only problem was that I didn't want a white unit, or even a silver unit for that matter. I wanted a charcoal Promaster camper van because I liked the way the tinted windows and black trim blended with the paint color, giving it a clean, polished appearance.
Because we were nearing the transition from 2021 to 2022 models, the sales rep checked inventory and learned the company had fourteen 2021 Thor Sequence units on order, and certainly one of them would be a charcoal 20L.
There was a lot of walking back and forth between the cubicle and the sales desk during negotiation.
When he returned with a follow-up handwritten offer, it reflected a $1,000 discount, plus some additional fees. At the time, I didn't pay much attention to them.
I should have, but hindsight is 20/20.
Because he had thrown out a potential $2,000 discount earlier, I honed in on that. He said that offer was for the white unit, and I told him I wanted the same for a charcoal unit.
After another conversation with the sales manager, he said if I would put down a $10,000 nonrefundable deposit, he could give me the additional $2,000 discount. The only contingency for a refund would be if they were unable to acquire the unit I wanted.
This point in negotiations is when you start getting hints that although a motorhome is a vehicle, it is a hybrid, and buying one is in many ways as involved as purchasing a home.
We briefly discussed the two fees, but without prior experience I did not realize they were negotiable and how truly exorbitant they were.
Down Payment
---
At this point, I was introduced to a business manager in the finance department who escorted me to his office. I shared with him that I had pre-approval from my credit union with their standard 5.75% interest. He assured me that with my credit score he could beat that rate.
The officer prepared the paperwork, and then we walked over to the cashier. I made my down payment accompanied by much stamping and initialing on both sides of invoices and receipts to make it perfectly clear that my deposit was nonrefundable.
No matter.
I knew what I wanted. I had found the best camper van for me.
My methods of negotiation may have been unconventional, but they were what they were.
On February 24, the sales rep texted that my unit was "at transport waiting to be shipped," meaning someone would drive it from the Thor Motor Coach manufacturing plant in Elkhart, Indiana, to the local dealership.
On March 3, I got a call from the sales rep saying my unit had arrived at the dealership. He said they could store it for a few weeks while I was waiting for my carport construction to be completed.
We scheduled my unit walkthrough and closing for Tuesday, March 9.
Pre-Delivery Walkthrough
---
I arrived at the dealership at 11:00 AM on the day of my appointment and was assigned a delivery coordinator to manage the logistics of my movements throughout the day.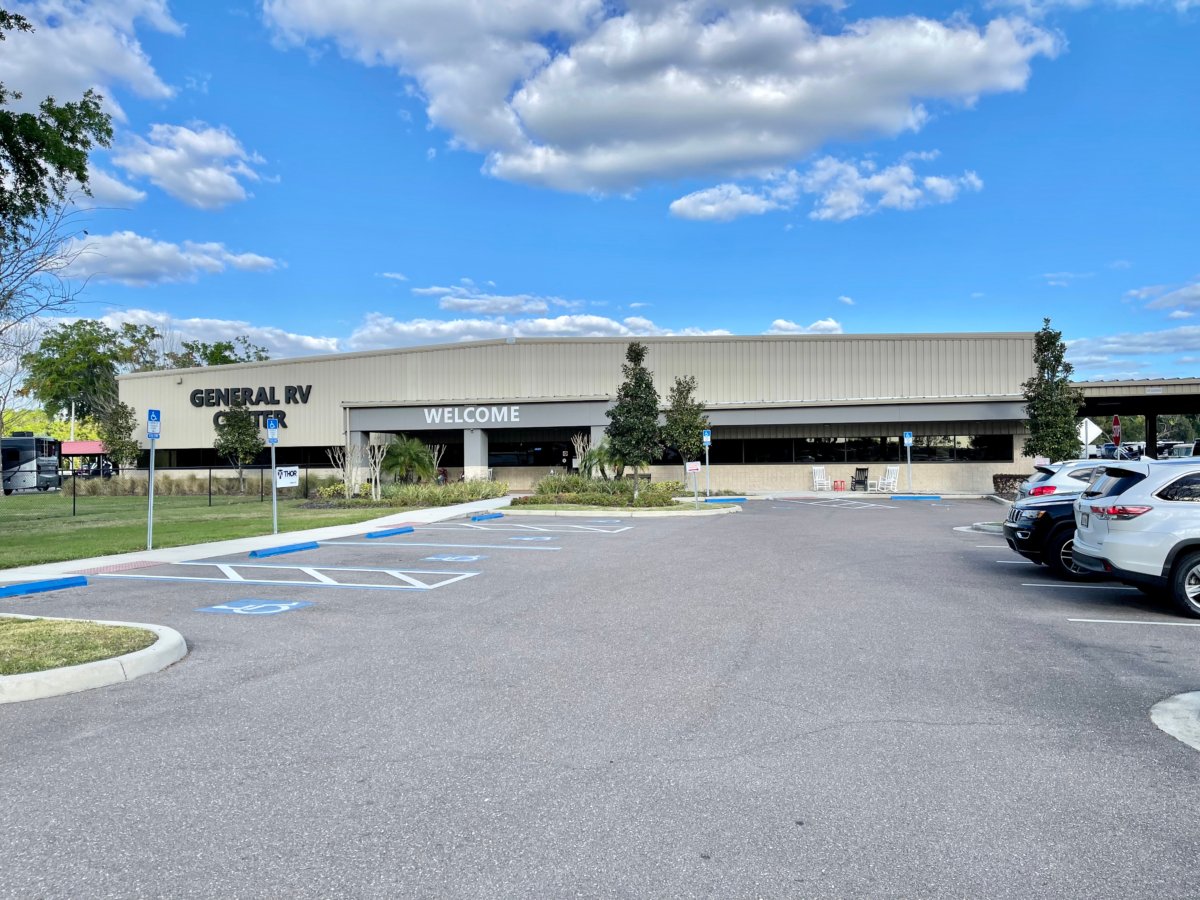 First up, I was handed over to a walkthrough specialist whose job it was to introduce me to all of the systems and operation of my unit.
I walked out to the delivery bay, and there she was, my very own 2021 Thor Sequence 20L. Although she was ranked as a low-end or entry-level unit, boy, was she a beauty! Dark, sleek, and streamlined like a stealth vehicle.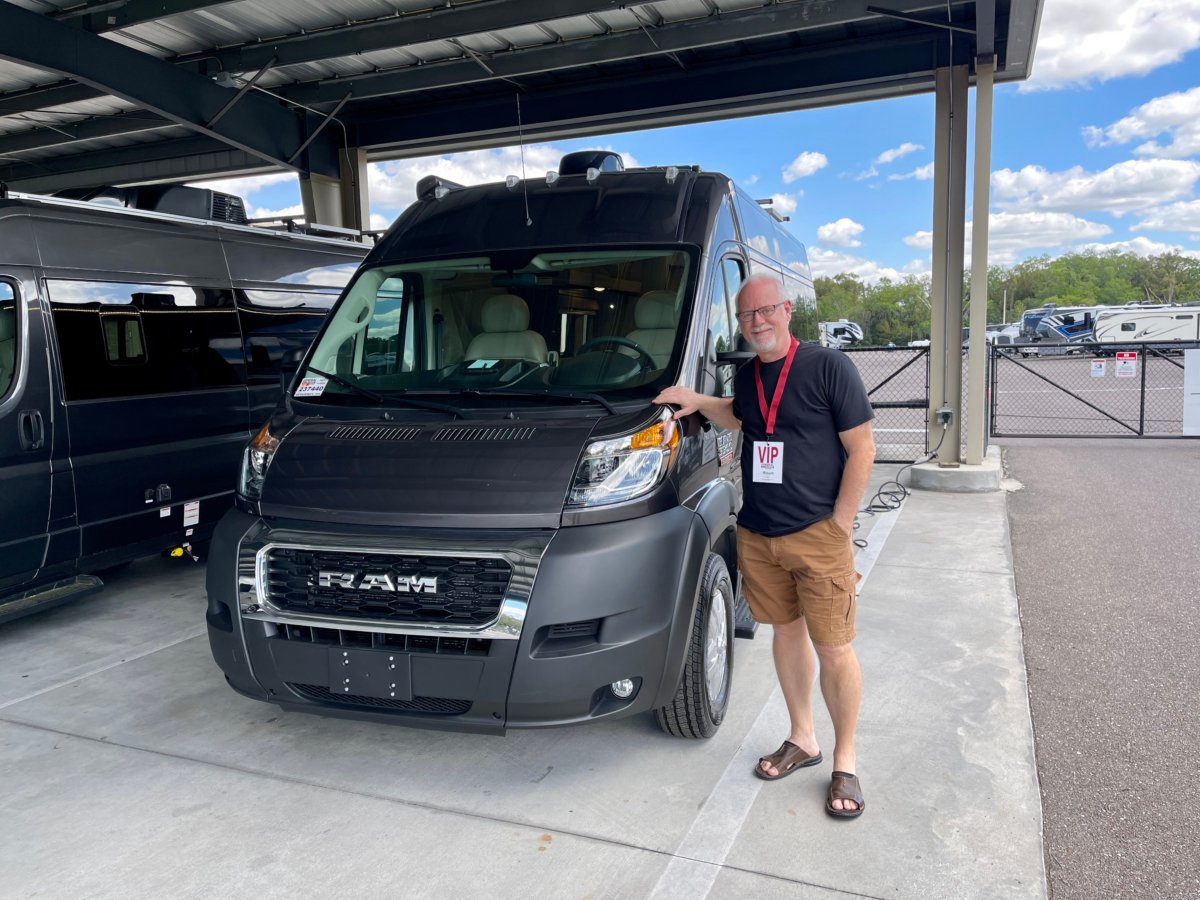 It wasn't until many weeks later that I learned a "stealth camper van" was a thing. And based on descriptions, I had bought one.
A stealth camper van is basically a cargo van that has been customized as an RV. Because the exterior looks like a regular van, it allows occupants to "camp in plain sight" without drawing unwanted attention. And with all systems self-contained, it also functions as an off-grid camper van.
Who knew?
I had already watched tons of videos, followed Facebook group discussion threads, and read up on all things Thor Sequence, but it was clear the walkthrough specialist knew my unit very well.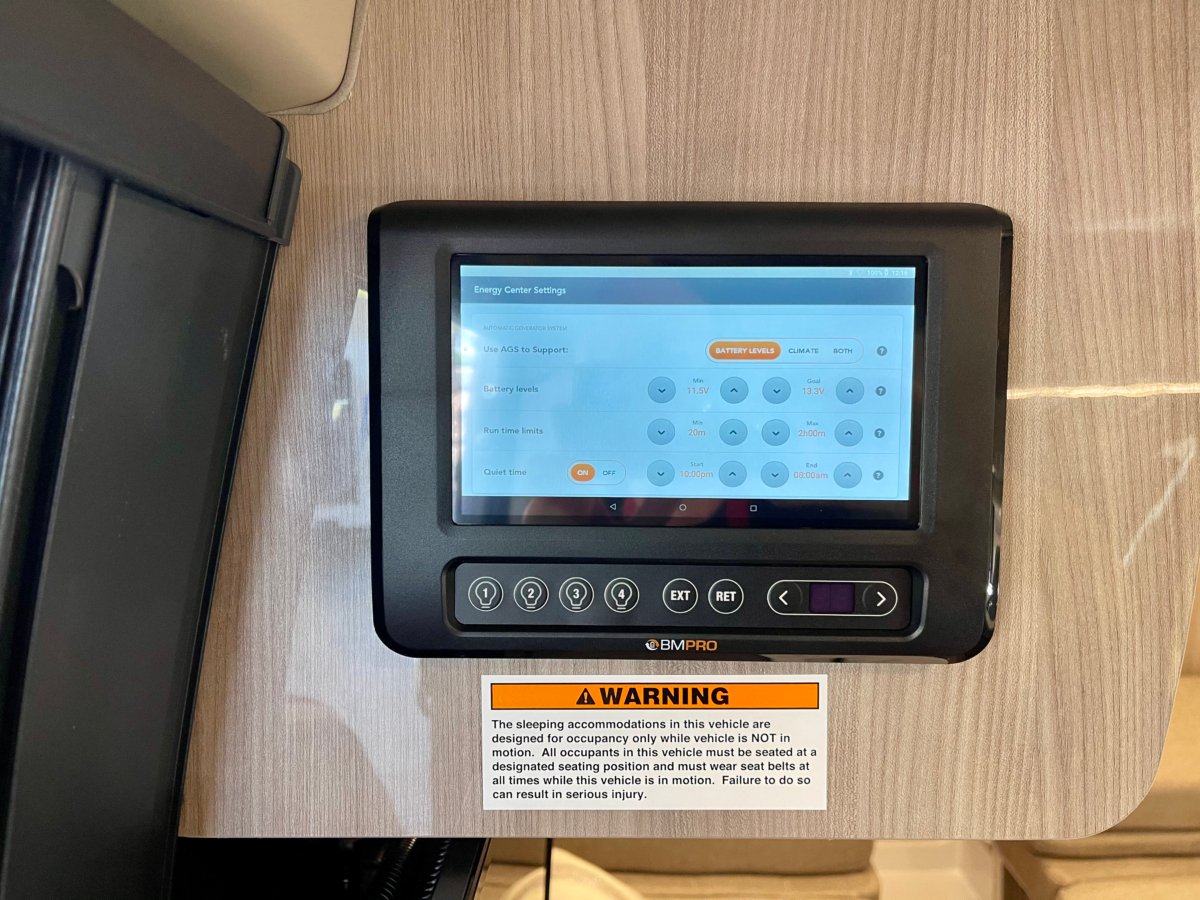 The entire process took about an hour and a half, as he explained operation of the motorhome's, electrical, propane, and plumbing systems. The experience was exciting, but also overwhelming. There is a learning curve even with cutting-edge technology, and I knew the only real way to understand and master the systems would be to use them.
I arranged for the bike rack to be removed from the rear panel door. I do not own a bike, and the rack has two metal bars that extend beyond the door at eye level. I am famous for bumping my head and running into things, so I thought its removal wise.
If you are like my Facebook friends, you would probably like to see photos inside the Thor Sequence. I was so busy taking notes during the walkthrough that there was no time for photos. You can be sure I will give an interior and exterior tour in an upcoming dedicated post.
Back to Negotiation
---
Before heading to the business office for closing, I detoured to my sales representative's cubicle to discuss the $6,325 in tacked-on fees. I had learned after the fact that other Thor Sequence and Tellaro owners had not paid the fees I incurred.
I reminded him that my story would be published on Backroad Planet, and that I would honestly report my experience.
When I inquired whether there was any wiggle room with the fees, he would not budge.
I explained how my General RV experience had been mostly positive, but I had felt blind-sided by the fees. They were never mentioned in our early negotiations, and the first time I saw them was when I was given the handwritten quote. In my naiveté, I had assumed they were non-negotiable, when in truth, everything is negotiable.
He apologized and went on to explain that fees indeed can be negotiated, but because I had bargained for such a low base price, it left him no room.
Since I would be paying these fees, I asked for a detailed description of the services they covered.
The "Delivery and Setup" fee of $3,050 essentially covered freight. The dealer has to hire a transport company to drive the unit from the factory to the store. He showed me a photocopy of a freight invoice from a few years ago for $2,139.00. Apparently, inflation accounted for the $911 difference.
The PDI (Pre-Delivery Inspection) fee was to pay for the cost of getting my unit ready for me at the dealership. This includes prep work to verify that all the unit systems are in working order. There is also a "seal test." A machine is placed inside the vehicle to create interior pressure. Technicians apply soap and water to the exterior and look for bubbles to ensure that the unit is properly sealed.
I was disappointed that these fees would not be discounted, but I had run out of options.
It was time to head back to the business office for closing.
Closing
---
The business manager had qualified me for a 4.74% interest rate, and he had prepared a gridded document that detailed a side-by-side comparison of General RV's basic, preferred, premium, and elite levels of bank-sponsored programs and their comparative costs.
Because the cost of add-on protections are included in financing over the length of the loan, relative differences between the monthly payments were nominal.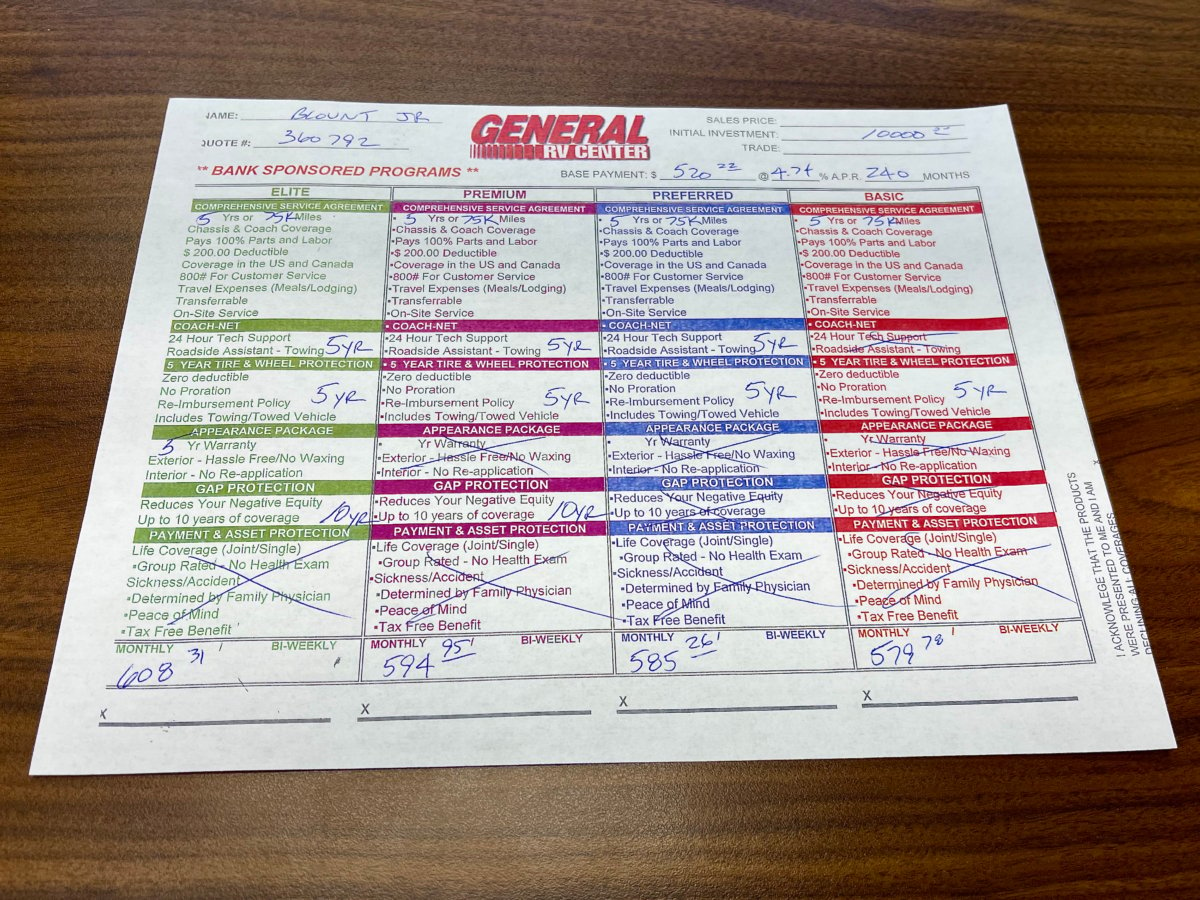 After considering my options, I chose to go with the following add-on protections:
4-year/100,000-mile Cornerstone RV extended warranty ($6,980)
10-year NSD (Nation Safe Drivers) G.A.P insurance ($1,495)
5-year Tire Shield tire & wheel road hazard protection ($1,089)
5-year Coach-Net roadside assistance ($795)
I declined the interior/exterior appearance protection.
While selling the add-ons, the business manager focused on the monthly payments, not the actual costs of the add-ons. Although the costs were itemized on the purchase agreement, it did not occur to me that the 4-, 5-, and 10-year add-ons would be financed across the 20-year term.
Pause, and let that sink in.
I had learned on my first visit to General RV that 240-month terms were the norm in RV financing. A 20-year loan was a key indicator of how buying a motorhome is more like buying a house. Fortunately, there was no pre-payment penalty, so I would be able to pay off my loan sooner.
One way an RV purchase is more like buying a vehicle is that it is a depreciable asset. There was an intense discussion in one of my Facebook RV groups about the advantages of paying cash versus financing motorhomes. The consensus was that in years where the economy is stable, it makes more sense to finance major purchases and invest in the market for greater gain.
RV Insurance
---
An agent from America's Choice, an in-house insurance agency owned by General RV, had contacted me with a Progressive-RV policy quote back on February 17. My appointment with her to review the policy and pay the annual premium of $592 was the final meeting of the day.
Motorhome policies are surprisingly inexpensive based on projected time spent on the road. My original quote was much cheaper, but I requested that she increase the coverage with the expectation that I will be traveling more than I will be at home.
I left the dealership at 4:00 PM. The entire process had taken five hours. Before leaving the General RV complex, I stopped by the service center to meet my assigned service specialist. She was not available, so I perused the store to familiarize myself with the types of products I would soon be buying to outfit my rig.
And now to answer the question everyone is asking.
So How Much is a Camper Van?
---
You can find used units for much less, but if you plan to buy new, with fees, add-on protections and taxes included, you can expect to spend well over $100,000.
But your out-the-door price will be just the beginning of your expenses. You need to factor-in insurance, upgrades, parts, and accessories. And if your situation is like mine, it may also include new construction.
After you get on the road, there will be fuel and maintenance expenses, plus costs for RV lifestyle memberships and fees for apps you may choose to use.
If you have your heart set on van life, and your budget can handle it, then go for it! If not, there are much cheaper ways to travel.
Taking Care of Business
---
Buying an RV sets off a chain reaction of tasks and purchases, meaning in the weeks to come I would be spending a LOT more money. I reminded myself that I did not golf, own a bass boat or Harley, nor have a huge gun collection like many other men in my demographic.
And I was grateful the dealer would be able to store my unit on the lot while I took care of business at home.
The Carport
My greatest additional expense would be "raising the roof" on my carport to accommodate the height of my camper van. I won't bore you with the details, but let it suffice to say the process of locating a reliable contractor, permitting, and construction took several weeks.
When I finally connected with the right company, things started happening quickly. My contractor even mentioned that with approval from the city building inspector they could go ahead and take down my existing carport and lanai. That way I could take delivery of my camper van when I was ready, whether new construction was completed or not.
True to his word, they came out a couple of days later and completed the takedown in one afternoon.
Purchasing Parts and Accessories
In the weeks between closing and delivery of my unit I spent most of my time researching both essential items and possible upgrades for my van.
The most useful resource for me during this time was the Thor Sequence and Tellaro Owners and Wannabees Facebook group. The 1,500+ members have experience-based answers for virtually any question or support for any issue you may have.
Generic RV lifestyle groups are great, but finding a group unique to your model will be a lifesaver for you presently and in the days to come.
I created a Google doc entitled "RV Purchases" and began generating a comprehensive listing of every potential item I would need. I also started a dedicated RV wishlist on Amazon.
Follow the link for a listing of basic parts and accessories I purchased to outfit my rig.
A Spiritual Confirmation
During this time Jim Swilley, my best friend and spiritual mentor, called me. We are in constant communication one way or another most days, but this time was different. He spoke to me prophetically about how I "did a thing" by choosing to purchase an RV.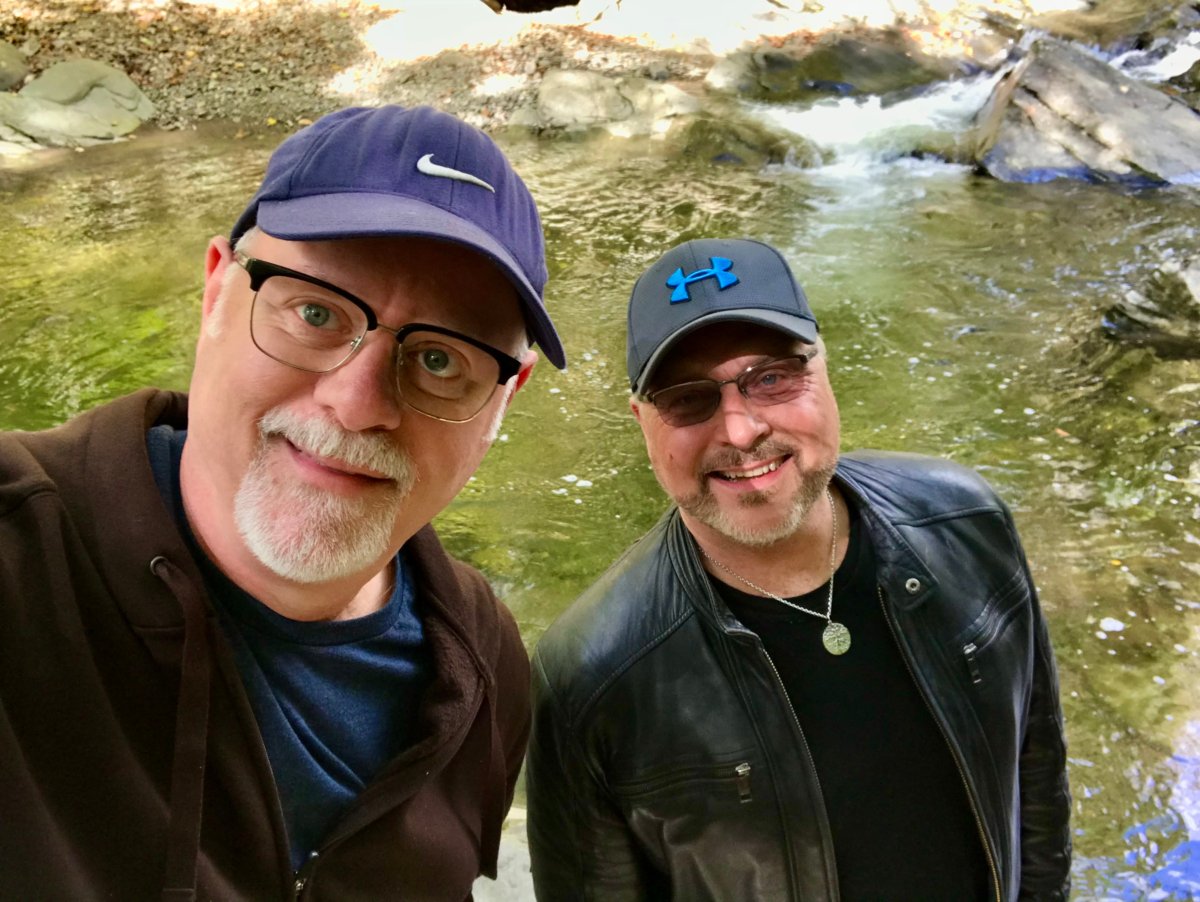 He told me my action had jolted me from the negativity of the past year. He said it was evident I was in a positive zone with receiving my stimulus check immediately, getting my COVID shot the first day I was eligible, and having my old carport taken down so quickly. And he added that more synchronicity and positive effects were in my future.
He was right.
Delivery Day
---
With my old carport dismantled, it would be possible to take delivery of my van earlier than expected, so I texted my General RV sales representative.
He said once I gave him the go ahead, the appointment would be made four or five days from that time, and definitely not on a busy weekend.
We scheduled delivery for noon on March 29.
They offered to deliver the van to my house, but I preferred to drive it home myself. So I booked a Lyft for the 8-mile trip to the dealership.
I had made a request for the bike rack to be removed while the van was in storage, but the sales rep suggested that they do the job just prior to delivery so that it did not get misplaced. I thought they could have just stored it inside the van, but I guess not.
After checking in at the front desk and meeting briefly with the rep, I took a seat in the waiting area.
Some time later the rep came out to inform me that they had taken down the front bike rack attachment, but they could not take down the frame because it would leave holes in the van.
I did not think this was accurate, so I hopped on my amazing Sequence/Tellaro group, and within minutes learned how to easily detach the frame with an Allen wrench, without leaving holes.
I was watching when my unit arrived in the delivery bay, so I went outside to see what was going on. A couple of servicemen arrived, saying that the front driver's side tire was low, and I watched them air it up.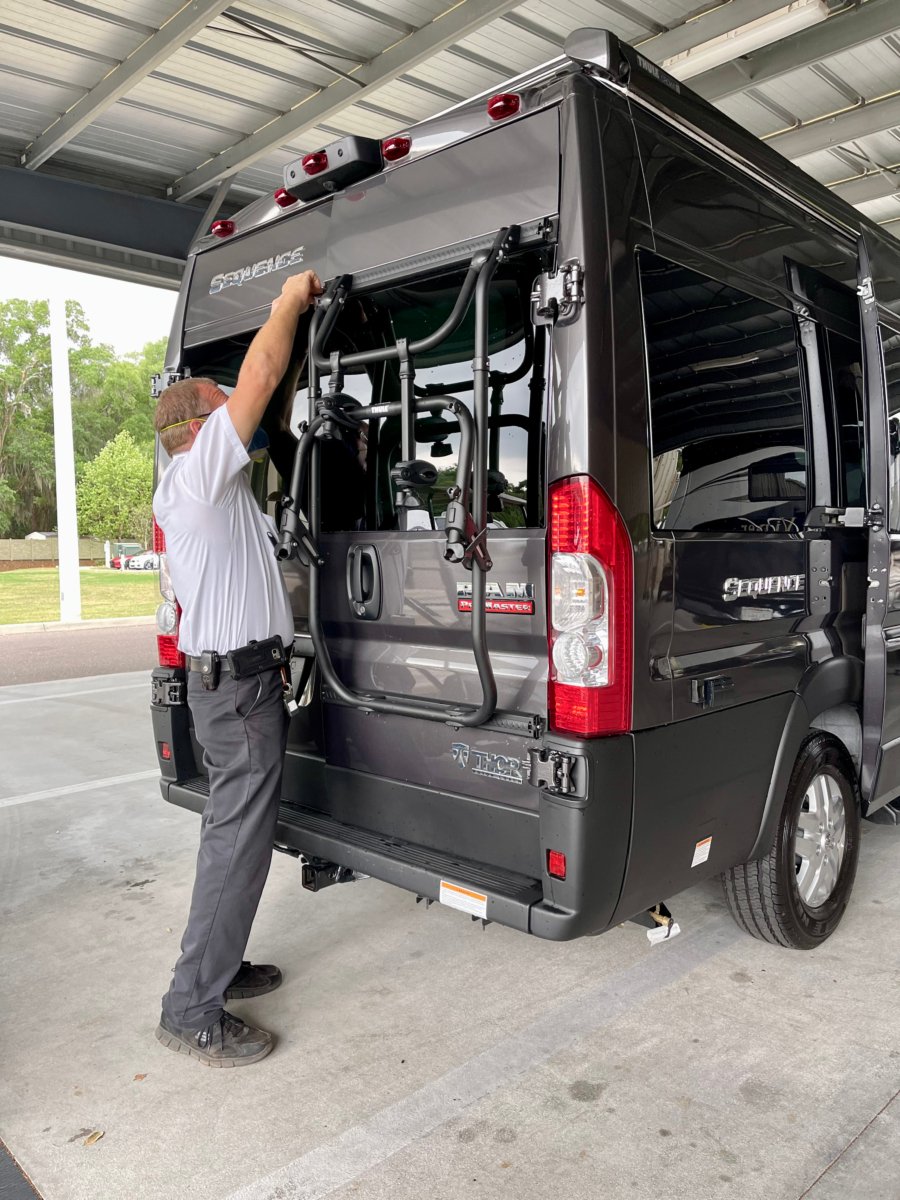 After waiting some time, another technician arrived to deal with the bike rack frame. I shared with him the information I had learned in my Facebook group, and he had no problem completing the task.
The sales rep had informed me earlier that they had a temporary tag for my unit, and my permanent tag would be mailed to my house. I noticed an associate attaching a temporary tag to another RV, and I asked her about mine. Soon they brought out my temp tag and attached it to the rig.
Although the front tire had been aired up, the dashboard was still displaying a low pressure warning icon. The technician mentioned that sometimes a vehicle has to be driven a few miles for the warning light to go out. We waited while he drove the van around the lot. When he returned, the light was still on, but he suggested that if I drove it a few more miles, it should go out.
I was expecting package deliveries at home, so I decided to take the technician at his word and head to the house. Because of the minor issues we had encountered, I was glad I had opted to take delivery of the van at the dealership rather than have it delivered to me.
Although I had done well during my test drive weeks earlier, I was a bit apprehensive about driving this "big-to-me" rig home. I decided to just take my time and go with the flow.
I drove through the lot, and then pulled over briefly near the service center to reacquaint myself with the controls. When I arrived at the entrance to the lot, there was a major traffic jam headed west on the highway, and I needed to head east. A kind driver saw me, and paused to let me through. Bless him (or her)!
The van drove like a dream. I loved the view and perspective perched high in the captain's chair. Before I reached the next major intersection, the low tire pressure light had gone out.
I drove two-lane roads and a segment of interstate between two exits with absolutely no problems.
My next challenge would be pulling the rig into my driveway. There are huge oak trees on both sides of the entrance, and the gated opening to my carport slab is narrow. Visitors always comment how tricky it is to make the turn into the drive, but I had measured everything and knew the van should fit.
As I approached the drive, I calculated my turn, pulled in slowly, and drove through the gate.
My Thor Sequence camper van and I were home.
Postscript
---
Even though I had taken delivery of my camper van, there were still lots of loose ends to tie up before I could actually get on the road for my first extended road trip.
Shore Power
Two days before delivery, a local electrician installed a 30 amp outlet in my carport area to provide shore power for the RV while it was parked at home. The project was costly, but so totally worth it. In fact, it was one of the best decisions I made.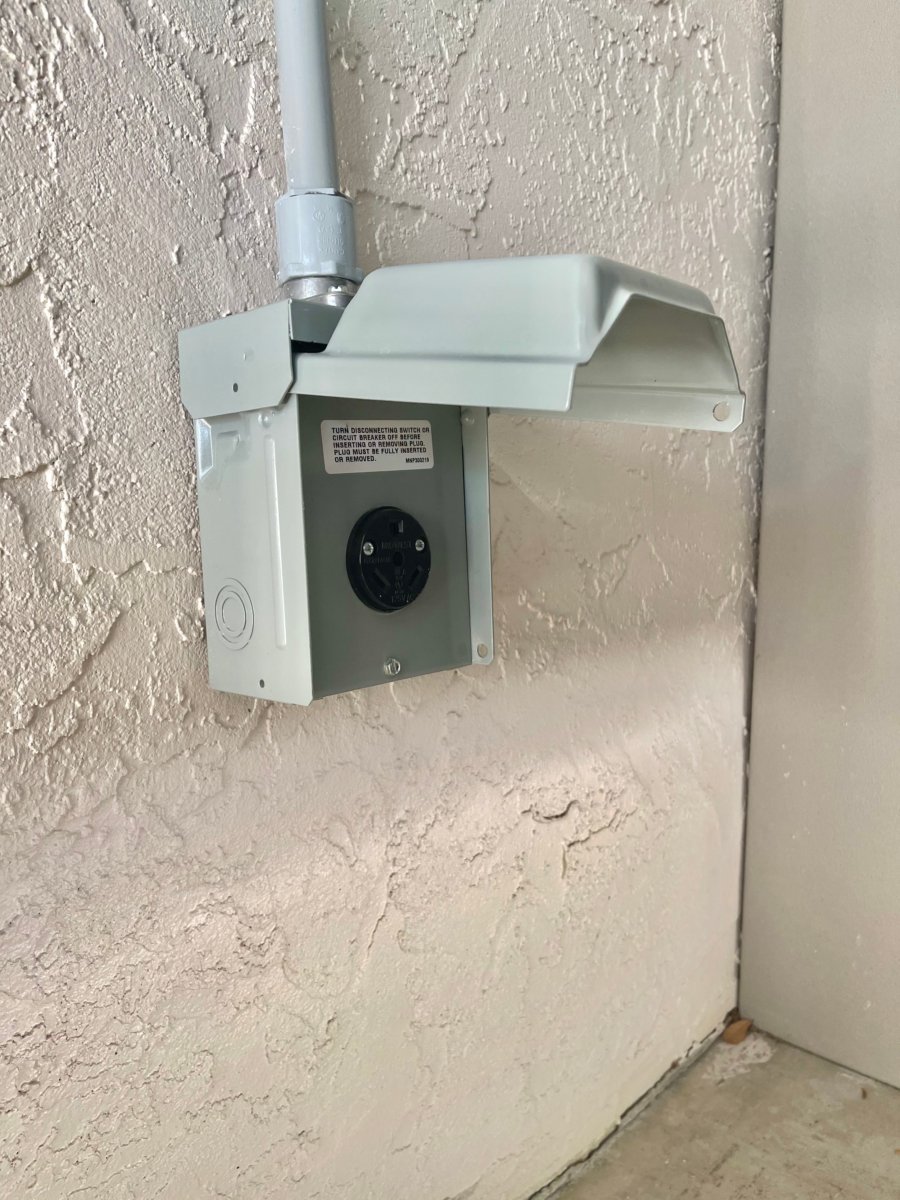 With my van connected to shore power, I was able to do my outfitting work in climate-controlled comfort. Florida sunshine can heat up the interior of an RV in no time flat.
I understand many potential RV owners will need to find remote storage facilities for their rigs. However, if you are able to park your RV at home, installing a dedicated electrical outlet is highly recommended.
Getting Acquainted With My Van
As I mentioned previously, each RV model is outfitted with different features, and the prospect of learning to operate multiple systems was a formidable task. Online videos and the pre-delivery walkthrough had acquainted me with the unit, but watching and doing are two different things.
I decided to sort through all of the instruction manuals in the owner's zippered bag and make a plan for reading them through. I thought I should start with the RAM Promaster owner's manual because learning to operate the vehicle took priority.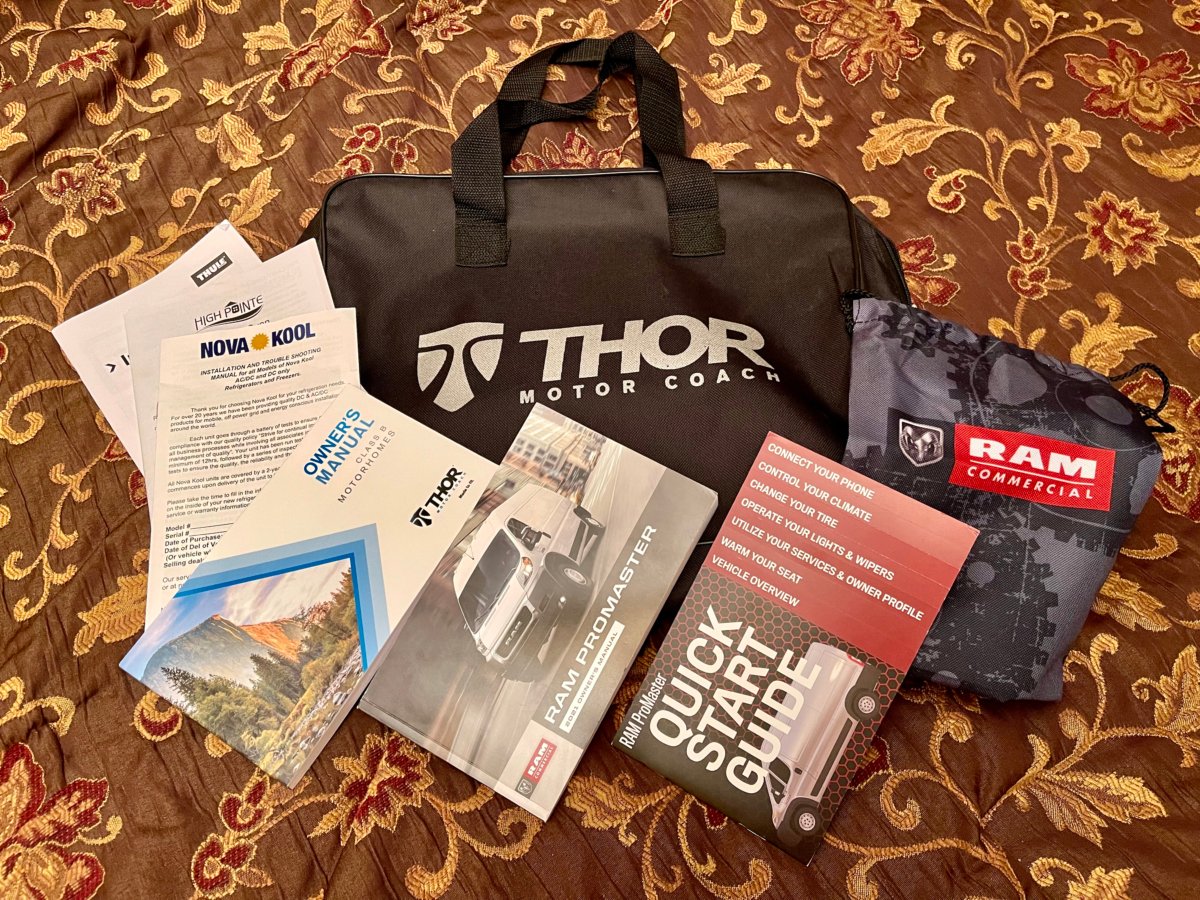 Next, I began reading through the Thor Class B owner's manual in tandem with manufacturer booklets for no less than eighteen individual parts and accessories used in Thor's customization of the van. I also depended heavily on members of the Thor Sequence Facebook group for answers to endless questions and user-created instruction sheets.
Just like a brick and mortar home, a motorhome has complex electrical, plumbing, propane, WiFi, A/V, and many other systems and controls that users must learn in order to operate the unit efficiently.
Planning the Shakedown
Of course the best way to get acquainted with the systems of a new rig is to take it on a local "shakedown" trip. That way if anything goes wrong, you won't be too far away from home.
I was hoping to reserve two consecutive nights in a Florida State Park, but due to heavy bookings, ended up reserving single nights in two separate parks.
Be sure to check back for the shakedown story in an upcoming post on Backroad Planet.
Outfitting the Rig
During this time, I began moving accessories and supplies from the accumulated pile in my back bedroom into the van.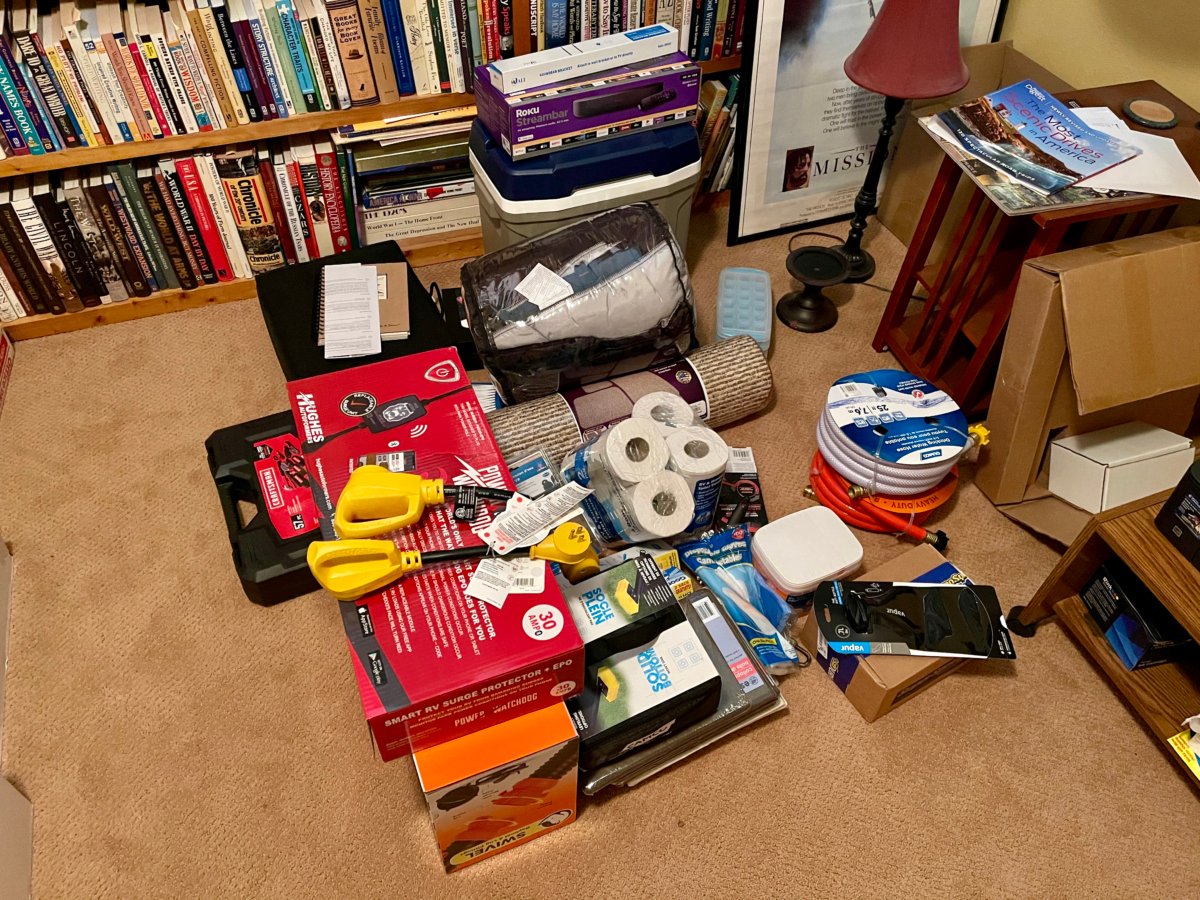 Setting up your unit to suit your tastes is the task that will make it become the home that it is.
SumoSprings®
The parts most frequently recommended in owner groups for upgrading RAM Promaster vans are SumoSprings®.
According to the SuperSprings website, they "are a patented suspension product designed to enhance load carrying ability, stabilize sway, and improve overall driver control and ride comfort."
Technically not "springs," the upgrade parts include urethane spring spacers for up front and improved bump stops for the back end.
Supposedly, mechanically-minded users are easily able to install them. I ordered the springs online, and the tire shop at the end of my street installed them for me.
Raising the Roof
Just over three weeks from the day they took down my old carport and lanai, the construction company returned to build a new 10-foot aluminum carport to accommodate my camper van.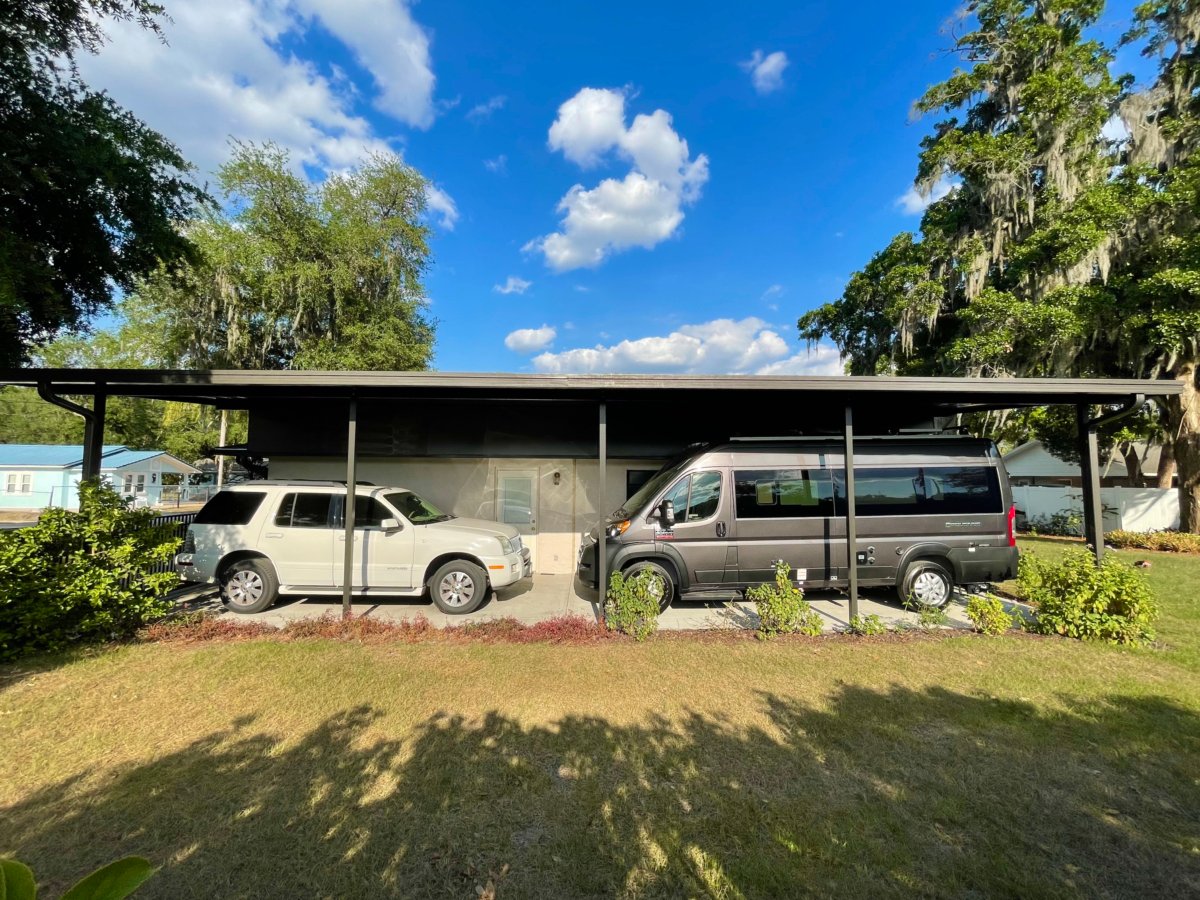 From what I understand, with ordering custom engineer-certified drawings, pulling construction permits, ordering materials, and scheduling jobs, this happened in record time for my area. Although I paid substantially more, it was worth it to find a contractor who communicated regularly by email, phone calls, texts, and in person throughout the entire process.
Tag and Registration
My first temporary tag would expire in a week, so I called the General RV finance officer who contacted title clerk, and he said they would issue me a 30-day tag. I told him this would not work for me because I planned to go out of state on an extended trip. I needed to know when I could expect my permanent tag and registration to arrive. I could tell from his tone that he did not want to deal with me, so I asked for the title clerk's name and extension to speak with her directly.
I left a voicemail for the title clerk on Thursday, left another voicemail on Friday, and left a handwritten message on Saturday, yet with no response. I called my sales rep, told him the situation, and asked if he could help. He was out of town at the time, but said he would look into it.
On Monday morning, I drove to the dealership, arriving shortly after opening time, and asked to speak with the title clerk. I waited about thirty minutes without hearing anything, so I approached the front desk again. The receptionist went to the title clerk's office to tell her I was waiting. When she returned, she said the title clerk would be out shortly. After another ten or fifteen minutes, the title clerk appeared and told me my tag and registration was in the mail. She left momentarily and returned with a printout of the FedEx tracking.
My tag and registration arrived that afternoon. I was relieved to finally have my permanent tag, but extremely disappointed with the title clerk's lack of communication. Why didn't she return my calls? When she put the tag in the mail, why didn't she give me a courtesy call to spare me a drive to the dealership.
Most facets of my experience with General RV had been positive, but I was beginning to learn that customers are a priority before the purchase of a unit, not so much after they lay the money down.
Sewer Hose Carrier
Dumping black and grey tanks is a necessary evil that accompanies the convenience of having onboard plumbing. I learned from several members in my Thor Sequence group that installing a sewer hose carrier on the underside of their units was a life-changer for them.
So, I ordered a hose carrier and got a recommendation for a local mobile RV service to do the installation. I hope to get that done when I return from the shakedown trip.
Future Customizations
I love learning how other Thor Sequence and Tellaro owners are customizing their rigs.
Although some owners like them, the factory cushions are too firm for my comfort, so I am thinking about replacing those.
Several owners have added an additional solar panel to the roofs of their rigs for added electrical efficiency. I am definitely considering this!
When my warranty expires, I am thinking about having a lift kit installed and upgrading my tires to better navigate backcountry boondocking destinations.
Continuous customizations make buying a camper van sound like a money pit. Perhaps, but it is all part of the fun of designing a rig tailor-made just for you.
---
Buying a Camper Van: Lessons Learned
---
My experience buying a camper van taught me a few lessons that may help prospective buyers:
Buying a camper van or other RV is in many ways more like buying a home than a vehicle.
When negotiating your out-the-door price, EVERYTHING is negotiable, including base price AND fees.
The process of buying a new camper van takes time. You won't drive it off the lot the day you buy your vehicle.
Things do not happen quickly at dealerships. Expect to spend a lot of time sitting and waiting your turn.
A motorhome purchase ignites a chain reaction of additional expenses: insurance, roadside assistance, outfitting your rig, and in some cases, remodeling your home.
I highly recommend joining targeted RV Facebook groups. Members are so helpful and you can find information and support for virtually any issue from experienced owners of your specific model.
Taking delivery of your unit is just the beginning of learning how to operate it.
Buying a camper van is an overwhelming experience, but totally worth it!
---
I Would Love to Hear From You
---
I enjoy dialogue with readers, especially when they share personal experiences and useful travel tips. Have you ever dreamed of buying a camper van? If so, I would love to hear about your experience. I invite you to leave your comments and questions below, and I always respond!
---
Pin this Post!
---