(a

4

minute read)
---
Stroll through Tourrettes sur Loup, a magical medieval village in the south of France that is straight out of a fairy tale.
---
---
Tourrettes sur Loup
---
Guest Post by Erin Harris
The beautiful town of Tourrettes sur Loup rests on a rocky hilltop 14 kilometers from the sea in the south of France.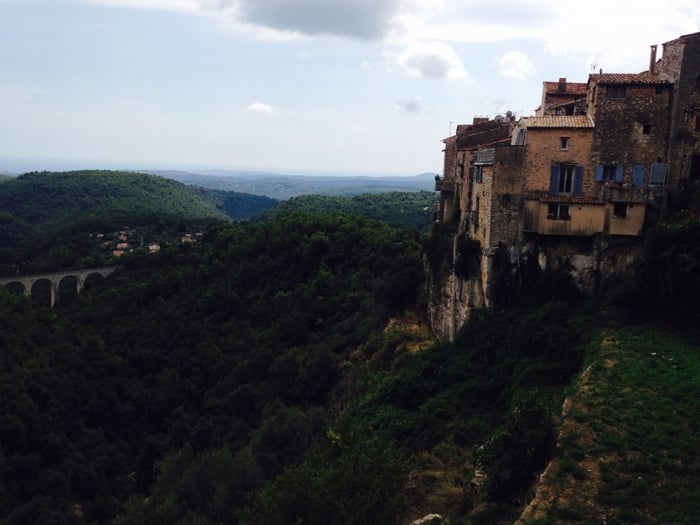 My guidebooks barely mentioned it, but a friend said not to miss it, and I am glad I took her advice. While Nice was naturally nice and Avignon was stunning, Tourrettes sur Loup was the haven I had come to the South of France to see: a fortified medieval village free of cars and inhabited mostly by flowers.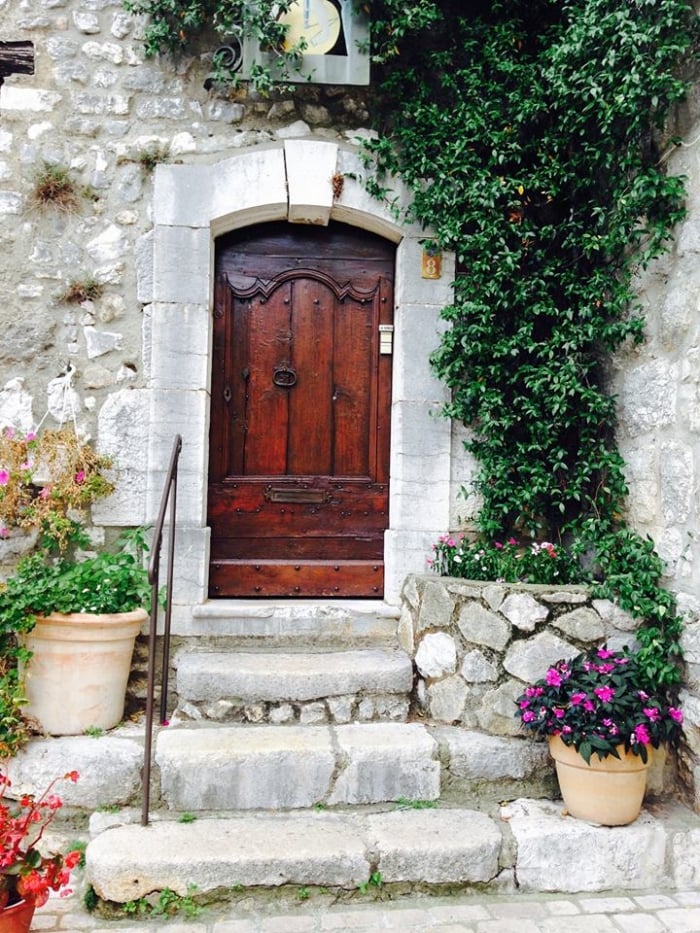 From the Place de la Libération, I stepped through the portal and entered a dream.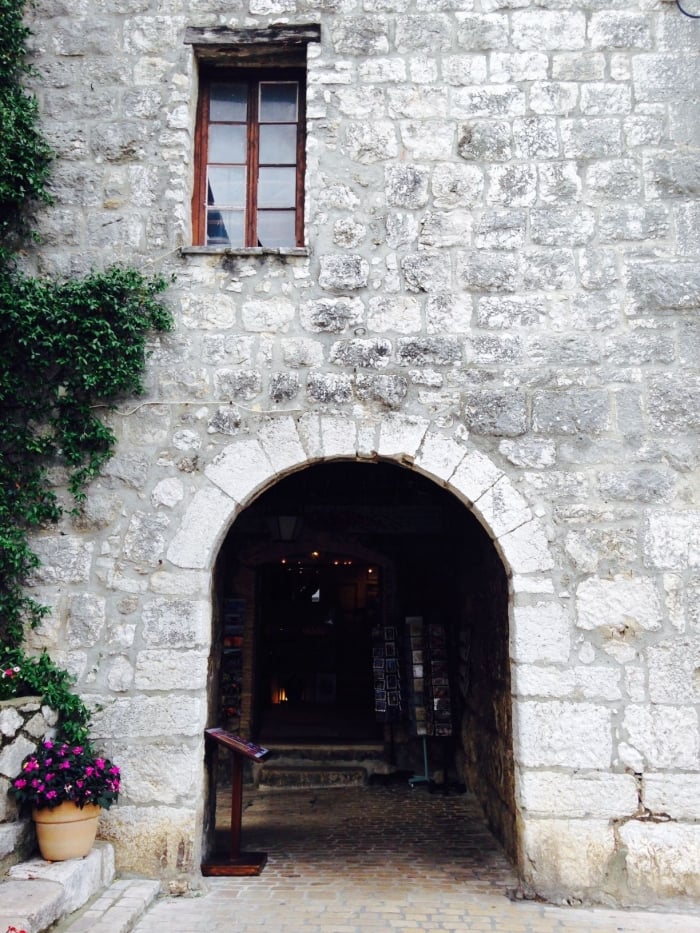 Violets cover the cobblestones in this vaulted passageway because Tourrettes-sur-Loup is the City of Violets, known for its cultivation of the delicate flower.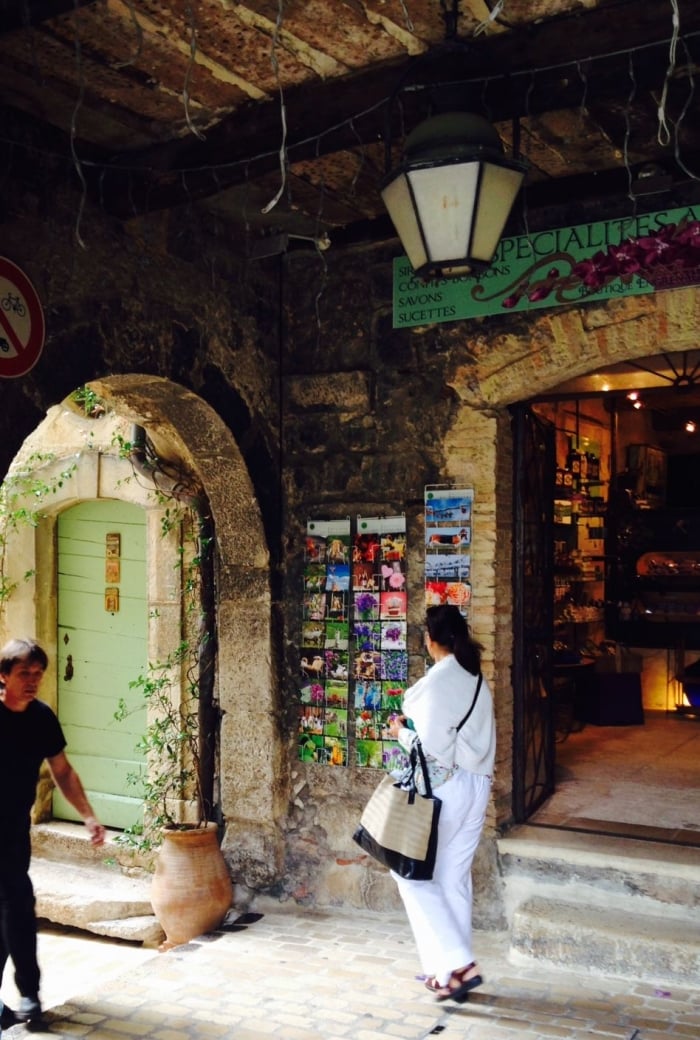 The village holds a Fête des Violettes (Violet Festival) every March, and its community of artisans craft pottery, jewelry, textiles, and confections.
True to France and true to the coast, it also has one of the highest populations of cats I have ever seen anywhere.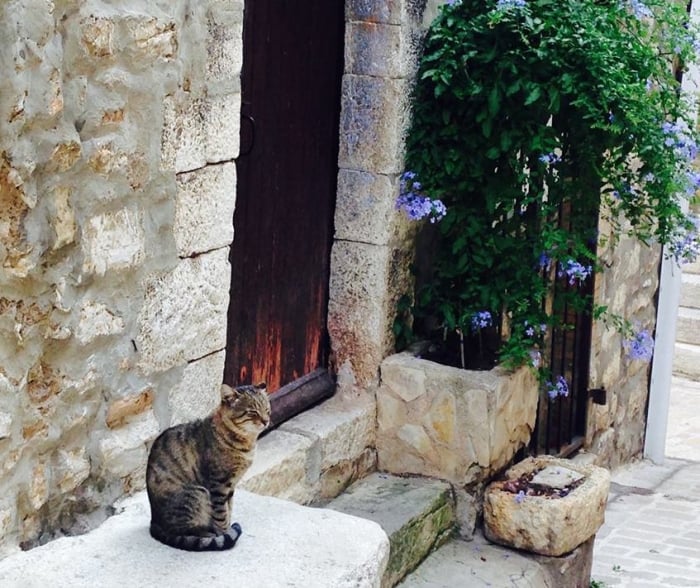 As you stroll through the narrow lanes you feel like you are walking through a fairy tale.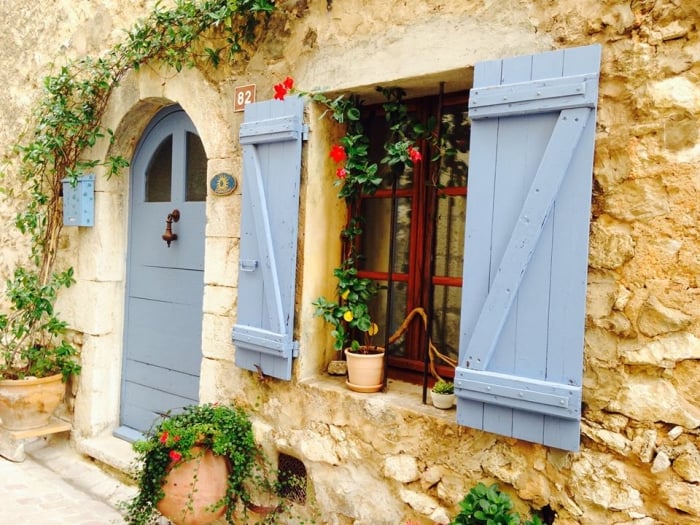 Snow White, I believe you lived here with seven small fellows before you met your prince?
Indeed, anyone over five feet tall would have to bend in half to step through the enchanting doorways.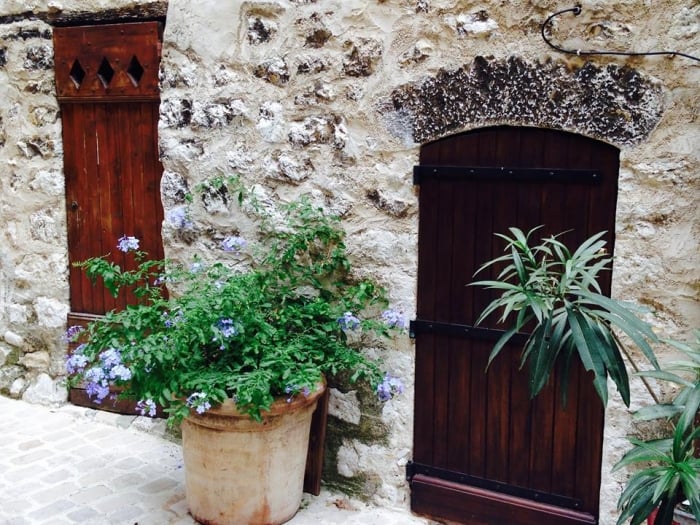 Lunchtime was drawing to a close when I arrived, so I took a seat in the last open café as soon as I could convince myself that the village would still exist after I ate.
My salad was just arugula with artichokes, tomatoes, olives, and basil with paper-thin slices of Parmesan and prosciutto (or its French equivalent), and it was the best food of my two-week trip, which was by no means short on magnificent things to eat.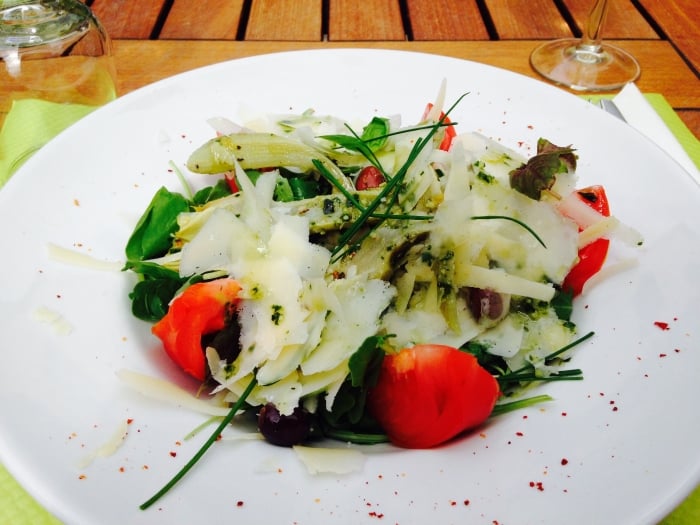 The waitress was kind in spite of being in the midst of a fight with her father the chef, who was also genuinely kind. They were both warm to me, and yet doors were slamming, curses were flying, and it reminded me of how close I was to the fire-tempered Italian side of my own father's family.
Not to minimize the waitress's perspective, but I pictured her in the top window of the house across from the café, as if in a fairy tale, of course, because of the atmosphere. The beautiful imprisoned princess, fated to wait tables in her father's restaurant, dreams of the city and lets down her hair for the king's son to finally free her from enchantment.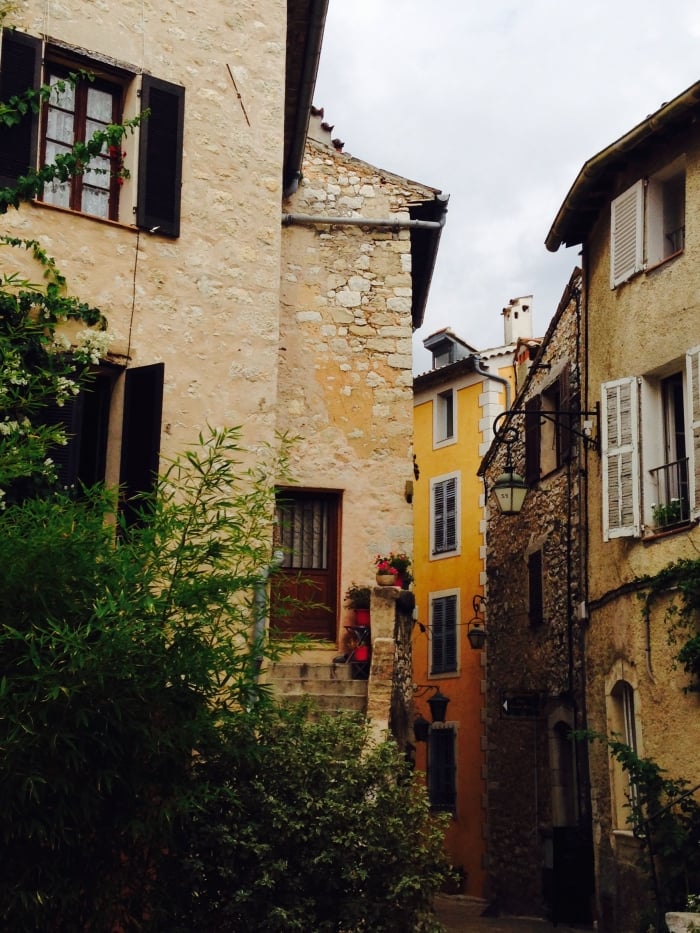 True to form, two cats showed up in search of cheese.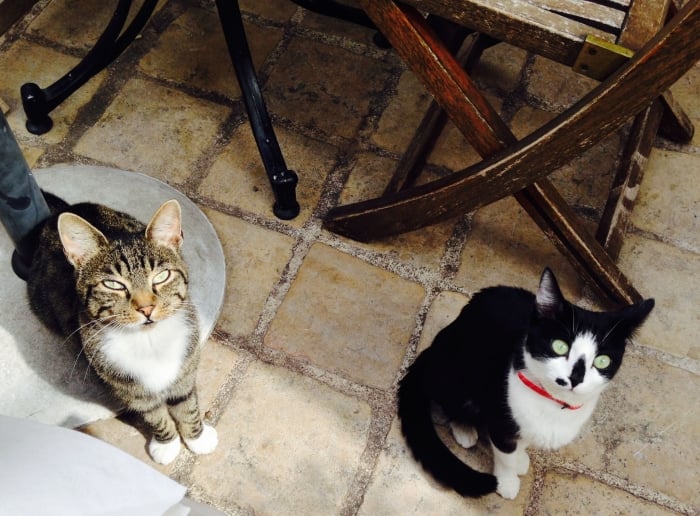 After lunch, I continued my stroll, taking in every flower, every lamppost, every doorway.
And figured that when you're in the Violet City, you need a violet ice cream cone.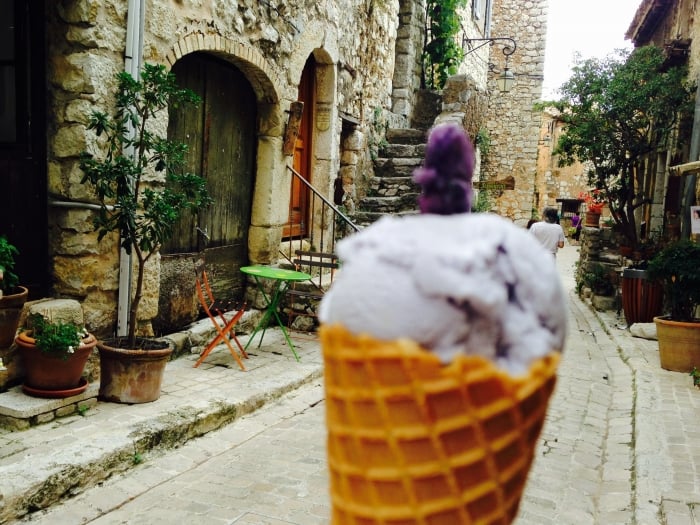 Where the ramparts overlook the hills, the wind sounded exactly like it does in a Spaghetti Western.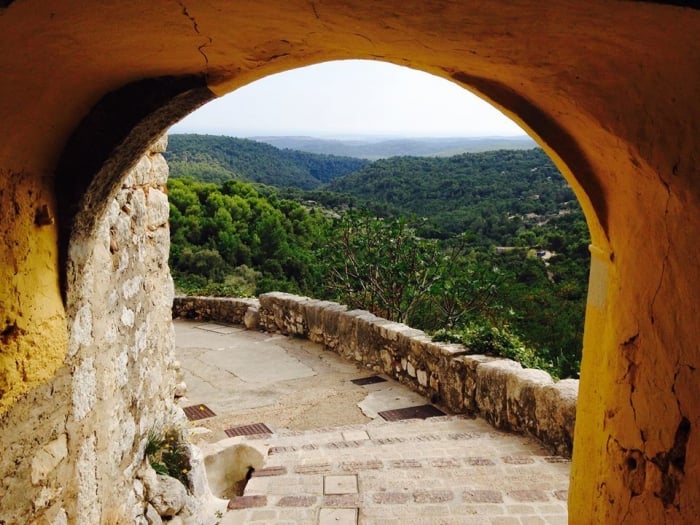 At the end of my journey, I thought I wouldn't mind stepping up these crumbling stairs to go home for a hundred years' rest.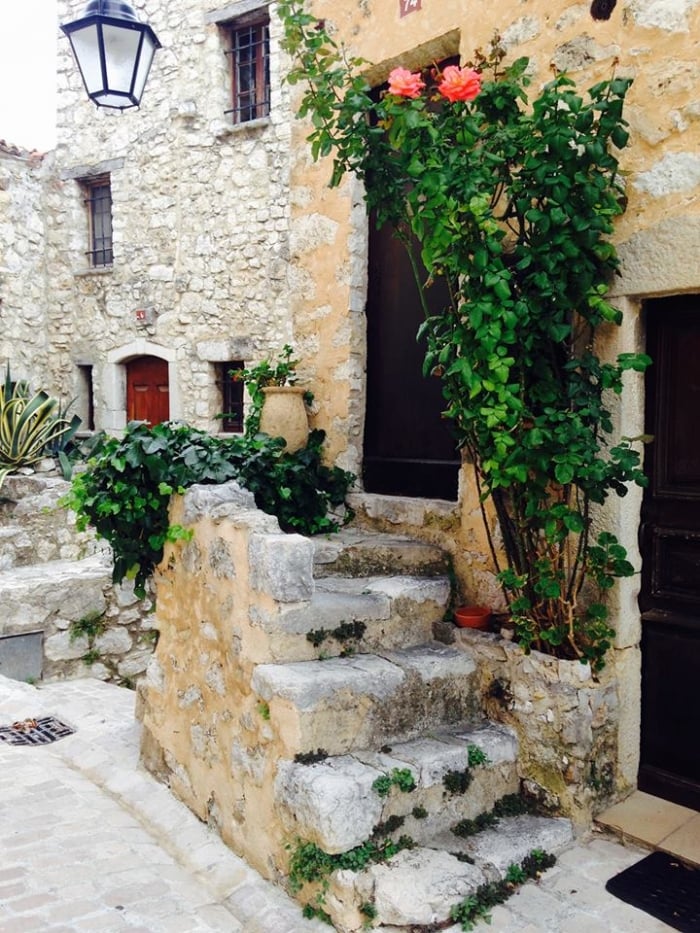 Because even the sewers are beautiful in their own way.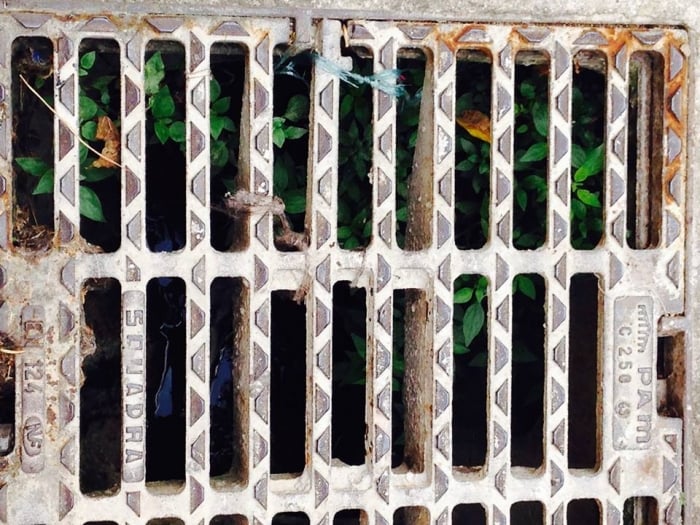 But I was staying in nearby Vence, another stunning old town filled with winding cobblestone lanes, so I was in my element there too.
Next time I'll stay in Tourrettes sur Loup.
And I'm not sure I'll want to leave.
---
Discover More European Destinations at Backroad Planet
---
Roadtripping, Hiking & Camping Montenegro Best Places
5 Reasons to Visit Plitvice National Park, Croatia
Discover Switzerland's Engadine Valley: The Hidden Side
The Best of Skye: A 3-Day Road Trip Itinerary
Portugal in Panorama: An Annotated Photo Gallery
European Panoramas: An Annotated Photo Gallery
---
Map It!
---
---
We Would Love to Hear From You
---
We enjoy dialogue with our readers, especially when they share off-the-beaten-path destinations and useful travel tips. Have you ever visited any villages in the south of France? If so, we would love to hear about your experience. We invite you to leave your comments and questions below, and we always respond!
---
Pin this Post!
---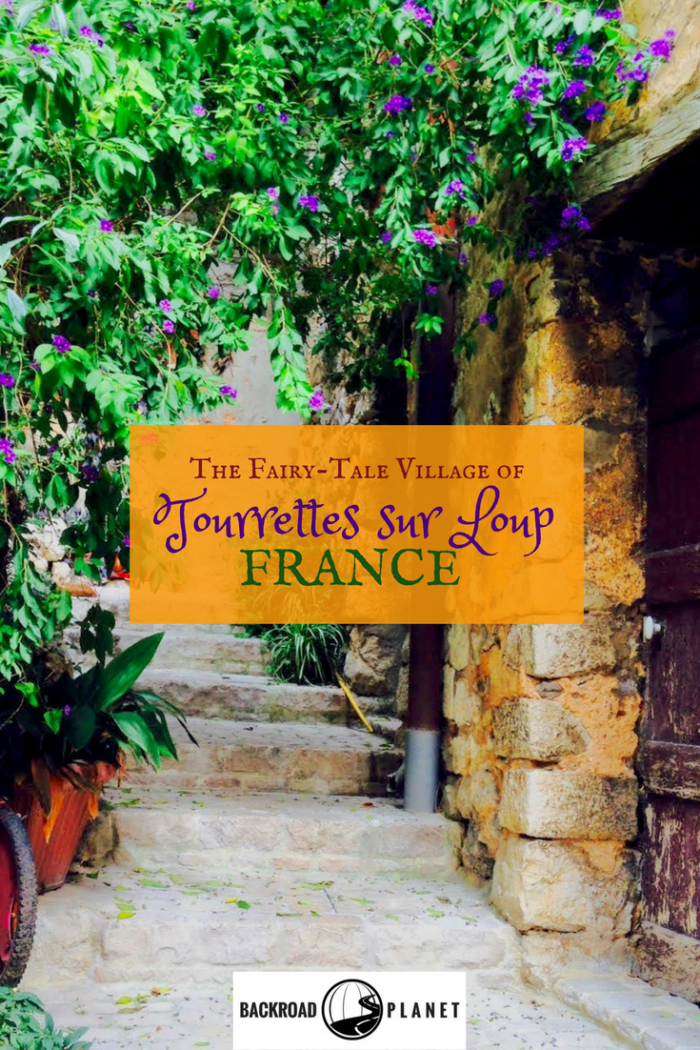 ---
Helpful Link
---