(a

12

minute read)

Sun 'n Fun, now in its 41st year, is an annual international aviation expo located in Lakeland, Florida. It is the world's second largest airshow, and every spring it draws thousands of flight enthusiasts from around the world. As a non-profit organization, Sun 'n Fun promotes aviation education through the Florida Air Museum and the Central Florida Aerospace Academy, both of which are situated on the event grounds.
Jerry and I have attended the Sun 'n Fun Fly-In for years. And why not? It is a mere 10-mile drive from both of our homes. More often than not we would pack a cooler on a Sunday afternoon, find a spot to park off Drane Field Road, and watch the Thunderbirds or Blue Angels perform. We have also attended parties inside the gates and watched a night show from the flightline.

This year, because Backroad Planet has become an established travel web site, I thought I would go out on a limb and apply for press passes. Our application was graciously approved, and we received our media credentials on Monday night of the event week. With both of us still working day jobs, we knew we would only be able to attend night activities and on the weekend. Yes, we missed out on interviewing the Thunderbird pilots and meeting the Tuskegee Airmen, but the wealth of events we were able to enjoy gave us more than enough material to compile our Top 10 Highlights of Sun 'n Fun 2015.  So in no particular order, we give you:
---
1. Jessica Cox
---
Photo Credit: Jessica Cox
The evening program at the Aerospace Pavilion on opening night featured motivational speaker Jessica Cox. Due to a rare birth defect, Jessica was born without arms, and in 2008 she became the world's first licensed armless pilot, an accomplishment that earned her a Guinness World Record. A challenging search had led Jessica to a 1946 415C Ercoupe, an airplane with controls positioned so she could fly with her feet.
Refusing to let her disability hinder her, Jessica has also earned an unrestricted drivers license, SCUBA certification, and a Black Belt in Taekwondo. During her presentation, Jessica demonstrated how she ties her own shoes, told several humorous stories from her life, and shared a moving video including her work with limbless children. (During that part of the program my vision may have blurred for a moment.) Following the program, Jessica signed copies of her first book, Disarm Your Limits.
---
---
Ken Cage and Danny Thompson from the Discovery Channel's Airplane Repo were the featured speakers on Friday night. Although Jerry and I had never seen the show, we knew this was a session we did not want to miss. Ken and Danny did not disappoint. They shared story after story of their exploits as repossession agents of luxury aircraft and other high-dollar properties.
The suspense and hilarity in their accounts proved that truth is definitely stranger than fiction. My favorite story was the one about beating other agents to the punch while repossessing a $300K yacht in Miami. Needless to say, my DVR is set to record reruns and a new season that premiered last week. During Q & A at the end of the program, someone asked whether Ken and Danny had ever repossessed any planes at the Sun 'n Fun Fly-In. The answer?
Affirmative.
---
3. Warbird Country
---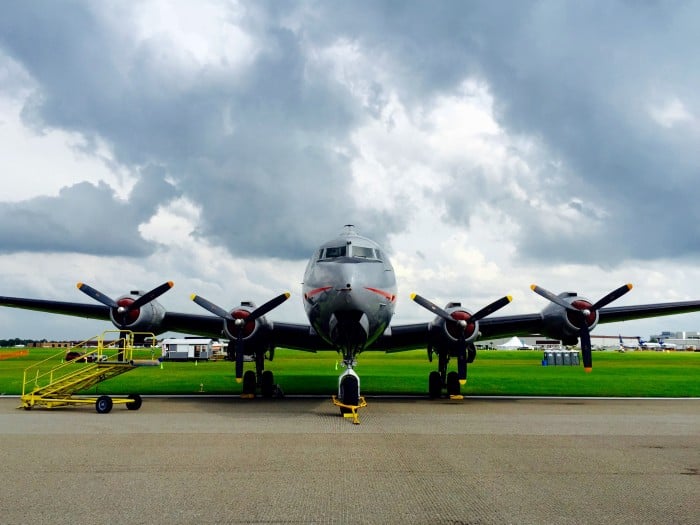 Without hesitation, I have to say my favorite part of Sun 'n Fun 2015 was Warbird Country. Warbirds, as defined in the official souvenir program are "any vintage military aircraft now operated by civilian organizations or individuals." These fully-operational restored relics never cease to amaze by bringing military history to life.
Walking the tarmac to get up close and personal with these incredible flying machines was priceless. Although we missed the Salute to Warbirds Airshow during the week, we were privileged to witness several takeoffs, fly-bys, and landings of these incredible military aircraft on the final day of the event.
---
4. Breitling Jet Team
---
They say experience is the best teacher. This year we learned that the best day to tour the grounds at Sun 'n Fun is the Monday before the event officially opens on Tuesday. After picking up our press passes, we drove our own vehicle around the expansive campus, even out to the taxiway where the Breitling jets were parked.
Hailing from France, the world's largest professional civilian aerobatic display team flew into Lakeland for the first stop of their 2015 American Tour. Precise maneuvers, such as the Ocean Master Wave and the Blackbird Formation, thrilled audiences along the flightline and outside the event grounds as well.
---
5. USAF Thunderbirds
---
I first saw the USAF Thunderbirds as a teenager in 1973 when I lived in Asunción, Paraguay. I still remember the thrill of the show at the (then) Presidente Stroessner International Airport. Fast forward 40+ years, and the thrill has not diminished. The aerial stunts and maneuvers of a Thunderbird show can still put your heart on overdrive and take your breath away. Formed in 1953, seven years after the US Navy Blue Angels, the Thunderbirds have survived tragedy and budget cuts to take their flying aerobatic team performances all over the world.
Any day the Thunderbirds are flying is a good day!
---
6. Twilight Airshow
---
We were invited to view the Wednesday Twilight Airshow on the flightline as guests of Experience Kissimmee and Stallion51. As mentioned earlier, we have attended the Twilight Airshow in previous years. "The year they had the Batcopter and Batmobile was cool, remember that?" (spoken à la Chris Farley). This year, however, it made for a much more pleasant viewing experience with complimentary wine and hors d'oeuvres, linen tablecloths, and gift bags.
The 4-man AeroShell Aerobatic Team, flying their their AT-6 Texans, opened the evening with an awe-inspiring patriotic show. While not exactly the equivalent of a Thunderbirds or Breitling jet act, the roar of the single prop engines, ethereal smoke trails, and pyrotechnics made for an impressive performance indeed. Not a bad way to spend an evening!
---
7. Hot Air Balloon Launch
---
If you expect to see the Hot Air Balloon Launch at Sun 'n Fun, you have to get up early. This is another event we have attended in the past, but witnessing the launch from Taxiway Delta inside the gates was way better than behind the chain link fence at the Linder Airport parking lot. Watching the launch up close made me reevaluate whether I still consider hot air ballooning an extreme adventure on par with skydiving or bungee-jumping. The gentle ascent of the balloons floating through the air portrayed such a peaceful dreamlike experience from the ground. So do I still consider it an extreme sport?
Yes.
---
8. Classic Car Show
---
Learning that two guys who run a road trip travel blog love antique car shows would be no revelation. Jerry has a considerable history tinkering under hoods, but my forays into auto repair have typically left the cars in worse shape than when I began. So what is our attraction? I can't speak for Jerry, but I love classic car shows for the same reason I love the Warbirds. It is all about the history. And in this case, certain vintage vehicles inspire more nostalgia than others. I guess glossy neon hot rods are cool, if that's your cup of tea, but to me there is nothing quite like an antique automobile that has been restored as much as possible to its original state. Even when I don't know the story behind an amazing restoration, my imagination can fill in the gaps.
So why host a car show at an airshow? I am still not sure. But a quick Google search revealed that other airshows across the country are including car shows in their schedules as well. We attended the press conference announcing the Sun 'n Fun partnership with Carlisle Events, the company that sponsored the Sun 'n Fun car show this year. In addition to other car shows across the country, Carlisle will be hosting several Central Florida events in the near future, including the Fall and Winter Florida AutoFests on the Sun 'n Fun grounds.
---
9. Florida Air Museum
---
The Florida Air Museum is an extension of Sun 'n Fun that is open year round. We did not visit the museum this year during the Fly-In, but we have toured the complex in the past. The museum boasts a remarkable collection of aircraft displayed both inside the main building and on the museum grounds.
My favorite part of the Florida Air Museum is the Howard Hughes collection. The museum web page describes it this way:
"In June, 1986, the Florida Air Museum (then the SUN 'n FUN Air Museum) took proud possession of more than 180 crates and boxes of Howard Hughes aviation memorabilia, including a 14-foot model of the Spruce Goose, Hughes' leather flying suits, racing trophies, books, manuals, maps, scrapbooks, and personal memorabilia . . . ."
When planning your visit to the Florida Air Museum, I recommend that you allow three to four hours to fully enjoy the museum building and grounds.
---
10. Hallback's Bar & Grill
---
UPDATE: Sadly, since this post first published, Hallback's Bar & Grill has permanently closed.
One of the most memorable parts of the Sun 'n Fun experience was reuniting with Robert Hallback, one of my former sixth grade students, at his family's restaurant located inside the Lakeland Linder Airport. Jerry and I had been to Hallback's Bar & Grill for Sunday brunch once before, but Robert was not there. Since Hallback's was the closest dining establishment to Sun 'n Fun, we decided to head there for dinner one evening. This time Robert was there. It was great catching up with one of my most unforgettable students after twenty years and seeing that his winning smile and personality had not changed at all.
Football fans may recognize Robert as a former wide receiver for the Florida State Seminoles.
Since Robert and his family opened Hallback's they have gained a great reputation for their barbecue, brunches, and Sunday buffets. This time I ordered pulled pork, macaroni and cheese, and a Caesar salad.
The entree was delicious as expected, but the highlight of the meal for me was the huge portion of mac & cheese. It was without a doubt the best I have ever had. I am a confirmed epicurean, but I am not a cook, so I can't even begin to decipher the heaven in my mouth. All I know is that it had large elbow macaroni and oozed with cheesy goodness. I am sure Robert's mother and grandmother must keep their recipe top secret. The next time I dine at Hallback's, the mac & cheese will be my main course!
---
Final Words
---
If you have never been to an airshow, perhaps these Top 10 Sun 'n Fun Fly-In Highlights will inspire you to check out one of the many aviation events scheduled across the country and around the world.
As always, we love hearing from our readers, and we invite you to leave your comments and questions below. We always respond!
---
Map It!
---
---
Pin This Post!
---
(Alternative spelling: Sun n Fun Fly In)