(a

13

minute read)
---
Social media travel professional Megan Bannister reviews the basics of Instagram Stories for travel bloggers and shares 10 essential tips for using this powerful tool.
---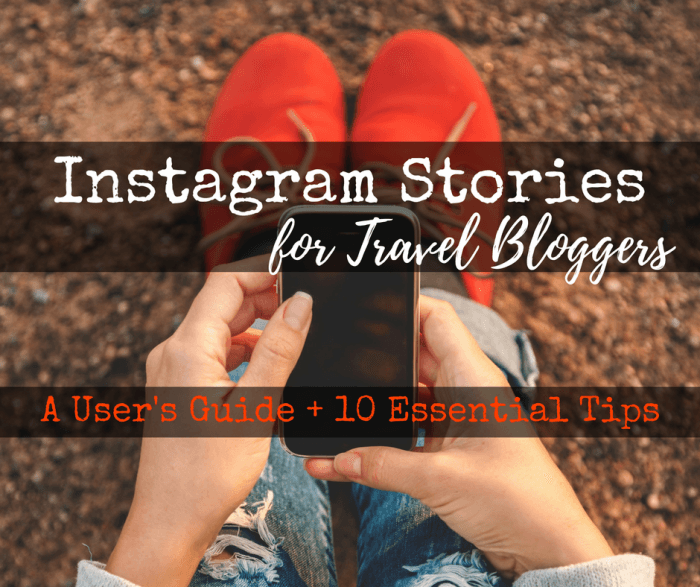 Guest Post by Megan Bannister
---
Instagram Stories for Travel Bloggers
---
Earlier this year, Instagram Stories surpassed Snapchat in its number of active daily users. The platform now has more than 300 million people who interact with it daily, and its growth shows no signs of slowing down anytime soon. If you are not yet harnessing the full power of Instagram Stories as a travel blogger, chances are you are missing out on a great opportunity.
When I taught myself Instagram Stories, I learned mostly through trial and error with some helpful word-of-mouth tips from other users along the way. But I certainly wish there had been a comprehensive resource to help users like me who were just getting started. When Howard and I crossed paths during our travels earlier this year and started chatting about "tools of the trade," he urged me to create a guide to help him and other members of our profession get in the game.
In this post, I will outline the basic steps for creating an Instagram Story, explain how to navigate within the feature, and share 10 essential tips to help travel bloggers take full advantage of this powerful platform.
---
Instagram Stories Basics
---
If you've never experimented with Instagram Stories before, the number of features and minimalist interface can seem a bit intimidating. But once you're familiar with the basics, creating your own Stories will be a breeze.
One of the best things about Instagram Stories is that these types of posts disappear after 24 hours. This means that they're perfect for ephemeral, of-the-moment content that you may not typically post on your regular Instagram feed.
To start creating your own Instagram Stories, you'll need to get comfortable with the basics:
Adding Content to Your Story
---
To create a Story, click on the camera icon in the top left corner of your Instagram homepage. You can also click on the blue plus sign on your profile image.
At this point your camera will be activated. You can simply take a photo to add to your Story, but you'll also notice that there are additional ways to add content. Instagram is constantly adding new options to this list, but some of the most common are:
Live: Similar to Facebook Live, this setting allows you to "go live" on Instagram Stories. In this case, Instagram also has the capability to push notifications to your followers that you are currently "live."
Normal: This setting lets you take a photo like you typically would with your cellphone camera.
Boomerang: Boomerang is an Instagram-specific feature that allows you to create a short video that's turned into a .gif. This is especially fun for small cyclical motions like clinking glasses or twinkling lights.
Hands-Free: Don't have someone to help you film a certain shot? Let hands-free mode help you by automatically starting and stopping your capture.
In addition to these in-the-moment capture options, you also have the ability to add old photos from your camera roll to an Instagram Story. This makes it even easier to incorporate photos and videos you may already be capturing during your travels into Instagram Stories.
When you have selected the content you would like to add, click on the plus sign in the bottom left corner of your screen that says "Your Story."
---
Adding Text to Your Story
---
Once you've decided which photo, video, or boomerang you'll be using to create your Story, you can add a text overlay. To add text, simply tap on the screen, or click on the "Aa" icon in the top right corner of the screen. A cursor will pop up along with options to change the color of your text. Instagram recently added an eyedropper function that allows you to pull color from your photo and use it as your text color.
To add emphasis to text, you can also add solid or semi-transparent background to your text using the square "A" icon at the top of the screen. You will also see a spot to change the alignment of your text in the top lefthand corner.
To make text appear in stages as a user taps through your Story, create the first image in the set and save it to your camera roll. For the next post, upload the first image from your camera roll and add additional text. Continue doing this until you've added all additional elements of your post.
If you want to make your text bigger or smaller, you have two options. You can adjust the size using the sliding bar on the left side of your screen, or you can use your fingers to pinch and zoom on the text once you've clicked "Done." You can also change the angle and orientation of your text by pinching and zooming.
---
Utilizing Filters, Stickers, and Drawing Features
---
If you want to take your Stories a step further, you can utilize filters, stickers, and additional Instagram drawing features.
To add a filter to a photo, simply swipe left or right to cycle through the available options.
Stickers are a great way to make your post more engaging and even interactive. To add stickers to a Story, click on the square icon with the smiley face. Dynamic stickers allow you to tag a location, include the date or temperature, and even embed another photo within your photo. The standard selection of emojis are all available as stickers, and other specialty stickers change with the seasons and days of the week.
To remove a sticker or text you no longer want to include in your post, hold your finger down on the item and drag it into the trash can that will appear at the bottom of your screen.
To create a solid color background, click on the pen tool, select a color, and then hold your finger down on the screen. The background will then change to the solid color of your choice.
---
---
If you are not familiar with the interface, Instagram Stories can be tricky to get the hang of at first. But after you've gotten comfortable with the app, the process is really pretty easy. Now that you can post Stories of your own, these basic tips and tricks will help you navigate within other users' Instagram Stories.
Done reading a post on Instagram Stories? Tap on the right side of the screen to advance to the next post. Want to see something again? Tap on the left side of the screen to go back to the previous post.
Need more time to read a longer post? Hold your finger on the screen to see a post for as long as you'd like.
In my opinion, one of the most powerful benefits of Instagram Stories for travel bloggers is that it is not just a static posting experience. Swipe up on your screen to respond to someone else's Story and your message will appear in their direct messages. This is a fantastic way to engage with other writers, as well as brands and destinations you may want to partner with in the future.
---
Instagram Stories for Travel Bloggers: 10 Tips
---
Now that you've got the hang of uploading content to your Instagram Stories and navigating within the app, it's time to maximize the impact of your posts. My experience using Instagram Stories in both a personal and professional capacity has helped me identify 10 ways to effectively utilize this powerful tool as a travel blogger:
1. Stay in the Moment
---
One of the things that initially drew me to Instagram Stories as a way to share my travels, especially on hosted trips, was how quick and easy it is to post. Unlike traditional Instagram posts, Stories feels like a much more organic and in-the-moment way to share. I didn't have to worry about editing images or composing the perfect caption. Instagram Stories was the perfect quick way for me to show my followers what I was up to while incorporating partners and destinations.
2. Create a Narrative
---
The best Instagram Stories do just that . . . they tell a story. Even though this type of social media is quicker and more ephemeral, it is still important to create a Story your followers can move through. This will not only help your followers stay engaged, but also help keep reader retention high through the end of your Story. Regardless of the length or complexity of your Story, be sure to create content that leaves your followers wanting more.
3. Tag Your Location and Partners
---
The ability to include location geotags and other Instagram handles within your Story is one of the platform's most valuable features. Not only is this a wonderful way to recognize when you're collaborating with a partner or destination, but it also allows you to drive traffic to another location or account.
To tag another Instagram account, simply type @ followed by the user's handle. Instagram should pre-populate a list of accounts that you follow or engage with as you type.
Locations can be added to your Story by adding a "Location" sticker and searching for the location you would like to include. Another great reason for adding a location sticker to your Story (geotagging) is the potential for your content to be pulled into the larger general local Story, which is visible to viewers who don't follow you.
---
Using hashtags in your Instagram Story is another great way to expand your reach. Hashtags work similarly within Instagram Stories as they do on normal posts. Just like location tags create location-specific Stories, there are also composite hashtag Stories that will include your content and help you reach new audiences.
5. Give Your Followers a Behind-the-Scenes Look
---
It seems there has been more discussion recently about how "perfect" the lives of bloggers and influencers often seem on Instagram. Using Instagram Stories for travel bloggersis a unique way to show they are not.
Since Instagram Stories disappear the next day, they are a great way to capture and share daily life. Sure, some days will include exciting partnerships with sponsors and trips to bucket list destinations. But other days will be filled with lots of work and time in front of a computer. And it's alright——even humanizing——to share those aspects, too. I especially like teasing what I'm currently working on or giving sneak peeks before I'm ready to publish content on my Instagram Stories.
6. Link Directly to Content
---
For users who have more than 10,000 followers, Instagram recently rolled out changes that allow users with business profiles to add a link to Instagram Stories. Followers can then view that link by swiping up during your Story. This is a great way to use Instagram to drive traffic to your site, but also to participate in sponsored campaigns without cluttering your normal feed with sponsored posts that don't convert well.
Not sure if you have a business profile or that one is the right fit for you? This post from the Later Blog is really helpful in determining if you should make the switch or not.
7. Get Feedback from Your Followers
---
When it comes to content creation, feedback is invaluable. But reader surveys can be cumbersome and ineffective. With one of the platform's newest features, you can now poll your followers within Instagram Stories. Granted, you are limited to a simple "this or that" style poll, but this an incredible way to add a deeper level of engagement to your feed.
To add a poll to your Stories, select the stickers icon and choose the poll option. You will then have the ability to type a question and edit the responses to be something other than "Yes" or "No." After readers respond to your poll, they will be able to see the results in the form of percentages. I especially enjoy that on the analytics end because you are able to see exactly who selected each response.
8. Consider Creating Custom Graphics
---
Now that Instagram allows users to upload Stories directly from their camera roll, the possibilities for custom graphics are endless. Consider creating a template or two to help promote your upcoming content or use as an introduction to a longer story.
If you decide to create your own graphics outside of the app, the ideal dimensions for Instagram Stories images are 1080px width by 1920px height.
9. Pay Attention to Your Analytics
---
The analytics dashboard for Instagram Stories is surprisingly powerful. You'll need to have a business profile to access this information, but if you do, not only can you see who has viewed your Story, but you can also dig into how many individuals tapped on the location or hashtag stickers you included, or clicked through to a partner's account. These numbers can be especially valuable when you're working on sponsored or partner content.
Instagram also recently added a feature that archives all past Instagram Stories so you don't have to constantly save them to your camera roll. This feature is exceptionally helpful when you're sharing past partnerships or digging into older analytics.
10. Don't Be Afraid to Experiment
---
Like anything, the best way to learn how to use Instagram Stories is by doing. The more you play around and consume other users' Stories, the easier and more intuitive the process of creating your own will be.
It's also important to remember that Instagram Stories is changing all the time. Take advantage of new features as they are released and don't be afraid to take the time to find what works best for you and your audience.
---
We Would Love to Hear From You
---
At Backroad Planet, we enjoy dialogue with our readers, and Megan will be joining us in our exploration of Instagram Stories by responding to your comments and questions below.
Have you utilized Instagram Stories to share your travels? If so, we would love to hear your tips and what you've learned along the way. Please share Megan's tips on your social media channels using the floating share bar to the left of your screen on desktop, or the bottom of your screen on mobile!
---
Pin this Post!
---
---
Additional Resources for Instagram Stories
---