(a

10

minute read)
---
Off-the-beaten-path spiritual sites in Taiwan suited for meditation beckon with forested trails, plunging waterfalls, grand temples, and stunning views.
---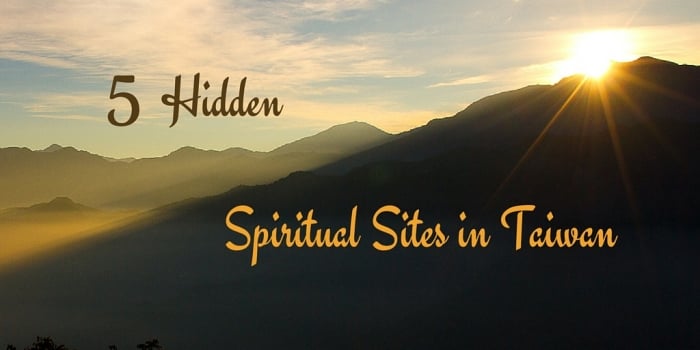 Guest Post by Nick Kembel
If you are interested in spiritual matters, then I am going to recommend a destination that remains somewhat off the radar of travelers through Asia, but may not be that way for long.
That country is the island nation of Taiwan (not to be confused with Thailand, please!).
This may come as a surprise to you if you know anything about Taiwan. About the size of Vancouver Island in Canada, this subtropical country has one of the highest population densities in the world, is known for its scooter-clogged streets, tech industry and polluted skies, and in the days when everything was "Made in Taiwan" it was even sometimes called the "ugly duckling of Asia."
But there are some things you may not know. The country boasts more high mountains than any other island in the world, temples galore, uber-friendly locals, adventure sports, amazing food, and is rated as the second-safest country in the world after Japan. What's more, most of the factories have moved to China, world-class public transportation is keeping the streets cleaner, and the government is making an effort to clean up and revitalize urban areas. With Southeast Asia so popular these days, the relatively few expats in Taiwan are torn between telling others and keeping Taiwan as their own little secret.
The religious landscape of Taiwan is incredibly diverse, combining Buddhist, Taoist, and Confucian belief systems carried over from China with local folk religion and aboriginal customs. Many Chinese religious practices that almost died out in China during Mao's Cultural Revolution thrive to this day in Taiwan, and religious sects that were persecuted in China were able to survive in Taiwan.
As a former student of anthropology and Asian religions who has now called Taiwan home for eight years, the sights that tend to attract my attention in Taiwan are ones that are religious in nature or are conducive to spiritual contemplation, whether they be manmade or simply isolated locations of natural beauty.
Keeping with the theme of Backroad Planet, I'd like to introduce five off-the-beaten–path spiritual places in Taiwan. While some of them are popular among locals or other Asian tourists, they see very few Western tourists. And for others on the list, you could easily be the only person there, perfect if you need some time for meditation or yoga, or just want to gather your thoughts in an exotic but peaceful setting.
---
Fo Guang Shan Monastery
---
Fo Guang Shan is both a Buddhist order and a charity organization, and their headquarters in Kaohsiung, Southern Taiwan, is the country's largest monastery. In 2011, an additional 100 hectares was added, including a 108-meter seated Buddha.
The monastery offers meditation courses for foreigners, or you can spend the night in the temple's hotel. Don't worry, you will not be subjected to strict monastic rules if you stay overnight, and couples can share a room. The lodging resembles a modern hotel, with vegetarian breakfast included (but served quite early), and you are free to wander the grounds of one of the most spiritual sites in Taiwan as you please.
For me, this was the biggest highlight of spending the night at Fo Guang Shan. In the evening, all the visitors go home, and you can have most of the temple grounds entirely to yourself, including multiple prayer halls, manicured gardens, giant statues, and underground shrines. You can also observe monks and nuns doing their prayers and daily chores. When I was having my dinner, the monastery arranged for an English-speaking Western monk who had been residing there for years to come out and have a chat with me and answer any questions I had about the monastery and Buddhism in general.
The only thing that struck me a little odd about the monastery was the sheer number of ornate statues, decorations, gold-plated decorations, and giant Buddhas, which seems to contradict Buddhism's non-materialistic philosophy. In fact, the new section of the monastery includes a 7-11 for visitors inside the temple (keeping in mind that in Taiwan, there are 7-11s on practically every street corner). In other parts of the world, this might seem sacrilegious, but in Taiwan (a country I call the "Land of Convenience" in my book, Taiwan in the Eyes of a Foreigner) few people seem to notice or care, and if you are visiting in the summer, you will certainly appreciate the chance to buy some cold water or ice cream during your visit.
Gallery
---
---
Lion's Head Mountain
---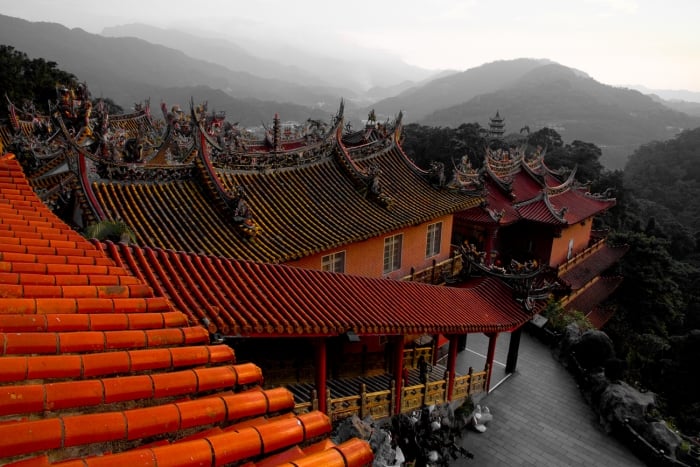 For a similar experience, but more natural and minus the excesses of Fo Guang Shan, you can head to Lion's Head Mountain in Hsinchu, Northern Taiwan. This isn't a single monastery, but rather a collection of exquisite temples dotting the forested slopes of Lion's Head Mountain, with a network of hiking trails connecting them. Some of the temples are even built into sandstone caves. Lion's Head is more of a large hill than a tall mountain, so the walking trails are leisurely, not strenuous.
One of the temples, Quanhua Tang, offers hotel-style rooms and vegetarian meals to visitors. Just like when I stayed at Fo Guang Shan, I'm pretty sure I was the only overnight guest in the hotel, let alone Western visitor in the entire area. After spending the day hiking and temple-hopping, I enjoyed a fine sunset over the hills from my room, watching the temple walls change colors under the final rays of the sun, and then had a night of total solitude with the insects buzzing in the forest outside my window. Waking in the morning, I got out onto the mountain trails and enjoyed one of the most spiritual sites in Taiwan entirely to myself.
Gallery
---
---
Sandiaoling Waterfall
---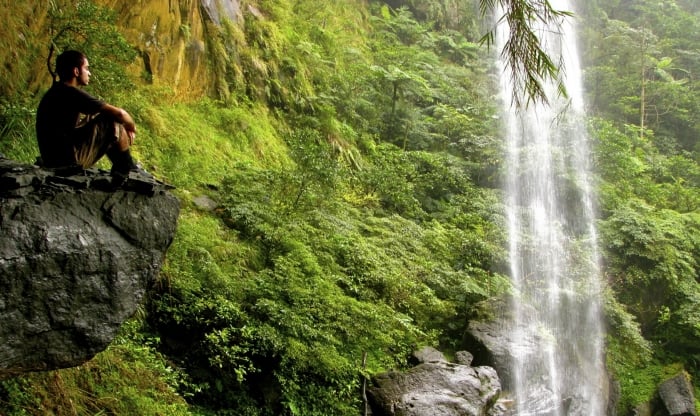 The first time I went to this breathtaking waterfall, I was so moved by it that I have returned at least a dozen times since. An easy 1.5 return hike that is only an hour by train from Taipei City, it is a mystery that the Sandiaoling Waterfall hasn't become more popular. Even on weekends, you may very well have one of the most spiritual sites in Taiwan all to yourself.
And what makes it so special? Well, you can sit in a cave behind the waterfall, looking out at the water as it plunges to the rocky pool far below, with a panorama of dense, jungle-covered mountain slopes before you. This spot is highly conducive to meditation, and also makes for a romantic viewpoint for couples. Just be mindful of the slippery rocks.
This waterfall is actually one of several featured on the trail. If you climb higher via a steep vertical ladder with the assistance of ropes, you will reach a similar waterfall where it is possible to stand at the top and peer over the edge.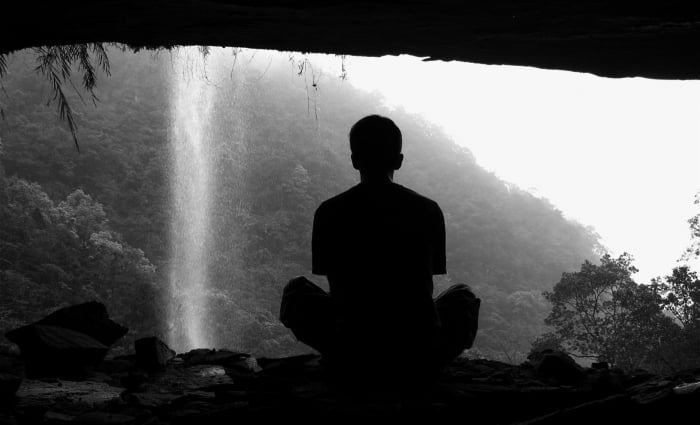 I was so intrigued by this location that I chose a "meditation selfie" that I shot in the cave with the assistance of a mini tripod as the cover photo for my book.
---
Alishan National Scenic Area
& Ruitai Bamboo Forest
---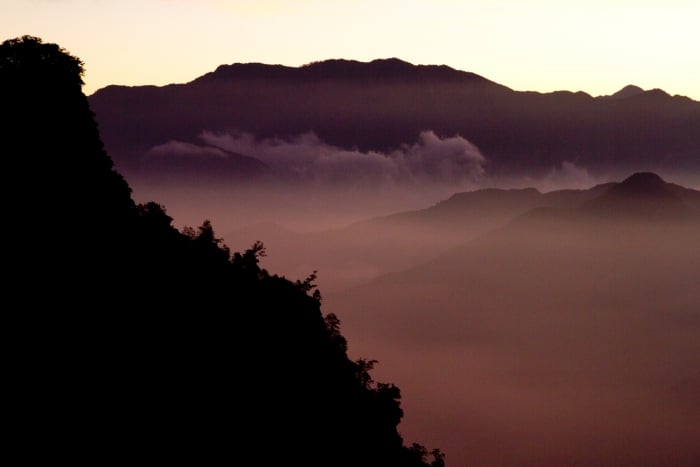 Alishan is actually one of the most popular tourist attractions in Taiwan, so local expats might be surprised to see it on my list of spiritual sites on the island. Asian tourists in particular are attracted by Mt. Ali's reputed sunrises over seas of clouds, mist shrouded ancient cypress forests, and world renowned high mountain oolong tea. As such, the main trails of the scenic area can be crowded with noisy tour groups.
Despite this, it is quite easy to get off the main trails and take in the magnificent vistas in solitude. Breathing in the misty mountain air is highly rejuvenating, and you can even walk along the train tracks of the narrow-gauge forest railway, a small train line built by the Japanese when they colonized Taiwan that is still in operation today, transporting tourists between the park's scenic attractions.
If you wake up for sunrise, you can hike from your hotel through a plum blossom garden to a lookout point in about 45 minutes; all you need is a good flashlight. Only a few hundred meters away from the main tourist sunrise viewing point, I found an older lookout platform designed to hold hundreds of people that had fallen into disrepair, and enjoyed a spectacular sunrise over the highest mountains in Taiwan, entirely by myself, with seas of clouds swirling in the valleys below.
Also in the Alishan area, there is a phenomenal hike through a massive bamboo forest called the Ruitai Historic Road that very few people know about. Taking about four hours, the trail begins in a small tea-producing village and terminates at one of the train stations leading up to Alishan, called Fenqihu. As seems to be the norm in Taiwan, I only saw a handful of people as I walked the trail, even though it was Saturday. The whole way I was accompanied by the eerily beautiful creaking sound that tall poles of bamboo make when they sway in the wind. The sound is truly hypnotizing, so those who enjoy walking meditation will love this trail. After dark, the region is also great for spotting fireflies.
Gallery
---
---
Silver Stream Cave & Waterfall
---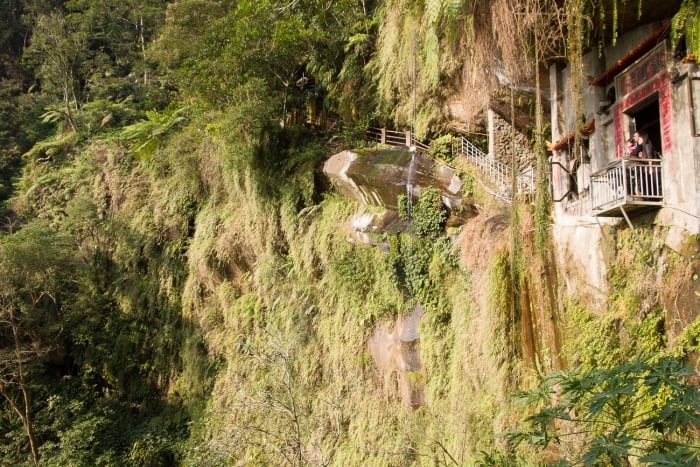 My final recommendation for spiritual sites in Taiwan is right in Taipei City, one of the most densely populated urban centers in the world. From the Taipei Zoo MRT station, you can catch a glass-bottom gondola up to Maokong, a tea-producing area with countless traditional teahouses that offer fine views of the city, including Taipei 101, once the highest building in the world.
An easy 30-minute hike past teahouses and terraced tea fields will bring you to the Silver Stream Cave and Waterfall. You'll know you are almost there when the trail comes to a steep descent on moss-covered stone stairs.
Silver Stream is a tiny, unmanned temple built into the wall of a cliff. Vines and vegetation hang from it, and a tiny staircase takes you into the temple itself. The temple is made up of a couple shrines in caves, with stairs leading up higher, passing under a small waterfall, to a set of Daoist statues.
Most expat hikers in Taipei know about this place, but still, like most of the destinations mentioned on my list, you could very well have this unique, ethereal spot all to yourself, no matter when you visit.
Taiwan is replete with spiritual sites like these, so this list barely scratches the surface, and if you spend a little time here, you could probably discover your own. These are the kinds of places that make Taiwan the ideal destination for travelers seeking to experience something more spiritual, transformative, and other-worldly on their journeys aboard.
---
Map It!
---
---
We Would Love to Hear from You!
---
We enjoy dialogue with our readers at Backroad Planet, especially when they share insider tips and off-the-beaten path destinations from around the world. If you have discovered hidden spiritual sites during your travels, what location intrigued you the most? And if you have a travel story to tell, we would love to hear it! We invite you to leave your comments and questions below, and we always respond!
---
Pin this Post!
---
---
Helpful Links
---
Silver Stream Cave & Waterfall
Book: Taiwan in the Eyes of a Foreigner