(a

7

minute read)
---
An American family's account of a two-month epic New Zealand campervan road trip, on both the North and South Islands.
---
Guest Post by Erin Thiem, Inn Town Campground
After reading about Erin's epic New Zealand road trip adventures, be sure to check out her Top 10 New Zealand Road Trip Destinations.
---
An Epic New Zealand Road Trip: Our Story
---
We sat on the sandy Ruapuke Beach just outside the hip surfer town of Raglan on the Tasman Sea in New Zealand having a complete and total meltdown. Our family, including two small children ages two and five, had just spent the last two months doing a New Zealand road trip in a campervan. Ben, our older son, had reached the point where he could no longer deal with the daily adventures of traveling and decided then and there, in a very public place, to sit and scream for twenty minutes.
My husband and I looked at each other and wondered if the trip was worth it. Would our boys even remember this trip?
We knew traveling around New Zealand was going to be an adventure, but we didn't know what kind of adventure we were facing. Our family spent over two months traveling New Zealand, from the Lakes of Otago to the bottom Bluff to the northernmost point at Cape Reinga. In the end we drove 7904 kilometers (4911 miles), slept in our tent 47 nights, and somehow managed to co-exist with four people in close quarters. Our friends thought we were crazy to pack one cubic foot of clothing, complete with Icebreaker merino base layers and superhero capes. We had a 4-man tent, sleeping bags, a camera, a map, a few toys, and some camping cook gear all packed inside a Toyota HiAce campervan.
We not only survived the experience, but we got closer as a family. We came to appreciate the importance of adventure for everyone, trading off parks and pools for wine-tasting and museums. We stayed in holiday parks, camped, parked in friends' driveways, used a family friend's rustic summer cabin, commonly known in New Zealand as a bach, and visited a working sheep farm at the end of the road in the Marlborough Sounds.
We had many favorite destinations on the South Island that other travelers might enjoy. Check out the glow worms in Te Anau. Visit the Catlins, where the coastal Curio Bay campground is surrounded by flax and located within walking distance of the 180-million-year-old fossilized forest. If you're really lucky you'll see the yellow eyed penguin. Tour the Otago Peninsula, and take your kids for a tour of the Cadbury Chocolate Factory in Dunedin. Blenheim is a place where every family member can enjoy something, from the Omaka Aviation Centre to wine tastings of some of the famous Marlborough sauvignon blancs.
Tip: If you are planning a New Zealand road trip of your own and plan to take your vehicle from the South Island to the North Island, it would be wise to book your ferry passage early, and whatever you do, don't accidentally book the trip going the opposite direction.
We loved staying in New Zealand holiday parks, serviced campgrounds in centrally located spots throughout the country, which offered us an affordable family-friendly place to sleep at the end of the road. While we remember the scenic views and culture, our children remember the trampolines, swimming pools, and playgrounds around New Zealand.
We sampled wine, visited museums, went to a dozen swimming pools, and built a number of sandcastles. We had our share of emotional meltdowns and only one van breakdown. We saw penguins and dolphins in their natural habitat and lions, tigers, and giraffes in their non-natural environment. We ate pies stuffed with minced lamb and drank flat white coffee drinks in countless cafes.
On the North Island some great stops were Te Papa, Wellington's innovative and interactive National Museum, Ohope Beach, Cape Reinga's scenic lighthouse, Ninety Mile Beach and the sand dunes, as well as Pampona Beach and thermal thermal activity in Rotarua. If you're feeling adventurous, check out the Tongariro Crossing outside of Taupo, a 19.4-kilometre journey that crosses mountain passes and volcanoes.
We visited amazing destinations such as Queenstown, Mt. Cook, and Huka Falls, but the trip really was about the moments in between. Those long hours on the road, together in the van, the nights camped under the stars, the endless deserted beaches, the time we traveled the World's Forgotten Highway . . . unforgettable experiences that turn a trip into an adventure. Those are the memories we'll keep, long after the others have faded away.
Dan turned to me and said, "We knew it wasn't going to be easy, and while our boys may not remember the details of this adventure, we're giving them life skills that will help them down the road, a sense of adventure, a curiosity, an ability to adapt to new environments."
While we had called New Zealand our home for 5 years, and the birthplace of both our children, we returned to California with a wicked case of the travel bug, several bottles of Central Otago Pinot Noir, and 1,791 photos from our journey.
All Photos: Erin Thiem
---
Our Epic New Zealand Road Trip Itinerary
---
South Island Route
---
Wanaka
Arrowtown
Manapouri
Bluff
Curio Bay
Dunedin
Mt. Cook
Geraldine
Christchurch
Hanmer Springs
Blenheim
Port Ligar (a farm at the end of the road in the Marlborough Sounds)
Picton
North Island Route
---
Lower Hutt
Carterton
Masterton (with a side detour to Castlepoint)
Palmerston North
Wanganui
New Plymouth
Tauramuni
Taupo
Napier
Mahia
Gisbourne
Ohope Beach
Waihi Beach
Waipu Cove
Paihia
Houhara
Ahipara
Cape Reinga
Matheson Bay
Auckland
Pauanui
Papamoa Beach
Rotarua
Auckland
Raglan
Taupo
Auckland
---
Map It!
---
---
Pin this Post!
---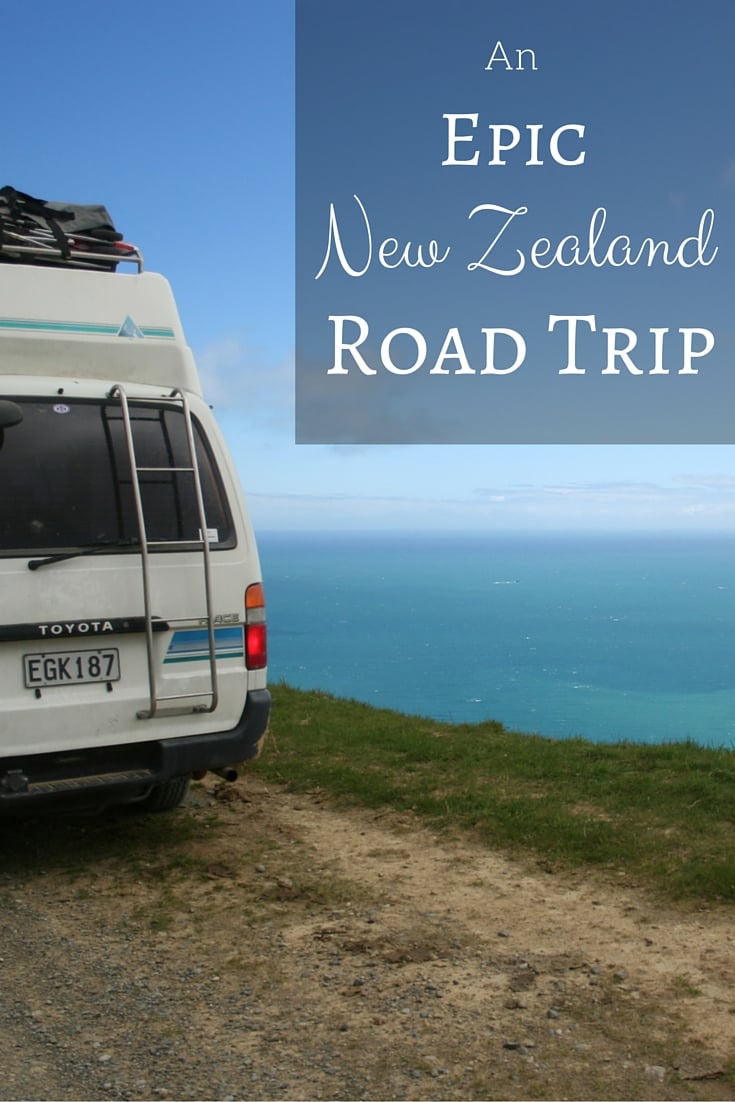 ---
Top 10 New Zealand Road Trip Destinations
---
For more information, be sure to check out Erin's Top 10 New Zealand Road Trip Destinations. As always we love hearing from our readers in the comments section below. Erin will be on board to respond to your questions regarding road trip travel through New Zealand.