(a

12

minute read)
---
A weekend road trip to the Florida Space Coast, highlighting Indialantic's Tuckaway Shores Resort, Merritt Island's Kennedy Space Center, Shells of Melbourne, and more.
---
We were guests of Tuckaway Shores Resort, Visit Space Coast, and Kennedy Space Center, but the expressed opinions and incredible Florida Space Coast experience are all ours!
---
A Florida Space Coast Weekend Road Trip
---
A beach weekend during the month of May has become a tradition for us it seems, more by default than design. For some reason by late spring we just can't wait to head to the coast, even though summer is only a few weeks away. Typically we cruise over to Daytona Beach, but this year we were invited to visit the Florida Space Coast as part of the Florida Superior Small Lodging travel blogger road trip. SSL is an association of independently owned and managed boutique inns, B&Bs, and hotels designed to give guests an authentic Florida travel experience.
Because we wanted time to enjoy the drive to the Atlantic coast, we both took the day off on Friday and headed east on State Road 60. This part of Central Florida is essentially one huge cow pasture interrupted by the occasional orange grove. Still, with the road tunes blasting and the work week over, this seemingly endless stretch of flatlands and wetlands got our weekend started.
---
Yeehaw Junction
---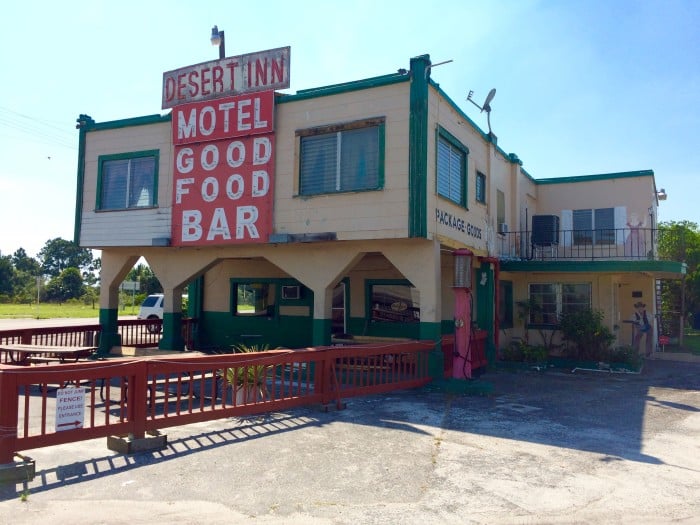 Before long we pulled into Yeehaw Junction, a crossroads near the point where the Florida Turnpike intersects with Highway 60. We stopped to snap some photos of The Desert Inn motel and bar, a historical landmark and only point of interest for miles around. Strange how I still remember The Desert Inn from early childhood, having passed it many times on family road trips between Jupiter, where we lived for four years, and our hometown of Durant.
Originally named Jackass Junction, after the donkeys local ranchers rode to the watering hole and brothel in the early days, the esteemed Florida legislature elected to rename the crossroads Yeehaw in the late 1950s to make it more presentable when the turnpike came through. (There is so much I could say regarding this dubious legislation, but in order to keep Backroad Planet relatively apolitical, I will refrain.)
A sign on the property stated that the Desert Inn was currently closed for renovation, but we did not see evidence of much work going on. Hopefully this historic property will reopen before too long.
The Florida Space Coast was calling our names, and it was time to get back on the road.
---
Tuckaway Shores Resort
---

Our host for our beach weekend on the Florida Space Coast was Tuckaway Shores Resort in the small town of Indialantic, situated on a barrier island just across the Indian River lagoon from the city of Melbourne. The term "resort" can be defined in many ways, I am sure. Although we did not see any spas or golf courses during our stay at Tuckaway, strangely we never missed them.
In order to be a member of SSL, properties must undergo inspection for superior cleanliness and housekeeping standards to earn the White Glove Award, a recognition Tuckaway Shores has received six years running.
Suites
---
Owner and manager Jacqui McPhillips greeted us warmly upon arrival and presented us keys to a first floor ocean front suite. All of Tuckaway's rooms are two-room suites featuring either ocean front or ocean side views with a patio on the first floor and private balconies on the second and third floors. When your room opens directly onto the Atlantic Ocean, who needs a golf course or spa?
The first thing that struck me when we opened the door to our suite was how Tuckaway Shores had designed the perfect blend of old and new. This historical Florida beach hotel has undergone a smart renovation, decorated with a beachy theme and updated to include every modern convenience. Jerry and I always enjoy the charm of retro beach motels as long as they are clean. In our experience with historical lodging, some properties have achieved such a balance, and some have not. In this regard, Tuckaway Shores has created a flawless fusion of Florida's past and present.
One room of the two-room suites includes a bedroom, bathroom, and separate sink area. The other room features a sitting area, fully-equipped kitchenette, and an amazing view of the beach. Both rooms have wall-mounted flat-screen HDTVs.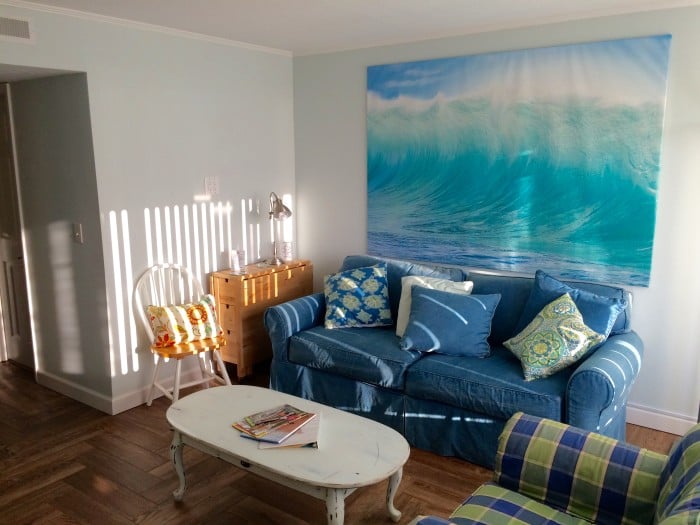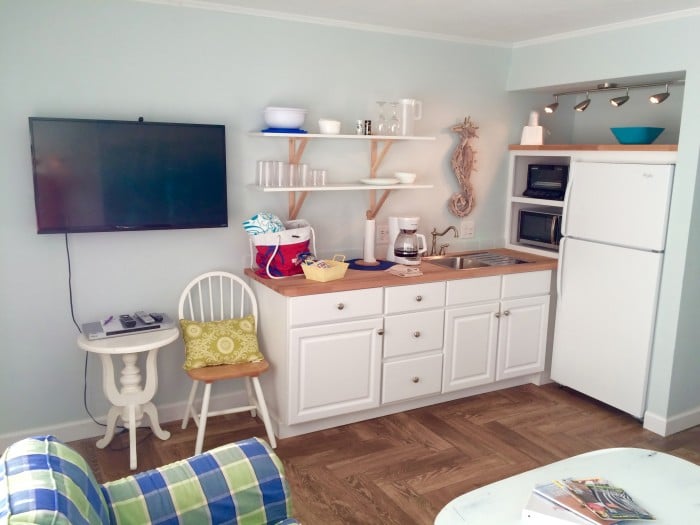 Beachfront
---
Although technically the beach itself is not private, (meaning neighboring beachcombers can walk through it) during our stay it remained quite secluded. Unlike other beachfront properties we have visited, the surfers, fishermen, and sunbathers we encountered on this stretch of sea and sand all seemed to have been guests at Tuckaway.
Amenities
---
As amenities go, Tuckaway Shores has all the bases covered. For those who prefer fresh water to the Atlantic surf, Tuckaway offers a newly-resurfaced heated pool to enjoy year round. The Cabana Room, located in a poolside outbuilding, contains private restrooms, a dining table, sink and bar, seating area, small library, and a spacious seating area. This building can be reserved for a nominal fee.
A small picnic area with a sheltered table and Big Green Egg grill adjoins the Cabana Room and pool.
Tuckaway Shores offers many more amenities such as complimentary beach chairs and towels, a fish cleaning station, business center, and free Wi-Fi throughout the resort.
---
Food & Drink
---
Sand on the Beach Bar & Grill
---
Although Tuckaway Shores does not have food services, Jacqui recommended Sand on the Beach Bar & Grill, located just down the road and around the corner from the resort. Because of its ideal location, we enjoyed breakfast there and drinks later on. The outdoor beachfront seating was exceptional in both the morning sun and cool of the evening.
Shells of Melbourne
---
Anyone who knows me well knows pasta is my favorite food group. And seafood pasta from Shells is hands down the best pasta I have ever had! Shells was a small Florida-based restaurant chain that declared bankruptcy in 2008, closing its doors to all but four independently-owned stores. For me, the closing of the Brandon, Florida, store was a sad day indeed. Imagine my joy when we discovered that one of the remaining open locations was Shells of Melbourne. We went there for dinner on Friday night and enjoyed it so much that we returned for a double dip on Saturday evening. The Shells signature seafood pasta was the same incredibly delicious blend of garlic, olive oil, and wine that I remembered.
For some people, a restaurant may not rate at the same level as a resort or theme park, but for me, enjoying Shells' seafood pasta once again was one of the highlights of the weekend.
---
Kennedy Space Center
---
The ever-amazing Jacqui from Tuckaway Shores assumed that as visitors to the area we might enjoy spending Saturday at the Kennedy Space Center, the region's most popular attraction. Her assumption was correct, and we were stoked to learn that she had pre-arranged our tour through Visit Space Coast, the regional tourism board.
It took us about an hour to drive from the resort to the Kennedy Space Center Visitor Complex. If we had read our confirmation email better where it stated that we should "arrive as close to 9 AM as possible," we would have made a point to leave earlier that morning. Although the park was not overcrowded, time did not allow us to see all the attractions. Alas, even rule-following abstract-sequential personalities like me suffer the occasional oversight.
As a native Floridian, I remember visiting Kennedy Space Center the first time with my church youth group in the late 1960s. My mother packed my lunch and we traveled to the Cape by chartered bus. My memories are vague, but I remember a cool oven we used in the dining area to heat our sandwiches. I've always wondered if it was an early microwave. I also remember a monument to the Apollo 1 astronauts, Grissom, Chaffee, and White, who perished in a cabin fire during a launch rehearsal.
Jerry and I grabbed a quick lunch at the G-Force Grill and got in queue for an up-close bus tour of the space center. This narrated tour carries visitors to various launch pads, past the Vehicle Assembly Building, and to the Apollo/Saturn V Center. English was a second language for our Greek bus driver. He was a nice guy, but we really didn't get much from the guided tour.
During the bus tour on my childhood visit to KSC, we disembarked at the Vehicle Assembly Building, because I remember feeling like I was about to fall over when I looked up to the top of the structure. No question that security was looser in those days.
Without a doubt the best part of the bus tour was the Apollo/Saturn V Center. We were blown away by the historical technology and authentic elements from our nation's exploration of space.
Visitors are free to tour the Apollo/Saturn V Center at their leisure and then catch one of the tour buses that run continuously every 15 minutes back to the Visitor Complex. When we arrived back at the complex, we headed to the Space Shuttle Atlantis.
I won't spoil your visit with any details, but lets just say the reveal of the Space Shuttle Atlantis is a moving up-close-and-personal experience.
Time allowed us to take in the Shuttle Launch Experience, as well as the Exploration Space, Nature and Technology, and Early Space Exploration exhibits. Unfortunately, due to our late start, we did not get to see either of the IMAX 3D feature films narrated by Leonardo DiCaprio and Tom Cruise. We also did not get to visit the U.S. Astronaut Hall of Fame, located six miles west of the visitor complex and included with admission. Lesson learned!
---
Final Words
---
I know most of our readers do not live as close to the Florida Space Coast as we do, but it is definitely a region of Florida not to be overlooked. When you plan your visit to the area, be sure to consider a stay at Tuckaway Shores Resort, a visit to Kennedy Space Center, and TWO nights dining at Shells of Melbourne. And when considering accommodations anywhere in the state, be sure to check out the 170 member properties of Superior Small Lodging for an authentic Florida experience!
As always, Jerry and I love hearing from our readers. We invite you to leave your comments and questions below, and we always respond!
---
Map It!
---

&nbsp
---
Pin This Post!
---