(a

8

minute read)
---
Howard from Backroad Planet interviews Nathan Kolk, a young man planning an epic 10,000 mile summer road trip around the USA.
---
Amazing road trip stories always get my attention, and recently I connected on Instagram with a young man in the planning stages of a truly epic road trip around the USA. Graciously, he agreed to an interview so we could learn more about the man behind the grand plans!
---
A 10,000 Mile Road Trip Around the USA
---
Howard: Hi Nathan! Tell us a bit about yourself.
Nathan: My name is Nathan Kolk, and I am a 24-year old recent graduate from Liberty University Online. I have lived in Wilmington, North Carolina, for nineteen years and have an incredible desire for adventure and travel. I am the fifth of seven children, six boys and one girl. Growing up in a large family of boys led me to be very competitive and interested in playing sports, which then led me to Appalachian State University. "App" is a university in Boone, North Carolina, situated nicely in the Appalachian Mountains, giving me ample opportunity to be exposed to the great outdoors, and I quickly began to fall in love with it. Since then I have sought out every opportunity for camping, hiking, waterfall-jumping, or any other adventurous outdoor activity.
Howard: So what are your plans for this summer?
Nathan: I am taking the months of June and July to drive over 10,000 miles around the perimeter of the country in my Subaru Crosstrek.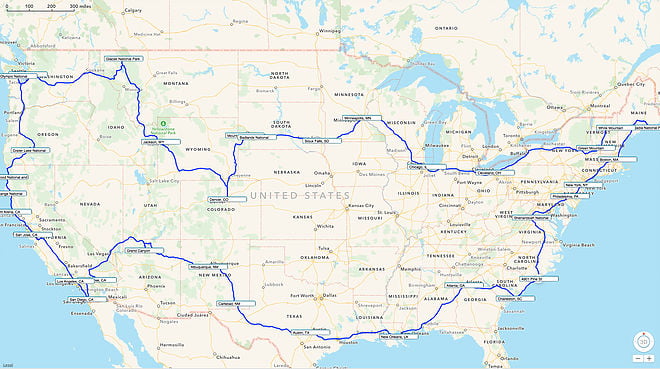 Howard: Wow! That's quite an undertaking. So, what inspired this trip?
Nathan: This trip has been in the works for quite some time now. The idea first came to mind a couple of years ago as I was having coffee with my good friend Taylor, and we were discussing times in our lives when we felt the most inspired and excited. Moments of being outdoors, being challenged, and interacting with other people quickly came to mind, so we began to discuss how I could maximize these times of inspiration and excitement.
Out of this conversation we had the thought, what if I took some time after I graduated to drive around the perimeter of the country with the goal of meeting new people, engaging in beneficial conversation, and challenging myself to adventure in new ways? Another big element of this trip is self-discovery and spiritual awareness. Just like so many other twenty-somethings and recent college graduates, I am unsure of what my next step needs to be or what God has planned for me. I believe that traveling itself does not reveal truth, but a persistent pursuit of truth reveals truth!
There have definitely been times in the past two years where I doubted whether or not I should really be doing this. I've told myself I needed to get married, get a steady job, and grow up. But the people around me and my unyielding drive for adventure were the voices of reason that convinced me, "There will be very few other times in your life to do this, so do it while you can." For the past year I have set my eyes on this trip very specifically and have been planning and researching what I need to do to make it happen.
Howard: I totally get that. Tell me, what are you most excited about?
Nathan: The idea of connecting with people around me and God above in such beautiful places as the national parks gets me incredibly excited. Yosemite, Joshua Tree, Grand Canyon, Yellowstone, Glacier, and a few more are all on my list of parks to visit. I am also extremely excited to meet fellow adventurers and hear their stories and share experiences. From all of the travel blogs I have read and stories I have heard, it is the people you meet that make the trips the most memorable.
Howard: I can definitely agree with you on that point. What do you think will be the most challenging aspect of your journey?
Nathan: There is a part of me deep within that fears being alone for extended periods of time. My mind is constantly racing with ideas and thoughts, and if I go too long without letting them out and having meaningful conversations with other people, I can get a little crazy. So fighting loneliness is definitely going to be a challenge.
Howard: I am one of those rare people who actually enjoys solitude in nature, but I also understand the fear of being alone. If I were in your shoes, I think I would be worrying about where I would lay my head each night. What plans have you made for sleeping arrangements?
Nathan: As of now I have family, friends, and friends of friends at some of the stops that have been gracious enough to welcome me into their homes. For many of the stops, especially most of the national parks, I am extremely excited to go camping and sleep under the stars. But there are still other stops where I am unsure what will happen or where I will stay, but I guess that's where the adventure comes in. Hopefully, I will meet some nice people along the way who will let me crash on their couches!
Howard: I noticed that Subaru is a prominent brand name on your web site. Have you considered seeking a  corporate sponsorship?
Nathan: Ha-ha, yeah I love my Subaru. The idea of making it a big part of the branding was done in hopes of connecting with Subaru and maybe working out some kind of sponsorship. I have started communication with a local dealership, Parkway Subaru in Wilmington, North Carolina, and they are going to help me get connected to corporate and hopefully make something happen. Regardless of the sponsorship, I'm still a very proud Subaru owner!
Howard: Okay, for the sake of old guys like me, tell me about the man bun.
Nathan: The man bun has been a long grueling journey of awkward hair stages, but it is well worth it almost two years down the road. It's not going away any time soon. I love it, and the ladies definitely love it.
Howard: Well, there you have it! How can our readers follow along and support you during your travels?
Nathan: I launched my website Me, You & Subaru not too long ago, so that will be the primary source for trip updates, blog posts, and photos. You can sign up for email updates on my homepage and follow along on my Instagram, as well. If any readers would like to contribute financially, I have a donate button on my home page, and I can be reached by email at nathan@meyouandsubaru.com for partnership inquiries or any other ideas.
Photo Credits: Nathan Kolk; Lillian Margaret Photography (above)
We hope you enjoyed learning about Nathan's epic plans to road trip around the USA as much as we did. We will definitely be following along this summer, and we plan to speak with Nathan again upon completion of his journey.
---
Update
---
Update: Nathan has completed his 10,000 mile road trip around the USA. In his follow-up article, Reflections on an Epic US Road Trip, Nathan recounts how his car was stolen after reaching Austin, Texas, and how he was able to complete his journey through the kindness of strangers and a new perspective on life and travel.
---
We Would Love to Hear From You
---
Jerry and I enjoy dialogue with our readers, especially when they share amazing travel stories from around the world. If you have driven across the United States, what advice would you give roadtrippers still in the planning stages? And if you have an epic road trip story to tell, we would love to hear it! We invite you to leave your comments and questions below, and we always respond!
---
Pin this Post!
---
---
Helpful Links
---
Reflections on an Epic US Road Trip