(a

14

minute read)
---
Ever wanted to quit your job, hit the road, and never look back? In our interview, David Hayes leaves it all behind to embark on a cross-country solo bike ride.
---
At Backroad Planet we enjoy sharing the stories of intriguing people who embark on epic journeys, such as Nathan Kolk who completed a 13,000-mile loop road trip around the United States and Adrian Marziliano who is doing a transcontinental bike ride from Chile to Canada.
Former Army officer and advertising executive David Hayes, like Adrian and Nathan, recently completed his own trip of a lifetime. In our interview, David shares how his inner compass ultimately pointed him in an alternate direction and why he considers himself a novice adventurer beginning a journey toward the rest of his life.
---
A Solo Bike Ride Across the Southern Tier
---
Howard: Hi David! Tell us a bit about yourself and how you became a cyclist?
David: Hi Howard! I'm a 54-years-young man currently residing in Mississippi. For a couple of decades before my cross-country bike tour I was building a career in advertising and marketing. I started riding a bike for fun with a local group of cyclists about two years ago. When I first started riding, I couldn't even ride a mile. But I kept at it, and soon I rode 8 miles . . . then 14. And when I completed 27 miles on one of the local rides, I thought I was a champion! That was in 2015. By the fall of 2016 I had worked my way up to doing my first "century" ride (100 miles).
But even then, I had no idea that there was such a thing as "bike touring." In October of 2016, I read a book entitled "Miles from Nowhere" about a couple who in the 1980s spent two years riding in countries all over the world before eventually returning to their lives in Southern California. After finishing the book I put bike touring in the same category as "go to Alaska and see the Northern Lights," just something on a vague bucket list. Little did I know that in a couple of months I would be towing a trailer full of bike touring paraphernalia long past the point of exhaustion!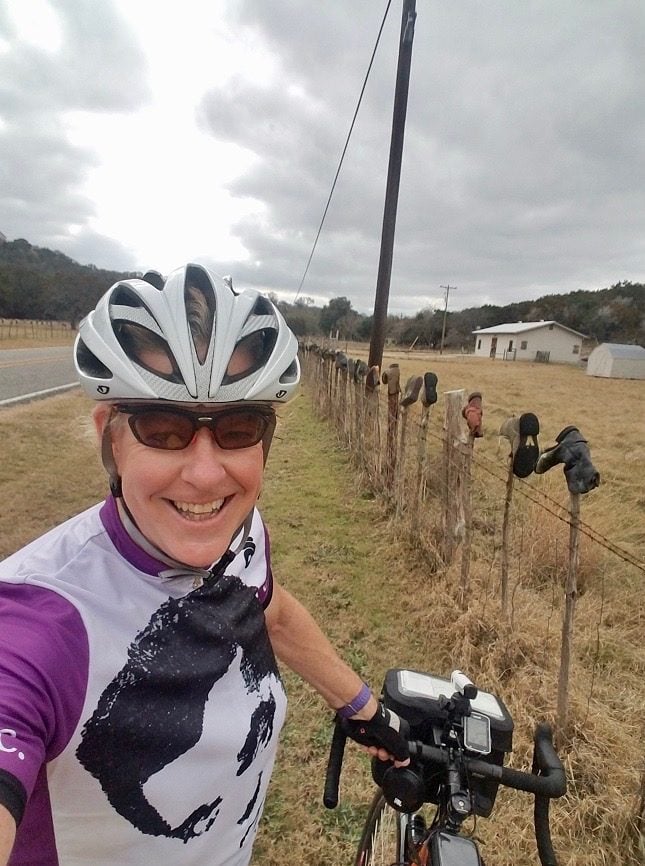 Howard: You just completed a major solo bike ride across the southern United States, correct?
David: Yes, I rode into the surf at Ocean Beach in San Diego, California, on February 11, 2017, and then spent a few days in town waiting for my scheduled Amtrak return to Mississippi. I arrived home on February 18, after a wonderful train ride back across a good portion of the country I had just covered on my bike. The ride itself took 48 days, and that includes some "zero" days along the way to rest, recover, and visit friends and family.
Howard: How did you decide your destination and plan your itinerary?
David: I chose to ride the Southern Tier Route, a well-known bike tour route promoted by the Adventure Cycling Association, for two reasons. First, because my ride would be in the winter, there was no way I was going to ride any further north toward cold, snow, ice, and sleet than I had to! As it turned out, even riding across the south I got all the cold, windy, rainy, icy days I could handle. I can't imagine what it would have been like to attempt a ride, say, across the Midwest or, heaven forbid, the Dakotas in the middle of January. Secondly, because I live in Mississippi, I could get to the route easily by just riding South for a couple of days into Louisiana. That meant I could avoid having to travel to a start-point, and I only had to arrange transportation home.
Also, while most bike tourists riding the Southern Tier choose to start in San Diego and ride east (mostly because the prevailing winds go from west to east, and a tailwind is something to hope for at all times on a bike), I wanted to have the feeling of leaving my home and riding TO somewhere as opposed to riding back home. In symbolic terms, I thought of it as me riding toward a new life versus riding back to the old one.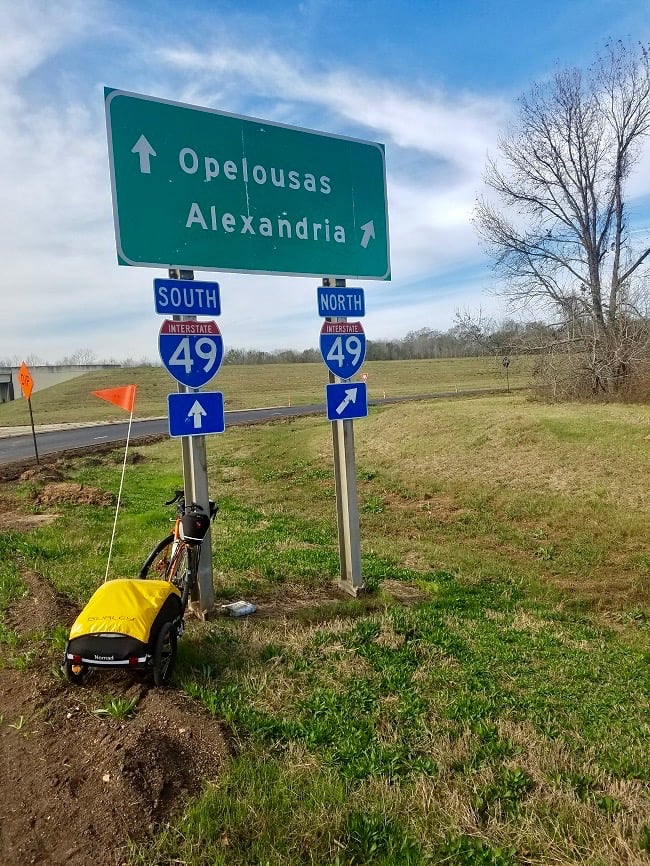 Howard: The epic rides we have featured here on Backroad Planet in the past were done by younger people. Why did you choose this point in your life to embark on a cross-country solo bike ride?
David: In December 2016, two events came together that propelled me into a bike tour far sooner than I'd anticipated. First, I had simply had enough of my current life in corporate America and resigned my position at the company I'd been working for here in Mississippi. Despite having success in my career, I found that my life was missing something. So, without having any definite plans, I left to find a new life. And, just as importantly, a logjam in my personal life finally broke up and freed me to go off on a journey to find the answer to "what next?" in my life.
Howard: I can totally relate to where you're coming from. At age 56, when I got to the point where I could no longer take the stress, I retired from a 35-year career as a public school teacher and embraced my two loves of travel and writing. I have never looked back.
So what came next for you?
David: My first thoughts revolved around what I didn't want to do, but a week before Christmas the idea of riding my bike from my driveway to San Diego entered my mind like a thunderbolt from the heavens. The time on my bike would let me think about what I wanted to do next, and I realized this was a window for adventure that might never come again in my life. So, I walked into my local bike shop and asked my go-to mechanic to build me a touring bike . . . in one week.
At 10 pm on Christmas Eve, my mechanic completed a miracle and delivered my new bike to me. So, on the day after Christmas I set out for California, ignorant about how to successfully complete a bike tour and full of hope that I wouldn't kill myself.
Howard: I take it you saw everything from backroads to major cities on your ride. What were the things you remember most about the trip and the places you visited?
David: What I remember most is something I had no clue about before I started . . . my fellow bike tourists. As dumb as it sounds, I never anticipated meeting so many other bike tourists along the way.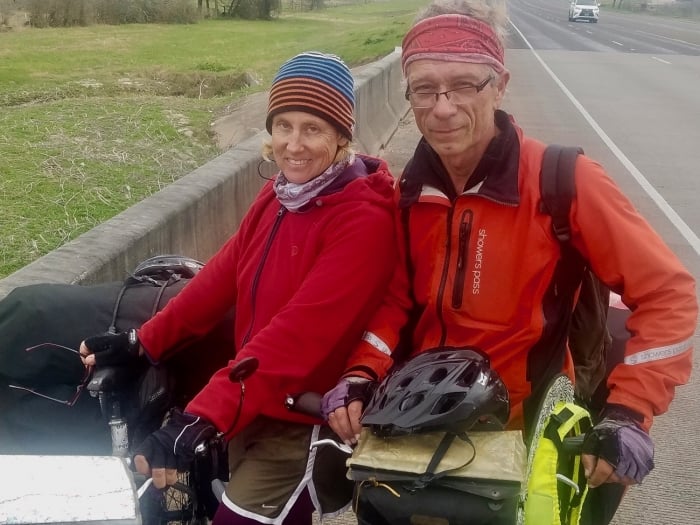 I met a couple from France who had been touring the world for over ten years and never overnighted where they had to pay to stay. Then there was Ron Staschak who had been making smaller, shorter tours for years and was finally doing his "bucket list" longer trip across the country. His modus operandi was to knock on people's doors and tell them, "Hi, I'm Ron, and I'm riding home to Maine. Can I camp in your side yard?" He said that in all his years touring, he had only been turned down three times.
One of the most memorable places along the way was the little town of Marfa, Texas. Literally miles from nowhere, Marfa was an enclave for Manhattan artists of every kind, from theater to sculpture. The Brooklyn-style thin-crust pizza I had there was amazing and utterly authentic.
I also remember the endless vistas outside Lordsburg, New Mexico. Highway 90 heading into Arizona was ruler-straight and featureless, except for the distant mountains all around. There was something wonderfully still and majestic about the silence and the peaks of distant mountain ranges.
In California, I recall the otherworldly sand dunes of Glamis. The self-proclaimed "Sand Toy Capital of the World," Glamis features endless ranks of sand dunes out to the horizon exactly like you would find in the Sahara, but filled with dune buggies, dirt bikes, and RVs parked in wagon-train-circle encampments.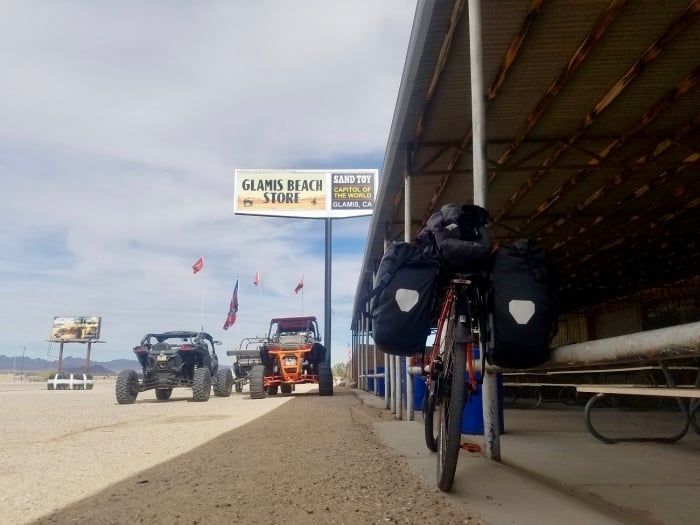 Howard: Was there anything you experienced en route that was different, a surprise perhaps, from what you expected when you started out?
David: As anyone will see if they read the full journal of my ride, the things that most surprised me were some of the roadside mysteries I encountered during my journey. Like the ten dead wild pigs I found lined up neatly on the side of the road in Texas miles from any habitation.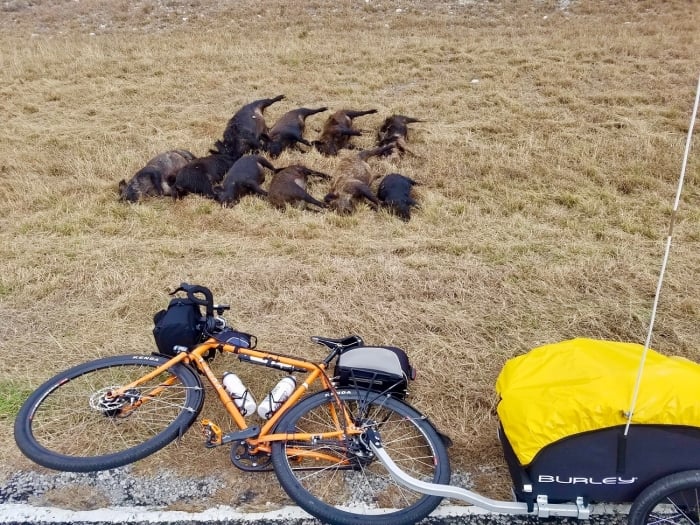 Or, the sign along I-10 in Arizona advising me to ride only on the shoulder of the highway. Seriously? Who in the government thinks I'm going to ride in the right lane of an interstate highway and duke it out with hundreds of 18-wheelers and RVs racing along at 85 miles per hour?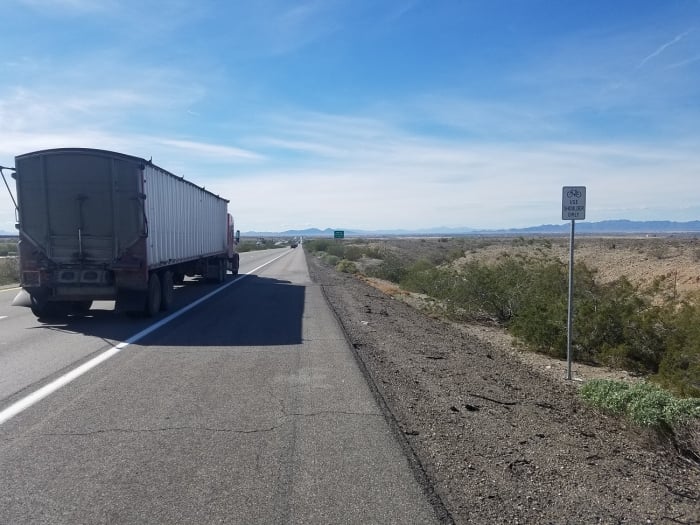 As for differences between what I expected and what I actually experienced, those events were legion. First of all, I broke every single rule I started out with. I said I would camp in a tent the whole way. I broke that rule on the very first night!
Then there was the rule about riding my bike the entire way, meaning not accepting rides in cars. Yeah, I broke that rule before I got out of Louisiana. In the end, the only rule I started with that I didn't break was that I never, not even once, backtracked. I managed, somehow, to always keep moving forward toward my goal.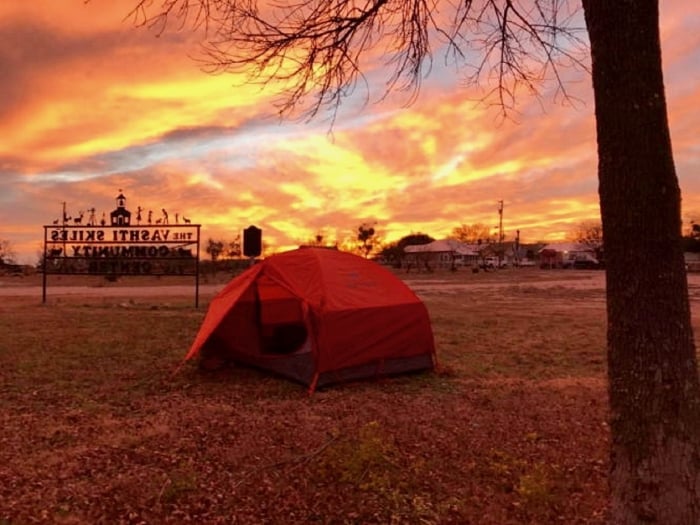 I also learned that bike touring was a great deal different than the road cycling I was used to. For instance, I threw out my speedometer on the third day out of sheer frustration. Pulling a fully-loaded trailer on a big, sturdy touring bike meant I was slow! What started out as a "cyclist" mentality soon changed to a "tourist" mentality. I looked around, saw the sights, waved to motorists, and generally stopped caring how fast I was going, how far I'd come, or how far I still had to go. I just rode and enjoyed the moment, wherever I happened to be at the time.
Howard: So how has your cross-country solo bike ride affected your health and fitness? Did you lose weight?
David: I was in pretty good shape when I started, but when I returned and got back to riding with my regular cycling friends I realized that I had significantly increased my speed and endurance on my road bike. Hills I struggled with before were now far easier. Keeping up with the faster riders, who I used to not be able to match speeds with, was not only no longer a problem, but I'd become a faster rider than many of them!
That said, I run a bit and also do some crossfit regularly and I lost some strength and ability in these other areas. Despite eating enormous quantities of food every day (e.g., a typical breakfast was 3 eggs, 4 sausage patties, 4 strips of bacon, a pancake, and hash browns), I did end up losing about ten pounds total over the course of the time I was on the road. I found it difficult to go back to eating "normal" amounts of food when I returned.
Howard: What advice would you give to readers who find themselves in dead-end life and work situations?
David: Believe that you have options. Whatever it is you may want to do instead of trying to suffer your way through a dead-end life and/or work situation, know that somewhere out there there are lots of people doing exactly what you would love to be doing. All you need to do is join them! I mean, why them and not you, as well?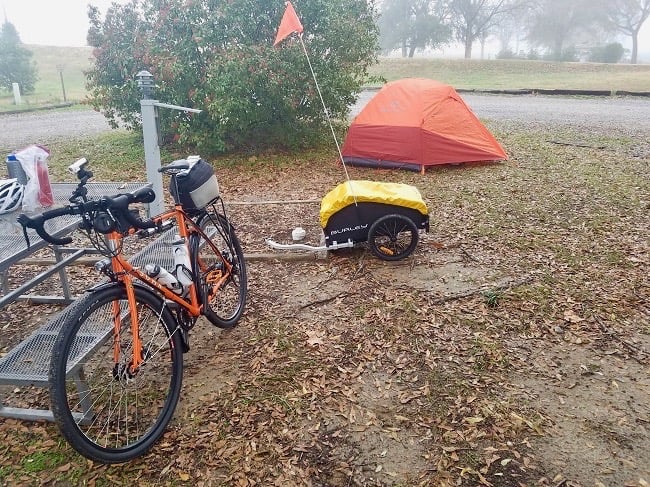 Howard: So, what now? Is there another epic solo bike ride in your future?
David: I don't want to sound too grandiose here, but this journey changed my life in ways I never could have imagined when I departed. I fell in love with travel in a way I never had before despite having traveled to many foreign countries and most of the states in the US. In the past, the lure of the open road had been only something I read about in books. Now, I am hungry for my next adventure.
But first, I am changing my life to make more travel possible. I am not in a position to retire, so I am working hard now to accomplish two things: to downsize my life in a major way and develop new income streams. My goal in life now isn't that next promotion or next pay raise, but rather learning how I can make every year of my life like a gap year that young adults take between high school and college, to travel, volunteer, and live a rich full life.
After bringing my life into equilibrium in which income meets costs, I am planning to do some backpacking. I have only been backpacking once in my life when I was about 17, so I am a complete rookie. But after meeting so many hardy bike tourists on my journey I have decided that I really want to be a hardier soul. I know that while riding through civilization on my bike I am not going to be able to resist the temptation to just "stop this one night" in some cheap roadside motel. So, this summer I plan to go on an extended backpacking trip in which I go so far away from civilization that I have no way to avoid camping out night after night. My hope is to burn-in the mental fortitude to avoid a motel night in favor of the open stars.
After that, who knows? I think there is some volunteering in my future. I've got my eye on a volunteer opportunity to go live with a family of nomads in Mongolia helping with their herd of sheep in return for room and board. Nomadic sheep-herding . . . it's a thing!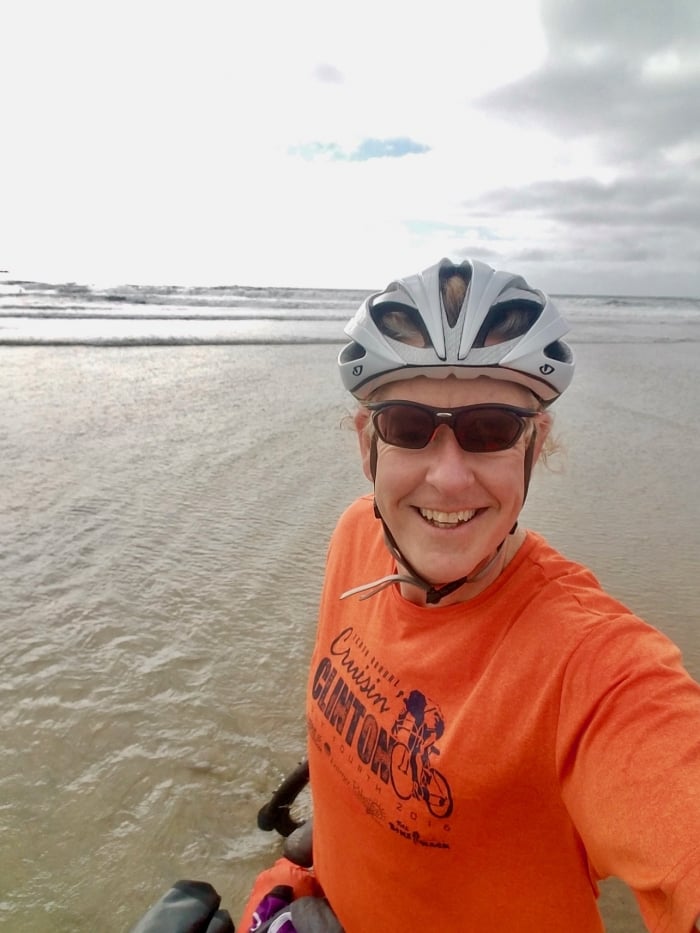 Howard: If anyone wants to follow your future adventures, where can they find you?
David: While I was on the road, friends and family followed my journey on a site for bike tour journals. But since my return and the serious decision to change the direction of my life and attempt to make every year of my life like a gap year, I have started a new blog at A Gap Year Life to chronicle all the mistakes, misadventures, and merriment of my attempts to live a more adventurous and fulfilling life.
---
Map It!
---
---
We Would Love to Hear From You
---
We enjoy dialogue with our readers, especially when they share off-the-beaten-path destinations and useful travel tips. Have you ever made a drastic decision to leave everything behind and follow your heart? If so, we would love to hear about your experience. We invite you to leave your comments and questions below, and we always respond!
---
Pin this Post!
---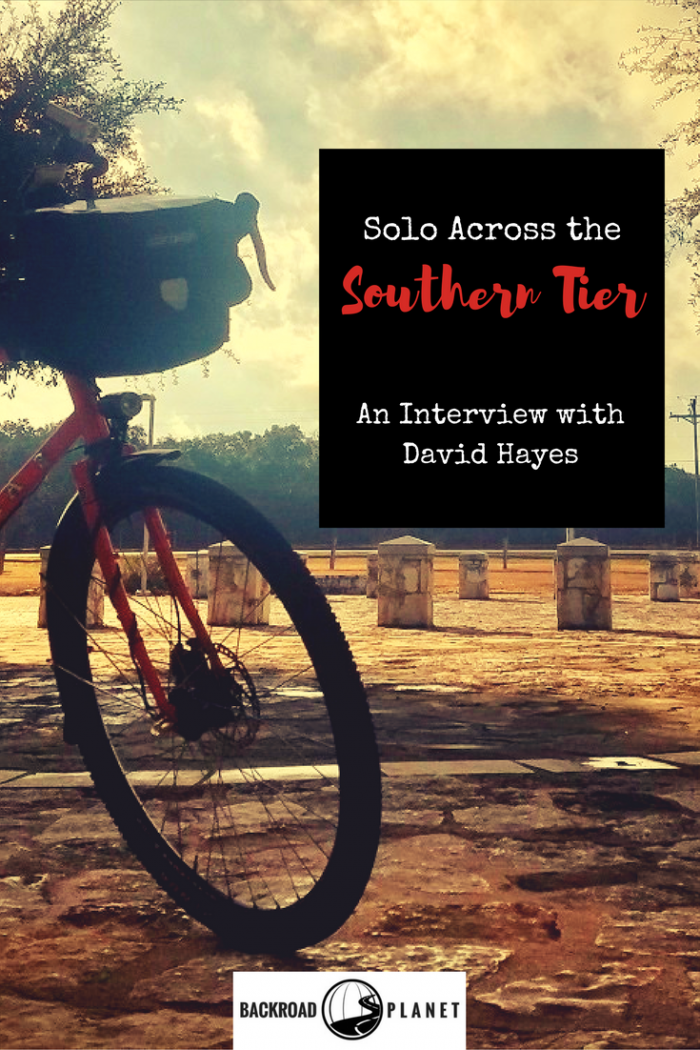 ---
Helpful Links
---