(a

13

minute read)
---
Experience the best in Southern Delaware outdoor adventure at state parks & historical sites while hiking, biking, camping, kayaking, or jumping out of a plane!
---
Visit Southern Delaware, the Greater Seaford Chamber of Commerce, and Mazda USA were my sponsors for this Delaware outdoor adventure, but all thoughts and opinions are genuinely my own.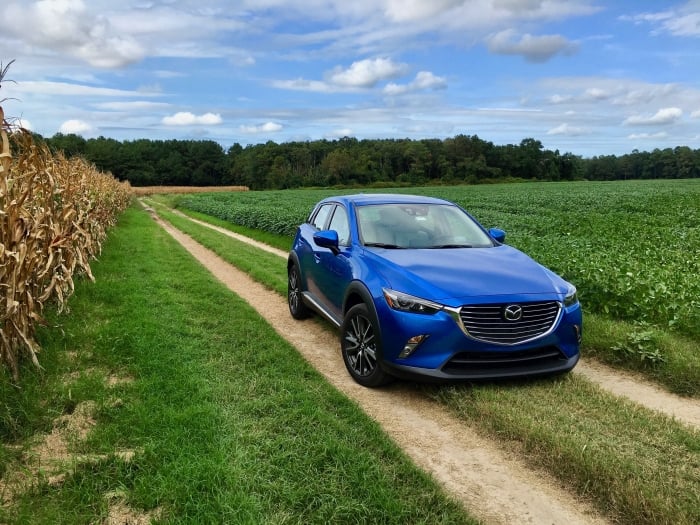 Cruising the backroads from Maryland to Southern Delaware was a scene straight out of my playbook. It was my first time to drive a crossover utility vehicle (CUV), but I was in my glory. The Mazda CX-3 had plenty of legroom to fit my frame, a killer Bluetooth sound system to blare my iTunes, and plenty of kick for zipping through lane-changes, around curves, and over more bridges than you can count.
---
Southern Delaware Outdoor Adventure
---
This was not my first time visiting Delaware. I had cut through the the northern tip of the state on a long-haul drive with friends from Florida to New York in the summer of 1993. I think if I had blinked I probably would have missed it.
This time, as I explored the scenic outdoors of Southern Delaware, I would uncover a wealth of soft and extreme adventure opportunities to fit every taste.
---
Trap Pond State Park
---
Trap Pond State Park was the point of rendezvous for our group of five journalists. We arrived at various times across the afternoon and settled in for an extended weekend of outdoor adventure in Southern Delaware.
(Joining me L to R) Julie McCool from Fun in Fairfax, Charles McCool from McCool Travel, Jill Gleeson from Gleeson Reboots, and Malerie Yolen-Cohen from Getaway Mavens.
Map Credit: Trap Pond State Park
Trap Pond was established as a state park in 1951. It was designed around a manmade sawmill pond created in the late 1700s and developed for recreational use by the Civilian Conservation Corps (CCC) in the 1930s. This reclaimed property is home to the northernmost stand of second-growth bald cypress trees in the United States. As a native Floridian, I felt right at home among the cypress trees. The only thing missing from these trees for me was Spanish moss.
Camping Facilities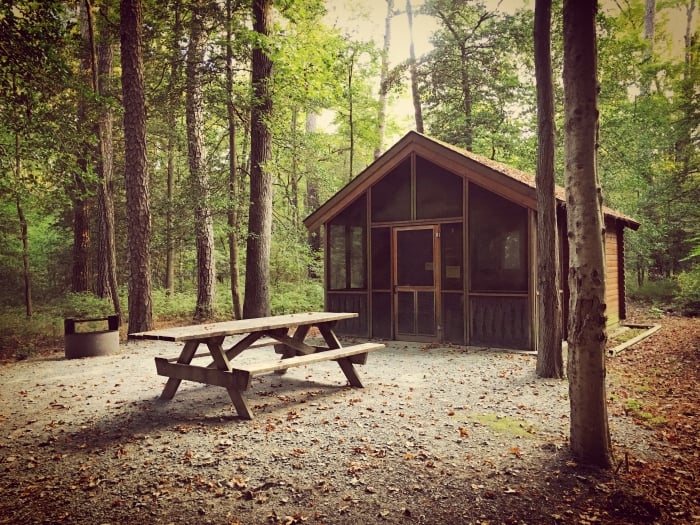 The park offers a wide range of camping accommodations including 142 RV and tent sites, most with water and electric hookups. Members of our group stayed in the clean and comfortable rustic cabins, outfitted with heating, A/C, and even small refrigerators. The cabins do not have running water, but camp toilet and shower facilities are conveniently located nearby.
A Fish Fry & Local Legend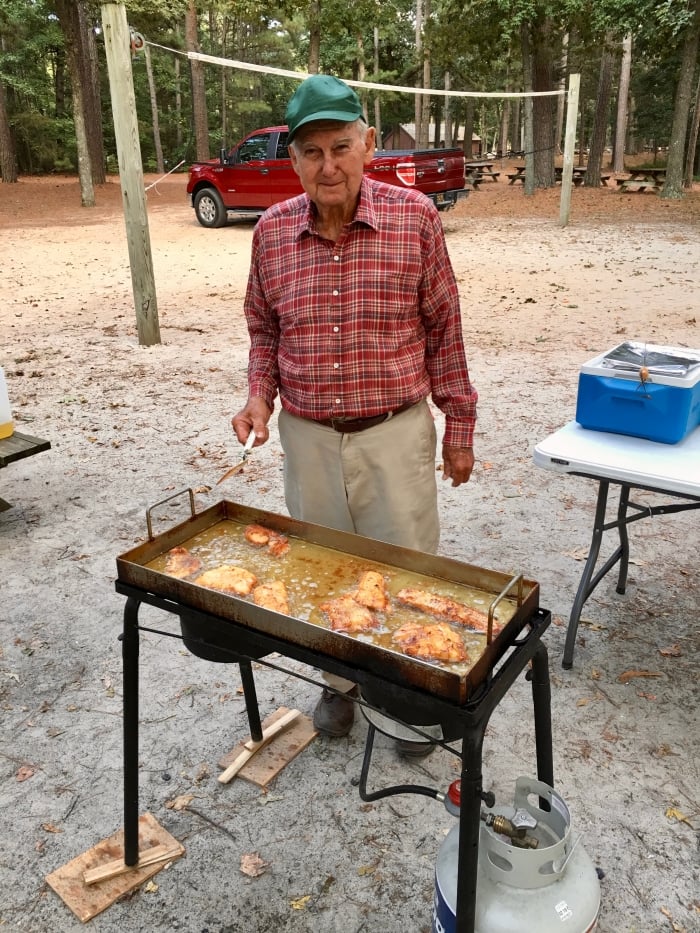 Our first activity at Trap Pond was a fish fry at one of the park pavilions. I was immediately struck by the number of community members who welcomed us and joined us, not just for the first dinner, but throughout every activity during our stay. I can say without hesitation that the people of Southern Delaware are some of the warmest, fun-loving, and accommodating people I have met during my travels.
Our guest during the happy hour portion of the fish fry was local legend Fred Stevens. In the early 1960s, it seems, editor Ralph Grapperhaus of the Delmarva News conspired with Fred to bring life to a local legend known as the Selbyville Swamp Monster. To create the hoax, Fred dressed up in his Aunt Dorothy's raccoon coat, donned a mask, carried a club, and jumped out at passing cars on Route 54. Grapperhaus published stories and photos in the newspaper to lend credibility to the ruse. Fred's dress-up escapades continued for a few months until he learned that some locals intended to shoot the monster if they saw it again. Even so, reports of monster sightings continued over the years. In 1987, Stevens finally came clean and confessed the truth behind the hoax. Strangely, there are locals who are not totally convinced that a Southern Delaware swamp monster does not exist.
Night Owl Pontoon Ride
With spooky thoughts of the Selbyville Swamp Monster still fresh in our memories, we embarked on a twilight pontoon ride on the pond. The moonlight, cool evening air, and sounds of night creatures conspired, allowing a wave of peace and serenity to settle over our group. The craft glided across the the surface of the water, weaving through the tall cypress trees and into the night. After a relaxing ride, the pontoon returned us to the dock and sent us straight to our cabins to rest before our Delaware outdoor adventures resumed the following day.
Hiking & Biking Trails
The next morning we dedicated a couple of hours to exploring the park independently by taking to the trails. Charles and I chose to bike, and the ladies set off on foot.
The cool evening air had carried through the morning, and we cruised through the forest as dappled sunlight peeked through the trees.
1879 Bethesda Church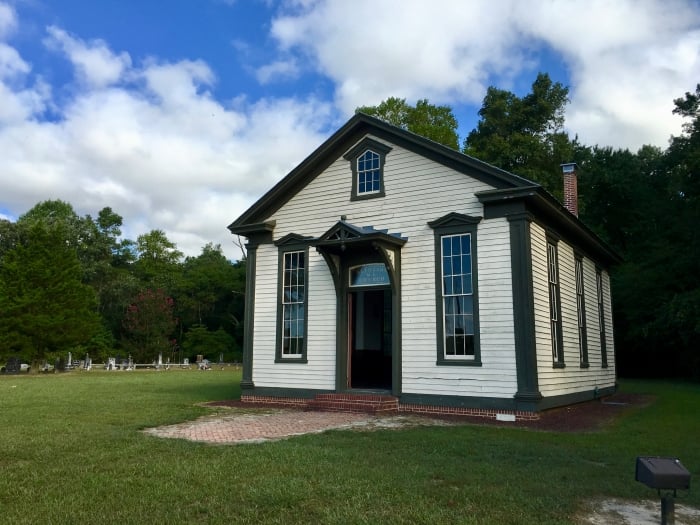 We met up with the girls at the historic Bethesda Methodist Episcopal church, located approximately midpoint along the trail. This church did not have its own pastor back in the day, rather it was part of a group of ten churches on the Laurel circuit, with a single preacher who traveled from church to church to lead weekly services.
The church discontinued services in the 1970s and eventually fell into disrepair. The Delaware Division of Parks and Recreation purchased the property in 2000, and gave the structure a complete renovation that was completed in 2008.
Can you find two errors on the church cornerstone? I immediately noticed the misspelling of "Bethesda," and our park guide pointed out the inverted number "9." No one knows the reason for the errors, although the possibility of an illiterate stone carver would seem suspect.
Shortly after leaving the church property we passed this stunning view of Raccoon Pond.
Baldcypress Nature Center
Near the end of the trail we arrived at the Baldcypress Nature Center located in the day use area of the park. This modern facility features an educational exhibit gallery, conference rooms, and scheduled recreational activities.
---
The Woodland Ferry
---
The route to our afternoon activities took us by way of the Woodland Ferry, historically known as the Cannon Ferry, which is one of the oldest, if not the oldest, ferry in continuous operation in the United States.
The ferry began service across the Nanticoke River in the 1740s and was run by James Cannon, his son Jacob, and later Jacob's widow into the mid-1800s. The ferry, now run by the Delaware Department of Transportation, launched a new vessel, the Tina Fallon, in 2008. The ferry was named for a dedicated state representative, but as a Saturday Night Live fan, the historical marker made me do a double-take.
The west bank of the river crossing features a small park. Cannon Hall, situated directly across the road, was originally built in 1820 as a home for Jacob Cannon and his new bride. When she refused to marry him, he chose not to move in, and the home sat vacant for many years.
The Woodland Ferry is also believed to be the location where the infamous Patty Cannon, an illegal trader of kidnapped free blacks and captured fugitive slaves, would put her cargo aboard schooners sailing south to Georgia.
A downloadable PDF published by the Delaware DOT gives a detailed and well-illustrated history of The Woodland Ferry.
---
Phillips Landing
---
We offloaded the Woodland Ferry on the east bank and continued to the Phillips Landing Recreation Area for a picnic lunch. It is believed Captain John Smith and group of fourteen colonists reached a point nearby just below the confluence of Broad Creek and the Nanticoke River in 1608 while on an exploratory and trading expedition out of Jamestown.
---
Broad Creek Canoe & Kayak Launch
---
I am almost embarrassed to say this, but I had only kayaked for the first time just a few days earlier in Maryland. I am not sure what took me so long. I have done canoe trips, and whitewater rafting, and tubing, and water skiing, but I was still a baby kayaker, and I was loving it.
We gathered at the Broad Creek Canoe & Kayak Launch in Laurel. Our guides from Delmarva Board Sport Adventures gave us a quick and dirty introduction to paddleboarding and offered us the option. It looked easy enough, but I wasn't ready to commit to a stand-up ride down and back up Broad Creek, so I opted once again for my new favorite, a kayak.
Shortly after beginning our paddle down the creek, we floated under an ancient railroad trestle. One of our guides explained that it is was a 19th-century pivot bridge, also known as a swing drawbridge. I was fascinated with a view of the gearworks from the underside as I floated by.
We had a Sussex County historic preservation planner accompany us on this paddle, and I tried to hang in close to hear his descriptions along the way, but apparently there was one historical tidbit I missed and did not discover until I began research for this story.
It seems that on June 20, 1904, a rare and tragic event happened when the Delaware Railroad's Norfolk Express barreled through the open drawbridge and plummeted onto a lumber-ladened schooner named the Golden Gate. Miraculously, only the engineer died in the crash. The baggage master, it seems, uncoupled the passenger cars before the engine went over the edge, and the schooner crew had been able to jump overboard and swim ashore.
The Norfolk Express engine was ultimately rescued by steam cranes and returned to service. It is unknown whether the remains of the Golden Gate still lie at the bottom of Broad Creek.
My iPhone was lying in my lap as I paddled beneath the trestle on Broad Creek. I do not know how it captured this photo of me. As you can see, both of my hands are on the paddle.
We would do another kayak trip the following day on the Nanticoke River with Adrenaline High. This time we were not given the option of single kayaks. Everyone had to pair-up in 2- person tandem kayaks. Even though I was paired with a friendly, conversational local, I realized that tandem kayaking is not for me. This preference was confirmed a couple of months later when Jerry and I had to pair-up for a kayaking activity in Mexico. Some people may go for doubling-up, but I love the freedom to navigate and do my own thing. That's my story, and I'm sticking to it!
Visit Paddle the Nanticoke for more information when planning your visit to the area, including downloadable maps and guides.
---
Skydive Delmarva
---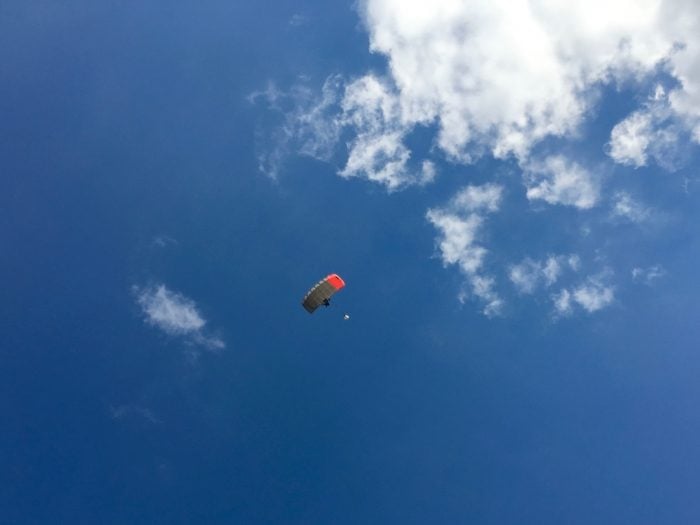 Before you get too excited, let me burst your bubble and tell you I most assuredly did NOT jump out of a plane. It was a great opportunity. I had plenty of time to schedule a jump in advance, but frankly I could not justify intentionally falling out of a perfectly good airplane.
Either that, or I'm a big chicken!
We arrived early at Skydive Delmarva, located at the Laurel Airport, and enjoyed another delicious picnic lunch. We toured the facility and watched the two bravest members of our group suit-up and receive training for their first tandem skydive ever.
Jill and Charles were our heroes of the day, and although I admired their courage from afar, I never regretted not taking the plunge myself.
Our skydivers were assigned personal videographers to jump with them and record their first experience for posterity.
We watched our brave comrades board the Juliet Whiskey. Soon it carried them into the horizon, and eventually ascended to 13,500 feet above the earth.
Before long, we saw bodies floating down from the sky, and they all landed safely on the field.
You can read Jill's account of her first skydiving experience in the article Flying High.
---
Local Cuisine
---
As Backroad Planet readers know, I am not a food critic, but I can never resist mentioning great meals I encounter on the road. Even though this trip was focused on outdoor adventure, our hosts treated us to two delicious evening meals.
Abbott's on Broad Creek
Our first evening meal was at Abbott's on Broad Creek, an upscale bar and grill with a cool vibe situated right on the creek just above the kayak launch. As my photos refresh my memory, I ordered a savory crab bisque, a grilled hanger steak, and a slice of strawberry cheesecake. I do not lie when I say this was one of my best travel dining experiences ever. And the ever-present locals even got me to try scrapple, their local delicacy. Not bad for pork scrap cornmeal mush, if I say so myself!
Heritage Shores
The second evening after a golf cart tour of Heritage Shores, a development designed for the 55+ crowd (yes, I qualify), we were treated to a lovely open-air catered affair. This time, I captured a picture of the menu, so I know I ordered an artisan prosciutto-wrapped asparagus appetizer with a balsamic reduction; a watermelon, arugula, feta salad; and chicken Oscar topped with sherry-sautéed crabmeat, and parmesan risotto. Once again, our local hosts treated us like royalty and entertained us with anecdotes and tales around the table.
---
Map It!
---
The Nanticoke Heritage Byway is a 35-mile driving route that will carry you to several of the sites mentioned in this article, plus a few more.
You can read more about our Southern Delaware outdoor adventure in Julie's article A Delaware Getaway to Discover the First State, and Malerie's post Seaford DE, Laurel DE, and the Small Towns and Rivers of Southwestern Delaware.
---
We Would Love to Hear From You
---
We enjoy dialogue with our readers, especially when they share off-the-beaten-path destinations and useful travel tips. Have you ever experienced a Southern Delaware outdoor adventure? If so, we would love to hear about your experience. We invite you to leave your comments and questions below, and we always respond!
---
Pin this Post!
---