(a

13

minute read)
---
The Mississippi Armed Forces Museum honors heroic servicemen and women and preserves the state's military history in a state-of-the-art facility at Camp Shelby.
---
I was a guest of Visit Hattiesburg, but all thoughts and opinions are my own. This post may contain affiliate links. Please refer to our our Disclosure/Disclaimer page for more information.
Hattiesburg was one of several destinations on a loop road trip from my home in Central Florida through Georgia, Alabama, and Mississippi.
The purpose of my visit was two-fold: to deliver four boxes of my author papers to the de Grummond Children's Literature Collection at the University of Southern Mississippi and to explore African American heritage sites in Hattiesburg.
Touring the Mississippi Armed Forces Museum was an unexpected bonus my host added to my itinerary, and so I detoured through the gates of Camp Shelby en route to Mississippi's Gulf Coast.
Nearly three hours later I exited the military post, delaying arrival at my next destination.
And could have easily spent another hour or so exploring the museum's vast collection of military history.
---
Camp Shelby
---
The Camp Shelby Joint Forces Training Center is situated on more than 134,000 acres a few miles south of Hattiesburg, Mississippi.
Camp Shelby is the largest state-owned military training facility in the nation, and has served as a training site for active and reserve components of the Army, Navy, Air Force, Marines, and National Guard.
The military post was activated in 1917 to support mobilization during World War I. It was named in memory of Isaac Shelby, a Revolutionary War and War of 1812 hero who became the first governor of Kentucky.
Camp Shelby has grown and evolved for more than one hundred years, always serving as a training facility in times of war and peace, making it the logical location for a museum that honors Mississippi's servicemen and women from all branches of service.
---
Mississippi Armed Forces Museum
---
Today, the Mississippi Armed Forces Museum is a Smithsonian-quality institution, but it wasn't always that way.
The museum's beginnings date to 1984 when two military veterans exhibited their personal war artifacts in a small room at the post.
Donations from individuals and organizations have grown the collections to more than 17,000 artifacts plus an archive of countless print and digital documents.
---
Museum Galleries and Stories
---
Historical artifacts, state-of-the-art exhibits, and interpretive panels are key components of any world-class museum. In my opinion, however, the element that best provides an immersive museum experience is the element of story.
It didn't take long for me to realize that the Mississippi Armed Forces Museum had that element covered.
The museum features seven themed exhibit galleries, a grand gallery for temporary exhibits, and an outdoor military vehicle exhibit on the museum grounds.
But the stories of Mississippi's courageous servicemen and women are the main attraction.
Native-born and resident Mississippians who served in the armed forces, veterans who trained at any Mississippi installation, and veterans who are buried in Mississippi are all considered within the scope of the museum.
I met up with museum director Tommy Lofton for a guided tour of museum highlights. A young man from my perspective, Lofton is an engaging storyteller and walking encyclopedia of military history.
19th Century Conflicts
---
Mississippi's military history dates to the turn of the 19th century, when it was yet a territory.
The 155th Infantry (Mississippi Rifles) formed in June of 1799, making it Mississippi's oldest National Guard unit and seventh oldest infantry regiment in the United States.
In 1802, the 155th was redesignated as the 1st Regiment, Mississippi Territorial Militia, and in 1814 a squadron of light dragoons (cavalrymen) formed within the regiment under the command of Lieutenant Colonel Thomas Hinds.
The "Mississippi Rifles" and "Mississippi Dragoons" served under General Andrew Jackson at the Battle of New Orleans, and other military engagements, as well.
Most people associate the Bowie knife with Jim Bowie at the Alamo in 1836.
Who knew the knife's popularity originated at the 1827 "Natchez Sandbar Fight" and that most enlisted men of the "Mississippi Rifles" carried one of their own?
Major Civil War actions in Mississippi are widely-known due to battlefield preservation initiatives of the National Park Service.
You can learn more about some of Mississippi's NPS battlefields by navigating to the following Backroad Planet links:
World War I
---
The World War I gallery gives the illusion of walking across a battlefield and into the trenches of the Western Front.
Exhibits detail facets of the Great War, such as animal warfare, "trench foot," and stories of black Mississippians who served under French and Canadian command.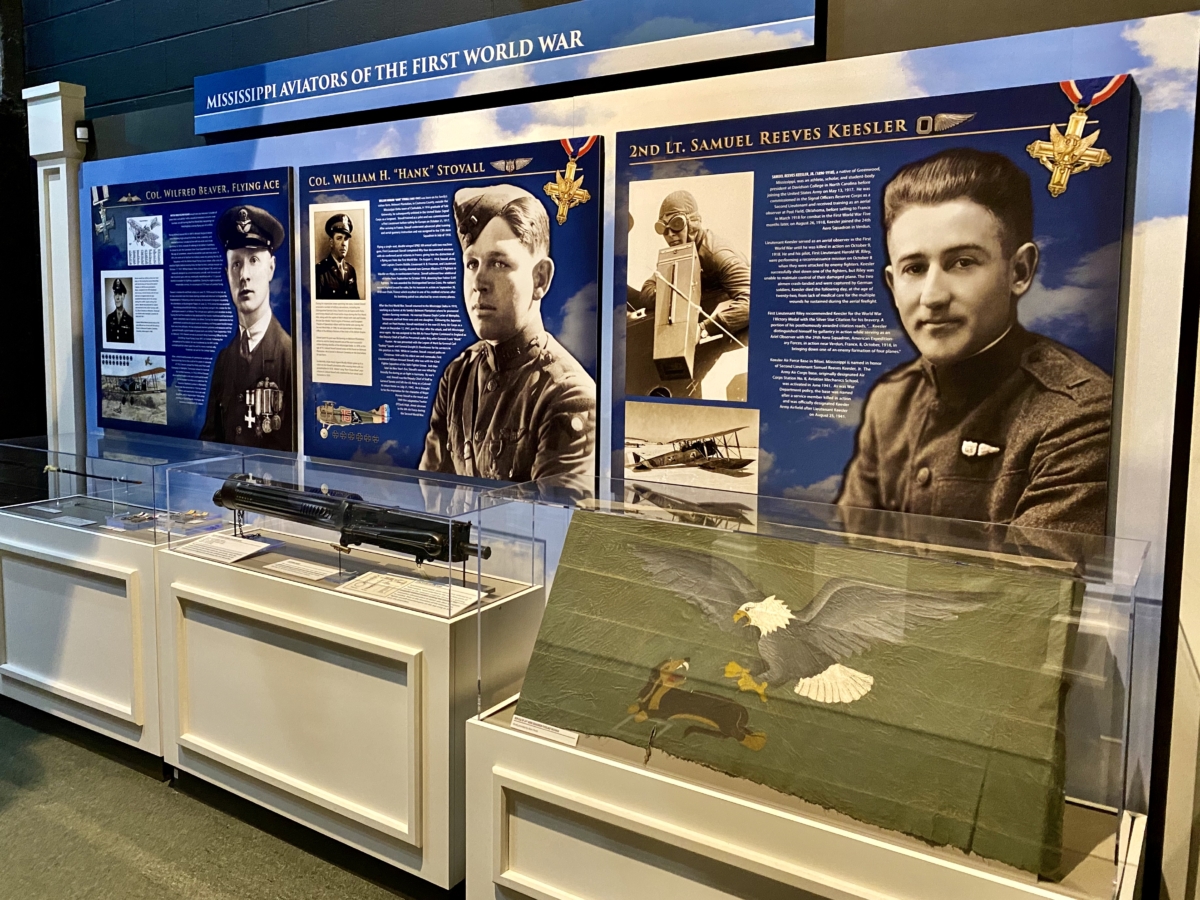 The advent of aviation set the stage for World War I to become the first major conflict to implement large-scale use of aircraft for reconnaissance, strategic bombing, and dogfights.
Aviators from Mississippi soared through the skies over Europe.
Keesler Air Force Base in Biloxi is named in honor of Second Lieutenant Samuel Reeves Keesler. In 1918, the Greenwood, Mississippi, native shot down an enemy fighter over France before losing his life in a crash landing at age 22.
Rare World War I artifacts such as the spiked leather Pickelhaube and the steel Stalhelm helmets illustrate German technological advances and transitions to more practical armor.
World War II
---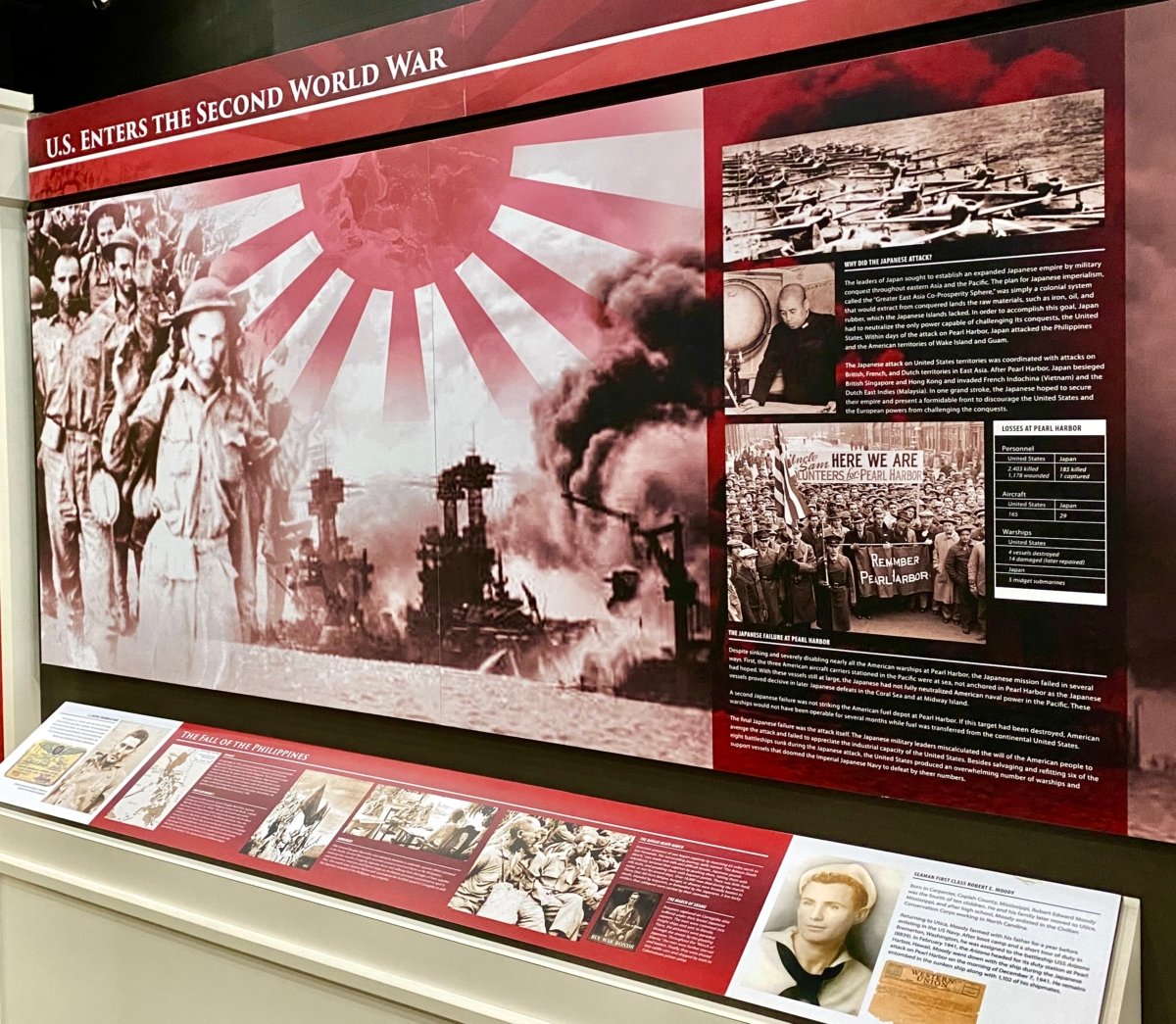 The World War II gallery is one of the museum's larger rooms, due not only to the sheer scale of the war, but also the dedication of 237,000 enlisted Mississippians, and the multi-faceted contributions of Camp Shelby in the war effort.
Construction of administrative buildings and housing was a massive and multi-phased undertaking for World War II mobilization at Camp Shelby.
A reconstructed "Six-Man Quarters" provides an authentic view of the spartan accommodations for enlisted men.
For an intriguing look at this period in the military post's history, read the photo-essay A World War II Infantry Recruit's Journey through Camp Shelby by Guido Rossi.
Brigadier General George M. Halloran assumed command of Camp Shelby two weeks after the attack on Pearl Harbor and remained at the post for the duration of the war.
An exemplary leader, General Halloran had a heart for soldier welfare and sponsored recreational projects, such as the construction of Lake Shelby (today Lake Geiger).
Although the Army enforced racial segregation, Halloran insisted that separate facilities be of equal quality for everyone under his command. He also crossed the color line on occasion, appearing with boxer Joe Lewis and participating in integrated bowling.
While in Hattiesburg, don't miss the African American Military History Museum, located at the former East Sixth Street USO building. Though smaller in scale, the museum offers state-of-the-art galleries and interactive exhibits equal the the Mississippi Armed Forces Museum.
The 65th Infantry Division was activated at Camp Shelby and trained there for more than a year before deployment to Europe. They served under the command of General Patton and liberated the concentration camps at Mauthausen and Gusen.
Senator Daniel Ken Inouye of Hawaii, the highest-ranking Asian American politician in US history, trained for ten months at Camp Shelby as part of the Japanese American (Nisei) 442nd Regimental Combat Team. Inouye lost his right arm during a German assault in Italy. He was awarded a Bronze Star, Purple Heart, and Distinguished Service Cross that was later upgraded to the Medal of Honor by President Clinton.
The motion pictures Go For Broke! (1951) and Only the Brave (2006) tell the stories of the forgotten Japanese American heroes of World War II.
Enlisted women made their mark at Camp Shelby during World War II. Members of the 45th Women's Army Corp (WAC) Detachment trained at Camp Shelby while others served as nurses at the post hospital.
Artifact displays feature WWII weaponry including the illegally produced Mauser "G" Luger, the single-use FP-45 Liberator pistol distributed to members of the European Resistance, and Italian Carcano rifles such as the M38 Lee Harvey Oswald used to assassinate President John F. Kennedy in 1963.
Big guns are exhibited, as well.
The African American 969th Artillery Battalion landed at Utah Beach on D-Day and battled across France and Belgium equipped with the heavy M1A1 Howitzer, firing 90-pound "Easter Eggs for Hitler" and fighting at the Battle of the Bulge.
Shipments of M2A2 light tanks arrived in Mississippi for Third Army training maneuvers in the DeSoto National Forest. Trainees dubbed the twin-turreted tank "Mae West" after the buxom movie star and sex symbol.
The vehicle on display escaped recycling efforts when the model was declared obsolete, making it the only tank of its kind in existence today.
Korean War
---
President Harry S. Truman's Executive Order 9981 issued on July 26, 1948, ended segregation in the US Armed Forces.
In the summer of 1950, President Truman ordered US troops to the aid of South Korea, making the Korean War the first major conflict to begin deployment of integrated military units.
Navigate to the Backroad Planet story Truman Sites & Frontier Trails in Historical Independence, Missouri, to experience my visit to the president's home and presidential library.
Hattiesburg native, Ensign Jesse L. Brown, was the first African American to complete the US Navy's basic flight training program, earning his wings on October 21, 1948. After flying 20 missions, Ensign Jesse L. Brown became the first black Naval officer to die in combat during the Korean War.
You can read the heroic story of Brown and and his white squadron commander, Thomas J. Hudner Jr., in the book Devotion by Adam Makos.
Vietnam War
---
Perhaps the most realistic and moving diorama in the museum portrays a UH-1 "Huey" helicopter used for MedEvac, transporting wounded soldiers from the battlefield to field hospitals.
Revolving rotor blades and the depiction of brothers in arms who carried each other make this exhibit a truly immersive experience.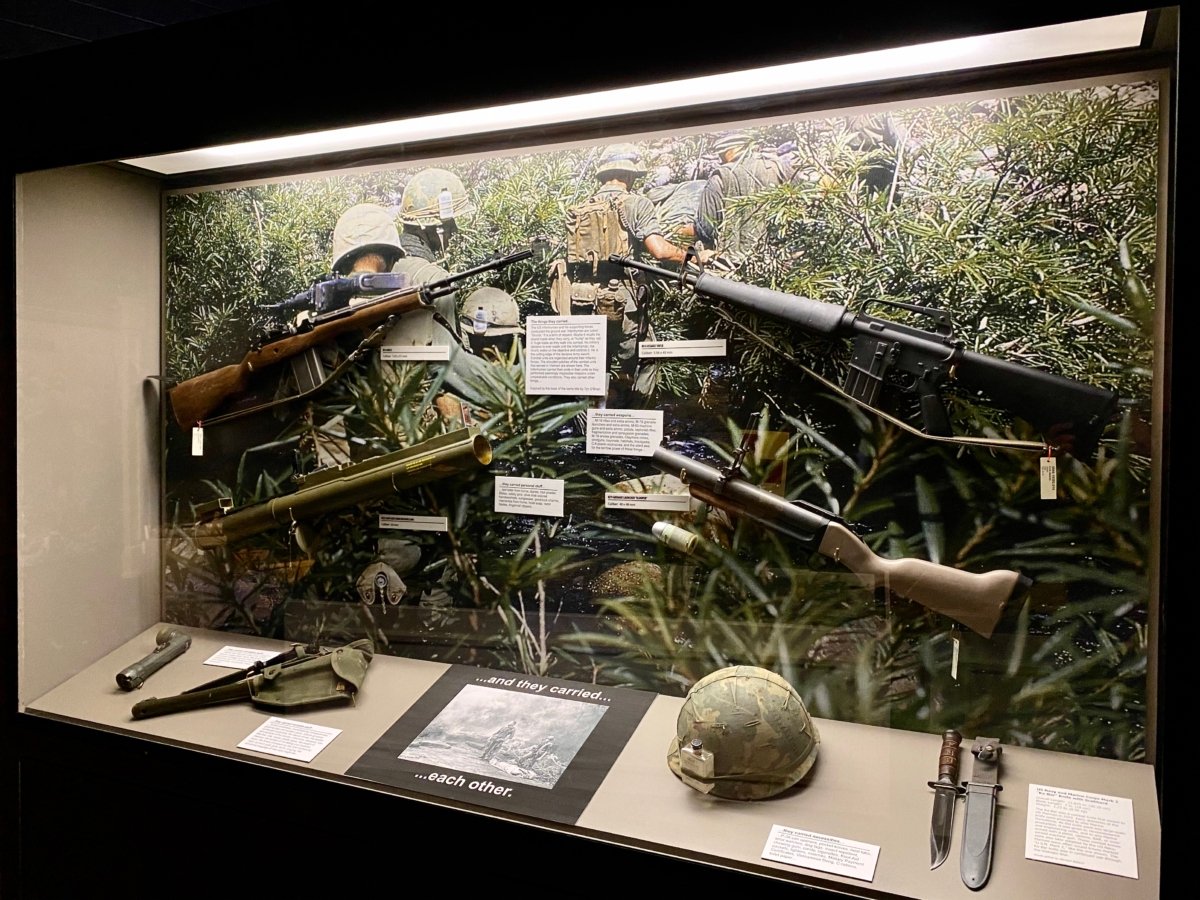 Tim O'Brien's book The Things They Carried, based on his personal experiences during the Vietnam War ,has become a modern American classic. A gallery display case pays tribute to some of those "things."
The Vietnam gallery presents a sobering window into the life of a POW and gives accounts of Mississippians Captain George Robert Hall and Thomas E. Collins, III who were imprisoned in the Hanoi Hilton.
The book Charlie Company Journey's Home by Andrew Wiest reveals the impact of war on the wives and families of Vietnam veterans.
Global War on Terrorism
---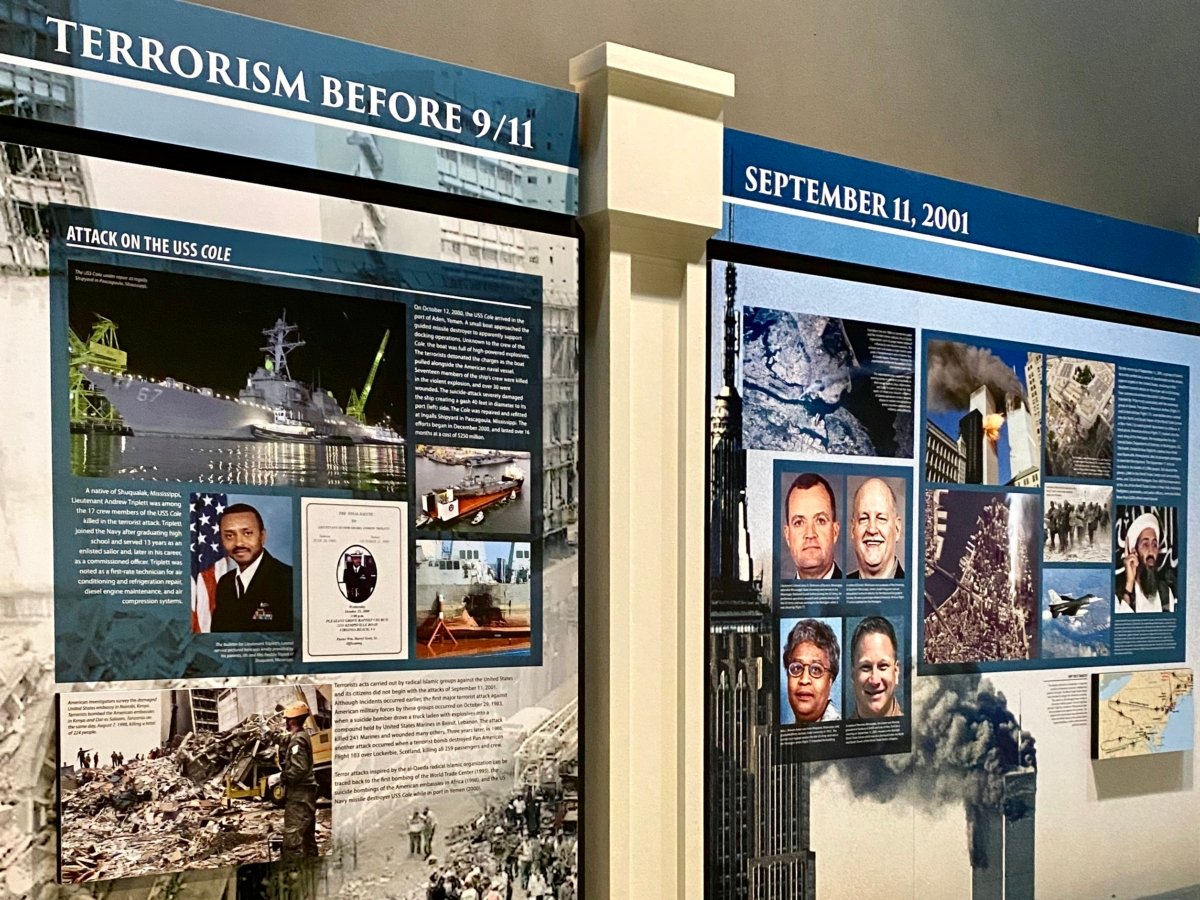 Interpretive panels in the Global War on Terrorism gallery honor Mississippians who lost their lives in the attack on the USS Cole and the 9/11 attacks at the Pentagon and Twin Towers.
More than 20,000 Mississippi Army and Air National Guard Service Members have served in combat and peacekeeping operations since September 11, 2001.
It was a privilege to meet the museum's vehicle and arms conservator Stephen Magee during my tour. Components of the uniform Staff Sergeant Magee wore as part of the 3rd Infantry Division during the invasion of Iraq in 2003 are on display.
Halls of Honor
---
Two galleries in the Halls of Honor recognize Mississippi's 28 Medal of Honor recipients and other distinguished decorated veterans.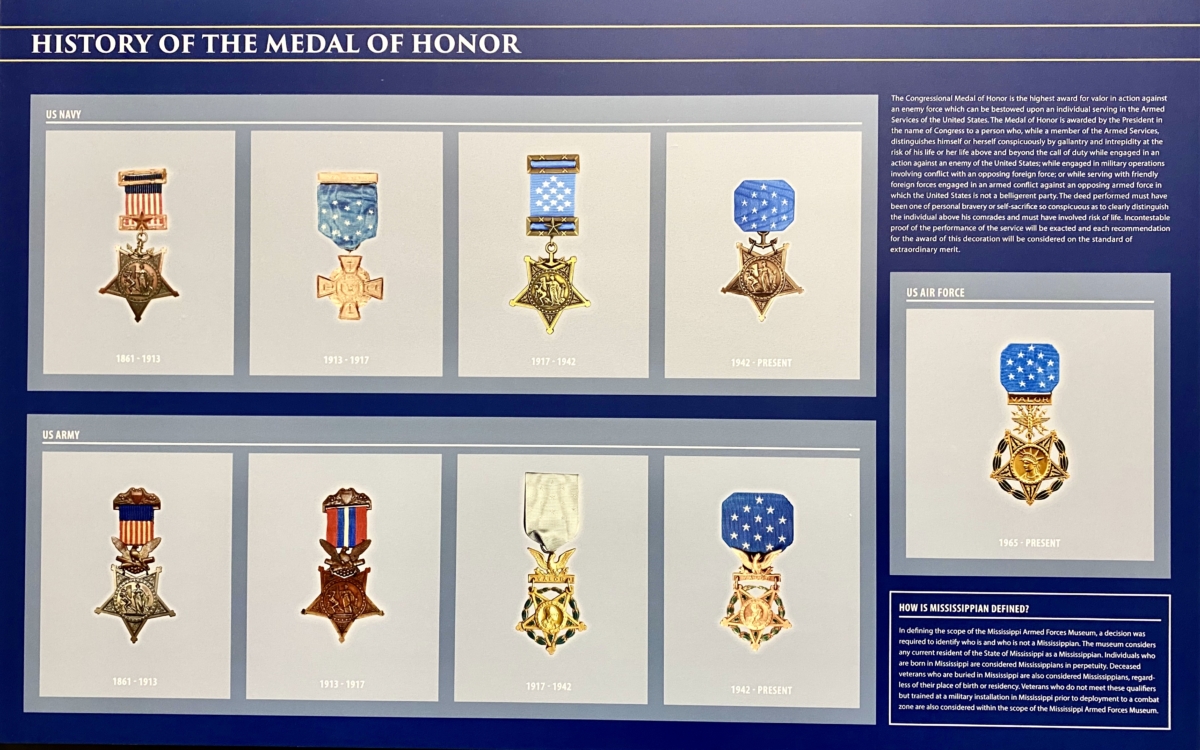 The Medal of Honor is the most prestigious decoration awarded to service members of the US Armed Forces who have distinguished themselves by acts of valor defined as "conspicuous gallantry and intrepidity at the risk of life above and beyond the call of duty."
Jacklyn H. Lucas has one of the most amazing stories I have ever heard.
He enlisted in the Marine Corps Reserve at age 14 and was awarded the Medal of Honor by President Truman at age 17 for absorbing a grenade blast to protect his comrades at Iwo Jima. Lucas survived not only a grenade blast, but also a training jump in which neither of his parachutes opened. Captain Jack Lucas died June 5, 2008, in Hattiesburg at age 80.
You can read more about the exploits of Jack Lucas in his memoir, appropriately titled Indestructible.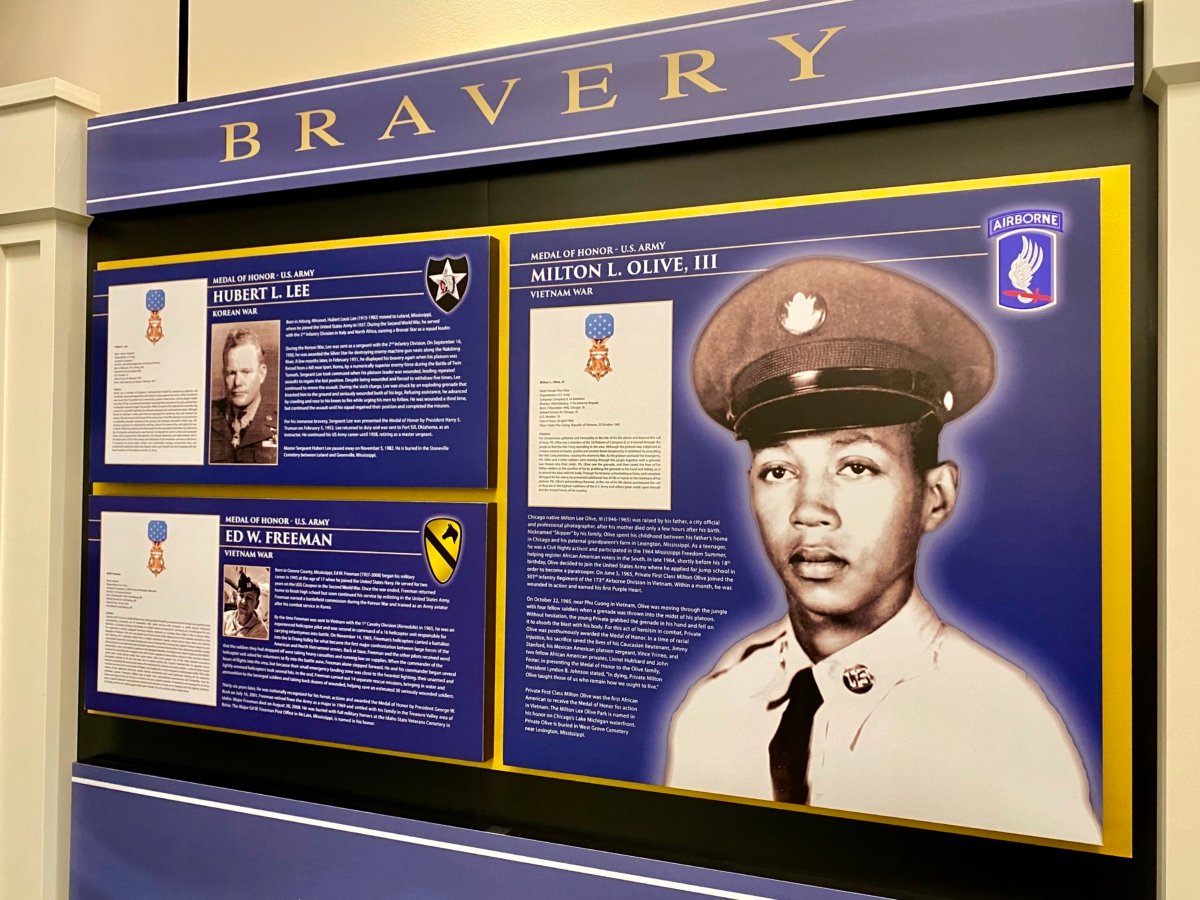 Milton Lee Olive III grew up in Lexington, Mississippi. During his teen years he was a civil rights activist, and in 1964 he participated in the Mississippi Freedom Schools and volunteered for the Freedom Summer voter registration drives.
While in Hattiesburg, you can do a driving tour of historic sites on the 1964 Freedom Summer Trail.
Olive enlisted in the Army shortly before his 18th birthday. A month after arriving in Vietnam, he was wounded in combat and earned his first Purple Heart. Four months later, his unit was ambushed in the jungle. When a grenade landed in the group, Private Olive threw himself on the explosive, saving the lives of his four comrades.
At age 18, PFC Milton Olive became the first African American of the Vietnam War to receive the Medal of Honor. President Lyndon B. Johnson presented the award posthumously to his father and stepmother on April 21, 1966.
When you visit the museum, be sure to allocate time to read the story panels of these and many more heroic Mississippians who inhabit the Halls of Honor.
Outdoor Vehicle Park
---
Retired tanks, aircraft, field artillery, and memorials are on display in the Mississippi Armed Forces Museum's outdoor vehicle park.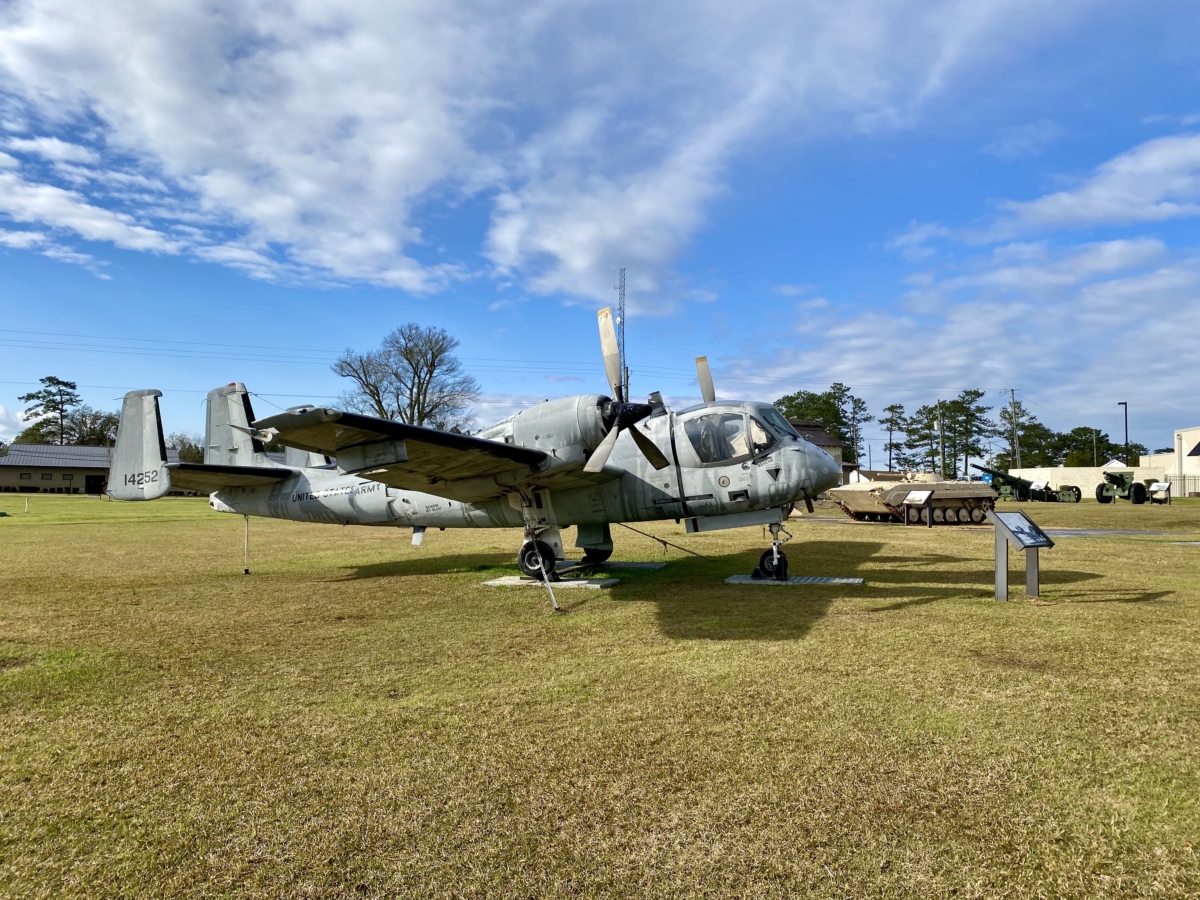 Museum hours are 9:00 AM – 4:00 PM Tuesday – Saturday, and admission is free. Be sure to visit the museum website for updates before planning your visit.
Because the museum is located on a military post, all visitors over the age of 16 must present a valid photo ID at the gate. Privately-owned firearms are not permitted on post.
The museum is designed for self-guided tours, but guests may request guided tours in advance at (601) 558-2757.
---
Map It!
---
Guests may enter Camp Shelby by way of the North or South Gates, however, the South Gate seems to provide easier access to the museum.
---
Explore African American Heritage Sites in Hattiesburg
---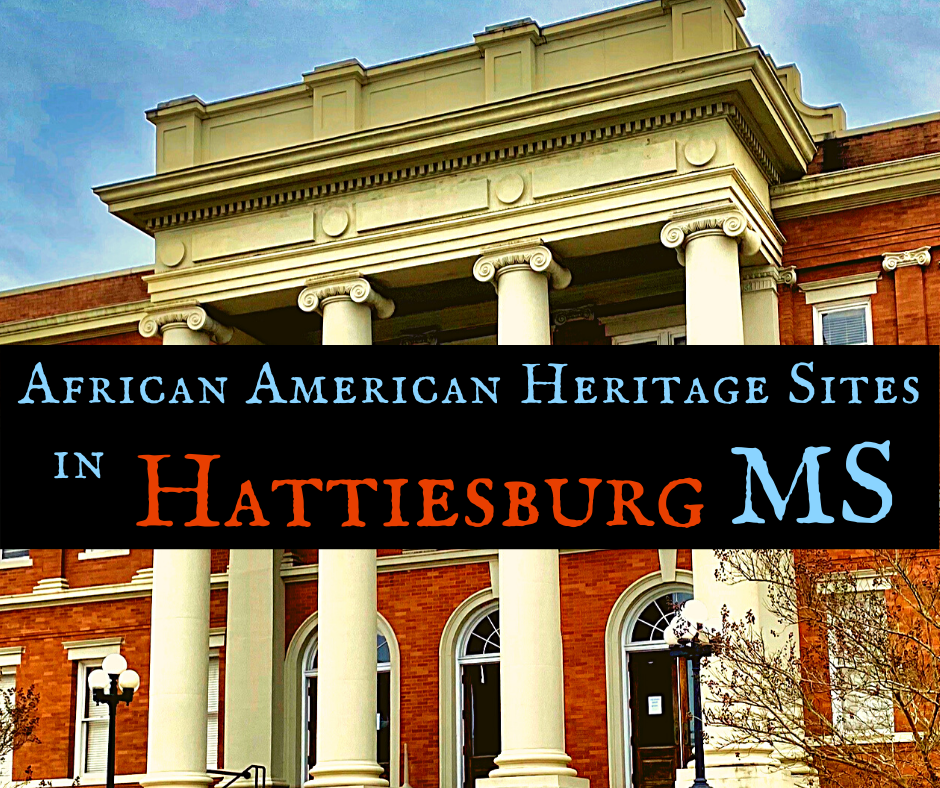 While in Hattiesburg, don't overlook the Forrest County Courthouse, the Sixth Street Museum District, the 1964 Freedom Summer Trail, and many more memorable African American heritage sites around town.
Click here to discover more exciting destinations for your Mississippi road trip itinerary on Backroad Planet.
---
Hotel Indigo Hattiesburg
---
Hotel Indigo is the perfect home base for your visit to Hattiesburg.
During my stay, small amenities such as a complimentary coffee station in the hotel lobby scored big points with me.
Spacious accommodations at the Hotel Indigo offer guests a clean, contemporary home away from home.
Click here to book your stay at Hotel Indigo Hattiesburg on TripAdvisor!
Click here for other Hattiesburg lodging options on TripAdvisor!
---
We Would Love to Hear From You
---
We enjoy dialogue with our readers, especially when they share off-the-beaten-path destinations and useful travel tips. Have you ever visited the Mississippi Armed Forces Museum at Camp Shelby? If so, we would love to hear about your experience. We invite you to leave your comments and questions below, and we always respond!
---
Pin this Post!
---