WELCOME!
Backroad Planet is a road trip and fly-drive travel site, and we are two guys from Central Florida who believe taking scenic routes, scouting offbeat sites, stopping at roadside attractions, and immersing ourselves in local flavor are the best ways to travel. Whether it be road trips across America or fly-drives to international destinations, we encourage you to use resources at Backroad Planet to plan your own adventures. Please contact us if we can assist you in any way.
Catch you on the backroads . . . . Howard & Jerry
Don't let emergency breakdowns spoil your vacation! Get your vehicle road trip ready with this handy pre-trip checklist. Disclosure: This post is sponsored by ACDelco, but all text and opinions are mine. So you have done the pre-planning, conducted your... read more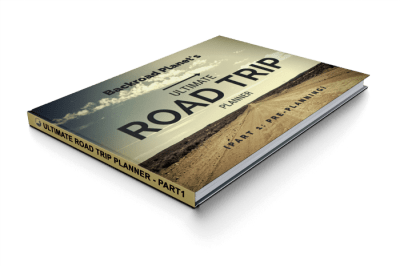 Subscribe to our mailing list
and receive a FREE download of our brand new e-book
The Ultimate Road Trip Planner Part 1: Pre-Planning !
ROAD TRIP PLANNING RESOURCES
Don't let emergency breakdowns spoil your vacation! Get your vehicle road trip ready with this handy pre-trip checklist. Disclosure: This post is sponsored by ACDelco, but all text and opinions are mine. So you have done the pre-planning, conducted your... read more
Bored? Lost? Need to get away? Satisfy your spirit of wanderlust at home or abroad now. You can find anything anywhere with these handy, helpful GPS travel apps! Technology never ceases to amaze me! Even though GPS travel apps are nothing new, it seems every time I... read more
Eleven authoritative web sites run by locals will help you plan a road trip or travel itinerary to see the REAL Florida. I am a 5th-generation Native Floridian, and although I have traveled the world since childhood and plan to continue for years to come, I... read more
It's nice to know that not all travel guidebooks will cost you an arm and a leg. In fact, these guidebooks won't cost you anything at all.   I came across a copy of the Florida Civil War Heritage Trail guidebook quite by accident while visiting the Polk... read more
Announcing Backroad Planet's FREE e-book, the first in our 3-part series on planning the ultimate road trip! The Ultimate Road Trip Planner Part 1: Pre-Planning will help you answer six important questions before you begin your travel research and write your... read more
Property of Enterprise Rent A Car UK So, always on the lookout for a great travel contest or sweepstakes, I came across a most-excellent campaign sponsored by Enterprise Rent-A-Car UK. The Instagram contest called #OpenRoadEssentials gave the following instructions:... read more